The 5 Best Apps for Online Dating in Dubai
Dating has really evolved throughout the years, from writing letters and asking them out in real life to swiping left and right on popular dating apps.
This doesn't mean that your love story won't be as romantic. Because of dating apps, online dating has made it so much easier for everyone to find their partner.
So, we scoured our app stores and give you the best apps for online dating in Dubai. We're also sharing with you the factors we considered in choosing. 
In the end, we answered some FAQs for online dating in Dubai.
How much do apps for online dating in Dubai cost?
Apps for online dating are usually free to download, but most of them have a subscription that allows their users access to more features that makes finding a match easier.
To give you a starting point, we made a table of the apps for online dating we included in this list, along with their respective price range for subscriptions.
| Online Dating App | Subscription Price Range |
| --- | --- |
| Tinder | AED18 - AED73 per month |
| Bumble | AED62 - AED146 per month |
| Happn | AED91 per month (only has one subscription type) |
| Hinge | AED73 per month (only has one subscription type) |
| Facebook Dating | Free |
The Best Apps for Online Dating in Dubai
Before we get right into our top picks for the best apps for online dating in Dubai, here are the factors we considered for our entries on this list:
1. Tinder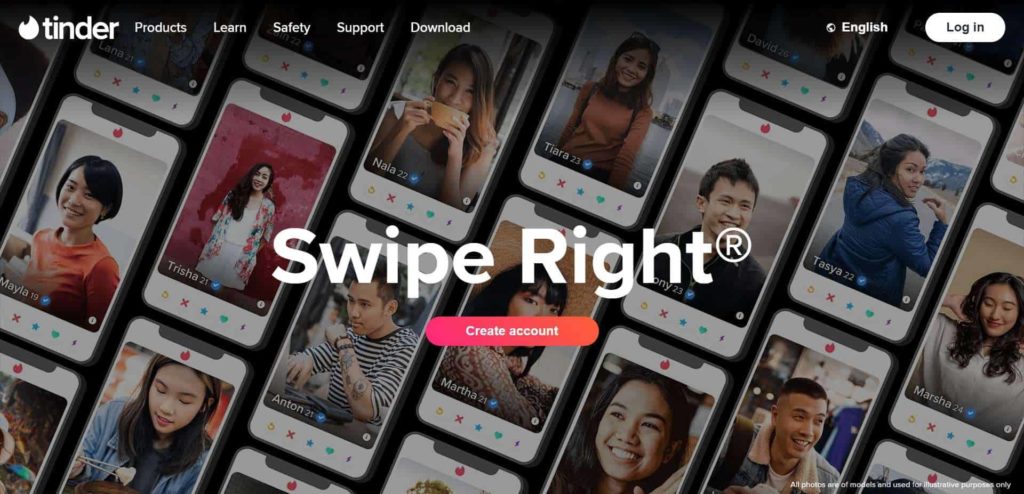 | | |
| --- | --- |
| Criteria | Rating |
| Basic Features | ★★★★☆ (4/5) |
| Users | ★★★★★ (5/5) |
| Culture | ★★★☆☆ (3/5) |
| User Interface | ★★★★☆ (4/5) |
The one that started it all and needs no introductions, Tinder is the most used dating app in Dubai, and rightfully so; it is synonymous to online dating.
The basic features are what you would expect from every popular dating app, swipe left if you don't like them and swipe right if you do.
The premise of its features is simple, intuitive, and easy. However, we think it's such a drawback that the basic features only get 100 free likes every day.
Not only that, the basic features don't offer anything special outside of that.
Despite that, you will have no shortage of matches here because it is one of the most widely-used dating apps around the world. The users are diverse and a mixed bag of everything.
While some people may see this as a drawback, with the basic features not allowing users to filter people based on their preferences, the more adventurous and open-minded ones are in for a treat.
However, in Dubai, it's pulled down by the fact that it's also inhabited by sex workers, and the hookup culture is quite prominent in the app.
It's definitely a harder time for romantics on Tinder, but it is undeniable that you will get all kinds of people here.
Simple and intuitive interface and features
Has a lot more users compared to other apps
Diverse users
Hookup culture is prominent in the app
Limiting basic features
2. Bumble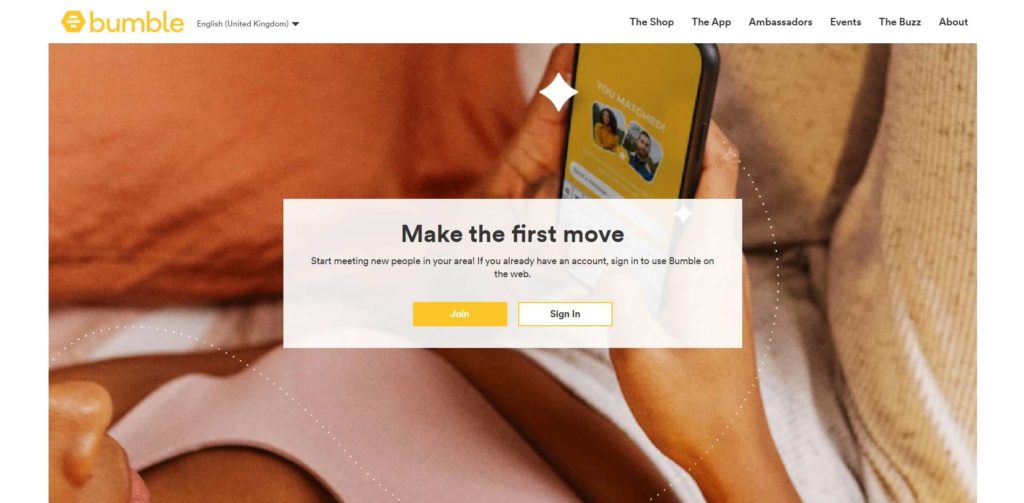 | | |
| --- | --- |
| Criteria | Ratings |
| Basic Features | ★★★★☆ (4/5) |
| Users | ★★★★☆ (4/5) |
| Culture | ★★★★★ (5/5) |
| User Interface | ★★★★★ (5/5) |
Known as Tinder's friendlier sister, Bumble is an offshoot of the aforementioned app when one of its employees left to start a more women-centric and empowering dating app.
Just like Tinder, it utilizes the swiping mechanic as the center of its basic features. But what we love about Bumble is that it takes it a bit further.
It does away with the limited likes and allows users to use filters to find people that match their preferences, for free. We also love the fun question prompts that we can answer and place on our profile.
And it completely separates itself from Tinder by utilizing the woman-makes-the-first-move mechanic.
While we think this is empowering and allows women to be comfortable in the digital dating space, it definitely has a higher potential to miss great matches too.
But because of this slightly more progressive outlook that the app proliferates, users here are often more highly educated and have a slightly higher chance of finding relationships than hookups.
However, it cannot be denied that Tinder has way more users than Bumble, thus putting the users in some sort of echo chamber that some may not be looking for when they want to expand their horizons.
Simple and intuitive interface and features
Allows users to filter people based on preferences
More highly-educated users
Unique mechanic may lead to some missed matches
Too many like-minded people proliferates an echo chamber culture
Has fewer users than Tinder
3. Happn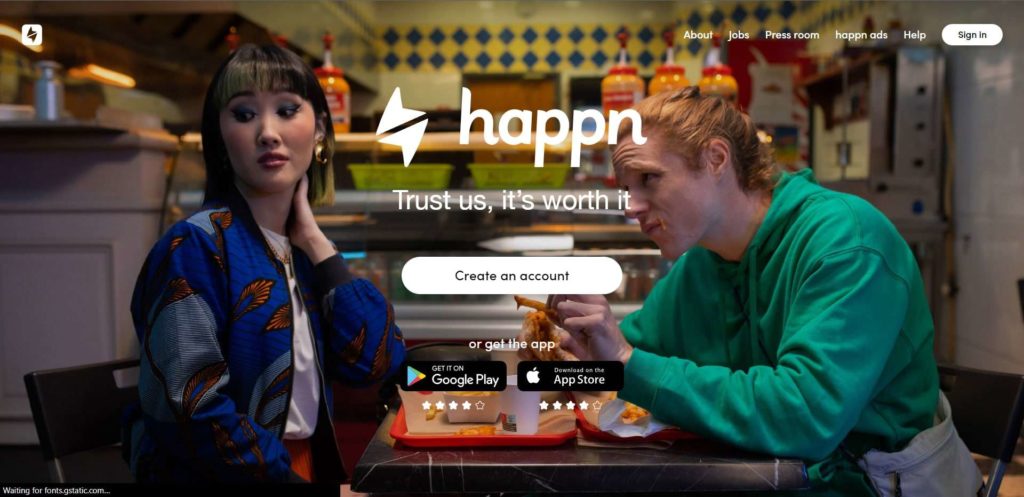 | | |
| --- | --- |
| Criteria | Rating |
| Basic Features | ★★★★☆ (4/5) |
| Users | ★★★★☆ (4/5) |
| Culture | ★★★★★ (5/5) |
| User Interface | ★★★★★ (5/5) |
Real life encounters with attractive strangers are not always easy, thankfully, Happn knows this and just how to make it easier and better.
This online dating app has a location-based mechanic that shows its users every person they have locked eyes and crossed paths with within a 250-meter radius.
So instead of seeming like a creep and approaching that attractive stranger out of nowhere, you can hit them up first in Happn before going to them.
While we can see how this can breach personal space and privacy if handled the wrong way, we really love the concept of mixing online dating and in-person encounters.
We also love that Happn makes the whole experience simple, with users only able to talk to each other if they match.
However, the concept relies heavily on people going out. If you consider the pandemic and people who are more introverted, then it definitely has its drawbacks compared to other dating apps.
Another great thing about Happn in Dubai is that it's mainly used by foreigners and expats, so everyone will speak reasonably good English.
However, if you're looking to meet locals, then this isn't the app as it is rarely used by Emiratis who prefer Bumble and Tinder over this.
Where Happn shines is in the app's intent to cultivate a culture of making real-time connections by making it easier for strangers to approach each other.
This makes dating with the intent of building a connection much easier, and it goes the same for hooking up, if you're into that.
App's mechanic promotes in-person connection
Unique take on online dating
Simple and intuitive interface
Majority of its users in Dubai are foreigners and expats only
App can be seen as a breach of personal space and privacy if handled wrongly
4. Hinge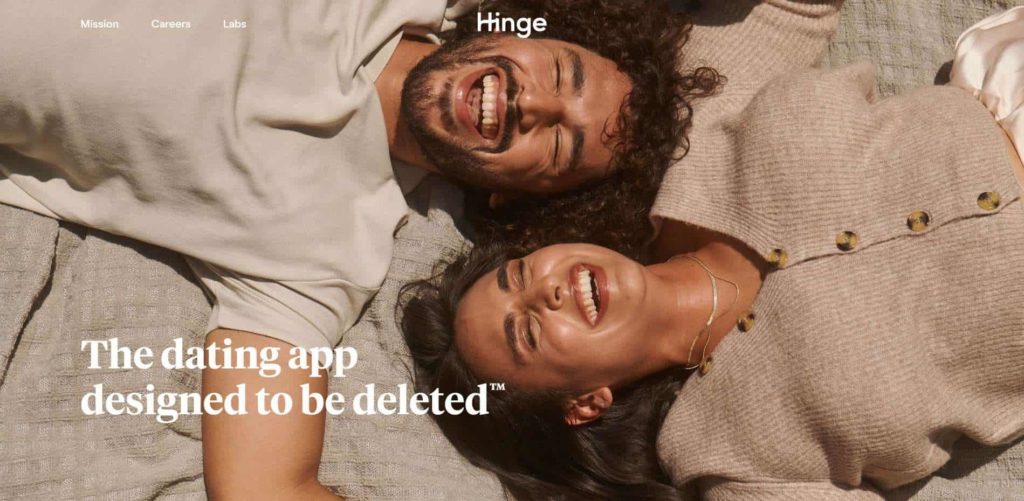 | | |
| --- | --- |
| Criteria | Rating |
| Basic Features | ★★★★☆ (4/5) |
| Users | ★★★★★ (5/5) |
| Culture | ★★★★☆ (4/5) |
| User Interface | ★★★★★ (5/5) |
The online dating app that seeks to abolish the necessity for app subscriptions just to gain access to useful features, Hinge doesn't hold back on giving its users everything they need to find their perfect match.
With its basic features matching Tinder Gold's extra benefits, Hinge lets its users change their location, which means you can find your perfect match in a different country instantly.
On top of that, it also lets you see which users liked you and has a great intuitive and sophisticated way of filtering out people that don't meet your preferences.
And what's amazing about Hinge is that it uses a Nobel-Prize-winning program that helps users get not just more dates, but better ones.
This is coupled with its amazing mechanic that forces its users to like a specific part of a Hinge profile to start a conversation.
And what's great about the meticulousness of Hinge is that it ensures that everyone on the app is really here to look for connections, and not just to use it as a throwaway account for hookups.
However, meticulousness also has one big drawback. For serial swipers out there, Hinge only allows 8 free likes per day to ensure that users swipe right on quality matches.
The app also requires users to upload at least 6 photos and answer 3 research-proven prompts before activating their profile.
And while this may seem like such a chore for some, we love that it promotes a culture of taking the time to present themselves in the best way possible.
Basic features match other top-tier dating app subscriptions
Nobel-Prize-winning algorithm gives quality matches
High possibility of making great connections
Building a profile requires too many sub-tasks
Only gives 8 free likes a day
5. Facebook Dating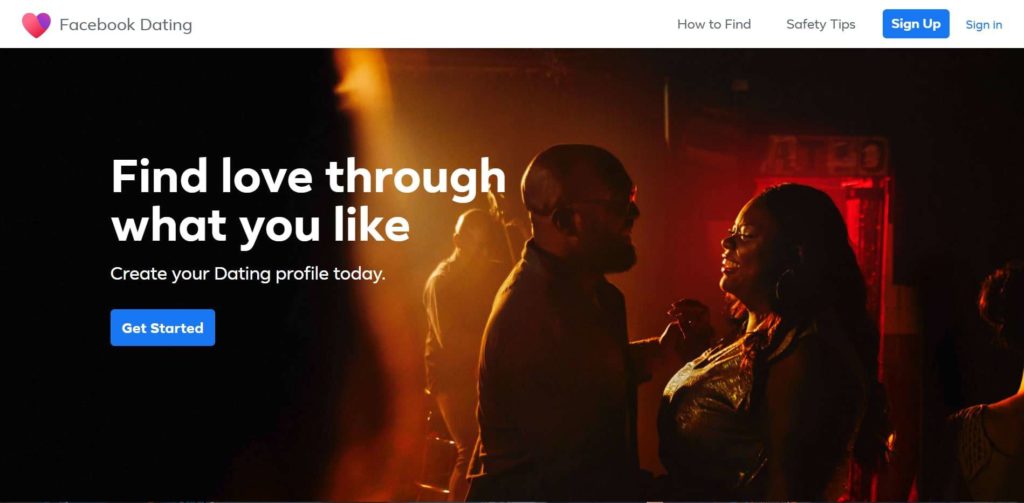 | | |
| --- | --- |
| Criteria | Rating |
| Basic Features | ★★★★☆ (4/5) |
| Users | ★★★★☆ (4/5) |
| Culture | ★★★☆☆ (3/5) |
| User Interface | ★★★★☆ (4/5) |
A dating app that's already on your phone, Facebook Dating automatically comes with the Facebook app and instantly connects you to its 1.62 billion users.
Besides the fact that it's completely free, it has great filtering tools, allows you to leave a message while liking, and shows you which users like you.
Although, the latter feature doesn't allow you to scroll through the profiles and must be viewed one at a time, which we think is annoying to do.
However, the one feature that Facebook Dating does not have that we would love because the majority of dating apps have it as well is the ability to change your location.
Having access to billions of users on a dating app is a double-edged sword because it's definitely a mixed bag. But it really shines when used in big cities like Dubai.
Another mixed-bag aspect of Facebook Dating is the fact that there is no definite culture in the app. We'll never know if the people we matched with want to hook up or to date, which can be difficult and tiring.
All in all, while Facebook Dating may not be the most intentional or intuitive out of all the dating apps, its tools, features, and access to a large number of people are definitely unrivaled.
Users have access to billions of people
Great basic features
Completely free
Some interface aspects can be improved
No change location feature
Culture and users are a mixed bag
FAQs about Online Dating in Dubai
---
We hope this helped you in finding the apps for online dating in Dubai. If you've found your match and are looking for date ideas, then check out these articles: