The 5 Best Moroccan Baths in Dubai
Nothing does a deep cleaning to our bodies better than a great Moroccan bath. We love the feeling of the Hammam scrub exfoliating our skin, and the smell of the oils clearing and relaxing our minds.
Fortunately for us, Dubai is not a stranger to this spa treatment, and, in fact, is a very common option for your pampering days in the city.
So we tried some highly recommended spots to give you our favorite Morrocan baths in Dubai!
How We Picked the Best Moroccan Baths in Dubai
Before we get right into our best Moroccan baths in Dubai, here are the factors we considered for our entries on this list:
1. One& Only Royal Mirage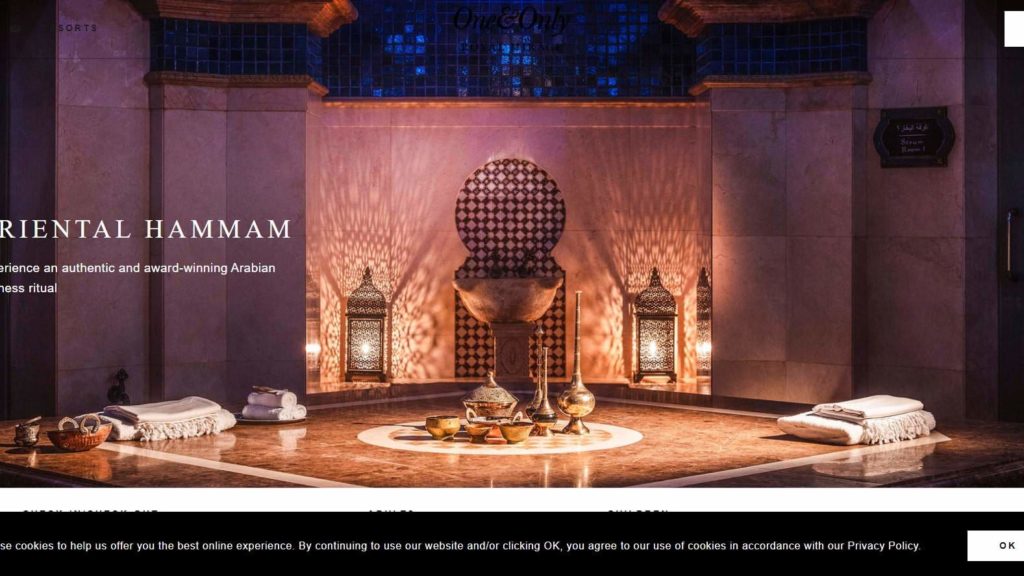 | | |
| --- | --- |
| Criteria | Rating |
| Ambiance | ★★★★★ (5/5) |
| Service Quality | ★★★☆☆ (3/5) |
| Facilities | ★★★★★ (5/5) |
| Products | ★★★☆☆ (3/5) |
Offering a unique twist on Moroccan baths, One&Only Royal Mirage offers the Oriental Hammam that has therapists straight from Turkey, Tunisia, and Morocco scrubbing and cleansing us with their expert hands.
The Arabian architectural style found in the mosaic tiles, exotic Arabesque lamps that add to the intimate dim lighting, and the water from the plunge pools reflecting onto the ceiling all make an otherworldly and spiritual vibe.
Their hammam facilities are also beautifully designed with kaleidoscopic ceilings and marble tile flooring to complete their award-winning wellness ritual.
And speaking of Hammam, the treatment had us going through a cultural and spiritual journey as we passed through its dramatic hallways while we were wrapped in a traditional wrap, known as a "pestemal", and this was even before the treatment started.
What drew us back to earth, however, was our little trouble with the receptionist. She was a bit inexperienced and lacked sufficient knowledge about their treatments and services.
The therapists we had during our massages had trouble controlling their pressure, and we felt some discomfort at times.
But when we told them to lighten the force, they quickly adjusted and everything was well.
As for the products, those were a little bit of a letdown as well. The therapists really didn't share the details of their oils and masks, only that those were organic and chemical-free.
However, the products actually just felt generic and too light for us to believe that it was up to the standard that they have set with their treatments and facilities.
Serene, almost spiritual, ambiance
Award-winning Arabian hammam rituals
Traditional Moroccan bath with twists to enhance the experience
Inexperienced receptionist
Massages may be too hard for some customers
Products felt generic
Customer Reviews
Great hammam experience
"Lovely hotel experience. Very quiet, delicious breakfast and very clean & green area. We enjoyed our time At the beach as well.
Nice meets at one of the hotel's restaurants.
Great relaxing time at Spa. Had a maternity massage and last time had a hammam and was very satisfied too. The nicely designed spa provides a very relaxing atmosphere:)" —Daryna Gryn, Google Reviews
Magical experience with them
"Oh my god, what can I say about this magical spa 😍
Big thanks to the most wonderful manager Seif.
The staff was so professional and warm welcoming I had a Moroccan hammam with Jamila she was very professional and so nice I loved her.
Also, Vici was so goood for massage.
And for pedicures definitely I recommend Narjiss she is very good and professional also she can also do a Moroccan hammam.
Thanks again seif." —Nouhaila Karaoui, Google Reviews
2.  Anantara The Palm Spa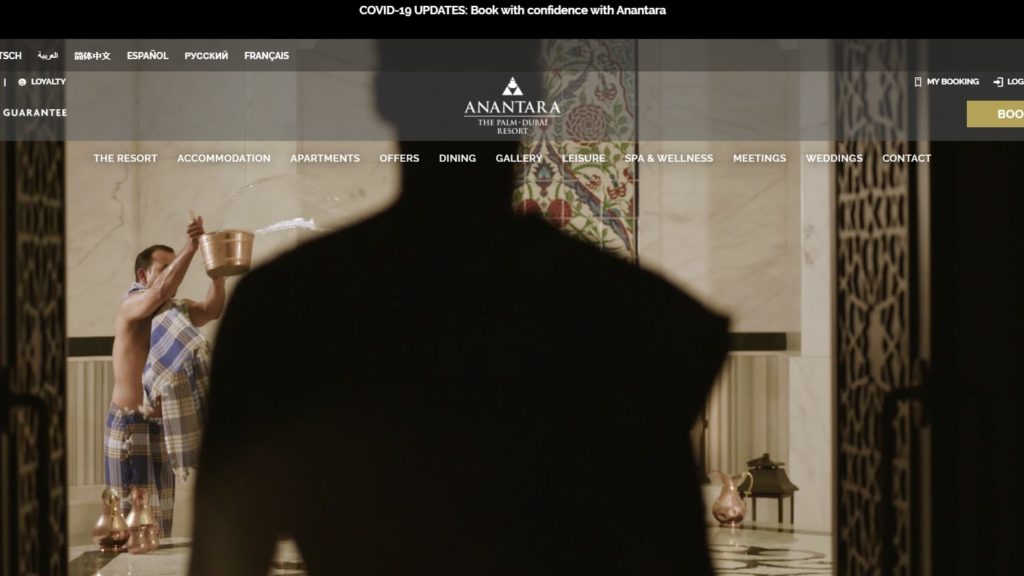 | Test | Info |
| --- | --- |
| SERVICES | Moroccan bath, Thai massage, Arabian massage |
| WEBSITE | https://www.anantara.com/en/palm-dubai/spa |
| ADDRESS | P.O. Box 71607, East Crescent, Palm Jumeirah, Dubai, United Arab Emirates |
| CONTACT DETAILS | +971 4 567 8140 |
| OPERATING HOURS | Every day: 10 AM–10 PM |
| | |
| --- | --- |
| Criteria | Rating |
| Ambiance | ★★★★☆ (4/5) |
| Service Quality | ★★★★★ (5/5) |
| Facilities | ★★★★★ (5/5) |
| Products | ★★★★★ (5/5) |
The Moroccans have a culture and history that are rooted in looking after the wellness of its people, and that is obvious in Anantara The Palm Spa's Moroccan bath rituals.
This is very notable in its hammams which felt like they were designed for Arabian royalty. The bathhouse helps purify the body and skin with the subtle heat coming off from their marbled tiles.
We love its couples' suites that include an en suite sauna, a solo pool, and a whirlpool. Getting one is definitely worth the price because it just really completes your time there with some extra private space for enjoyment.
Some of its shared facilities include an aroma steam room, which is perfect for anyone who loves aromatherapy. But this sometimes gets too crowded for comfort.
When it comes to its Moroccan bath treatment, aptly named the Treasures of Morocco, we love its use of many different products curated for an excellent session.
Its peppermint black soap cools down our skin as its experts scrub us down with authentic Kessa mits and a honey-based body scrub that helps lessen the redness afterward.
When it comes to the face and hair, it uses an entirely different set of products that include argan oil and green tea that are both nourishing and delicate.
We also liked that the staff took the time to explain each massage oil in their repertoire, so we ended up enjoying testing and picking out our oils for our scrubbing session.
A luxurious interior makes for a great ambiance
Great full-body Moroccan bath treatment
Excellent couples' suites and wet facilities
Excellent quality products
Some facilities are full of clients most of the time
Customer Reviews
Money well spent!
"An incredible experience in an incredible spot!
I booked a one-hour massage and I have to say that it's the best hour I've spent in Dubai. It's no doubt a 5-star experience from the arrival until the end." —Terence Jong, Google Reviews
What a treat!
"Lovely experience in this Spa! Went with some friends as a day treat.. highly recommend it. The staff is very knowledgeable. Loved the product Natura Bliss they used for my facial – I was glowing with rehydration. Definitely an amazing experience – I was so happy I ended up buying a gift certificate for a friend's birthday. Big Thank you to the Spa Team!" —Tanya Engvig, Google Reviews
3. Golden Tulip Spa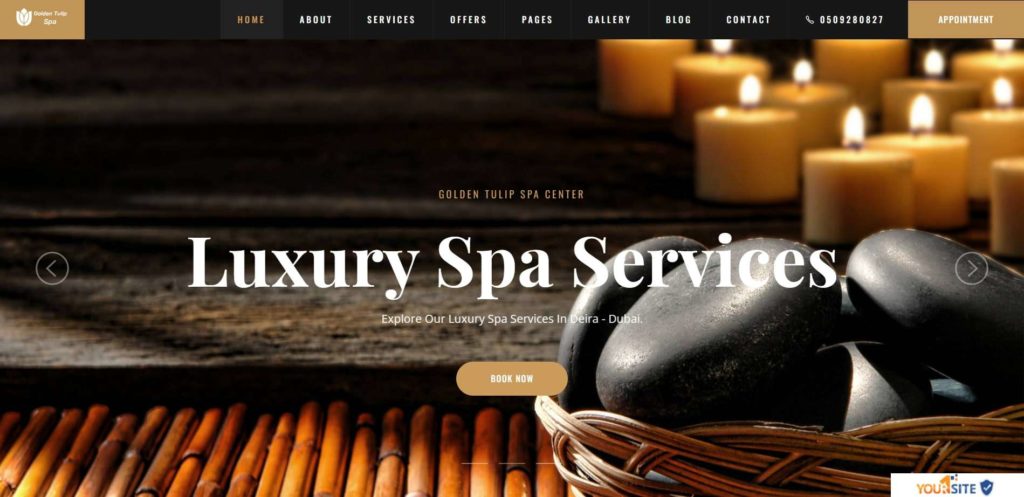 Test
Info
SERVICES
Moroccan bath, oil massage, aromatherapy massage, hot stone massage

Deep tissue massage, reflexology massage, four hands massage

WEBSITE
http://goldentulip-spa.com/
ADDRESS
Business Avenue Building, Ithihad Road, Port Saeed, Deira, Near Nissan Show Room - Dubai
CONTACT DETAILS
0509280827, 0504135503
OPERATING HOURS
Every day: 11:00 AM - 1:00 AM
| | |
| --- | --- |
| Criteria | Rating |
| Ambiance | ★★★★☆ (4/5) |
| Service Quality | ★★★★☆ (4/5) |
| Facilities | ★★★★★ (5/5) |
| Products | ★★★☆☆ (3/5) |
Golden Tulip Spa in Deira offers a distinct ambiance thanks to its use of European-style furnishings and fabrics. We love that the place is quite spacious, with decent lighting and clean surroundings.
We also appreciate how well-designed the steam room is for the Moroccan baths and the authentic Moroccan soaps it uses for bathing.
But while the facilities are nice, we did notice that during our visit some of the rooms catch the noise from outside, which we think ruins the entire serene and quiet energy we need to relax.
The service itself is quite good, though we think we have received better or more memorable services in some of the other spots on our list.
Booking is quite fast and convenient. However, we think its rescheduling process is just a bit strict and its therapists do expect you to arrive on time for your appointment.
Trying to get it moved when you arrive late, we found, can be a bit of a hassle when it comes to speaking with the staff about it.
And besides the authentic Moroccan soap, the products it uses are nothing worth mentioning. While its rates are definitely much more affordable compared to our other entries on this list, it was still disappointing to notice how generic the oils are.
On top of that, the Moroccan bath treatment was just not a holistic experience. We literally came into the steam room to get scrubbed and soaped up, and that was it.
Has a well-design steam room
Uses authentic Moroccan soap for the treatment
Affordable rates
Noise from the outside leaks into the spa
Nothing notable about other products being used
Treatment is not holistic
Customer Reviews
This is real massage they know how to massage
"All Staff are professional from reception to the therapist, and clean room as well. This is real massage they know how to properly massage. For sure I come back here again. Thank you." – Mim Ip, Google Reviews
It won't be the last time I will come again
"This spa place is incredible. The therapist and receptionist are professional and friendly, it won't be the last time I will come again. I was really satisfied. Thank you." – Christopher Dula, Google Reviews
4. Armonia Spa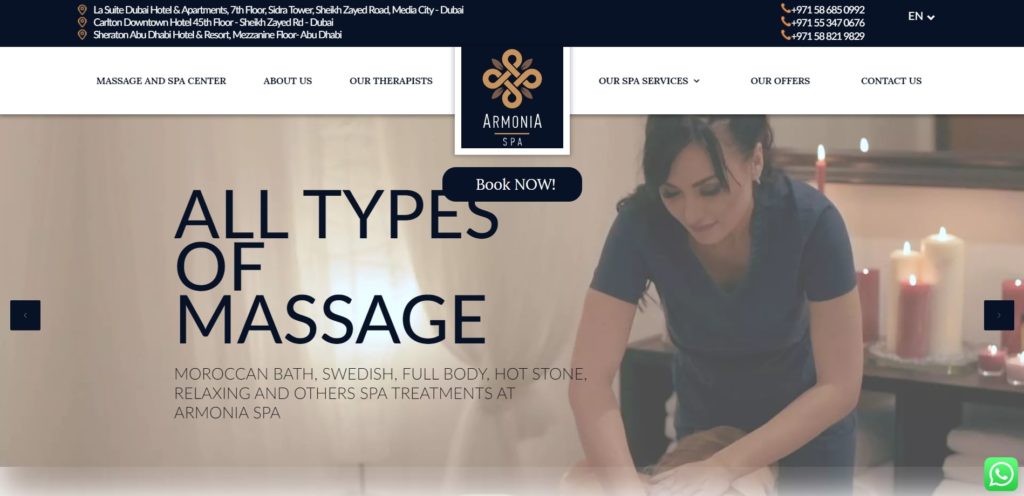 Test
Info
SERVICES
Moroccan bath, four hands massage, deep tissue massage, full-body massage
WEBSITE
https://armonia.ae/
ADDRESS
La Suite Dubai Hotel & Apartments, 7th Floor, Sidra Tower, Sheikh Zayed Road, Media City - Dubai

Has 2 more locations throughout the city

CONTACT DETAILS
+971 58 685 0992
OPERATING HOURS
Every day: 10:00 AM - 2:00 AM
| | |
| --- | --- |
| Criteria | Rating |
| Ambiance | ★★★★★ (5/5) |
| Service Quality | ★★★★★ (5/5) |
| Facilities | ★★★★★ (5/5) |
| Products | ★★★☆☆ (3/5) |
Offering Western and Eastern massage traditions to curate a luxurious spa experience for its clients, Armonia Spa's Moroccan bath treatment is simple but definitely effective.
It offers two packages, the Moroccan Bath package and the Royal Moroccan Bath Ritual package. If we are being honest, there isn't much difference to justify the AED105 gap between the two offers.
The Royal Moroccan Bath offers an additional 15 minutes to the session and some facial masks enriched with vitamins, and we think it is not enough to actually offer a holistic Moroccan bath experience.
Despite that, we love that it uses authentic Moroccan soap that effectively exfoliates the skin and removes the excess oil. The result was an effective deep cleansing experience for us.
We also love that this treatment is done in a private steam room on top of a warm marble table. The heat that the marble holds really helps us release the tension in our body and opens up our pores.
The minimalistic architecture of the steam room, with its beige tiles and warm cozy lighting, really helped us immerse in the experience.
When it came to the service, its friendly European therapists were very considerate enough to keep checking on us if the pressure of their massage and the scrubbing were to our liking.
Offers no-frills Moroccan bath treatments
Has private steam rooms with marble tables
Friendly service
Moroccan bath treatments barely have a difference from each other
Customer Reviews
A classy establishment that treats its guests as such
"I had the pleasure of visiting this establishment and was immediately greeted with a smile. The receptionists were pleasant and very helpful in getting my session going. My specialist Selina was respectful and patient considering this was my first time getting a Moroccan bath. As for her work, she was thorough and skilled making sure to get all areas of tension and always checking to make sure it met my tolerance. From top to bottom, this is a classy establishment that treats its guests as such.
Thank you Armonia Spa!!!" – Gervaise Weir, Google Reviews
I would highly recommend
"I had multiple massage sessions with Jasmine. She is a true professional. She has a lot of experience and it shows in her technique. I had multiple knots in my back and she got rid of them by applying adequate pressure in each session. If you are looking for a top-notch, professional massage, I would highly recommend Jasmine." – Ali Haris, Google Reviews
5. Serenity Spa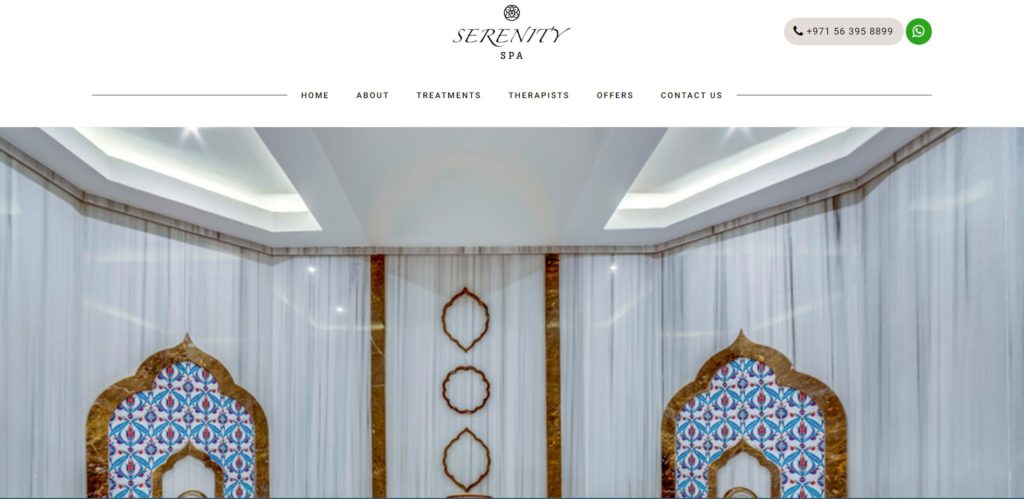 | Test | Info |
| --- | --- |
| SERVICES | Moroccan bath, Russian massage, Swedish massage |
| WEBSITE | https://www.serenityspa.ae/ |
| ADDRESS | UAE, Dubai, Sheikh Zayed Road, DIFC, Residence Inn by Marriott, 45th floor |
| CONTACT DETAILS | +971 4 215 0222, +971 56 395 8899 |
| OPERATING HOURS | Every day: 10 am - 12 am |
| | |
| --- | --- |
| Criteria | Rating |
| Ambiance | ★★★★☆ (4/5) |
| Service Quality | ★★★★★ (5/5) |
| Facilities | ★★★★☆ (4/5) |
| Products | ★★★☆☆ (3/5) |
Here at Serenity Spa, its expert therapists offer a wide range of treatments like the classic Swedish massage, Balinese massage, deep tissue massage, and its popular Moroccan bath & massage.
We love its package here because we get to choose between a Swedish massage or an Aromatherapy session to follow the treatment. Either way, these are the perfect follow-ups to ensure that our muscles are fully relaxed.
However, when it comes to its facilities, there really is not anything special about its Moroccan bath. While the spa itself is in great condition and very clean, the steam room is nothing special.
The service, however, was so much better. Its therapists, who are from Europe and Western Asia, are the ones that its clients keep coming back for.
They are the epitome of hospitality because they make us feel comfortable and keep our relaxed minds with such sanctity, that we can really tell that they do their jobs with such passion.
While the decor is somewhat generic and feels like a showcase sample of interior designs for a spa, the music, the service, and the lighting all come together for a serene and relaxing energy.
But the products are too generic and artificial for our liking. We can tell by the strong aroma of the oils and the lack of scent from its Moroccan soap that the ingredients used are mostly man-made.
Excellent therapists and excellent service
Serene and relaxing ambiance
Facilities are in excellent condition
Generic artificial products
Decor is generic
Nothing special about its facilities
Customer Reviews
Beautiful SPA, with very good facilities, and super clean
"Beautiful SPA, with very good facilities, and super clean.
It has a Moroccan bath.
I had a Swedish Massage and it was the best massage I've had in a long time, I'll certainly be back" – A Z, Google Reviews
Be sure to check it out
"Be sure to check it out and experience an amazing treatment at the Serenity Spa 🙌🏻😍😍😍 I had an opportunity to visit them for some self-care and it was absolutely outstanding! The massage therapist was so nice, gentle, and attentive. I really had a wonderful day!
Overall, very kind and friendly team, a wide range of treatments, and a perfect cozy atmosphere. Really can't wait to come back there again and again 🤩🤩🤩" – Anna Stashkevich, Google Reviews
FAQs about Moroccan Baths in Dubai
---
We hope this helped you find your favorite Moroccan bath in Dubai. Also, if you're looking for other spa recommendations, then check out these articles: