The 5 Best Bars for Happy Hour in Dubai
Nothing feels more right than ending a long workday or starting a weekend with an amazing happy hour in a swanky bar.
Whether it comes with reduced prices or a buy 1 take 1 promo, happy hours can be a great budget-friendly way to have some fun with nice drinks
Thankfully, Dubai has great bars that have made happy hour a time of the day that we look forward to often.
So we tried some highly recommended spots to give you our favorite bars for happy hour in Dubai!
How We Picked the Best Bars for Happy Hour in Dubai
Before we get right into our best bars for happy hour in Dubai, here are the factors we considered for our entries on this list:
1. SoBe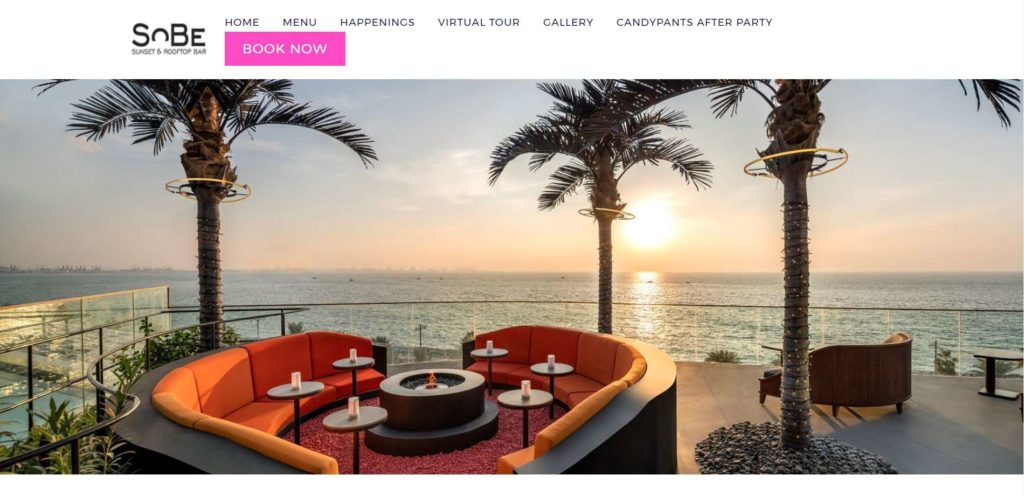 Test
Info
MENU ITEMS
Cocktails, spirits, wine
WEBSITE
https://www.sobedubai.com/
ADDRESS
W Dubai - The Palm, West Crescent, Palm Jumeirah, DXB
CONTACT DETAILS
+971 4 245 5577
OPERATING HOURS
Sunday to Tuesday: 5 PM–2 AM

Wednesday to Saturday: 5 PM–3 AM
| | |
| --- | --- |
| Criteria | Rating |
| Menu | ★★★★★ (5/5) |
| Promo | ★★★★☆ (4/5) |
| Service Quality | ★★★★★ (5/5) |
| Ambiance | ★★★★★ (5/5) |
Offering one of the rarest views in the vicinity of Palm Jumeirah, SoBe proves that being timeless means bars don't have to be devoid of colors.
Combining the effervescence of '90s Miami neon street art and the grandeur of '20s art deco, this rooftop bar with a 360-degree view of Dubai is vibrant and exploding with music and energy.
We are big fans of the atmosphere of the bar as a whole. The whole maximalist approach to the decor and the presentation of the food and drinks really complemented the grandness of the Dubai skyline.
And the staff's energy matched the place too. We enjoyed how friendly and energetic the waiters were.
They were very accommodating and even went above and beyond to get us a great spot to watch the sunset.
The vibrance of SoBe is also found in its cocktail selection. We found the cocktails to be artistically presented and ready for our Instagram accounts.
Not only that, we enjoyed how they tasted, and the flavors really prepped us for a great night.
And speaking of getting us prepared for the night ahead its happy hour means that most of its cocktails are only AED38 per glass. We love how it is such a budget-friendly choice to start our night out.
However, it is definitely not the most exciting happy hour out there because SoBe does not add anything special to it. However, it happens during the sunset, and the bar is situated to offer an amazing view of it.
Energetic and accommodating staff
Unique and vibrant decor
Great happy hour promo
The food and drinks tasted and looked great
Nothing special about its happy hour promo
Customer Reviews
Will keep coming back
"We were on the terrace having a few drinks and it was a great experience. We had the pleasure of meeting Sara who looked after us wonderfully and made us have a great time. We will certainly come back to enjoy the experience again." —Andrea Albos, Google Reviews
Great vibes and excellent service!
"It's such a good vibe when I entered SoBe, we were sitting outside to enjoy the shisha. There was a DJ playing at that time. We were served by Ani. She's attentive and fast. She explained the food exactly like what we received on the table. The food and the beverage are excellent. SoBe is truly an experience. I would like to come back again to enjoy this place." —Octavine Christie, Google Reviews
2. Carnival by Tresind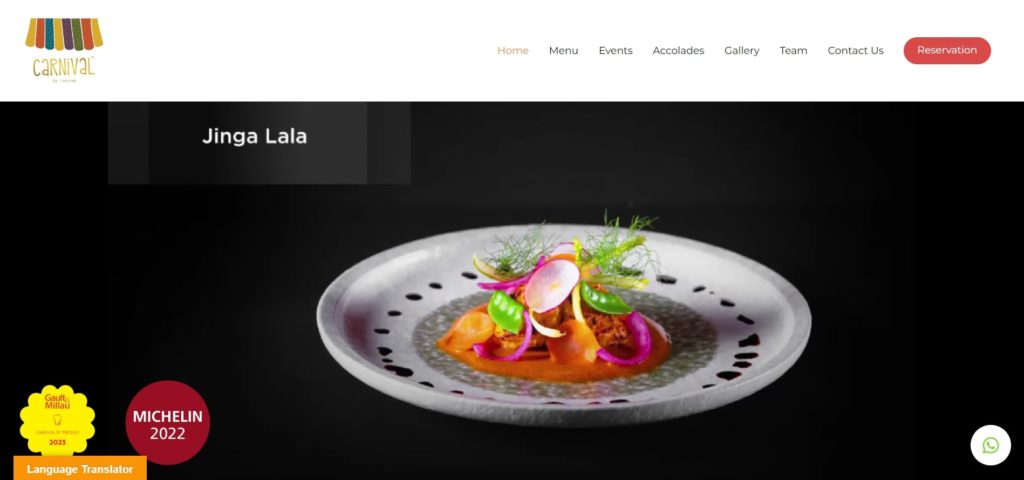 | Test | Info |
| --- | --- |
| MENU ITEMS | Cocktails, beers, wines, spirits |
| WEBSITE | https://carnivalbytresind.com/ |
| ADDRESS | The Buildings by Daman - 312 Al Sa'ada Street - Za'abeel - DIFC - Dubai - United Arab Emirates |
| CONTACT DETAILS | +971 52 242 4262 |
| OPERATING HOURS | Every day: 12 pm - 11:30 pm |
| | |
| --- | --- |
| Criteria | Rating |
| Menu | ★★★★☆ (4/5) |
| Promo | ★★★★☆ (4/5) |
| Service Quality | ★★★★★ (5/5) |
| Ambiance | ★★★★☆ (4/5) |
Modernizing and innovating vegan and meaty Indian dishes is not the only thing that Carnival by Tresind is good at.
The happy hour menu offers beers, wines, spirits, and cocktails. However, we were disappointed that it only offers 3 kinds of cocktails during happy hour.
We definitely think that some diversity in its alcoholic fares could do it some good.
Despite that, Carnival by Tresind offers a tempting offer. For 4 drinks at AED99, it means that its happy hour promo is a steal.
We love that we can either go through a few more rounds of drinks or couple these with a few exemplary Indian dishes to go along with it.
However, nothing else is really happening here during its happy hour.
Despite that, the service we got was great. We love how the staff made sure that the dishes and drinks we ordered were the kinds that we would usually enjoy.
The staff showed great knowledge of the menu and communicated to us their recommendations in the best way possible.
When it came to the ambiance of the restaurant, we loved how the space was decorated to be flamboyant and unabashedly festive.
The plating of the dishes was beautifully quirky, and the seating was not afraid of displaying a rainbow of colors.
However, there were some aspects of the space that clashed with what it was trying to do. The flooring and the ceiling were bland beige and black colors, and the wallpapers did not make sense with the decor.
Offers different kinds of alcoholic drinks during happy hour
Great happy hour promo
Excellent service
The decor clashed with the wallpapers and the flooring
Nothing else is happening during happy hour
Offers only 3 kinds of cocktails
Customer Reviews
It is an Indian restaurant but with a lot of great and unexpected twists.
"It is an Indian restaurant but with a lot of great and unexpected twists. We tried the Chef's tasting menu and it was absolutely amazing. To get the whole experience, I would highly recommend going with this option. There is a non-vegetarian and a vegetarian option.
The staff is attentive and explains every course, what it is, and how to actually eat it.
The best is the dessert, when they bring a big plate and paint on the plate with sauces of different flavors, at the end they crush a bar of chocolate in a shape of a cocoa bean onto the plate and add more chocolate.
Everything there has an interesting twist, great ideas, and tastes delicious.
It's not the cheapest Indian restaurant but it's definitely worth trying. The only annoying thing is they add extra taxes and fees on top of the bill which makes 22% extra!! Be aware of that." — Lenka Abs, Google Reviews
A unique experience, fine dining at its best!
"A unique experience, fine dining at its best!
I tried their signature nine-course tasting menu and it's by far one the best experiences I had.
The attention to detail is really one of a kind, the flavors are exquisite, my favorites were the mushroom terrine and the lamb chop with tabasco mash and green pepper sauce.
The lemon pickle sorbet with popping candy was a pop of flavor, really you got to try it for yourself!
The signature cake at the end was a fun way of ending the meal.
Overall, the dining experience was one of a kind, everything was served to perfection, the drinks were unique, the background music was relaxing, the professionalism of the staff.
This restaurant was recommended by Michelin and it definitely rises up to its reputation, will surely come back for more." —Lolita Lolita, Google Reviews
3. Urban Bar & Kitchen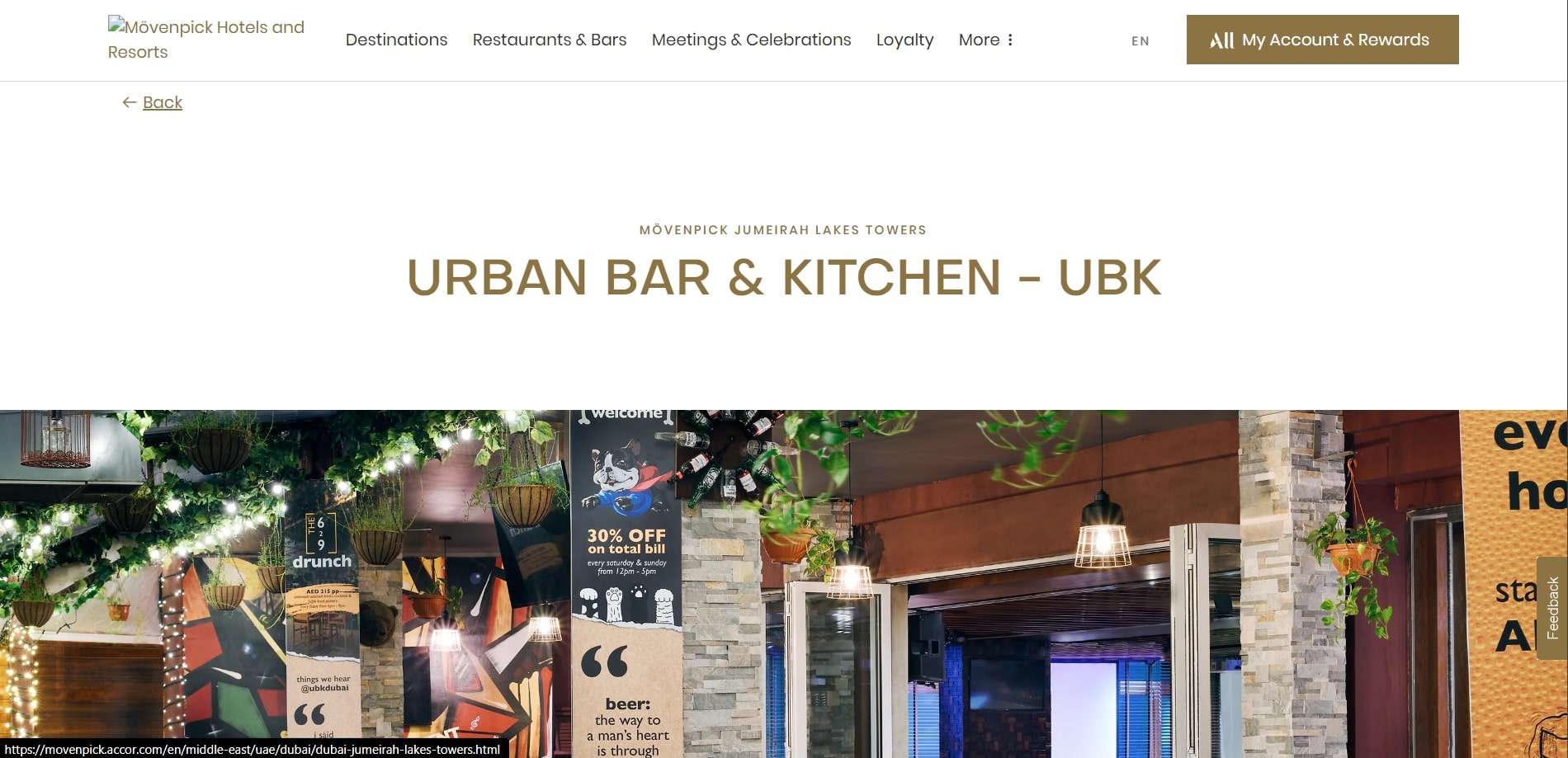 | | |
| --- | --- |
| Criteria | Rating |
| Menu | ★★★★☆ (4/5) |
| Promo | ★★★★★ (5/5) |
| Service Quality | ★★★☆☆ (3/5) |
| Ambiance | ★★★★★ (5/5) |
The only thing that is better than a happy hour is the kind of happy hour that lasts every hour. That is exactly the case at Urban Bar & Kitchen with its English garden pub vibes, and a selection of house drinks, including beers, wines, and spirits.
While its drinks menu mostly only offers classic fares and cocktails that almost every bar in Dubai serves, it makes up for it with its special section of house drinks that are based on unique recipes exclusive to Urban Bar & Kitchen.
On top of that, this bar offers a great deal on its happy hour. A drink only costs AED33, and you can get the chance to earn that back on Wednesday nights.
That is right, on Wednesday nights, Urban Bar & Kitchen hosts a quiz and game night, and your table could win AED500 worth of food and beverages. We love how it makes happy hour that much more exciting with a weekly event.
However, the staff could definitely need some improvement. We noticed that the service lacked attention and a sense of urgency.
Despite that, we love the casual and relaxed vibe that the place emanates. The green canopy and fairy lights give off that outdoorsy cozy energy that feels like we're having fun in a friend's backyard.
Great discount on drinks
Has a great selection of house drinks
Relaxed ambiance
Happy hour happens alongside game and quiz night
The drinks menu is mostly limited to the usual cocktails and spirits
Slow and inefficient service
Customer Reviews
UBK is a lovely place to hang out with friends & family
"UBK is a lovely place to hang out with friends & family.
The beautifully designed garden bar has live music. it is a spacious bar and lounge with a massive bar table on one end and tables on the other. The dark, warm ambiance, exposed filament bulbs, opulent interiors, and great music sets up the mood. The bar counter is very well designed in the corner and looks very attractive. The Seating arrangement is super comfortable. They have a lot of different tables depending on the group size. this place has a very pretty interior. The lighting design and placement will definitely catch your attention. The music at this place was also excellent.
All in all, definitely a place to visit with your date or for groupies. There is ample space to let your footloose. The staff was polite and helped us with the menu selections. The service was excellent, the presentation exquisite, and the ambiance very vibrant. The music and am told the live sessions are icing on the cake." – The Vegetarian Couple (TVC), Google Reviews
A great pick for happy hour
"The food is great and there's lots of variety for vegetarians and vegans. There's a happy hour drinks menu until 8 pm every night. The service is always good.
Live music on certain nights and pet friendly on certain days. Quite a few TVs for anyone interested in sports.
The entrance to UBK can be found in the basement. You can also get there from the staircase in the left parking lot next to Movenpick Hotel…Might also be able to enter directly from Movenpick Hotel. I know I struggled to find it the first time I went." – Joshua Taylor, Google Reviews
4. The Notorious P.I.G.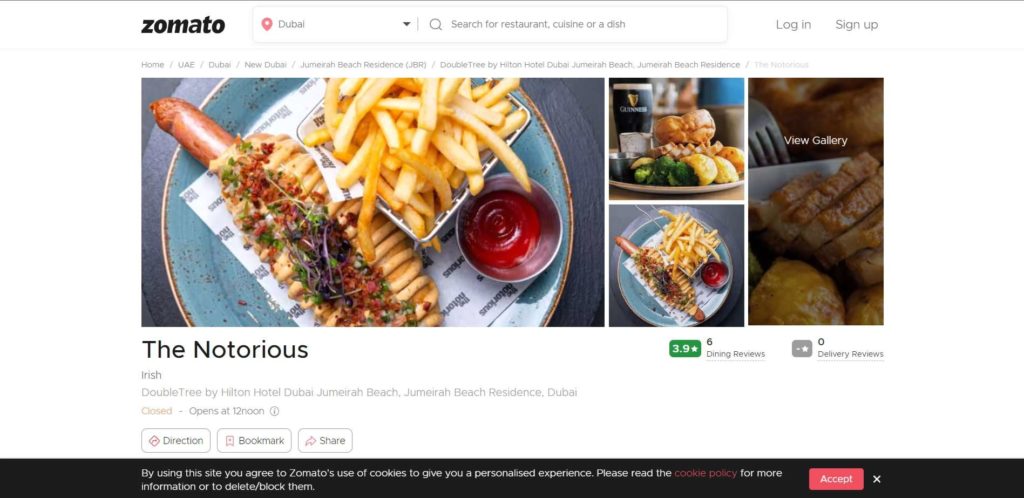 | | |
| --- | --- |
| Criteria | Rating |
| Menu | ★★★★☆ (4/5) |
| Promo | ★★★★★ (5/5) |
| Service Quality | ★★★★★ (5/5) |
| Ambiance | ★★★★☆ (4/5) |
A local pub with no frills, no fuss, and no graces, The Notorious P.I.G. only seeks to deliver the best pork-filled menu, hops, and great loud live music.
While its happy hour drinks menu is limited to beer and hops, it has enough diversity in the types of beer it serves to satiate any enthusiast's weekly thirst for some good ale.
And while we aren't big beer drinkers ourselves, we truly appreciate that there is at least one great beer spot in Dubai that is not afraid to only serve good cold glasses of beer.
On top of that, its happy hour is every hour every day! With its selected pints priced at AED35 per glass, we are sure you will be coming home happy from your weekly libations.
We also found ourselves coming back to it again and again because of its loaded weekly events and promos. It has roast dinners every Sunday, unlimited bacon snacks and beverages for 3 hours for women every Wednesday, and a whole lot more.
The atmosphere is a more modernized version of the UK pubs. With warm and bright lighting and wooden furniture, the space feels warm, welcoming, and casual.
We love that the live music even expands on its homeliness like we were stepping into a friend's house for a nice party.
However, The Notorious' live music is sadly very limited to mostly 80s songs, which are not bad, but definitely doesn't fit the age range of its customers sometimes.
Has a wide range of beers on its menu
Happy hour is all day every day
Has a great set of promos and events happening all the time
Warm and bright ambiance
The live music is outdated
The happy hour menu is limited to beer
Customer Reviews
Great pub!
"Great pub with great offers on draft beer/cider. Shalufah was really attentive with fantastic customer service. I had been recommended this place through a friend, apparently, they show all the football here so maybe I will check it out when the football season starts." -Gareth Evans, Google Reviews
Very good artists and atmosphere
"Great restaurant. The all-pork menu, amazingly attentive staff, views of Bluewaters, and fantastic live music mean we will be back as regulars. Please save room for dessert!" -Katherine Riddle, Google Reviews
5. McGettigan's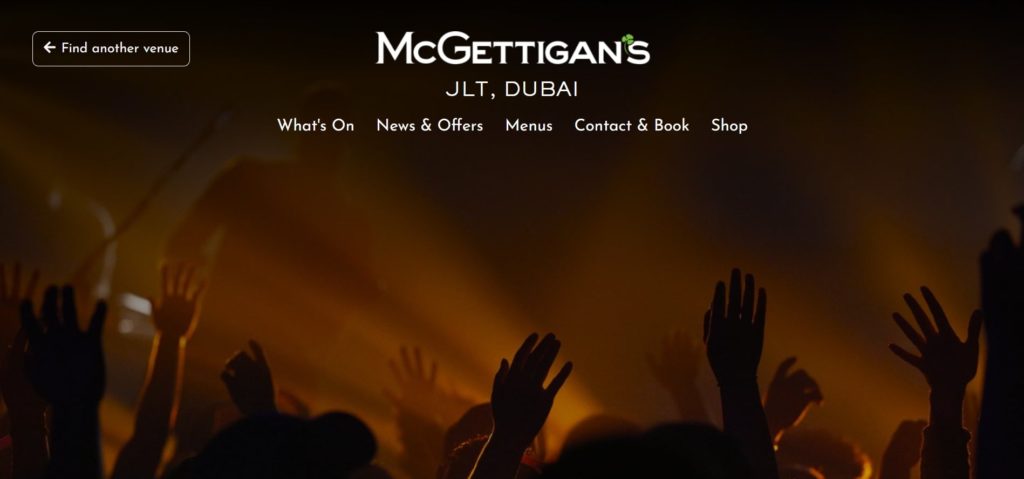 Test
Info
MENU ITEMS
Draught beers, bottled beers, ciders, wines, spirits
WEBSITE
https://www.mcgettigans.com/jlt-dubai.html
ADDRESS
Cluster J, Jumeirah Lakes Towers, Dubai
CONTACT DETAILS
+971 4 356 0470
OPERATING HOURS
Monday to Friday: 12 pm - 3 am

Saturday to Sunday: 10 am - 3 am
| | |
| --- | --- |
| Criteria | Rating |
| Menu | ★★★★★ (5/5) |
| Promo | ★★★★★ (5/5) |
| Service Quality | ★★★★★ (5/5) |
| Ambiance | ★★★☆☆ (3/5) |
Part of McGettigan's global pub chain, McGettigan's offers a more worldly pub experience that goes beyond the origins of it in the UK.
Its happy hour lasts for eight hours (an entire workday's worth!) and has amazing deals on its draught beers, bottled beers, ciders, wines, and spirits. We love the focus on artisan drinks for its happy hour because we don't usually see this in most bars.
But what makes it even better is that most ingredients are sourced locally, adding depth to the selections while also importing ingredients straight from Ireland to fuse some authenticity into it.
And the menu certainly has withstood the test of time as this pub is one of the oldest in Dubai.
The happy hour deal doesn't hurt it either. During this time, draught beer and ciders cost AED33, bottled beers and wines only AED32, and spirits for only AED30. These deals are more than enough to make us drink like the Irish.
The ambiance is great, too. With a spacious drinking area, a hops garden, — a rare sight in Dubai — and live Irish music, McGettigan's certainly perfects the typical Irish pub atmosphere.
However, the empty spaces of the space, while it could prove to be relaxing, do take away some of the liveliness and jolliness that we'd come to expect from this kind of pub.
Besides that, the lack of dedicated smoking areas tends to fill up the interior with the strong scent of smoke, which was kind of upsetting
But that's okay because it is completely offset by the numerous entertainment features the pub has. Brunches, stand-up sets, live music, and sports viewing parties fill up the nights.
Great range of happy hour drinks
Great happy hour deals
Authentic lively Irish pub ambiance
Numerous entertainment features including live acts
The big spaces in the pub make it feel empty
The pub often smells of cigarettes
Customer Reviews
Will always be my favorite pub
"I've been here 4 years ago last time and when I came 2 days ago nothing seemed familiar!! All is new and it became much bigger and more comfortable! Awesome place to eat, drink, dance, and play billiards even! The food was delicious 😋 live music was great 👍 people were drunk and happy 😊 really nice place! I recommend it!" – Natalia Barabanova, Google Reviews
One of the best places in the area
"One of the best places in JLT and Marina neighborhood to bring your friends to watch sports events. Huge place comprising several seating areas under one roof.
The best part, is there are many pool tables available to have fun with your friends. Rates are not so high and food quality is good.
It's busier on weekends so if you're planning to go there on weekends, better book a table in advance." – Mohammad Khan, Google Reviews
FAQs about Happy Hour in Dubai
---
We hope this helped you find your favorite bar for happy hour in Dubai. Also, if you're looking for other bars and lounges to try out, then check out these articles: