The 5 Best Gaming Cafes in Dubai
Playing as a team is so much more fun than going solo (most of the time), because we love sharing the losses and the wins with each other.
Gaming cafes are the perfect places for this as we end up either just having an overall great time or getting competitive.
To find out which ones are truly amazing, we went and asked around the city to give you Dubai's best gaming cafes.
How much does it cost to play in a gaming cafe in Dubai?
The cost of playing in a gaming cafe depends on which kind of gaming platform you are going to use, and how long you will be playing. The most common gaming platform is a desktop computer which is usually charged by the hour.
To help you get started, gaming cafes usually set their hourly rates at AED7 on average. Some gaming cafes also offer VIP access to private gaming suites for individuals at AED10 per hour.
How We Picked Dubai's Best Gaming Cafes
Before we get right into our list of Dubai's best gaming cafes, here are the factors we considered for our entries on this list:
1. Rails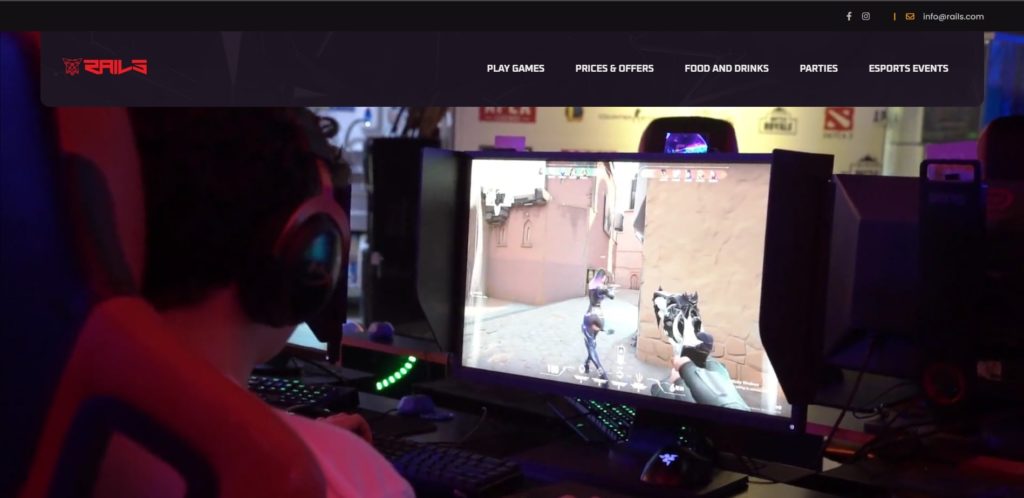 Test
Info
SERVICES
PC gaming, console gaming, foosball, billiards
WEBSITE
https://rails.ae/
ADDRESS
Lake Level - Gold Crest Executive Tower. JLT Shop C5 - 1 Cluster C - Dubai - United Arab Emirates
CONTACT DETAILS
+971 4 423 7742
OPERATING HOURS
Sunday to Thursday: 10 AM–3 AM

Friday to Saturday: 10 AM - 5 AM
| | |
| --- | --- |
| Criteria | Rating |
| Equipment | ★★★★★ (5/5) |
| Amenities | ★★★☆☆ (3/5) |
| Ambiance | ★★★★☆ (4/5) |
| Range of Games | ★★★★★ (5/5) |
A newcomer to the scene that is already making waves for its chill neon-lit ambiance, Rails has PCs and PS5s for the video gamer, and foosball tables and billiards for those looking for something more tangible.
All of Rails' desktops are retrofitted with NVIDIA GPUs with their quality getting better as you go up the cafe's tiered pricing structure. The VIP zone has PCs with NVIDIA 3080 GPU, 360Hz BenQ monitor, and i9 CPU, all promising a smooth gaming experience.
We also love that it has PS5s that are available both in private rooms (great for an intimate party gaming experience) and in the open area.
Rails also features a food menu that is great for intense gaming sessions. The menu includes a lot of finger foods such as mozzarella sticks, french fries, Sambousik, and many more.
And while we enjoy the ease of picking up your snack with our free hand, we do not like the fact that the grease and the sauce get on our fingertips, the very same ones we use to press buttons and the keyboard.
On top of that, besides the food and drinks menu, it doesn't have any other amenities on the premises.
Whatever it lacks in this aspect, Rails makes up for it in the energy of the space. It is decked out in neon lighting that playfully complements the industrial vibe of the interior.
The exposed pipes make up for the lack of decor, while the leather gaming chairs and the keyboards with LED lighting really give off that classic gaming mancave energy.
Has PCs, PS5s, foosball tables, and billiards
Has a great food and drinks menu
Space is decked out in neon lights for that classic gaming ambiance
Customer Reviews
Overall, it's a heavenly place for gamers
"A nice play to enjoy with your friends, and has a nice atmosphere for gamers, as a beginner in FPS games I felt a little hard but it was the best place to visit to enjoy PC games, billiards, and Foosball. The staff were always there to help us. Sorry, but I have not experienced the food. So I would like to just say that the food had a great appetizing aroma. Overall it's a heavenly place for gamers
Kid-friendliness: There were not a lot of game options for kids to play but certainly, they would enjoy it."—Chandresh Vajravel Rajesh, Google Reviews
I'll be coming back here regularly!
"I loved the concept of this gaming cafe. The computers and gaming consoles are high-end and very well-maintained. And it is very pocket-friendly.
Food is freshly prepared and served while playing too.. the best place to visit during vacations. Separate gaming rooms are designated according to age groups and a separate billiards area too. A must-visit place for gamers of all age groups. Non-gamers can also enjoy the ambiance and food." —Asra Mohammed, Google Reviews
2. Millennium Avenue Gaming Cafe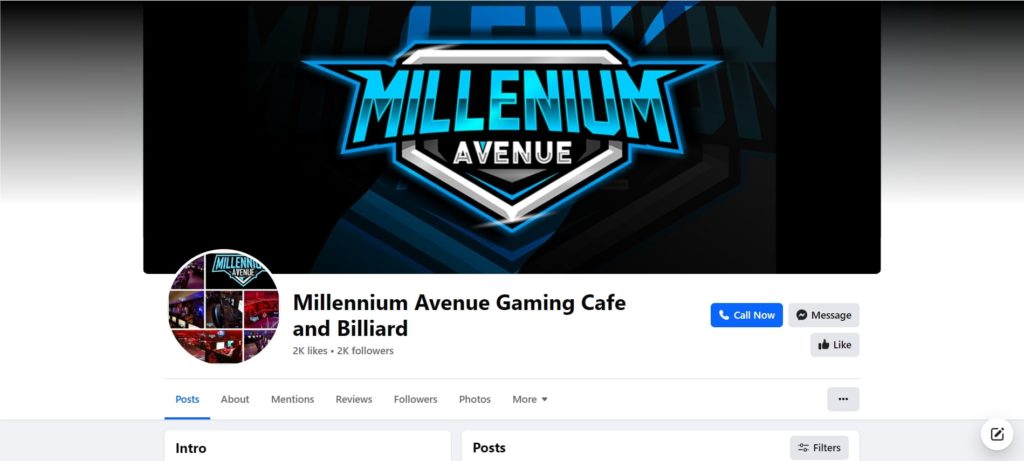 | Test | Info |
| --- | --- |
| SERVICES | PC gaming, console gaming, ping pong, billiards |
| WEBSITE | https://www.facebook.com/MillenniumGamingCafe |
| ADDRESS | Millenium Avenue Gaming Café, New Al Safiya Building, Abu Hail Road, Hor Al Anz, Deira |
| CONTACT DETAILS | +971 4 294 7777 |
| OPERATING HOURS | Open 24/7 |
| | |
| --- | --- |
| Criteria | Rating |
| Equipment | ★★★★★ (5/5) |
| Amenities | ★★★★☆ (4/5) |
| Ambiance | ★★★☆☆ (3/5) |
| Range of Games | ★★★★★ (5/5) |
If serious gaming is what we are talking about, then head on to Millennium Avenue gaming cafe where all kinds of competitive online gaming tournaments are being held semi-regularly.
With top-of-the-line specs for its VIP PCs (the same ones that are being used in its competitions), and PS5s in its console gaming section, this gaming cafe prides itself on the equipment sitting pretty on its tables.
It also has a food and drinks menu filled with pizzas, sandwiches, and sushi. While these can still be great snacking food while gaming, we also love that we have the option to eat it with utensils so that we can avoid greasy fingers.
It also has a small cafe attached to the space which we love taking a quick break in when we are having one of our gruelling multi-hour gaming sessions with friends.
However, besides that, it really does not offer anything else with amenities. We still appreciate a small space where we can be away from the screen for a little bit, though.
Our main problem with Millennial Avenue Gaming Cafe is that the space is ruined by the strong stench of smoking and alcohol. Because of this, long hours here can feel nauseating, especially if you're not used to the smell.
Despite that, it does not deter gaming enthusiasts from all over the city from coming here and either playing with or watching local gaming masters excel in online competitive games, 1v1 fighting games, and even ping pong.
Gaming cafe that organizes semi-regular competitions
Top-of-the-line gaming equipment
Has a small cafe for drinks and food
Has a great range of games on different platforms
Ambiance is ruined by smokers and alcoholic drinks
Not many other amenities
Customer Reviews
Amazing place to hang out with friends for billiards or PC gaming
"Amazing place to hang out with friends for billiards or PC gaming. The food prices in the kitchen are a tad bit higher than other places and orders can take some time but that's the only problem. Besides that the gaming PCs and billiards tables are decent with a clean environment." – Abdul Rauf Muhammad Usman, Google Reviews
The computers are well-equipped, and the rates are affordable
"The computers are well equipped, and the rates are affordable; walking distance from the Metro, though there is a heavy aroma of smoke/vape, so I wouldn't really recommend it for people that are sensitive to that. But for others who are fine with the smell and smoke, I would definitely recommend it as a place to do some gaming from time to time." -Amir G., Google Reviews
3. Que Club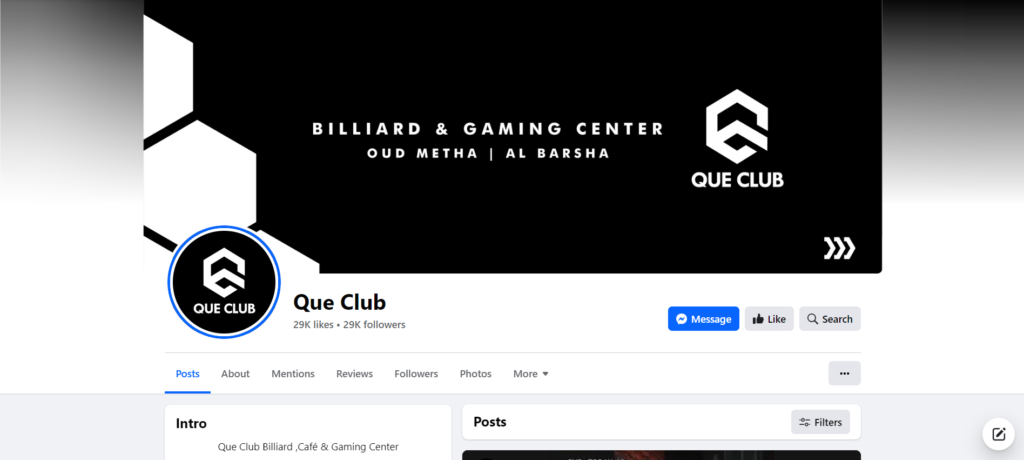 Test
Info
SERVICES
PC Gaming, console gaming, billiards
WEBSITE
https://www.facebook.com/Queclubs2003
ADDRESS
Emerald Properties Building, Al Barsha, Close Emirates Mall Opposite Dubai American Academy - Dubai - United Arab Emirates

Has 1 more location throughout the city

CONTACT DETAILS
+971 4 385 1191
OPERATING HOURS
Every day: 10 am - 13 am
| | |
| --- | --- |
| Criteria | Rating |
| Equipment | ★★★★★ (5/5) |
| Amenities | ★★☆☆☆ (2/5) |
| Ambiance | ★★★★★ (5/5) |
| Range of Games | ★★★★☆ (4/5) |
Another competitive gaming cafe, Que Club is a trendy upscale option that we just keep coming back to because of its swanky space and high-end gaming equipment.
A cross between a billiards hall and an internet gaming cafe, it keeps the space alive by hosting multiple competitions for video games such as Valorant, Fortnite, Counter-Strike, and Super Smash Bros alongside tournaments for billiard players.
We love how it lets its loyal crowd be a part of the space's energy by turning it into a community — all of whom share a passion for these games.
On top of that, the colorful and zany walls are decorated with the PCs' CPUs that have been customized to emit LED lights that add to the lighting of the whole space.
However, it is severely lacking in the amenities section. Besides a small food and drinks menu, there is literally nothing else, which is disappointing since it is supposed to be an upscale gaming cafe.
But when it comes to the range of its games, while it may only have billiards from the spectrum, its video games are definitely a library in the making.
Que Club continuously updates its video game collection on both PC and console with the biggest latest releases, so that everyone has a reason to come visit again.
Upscale gaming cafe with high-end equipment
Hosts tournaments for all kinds of games
Colorful and lively ambiance
Wide range of games on PC and PS5
Lacks amenities
Only has billiards for physical games
Customer Reviews
It deserves a perfect 10/10 rating
"I have frequented this establishment on multiple occasions, and one aspect that truly stands out to me is the reasonable pricing. Given the nature of this place, one might expect exorbitant prices, but I'm pleased to say that everything remains within a normal budget.
Furthermore, their customer service is exceptional. They consistently answer calls promptly without leaving customers on hold, and they are always eager to address any inquiries or concerns.
The cleanliness of the premises is noteworthy as well. Whether it is the billiards area or the PC/PS5 gaming area, both are regularly cleaned and well-maintained.
After nearly two years of patronage, I can confidently state that I have never been disappointed. This establishment consistently delivers excellence on every level. It deserves a perfect 10/10 rating." – Bassel Alkhattam, Google Reviews
Great ambiance, the team is friendly and welcoming
"Great ambiance, the team is friendly and welcoming. The food is good, and prices are fair but it will be nice to have an offer every now and then. It's a fun place to hang out in." -Tariq Ebrahim, Google Reviews
4. DZZRT ESports Gaming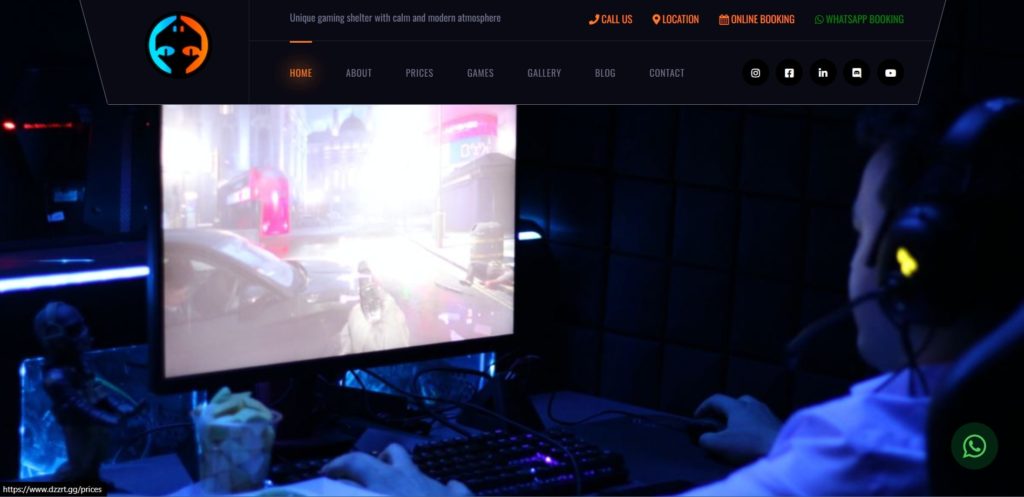 | Test | Info |
| --- | --- |
| SERVICES | PC gaming, console gaming |
| WEBSITE | https://www.dzzrt.gg/ |
| ADDRESS | Villa 106 - 39th St - Al Barsha - Dubai - United Arab Emirates |
| CONTACT DETAILS | +971 58 583 9978 |
| OPERATING HOURS | Every day: 12 pm - 4 am |
| | |
| --- | --- |
| Criteria | Rating |
| Equipment | ★★★★★ (5/5) |
| Amenities | ★★★★☆ (4/5) |
| Ambiance | ★★★★★ (5/5) |
| Range of Games | ★★★★☆ (4/5) |
Established by a group of passionate gamers, DZZRT ESports Gaming has managed to build a gaming oasis that is decked out with high-end gaming equipment fit for the modern-day gamer.
We love the certain sleekness that its space has with its ambient LED lighting hidden behind petitions, complemented by a soft bluish-purple light that makes the whole place feel futuristic.
We also appreciate how the space is divided into multiple sections to neatly organize the crowd depending on the service they availed, which makes the whole experience more focused and contained within our preferred gaming platform.
We also can't get enough of the Lavazza coffee that it serves. It really says something about the quality it is willing to deliver to its customers.
It also has fresh juices, mocktails, and sandwiches on the menu, making it an ideal destination for non-gamers as well.
And we appreciate that despite the menu being the only amenity on the premises, we are big fans of how decked out its menu is to the point that we see people who don't play games visiting it.
As for its equipment, the PCs here are continuously updated with the latest versions of its hardware so that they can keep supporting the latest video games.
We were kind of impressed that it already has Cyberpunk: 2077 up and running quite smoothly on all of its units.
We were also happy to see classics such as World of Warcraft and League of Legends, although its inventory of PS5 selections needs some improvement.
Sleek and comfortable ambiance
Has a wide range of drinks and snacks available
High-end gaming equipment
Has an updated inventory of video games on PC
Limited amenities
PS5 games are limited
Customer Reviews
One of the best gaming lounges in Dubai
"One of the best gaming lounges in Dubai. The staff is very nice and the computers are modern and up to speed with new games. The ambient is perfect for gaming, with a lot of diversity which brings players from all over the world. Definitely recommended" – Ramzi BR, Google Reviews
Amazing gaming experience
"Amazing gaming experience. PCs, Playstation & Xbox with latest specs. Unique gaming experience for a group where you get your own room with privacy. Beverages are available to tickle your taste buds." – Vikas Padhi, Google Reviews
5. Last Resort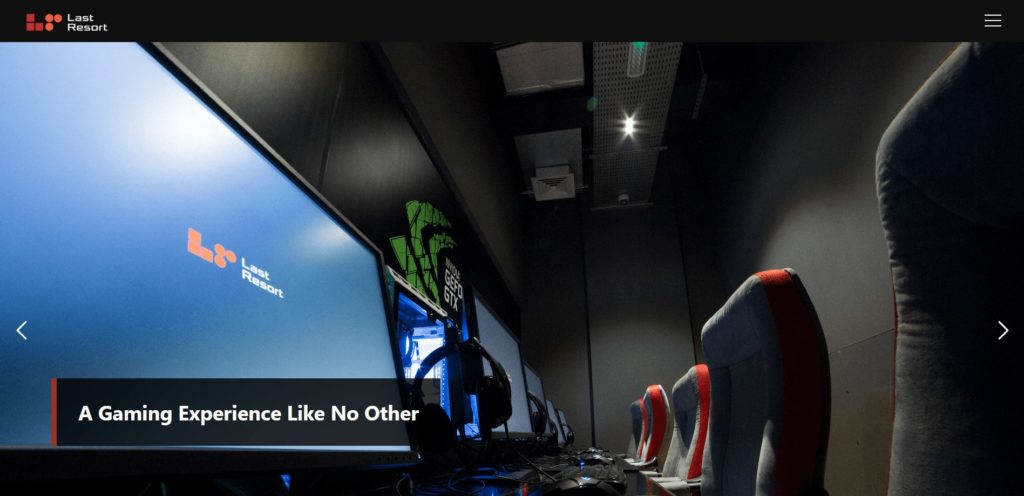 | Test | Info |
| --- | --- |
| SERVICES | PC gaming, console gaming |
| WEBSITE | https://www.lastresort.ae/ |
| ADDRESS | 34 2B Street, Behind Crowne Plaza Jumeirah, Al Hudeiba |
| CONTACT DETAILS | 04 327 7773 |
| OPERATING HOURS | Every day: 11 am - 3 pm |
| | |
| --- | --- |
| Criteria | Rating |
| Equipment | ★★★★★ (5/5) |
| Amenities | ★★★★☆ (4/5) |
| Ambiance | ★★★★★ (5/5) |
| Range of Games | ★★★★☆ (4/5) |
A safe realm for gamers, both pro and amateur, since 2010, The Last Resort is not just home to some high-spec PCs, but also a food menu that gets its rep for a certain food item.
The interior of this gaming cafe is simple with its dark walls and stark white lighting that is reminiscent of being inside a cinema house. The great thing about this is that it is very conducive for focusing on whatever is on screen.
So while the ambiance may be a little bit simple, it definitely does the trick when we are trying to rack up our score.
And with simplicity comes efficacy, because its equipment is amazing for gaming. With its NVIDIA GPUs that offer high-fidelity gaming experiences, and super-fast gaming rigs with jaw-dropping peripherals, it is easy to say The Last Resort knows what it's doing.
It is also home to the famous Juicy Lucy burger, the menu item that threatens to overshadow its gaming experience with its deliciousness.
However, besides its awesome food and drinks menu, it was disappointing to know it does not have a lot to offer in the amenities department.
But it makes up for it in the number of computer games it has. However, it is limited to just this particular console as it does not have PS5s and XBoxes like the other gaming cafes.
High-end PC units for gaming
Simple and clean ambiance that is great for focusing
A wide range of computer games are available
Has a popular food and drinks menu
Limited amenities
No other consoles besides a PC
Customer Reviews
Last Resort is a lifestyle
"Last Resort is a lifestyle. If you are looking for a place to chill, dine, or have breakfast or lunch, you need to visit this venue. Food is amazing in every way. A modern menu with different cuisines for every palate. They greet you with wide smiles and attend promptly to any request or order. As for the games/movies, hand down it has the best computers and management in Dubai. Last visit, I ordered Chicken Zurich style for the main, sweet potatoes as the starter, sided with a fresh watermelon juice." – Misagh Vaseghi, Google Reviews
Got above 300fps on maxed-out settings
"Decent computers. This place has around 80 computers.
Got above 300fps on maxed-out settings for Counters Strike global offensive. Even highly demanding games such as Rise of the Tomb Raider and Overwatch run smoothly on high settings (around 60fps). The place has good deals – Got 7 hours of gaming for 50 AED. Otherwise, it costs AED 10/hour. This place also has a dedicated 5v5 gaming room. The keyboard is not that great but the headphones and mouse are Logitech and are actually meant for gaming." – Varun Bhat, Google Reviews
FAQs about Gaming Cafes in Dubai
---
We hope this helped you find your favorite gaming cafe in Dubai. Also, if you're looking for more cool digital activities, then check out these articles: