The 7 Best Furniture Stores in Dubai
Whether you already have your own space or are just about to move in, a well-furnished house will always be a delight to come home to.
However, picking out the right pieces of furniture for your "home sweet home" can feel like a daunting task. That's why we're here to help you with our recommendation for the best furniture stores in Dubai!

How much does furniture cost in Dubai?
Before we start looking through our top furniture stores in Dubai, we need to know the average cost of common furniture. We took the liberty to provide you with a handy list for your reference:
| Test | Info |
| --- | --- |
| TV stand | AED400-2000 |
| Dining room tables and chairs (6-person) | AED1500-2500 |
| Living room set (3-piece lounger) | AED4000-8000 |
| Coffee Table | AED200-1000 |
| Bookshelf | AED200-1000 |
| Children's bedroom setKing-sized bedroom set | AED2000 |
| King-sized bedroom set | AED4000 |
Top Furniture Stores in Dubai
We assessed the following furniture stores in this listicle based on the following criteria:
1. Gautier Furniture Dubai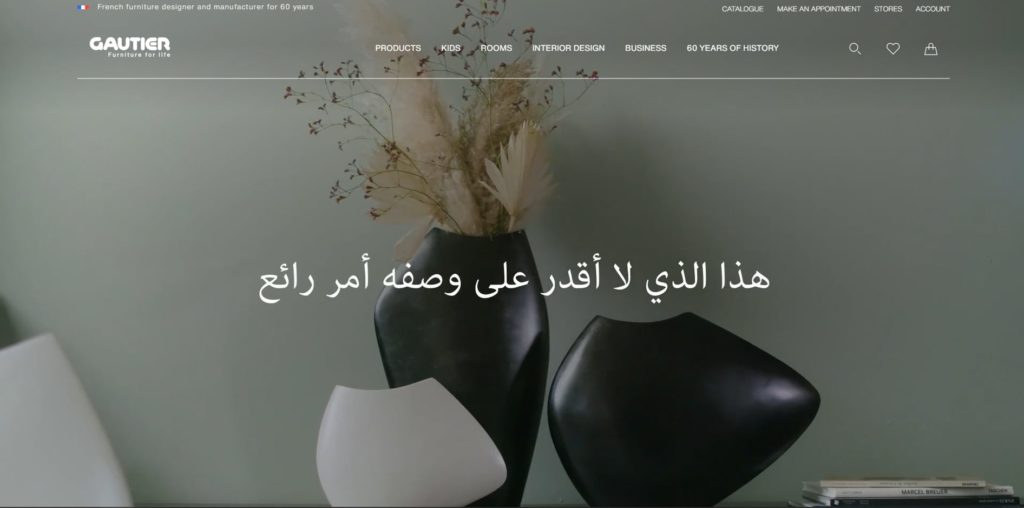 Test
Info
PRODUCTS
Space-Saving Furniture

Study Room

Furniture Designer

Furniture for Kids

Sofas and Armchairs

TV Stands

BedsDecor

WEBSITE
https://www.gautier.ae/en_AE/s/gautier-uae-dubai
ADDRESS
Al Rostamani Business Center - Sheikh Zayed Road - Al Safa 2 AWR - Dubai - United Arab Emirates
CONTACT DETAILS
+971 4 388 1336
OPERATING HOURS
Monday - Saturday, 10 AM - 8 PM

Sunday, 2 PM - 8 PM
| | |
| --- | --- |
| ITEM VARIETY | ★★★★★ |
| FEATURES | ★★★★★ |
| DELIVERY SERVICES | ★★★★★ |
| RETURN POLICIES | ★★★★★ |
| PRICES | ★★★★☆ |
| CUSTOMER FEEDBACK | ★★★★★ |
| CUSTOMER REVIEWS | ★★★★★ |
| PERSONNEL RESPONSIVENESS | ★★★★★ |
Gautier is a family business that has been in the furniture industry for more than 60 years. Since its foundation, the company has evolved into one of the top providers of mid-range to high-end furniture.
One of the things we love about Gautier is its green approach in doing business in the furniture industry. It sources its wood from sustainably managed forests within close proximity from its factories.
Customers also benefit from the company's sustainable practices. From water-based lacquers to low-solvent glues, the store looks out for you and your health.
When you visit their store, you can also use their 3D planning tool to help you visualise your space.Their interior design consultants can offer you advice on various aspects of your project.
For both in-store and online purchases, Gautier offers various delivery options. You can even request for one of their specialists to come to your home to take measurements and assist with furniture selection.
However, be prepared to wait from 6 to 12 weeks if the item you wish to purchase is not in-stock on their local stores.
Nonetheless, we can assure you that the wait is more than worth it. The company holds a number of ISO certifications which serves as proof of its commitment to quality.
It is also renowned for the safety of its children's furniture. You can see this on their junior high beds, which come with features like non-slip steps and guard rails.
So if you have children in mind while looking for furniture, we definitely recommend giving Gautier a try!
3D planning tool and design consultation available
Environmentally-friendly approach in furniture manufacturing
Offers a 10-year warranty that covers all furniture
High-quality products
Some items are more expensive than usual
Long waiting time for out of stock items
Customer Reviews
Great selection and design
"Highly recommended for any furniture needs for your home! Great selection, design and especially the service and support from all at the store! Very happy customers and we will be coming back for more." – Niki Patel
Experienced salespeople
"Unique furniture which stands out of the usual. Experienced sales people who take the time to listen and advice accordingly. Bashir also came over to our house to measure and advice us the colour and design that will fit best. The product itself comes with 10 years warranty which is a relief on its own. Definitely getting more stuff from here again." – Mohammed Al Edroos
2. Designitch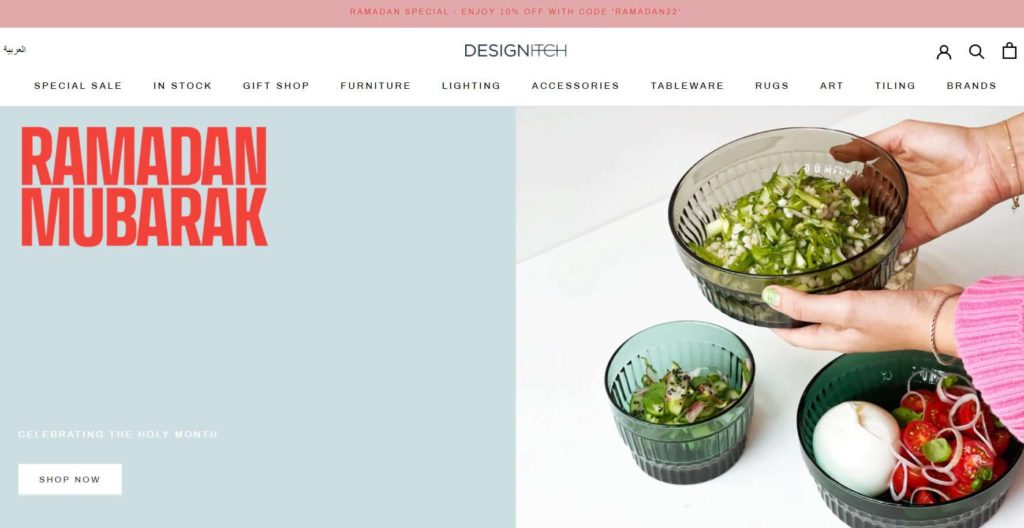 Test
Info
PRODUCTS
Dining Tables and Chairs

Bar Tables and Stools

Chaise Lounges

Armchairs

Sofa Beds

Bookcases and Shelves

Dressers

WEBSITE
https://designitch.com/
ADDRESS
Warehouse #12, Street 24A - Al Quoz Industrial Area 1 - Dubai - United Arab Emirates
CONTACT DETAILS
+971 4 321 9350
OPERATING HOURS
Saturday - Thursday, 9 AM - 6 PM
| | |
| --- | --- |
| ITEM VARIETY | ★★★★★ |
| FEATURES | ★★★★★ |
| DELIVERY SERVICES | ★★★★★ |
| RETURN POLICIES | ★★★★☆ |
| PRICES | ★★★★★ |
| CUSTOMER FEEDBACK | ★★★★★ |
| CUSTOMER REVIEWS | ★★★★★ |
| PERSONNEL RESPONSIVENESS | ★★★★★ |
From its Al Quoz showroom in Dubai, Designitch brings its products to the rest of UAE and other Gulf Cooperation Council (GCC) member countries.
This store features over 22 furniture categories, on top of decorative accessories, home fragrances, and miscellaneous interior products.
We're amazed with its extensive inventory of furniture that includes items from reputable brands like Fogia, Gallotti and Radice, Martinelli Luce, and Saba Italia.
If you believe that your choices should not be limited to what is left on stock, then Designitch is definitely the store for you. It has a Made to Order service that allows you to customise an item's size and finish.
However, it can take between 8 to 12 weeks before you can get your hands on Made to Order purchases.
But on the bright side, in-stock items only take 1 business day if your delivery address is also within Dubai. Deliveries within the country and the rest of GCC can also be accomplished within 2-3 business days.
Another one of its unique points that we noticed is that aside from the common credit cards, its online store also accepts Apple Pay.
Keep in mind though that compared to other stores which offer at least 2 weeks of return window after delivery, you can only return Designitch's products within 7 days.
For online shoppers, you will be working with a dedicated account manager that helps you with price engineering to meet your budget needs. 3D models and technical sheets are also available upon request.
All in all, Designitch is your go-to place if you're looking for the perfect balance between furniture efficiency and creativity.
Offers over 100 design brands from all over the world
Made to Order services available
Shipments are always fully-insured
Focused on building long-term relationships with clients
Short period for its return policy
No returns or exchanges for Made to Order items
Customer Reviews
Great options at different price points
"The Home Accessories section of the website is my go to place for birthday and housewarming gifts. Great options at different price points. Inside scoop: The nicest paintings aren't always found in art galleries. If you ever have a chance to visit Designitch, head up the stairs and to the back of their showroom … you'll be amazed with what you'll find." – Nady Tehini
Haven marketplace for accessories, furniture, and art
"If you got an itch for design, this is your haven marketplace for accessories, furniture and art. The level of detail and passion that goes into creating your dream space is unmatched, as they treat every project, big or small, with the utmost importance and complete dedication. Worked with them on both professional (hotel fitouts) and personal (home decor) projects. Highly recommended!" – Tarek Aboudib
3. THE One Al Quoz Theatre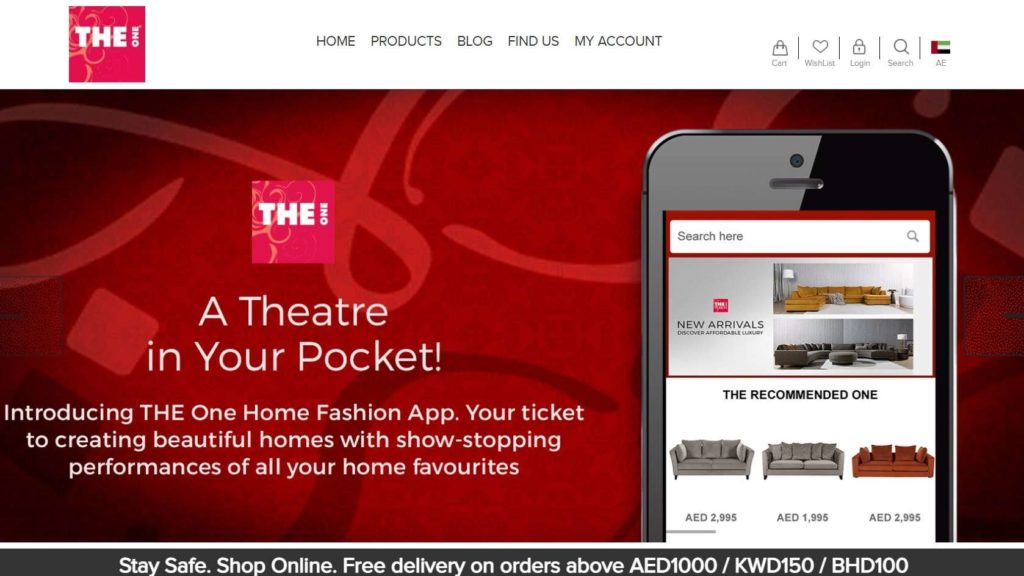 Test
Info
PRODUCTS
Living Room Furniture

Dining Room Furniture

Bedroom Furniture

Curtains and Accessories

Home Decor

Candles and Lighting

Rugs

WEBSITE
https://www.theone.com/
ADDRESS
Junction 3 Sheikh Zayed Road - Al Quoz 1, Street 4b - Dubai - United Arab Emirates
CONTACT DETAILS
+971 600 541 007
OPERATING HOURS
Monday - Sunday, 10 AM - 9 PM
| | |
| --- | --- |
| ITEM VARIETY | ★★★★★ |
| FEATURES | ★★★★★ |
| DELIVERY SERVICES | ★★★★★ |
| RETURN POLICIES | ★★★★★ |
| PRICES | ★★★★☆ |
| CUSTOMER FEEDBACK | ★★★★☆ |
| CUSTOMER REVIEWS | ★★★★☆ |
| PERSONNEL RESPONSIVENESS | ★★★★☆ |
THE One is an ecommerce and retail furniture company that has been in business since 1996. Its wide selection of products allows it to accommodate a variety of living spaces, including studios, villas, and corporate quarters.
Aside from the assortment of products it offers, the store also assigns its customers with their own THE One Home Stylist expert. After your consultation, you will be provided with a personalised design proposal, which includes mood boards and itemised sales quotations.
Customers who are unable to visit the physical store can also simply provide floor plans and room dimensions, and the store personnel will work on the design.
It also offers free delivery within the city limits of Dubai for purchases above AED1000. For outside the city limits, purchases must exceed AED2000 to qualify free delivery. Beds come with an AED100 assembly fee, but select furniture items are assembled for free.
One thing we noticed about this store is its hefty redelivery fees if you happen to be unavailable on the date that you booked. It costs AED100 within city limits, and AED200 outside city limits.
We would also appreciate it if THE One can rethink its policy on not collecting old and unwanted furniture. You know, for the sake of Mother Earth.
THE One is known to employ persons with disabilities and support local and international charities. It has also taken the #1 spot on the UAE's Best Workplaces 2021 list.
Home Styling Package and On-line Accessory or Furniture Styling Service available
Offers free 30-day storage for purchased products
Accepts MasterCard, Visa, and American Express
Buy Now Pay Later and Easy Payment Plan options available
Expensive products
Complaints about some unhelpful staff
Customer Reviews
Variety of furniture items
"It was a great experience. They have a variety of furniture items. We really liked their bed frames and sofas. We were assisted by Mourice and Addison, they were very friendly. Overall good experience!" – Ayesha AlTeniji
A fusion of contemporary and old
"Truly a fusion of contemporary and old. An eclectic range of furniture for a discerning taste. Priced mid range to high, an absolute recommendation for anyone seeking to add a touch of class to an otherwise lifeless space. Plenty of parking and easy access off Sheikh Zayed road. Friendly staff walk you around the store which is laid out in a refurbished home. Strongly recommend weekend visits. Online shopping available with free delivery on the same day. In addition to furniture, you'll also find unique pieces of household items. Definitely one of the best stores in dubai. Quite pricey though." – Krishna Kumar
4. Luxury Antonovich Home KA Showroom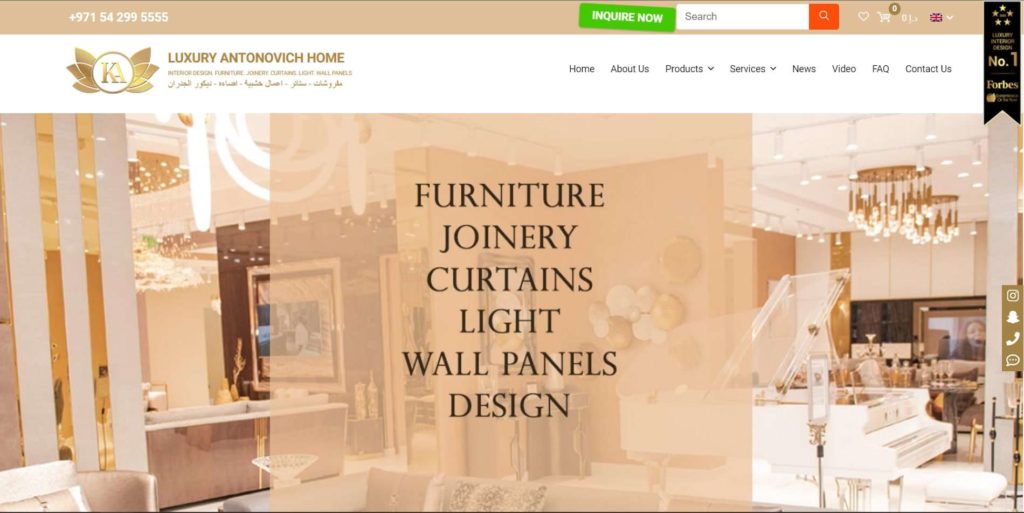 Test
Info
PRODUCTS
Living Room Furniture

Home Theater Furniture

Bedroom Furniture

Wall Decor

Covers and Cushions

Carpets

Curtains

WEBSITE
https://antonovich-home.ae/
ADDRESS
Al Wasl Road, Al Badaa, Dubai Unit no. 4, Bldg. Plot No, 333-1103 - Dubai - United Arab Emirates
CONTACT DETAILS
+971 58 881 2020
OPERATING HOURS
Monday - Sunday, 10 AM - 10 PM
| | |
| --- | --- |
| ITEM VARIETY | ★★★★★ |
| FEATURES | ★★★★☆ |
| DELIVERY SERVICES | ★★★☆☆ |
| RETURN POLICIES | ★★★★★ |
| PRICES | ★★★★★ |
| CUSTOMER FEEDBACK | ★★★★☆ |
| CUSTOMER REVIEWS | ★★★★★ |
| PERSONNEL RESPONSIVENESS | ★★★★☆ |
Luxury Antonovich Home offers customization services on traditional, classical, modern, and Arabic style furniture. It is part of the Luxury Antonovich corporate group established in 2010.
The shop showcases over 6,000 items across 19 item categories. It accommodates bulk orders of furniture and home accessories.
If you are looking for special cuts of marbles and tiles, Luxury Antonovich Home is the store for you. It has advanced technologies and different cutting machines to get the job done just right.
Its extensive fit-out services are also available for both residential and commercial spaces. So whether you're moving into a new luxurious private home or renovating your commercial establishment, this shop can cater to your needs.
Another thing we love about Luxury Antonovich Home is its selection from Italian brands like Fendi Casa, Roberto Cavalli Home Interiors, and Fendi Casa.
We also liked the staff's friendly and accommodating work behaviour towards customers. They also have this talent in creating a feeling of spaciousness by opening-up tight spaces.
On the other hand, one of the store's downsides is its expensive delivery fees. While other shops on this list offer free shipping upon reaching certain spending quotas, this shop's delivery charges range from AED500-1000.
Moreover, take note that their delivery and customer service is also only available from Sundays to Thursdays, 9 AM – 6 PM GST.*
Nonetheless, its installers are known for their quick and efficient work ethics. They even clean up after work and give you advice on how to take care of your new furniture!
Excellent quality of products
Fit-out services available
Offers interior and exterior design
Free 30 days of storage from invoice date
Hefty delivery fees
Limited delivery customer service availability
Customer Reviews
Neat, tidy, savvy in all furniture novelty
"I collaborated with this company for many years and do not regret it. What I liked: the installers are neat, tidy, savvy in all furniture novelties. After installing the furniture, they left behind perfect cleanliness. They installed all the furniture quickly and efficiently, and even gave us advice on the materials used. Had the most pleasant impression of both work and communication!" – Alina O
Price and quality are in line with expectations
"Cool guys! Dream Team) First I ordered a chest of drawers from them (my ideas, their design). But I liked how they made it, so later on I gradually changed all the furniture in my apartment by their production. Without unnecessary chatter and promises, they do everything on time and efficiently. Price and quality are in line with expectations." – Kira Akira
5. COZY HOME – Inspired Living Furnishings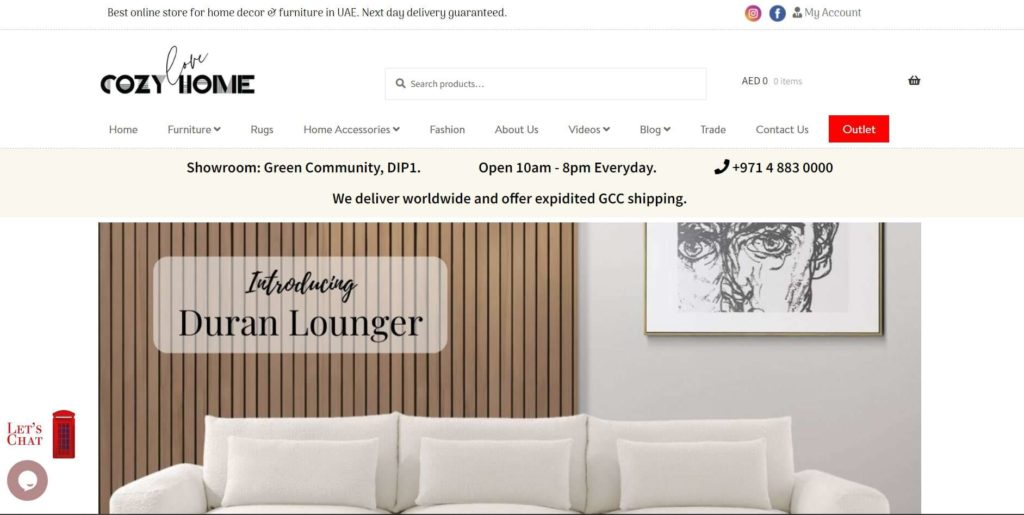 Test
Info
PRODUCTS
Sofas

Coffee and Side Tables

TV Stands

Bar Furniture

Light and Lamp Shades

Dining Tables

Artificial Flowers

WEBSITE
https://www.cozyhome.ae/
ADDRESS
Green Community - Street 3, Community 598 Unit 1, Dar Global Showroom, Dubai Investment Park - 1 - Dubai - United Arab Emirates
CONTACT DETAILS
+971 4 883 0000
OPERATING HOURS
Monday - Sunday, 10 AM - 8 PM
| | |
| --- | --- |
| ITEM VARIETY | ★★★★★ |
| FEATURES | ★★★★☆ |
| DELIVERY SERVICES | ★★★★☆ |
| RETURN POLICIES | ★★★★★ |
| PRICES | ★★★★★ |
| CUSTOMER FEEDBACK | ★★★☆☆ |
| CUSTOMER REVIEWS | ★★★☆☆ |
| PERSONNEL RESPONSIVENESS | ★★★☆☆ |
Cozy Homes has been bringing European style furniture to the UAE ever since it opened its flagship store in 2015.
It offers around 17 categories for furniture and 11 for home accessories, all available in a mix of quality wood, metals, and textiles, among many others. All of its products are imported from Europe and have sustainable manufacturing methods.
The store is known and recognized for its soft yet supportive sofas. We definitely recommend checking them out if you're looking forward to customising the colour or length of your sofa purchase.
You'd also be amazed over the assortment of colours and materials Cozy Homes has to offer. It includes velvets, faux leather, chenille, and woven patterns, among many others.
Its delivery costs are also competitive, and you only need a minimum purchase amount of AED500 to avail free delivery to all 7 emirates.
If you're an architect or interior designer, you can also enjoy exclusive discounts on upholstery products.
Perhaps one of Cozy Home's downsides is its subpar customer service. Some of the customers we've spoken to shared that some complaints took two weeks before they got a response.
Product returns due to customer dissatisfaction with actual product color aren't also accommodated. This issue is common amongst clients who purchased from Cozy Home's online store.
More than 700 colours to choose from for sofas
Offers cash or payment by card on delivery
Sofa customization is available
Most furniture are made from solid wood and don't require assembly
Poor customer service
No cash refunds, only exchanges
Customer Reviews
Trendy fabrics and modern patterns.
"In Cozy Home you can customize your sofa, bed or club chair. Modular Sofas with different elements or curved sofas are in stock. Trendy fabrics and modern patterns. In Cozy Home you can buy faux leather sofas and select the color and fabric. Trendy Furnishings, Lighting and Home Decor. Family sofas can be customized with stain resistant fabrics. The selection of fabrics for furniture is big." – Aksana D.
Beautiful and comfortable sofas.
"Lovely items. Beautiful and comfortable sofas. Bought my lounge last year and I'm still happy with my purchase. Today I got some pillows and a lamp and I love it. The store keeps many Dutch brands and the designs are unique. If you see something you like don't wait till it goes on sale 😬 they bring limited collections. The good thing is you won't see the same item in your friend's house. :)))))" – Abigail Wilson
6. Royal Garden Centre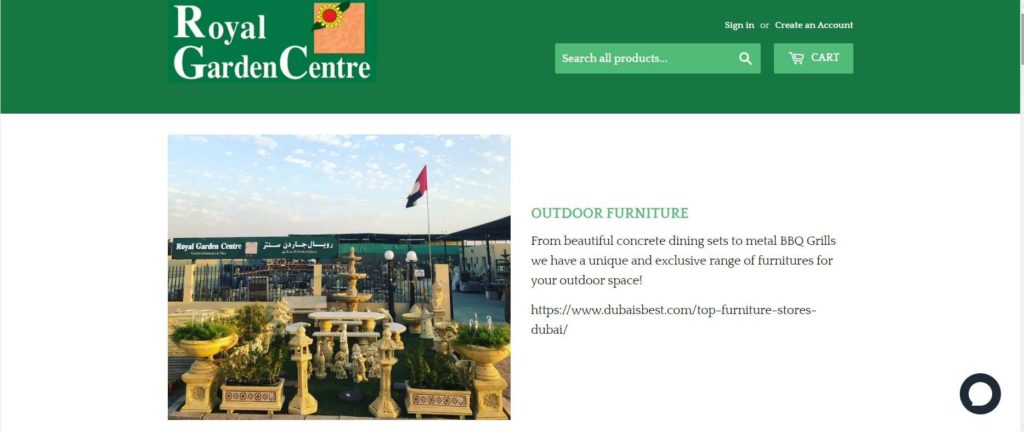 | | |
| --- | --- |
| ITEM VARIETY | ★★★★★ |
| FEATURES | ★★★★★ |
| DELIVERY SERVICES | ★★★★★ |
| RETURN POLICIES | ★★★★★ |
| PRICES | ★★★★★ |
| CUSTOMER FEEDBACK | ★★★★★ |
| CUSTOMER REVIEWS | ★★★★★ |
| PERSONNEL RESPONSIVENESS | ★★★★★ |
Royal Garden Centre is a shop that offers a variety of outdoor furniture such as pots, plants, and fountains among many others that is ideal for any type of garden and outdoor setting.
Sourced from different Middle East suppliers, clients can be sure that all products are of top quality and suits a variety of styles as well.
We like that their products come in both classical designs to modern innovative designs so that clients can select which one best their needs and aesthetics.
Note however that their plant selection cannot be readily ordered in their physical shop and showroom and can only be ordered directly online, and clients may also need to wait for a minimum of 10 days for regular deliveries.
Overall, with their pleasant customer service and one-stop-shop for all outdoor décor needs, we highly recommend clients looking for exterior furniture to take a look at their online catalog and inquire for more information.
Sourced from reliable suppliers
Wide variety of choices
Accommodating customer service
Slightly long waiting times
Customer Reviews
Here are some reviews from their clients:
"When we travel to the beautiful resorts in the world… we long to go back again soon to experience the ambience…. but why wait when Royal Garden Centre can transform your own back yard. ..home garden…little spaces around your house into such an ambience for you to enjoy all year long!! Whether you want a Spainish…Chinese. …Japanese. …Balinese atmosphere…RGC is the ultimate in making your choice possible! …RGC always succeeds!"
"Royal Garden Centre is the only place you need to go for all your gardening and outdoor furniture needs. Great selection and Excellent service!!"
7. Katsu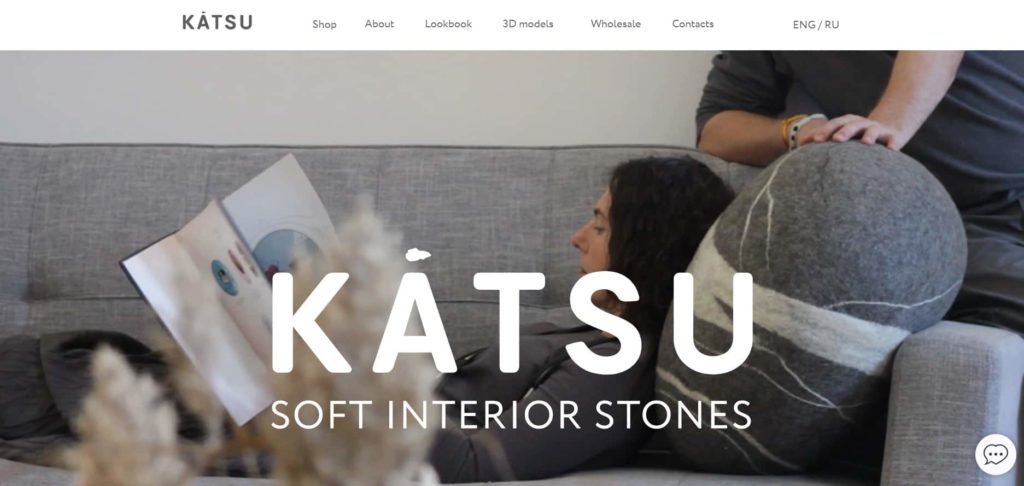 | | |
| --- | --- |
| ITEM VARIETY | ★★★★★ |
| FEATURES | ★★★★★ |
| DELIVERY SERVICES | ★★★★★ |
| RETURN POLICIES | ★★★★★ |
| PRICES | ★★★★☆ |
| CUSTOMER FEEDBACK | ★★★★★ |
| CUSTOMER REVIEWS | ★★★★★ |
| PERSONNEL RESPONSIVENESS | ★★★★★ |
Katsu is a shop that provides clients with various interior items and furniture that feature a minimalistic and creative concept design. Emerging from a story in search of love, wisdom, and sensitivity, they are currently comprised of a multidisciplinary team who are more than willing to advise clients on the perfect piece of furniture for them.
They are also able to accommodate both private and public interior projects yet stay within the style and creativity that they are known for – minimalistic yet comfortable.
Their website is also very informative and easy to use so interested clients can readily browse through their galleries to get a glimpse of what they can offer and if their style suits what they had in mind.
Though note that their products are slightly pricey so clients may need to consult with them should they have any concerns with regard to their budget.
Overall, with their accommodating professional interior expertise and advice, comprehensive warranties, and natural designs, we highly recommend them to clients in the area who would like to avail themselves of minimalistic furniture.
Wide variety of options are available
Offers 3D models readily on their website
Professional interior advice
Operating hours unavailable
FAQs about Furniture Stores
---
Do you know any other furniture store in Dubai that you feel like should be part of this list? Don't hesitate to let us know so we can check them out as well!
If you're looking for something more specific, you can also check out our article on Dubai's best upholstery shops.