The 5 Best Cocktail Lounges in Dubai
If your definition of a great night out isn't standing for hours in a club and dancing with a drink in hand, then you're just like us!
So when we discovered the beauty of cocktail lounges, we got our pretty drinks and never looked back.
Thankfully, Dubai is home to some of the most amazing cocktail lounges in the world. So we went around to some of the most recommended spots and give you our favorite cocktail lounges in Dubai.
How We Picked the Best Cocktail Lounges in Dubai
Before we get right into our list of the best cocktail lounges in Dubai, here are the factors we considered for our entries on this list:
1. Zuma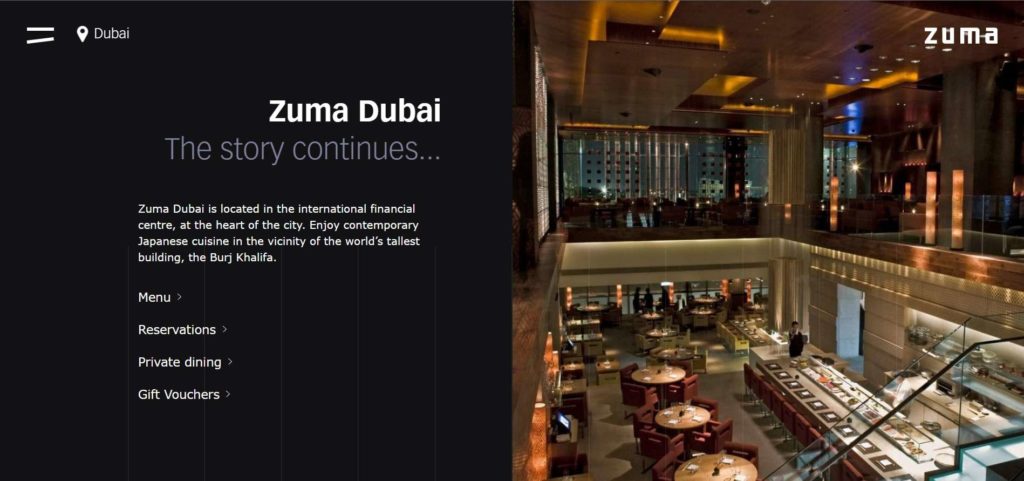 WEBSITE
https://zumarestaurant.com/locations/dubai/
ADDRESS
Gate Village 06, Podium Level - Al Mustaqbal St - Dubai - United Arab Emirates
CONTACT DETAILS

PHONE: +971 4 425 5660

OPERATING HOURS
Monday to Friday: 12 PM–3:30 PM & 7 PM–1 AM

Saturday: 1:30 PM–6 PM & 7 PM–1 AM

Sunday: 12 PM–4 PM & 7 PM–12 AM
| | |
| --- | --- |
| Criteria | Rating |
| Menu | ★★★★☆ (4/5) |
| Decor | ★★★★☆ (4/5) |
| Ambiance | ★★★★☆ (4/5) |
| Service Quality | ★★★★☆ (4/5) |
Ranked the 23rd-best bar in the world, Zuma redefines the act of grabbing drinks with contemporary Japanese food and uniquely concocted cocktails.
We love that the menu is inspired by the Japanese philosophy of attaining perfection to give bold and intense flavors.
That being said, its dishes and cocktails are for those with finer palettes and may not always be everyone's favorite, but it's undeniable that what it serves is elevated and completely unique.
Its staff and host also exemplify its prestige with their level of service. While they may come off as snooty at times, they were still accommodating.
They also were very efficient and knowledgeable about the menu and drink pairings.
The decor is sophisticated and contemporary with high-end seating. However, we found the lighting to be too bright and stark for such an intimate setting.
And because of this, the atmosphere is rather formal and stylish. We personally found it to be too rigid and uptight to let our hair down, enjoy our drinks, have fun conversations, and listen to the soft music that filled the place.
Despite that, it really is a place to go to if you want to impress someone. The level of excellence it puts in its food and drinks is something that we won't forget anytime soon.
Excellent contemporary Japanese food and drinks
Sophisticated decor and ambiance
Knowledgable and well-trained staff
The ambiance can be too uptight
The lighting is too stark and bright
Customer Reviews
Top-notch quality all around!
"Top place, top quality, and standard. One of the best in the region with great consistency and amazing vibes. The one-to-go place if you want to party and enjoy a good night out. Well done to the team with food that is on point and great service." —Cláudio Cardoso, Google Reviews
Best course there is!
"We went to Zuma for lunch w colleagues to celebrate birthdays and wedding anniversaries. This place serves Japanese cuisine. It is incredible. The atmosphere and vibes are pleasant. The servers were attentive to customers' needs. Every meal I ate left a gastronomical experience. And since it was my first time to try it there, I went w what was recommended.
We had 2 starters and 1 main course (inclusive of miso soup) and had one or 2 a la carte orders. We had a salad, cold dishes, and signature dishes. The hotpot mushroom risotto was exceptionally tasty! By the time that order came, I already had my fill but I still tried it and it did not disappoint at all. I highly recommend that dish.
Even though it was lunchtime, we had wine and a cocktail because why not? 🙂 Chili passionfruit martini was my fave! A must-try! Overall, Zuma is great for the value of money. I'd definitely come back." —Edel M., Google Reviews
2. Mimi Kakushi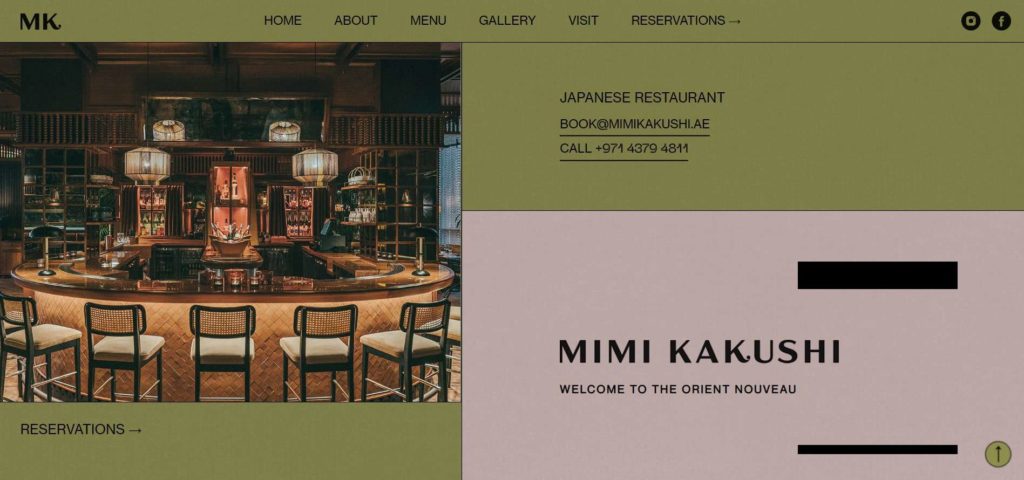 | | |
| --- | --- |
| WEBSITE | https://mimikakushi.ae/ |
| ADDRESS | Restaurant Village, Four Seasons Resort, Jumeirah Beach Road, Dubai – U.A.E. |
| CONTACT DETAILS | PHONE: +971 4379 4811 |
| OPERATING HOURS | Every day: 12 pm - 2 am |
| | |
| --- | --- |
| Criteria | Rating |
| Menu | ★★★★☆ (4/5) |
| Decor | ★★★★★ (5/5) |
| Ambiance | ★★★★★ (5/5) |
| Service Quality | ★★★★★ (5/5) |
Mimi Kakushi has as much flavor in its dishes as it has in its decor.
Inspired by the Oriental art deco, turn-of-the-century jazz culture, and the lavishness and rebellious nature of the 20s, Mimi Kakushi mixes traditions with brave and bold innovations.
The menu adds twists and surprises to Japanese classics and contains an extensive range of drinks and an eclectic collection of desserts.
The result is a range of playful and inventive cocktails that are sure to set up the date night for success or at least give it a strong start.
However, some dishes are a hit or miss. Not every item is spectacular, but it's still within the standards the restaurant has established for itself.
The service is excellent. The staff is well-trained and holds high regard for diet restrictions, as well as highly knowledgeable about the menu.
As for the atmosphere, it is bombastic as it is suave, and colorful yet curated. The Oriental 1920s aesthetic style drapes the restaurant in old classic luxury that is unlike any other.
It also has a nice balance of cold and sharp metallic finishings and soft and warm woven furniture. We love that Mimi Kakusha perfectly encapsulates the liveliness of the era it's inspired by.
It is also near the beach, a perfect nightcap that we decided to do while basking in the afterglow of its Wagyu steak and complex and calculated cocktails.
Serves inventive and playful cocktails
Lavish ambiance
Has a 1920s aesthetic
Near the beach
The food menu is a hit or miss
Customer Reviews
Great first time!
"Food and service are excellent! Came here to celebrate my friend's birthday and the experience was unforgettable. Waiters were so attentive despite the heavy crowd, booking in advance is recommended as the place is in high demand. The quality of ingredients and dishes options were great! Literally, everything we had tasted so good it's my first time and definitely not the last 😍❤️❤️❤️" -Aisha Al Harmoodi, Google Reviews
I'm glad I tried them out
"I was hesitant about visiting Mimi Kakushi and approached the restaurant with some trepidation but I'm pleased to say that I am glad that I went.
The ambiance is wonderful and the entire restaurant vibes with beautiful lights and amazing decor that nods to all its Asian influences without being over the top.
The service is impeccable and well-trained with regards to all the dishes and ingredients and they were able to accommodate requests and allergies or at least forewarn of them.
I tried the brunch, which is pricey to be fair, but the prices reflect the quality of the ingredients and each item put forward was delicious. A super special shout-out goes out to the Black Cod that was on point as was the lovely steak." – Malek Mroueh, Google Reviews
3. Monkey Bar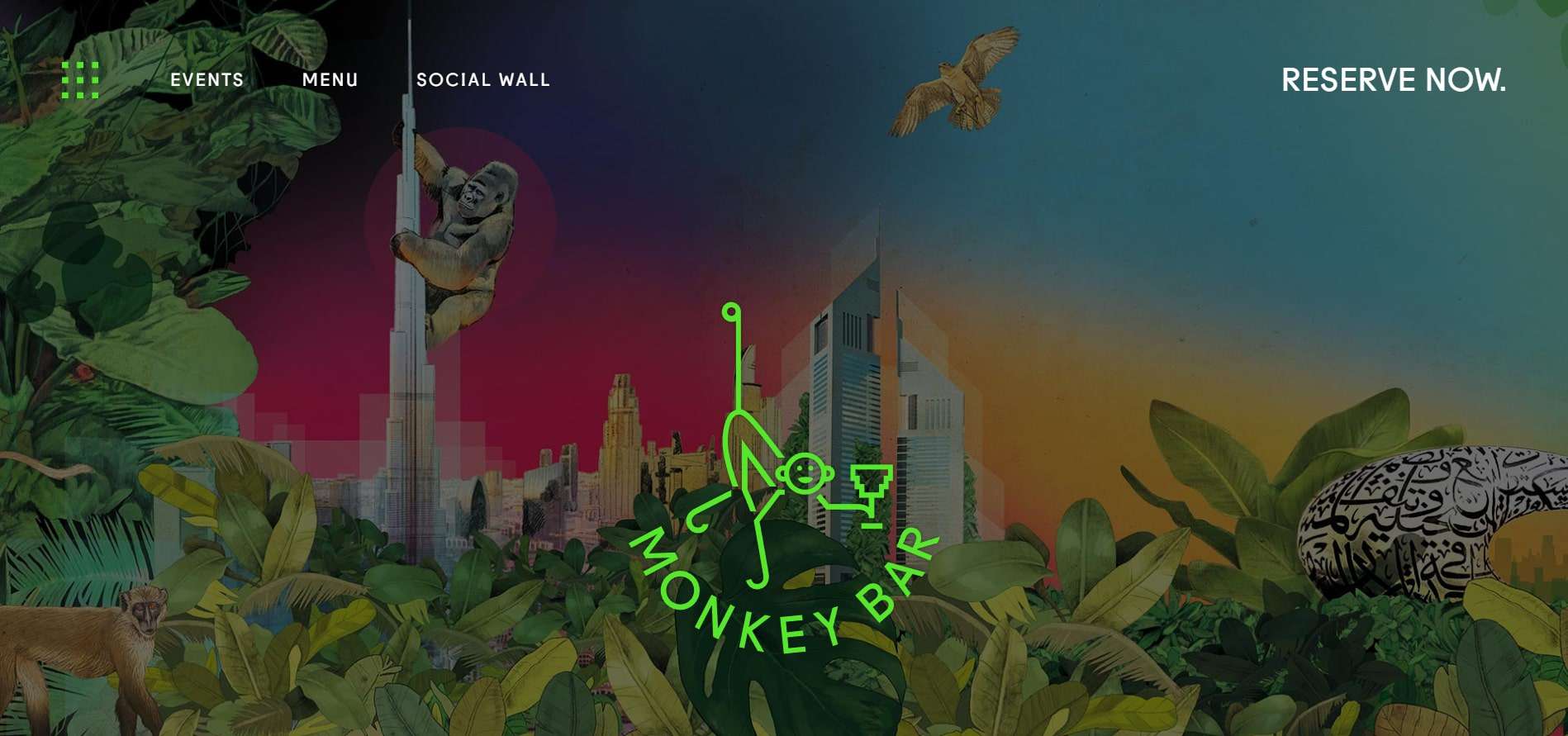 WEBSITE
https://www.monkeybardubai.com/
ADDRESS
Monkey Bar Dubai, 25hours Hotel One Central, Trade Center Street, PO Box 9895, Dubai, UAE
CONTACT DETAILS

PHONE: +971 4 210 2566

OPERATING HOURS
Sunday to Thursday: 5 pm - 2 am

Friday to Saturday: 5 pm - 3 am
| | |
| --- | --- |
| Criteria | Rating |
| Menu | ★★★★☆ (4/5) |
| Decor | ★★★★★ (5/5) |
| Ambiance | ★★★★☆ (4/5) |
| Service Quality | ★★★★★ (5/5) |
With a menu that spans highballs, classics, and signature in-house cocktails, cocktail connoisseurs are spoilt for choice at Monkey Bar.
The menu is inspired by tiki culture accompanied by classic drinks and Latin American cuisine food offerings.
We especially love having its Gin Gin Mule, Cold Brew Cherry Libre, and Bini's Goes to Swartzwald.
However, we do wish its food menu has more vegetarian and vegan options because we noticed it was limited to around 3 -5 dishes only.
When it comes to decor, we love the moody vibe that is brought by dark mixed flooring, the jungle green tiles of the bar, and industrial sleek black stools.
This is perfectly offset by the lightness and warmth of the plants hanging over the ceiling, and light wooden accent pieces in the space.
However, the ambiance is completely dependent on where you're seated.
While the bar offers amazing views of the Museum of the Future, it can only be seen from one area of the space. The rest of the bars feel left out of this privilege
Despite that, we love the service here. The baristas are friendly and chatty, the DJ had no problem interacting with us, and we got our food and drinks in no time at all.
Has a wide range of cocktail offerings
Excellently decorated space
Has a view of the Museum of the Future
Friendly and warm service
The food menu is limited
Only one part of the bar can enjoy the view
Customer Reviews
The vibes are so nice you feel you wanna stay there forever
"The outdoors is just amazing. The music is so chill, and the vibes are so nice you feel you wanna stay there forever. Not to forget the service and the staff, so friendly and welcoming. The view is phenomenal as you can see the museum of the future and take great pictures. The food is good served hot and the drinks are well made." —Areej Kameh, Google Reviews
Great place to come and have drinks early in the afternoon
"Great place to come and have drinks early in the afternoon – they open at 5 pm. The ambiance is unique, with lots of sitting options, a nice menu, and friendly staff. Recommend."—Mike, Google Reviews
4. Electric Pawn Shop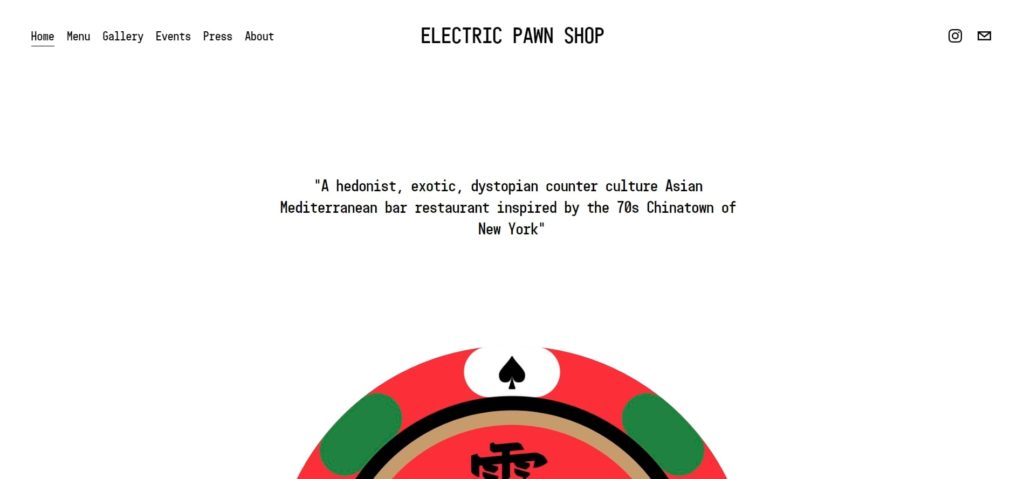 WEBSITE
https://www.electricpawnshop.com/
ADDRESS
1 Sheikh Zayed Rd - Trade Centre - Trade Centre 1 - Dubai - United Arab Emirates
CONTACT DETAILS

PHONE: +971 50 586 5510

OPERATING HOURS
Sunday to Thursday: 6 pm - 1:30 am

Friday to Saturday: 6 pm - 3 am
| | |
| --- | --- |
| Criteria | Rating |
| Menu | ★★★★★ (5/5) |
| Decor | ★★★★☆ (4/5) |
| Ambiance | ★★★★☆ (4/5) |
| Service Quality | ★★★★★ (5/5) |
Pulling in the mystique and intrigue of Hong Kong, and distilling the coolness of New York, Electric Pawn Shop is Dubai's premiere cooler alternative cocktail lounge.
Dreamt up by bar sage Lynn Lin and Dubai DJ Lobito Brigante, this cocktail lounge is inspired by East Asian pawn shops and the American East Coast underground bar scene.
The result is a space and menu that are as creative as they come, and sure to impress anyone that walks in through the doors.
Our go-to cocktails here are the King of Kowloon and the Smuggler's Flying Carpet. But you also have to pair your drinks with its Peking Pulled Duck Sando and Island Chicken Bomb.
The decor is almost minimalistic with a few red and green neon signs coloring the space and taking up the raw concrete walls.
Meanwhile, the exposed ceiling and paved flooring give off this amazing underground vibe.
We love that it plays 70s funk, immediately transporting us to a retro detective noir film, and the crowd is as cool as the space.
Our only problem with it is that the space is too small for the number of people it attracts, so when the talking and the music mix, it all gets a little bit too overwhelming at some point.
The service is excellent. The staff was very accommodating and as cool as the bar itself.
Creative food and drinks
Amazing underground alternative decor
Very cool atmosphere
Excellent service
The space is too small for the number of people that visit
Customer Reviews
It's a very "Dubai" funky little spot
"A wild ride with great 70's funk vibes.
Unique cocktail menu. Excellent food. Well-staffed with knowledgeable servers even for the busier times. It's a very "Dubai" funky little spot." —Rachel Kosbar, Google Reviews
Very cool spot
"I was there a couple of times with friends for drinks and bites. Very cool spot, located on the ground floor of H Dubai Hotel. Very good music and DJ, food was delicious and delicate. Their cocktail selection is fire.
Thank you Luca for taking the time to explain some. Overall the Staff, management, and security are friendly and very knowledgeable.
Highly recommended" —Daniele Mazzola, Google Reviews
5. Ergo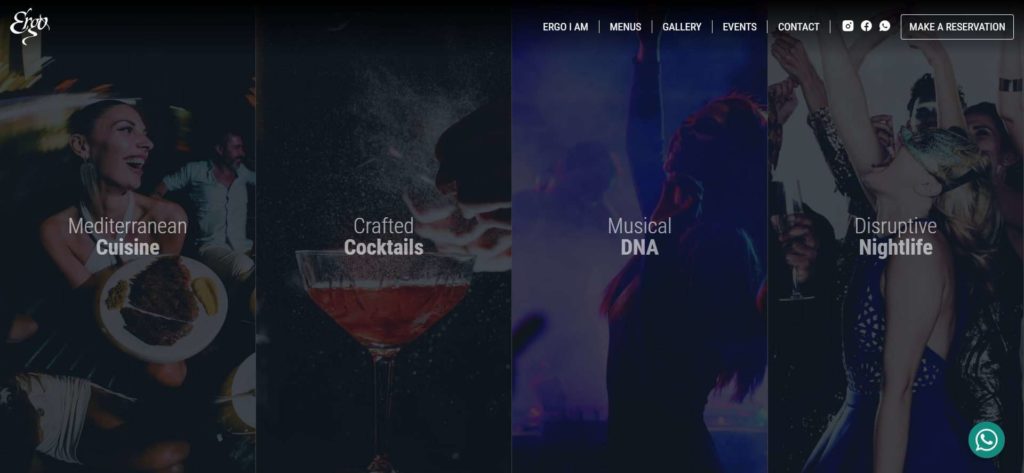 | | |
| --- | --- |
| WEBSITE | https://ergodubai.com/ |
| ADDRESS | 57RJ+R7 The Dubai EDITION Mezzanine floor - Dubai Fountain St - Downtown Dubai - Dubai - United Arab Emirates |
| CONTACT DETAILS | PHONE: +971 4 554 2456 |
| OPERATING HOURS | Every day: 6 pm - 2 am |
| | |
| --- | --- |
| Criteria | Rating |
| Menu | ★★★★★ (5/5) |
| Decor | ★★★★☆ (4/5) |
| Ambiance | ★★★★★ (5/5) |
| Service Quality | ★★★★☆ (4/5) |
One of the newcomers in town, Ergo has shot up into our favorite cocktail lounges because of its range of original concoctions and delectable bar bites.
Led by Jimmy Barrat, the head of drinks for the highly renowned Zuma, the space is inspired by the 1980s underground scene with hints of Barbarella, Kubrick, and Studio 54.
The Limewashed paints glow beautifully as mid-century/industrial style chandeliers light it up, and the furniture is sleek and comfortable.
However, there are some parts of the restaurant that we feel are somewhat dated, and do not necessarily translate well into the contemporary taste of bargoers.
Despite that, Ergo's space remains cool, sleek, and posh without being pretentious. The music is eclectic without it feeling alienating to the customers who just want to sing along.
The menu is amazingly curated. It has 14 original cocktails that cannot be found anywhere else, and with the former head mixologist of Zuma holding the reins, you are sure to have a great time with each order.
We love getting the Kingda Ka and the Jim and Tonic and pairing these with a plate of its hand-cut beef tartare. We're also big fans of the fact that it also has mocktails.
When it comes to service, the staff could use some improvement on the friendliness a little bit.
We noticed that they missed the little things such as introducing themselves and being responsive to small talk.
The brainchild of Jimmy Barrat, ex-head mixologist of Zuma
Cool and eclectic ambiance
Has a wide range of original cocktails
Delectable bar food
The decor is somewhat dated
The staff could be friendlier
Customer Reviews
Honestly, I liked everything about this place
"Honestly I liked everything about this place, cocktails, food, music, service. It's a cool place with a young elegant atmosphere, super fresh and delicious Mediterranean food, super friendly staff, and literally the best cocktails in town. I tried 2 and can't wait to come back and try others. Super recommended 👌" — Lilacs L, Google Reviews
It was a unique experience, everything was wonderful
"It was a unique experience, everything was wonderful, starting from the location in the city center and the dazzling decoration to the really distinguished hospitality. Everyone there smiles at you. The service was excellent, and the food and drinks were wonderful and suitable for all tastes. I hope to back again soon to try the rest of the items.
The thing I really liked more was the design of the bar inspired by the 70's movies with old TV screens it was magnificent 😍" —Kareem Helal, Google Reviews
FAQs about Cocktail Lounges in Dubai
---
We hope this helped you find your favorite cocktail lounge in Dubai. Also, if you're looking for more recommendations on where to go on a night out, then check out these articles: