Top Ten Candlelight Dinners in the Dubai Marina
When it comes to a romantic night out, there's nothing quite like the Dubai Marina. This amazing area by the water is home to some really great sights as well as a number of delicious spots to have a romantic candlelight dinner.
Whether you're interested in sharing a nice pizza pie with your partner or perhaps you're looking to dine on some amazing seafood, here are some of the best candlelight dinner spots in the Dubai Marina:
Stay Classy at Massimo's Italian Restaurant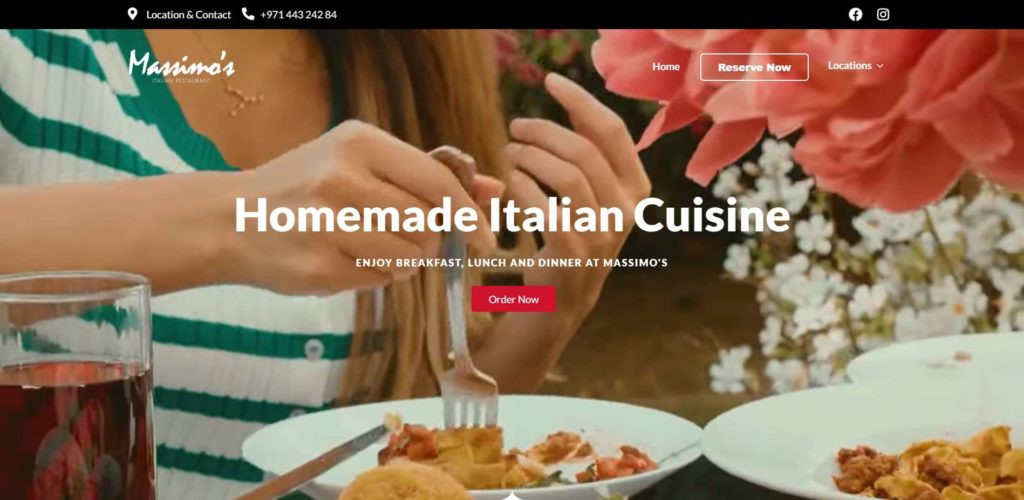 Menu: Antipasti, Pasta Fresca, Risotti, Pizza, Contorni
Location: Park Island Residence, Marina Walk, Dubai Marina, Dubai
Social Media: Facebook; Instagram
Hours: Mondays – Sundays: 12:00 PM to 11:30 PM
Price Range: $$
Nothing beats a classic Italian restaurant for a romantic ambiance, and when it comes to Italian cuisine, Massimo's Italian restaurant certainly upholds and evolves this standard.
The restaurant's clean white interiors, touched up by bits of red, certainly brings to mind Valentine's colors– with the added bonus of looking trendy and modern.
Massimo's menu boasts a lot of Italian classics and then some, but standing head and shoulders above all are their pizzas. As a bonus, for celiac customers, the pizza can also be ordered with gluten-free dough.
With a wide range of flavors from the classic margherita to quattro formaggi, the pizza also pairs well with their fresh juices and homemade pasta.
To top it all off, Massimo's also serves gelato for dessert, with a rather large variety of flavors, too, to boot. Get a tri-scoop of the flavorful delicacy to get the most out of it!
Pro Tip:

To get the most out of Massimo's breathtaking view of the Marina, opt for one of their outdoor seats– it'll be worth it and you can get a nice couple's selfie to share with others later!
Enjoy Luxury at the Atelier M Lounge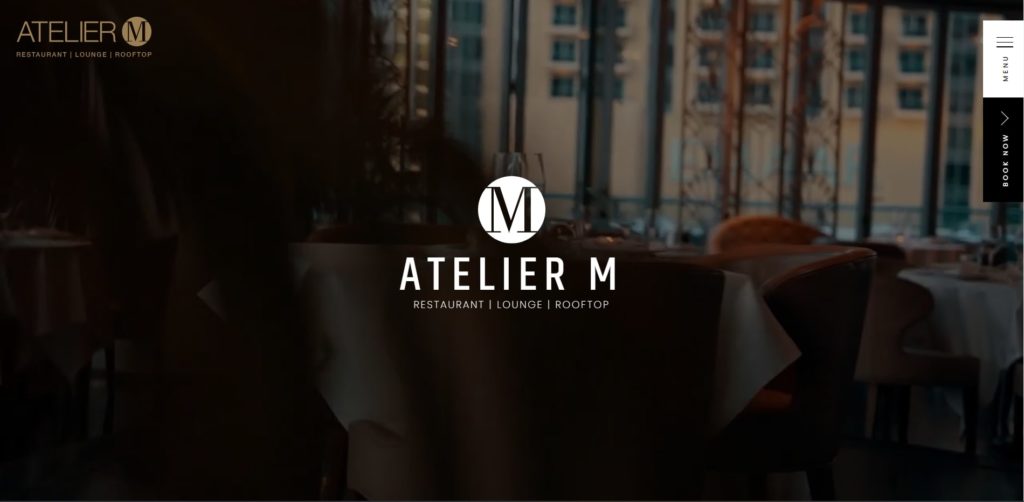 Menu: Appetizers, Pizza, Main Courses, Sides, Desserts
Location: Atelier M, Pier 7, Dubai Marina Dubai
Social Media: Facebook; Instagram
Hours: 
Sundays – Thursdays: 5:00 PM to 2:00 AM
Fridays – Saturdays: 5:00 PM to 3:00 AM
Tuesdays: 5:00 PM to 3:00 AM
Price Range: $$$
Connected to the Marina Mall and standing at the very peak of the Pier 7 dining hub, the Atelier M Lounge stands head and shoulders among its peers and brings a luxurious experience that can be matched by no other.
With its location, it boasts a 360 view of the entirety of the Dubai Marina skyline, matched perfectly by its sleek and modern interior, pairing marble with gold accents. 
With a focus on fine dining, Atelier M's menu boasts a variety of classic dishes– with a particular focus on Mediterranean cuisine, with Asian influences mixed into the menu items.
Particular stand-outs would be their lamb shank, which is served along with seasonal vegetables and slow cooked for 12 hours. For seafood fans, their fresh pan-seared salmon has a delectable charred and peppery kick.
For a sweet treat, especially for chocolate lovers, Atelier M's chocolate fondant is a delicious end to the meal.
Pro Tip:

If either you or a partner has Entertainer vouchers, you can try checking if Atelier M has a package running! Otherwise, they sometimes run events with set menus that are good value for money.
Watch the City from above at the Observatory Bar & Grill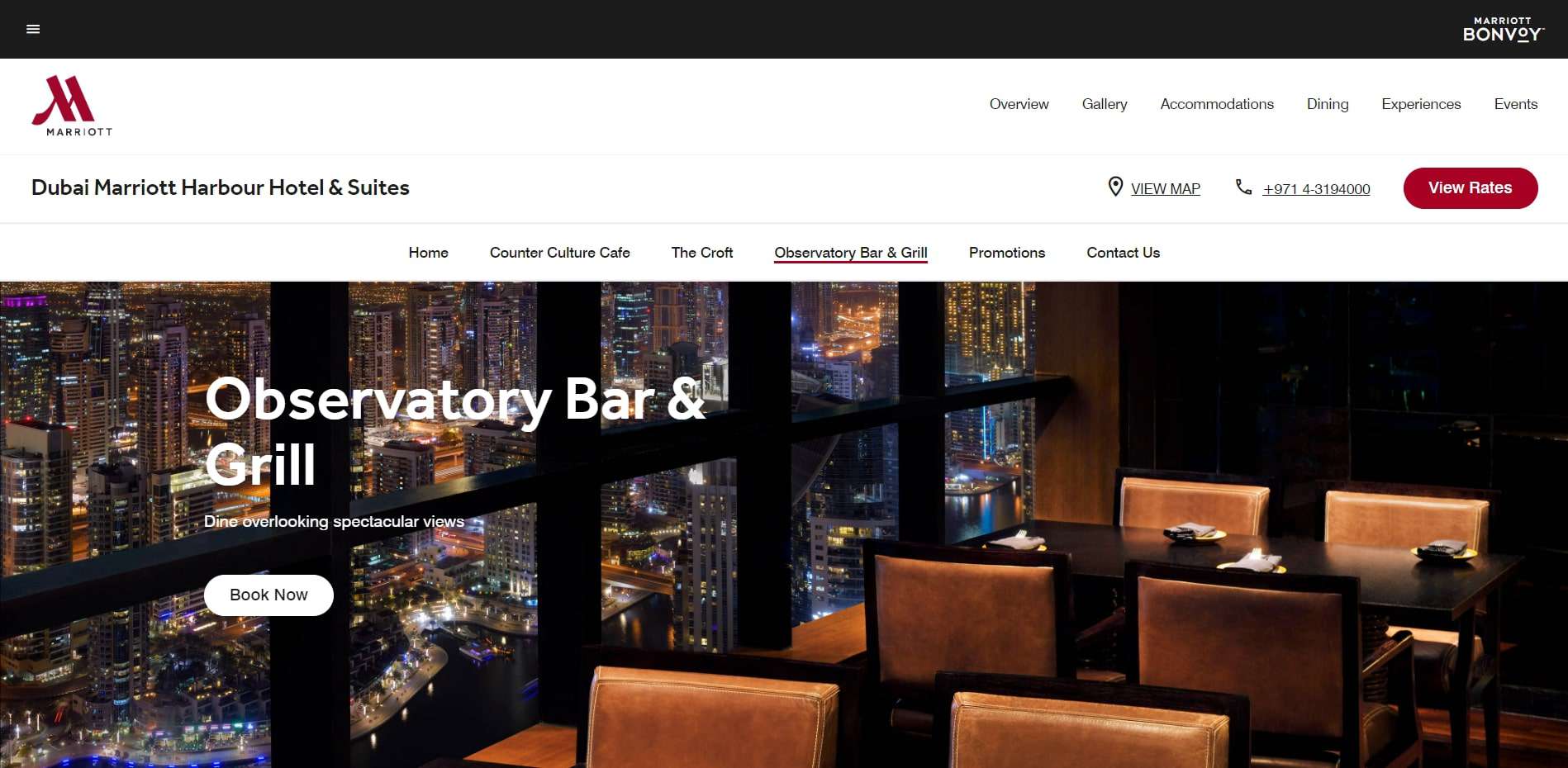 Menu: Bar Bites, Starches, Wood Smoked Grill, Signatures, Nature's Harvest 
Location: 52nd Floor, Dubai Marriott Harbour Hotel & Suites, King Salman Bin Abdulaziz Al Saud Street, Dubai Marina, Dubai
Social Media: Facebook; Instagram
Hours: 
Sundays – Thursdays: 12:00 PM to 12:00 AM
Fridays: 12:30 PM to 12:00 AM
Price Range: $$$
Ready to take your romantic experience to the clouds? Or at least to the 52nd floor of the Marriott? Come and visit the Observatory Bar & Grill, where you can enjoy yourselves with the thrill of being sky high.
The Observatory certainly has a beautiful interior– with elegant black chic and leather seating, along with the panoramic view of the Dubai Marina and the Palm. Try catching the sunset while you're there– very romantic!
Staying true to its name, the Observatory deals mostly in grilled meats, with a menu full of prime cuts of steak and signature meat-based dishes. 
Potato lovers will find themselves delighted because the menu also features extensive starches. From truffle fries to mashed potatoes, you'll find these explicitly designed to go along with the main courses.
To wash it all down, the Observatory also has an extensive beverage menu, featuring fresh and chilled juices alongside soft beverages to end the meal.
Pro Tip:

Try popping into the Observatory when it's running its special weekly promotions– from Gents' Night to the Queens' Social, for special courses at low prices.
Savour the Flavors of Europe at Rhodes TWENTY10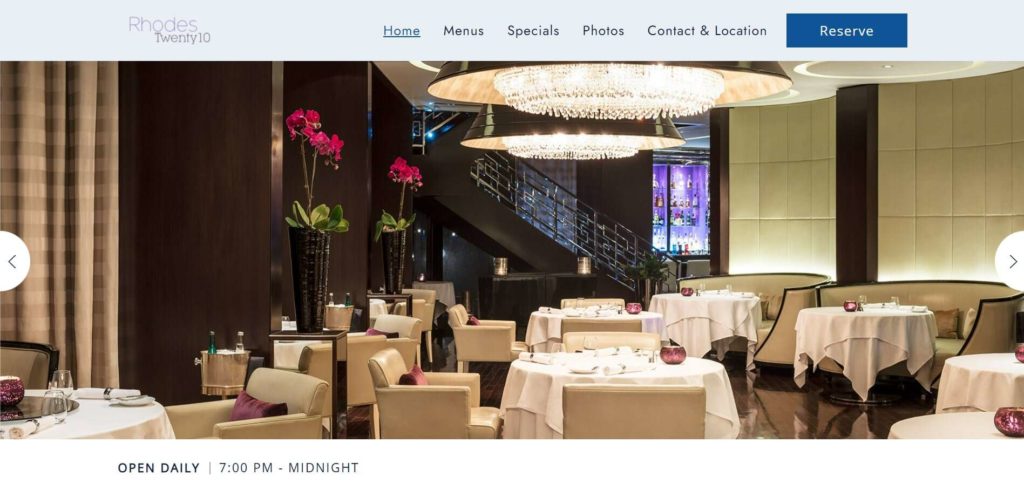 Menu: Mains, Sides, Salads, Desserts, Steaks
Location: Le Royal Meridien Beach Resort & Spa, Al Mamsha St, Dubai Marina, Dubai
Social Media: Facebook; Instagram
Hours: Mondays – Sundays: 7:00 PM to 12:00 AM
Price Range: $$$$
Sometimes, nothing beats simple and refined. So, for a romantic (and filling) date night, definitely consider taking a trip down to the Rhodes Twenty10, the Le Royal Meridien's go-to place for steak and company.
The restaurant's interior is sleek, chic and glamorous, but intimate. Incorporating colors of black and lilac along with elegant lighting, it certainly makes for an opulent ambiance, perfect for impressing a date.
Billing itself as a contemporary culinary grill with a twist, Rhodes Twenty10 incorporates Euro-inspired cuisine with influences from the Middle East in its menu, featuring the late chef Gary Rhodes' classic crowd favorite dishes.
To start the meal off, we recommend the potted chicken liver parfait– though sounding quite unorthodox, it rings in the main course very well. 
Standing head and shoulders above the restaurant's offerings is its chateaubriand steak– which is quite fork-tender and melts in your mouth with an explosion of unparalleled flavor.
Pro Tip:

The restaurant has sharing plates, some of them featuring exclusive dishes– perfect for dining with a partner if either of you aren't too sure about finishing one order by yourself.
Have Fun at the Beach Bar & Grill by Mauro Colagreco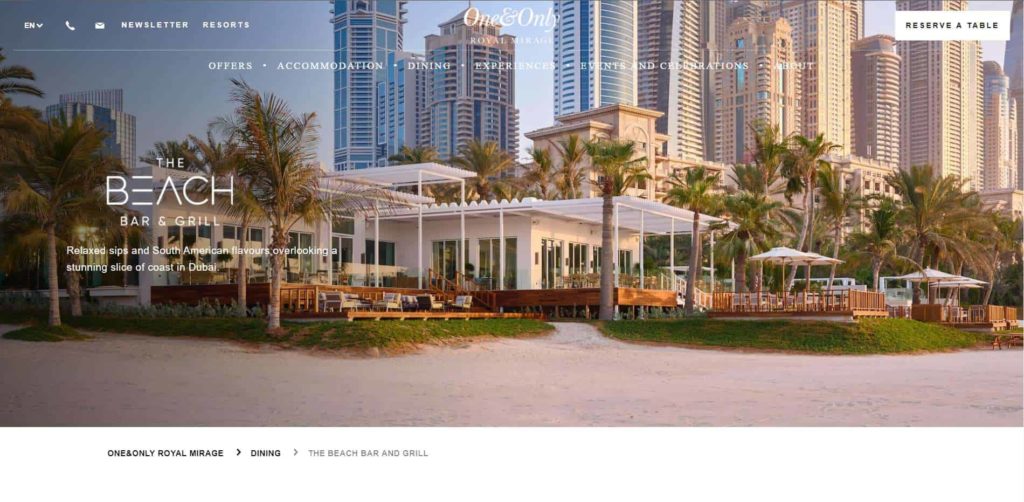 Menu: Starters & Salads, Oyster & Seafood, Signature Dishes, Steaks & Grills, Josper Oven
Location: The Palace, One&Only Royal Mirage, Al Sufouh Road, Dubai Marina, Dubai
Social Media: Facebook; Instagram
Hours: Mondays – Sundays: 12:00 PM to 11:00 PM
Price Range: $$$
The Beach Bar & Grukk at the One&Only Royal Mirage lives up to its reputation as one of the best romantic joints thanks to the stunning view of the sky and the nearby water.
Passing through the One&Only Royal Mirage's gardens to get to the restaurant, the interior boasts quite the royal look to it, with marble countertops and warm lighting.
The restaurant serves mostly South and Latin American cuisine, going along perfectly with the view it had over the Arabian Gulf. Start the meal off with some classic grilled octopus and calamari.
For mains, the sea bass fillet, grilled and served with lentils and a special tomato consommé, is a crowd favorite– for meat lovers, there's also their lamb chops, which are low in fat and fork-tender.
To end off the meal, enjoy the views of the Palm, the Dubai Harbor, and Bluewaters over a tasty sorbet and homemade cookie– or relax with a special cheese plate.
Pro Tip:

If you want to sample some seafood that's not fish, try ordering their Cold Seafood Platter– already containing classics like lobster, prawns, oysters and crab!
Enjoy a Cozy Atmosphere at the Marina Social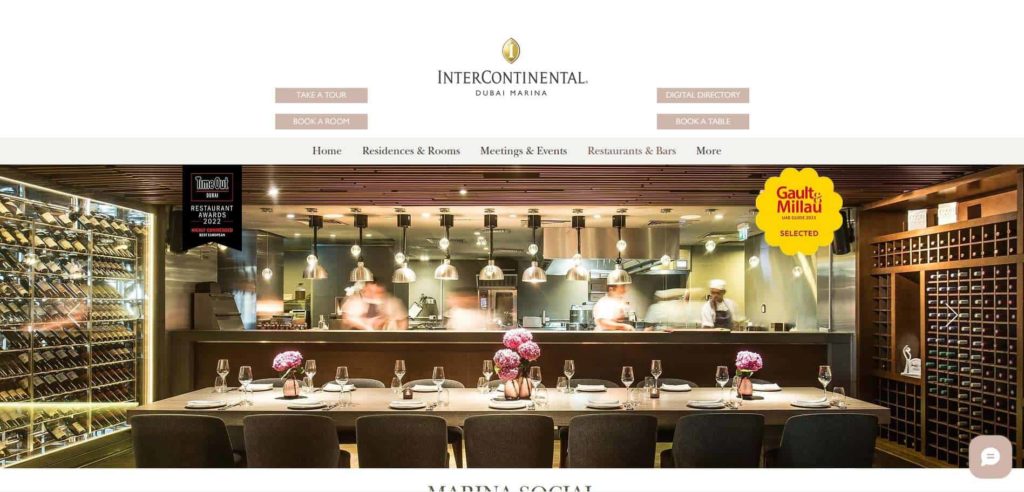 Menu: Snacks, Starters, Meat & Fish, Pasta & Sourdough Pizza, Side Orders
Location: Level 1, Intercontinental Dubai Marina, Dubai Marina, Dubai
Social Media: Facebook; Instagram
Hours: 
Mondays – Fridays: 6:00 PM to 12:00 AM
Saturdays: 1:00 PM to 4:00 PM | 7:00 PM to 12:00 Am
Sundays: 1:00 PM to 12:00 AM
Price Range: $$$
Staying true to its namesake, the Marina Social–InterContinental Dubai Marina's social space– is famed for both its relaxed ambiance, and its award-winning European cuisine!
Boasting modern furniture, a cozy interior and floor-to-ceiling windows letting its diners get a grand view of the waterfront, Marina Social lives up to its relaxed reputation, making it a good place to take a date.
With a menu based around British Mediterranean cuisine, Marina Social has quite the unique selection of dishes. Take their well-beloved starter, the tomato burrata– quite literally served inside a tomato!
Another popular item is their roasted mushroom and truffle pizza, balancing their truffle very well and with a portion size large enough for a whole table. 
Finally, for a signature pick from the Marina Social's own menu, couples should consider getting their signature beef wellington, served with truffled mashed potatoes– its portion size is just right for sharing for two!
Pro Tip:

Marina Social's tasting series menus are varied and rotating– check in to see which ones are available on the days you visit!
Get Dinner and a Show at the Dream Restaurant Dubai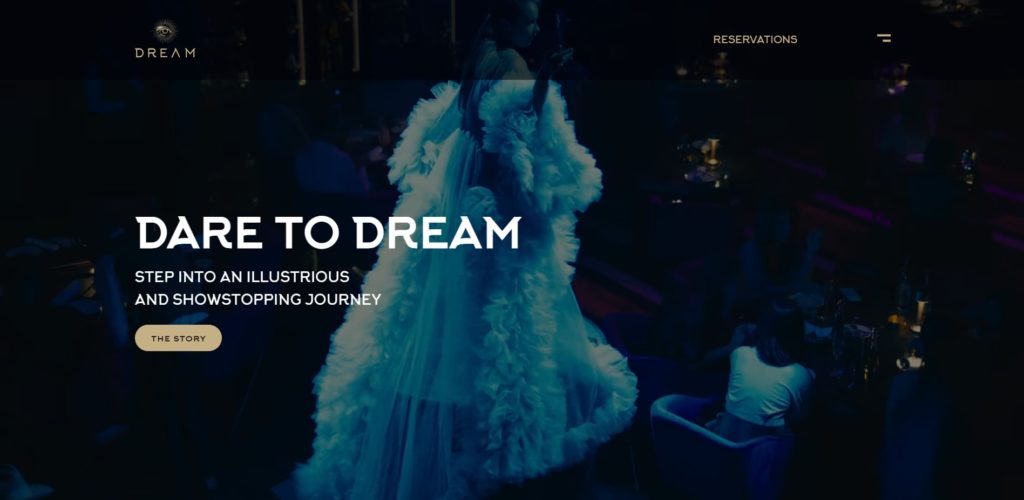 Menu: Starters, Salads, Fresh Oysters and Caviar, Pizza, Signature Plates
Location: Address Beach Resort, Dubai Marina, Dubai
Social Media: Facebook; Instagram
Hours: 
Wednesdays – Sundays: 8:00 PM to 3:00 AM
Closed on Mondays and Tuesdays
Price Range: $$$$
What could be more romantic than a night out with dinner and a show? In the luxury of the Jumeirah Beach Residence, deep within the Dubai Marina, DREAM encapsulates this experience perfectly.
We recommend picking out a seat next to the special stage once you're inside so you can be much closer to the live entertainment provided. It definitely makes for a fun-filled evening while you wait for your food.
With a focus on 5-star Mediterranean cuisine, Chef Rifky Sadhakathullah's menu brings such luxury picks– their burrata salad, paired with some grilled octopus makes for a great starter to welcome in the meal.
A stand-out in the restaurant is definitely their beef dishes, ranging from the flavorful Angus beef tenderloin to the grilled rib-eye. The steaks are quite the stand-out, so definitely get them!
Lastly, as you enjoy the show, wind down with their tantalizing desserts— from some classic creme brulee to a tantalizing strawberry cheesecake.
Pro Tip:

Want more sweetness at the end of the meal or can't decide on a dessert? Order the Dream Mix Platter, available even in a mini size– it grants you access to a chef's selection of the desserts!
Sample a Slice of Paris at the Bistro Des Arts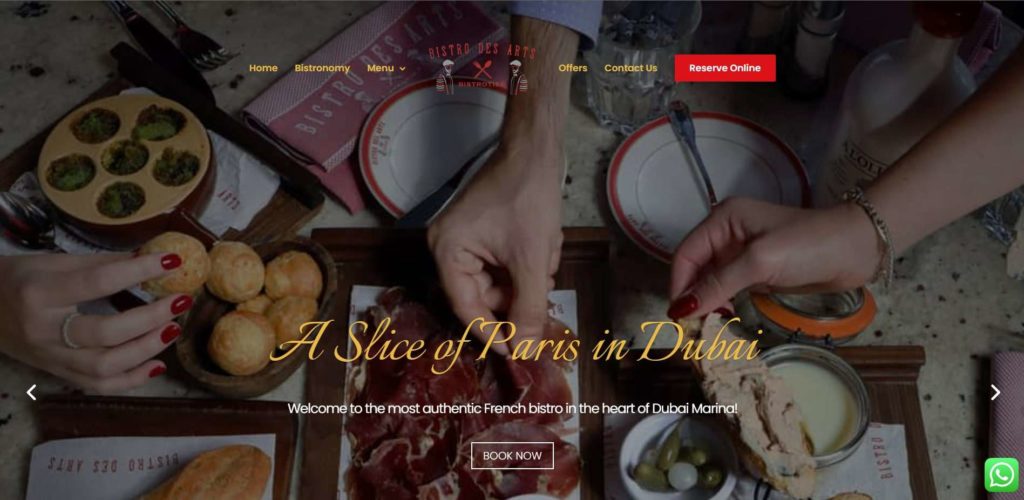 Menu: Entrées, Viandes, Poissons, Pâtes, Garnitures
Location: Marina Walk, Dubai Marina Mall, Marina Promenade, Dubai Marina, Dubai
Social Media: Facebook; Instagram
Hours: Mondays – Sundays: 8:00 AM to 11:00 PM
Price Range: $$$
Bistro des Arts combines the Parisian experience with the views of the Dubai Marina to create a romantic atmosphere that's just perfect for your next date.
With a clean and chic interior, Bistro des Arts delivers a slice of Paris directly to the Marina's doorstep. The outdoor terrace is a stand-out with its lush garden vibe.
Staying true to its namesake, the dishes served at the bistro are of French cuisine, featuring loved classics. For a sweet treat, why not a crepe filled with caramel or strawberry jam?
The Bistro is also well known for its lavish breakfasts– Have some lunch or have breakfast for dinner with their Eggs Royale, featuring poached eggs on brioche with salmon and hollandaise!
Lastly, finish off with a hot beverage from their cafe menu– take your favorite coffee, or, for some sweetness, some hot chocolate.
Pro Tip:

Bistro Des Arts offers two combos, perfect for two persons– both coming with a special entree, mashed potatoes, and a special sauce. Perfect for a date!
Check Out Exotic Flavors at Mama Zonia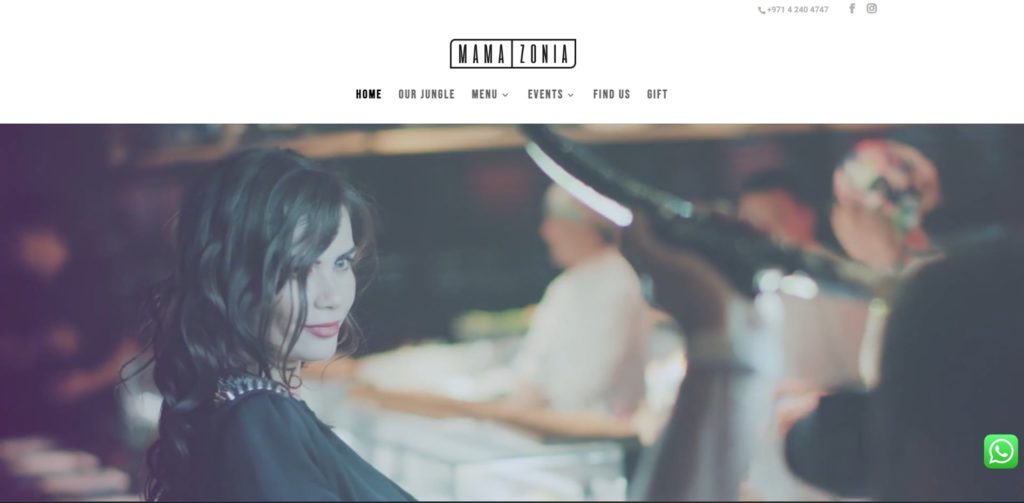 Menu: Raw, Ceviches, Fish & Seafood, Meat & Poultry, From The Grill
Location: 2nd Floor, Pier 7, Behind Dubai Marina Mall, Dubai Marina, Dubai
Social Media: Instagram
Hours: 
Mondays – Fridays: 12:00 PM to 1:00 AM
Saturdays: 1:00 PM to 2:00 AM
Sundays: 1:00 PM to 1:00 AM
Price Range: $$$
For a truly unforgettable, exciting experience, why not take a trip to the jungle? We don't mean the literal one, of course– we mean the Mama Zonia restaurant!
Mama Zonia's interior brings to life the idea of the urban jungle– filled with lush decor with Amazonian influences, with both a terrace and balcony seating.
Specializing in Peruvian cuisine, though featuring touches of Asian and South American food, Mama Zonia's menu is quite the varied one. Start your jungle journey with their classic ceviche– sea bass, coriander and sweet potatoes all in one dish.
For mains, meat lovers can't go wrong with the lamb chops– served with a rich BBQ sauce and jungle beans puree to take its flavor to the maximum. 
To cap it all off, Mama Zonia's dessert menu is also quite varied! We particularly recommend their Mango Pango Tree, a delightful dessert made with white and dark chocolate.
Pro Tip:

Mama Zonia's brunch and business lunch specials are good value for money, offering a four course menu for a fairly affordable price.
Indulge in Variety at the SUI Mui Dubai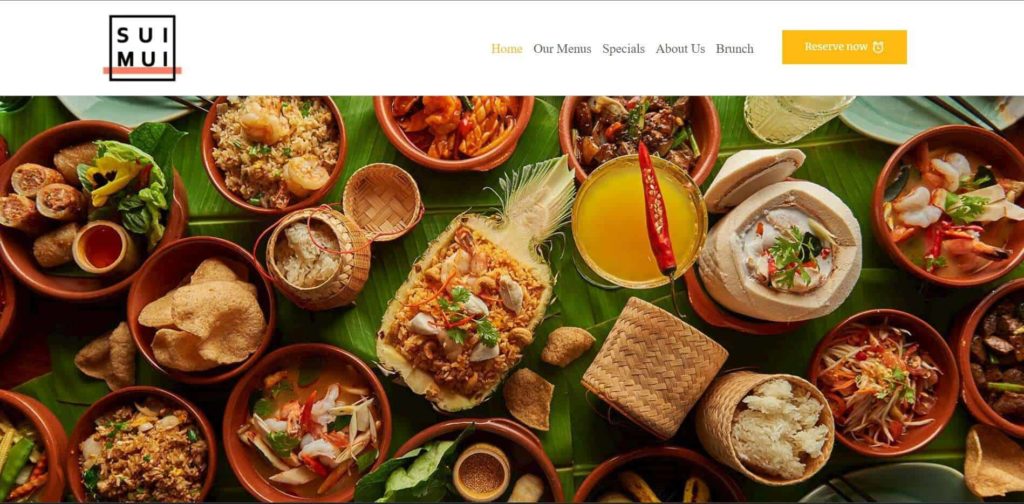 Menu: Dim Sum, Salad, Soup, From the Grill, Curries
Location: The Westin Dubai Mina Seyahi, Dubai Marina, Dubai
Social Media: Facebook; Instagram
Hours: 
Sundays – Fridays: 6:00 PM to 11:00 PM
Saturdays: 1:00 PM to 4:00 PM | 7:00 PM to 11:00 PM
Price Range: $$
Who said cute can't be romantic? Sui Mui Dubai offers up the traditional Asian experience with their authentic cuisine with a twist– all the dishes prepared and served family style.
The restaurant itself is quite comfy, with comfortable seating, wooden furniture, and lush greenery as decor. It also features live cooking stations for special events!
With the menu featuring both a delightful naming sense and traditional Asian cuisine, it is quite varied– featuring Japanese favorites like udon and sushi alongside curries, salads, and pad thai. 
Speaking of the pad thai, it is the menu's main stand-out– coming with prawns, peanuts and bean sprouts. If you're feeling adventurous, why not also try their roasts, like the roast duck?
Finally, to round out their menu, their dessert offerings are also perfect for beating the heat and the hunger pangs. How about some pandan ice cream with candied coconut? 
Pro Tip:

If visiting on a Thursday or Sunday, definitely try checking out some of Sui Mui's special events, like the Pho Real Brunch, or their Street Food Night! During this time, you can get some special meals at a great price!
---
The Dubai Marina is definitely a very unique place. The amazing views, pleasant ambiance, and the glow of the evening lights definitely make it stand out as a very romantic spot to visit overall.
Make sure to follow us for more guides on date and dining spots in Dubai. Also check out some of our other guides, such as this list of the best brunch spots in the Dubai Marina today!