Top Seven Candlelight Dinners in Bur Dubai
The historic neighbourhood of Bur Dubai can be quite a food fanatic's haven. There's plenty of options such as cafés' tucked inside beautiful courtyards or within the Bazaar area, many of which are perfect for having a candlelight dinner with a loved one.
Whether you're after something a bit more sophisticated or perhaps a dining spot that has huge varieties of food on offer, follow us and let's explore the top candlelight dinner destinations here at Bur Dubai!
Enjoy a Homemade Atmosphere at the Moreish Restaurant and Café
Menu: All Day Breakfast, Sandwiches, Small Plates, Mains, Desserts
Location: Shop 3, M Square Building, Mankhool nil Dubai
Social Media: Facebook; Instagram
Hours: Mondays – Sundays: 11:30 AM to 11:30 PM
Price Range: $
Moreish Café at Al Mankhool has a great homey feel. This restaurant is open from brunch until just a little bit before midnight making it a great spot to have a candlelit dinner with a loved one.
There's bright walls and sufficient lighting that helps make the whole café feel lived in, setting up the mood for its homemade cooking.
In terms of cuisine, you can start with an assortment of soups, salads, and curries, all made homemade of course. Their green Thai curry is a very popular order, especially served with their fragrant jasmine rice.
Additionally, you can try out the All Day Breakfast menu, which even has some waffles. It's a great choice in case you still intend on checking out a few more late night activities.
Lastly, Moreish Café is also a great dinner destination for vegetarians and vegans. Simply ask the waiter about their fusion dishes and see if you can have them in a vegan variety and you're good to go!
Pro Tip:

If you or your partner have any particular dietary restrictions, you can ask the staff for help. They will accommodate any substitutions needed to the best of their ability.
Dive into Pan-Asian Cuisine at Tum Tum Asian Restaurant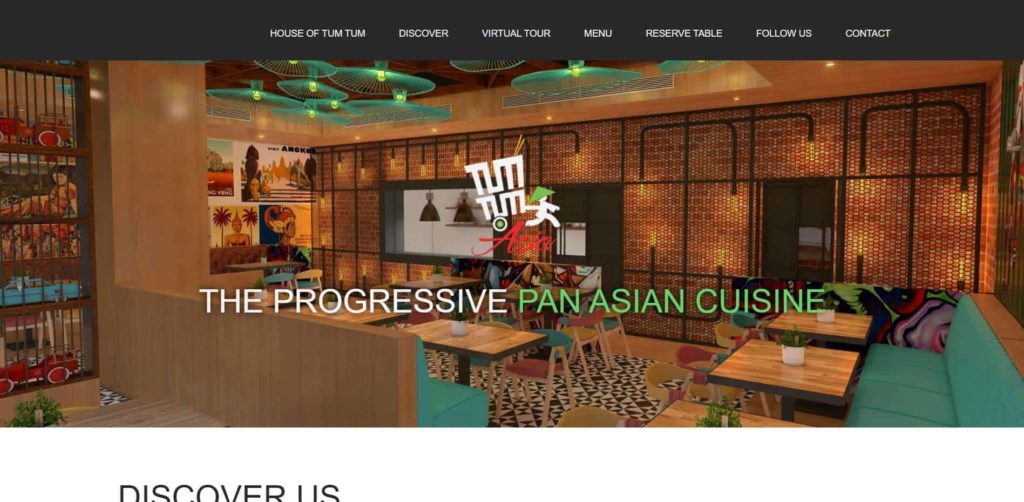 Menu: Soups Salads & Sides, Noodle Doodle, Swear by Sushi, Darling Dim Sum, Mainly Mains
Location: Shop 4, Sheikha Building, Street 13 A, Oud Metha, Dubai
Social Media: Facebook; Instagram
Hours: Mondays – Sundays: 11:30 AM to 11:30 PM
Price Range: $
With a name derived from the vehicle of the same name, Tum Tum brings a more casual and street vibe to its dining experience.
The place is very vibrant and colorful, combining warmer, earthen colors with splotches of teal and blue. It's a kind of presentation that goes well with the kind of food that they present.
Tum Tum's hakka noodles prepared with soy, peppers, and scallions may seem like basic eating at a glance but once you taste it, you realize how well these flavours work with each other.
Of course, you can order Chinese-style chow mein noodles if you're not used to some of the dishes. They also have dimsum, which is quite obvious from their Asian-inspiration.
To cap it all off, check out their delectable desserts. The chocolate burger made from brownies and marshmallows is quite decadent, making it a great pick if you and your romantic power are big on the sweets!
Pro Tip:

The smaller portion sizes for each menu item invites ordering a good variety– be sure to try out a lot of items!
Live like Royalty at the Raj Mahal Restaurant
Menu: Main Course, Live Chaat Station, Dish of the Day, Dal & Kadhi, Indian Breads
Location: Pearl Hotel Apartment, Behind Burjuman Mall, Opp Silver Sands 3, Al Mankhool, Bur Dubai Dubai
Social Media: Facebook; Instagram
Hours: 
Mondays – Fridays: 12:30 PM to 3:30 PM | 7:00 PM to 11:30 PM
Saturdays – Sundays: 12:00 PM to 4:00 PM | 7:00 PM to 11:30 PM
Price Range: $$
Treat your partner like a queen or king when you dine at the Raj Mahal Restaurant's royal atmosphere! Located at the West Zone Pearl apartment buildings, the place is definitely a major stop for those looking for a luxurious ambiance for dinner.
The color scheme is predominantly gold and white, complete with marble floors and plush armchairs. It's mostly the food which introduces a pop of color in the experience.
And a pop they make, especially once you feast your eyes on their thalis or large platters. We think one set is even big enough to feed both you and your partner in one sitting!
Vegetarians will rejoice at the Rajastani/Gujirati vegetarian thali made with a nice variety of chutneys and a special vegetable-based curry. It's very big too, as with most other sharing plates.
There's also a live chaat station for all of your pani puri cravings. You might even catch a show or live performance on some of your visits for a more memorable night!
Pro Tip:

Raj Mahal's menu has different offerings for each day– be sure to check in on what their daily menu is before committing to a visit!
Take a Peek at Dinner with a Twist at Pinch of Spice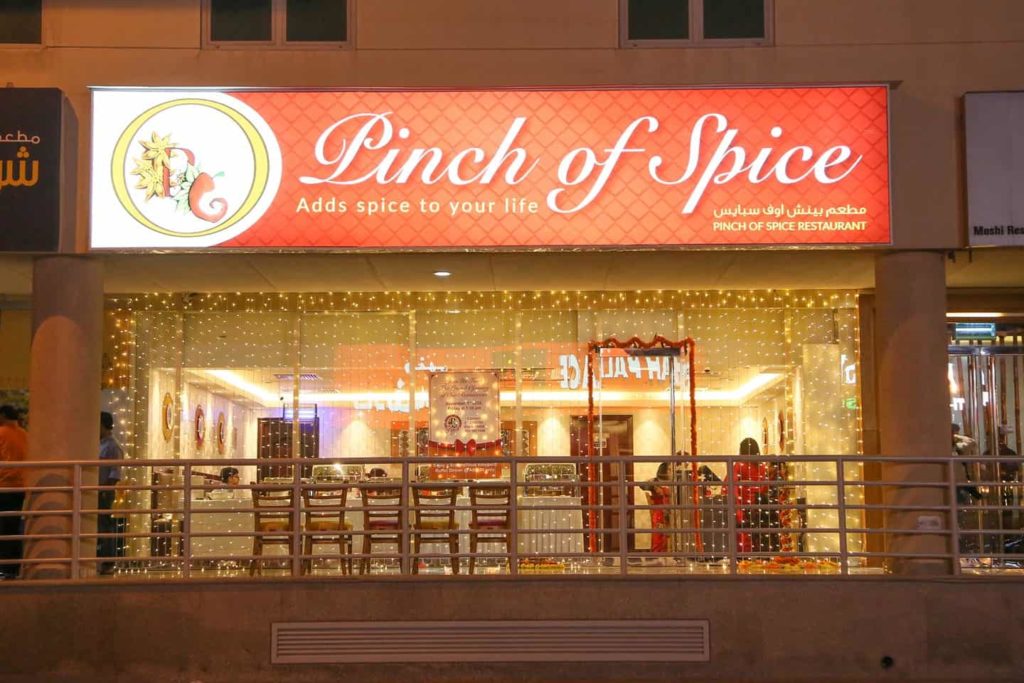 Menu: Appetizers, Main Course, Rice Specialties, Mishti, Bengali Combo
Location: Shop 7, Ground Floor, Oud Metha Building, Oud Metha, Dubai
Social Media: Facebook; Instagram
Hours: 
Mondays – Thursdays: 11:00 AM to 11:00 PM
Fridays – Sundays: 11:00 AM to 11:30 PM
Price Range: $
For dinner with a twist, Pinch of Spice delivers both a flavorful kick to the atmosphere and to the tastebuds with its varied menu and lively interior.
Don't let the humble exterior fool you– inside Pinch of Spice is a cozy and contemporary joint, with clean white walls and wood finishes on all the furniture.
Specializing in Bengali cuisine, Pinch of Spice's breakout hit is their ilish bhapa, a dish of fish steamed in mustard sauce and green chili. Very hearty!
Portions are quite big as well and you and your partner could find yourself wanting a platter served up here.
Just make sure you can handle much of the hotter dishes coming out of the kitchen.
Diners can also try making their own combos to vary up their menu– it will come, guaranteed, with rice and roti, allowing visitors to try the various combinations.
Lastly, consider going for their malpua pancakes, a crisp and fluffy classic Indian dessert topped with flavored, saffron syrup.
Pro Tip:

The restaurant offers special Bengali Combos depending on the day, which comes with quite the amount of dishes for a low price. Not a bad place to visit even on a regular day eh?
Stay Hip and Trendy with a Visit to Gazebo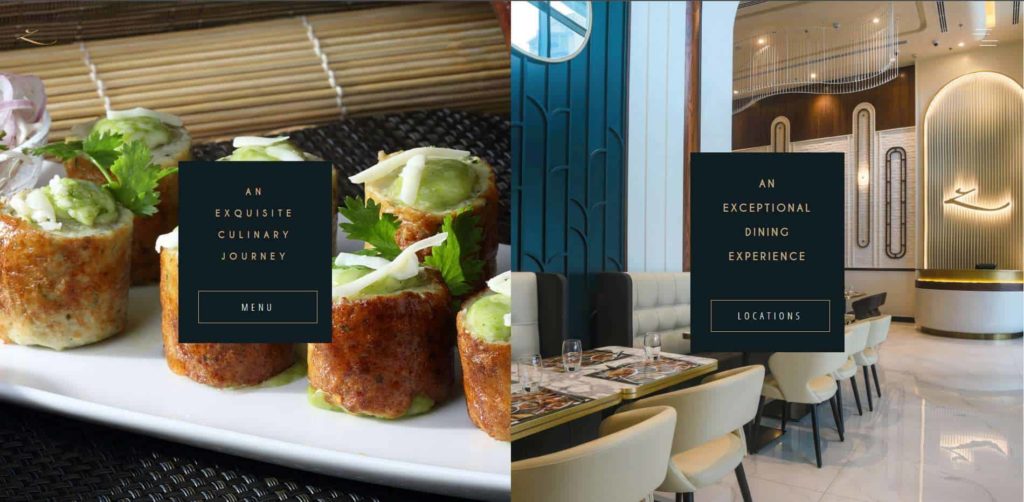 Menu: Ibteda, Saath Saath, Kebab Charcoal Grill, Basmati Ka Khazana, Rotiyan
Location: Next to Kamat Restaurant, Kuwait Street, Bur Dubai
Social Media: Facebook; Instagram
Hours: Mondays – Sundays: 11:00 AM to 12:30 AM
Price Range: $$$
Gazebo immediately dazzles with its modern ambiance styled after a royal palace of sorts, which immediately entices guests to have a grand time during their visit.
They're open from brunch all the way into dinner and you can easily find some slightly dimmer spots to eat at in the evenings should you want a more intimate and personal time with your partner.
Moving on to the food, you should be able to find something amazing within Gazebo's large menu; primarily inspired by Dum Pukht cooking in the UAE, making it a perfect fit for fans of Indian cuisine.
Their biryani selection is quite exquisite, coming in with all sorts of flavours and toppings. You can get them in tandoori chicken, lamb, seafood, or mutton, or you can opt for a vegetarian version with fresh vegetables or stuffed, chargrilled mushrooms.
It's a bit pricey but the portions are quite significant as well so you're sure to come home with a full stomach once you're both done with your evening meal!
Pro Tip:

Gazebo can get quite busy in the evening– be sure to decide and order all of your dishes in one go to prevent having delays in service!
Dance the Night Away at the Viva GOA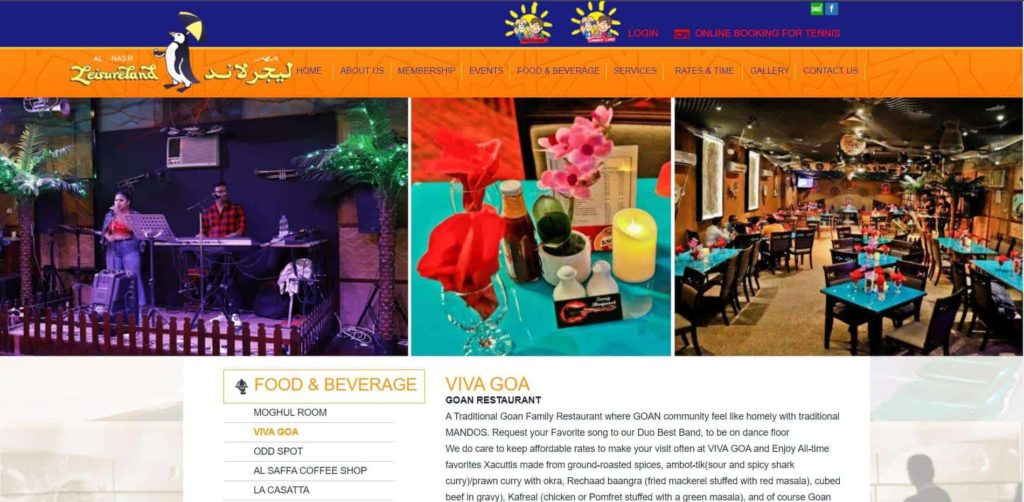 Menu: Starters, Rice & Bread, Soups & Salads, Main Course, Desserts
Location: Al Nasr Leisureland, Oud Metha, Dubai
Social Media: Facebook
Hours: 
Sundays – Thursdays: 7:00 PM to 1:00 AM
Fridays – Saturdays: 7:00 PM to 2:00 AM
Price Range: $
More energetic couples will want to pop in at Viva Goa right away; enjoying the combination of live entertainment and tasty seafood in a stylish venue.
With an interior that makes full use of bright and dark contrasts and neon colors, Viva Goa's appeal is in the relaxed vibe and live music, perfect for some R&R.
The restaurant specializes in Goan cuisine– with a particular focus on seafood and rice. Try their Prawns Caldin, a spicy curry made with coconut milk for a nice flavor blend.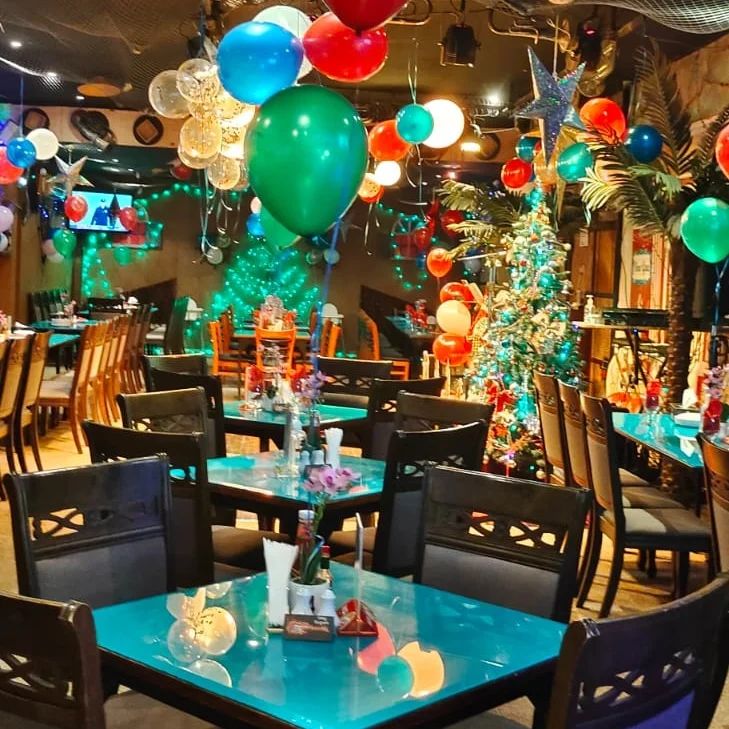 For meat lovers, the restaurant also has a good amount of roasts and masala. Beef lovers are in for a treat with beef croquettes and their beef chili fry.
Lastly, order some of their gulab jamun– berry-sized confections soaked in sugar syrup as a sweet treat to end the night with. They're very handy for washing down the heat too, especially when you've opted for the spicier options on the menu! 
Pro Tip:

The weekends can tend to be rather busy for Goa, becoming quite packed around 10 in the evening– be sure to come early to secure a table!
Taste Old Indian Cuisine at Jehangirs
Menu: Soup and Salad, Chef's Specials, Appetizers, Biryani, Pulao
Location: Shop 5, M Square Building, Sheikh Khalifa Bin Zayed Street, Mankhool, Dubai
Social Media: Facebook; Instagram
Hours: 
Sundays – Thursdays: 12:00 PM to 12:00 AM
Fridays – Saturdays: 12:00 PM to 1:00 AM
Price Range: $$$
Take a trip back to the days of olden India with dinner at Jehangirs, serving the best of Muhglai cuisine in historic Bur Dubai!
Its interior, decked out in decadent black and gold and outfitted with beautiful murals, definitely brings the feeling of luxury to the restaurant as well as delighting any art enthusiasts among its guests.
Start off your time traveling trip with their jalebi chaat, with the restaurant's own contemporary twist on the classic starter!
With a varied selection of mains, any palate will definitely be satisfied– mutton biryani for the meat lovers, and for some seafood, daab chingri, a shrimp curry.
Make sure to check in for their unlimited kebab days, giving you more food at a more affordable rate. Just be sure to actually finish the means once its given.
To cap off the hearty dinner, definitely try their banana shahi toast, washing down the sweetness of the treat with their refreshing juices.
Pro Tip:

The seating area is quite small– which might be okay for couples, but that counts double dates out of the question!
---
Exploring Bur Dubai can be both a historic and romantic moment with a partner provided you know where to look. Hopefully you enjoy our recommendations for an amazing candlelight dinner in Bur Dubai.
If you're interested in other food guides and amazing dining spots, make sure to check out our other lists, such as this primer on great beachside restaurants in Dubai.