The 5 Best Arcades in Dubai
The only thing better than playing video games is trying to beat high scores with friends at an arcade. We simply love the cacophony of digital 8-bit music, and the sound of laughter and screams.
Fortunately for us, Dubai spares no expense in bringing cutting-edge gaming technology to these places, so we are always sure to have a great time with these gadgets.
So we tried some highly recommended spots to give you our favorite arcades in Dubai!
How We Picked the Best Arcades in Dubai
Before we get right into our best arcades in Dubai, here are the factors we considered for our entries on this list:
1. Brass Monkey
Test
Info
SERVICES
Arcade gaming, bowling, VR gaming
WEBSITE
https://brassmonkeysocial.com/
ADDRESS
Brass Monkey Restaurant LLC, Bluewaters Island, The Wharf, P.O. Box 52810, Dubai, U.A.E
CONTACT DETAILS
+971 4 582 7277
OPERATING HOURS
Sunday: 12 PM–1 AM

Monday to Tuesday: 4 PM–1 AM

Wednesday: 4 PM–2 AM

Thursday to Friday: 4 PM–3 AM
| | |
| --- | --- |
| Criteria | Rating |
| Activities and Games | ★★★★★ (5/5) |
| Ambiance | ★★★★★ (5/5) |
| Service Quality | ★★★★☆ (4/5) |
| Features | ★★★★☆ (4/5) |
Brass Monkey's motto, Grow Young Again, is exactly what we felt after spending a night with its 12 bowling lanes, VR racing car simulators, and arcade alongside its delectable cocktails.
We love that Brass Monkey is all about its gaming space, draped in purple neon lighting and vintage-style banners above the lanes, and its retrofuturistic motorcycle arcade games are outlined in pink neon lights.
For those who are loyal to the classics, this arcade also has the OGs such as Donkey Kong, air hockey, and Pac-Man!
The atmosphere really channels that feeling of being an adult but still with the essence of childhood because the space successfully marries all these entertainment spaces with a sense of maturity.
It also has an amazing food menu, although there is nothing special enough about its service quality for us to really talk about it enough.
But what makes this place extra fun is that it has numerous weekly events, from half-price bowling on Saturday and Sunday to Brunch and Thirsty Thursdays.
We had so much fun that it was almost possible to ignore the expensive bill that we got afterward. But truth be told, all of the amenities were quite pricey.
All in all, Brass Monkey aims to be an adults-only paradise designed to let their inner child go all out and it perfectly does just that.
12 bowling lanes 
Arcade games and VR car driving simulations
Amazing ambiance and great lighting
Numerous weekly events
Expensive rates for everything
Nothing special about the service
Customer Reviews
The vibes are immaculate
"Great atmosphere, lovely arcade, and immaculate vibes. The food here is superb, highly recommend the baby calamari and the churros.
The service we received was amazing, Dale was very attentive took care of our table, and recommended some nice choices. He made us feel welcome and gave us an amazing experience.
Definitely visiting again!"—Marah Shatarah, Google Reviews
So much to do here!
"Had so much fun here! Great place to hang out after a full week's work. There are several things you can do from arcades to billiards to bowling or just sit down and chill with friends. They also have a very attentive staff and food was served fast and hot. Their drinks are also highly recommended! 😁" —Kristine Nalam, Google Reviews
2.  Dubai Bowling Center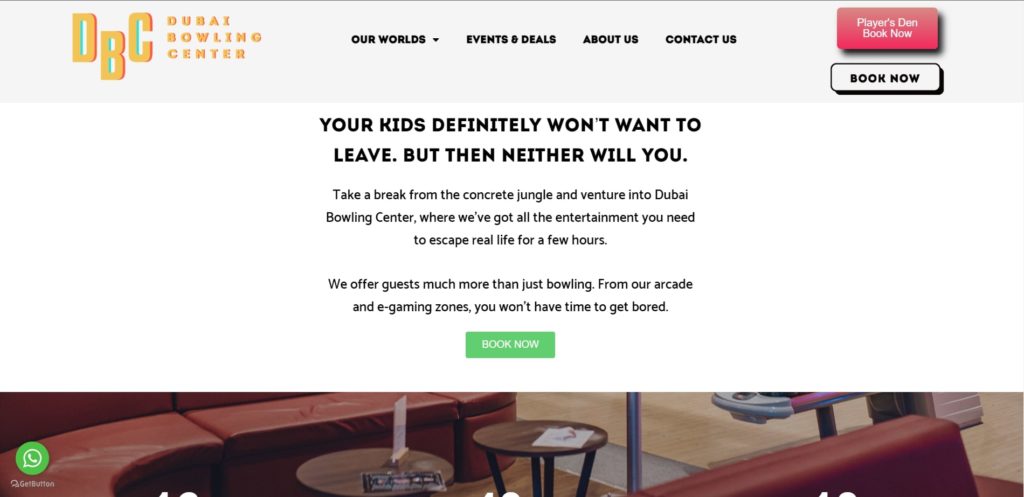 Test
Info
SERVICES
Arcade gaming, bowling
WEBSITE
https://bowlingdubai.com/
ADDRESS
Al Quoz 1, Meydan Rd - Dubai - United Arab Emirates
CONTACT DETAILS
04 339 1010
OPERATING HOURS
Saturday to Thursday: 10 AM–12 AM

Friday to Saturday: 10 AM–1 AM
| | |
| --- | --- |
| Criteria | Rating |
| Activities and Games | ★★★★★ (5/5) |
| Ambiance | ★★★★☆ (4/5) |
| Service Quality | ★★★★★ (5/5) |
| Features | ★★★★☆ (4/5) |
With a whopping 16 lanes, 3 projector lanes, The Zone for e-gamers, and the iconic Arcade, Dubai Bowling Center is a paradise for bowlers, gamers, and everyone in between.
First off, we love how it takes bowling seriously with how big its alley is coupled with the latest scoring system around. But at the same time, it knows how to keep it fun.
It lets players do backward and blindfold bowling, which was definitely fun to try out. And the best part is nobody judged us when we did this — we even got cheers from the next lane when we managed to get a strike.
Meanwhile, The Zone was perfect for unleashing our competitive side with its online video games.
Also, we could get lost and easily spend a day at the Arcade, which is known to have the largest collection of arcade games in the world.
We love how all of these spaces come together to create a contemporary retro arcade style that fills the whole space.
The atmosphere felt festive and fun without relying on nostalgia or retro-style themes. We love that it takes this arcade aesthetic style and twists it for the 21st century.
The bowling alley hosts events like birthday parties and corporate events that involve themed costumes, but other than that, it lacks gimmicks.
The service, however, was great. The staff offered to give us a quick rundown of the basics of bowling and even accommodated our requests with no hesitation.
Cutting-edge bowling alleys
Has the largest collection of games in the world
Well-decorated and great ambiance
Lacks weekly events
Birthdays and personal gatherings can overwhelm the space with their noise
Customer Reviews
Very accommodating staff
"Cool spot that's open late. Didn't realize we were bowling in the VIP section. Very accommodating. Provided me with shoes & socks (I was wearing heels). There's also billiards & ping pong available. On weekends it's a little packed, so call ahead of time. The staff is friendly. They sanitize each table before the guests come. Liked this place, came back here twice in two days!" —Daria Zlobinskaya, Google Reviews
Love the dedicated spaces
"I had an amazing experience at Dubai Bowling Center. It is not very crowded and has much more than just bowling. There is a dedicated arcade zone for those who don't enjoy bowling. They got great deals if they went as a group. Very friendly and cooperative staff." —Arjun, Google Reviews
3. Wavehouse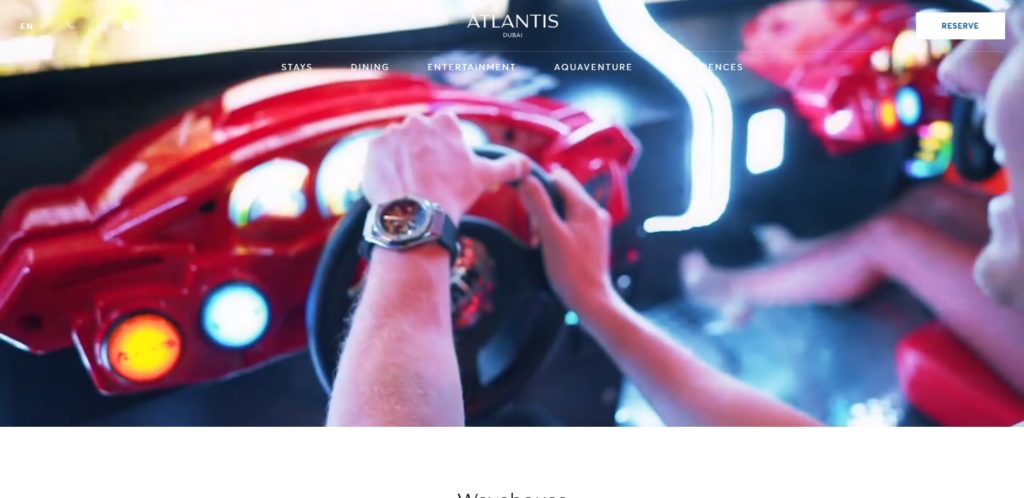 | Test | Info |
| --- | --- |
| SERVICES | Arcade gaming, bowling |
| WEBSITE | https://www.atlantis.com/dubai/dining/wavehouse |
| ADDRESS | Atlantis The Palm Hotel, Ground Floor - Crescent Rd - Dubai - United Arab Emirates |
| CONTACT DETAILS | +971 4 426 2626 |
| OPERATING HOURS | Every day: 12 PM–11 PM |
| | |
| --- | --- |
| Criteria | Rating |
| Activities and Games | ★★★★☆ (4/5) |
| Ambiance | ★★★★☆ (4/5) |
| Service Quality | ★★★★★ (5/5) |
| Features | ★★★☆☆ (3/5) |
Atlantis' funhouse offers an indoor and outdoor entertainment experience with a state-of-the-art bowling alley as its ultimate fun centerpiece.
It has its own Barcade where you can enjoy your drinks while playing with more than 50 arcade games to choose from.
And while for a space this big, 50 games definitely feels lesser than our other entries, it was made better with a mug of beer in our hands.
The entertainment hub has 4 bowling lanes, each having its own large wooden tables and leather-clad couch.
The bowling lanes are lined by these tropical-urban wall designs giving off street festival vibes that are only enhanced by the kaleidoscopic lighting that dances around the space.
Another thing we love about this arcade, which we also find to be unusual, is the industrial aesthetic style of the hub.
The bare cement flooring, giant fans on the wall, leather upholstery, and wooden accents give the space rough energy that is offset by the fun neon lights that say, "Fun is my middle name".
However, the service team is simply spread too thin throughout the space, and the experience is definitely bogged down by the number of times we have to wait in line longer than we should.
On top of that, there aren't any other events besides the happy hour, which is unfortunate. We would have liked brunches or ladies' nights because these would pull in more people regularly.
State-of-the-art bowling lanes
50+ arcade games
Daily Happy Hour
Unique festive industrial atmosphere
Only has 4 bowling lanes
Lacks weekly events
The staff is spread too thin
Customer Reviews
Loving their adult-only spaces
"Wavehouse, is a perfect entertainment destination. The venue is split between indoor and outdoor activities and comes with a restaurant, terrace, and adult-only bar, as well as endless family-friendly fun to keep little ones (and grown-ups) busy. They have got a bowling alley, retro gaming zone, and even a wave machine which makes the whole dining quite the experience. It's a must-visit place with friends and family." —WaSalicious Food & Travel, Google Reviews
Great food!
"Best cheeseburger 🍔 I've had in a while. Try their Wavehouse cheeseburger for a cheat day out. Totally worth it. Love how family-friendly this place is. A casual bar and restaurant with the whole family in mind. A perfect spot for your games night too. Great service and polite staff. Highly impressed with how cute and clean their washroom is. Would love to try other things on the menu if I ever go back there." —Sera Phina, Google Reviews
4. Magic Planet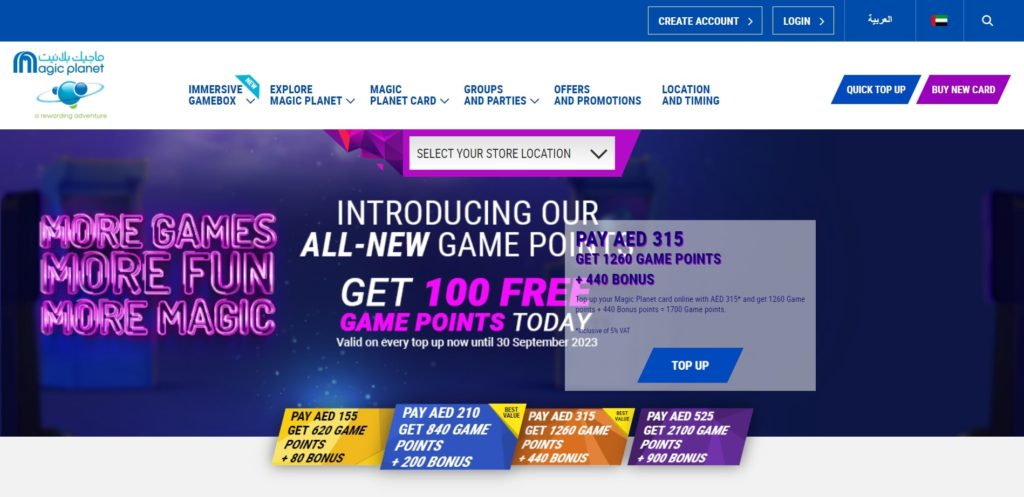 Test
Info
SERVICES
Arcade gaming, bowling, wall climbing
WEBSITE
https://www.magicplanetmena.com/en-ae
ADDRESS
Level 1, South Entrance, Shiek Mohamed bin Zayed Road, Mirdif, UAE

Has 2 other locations in the city

CONTACT DETAILS
+9714-367-0435
OPERATING HOURS
Saturday to Wednesday: 10 AM–10 PM

Thursday to Friday: 10 AM–2 AM
| | |
| --- | --- |
| Criteria | Rating |
| Activities and Games | ★★★★★ (5/5) |
| Ambiance | ★★★☆☆ (3/5) |
| Service Quality | ★★★★☆ (4/5) |
| Features | ★★★★☆ (4/5) |
Spread throughout multiple areas in Dubai, Magic Planet is the perfect playground for kids to get unleash their inner gamers.
Its bowling center has twelve state-of-the-art ten-pin bowling lanes that are meant for fun family time.
Equipped with the most high-tech bowling technology, its bowling alley isn't the only part of the hub to offer the best of the best.
Right next to it is its very own arcade area that includes a lot of racing games and an immersive gamebox.
It truly felt like we were going through a gaming arcade that was made for the 21st century.
We love how we never had a moment where we stopped and wondered what else was there to try out because everywhere we looked, there was something that caught our attention.
As for the atmosphere, we're not sure what it intended to juxtapose graffiti street art with clean bright wood flooring and bright white overhead lighting.
The interior styling felt like the conceptualizing stopped halfway through because the whole space felt undecided.
The service was nothing special. While the staff was efficient in helping us figure out the machines, we didn't really feel like they were aware of our situation until we called them or that they took initiative, which would have been great.
Sadly, it also doesn't hold weekly events for its regulars. But it does accommodate birthday parties, school visits, and corporate parties, which are great on-demand events.
All in all, if what you're looking for is the sheer number of entertainment attractions and the high-tech bowling experience, then Magic Planet has your back.
Offers a wide range of entertainment attractions
Offers classic and newly released video games
Accommodates birthdays and corporate events
The atmosphere is muddled and undecided
No weekly events
Nothing special about the service
Customer Reviews
Great place to visit with kids
"Great place to visit with kids.
Plenty of arcade games and rides are available.
Includes also a bowling alley and adventure course.
As well as something new that I had not seen before, game rooms for up to 6 people – motion driven.
Located Southside close to the food court and iFly." – Bart W., Google Reviews
Magic Planet Midriff City Center is an absolute blast!
"Magic Planet Midriff City Center is an absolute blast! From the moment you walk in, you're transported into a world of fun and entertainment. The arcade games are top-notch and there's a wide variety to choose from, ensuring everyone can find something they enjoy. The staff is friendly and helpful, always ready to assist with any queries. The highlight for me was definitely the indoor roller coaster, it was thrilling. The food options were also great, with a good selection of snacks and beverages. Overall, I had an amazing time at Magic Planet Midriff City Center and would highly recommend it for a fun day out with friends or family." – SHARJAH GRAPHY, Google Reviews
5. Play DXB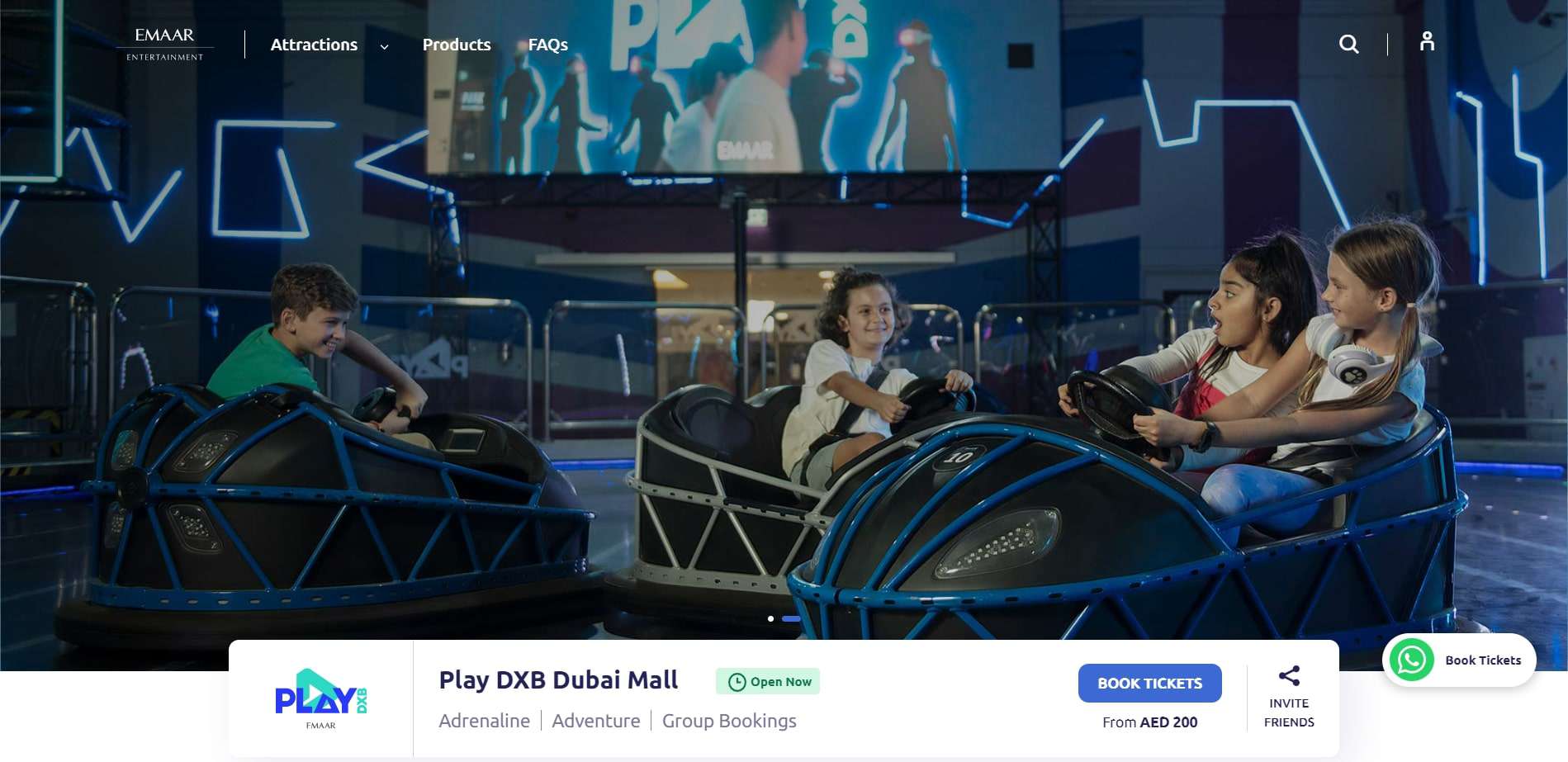 Test
Info
SERVICES
Arcade gaming, VR gaming
WEBSITE
https://entertainment.emaar.com/attraction/play-dxb
ADDRESS
Dubai Mall - Financial Center Rd - Downtown Dubai - Dubai - United Arab Emirates
CONTACT DETAILS
800-DUBAI-MALL (800-38224-6255)
OPERATING HOURS
Sunday to Thursday: 10 am - 11 pm

Friday to Saturday: 10 am - 12 am
| | |
| --- | --- |
| Criteria | Rating |
| Activities and Games | ★★★★☆ (4/5) |
| Ambiance | ★★★★★ (5/5) |
| Service Quality | ★★★★☆ (4/5) |
| Features | ★★★☆☆ (3/5) |
The first theme park of its kind in the Middle East, Play DXB is one of the top arcades to visit if you're looking for a one-of-a-kind, immersive gaming experience.
Its virtual reality gaming hub is completely unparalleled with experiences such as the Burj Drop, Flying Chairs, and SpeedWay.
With over 30 attractions spread throughout two stories, Play DXB is definitely a VR wonderland. However, fans of classic arcade video games are in for disappointment because while these are available, the offerings are not as varied as our other favorites.
We were kind of looking forward to its classic arcade offerings since we thought there was space for all of these in its 7000 sqm area.
However, the sheer size and grandiosity of Play DXB were more than enough to elicit that feeling of overwhelming childlike awe we got the moment we stepped in.
Immediately, its VR experiences were not the only thing immersive about it. From its gigantic LED screens to its flashing neon signs, it definitely felt like a futuristic wonderland.
When it comes to the service quality, you can really tell that Play DXB has successfully integrated automated systems with its staff because interacting with both has been nothing but smooth and quick.
However, the lack of eateries, and other spaces for taking a break made our day here tiring really quick after going from one attraction to the other without resting in between.
It also does not have weekly events that would make going back here a different experience than before.
The top destination for VR experiences
Grand and wonderful ambiance
Quick and smooth service
Classic arcade games are not that diverse
Not a lot of features and events going on
Customer Reviews
The games and attractions are world-class
"Our son, who's 7 years old, has had such a wonderful time at PlayDXB that we have altered our holiday plans, to let him enjoy a second visit to this terrific place.
The games and attractions are world-class and include not only outstanding and highly advanced VR and video games, but even a roller coaster. The staff are extremely helpful, warm and welcoming. I really appreciated the cleanliness of the place, as the workers relentlessly disinfected all relevant areas and parts. The place is so impressive that I highly recommend seeing it even if you are not sure whether you wish to play (entrance is free, you only pay for playing)" – Shai Mizrahi, Google Reviews
There is so much to do here.
"Oh man, this place is so much fun. If you have kid/s with you and you need to go shopping just drop your kids to this place. There is a place where your kids can play for 40 AED only for two hours. There is so much to do here. They have every game. Even though they built the roller coaster inside can you believe that? This is a great place and a must-visit for kids." – Rajeev Pundir, Google Reviews
FAQs about Arcades in Dubai
---
We hope this helped you find your favorite arcade in Dubai. Also, if you're looking for other recommendations for what to do for fun, then check out these articles: