The Top Arabic Sweets to Try When in Dubai
Did you know that Dubai is not only known for its spices but also for its sweets?
In fact, Arabic sweets are some of the best in the world because they're made using local ingredients and traditional techniques.
If you're getting hungry for a sweet treat, let this guide show you some of the best Arabic sweets and where you can find them around Dubai.
Luqaimat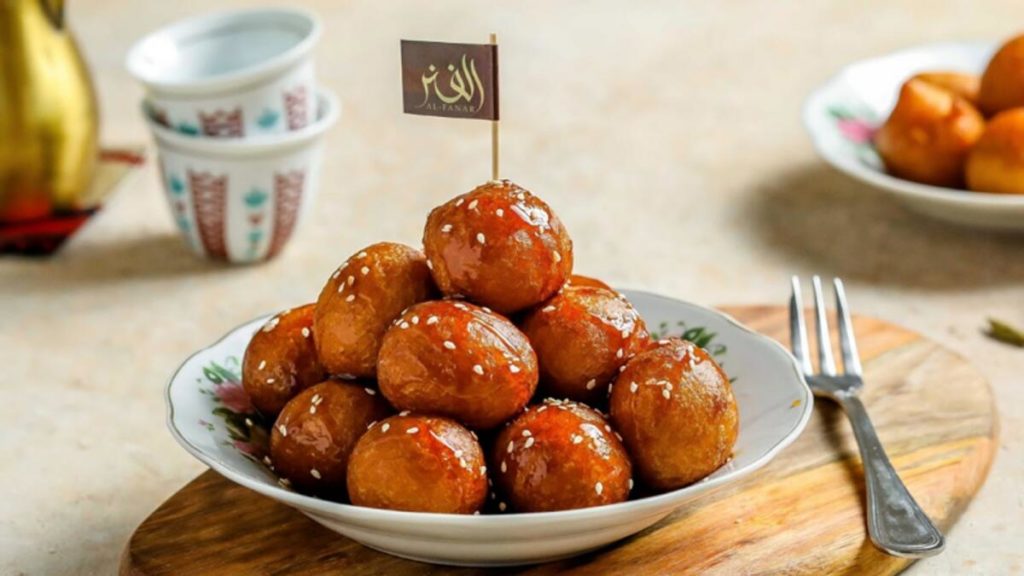 Website: https://www.logma.ae/ 
Address: Fashion Avenue L3 – The Dubai Mall – Dubai – United Arab Emirates
Contact details: 800 LOGMA
Operating hours: Daily – 10:00 AM to 12:00 AM
Luqaimat is considered the quintessential Arabic dessert, which is why you'll see it in all important Arabian celebrations.
With its name meaning "bite-size" in Arabic, luqaimat are small dumplings made with flour and yeast and infused with Arabic spices such as saffron and cardamom for those authentic flavors.
They are then shaped into small balls or dumplings and deeply fried until golden brown. Since no sugar is added while making the dumplings, it's drizzled with date molasses after frying.
After topping with a generous amount of sesame seeds, the luqaimat is stacked on a platter and served for guests to enjoy right after the main course.
Since the luqaimat is not as sweet as other Arabic desserts, it's often served as a precursor to the main dessert.
LOGMA is the number one spot to eat authentic luqaimat in Dubai where you have the option between a traditional date syrup drizzle or a Nutella swirl.
Pro tip:

Aside from LOGMA, you can also grab fresh luqaimat at Humyum Restaurant, Arabian Tea House, Al Fanar Restaurant and Cafe, Boxpark and Loqmato.
Umm Ali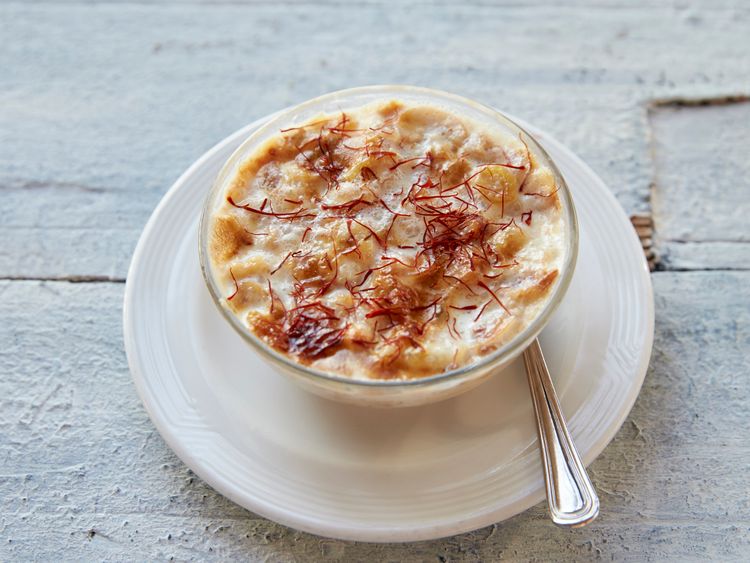 Address: Al Asmawi – 2nd Street – Al Barsha – Al Barsha 1 – Dubai – United Arab Emirates
Contact details: +971 4 334 4421
Operating hours: Daily – 9:00 AM to 2:00 PM
With a name that means "Ali's Mother," you know that this dessert is comforting and heartwarming.
Originating from Egypt, Umm Ali has become one of Dubai's most famous desserts and it's also a staple in every Emirati table during Eid and other holiday celebrations.
It's essentially a creamy bread pudding made with dried coconut flakes, dates and pistachios and a mixture of milk, sugar and cream.
Some locals also put saffron threads on top as an added flavor component to this already decadent dessert.
If you want to try making Umm Ali at home, make sure to drop by the spice souq to grab saffron and other spices.
El Malki in Al Barsha 1 is one of the best places in Dubai to get authentic Umm Ali.
This dessert shop is known for its wide array of Arabic and international sweets. You can also choose from different varieties of Umm Ali including the plain ones or those with extra toppings.
Pro tip:
Head to the dessert shop early since Umm Ali can easily get sold out. And if you're ordering Umm Ali for events, make sure to place your order ahead of time since it's a favorite dessert for celebrations in Dubai.
Aside from El Malki, you can also get delicious Umm Ali at Um Ali Restaurant, Al Hallab and Al Baba Sweets.
Maamoul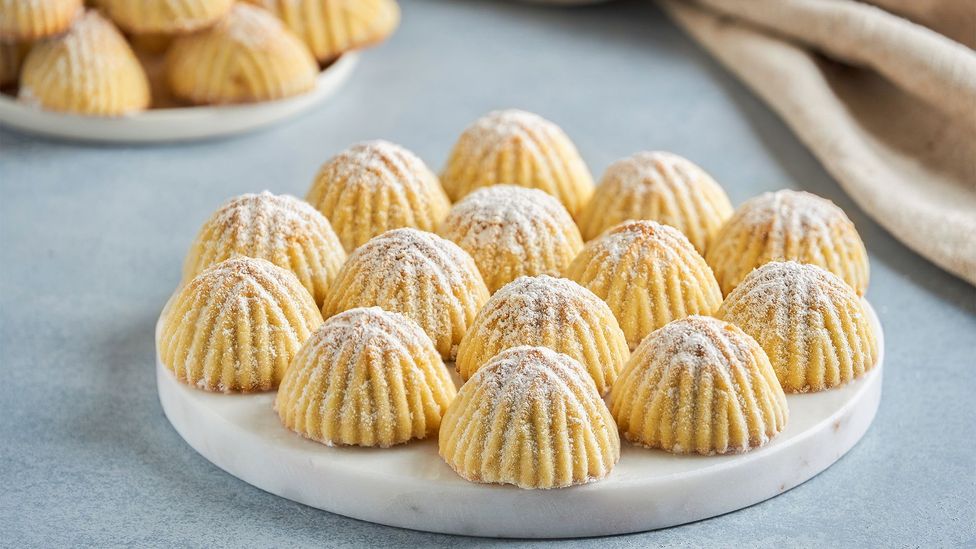 Website: https://alhallabrestaurant.com/ 
Address: Sheikh Rashid Road – Next to Bank of Sharjah – Al Garhoud – Dubai – United Arab Emirates
Contact details: +971 4 330 8828
Operating hours: Daily – 11:00 AM to 12:00 AM 
If your idea of sweets involves cookies, you should try Maamoul. In fact, every Emirati has a fond memory of Grandma cooking these sweet cookies when they were young.
Maamoul is a popular sweet cookie made with flour, honey, dates and of course, some spices.
Every Emirati home has their own heirloom recipe for these cookies and you'll find them being served as part of a welcome gesture for guests in the "majlis" or receiving room.
Maamouls are traditionally stuffed with date paste and nuts giving them that natural sweetness.
These cookies are also the perfect snack to go with Arabian coffee as they balance out the bitterness of the coffee beans.
Now, if you're visiting Dubai and you don't know how to make these Maamouls, you can easily get a box of these treats at Al Hallab Restaurant and Sweets.
With a primary location in Al Garhoud and shops in The Dubai Mall, Mall of the Emirates and Bab El Bahr in Downtown Dubai, this restaurant is an institution for good food and desserts in the city.
Pro tip:

If you want to buy authentic Maamoul, make sure to get them in local shops around Dubai and not online where they may not be made using the original recipe anymore. You can also ask locals for recommendations in the area where you're staying.
Chebab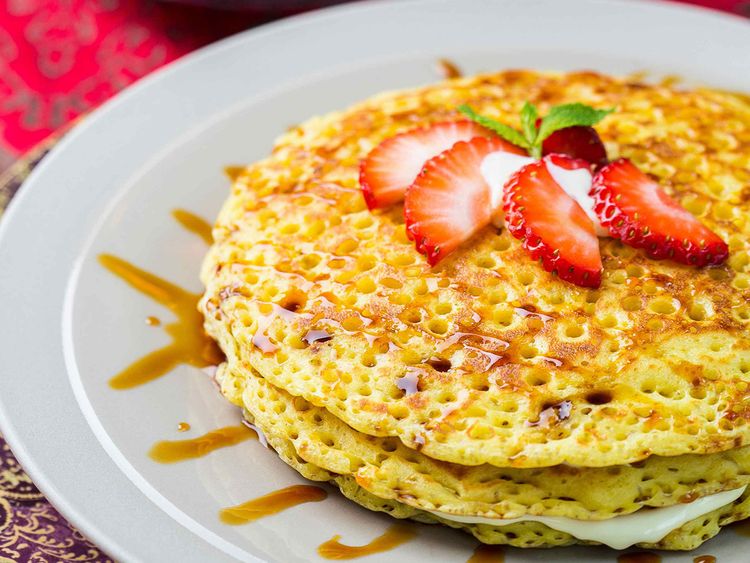 Website: https://arabianteahouse.com/ 
Address: Bastakiya – Opposite Musalla Post Office – Al Fahidi Street – Bur  Dubai – Al Fahidi – Dubai – United Arab Emirates
Contact details: +971 4 353 5071
Operating hours: Daily – 7:00 AM to 11:00 PM
At first glance, a Chebab may look like your typical pancake but with lots of holes. But there's nothing ordinary about this Arabic dessert.
From the classic pancake batter of flour, sugar and eggs, Emiratis elevate the recipe by adding traditional spices like saffron, turmeric and cardamom.
This makes every bite of the Chebab a burst of sweet and savory flavors that you won't experience in other pancake recipes around the world.
Warm Chebab drizzled with locally made date syrup and paired with a cup of tea or Arabic coffee is a classic breakfast in Dubai.
And if there's one place in the city that serves this sumptuous breakfast, it has to be the Arabian Tea House in Bur Dubai.
Known as the first authentic Emirati restaurant and located in the historic Al Fahidi neighborhood, the Arabian Tea House serves some of the best local dishes in Dubai.
Aside from its famous Chebabs, you can also sample other dishes such as Machboos, Kofta and Biryani. 
Pro tip:

Make sure to head to the Arabian Tea House right when it opens to get the best seats and enjoy your Chebab breakfast while the surroundings are still quiet.
Basbousa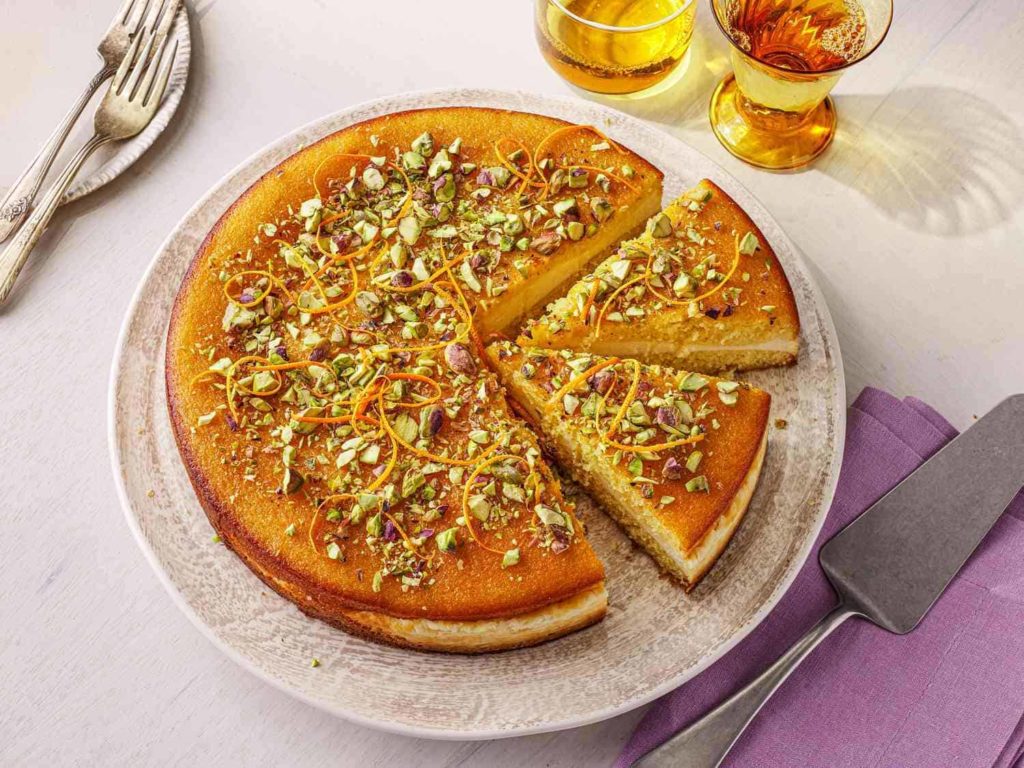 Website: https://www.alfanarrestaurant.com/uae/ 
Address: Ground Floor – Dubai Festival City Mall Near P.F. Chang's – Canal Walk – Dubai – United Arab Emirates
Contact details: +971 4 232 9966
Operating hours: Daily – 9:00 AM to 10:00 PM
Also known as semolina cake, Basbousa is commonly served in Emirati homes as a great way to end a family meal.
Although the recipe originated in Egypt, Basbousa became known in the Middle East where it's been reinvented to include rose or orange blossom water and yogurt to create a more moist cake.
The Basbousa is usually topped with blanched almonds for that extra crunch.
The best spot to get decadent Basbousa has to be Al Fanar Restaurant and Cafe in Dubai Festival City Mall.
The restaurant is known for serving traditional Emirati food in a beautiful rustic setting that takes you back to the ambiance of Emirati homes before the modern world.
Pro tip:

Book a seat at Al Fanar Restaurant and Cafe ahead of time since the place can easily get crowded, especially during the weekends.
Kunafa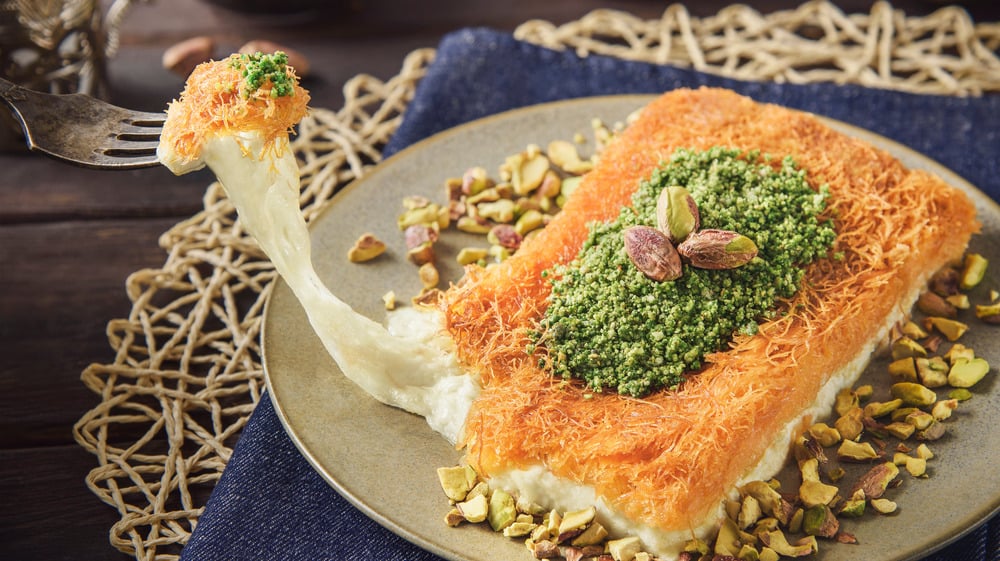 Address: Shop 2 – Ground Floor – Karama Building 2 Opposite Emirates NBD Bank – Karama – Dubai – United Arab Emirates
Contact details: +971 4 396 8999
Operating hours: Daily – 24 hours
Kunafa is the quintessential dessert for Ramadan and it's also a popular breakfast item for those who prefer something sweet to start their day.
This dessert is well-known around the Middle East and each country has a different way of preparing Kunafa.
But in Dubai, Kunafa is made using a thick layer of white cheese and topped with shredded wheat or crushed vermicelli noodles.
It's then soaked in a sugar syrup with orange blossom or rose water to infuse all that rich flavor.
The dish is finished with ground pistachios or hazelnuts for some texture and served piping hot on a brioche roll.
You'll see a lot of locals grabbing Kunafa in their favorite bakery before going to work and the Al Reef Lebanese Bakery has been a favorite for many years.
This bakery has been serving a wide array of traditional Middle Eastern desserts including one of its bestsellers, the Kunafa.
Pro tip:

Although the bakery is open 24 hours, it's best to buy your Kunafa in the early morning when it's freshly made and piping hot to really enjoy its decadent taste. Kunafas also get sold out easily in the bakery, so make sure you don't miss it.
Baklava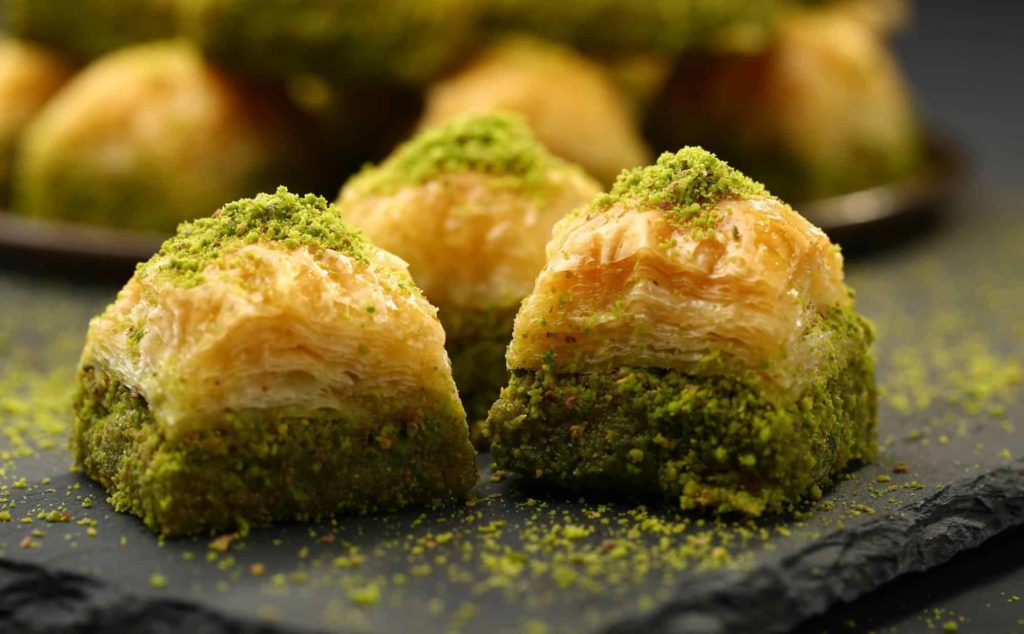 Website: https://bateel.com/en/cafe 
Address: Unit LG-119 – The Waterfall – Dubai Mall – Dubai – United Arab Emirates
Contact details: +971 4 339 9716
Operating hours: Daily – 8:00 AM to 2:00 AM
Baklava is probably the most popular Middle Eastern dessert and you'll find different varieties of it in Dubai.
Originating in Turkey, this sweet pastry dessert is made by laying filo pastry and nuts and drizzled with honey or syrup.
Baklava is so popular in Dubai that many locals give boxes of it as gifts and souvenirs. And if you're looking for authentic Baklavas, you should visit Cafe Bateel.
One of the most popular cafes in Dubai, Cafe Bateel serves authentic baklavas made from traditional techniques and local ingredients.
The cafe can even create beautiful gift boxes for you to bring home to family and friends, so they can enjoy this classic Middle Eastern dessert.
Pro tip:

If you're ordering a box of baklavas, make sure to call the cafe ahead to make sure that they have available baklavas for you to take home. Some customers even order ahead of time and just pick up their baklavas on their flight back home, so they're still fresh.
Mahalabia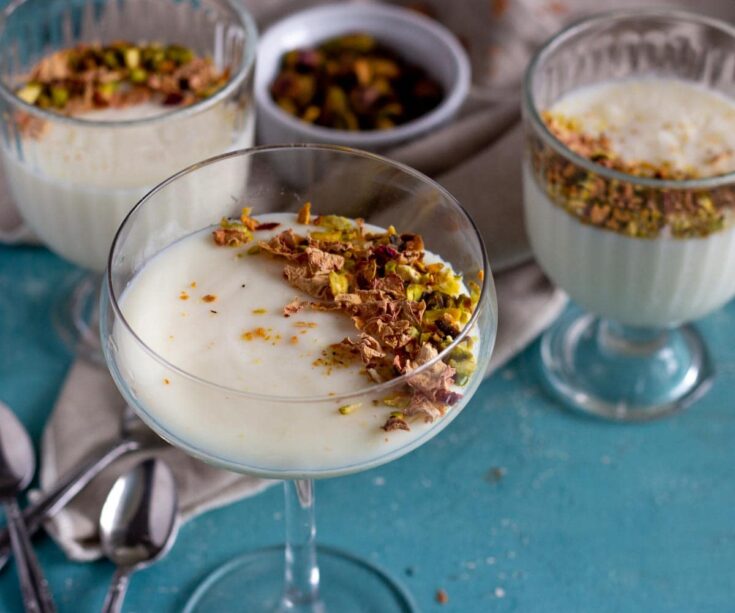 Website: https://www.al-mandaloun.com/ 
Address: Gate Village – Building 3 towards DIFC Parking -Trade Center – DIFC – Dubai – United Arab Emirates
Contact details: +971 4 363 7474
Operating hours: Daily – 8:00 AM to 10:00 PM
This list wouldn't be complete without the popular milk pudding dessert that any sweet tooth will surely love, the Mahalabia.
The traditional Middle Eastern treat is made using either rice flour or cornstarch, whole milk and cream to create the pudding.
Of course, this recipe wouldn't be complete without adding Arabic spices like rose water or orange blossom water to infuse a floral scent and flavor.
Some locals also like to add cardamom to give the Mahalabia a distinct Arabic taste and each pudding is served in glasses or cups and placed in the fridge to cool down.
To finish the dessert, some nuts and flowers are added on top of the Mahalabiya before it's served to guests.
While you can find a lot of restaurants, cafes and local stalls serving Mahalabia, you'll find the best one in the city at Al Mandaloun Lebanese Restaurant.
Known for serving authentic Lebanese and Arabic food, this restaurant is known for making decadent Mahalabias as part of its dessert menu.
You can also sample some of its popular dishes including Mousahab, Shawarma and vegetable soups.
Pro tip:

Book a table ahead at Al Mandaloun to make sure that you can get the best seats of the house and enjoy its famous dessert.