Things to Do in VR Park Dubai
Wondering what it might be like to enter a universe where reality and fantasy blend? Well, VR Park Dubai is your golden ticket to that extraordinary universe!
For many, VR Park Dubai isn't your average arcade; it's a state-of-the-art experience.
If you're ready to plunge into a reality-twisting adventure, our comprehensive guide is your ultimate roadmap. Read on!
What is the VR Park in Dubai?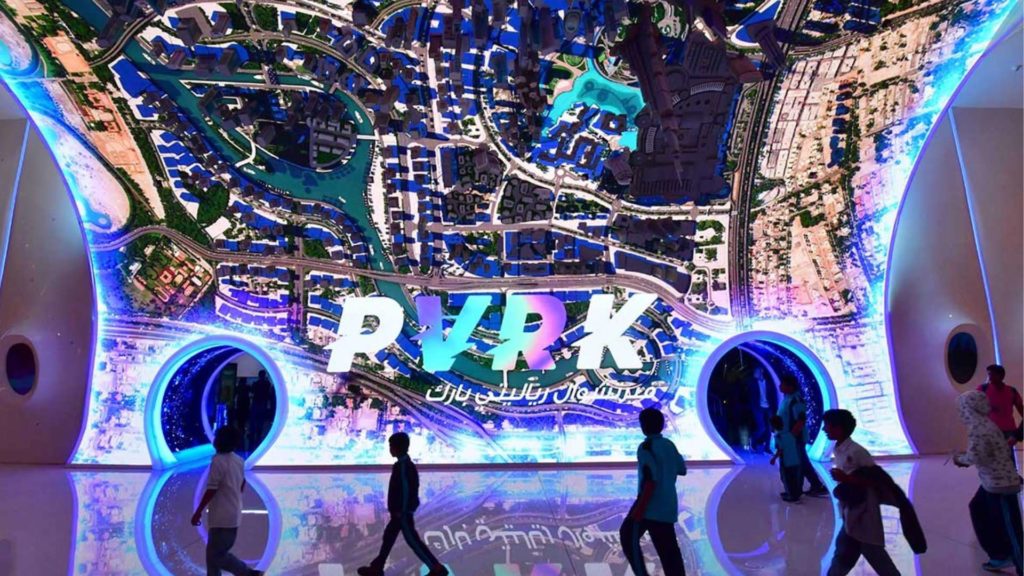 VR Park Dubai is a state-of-the-art virtual reality theme park in Downtown Dubai, United Arab Emirates. It offers various interactive games, experiences, and simulations that use cutting-edge VR technology.
As for indoor virtual reality parks, VR Park Dubai claims to be the largest in the world. The park aims to "challenge reality" via several virtual reality attractions spread across its two stories, covering 7,000 square meters.
The park has over 30 thrilling attractions, including 18 virtual and augmented reality (VR) experiences. It's an island of fantasy in the middle of Dubai, providing a haven for explorers and gamers.
You can choose from various experiences, including team shooting games, roller coaster rides, parachute landing VR, and more. 
Best Time to Go
The best time to visit VR Park Dubai is on weekdays to avoid potential weekend crowds. Weekdays might offer a more relaxed gaming experience, allowing you to properly immerse yourself in the VR experience.
But since the park is indoors, you can visit comfortably at any time of the year.
Things to Know
Website: https://entertainment.emaar.com/attraction/play-dxb
Location: Level 2 of the Dubai Mall, between KidZania and Reel Cinemas
Operating hours:
Monday through Thursday, 10 AM to 10 PM
Friday through Sunday, 10 AM to 12 AM
Age restrictions: No age limit
Minimum height: At VR Park Dubai, the height requirement for the Dubai Drone and Burj Drop rides is 110 cm with a guardian or 120 cm when riding alone.
Ticket:
Pay and Play Pass + AED 75 Bonus Credit: This ticket costs AED 200 and allows you to pay only for the games or rides you play. It also comes with an AED 75 bonus credit.
You'll also need to shell out another AED 5 to purchase a gaming card at the venue. This is a deposit that can be refunded after the event has taken place.
Special bookings: For birthday parties, large groups, or school visits, you can inquire at [email protected]. The minimum number of guests for such bookings is 15.
Parking situation: Free parking at Cinema Parking, level 7
How to Get Around
Navigating your way to VR Park Dubai is easy, with multiple transportation options available:
By Car: You can use GPS navigation to get to the Dubai Mall. The coordinates are 25.1972° N, 55.2797° E.
By Metro: The nearest metro station is the Burj Khalifa/The Dubai Mall station on the Red Line. You may walk to the mall for about 20 minutes or take a feeder bus.
By Bus: Bus stops near the mall are served by lines 27, 29, and F13.
By Taxi: Taxis are also a convenient option, with several drop-off points around the mall. You can book a taxi through an app or hail one on the street.
What to Do at VR Park Dubai
Sneak around the sky in Stealth
One of the most thrilling experiences at VR Park Dubai is "Stealth," where you can embark on a "super spinning" experience.
In the "Stealth" experience, you're not just a passive participant but the captain of your flight. You have complete steering control, allowing you to navigate various scenarios that test your agility and stealth capabilities.
The immersive visuals and sound effects make it feel like you're genuinely soaring through unknown territories, dodging obstacles, and completing missions.
It's a heart-pounding, edge-of-your-seat ride that leaves you questioning what's real and what's virtual.
Race in SpeedWay
For those seeking high-speed thrills, the Speedway experience at VR Park Dubai promises an exhilarating time.
Speedway puts you in a two-seater race car on an oval track for a high-speed adventure. It's family-friendly but thrilling, offering a taste of racing excitement. You can take the wheel or be a passenger, making it versatile for groups.
The track is designed for safety and speed, ensuring an adrenaline-pumping experience. It's a must-try for speed enthusiasts!
Experience the Burj Drop
Those who want a heart-pounding story to tell may try the Burj Drop experience at VR Park Dubai for a unique simulation ride.
Burj Drop simulates being a window washer at the Burj Khalifa when the cables break. You're virtually suspended high above Dubai, feeling the thrill of a near-fall experience!
The adrenaline rush is intense, and the experience is as close as possible to a real-life thrill without any dangers.
Explore the future at Dubai Drone
If you want to step into the future (with a twist!), explore the Dubai Drone experience at VR Park Dubai.
Dubai Drone takes you to the year 2050, where you ride in a drone taxi through Dubai's futuristic skyline. The ride starts smoothly but soon spirals into a thrilling, out-of-control spin.
The experience blends Dubai's envisioned future with a sense of adventure. If you're intrigued by the possibilities of future transportation, the Dubai Drone ride is an absolute must-try!
Drift with friends in Drifters
The action-packed world of Drifters offers a unique and competitive experience at VR Park Dubai.
Drifters features the region's first drifting bumper cars. It's a family-friendly ride where you can challenge your friends and family. The cars are easy to control but require skill to master drifting.
The ride offers a unique twist on traditional bumper cars by adding a drift element – the ability of the bumper cars to drift or slide laterally while moving.
Moreover, this combines the fun of bumping into other cars with the thrill of drifting around corners. Because of this, Drifters is a must-try if you're looking for an experience different from typical amusement park rides.
Where to Eat Nearby VR Park Dubai
The Dry Age Boutique
Address: Oud Metha Rd., Umm Hurair 2, Level 1, Wafi City, Opposite Starbucks
Phone: +971 52 307 4000
Pricing: $$
Website
After your thrilling adventures at VR Park Dubai, indulge in a delightful dining experience at one of Dubai's finest carnivore gourmet destinations, The Dry Age Boutique.
The Dry Age Boutique is a haven for meat lovers. The ambiance is upscale, with a wine bar that complements the steakhouse menu.
The dry-aged steaks are the show's star, and the sommeliers are always on hand to recommend the perfect wine pairing. It's ideal for celebrating a special occasion or a romantic evening out.
UNO Chicago Grill
Address: The Dubai Mall, Upper Deck Rd
Phone: +971 43398804
Pricing: $$-$$$
If you're craving some good ol' pizza and pasta, another excellent dining option near VR Park Dubai is UNO Chicago Grill.
UNO Chicago Grill is a branch of the famous American chain known for its Chicago-style deep-dish pizzas. The restaurant aims to bring a slice of American comfort food to the heart of Dubai.
The ambiance is casual, with a touch of retro American diner vibes. While pizza is their signature dish, the menu also offers burgers and pasta.
Vintage Chocolate Lounge
Address: Dubai Mall
Phone: +971 4 339 9595
Pricing: $$
Those with a sweet tooth can visit the Vintage Chocolate Lounge for some pastries and coffee near VR Park Dubai.
The Vintage Chocolate Lounge is known for its luxurious atmosphere. It features plush seating and elegant décor, making it a perfect spot for a romantic date or a casual meet-up with friends.
Their menu is a chocolate lover's dream, offering various chocolate-based desserts, international and traditional food, and authentic specialty coffee.
Entrecote Cafe de Paris
Address: Dubai Mall
Phone: +971 54 255 2255
Pricing: $$$
Website
Entrecote Cafe de Paris is a French steakhouse near VR Park Dubai that offers an upscale dining experience. The ambiance is elegant, with a touch of Parisian flair.
The menu is focused on steaks, particularly the "Entrecote" cut, served with their signature Cafe de Paris sauce.
It has excellent cuisine and an elegant aura, perfect for a special occasion or a business conference.
Yo! Sushi
Address: Dubai Downtown Lower Ground Floor Financial Centre Rd
Phone: +971 4 339 9083
Pricing: $$
Website
Yo! Sushi in Dubai is a vibrant spot near VR Park Dubai that brings the essence of Japanese street food and sushi to the city.
One of the unique features is the ability to order hot dishes directly from the kitchen at the press of a button, offering a blend of traditional and modern dining experiences.
They offer an "All You Can Eat Okawari" deal from Monday to Thursday. This deal includes unlimited sushi, Japanese street food, and a Nutella cake for only AED 139.
Where to Stay Nearby VR Park Dubai
Palace Downtown
Address: Sheikh Mohammed bin Rashid Blvd – Downtown Dubai – Dubai
Phone: +971 4 428 7888
Pricing: $$
Book now
Palace Downtown is a luxurious oasis in the heart of Downtown Dubai. This hotel is just a 10-minute walk from VR Park and offers free access to VR Park, making it a gamer's paradise.
Its architecture is a blend of traditional Arabian styles and modern luxury. The hotel also features a stunning pool that overlooks the Burj Khalifa.
The dining options here are diverse as well, ranging from Thai to Middle Eastern cuisine.
Address Dubai Mall
Address: Downtown Dubai 
Phone: +971 4 4388888
Pricing: $$
Book now
The Address Dubai Mall hotel is a shopper's dream come true, directly connected to the Dubai Mall. It's so close to VR Park that you could practically roll out of bed into the gaming arena!
Its rooms are modern and spacious, with views overlooking the mall or the city. This mall hotel also offers a luxurious spa and several dining options.
Plus, the stay here often includes tickets to VR Park and the Dubai Aquarium.
Hotel Indigo Dubai Downtown
Address: Marasi Dr – Business Bay – Dubai
Phone: +971 4 210 2222
Pricing: $$
Book now
The Hotel Indigo Dubai Downtown is about half a mile from VR Park, offering a boutique experience.
There's a rooftop pool with amazing city views, and the hotel is decorated with works by local artists. This hotel is pet-friendly, so feel free to bring along your furry friends.
You may add some culture to your trip by visiting the Dubai Opera, which is also conveniently near the hotel.
Ramada By Wyndham Downtown Dubai
Address: Boulevard Street – Dubai
Phone: +971 4 330 7330
Pricing: $
Book now
The Ramada By Wyndham Downtown Dubai is a budget-friendly option near Dubai VR Park without compromising quality.
It offers easy access to Dubai's main attractions too! The spacious rooms have kitchenettes, making them ideal for extended stays.
Other than that, the hotel features a fitness center and an outdoor pool. Dining options are diverse, like Kenza Restaurant, with several cafes and restaurants within walking distance.
Rove Downtown
Address: 312 Al Mustaqbal St – Za'abeel – Za'abeel 2 – Dubai
Phone: +971 4 561 9000
Pricing: $
Book now
If you're a modern traveler seeking a convenient and stylish stay near VR Park Dubai, consider Rove Downtown.
Rove Downtown is a hotel for the modern traveler. Only half a mile from VR Park, this hotel is a hub for guests worldwide.
It has a contemporary design with quirky art installations, a 24-hour gym, and an outdoor pool. The hotel is also home to The Daily, an all-day dining restaurant that offers a variety of international dishes.