The Best Spots for Snorkeling in Dubai
Imagine sailing through warm, crystal-clear waters home to various colorful marine life and intricate coral formations. Sounds like a dream, right? Well, that dream can become a reality in Dubai!
For many, snorkeling in Dubai isn't just any water activity; it's an experience that promises to leave locals and tourists spellbound.
If you're as excited as we are, see our top snorkeling spots in Dubai and insider tips below to make your underwater adventure unforgettable.
The Ambassador Lagoon in The Lost Chambers Aquarium
Website
Address: Crescent Rd., The Palm Jumeirah – Dubai
Contact details: +971 4 426 0000
Operating hours: Monday through Sunday, 10 AM to 10 PM
The Ambassador Lagoon in Dubai is a big underwater area inside the Atlantis Resort's Lost Chambers Aquarium.
It's like a giant fish tank, holding 11 million liters of water, going 10 meters deep, and home to 250 kinds of sea creatures and 65,000 marine animals.
Atlantis Dubai has been accredited by the Association of Zoos and Aquariums (AZA), ensuring high standards of animal care, conservation, and education for visitors.
The focus of Atlantis Dubai's efforts is on showcasing the diverse marine life indigenous to the Arabian Gulf, which includes species like golden trevally, cobias, crescent angelfish, and a variety of sharks and rays.
Inside, a viewing panel provides an educational and enthralling opportunity to observe the mystical ruins of Atlantis. The lagoon seeks to educate visitors about fish species and ocean preservation.
You can swim on the lagoon's surface and observe the magnificent marine life. This guided swim experience is available for those aged six and older, and it takes place daily at 2:00 p.m.
The package includes complimentary same-day admission to The Lost Chambers Aquarium, an educational briefing, the loan of a wetsuit, towels, and beverages. The price is 395 AED.
Pro tip:

For the best lighting and a chance to witness a rare feeding spectacle, plan your visit to The Ambassador Lagoon in the late afternoon, around 4:30 PM or 5:00 PM.
Dubai Aquarium & Underwater Zoo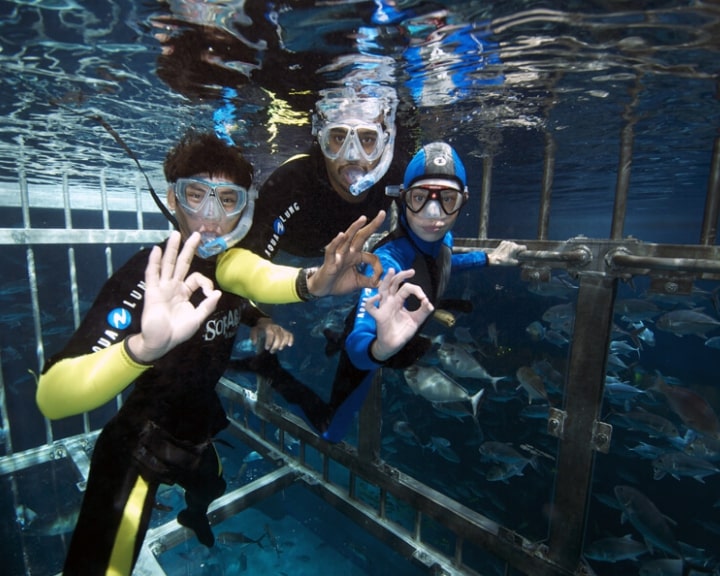 Website
Address: Downtown Dubai – Dubai 
Contact details: 800-382-246-255
Operating hours:
Monday through Friday, 10 AM to 11 PM
Saturday and Sunday, 10 AM to 12 AM
If snorkeling is more appealing to you than sunbathing, then The Dubai Aquarium & Underwater Zoo is the perfect choice.
You can find the aquarium on the first floor of The Dubai Mall. The Dubai Aquarium & Underwater Zoo has thousands of aquatic animals and contains hundreds of marine species, including over 300 sharks and rays.
It features a 10-million-liter aquarium tank – one of the world's largest suspended aquariums!
The interactive nature of the attractions here is what sets them apart. You can engage in exhilarating activities beyond mere observation, such as cage snorkeling.
The latter particularly appeals to snorkelers because it allows them to get close to sharks and stingrays while remaining secure in a cage.
The cage snorkeling at Dubai Aquarium & Underwater Zoo offers a variety of amenities and services to make your visit more enjoyable. All necessary equipment, including masks, snorkels, and fins, will be provided.
Before diving in, a comprehensive safety briefing is given to ensure you understand the rules. Guides or instructors accompany participants to ensure their safety and improve their experience.
They'll guide you through the aquatic environment and provide interesting information about marine life. This captivating experience lasts between 20 and 30 minutes, giving you ample time to appreciate the marine life. The cost is 370 AED.
Pro tip:

To best plan your visit and avoid missing the King Croc, one of the world's largest reptiles, check the feeding times posted on the front gate. Seeing a large animal chowing down on its prey is such a spectacle!
Fujairah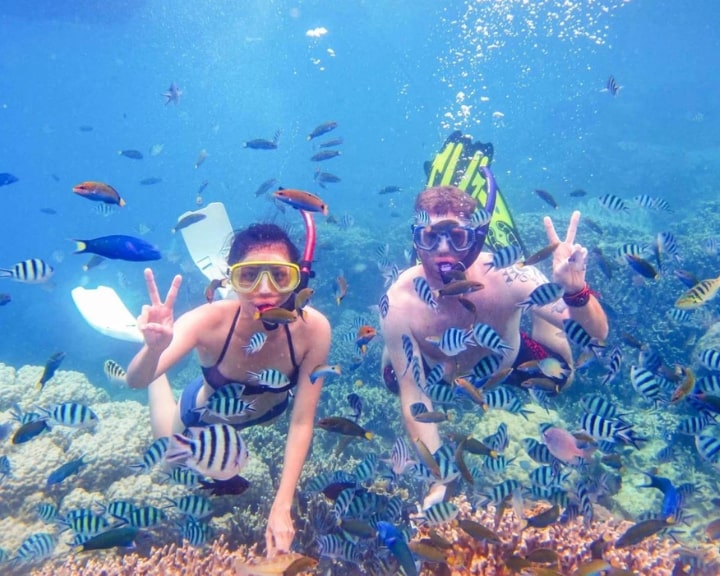 Address: Fujairah
Fujairah, a picturesque emirate on the Gulf of Oman, offers a unique snorkeling experience that's a must-visit for enthusiasts.
Upon arrival, you'll be fully equipped with a mask, snorkel, and optional swim fins, ensuring you're all set for your adventure. Don't worry if you're not a strong swimmer; life vests are available for added safety.
During your snorkeling trip in Fujairah, you may be lucky to see Blacktip sharks, manta rays, and even devil rays! In addition, there's an artificial reef that serves as a focal point for snorkelers.
The area's favorable conditions for coral growth attract many different types of marine life. There's a wide variety of marine life in this area, from barracuda and stingrays to squid and cuttlefish, as well as schools of yellowtail and pufferfish.
Pro tip:

For the best snorkeling experience in Fujairah, make sure to visit Dibba Rock, Martini Rock, and Snoopy Island, where you can explore shallow coral gardens.
Deep Dive Dubai
Website
Address: NAS Sports Complex, Dubai
Contact details: +971 4 501 9444
Operating hours: Monday through Sunday, 9 AM to 6 PM
Deep Dive Dubai offers a one-of-a-kind experience beyond traditional snorkeling spots, making it perfect for both beginners and seasoned snorkelers.
This facility features the deepest diving pool in the world, and it's located in Nad Al Sheba, a very short drive from the heart of Dubai.
The pool is approximately 60 meters (196 feet) deep and contains a whopping 14 million liters of water. It's designed to simulate various underwater landscapes, including caves and a submerged "abandoned" city.
Snorkeling in the shallower areas of the pool at Deep Dive Dubai allows you to explore various objects like arcade games for an immersive experience, even though the facility is best known for its deep-diving adventures.
All snorkelers use high-quality gear and knowledgeable guides to ensure everyone's safety. Before each session, you'll receive a safety briefing to ensure they understand the rules and feel at ease.
Even those as young as 8 are welcome at the facility but must be in an adult's company. Snorkeling sessions can be reserved on the company's website or by calling customer service for a starting price of about AED 250.
Pro tip:

We recommend booking your tickets in advance if you plan on visiting Deep Dive Dubai, the deepest swimming pool in the world. The spots fill up almost daily, so pre-booking is highly advised.
Tips When Snorkeling in Dubai
Snorkeling in Dubai offers a unique opportunity to explore the underwater world of the Arabian Gulf. However, like any water activity, it's essential to take some precautions and be well-prepared to ensure a safe and enjoyable experience.
Here are some tips for snorkeling in Dubai:
Before You Go

Research Locations: Dubai has several snorkeling spots, each with unique features. Research in advance to find a location that suits your skill level and interests.

Look at the forecast: Before venturing out, check the weather report. Never go snorkeling if the weather forecast calls for high winds or rough seas.

Get the Right Gear: Ensure you have a good-quality snorkel, mask, and fins. You can either rent them or bring your own.

Know the Regulations: Some areas may require a permit or have specific rules for snorkeling. Take note of these things before you leave.

Take Lessons: If you're new to snorkeling, consider taking a lesson or going with a guided group.

On the Day

Arrive Early: Popular areas tend to get crowded quickly, so getting there early is essential to finding a good spot.

Safety First: Always have a buddy with you while snorkeling. Stay within the shoreline or your boat.

Stay Hydrated: The sun can be intense, even underwater. Take frequent rests in the cool shade, apply reef-safe sunscreen, and drink plenty of water.

Be Respectful of Marine Life: Look but don't touch. As fragile ecosystems, coral reefs are particularly vulnerable to harm. 

Test Your Equipment: Before heading into the water, make sure all your gear fits well and is in good condition.

While Snorkeling

Stay Calm: Keep your movements slow and deliberate to conserve energy and not scare away marine life.

Maintain Buoyancy: Stay as flat as possible in the water to avoid kicking up sand or damaging coral.

Be Aware of Your Surroundings: Watch out for boats, jet skis, and other snorkelers.

Know Your Limits: Don't push yourself too hard! When you feel fatigue or unease, it's time to turn around and return.

Take Photos Responsibly: If you're using an underwater camera, ensure you know how to use it without disturbing the environment.

After Snorkeling

Clean Your Gear: Rinse all your equipment with fresh water to remove salt and sand immediately.

Check for Personal Items: Ensure you've stayed caught up, like sunscreen, water bottles, or other items.

Share Your Experience: If you had a good time, consider leaving a review or recommendation to help others find great snorkeling spots.

Stay Sun-Safe: After spending time in the sun, apply aloe vera or after-sun lotion to soothe your skin.
By following these tips, you'll be well-prepared for a fantastic snorkeling adventure in Dubai.