Dubai Hills Mall: Your Complete Guide
Want to explore the vibrant Dubai Hills Mall? Whether you're a seasoned shopper searching for top-tier brands or someone looking to have a good time, you might find what you're looking for!
The Dubai Hills Mall provides a kaleidoscope of experiences, all under one roof, that can enchant both locals and visitors.
In this article, we'll take you on a tour of the mall and point out some of its most notable features. Read further!
What is special about Dubai Hills Mall?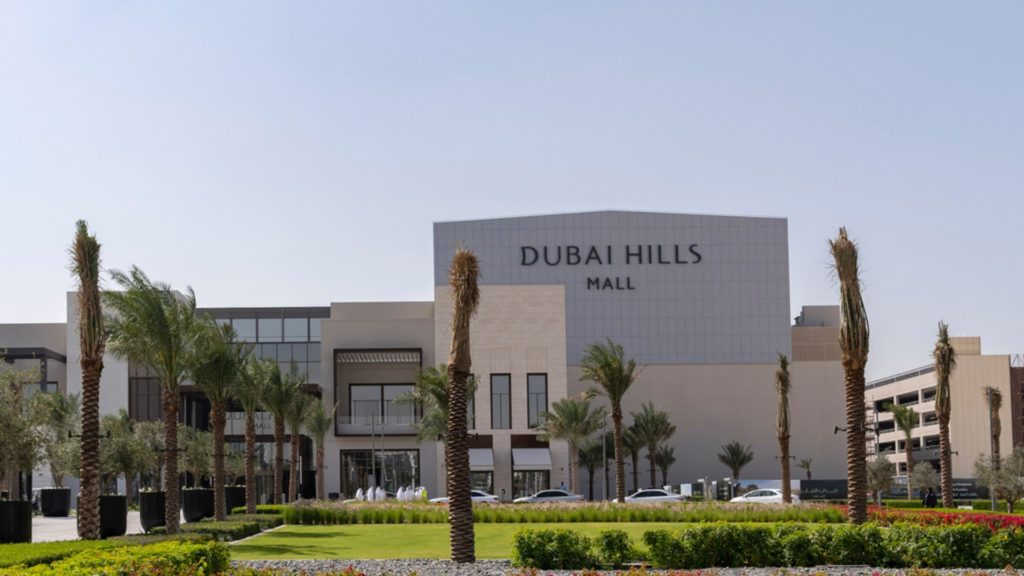 The Dubai Hills Mall is a notable commercial development in Dubai that features diverse entertainment facilities, including advanced cinema complexes. It's known for its contemporary and luxurious architectural design.
This mall is a prominent retail, leisure, and entertainment complex. It's strategically located within the prestigious Dubai Hills Estate at the intersection of Al Khail and Umm Suqeim.
Multiple attractions and amenities surround it. The estate offers various dining and nightlife options, with numerous bars and restaurants catering to multiple tastes and preferences.
You can explore a range of local attractions, enhancing the leisure experiences available near the mall. For those who prefer the outdoors, the local parks and nearby beaches provide ample opportunity to enjoy the area's natural beauty.
Additionally, the surrounding venues regularly host events and offer special deals, such as Ladies' Nights and brunch offers, at establishments like the Hillhouse Brasserie and the Besh Turkish Kitchen.
These diverse experiences, combined with the scenic and recreational spots, make the area around Dubai Hills Mall a rich and varied destination for visitors seeking entertainment, relaxation, and culinary delights.
The architectural design of the mall is innovative – it features a central courtyard linked by interconnected streetscapes, meticulously planned for clear orientation, and hosting events and unique features.
This advantageous location guarantees seamless access from Downtown Dubai and Dubai Marina. Such a strategic locale is poised to draw a significant influx of visitors seeking diverse retail, dining, and entertainment options.
Best Time to Go
The best time to visit would be during the cooler months, from November to April. During these months, the weather is pleasant and suitable for exploring the outdoor areas of the mall.
We advise dressing in layers during the cooler months to accommodate the varying indoor and outdoor temperatures.
Carrying a light jacket or sweater can also be beneficial when transitioning between the warm outdoors and air-conditioned interiors. Wearing comfortable footwear is also crucial, as exploring the attractions may involve substantial walking.
Staying hydrated and applying sunscreen are also important to ensure comfort and well-being throughout the day, even in cooler weather.
As for the day of the week, it depends on what you're looking for. If you prefer a quieter shopping experience, early weekday mornings can be an excellent time to visit.
But if you're looking for a livelier atmosphere, evenings and weekends might be more enjoyable as the mall tends to be busier.
Please note that specific store hours may vary, so it's always a good idea to check the mall's official website or contact them directly for the most accurate and up-to-date information.
Things to Know
Website: https://www.dubaihillsmall.ae/
Location: Al Khail Road – Dubai – United Arab Emirates
Operating hours:
Sunday through Thursday, 10 AM to 11 PM
Friday through Saturday, 10 AM to 12 AM
Contact details: +971 4 448 5033; [email protected]
Parking situation: Free parking is available within the mall premises and can be easily accessed from nearby communities via Al Khail Road and Umm Suqeim Street.
How to Get Around
To get to Dubai Hills Mall, you may use different modes of transportation, depending on your location and preference. Here are some of the options:
Bus: Line 50 runs hourly from various locations, with fares ranging from AED 5 to AED 8. The journey takes approximately 40 minutes.
Metro: The nearest metro station is Mall of the Emirates. Although a direct link to Dubai Hills Mall was initially planned, here are your other options:
Bus: Take Bus F36 from Mall of the Emirates Bus Station 2 to Al Barsha South 1, Mohammed Bin Rashid Housing A-2. Buses run every 30 minutes, with fares ranging from AED 7 to AED 10. The journey takes around 1 hour.
Taxi: A taxi ride from Mall of the Emirates metro station to Dubai Hills Mall typically costs around AED 24 to AED 30 and takes about 24 minutes.
Car Rental: You can rent a car from the Mall of the Emirates metro station and drive to Dubai Hills Mall, covering a distance of 12.8 km in about 24 minutes.
Taxi: Taxis from anywhere in Dubai typically cost between AED 150 and AED 190 and take approximately 25 minutes.
Car: If you prefer to drive, head to Dubai Hills Estate, between Al Khail Road and Umm Suqeim Road. You can access the mall from one of 4 main entrances: north, south, east, or west.
Each has designated parking zones based on your vehicle type. Refer to the parking map to find the correct zone for your car.
What to Do at Dubai Hills Mall
Take a Ride on the Storm Coaster
If you crave excitement, you can experience The Storm Coaster at Dubai Hills Mall, the fastest indoor roller coaster in the world.
Powered by magnetic LSM motors, this coaster provides a unique vertical launch that propels riders over 50 meters into the building. This ride suits kids, teenagers, and adults who meet the minimum height requirement of 1.30m.
The coaster offers varied ride experiences, including single, double, and triple rides, each lasting approximately 2.15 minutes. It combines a thrilling vertical drop with immersive pre-ride expertise, making it a must-visit for thrill-seekers.
You may book tickets online or at the attraction counter. Visitors are also advised to dress casually and comfortably, respecting local laws and customs.
Experience a Movie Thrill at Roxy Xtreme
The Roxy Xtreme at Dubai Hills Mall is the premier destination for avid film enthusiasts, offering the opportunity to view the latest blockbuster films on the largest cinema screen in the Middle East.
Roxy Cinemas offers an exceptional movie-going experience, showcasing Roxy Xtreme, enriched with cutting-edge projection and immersive Dolby Atmos sound.
For those seeking luxury, the Platinum Experience provides supreme comfort with reclining seats, various gourmet food options, and premium services.
The Silver Experience doesn't fall short either – it offers cozy reclining seats and a selection of classic cinema snacks.
With a diverse film selection spanning multiple languages and genres, ROXY Cinemas is a haven for cinema enthusiasts of all tastes.
Explore the Adventure Park
The Adventure Park at Dubai Hills Mall is an ideal destination for individuals of all ages, catering to children and those with youthful spirits who seek enjoyment.
It's Emaar's innovative entertainment destination, offering various dynamic activities and games suitable for families, teenagers, and children as young as one year old.
This modern park offers thrilling experiences like Sky Park Junior, promoting kids' physical development through playful learning, and the innovative Cyber Walls, blending exercise with augmented reality for an interactive climbing adventure.
The Playground is a haven for younger children, featuring multilevel slides, a vast ball pit, and vibrant, high-quality play structures. For thrill-seekers, Slide'n'Fly provides robust slides that launch riders from a tower platform into a large airbag.
Additionally, the park features Power Park, a unique attraction with elevated obstacles and a pressure-sensitive floor, and the Cave Maze, which offers a network of diverse caving tunnels. 
Visit the Dubai Hills Golf Club
For those passionate about golf, the Dubai Hills Golf Club offers a unique golfing experience with its unparalleled services and facilities.
It boasts an 18-hole, par-72 championship golf course that Troon Golf manages. The club offers a serene and lush lifestyle destination, providing a challenge to golfers of all abilities.
The course is set against the striking Dubai skyline, with the iconic Burj Khalifa visible on many holes, creating a picturesque golfing experience that leaves golfers wanting to return.
This club also offers high-quality rental sets featuring the finest clubs from Titleist, including the highly sought-after Scotty Cameron Select Newport 2 Putter and Vokey SM9 Wedges, ensuring an enhanced golfing experience.
Where to Eat Nearby Dubai Hills Mall
Wagamama
Address: Al Khail Rd – Dubai
Phone: +971 4 589 5656
Pricing: $$-$$$
Website
If you're searching for a restaurant near Dubai Hills Mall that provides Japanese, Asian, and Japanese fusion cuisine, Wagamama is a suitable choice.
The restaurant maintains its brand reputation by serving quality food in a contemporary setting. The menu is diverse, featuring a range of noodles, rice, and seafood dishes catering to different palates.
It's an excellent spot for those who enjoy Asian flavors and want a quick and satisfying meal. This restaurant has a relaxed vibe, which makes it ideal for get-togethers with friends and family.
The Tap House
Address: Dubai Hills Estate, Business Park Building 2
Phone: +971 4 576 4999
Pricing: $$
Website
The Tap House is a preferred destination for individuals seeking relaxation and a place to unwind near Dubai Hills Mall. It's a lively bar offering a mix of Asian, pub, gastropub, and Eastern European cuisines.
The menu is extensive, with a variety of dishes and beverages to choose from. You can expect a wide variety of favorite pub grub, including IPA fish and chips, steak, and stout.
Whether you're in the mood for a refreshing beer or a hearty meal, The Tap House won't disappoint. It's a place where you can enjoy lively evenings with friends, accompanied by good food and music.
Miyabi Sushi Dubai Hills
Address: Dubai Hills Mall Gf- 226
Phone: +971 50 806 7385
Pricing: $$
Website
Miyabi Sushi is an excellent choice for those planning a quiet dinner or a get-together with friends near Dubai Hills Mall, as it allows indulging in a most satisfying culinary experience.
This Japanese restaurant specializes in sushi and Japanese fusion dishes. The place has a pleasant environment, modern decor, and a relaxed atmosphere.
The food is flavorful, with various sushi rolls, sashimi, and other Japanese delicacies on the menu. It's a good spot for sushi lovers and those exploring Japanese cuisine. 
Where to Stay Nearby Dubai Hills Mall
Habtoor Palace Dubai, LXR Hotels & Resorts
Address: Al Habtoor City – Dubai
Phone: +971 4 435 5555
Pricing: $$
Book now
Habtoor Palace Dubai is a symbol of luxury and elegance, located in a prime area of Dubai. The hotel is known for its opulent design, reflecting the region's rich cultural heritage.
Whether you're in Dubai for business or leisure, Habtoor Palace ensures a stay filled with exclusive services and top-notch amenities.
The guestrooms and suites are designed for comfort, including a spacious bathroom, a walk-in closet, a 48-inch screen TV, and a minibar. Complimentary Wi-Fi is available in the rooms and public areas.
You can also indulge in various dining options, like at the World Cut Steakhouse, a sophisticated venue offering a collection of steakhouse classics.
Holiday Inn & Suites Dubai Science Park
Address: Dubiotech Area – Umm Suqeim St – Al Barsha – Al Barsha South – Dubai
Phone: +971 4 567 1400
Pricing: $
Book now
The Holiday Inn & Suites Dubai Science Park is an excellent option for travelers seeking high-quality lodgings at reasonable prices.
Known for its cozy atmosphere and efficient service, it offers a pleasant stay. The rooms have modern amenities such as conference space, a fitness center, an outdoor pool, steam, and a sauna, ensuring a hassle-free experience.
The hotel's location is strategic, allowing easy access to various points of interest in Dubai, such as Dubai Hills, Premier Residential Areas, and the Expo 2020 site.
JA Beach Hotel
Address: Exit No – 13 – El-Sheik Zayed St. – Dubai
Phone: +971 4 814 5555
Pricing: $$
Book now
The JA Beach Hotel is the ideal destination for those seeking a luxurious beach vacation in Dubai.
It's an elegant beachfront hotel offering a range of recreational facilities and exquisite accommodations. The hotel is set in a picturesque location, allowing you to enjoy the beauty of the beach and the Arabian Gulf.
Furthermore, the hotel provides various dining and entertainment opportunities, including Kinara by Vikas Khanna, a restaurant overseen by the acclaimed Indian Michelin-starred chef Vikas Khanna.
You can savor dishes such as Dahi ke Kebab, a unique take on a typical Indian dish, Potato and Cashew Pockets with carom seeds and mint sauce, and Tangdi Kebab featuring chargrilled chicken.
You can also indulge in leisurely golf rounds at the hotel's 9-hole championship standard golf course.