The Al Qudra Lakes: A Guide to Dubai's Nature Reserve
Wish to uncover a sanctuary where tranquility and beauty converge in the bustling heart of Dubai? Discover the Al Qudra Lakes!
The lakes are a picturesque sanctuary where the desert's golden sands meet sparkling waters, allowing visitors to witness enchanting sunsets, experience gentle desert breezes, and enjoy the melody of chirping birds.
Read on to learn more about the Al Qudra Lakes and how to get there.
What are the Al Qudra Lakes in Dubai?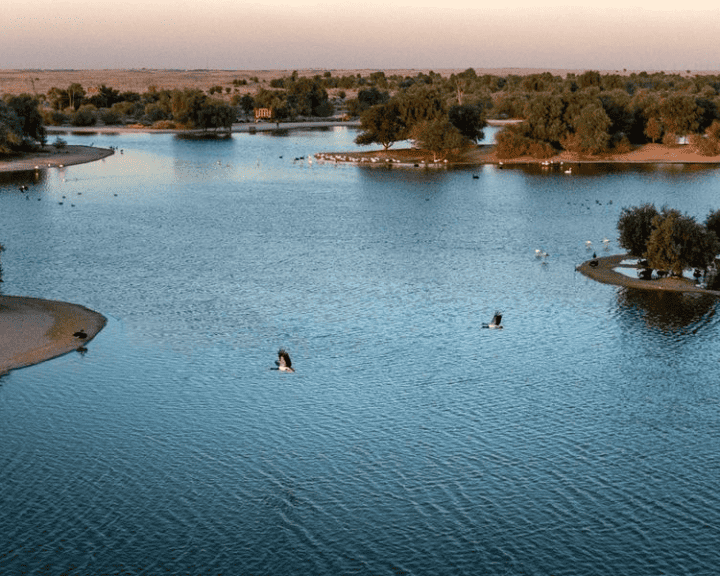 The Al Qudra Lakes in Dubai are a series of man-made bodies of water located in the Al Marmoom Desert Conservation Reserve. They're renowned for their diverse ecosystem, which hosts various species of flora and fauna.
The lakes are the first unfenced nature conservation reserve in the United Arab Emirates. It comprises 10% of the total land area of the emirate, including the extensive man-made desert wetlands.
The reserve spans over 40 ha (99 acres) of desert shrubland and 10 km (6.2 mi) of lakes and is home to various species of reptiles, mammals, and plants.
It also provides a sanctuary for 19 endangered animal species and numerous bird species, including flocks of flamingos and over 360 other bird species, of which 158 are migratory.
The reserve offers various leisure activities too, such as animal and bird observation platforms, star and sunset observation decks, and an 84 km cycling track – one of the world's most prominent tracks!
Best Time to Go
The best time to visit the Al Qudra Lakes in Dubai is between October and April, when the weather is relaxed and pleasant.
The lake is open to the public throughout the day on all days of the week, allowing you to choose a convenient time. We recommend visiting just before sunset to experience the lake's breathtaking views and serene atmosphere.
Things to Know
Website: https://www.moccae.gov.ae/en/open-data/ecotourism/al-qudra-lakes
Location: Al Marmoom Desert Conservation Reserve
Contact details: 800 900; +971 4 221 5555
Operating hours: Open all-day
Age restriction: No age restrictions
Entry fee: Free
Parking situation: Free parking is available at The Last Exit and Reem car parks.
How to Get Around
Getting to the Al Qudra Lakes is convenient, and there are several transportation options to choose from:
Car: Take the E66 highway from Downtown Dubai, exit 29 onto the E77, then take exit 27 onto the D63 road toward Al Qudra, and follow the signs to the lakes.
Bus: You can take a bus from Dubai to Al Qudra Lakes in approximately 3 hours and 45 minutes, utilizing Al Ghubaiba Bus Station 49 and Seh as Salam Farm.
Although two RTA bus services (the 67 from Al Ghubaiba Bus Station and the 68 via a circular route through Lehbab) do have stops near the Al Qudra Lakes at Seh As Salam Farm, it's roughly a 30-minute walk from the bus stop to the lakes.
Metro: You can take the red line metro from Dubai Airport Terminal 1 to Burjuman Metro Station 2. Then, walk approximately 10 minutes to the Burjuman Metro Bus Stop and board bus 67 to arrive at Endurance City Terminal.
You can walk 15 to 20 minutes from there to reach the Al Qudra Lakes.
Taxi: For a hassle-free option, you can take a taxi or Uber directly to the Al Qudra Lakes. This is convenient if you'd rather not drive. You may use Google Maps to guide the driver to the location.
What to Do at the Al Qudra Lakes
Observe the Wildlife
The Al Qudra Lakes are a natural paradise for birdwatchers! It's a biodiverse area, home to over 170 species of native birds and various other fauna.
The lakes also serve as a natural habitat, offering a glimpse into the region's rich wildlife, including rare sightings of black swans, flamingos, and endangered steppe eagles.
The serene environment of Al Qudra makes it a must-visit for wildlife enthusiasts and photographers, providing opportunities to observe and capture the beauty of the desert's inhabitants.
The occasional sightings of gazelles, rabbits, or foxes add an element of surprise and excitement to the wildlife exploration journey.
It's also a place where the vibrant life of the desert unfolds, showcasing the harmonious coexistence of various species in the arid landscape.
Go Cycling at Al Qudra Cycling Track
The Al Qudra Cycle Track is a cyclist's paradise, offering 86 km of well-maintained paths winding through the stunning desert landscapes.
It caters to amateur and professional riders, providing rental bikes and extending the opportunity to explore beyond the central circle.
Cyclists of all levels come together at the track to experience the exhilaration of riding through the sweeping dunes and witnessing the ever-changing hues of the desert.
Camping and Barbecue
Camping at Al Qudra is a liberating experience, allowing visitors to immerse themselves in the serenity of the desert under the starlit sky.
It's a popular spot for barbecue enthusiasts, where the aroma of grilled delicacies fills the air, enhancing the desert camping experience.
Camping is free, but it's essential to come well-prepared with camping supplies such as sleeping bags, tents, and lanterns.
The area is well-known among campers for its serene environment and the opportunity to experience the desert's unique nocturnal ambiance.
Just remember to clean up after yourself, respecting the pristine environment and the diverse wildlife inhabiting the area.
Admire the Sunset and Stargaze
Stargazing at Al Qudra Lakes is a mesmerizing experience, offering a peaceful retreat from Dubai's vibrant city life.
The lakes, set amidst the tranquil desert, serve as a perfect canvas for the myriad of stars and celestial bodies that adorn the clear night sky, away from city light pollution.
You can relax on the soft sands, enjoying the serene ambiance and the sparkling display above. Bringing a telescope can enrich the experience, allowing a closer glimpse of the celestial wonders.
The Dubai Astronomy Group, among others, organizes stargazing events at the Al Qudra Lakes, presenting a fantastic opportunity to deepen one's understanding of astronomy and to bask in the peaceful elegance under the starlit sky.
Where to Eat Nearby Al Qudra Lakes
Smokin' Gun
Address: Gate No.7, Exit No.13, Near – Mina Jebel Ali – Jeb, JA Shooting Club
Phone: +971 4 814 5604
Pricing: $$
Website
If you want a place to enjoy some delicious American food and barbecue, Smokin' Gun could be the place for you.
Located at the JA Shooting Club, approximately 50 km from the Al Qudra Lakes, this restaurant offers a cozy and rustic atmosphere where you can relax and have fun with your friends or family.
There are various dishes to choose from, like burgers, ribs, steaks, salads, and more. You can also try their signature sauces with fresh ingredients and spices.
Anwa Sunset Lounge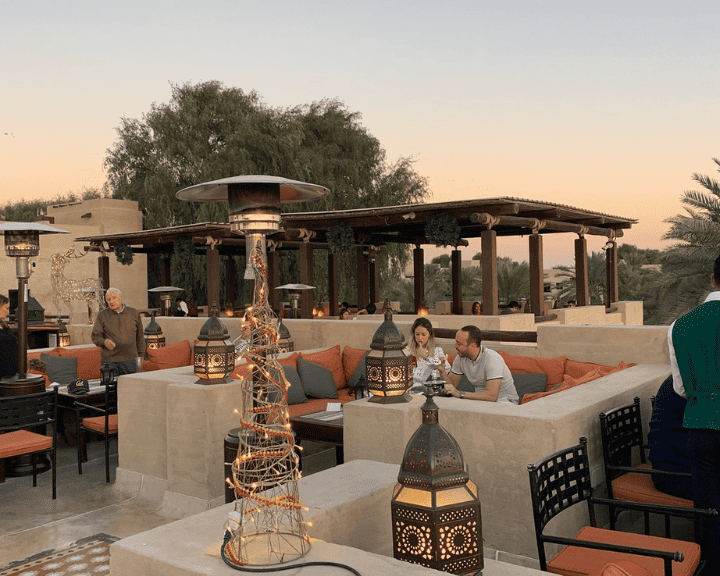 Address: Al Qudra Road Bab Al Shams Desert Resort, next to Endurance Village
Phone: +971 4 809 6194
Pricing: $$-$$$
For an awe-inspiring desert vista coupled with a stunning sunset, look no further than the Anwa Sunset Lounge. It's about 30 minutes away from the Al Qudra Lakes.
This establishment provides an all-encompassing outlook over the Arabian landscape, allowing you to appreciate the splendor of the natural world and the celestial canvas above.
Here, you can indulge in diverse global cuisine and libations, including delights like sushi, pizza, cocktails, and more! You can also immerse yourself in live music and captivating entertainment while unwinding on their plush sofas and cushions.
Al Hadheerah
Address: Bab Al Shams Desert Resort – Al Qudra Road
Phone: +971 4 809 6100
Pricing: $$$
Website
To immerse yourself in a traditional Arabic dining experience, head to Al Hadheerah, situated at the Bab Al Shams Desert Resort, about 18 kilometers away from Al Qudra Lakes.
This restaurant offers a cultural and culinary journey through the Middle East, allowing you to treat yourself with authentic Arabic cuisine and enjoy live performances.
You'll find a delectable array of dishes on the menu, including kebabs, hummus, falafel, and more, spanning barbecue, healthy options, and Middle Eastern classics.
While you dine, you'll also be able to relish the sounds of live music, the captivating moves of belly dancers, camel rides, and a dazzling fireworks show.
Bab Al Shams Dining & Bars
Address: Bab Al Shams, A Rare Finds Desert Resort – Al Qudra Road – opposite Endurance City – Dubai
Phone: +971 4 809 6194
Pricing: $$-$$$
Website
If you're seeking diverse culinary experiences and atmospheres near the Al Qudra Lakes, look no further than Bab Al Shams Dining & Bars.
This collection of dining establishments and bars caters to every palate and mood, whether you desire a romantic evening, a laid-back lunch, or a leisurely drink.
Your options include Masala (Indian), Al Forsan (Middle Eastern), Le Dune Pizzeria (Italian), Ya Hala (Cigar Lounge), and Zala (Pool Bar). Each venue boasts its own distinct menu, ambiance, and character.
Additionally, you can relish views of the desert, the pool, or the garden from their al fresco seating areas.
Last Exit Al Qudra
Address: Al Qudra Rd – Dubai
Phone: +971 800 738245
Pricing: $-$$
Website
If you want to indulge in a diverse selection of fast food choices, the Last Exit Al Qudra is a go-to for many visitors.
It's situated along Al Qudra Road, and this food truck park boasts a lively and whimsical ambiance filled with vibrant trucks and trailers dishing out a wide array of fare.
Here, you can discover everything from burgers, fries, and sandwiches to ice cream and coffee! And in the park, you can partake in games, engage in various activities, and enjoy many events.
Where to Stay Near the Al Qudra Lakes
Bab Al Shams Desert Resort and Spa
Address: Al Qudra Road – opposite Endurance City – Dubai
Phone: +971 4 809 6100
Pricing: $$
Book now
The Bab Al Shams Desert Resort and Spa near the Al Qudra Lakes is the perfect place to get away from the city's noise and chaos and enjoy the desert's peace and beauty.
With its traditional architecture, courtyards, and fountains, this resort is meant to evoke a rural Arab community that has been walled. You can choose from various opulent guest rooms and suites or splurge on a villa with its own pool and garden.
In addition to riding camels, falconry, archery, a desert tour, and other activities are available. There's a spa, an infinity pool, and a rooftop lounge where you can unwind in style.
Overall, you can experience genuine Arabian hospitality, culture, and cuisine at this one-of-a-kind resort.
Hilton Garden Inn Dubai Mall Of The Emirates
Address: 22nd St – Al Barsha – Al Barsha 1 – Dubai – United Arab Emirates
Phone: +971 4 307 0707
Pricing: $$
Book now
The Hilton Garden Inn Dubai Mall Of The Emirates offers a luxurious stay in Dubai. Here, you can feel at home in one of the world's liveliest and most diversified metropolises.
Its proximity to the Mall of the Emirates and the metro makes it convenient to explore the city of Dubai and all it has to offer.
It provides a special family experience as well. The hotel has dedicated services for children under 12, including a Kids Welcome and a special breakfast.
You can also enjoy diverse dining options at The Garden Grille and The Shop, relax at the outdoor infinity pool, and enjoy the fitness center and spa facilities. The provision of free parking and WiFi enhances the convenience for guests.
Plus, you'll have plenty of food options as you visit The Garden Grille & Bar for breakfast, lunch, and dinner.
Holiday Inn Dubai Al-Maktoum Airport
Address: Aviation City – Dubai South – Dubai – United Arab Emirates
Phone: +971 4 808 8999
Pricing: $$
Book now
At the Holiday Inn Dubai Al-Maktoum Airport, you'll feel the city's proximity and accessibility for yourself, with the Al Qudra Lakes conveniently nearby.
This hotel's location near Al Maktoum International Airport, the Expo 2020 site, and the Dubai Parks and Resorts also makes it simple to reach all three.
Here, you can enjoy diverse international cuisines at South Central Lounge and Cuisines, an all-day dining outlet that allows you to enjoy a variety of dishes throughout the day.
Additionally, you can relax and unwind at the Pool Bar & Lounge and eat meals at the stylish South Central Kitchen and Bar.
The hotel also features a fitness center, a pool, and offers family-friendly services like babysitting. The rooms are well-equipped to ensure a comfortable stay, and a complimentary breakfast is provided.
Its proximity to attractions like Dubai Park & Resorts and the inclusion of entertainment staff also make it an ideal choice for many travelers.