Dubai on Your Palate: Discovering the City's Most Famous Foods
Hey there, foodie! Are you excited to go on a food trip on your holiday to Dubai?
Well, you'd be delighted to know that the city is as much of a food haven as it is an entertainment hub. And we're not just talking about ordinary grub here.
Prepare your palate for a culinary treat with these local offerings that will surely satisfy your cravings and bring your appreciation for food to a whole new level.
Dates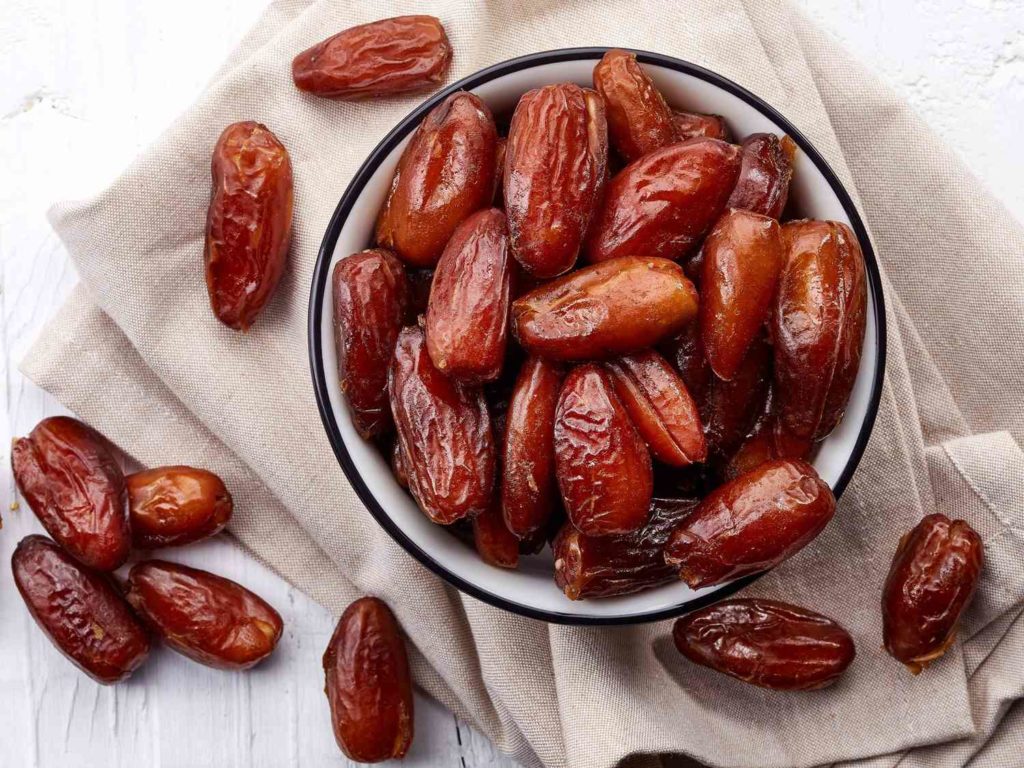 The date is undoubtedly the most popular food in Dubai not only because there's an abundance of date palms in the city but also because it's a staple in Emirati cuisine.
In fact, you can find dates in every Emirati household since it's customary to serve dates and Arabic coffee to welcome guests into their home.
Even resorts, hotels and some restaurants follow this practice as a symbol of Emirati hospitality.
The UAE has more than 40 million date palms producing over 15 varieties of dates. So, whether you like something tart, sweet or in between, you'll surely find one that suits you.
Some of the must-try variety of dates in Dubai include:
Dayri. A red, long and soft variety of date that changes color from red to brown and eventually red when fully ripened. It has a strong, rich flavor making it a favorite ingredient for savory dishes.
Barhi. One of the most popular types of dates, Bahri is best enjoyed fresh because of its rich and thick flesh.
Medjool. Another popular variety that you can find in most date stores in Dubai, the Medjool has a distinct golden skin and sweet flavor that's perfect for enjoying as a snack.
Khudri. This variety has a mild sweet flavor profile and dark brown skin. The Khudri is used by Emiratis as a sugar substitute and also enjoyed as a snack.
Halawi. Also called "Halwa," this type of date may be small, but it's very sweet. This is why it's used a lot in desserts and even savory dishes. 
The Best Places to Buy Dates in Dubai:
The Souks. If you want freshly picked dates or those sold by local sellers, you should hit the souks or traditional markets in Dubai. The Spice Souk is a great place to see different types of dates at affordable prices.
Bateel Dates Gourmet Shop. This is arguably the best shop to go to if you're looking for gourmet dates. Bateel has been selling more than 20 varieties of dates in premium packaging that make them a great choice for souvenirs.
Luqaimat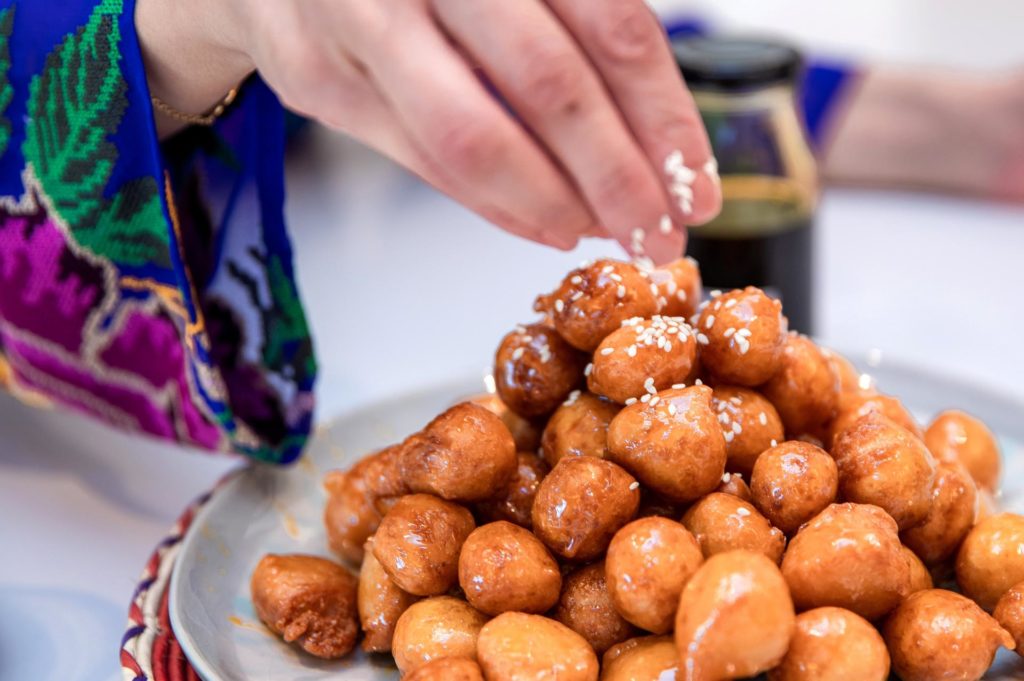 You can't have a great Arabic feast without ending the meal with luqaimat. This is why it's considered one of the best Arabic sweets that you need to try when you're in Dubai. 
Luqaimat translates to "bite-sized" and these little treats are similar to small doughnuts that are made with yeast and flour.
But what makes them different from your typical doughnut is the infusion of traditional Arabic spices like cardamom and saffron that take this humble dessert to a whole new level.
The Best Places to Get Luqaimat in Dubai:
Al Fanar Restaurant and Cafe. This restaurant is one of the go-to places in Dubai for delicious luqaimat. Al Fanar also serves authentic Emirati food that you'll surely love.
Logma. Logma is undoubtedly the best restaurant to visit for unique varieties of luqaimat. Specializing in Khaleeji cuisine, this Arabic restaurant puts a unique twist on the traditional snack. Its most popular variety is, of course, the luqaimat topped  with Nutella.
Loqmato. Another luqaimat shop offering a wide variety of flavors, Loqmato is a favorite among those who want to enjoy this traditional dessert with more modern flavors.
Samboosa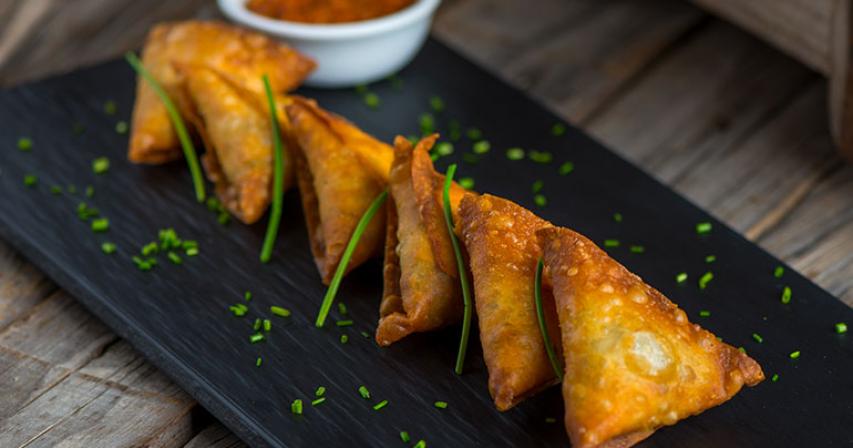 Samboosa is a favorite appetizer in Dubai, and for good reason. This triangular-shaped pastry can be filled with meat or vegetables and flavored with authentic Arabic spices.
Some also make cheese-filled samboosas that are fast becoming a favorite among locals and tourists.
The Samboosa is the Middle Eastern equivalent of the Asian Samosa, and it's influenced by both Indian and Arabian cuisines.
The Best Places to Get Samboosa in Dubai:
Samosa Wala. This Indian restaurant is famous for serving authentic Indian food, especially its flavorful samboosas.
Shawarma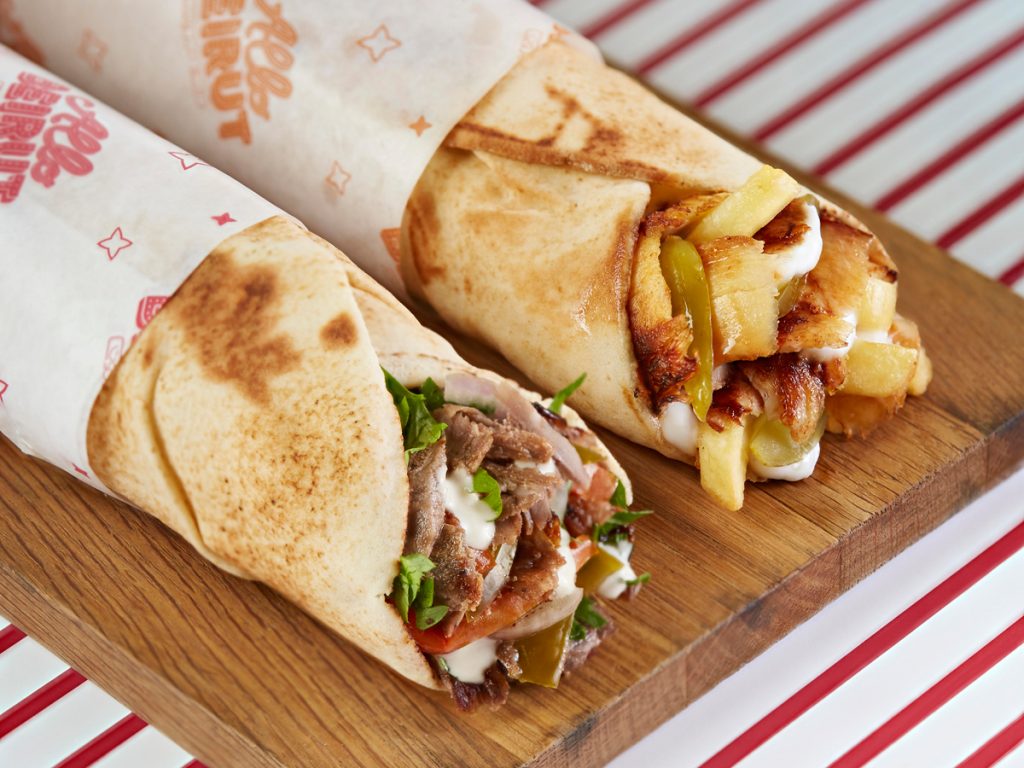 Of course, you can't be in Dubai and not enjoy shawarma on a daily basis.
Arguably one of the most popular street foods in the Middle East, you'll find a shawarma shop in almost every nook and cranny of the city.
Unlike popular belief, shawarma didn't originate from the Arabian Peninsula. But it quickly became the most beloved snack in this part of the world because it's easy to eat and very filling.
A shawarma in Dubai can be filled with beef, lamb or vegetables, and a hearty sauce ties all the flavors together.
The Best Places to Get Shawarma in Dubai:
Allo Beirut. This Lebanese joint is undoubtedly one of the best places in Dubai to grab your favorite shawarma. You have the choice between chicken and beef or just have both served on a platter instead of a wrap. You can also choose between a freshly baked saj and Arabic bread for your wrap.
Al Hallab. The shawarma at Al Hallab may not look like your typical curbside snack, but it surely is the same delicious treat – if not more. This restaurant serves its meat on a beautiful freshly baked Arabic bread finished with a generous serving of pickles, fries and of course, that garlic sauce.
Al Mallah. This famous shawarma shop is one of the longest running in Dubai starting as a juice bar in the 70s. Al Mallah is also known for its simple yet very tasty shawarma where you have the choice between lamb or chicken.
Kebab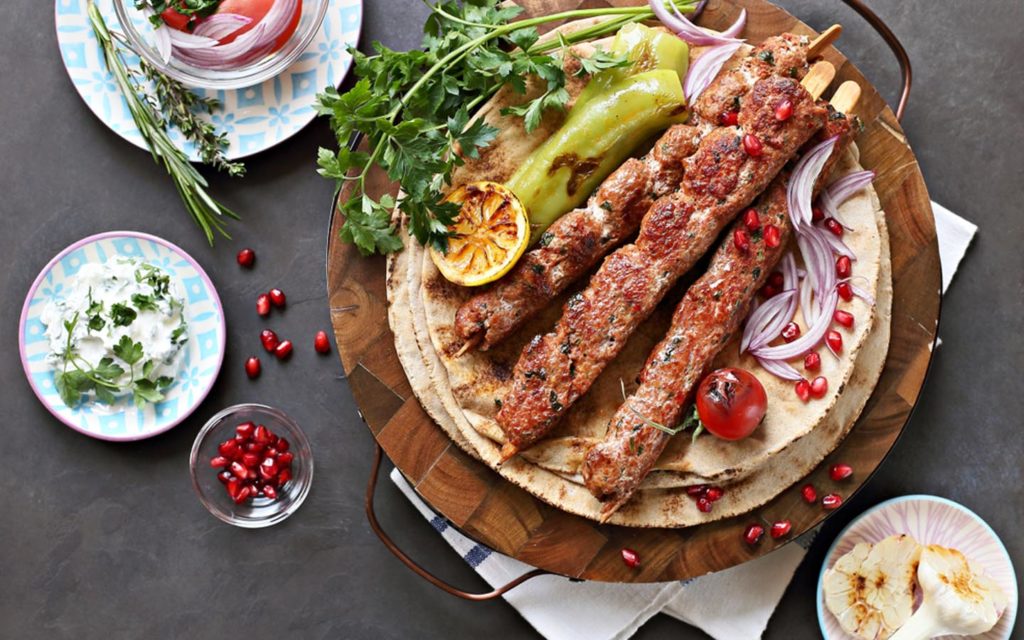 A kebab is simply skewered meat that's grilled and paired with either rice or bread.
Although it didn't originate in the Middle East, the kebab has become a favorite dish in Dubai because it's accessible, flavorful and even budget-friendly depending on where you're getting your food.
You can enjoy kebabs at local shops around the city for a more laidback vibe. But you also have the option to dine at a fancy restaurant that serves good quality kebab.
Either way, a good kebab should have soft and well-flavored meat, whether you choose to go for lamb, beef or chicken.
The Best Places to Get Kebabs in Dubai:
Daily Restaurant. This Pakistani restaurant is famous for serving authentic dishes including its wide variety of kebabs. You can choose from their seekh kebab, bihari kebab or gola kebab. But if you can't decide, you can always order a platter with all flavors on it for the best experience. 
Pind Da Dhaba. If you're looking for good meat and vegetable grilled Indian food, Pind Da Dhaba is the place to be. The restaurant is especially famous for its variety of kebabs including its famous ghilafi murg kebab. You can also go for their kebab platter if you want a taste of everything.
Al Ustad's Special Kabab. Of course, this list wouldn't be complete without the best kebab shop in the city. Al Ustad Special Kabab is a simple eatery in the heart of Old Dubai. But Al Ustad has been an institution in Dubai serving some of the best kebabs that you can find in the city.
Kunafah
Sweet, decadent and utterly satisfying. For sure, you'll love the Kunafa as your dessert to end a great meal.
Although it originated in Palestine, Kunafa became a favorite Middle Eastern dessert over the years. It's also a staple dessert to end the Iftar meal during the Holy Month of Ramadan.
Kunafa is traditionally made with phyllo dough that's soaked in rose water or orange blossom water-flavored sugar syrup. Once fully cooked, this desert is topped with cream, hazelnuts or pistachios.
The recipe for Kunafa may vary in different regions, but the foundation of this dessert remains the same.
You'll also find many shops around the city offering modern flavors that elevate the humble kunafa to make it more modern.
The Best Places to Get Kebabs in Dubai:
Al Baba Sweets. One of the most popular places to go to if you're craving for Lebanese desserts, Al Baba Sweets offer a wide selection of kunafas, baklavas and other handmade sweets.
Graffiti Kunafa. From the name itself, you already know that you're in for a treat. Graffiti Kunafa sells almost every type of kunafa that you can think of – from the traditional to the unique. The shop is famous for putting a modern twist to this classic dessert. So, if you're an adventurous eater, make sure to check out what this shop has to offer.