Dubai Golden Visa: What Is It and How to Get It
Have you ever dreamed of sipping your morning coffee in Dubai, watching the sun rise over its iconic skyline, and thinking, "I could get used to this"?
Well, you're not alone! The Dubai Golden Visa isn't just a ticket to residency; it's your golden ticket to living the dream in the UAE!
If you're curious about getting one, continue reading about how you can make this dream come true.
What is a Dubai Golden Visa?
The Dubai Golden Visa is a long-term residency permit enabling foreign individuals to live, work, and study in the UAE while enjoying special privileges.
In 2019, the UAE Federal Authority for Identity, Nationality, Customs and Port Security (ICP) rolled out the One Touch Golden Visa service. They've expanded its eligibility to include other people, such as frontline heroes and retirees.
The whole idea is to bring in some top-notch talent and give the economy a leg up. Consider it your golden ticket to a bright future in the city of gold.
Eligibility Criteria for a Dubai Golden Visa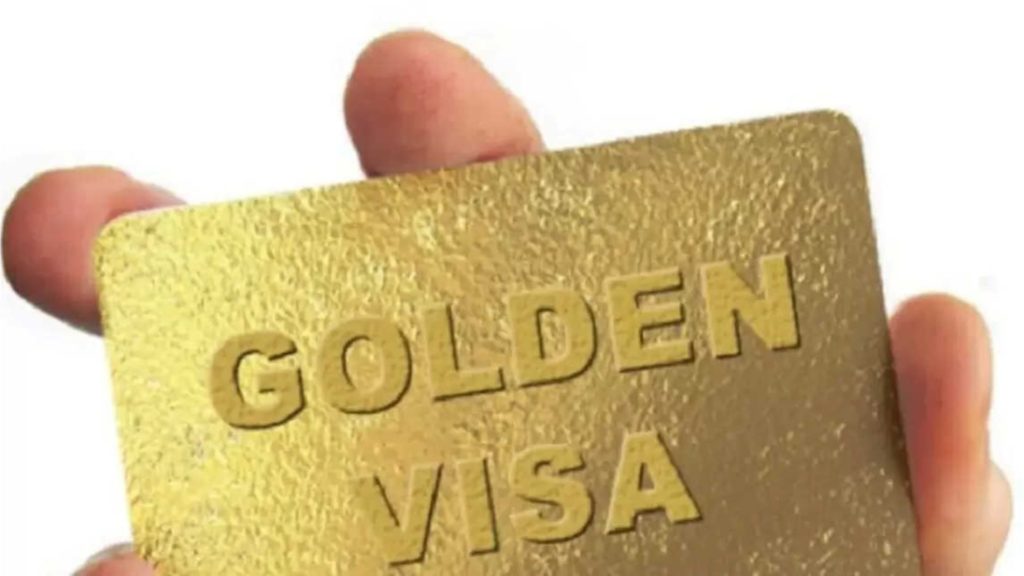 To be eligible for a Dubai Golden Visa, individuals must meet specific criteria set by the UAE government. Depending on the visa you're trying to get, you may need to meet different standards to qualify.
Generally, the following categories of individuals below are eligible for a Dubai Golden Visa:
Investors: People who've invested heavily in Dubai real estate or started a business there are eligible.
Entrepreneurs: Those who've launched innovative startups in Dubai can qualify.
Skilled Professionals: Exceptionally talented individuals in areas like science, tech, arts, culture, and sports may get this visa.
Students: Graduates with flying colors from Dubai's recognized universities can apply.
Retirees: People of a certain age with financial stability in Dubai can enjoy the benefits of the Golden Visa program.
Types of Dubai Golden Visas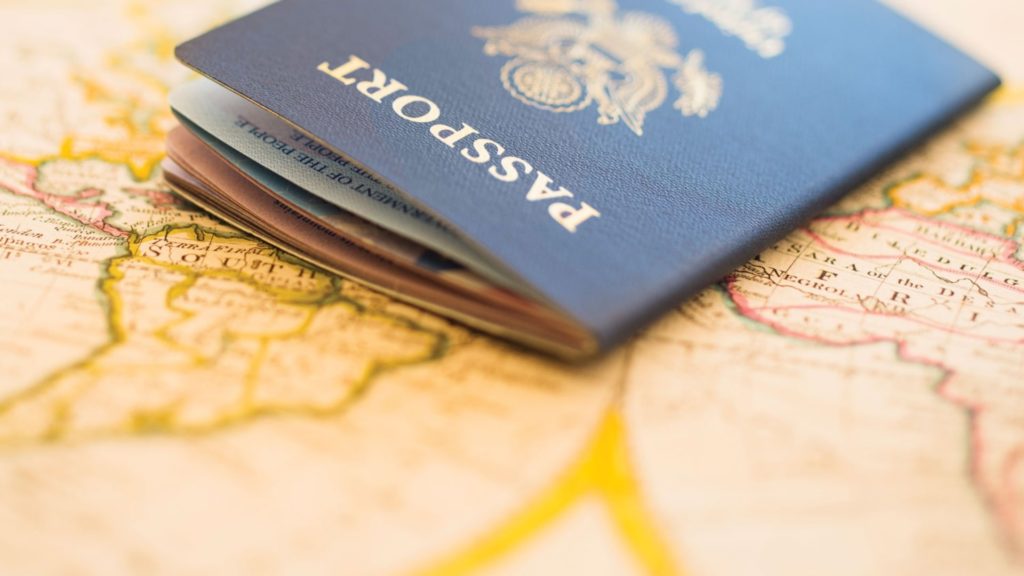 When it comes to Dubai Golden Visas, one size doesn't fit all. There are various types available based on your eligibility and purpose of stay. The most common ones include:
5-Year Visa: This one's for investors, entrepreneurs, and skilled professionals who want to call Dubai home for the next five years. If you still meet the requirements, you can renew it.

10-Year Visa: If you're an investor or an entrepreneur who's gone big with your investments, you can snag this 10-year residency deal. Just keep meeting the criteria, and you can keep renewing it.

1-Year Visa: Recent graduates from Dubai's top-notch universities can get this visa. It gives you a year to explore your career options in the city.
Documents Required for a Dubai Golden Visa Application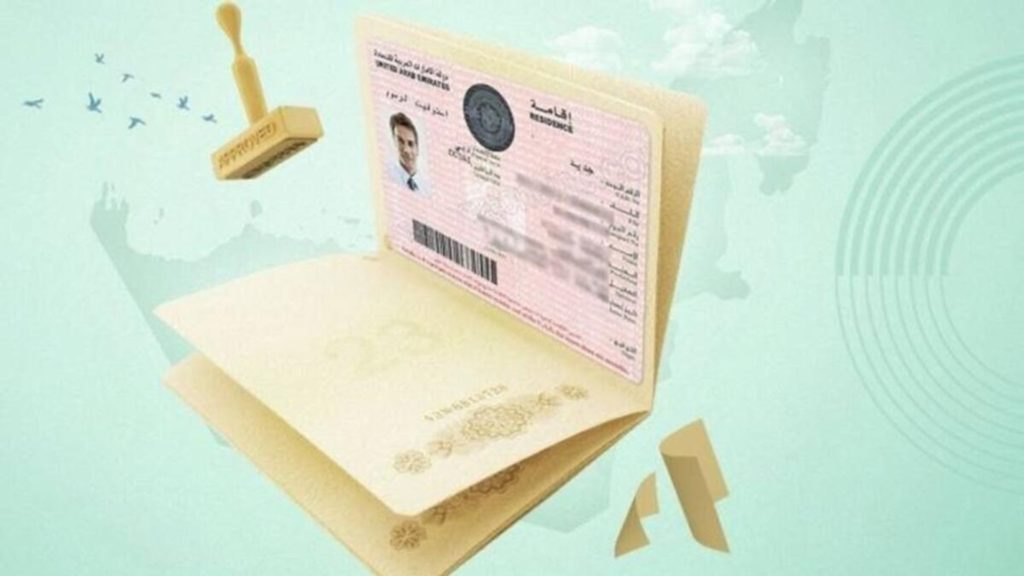 When you go for a Dubai Golden Visa, you must give them some documents to back you up. These papers can vary based on your eligibility and the kind of visa you're going for. But here are the usual ones:
Passport: A copy of your valid passport with a minimum validity of 6 months

Proof of eligibility: Investment certificates, business registration, academic transcripts, or talent recognition certificates

Financial statements: Bank statements, audited financial reports, or proof of income to demonstrate your financial stability

Health insurance: Proof of valid health insurance coverage for you and your family members

Passport-sized pictures: Current passport-sized images that meet the specified criteria

Application form: Completed and signed form that the Dubai authorities provide
Of course, it's best to ensure that all these documents are accurate, complete, and meet the requirements set by the Dubai authorities. This helps you avoid any delays or rejections in the application process.
How to Apply for a Dubai Golden Visa
Difficulty Level
Easy
Time required
One month
Things you need
• Passport

• Proof of eligibility

• Financial statements

• Health insurance

• Passport-size photo

• Application form
To apply for a Dubai Golden Visa, you'll need to access the official platform, complete the visa application form, gather the necessary documents, review and submit your application form, and pay for the fees.
But even though the application process is pretty straightforward, it's the little details that really count. That's why we've compiled a step-by-step guide so everything goes smoothly.
Step 1: Access the official platform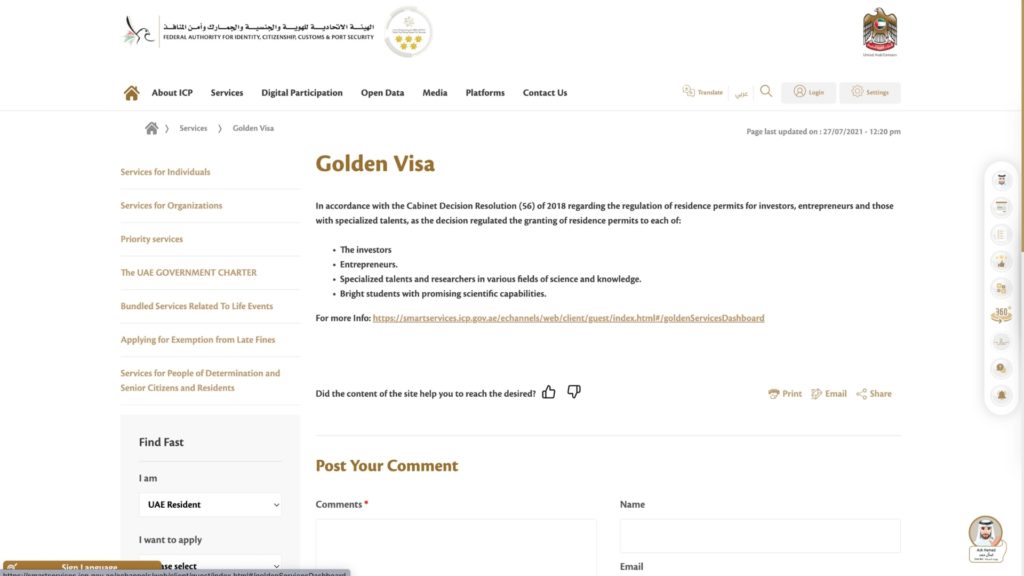 Head over to the official ICP innovative services platform to kick off your application. This website makes it easy to apply for different visa types, including the Golden Visa.
If you're eligible but haven't asked for a nomination yet, you should go to the "Visa – Golden Visa – Nomination Request For Golden Residence – New Request" section.
Once you click on "start service," you'll be prompted to fill out an online form. This form will need your info and the category that best suits your situation.
Step 2: Complete the visa application form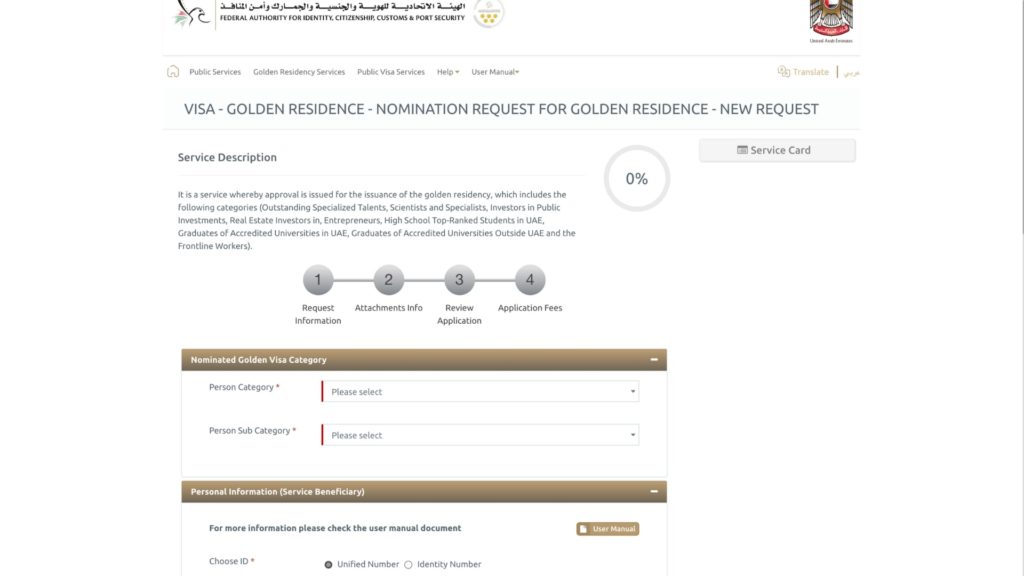 Once you hop on the platform, there's an application form you have to fill out. This will ask you the basics, like your name, birthday, place of birth, passport number, and occupation.
Make sure to drop in a good phone number and email, too!
A super important tip: double-check all the details to ensure they match your official documents – you don't want mix-ups slowing things down or getting your application bounced back.
Step 3: Attach the necessary documents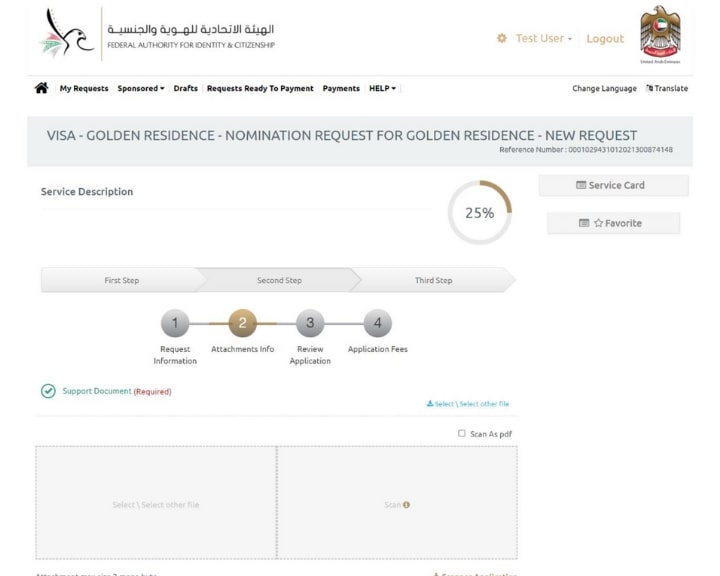 Application procedures aren't complete without supporting documentation. You'll be required to attach all relevant travel and identification documents.
These papers typically include a valid passport, a passport-sized photo, proof of your Dubai investments, and other relevant travel documents.
It's best to ensure that all documents are clear, legible, and up-to-date. Any missing or outdated documents can hinder the application process.
Step 4: Review and submit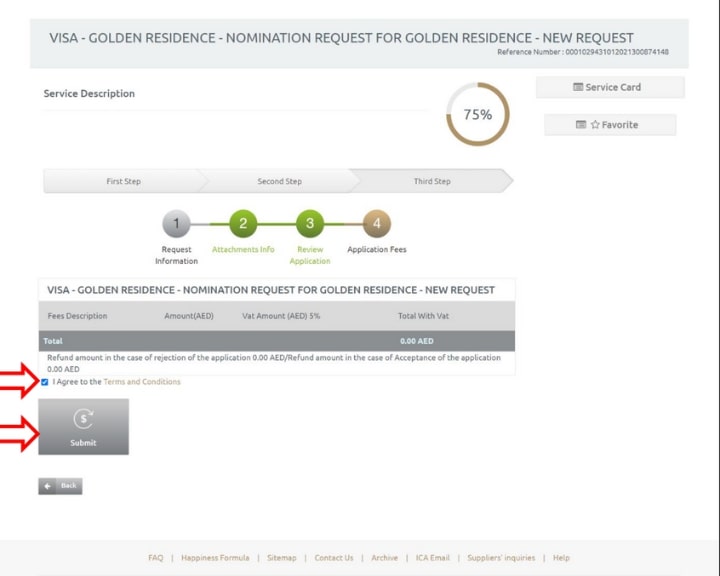 Before you hit that submit button, quickly take a peek at everything you've completed. Ensure the documents you uploaded are the right ones – we don't want any mix-ups here and risk your application getting turned down.
When you're confident that everything is in order, you can cross your fingers and submit it once and for all!
Step 5: Pay your fees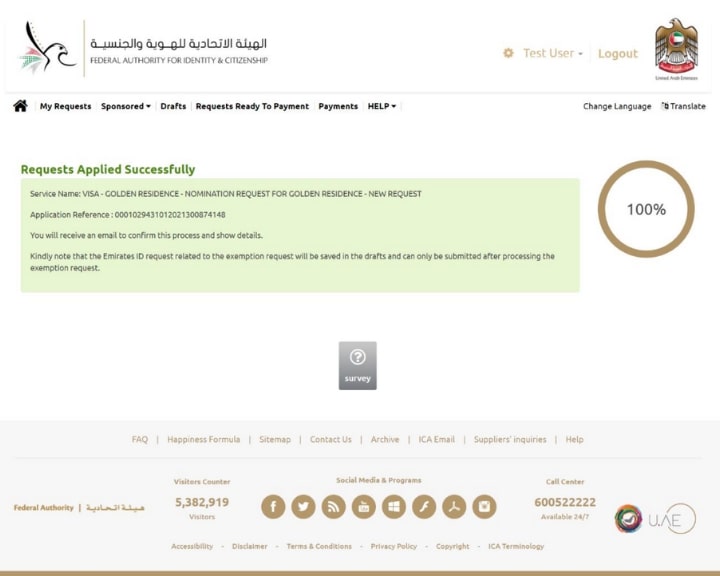 All right, you're almost there! The final step in your Dubai Golden Visa application is the payment of fees. Depending on what you're going for, note that the costs can range from AED 2,800 to AED 4,800.
Conveniently, you can pay with credit cards online. Yet, these fees may occasionally change without prior notice, so verifying the current rates before making the payment seems wise.
Step 6: Receive your Dubai Golden Visa
After you've sent in all the needed papers for the Dubai Golden Visa, expect to receive a response in about 48 hours. If you've applied for a nomination, keep an eye on your inbox for updates.
In about a month, you'll get an email update on how your application is doing. If it gets the green light, you might get a link to upload any extra stuff they need.
Once everything's in order, they'll sort out your Dubai Golden Visa and send it your way!
Pros and Cons of Dubai Golden Visa
Thinking about the benefits and disadvantages of the Dubai Golden Visa? Its value depends on what you're looking for. Let's break it down below to see if it's the right fit:
Pros

Long-term Residence and Flexibility
The Dubai Golden Visa provides a 5 or 10-year residency, which means you don't have to keep renewing it all the time. It's like a long-term plan for staying hassle-free in Dubai!

No Sponsor Requirement and Business Opportunities
The Golden Visa stands out for not requiring a local sponsor in the UAE, making it attractive to entrepreneurs and investors.

Stable Economy and Infrastructure
Dubai's got it all – a strong, diverse economy, a great location, and modern infrastructure that makes it fantastic for all sorts of business adventures.

Family and Stability
Holders can bring their spouse, kids, and sometimes even their parents! Dubai's got a stable political scene, safe surroundings, and that cool city life vibe.

World-Class Education
Dubai's got some top-notch schools, no doubt. And with that Golden Visa, you can make sure your kids get a world-class education. 

Healthcare
With Dubai's well-developed healthcare system, you and your family are in good hands when it comes to quality healthcare as Golden Visa holders.

Cons

Financial Hurdles and Living Costs
To get that Golden Visa, you'll need to make some pretty hefty financial investments, like buying real estate, starting a business, or putting down heavy deposits. 

And it's no secret that Dubai can be on the pricey side, so those economic gains might not be as big at times.

Cultural Adjustments and Legal Norms
Dubai's got its own set of rules and customs, and it's important to play by them if you're living there as an expat. Not following the norms can lead to legal hassles or some awkward social moments.

Riding the Economic Waves
Dubai's economy is a bit like a rollercoaster – it depends on stuff like global oil prices, tourism, and international business. If these sectors go up and down, it can have a big impact on how things are going in the city.

Property Market Rollercoaster
And if you're all about investing in property, hold on tight. Dubai's real estate market can be quite unpredictable, so you'll want to be careful with your investments.
By considering these factors, you can better determine whether the Golden Visa fits your circumstances and aspirations in the UAE.
Tips for a Successful Dubai Golden Visa Application
Getting a Dubai Golden Visa can unleash opportunities, whether for expanding your business or personal development.
With that in mind, our tips below can make applying for a Dubai Golden Visa a breeze, whether you're an investor, an entrepreneur, or a seasoned professional:
Research and understand the eligibility criteria
Before applying for a Dubai Golden Visa, ensure that you meet all the requirements before submitting your application.
For example, if you're considering an investor visa, it's best to understand the minimum investment thresholds and the types of investments that qualify.
But if you're pursuing a skilled professional visa, your qualifications must align with the designated fields of expertise.
Consider professional guidance if necessary
If you're unsure about the process or have concerns, seek professional assistance from immigration consultants or lawyers specializing in Dubai Golden Visa applications, so your application proceeds smoothly and without complications.
Double-check all documents
Before submitting your application, ensure documents are accurate, complete, and meet the requirements set by the Dubai authorities. Any errors or missing documents can cause delays or even result in the rejection of your application.
Be patient and track your application
The processing time for a Dubai Golden Visa can vary, so patience is key. You can track the progress of your application online or contact the relevant authorities for updates.
But striking a balance is also important. While it's natural to want updates, frequent inquiries may unintentionally slow down the processing of your application. So, monitoring your application regularly is best, but don't overdo it.
Keep copies of all documents
Make multiple copies of all the documents you submit with your Dubai Golden Visa application. This is helpful in case any documents are lost or if you need them for future reference.
Prepare for an interview (if required):
In some cases, Dubai Golden Visa applicants may be called for an interview to further assess their eligibility. If you get an interview request, don't sweat it; just get ready.
Make sure you know the ins and outs of the visa requirements and prepare to talk about your investment or business ideas. Most importantly, show them you're all in for improving Dubai's economy!