Discovering Zabeel Park: Where Nature Meets Fun
Ah, to be in the concrete jungle that is Dubai!
You have everything that you can think of – from the world's tallest skyscraper to the world's tallest block.
But if you're looking for some reprieve amidst all those buildings, there's one place where you can get fresh air, greenery and in true Dubai style, a lot of fun.
Zabeel Park is more than just Dubai's equivalent to New York's Central Park. It's a massive complex filled with wonders in every corner.
So, get ready to spend a day out in one of Dubai's best outdoor attractions.
What is Zabeel Park?
Zabeel Park is a public park located in the western part of Dubai. It's one of the largest parks in the city with a total land area of 46 hectares or the size of 45 football fields.
Inaugurated in 2005 by Sheikh Hamdan bin Rashid Al Maktoum, the massive park is divided into different sections that are accessible by pedestrian bridges.
Zabeel Park is home to several attractions with the Dubai Frame as its centerpiece. It also hosts several seasonal exhibits, flea markets and shows throughout the year.
The park is also designed to give you the full outdoor experience where it has its own jogging and pedestrian tracks, a skateboarding park and a BMX track.
It also has a golfing area, children's play area, a mini cricket pitch, fitness center, exhibition gallery and picnic areas.
Zabeel Park also has an outdoor amphitheater where annual music festivals, concerts and other events are held during the winter months.
Since the park is massive, it's divided into three bigger zones with their own categories: Alternative Energy Zone, Techno Zone and Communications Zone.
There's so much to do and discover at Zabeel Park, so it would be best to allocate an entire day from your itinerary for visiting this tourist spot.
Best Time to Go
Summers in Dubai can be extremely hot, so most people tend to stay away from outdoor attractions during this time.
The winter months offer more pleasant weather, so this is the best time to visit Zabeel Park to maximize everything that it has to offer.
If you're interested in going to events or festivals hosted in Zabeel Park, you can check out the Dubai Calendar for updates.
Things to Know
Zabeel Park is a massive space. So, if you want to make the most of your visit here, make sure to keep these things in mind:
Entry to the park is AED 5 per person with the exception of kids under 2 years old and differently abled individuals who are free of charge. This is just for entry into the park. Some attractions have their separate fees.
Zabeel Park has 7 gates and choosing them will depend on what area of the park you want to visit first. Here's a simple guide:
| | |
| --- | --- |
| Gate 1 | Located near the Max Metro Station, this gate is ideal for entering if you want to visit the children's playground. |
| Gate 2 | This is the main entrance to the park. |
| Gate 3 | Located on Shaikh Rashid Road, this gate is for accessing the Karam foot bridge. |
| Gate 4 | This is the gate for entering the Dubai Frame and the only pedestrian entrance to the park. |
| Gate 5 | This gate is used for accessing C Block of the park. |
| Gate 6 | Located on Al Majlis Street, this gate is used for entering Dubai Garden Glow. |
| Gate 7 | Located on the World Trade Center roundabout, this gate can also be used for entering Dubai Garden Glow. |
There's plenty of parking space in Zabeel Park, especially if you're entering from Gates 1 to 4. You'll be asked to pay a one time AED 10 fee that gives you unlimited hours of parking.
Make sure to bring your passport when visiting the park, especially if you're accessing the pedestrian entrance on Gate 4, as authorities will ask for it for proof of identification.
Zabeel Park is open daily from 8:00 AM to 11:00 PM except for when there are events or holidays. So, make sure to check the park's calendar to know if there are changes to its operating hours during your visit.
If you're traveling with a group or you just don't want to be overwhelmed with the park's attractions, you can book a guided tour that includes activities like photography walks and bird watching.
You can go on a picnic in designated areas inside the park. Here, you can have a barbeque and stay at picnic tables or bring your own tent. Just make sure to clean up after using these amenities.
Dress comfortably when visiting the park since you'll be doing a lot of walking throughout the day.
How to Get Around
Trains: There are no direct metro lines to Zabeel Park. But if you choose to take the train, stop at the Al Jafiliya or Max Metro Station or the Oud Metha Metro Station. From here, you can take a taxi to the park.
Buses: Bus lines 10, 21, 27, 88 and X92 all have stations near Zabeel Park. The World Trade Centre Hotel-02 Station is a 12- minute walk away. You can also stop at the Al Jafiliya Landside or Seaside Metro Bus Stops.
Taxis: A taxi is still the fastest way to get to Zabeel Park. You can book a ride through Uber or Careem.
Car service: You can book a private car transfer or self-drive car through your hotel, travel agency or in the many car rental companies in Dubai.
Where to Stay Near Zabeel Park
The H Dubai
Address: 1 Sheikh Zayed Road – Trade Centre 1 – Dubai – United Arab Emirates
Phone: +971 4 501 8888
Pricing: $$$
Book Now
With 236 grand rooms, suites and apartments to choose from, The H Dubai guarantees opulence and grandeur during your stay.
Located conveniently near the city's top spots including Zabeel Park, Dubai Mall and the World Trade Centre, this hotel also boasts of its award winning Mandara Spa and 11 restaurants and bars.
Conrad Dubai
Address: 1 Sheikh Zayed Road – Trade Centre 1 – Dubai – United Arab Emirates
Phone: +971 4 444 7444
Pricing: $$$
Book Now
A hotel that boasts of one of the best views of Dubai, Conrad Dubai treats you like royalty with its well-appointed rooms and suites fitted with modern amenities.
In true Hilton style, the hotel also has Bliss 6 Urban Oasis where you can relax from the bustling city life with its lush gardens and beautiful outdoor pool.
Conrad Dubai also has six restaurants and bars and the famous Conrad Spa for the ultimate relaxation.
Sheraton Grand Hotel Dubai
Address: 3 Sheikh Zayed Road – Trade Centre 1 – Dubai – United Arab Emirates
Phone: +971 4 503 4444
Pricing: $$$
Book Now
Sheraton Grand Hotel Dubai is part of the world-renowned Marriott brand of hotels, which means that you get to enjoy the same convenience, comfort and luxury during your stay.
Each room here is furnished with the Sheraton Signature Sleep Experience Bed.
If you're staying for a longer time, you can also book a serviced apartment that's fully equipped with everything you need during your stay.
Where to Eat in Zabeel Park
Zam Zam Mandi Restaurant
Address: Al Fahad Building – Sheikh Rashid Road – Dubai – United Arab Emirates
Phone: +971 4 370 6777
Pricing: $$
Website
It's known for being the authentic Mandi restaurant in the country and Zam Zam has been an institution in Dubai for many years.
Established in 2009, it's famous for serving traditional cuisine with dishes including the Mutton Mandi, Mutton Mugalkal, Camel Madghout and Kunafa.
Sallet Al Sayad Seafood Restaurant
Address: Bin Abdullah Al Shafar Building – 46 47C Street – Al Karama – Dubai – United Arab Emirates
Phone: +971 4 335 5722
Pricing: $$$
Website
If you're looking for a restaurant that serves fresh seafood done traditionally, book a table at Sallet Al Sayad.
This restaurant specializes in good quality seafood with dishes like Zubaidi, Hamra Red Snapper, Fisherman's Pasta, Mixed Seafood Fajita and a variety of fresh seafood done to your preferences.
Unwind Speciality Boardgame Cafe
Address: Tower B – Park Gate Residences – Dubai – United Arab Emirates
Phone: +971 4 328 4030
Pricing: $$$
Website
Do you want to enjoy some board games while eating? Unwind and have fun at this unique cafe right outside Zabeel Park.
Unwind Boardgame Cafe has more than 800 board games to choose from. And if you get hungry while being competitive, try their El Cubano Sandwich, Cinnamon Rolls or just a cup of coffee.
What to Do in Zabeel Park
See the Iconic Dubai Frame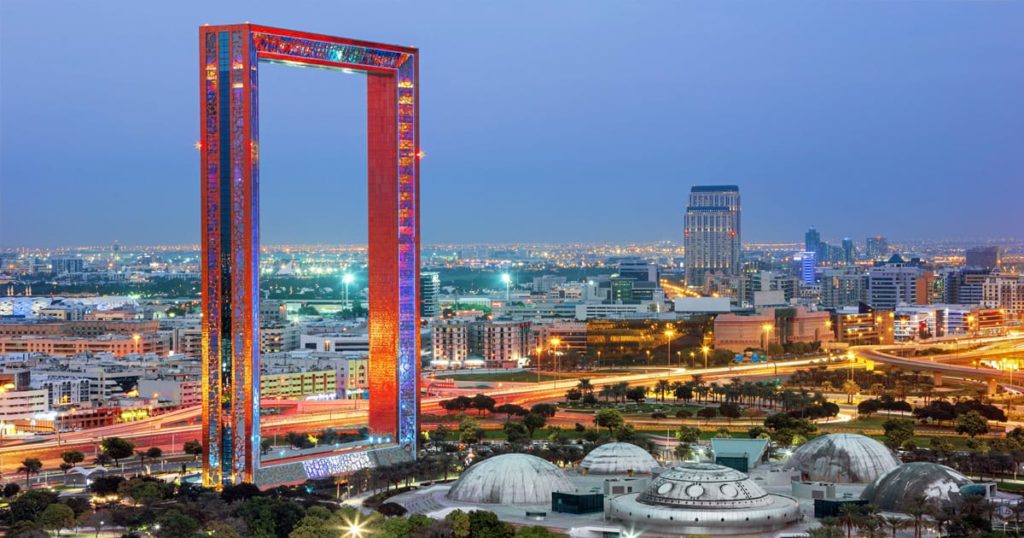 The highlight of Zabeel Park has got to be the world's largest picture frame. Dubai Frame is an iconic structure that also serves as a viewing deck and museum.
The building was originally designed by Fernando Donis and it stands at 150.24 meters and it's 95.53 meters wide.
The concept behind the Dubai Frame is to encapsulate the Old Dubai on one side and the New Dubai on the other to symbolize the city's progress throughout the years.
The frame is open daily from 9:00 AM to 9:00 PM with an entry fee of AED 50 for adults and AED 20 for 3 to 12 years old.
Meanwhile, children under 3 and people of determination and their two companions get inside for free.
Since Duba Frame is a popular tourist attraction, it's best to book your tickets online to secure a slot during your visit.
Be Mesmerized with Dubai Garden Glow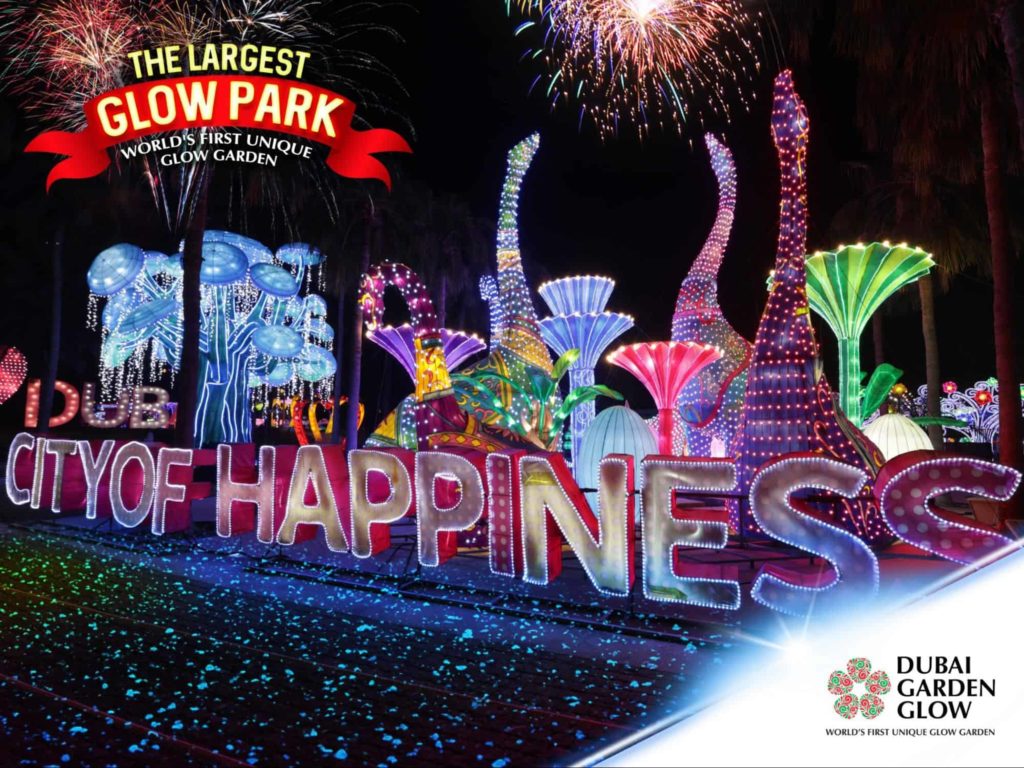 There are many gardens around Dubai, but none of them are as majestic at night as Dubai Garden Glow.
Every year during the winter months, a part of Zabeel Park comes to life with this beautiful installation.
The garden has five sections with over 500 art illusions, installations and attractions, all inspired by nature.
Dubai Garden Glow also takes pride in using only eco-friendly materials and lighting for all of its exhibits.
Entrance to this area is AED 70 for both adults and children three and above. Children under three years old are free.
But the fee already covers entrance to Glow Garden, Dinosaur Park and Art Park, so it's quite reasonable.
Let the Kids Roar at The Dinosaur Park
Just right beside Dubai Garden Glow is Dinosaur Park where kids can enjoy life-sized models of different dinosaur species.
This part of the park is designed to resemble the prehistoric era and these animatronic dinosaurs make you feel like you're really living with them.
Entrance to the Dinosaur Park is included when you buy tickets for Dubai Garden Glow.
Let the Little Ones Roam Free at the Children's Play Area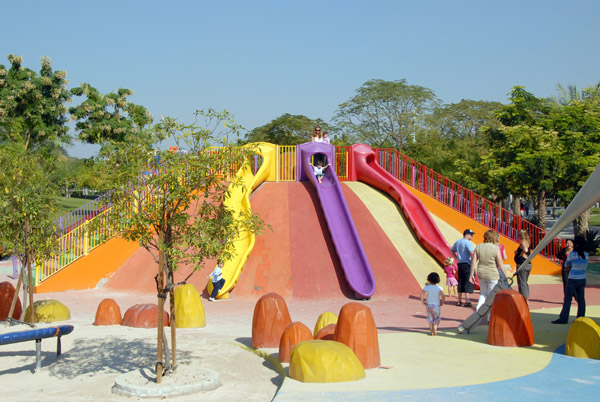 Zabeel Park has one of the best children's playgrounds in all the parks in Dubai. The playground is also categorized into different sections to cater to different age groups.
This makes play safe and enjoyable for children because it matches their abilities, skills and needs.
This playground is also fitted with high quality equipment, fixtures and games that allow children to not only have fun but also learn at the same time.
Parents who are watching their children can also relax in a shaded area and washrooms are available nearby to help children change or go to the bathroom.
Relax at the Gardens in Zabeel Park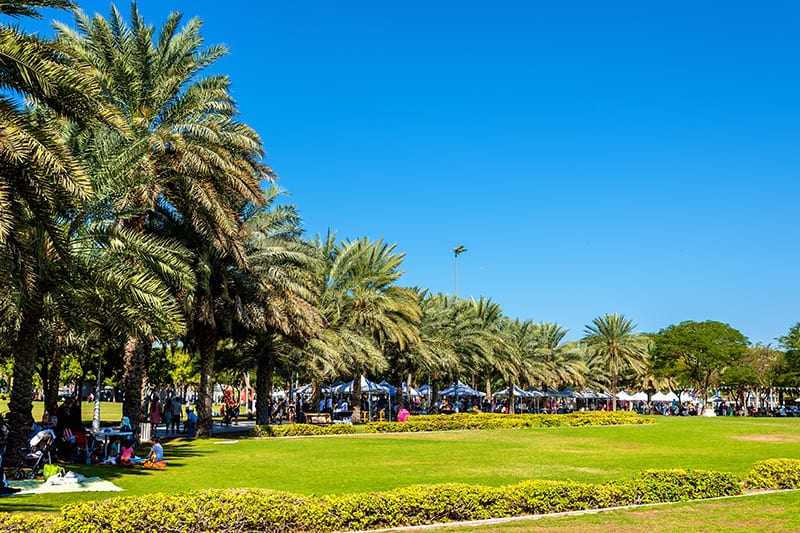 Since it's massive, Zabeel Park has several gardens where you can relax under the trees, have a picnic or just let your kids run around.
The Herbal Garden is a popular attraction where you can find a wide variety of aromatic and medicinal plants and herbs.
The Rose Garden is filled with different types of roses and their beautiful colors make this area the perfect backdrop for a good photo.
There's also a Children's Garden where kids can learn about different plants, animals and the environment through exhibits.
They also have activities and play materials to keep the little ones entertained.
Get a Good Workout or Play Some Sports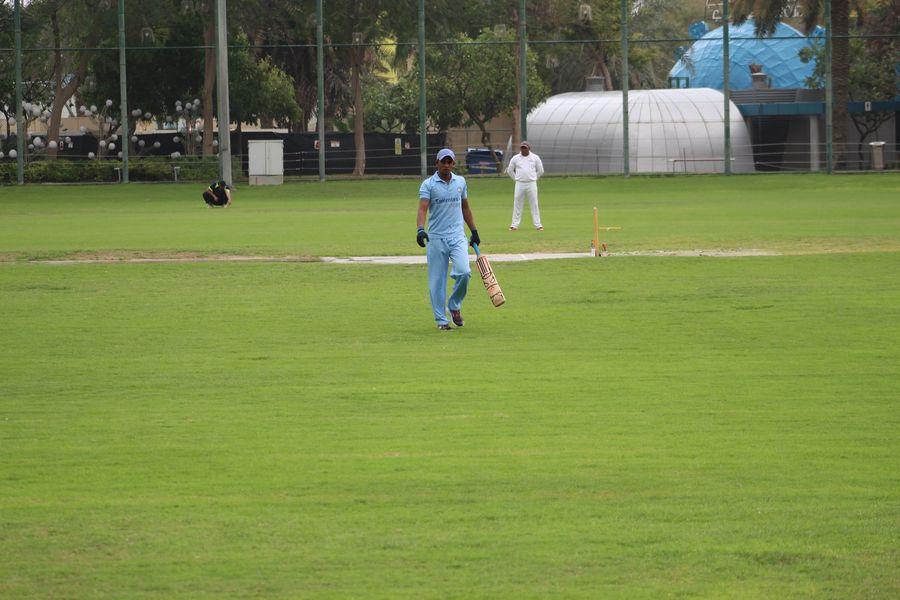 Zabeel Park is also the perfect venue if you like to work out or you wish to play sports while in Dubai.
The park has a full-sized cricket field where you can get coaching lessons, practice or even play with the locals.
If you're into football, it has a football pitch complete with equipment and gear that you can rent.
Tennis fans will have a great time on the park's tennis courts that are ideal for singles and doubles play.
You can also go bicycling, jogging or walking in the many tracks around the park. And if you want to train or work out with equipment, there's also a fitness center inside the park.
You can even attend yoga classes, pilates and zumba or simply work out with a personal trainer.
Enjoy a Show at the Open Air Amphitheater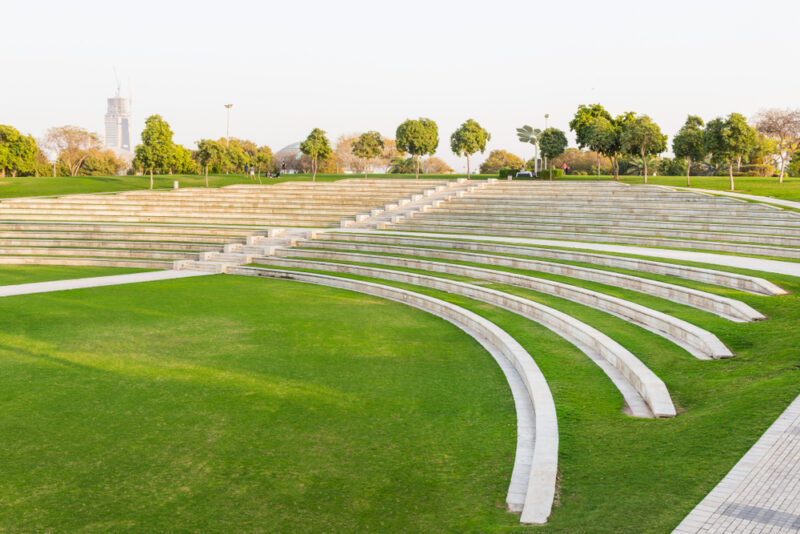 During the winter months, the open air amphitheater is a popular venue for different music, art and cultural events in Dubai.
This large area has good seating and a wide space where people can enjoy events such as comedy acts, concerts, dance shows and theater performances.
Where to Shop Near Zabeel Park
The Dubai Mall Zabeel
Address: Financial Center Road – Za'abeel 2 – Dubai – United Arab Emirates
Phone: +971 4 362 7500
Website
A few minutes away from Zabeel Park is the expansion of Dubai's largest shopping complex.
The Dubai Mall Zabeel covers seven floors with more than 63 retail spaces, a huge supermarket and several restaurants.
The mall is accessible by an airconditioned footbridge and has a 3,000-car capacity parking area.
What to Expect from Weather in Zabeel Park
Winter: The winter months that last from December to March are the best time to visit Zabeel Park because of a significant drop in the city's temperature. During this time, more people spend time outdoors and it's also when flea markets, concerts, festivals and other outdoor events are celebrated.
Summer: Dubai has very hot summers with temperatures reaching up to 50 degrees during the day. From June to September, people tend to stay indoors to keep themselves warm amidst the blistering heat outside.
Transition period: In between these seasons are transition periods that run from April to May and October to November.
Apps to Download When Visiting Zabeel Park
Visit Dubai: Dubai's tourism portal offers useful information for travelers planning their itinerary in Dubai
iOs | Android
Uber: Booking a car for going around Dubai conveniently
iOs | Android
Careem: An alternative to Uber for booking a ride in Dubai
iOs | Android
RTA Dubai Drive: Has detailed maps and other information that you can use to navigate your way around Dubai if you're driving your own car
iOs | Android