IMAGINE Laser Light Show in Dubai: A Must-See Spectacle
Are you curious about the mesmerizing laser light shows in Dubai? Well, you're in for a treat!
The IMAGINE Laser & Lights Show is more than just an event – it's an immersive experience that can leave you spellbound all night.
If you're ready to experience some mind-blowing laser displays, read our guide below, and let's witness an extraordinary show!
What is the IMAGINE Laser Light Show in Dubai?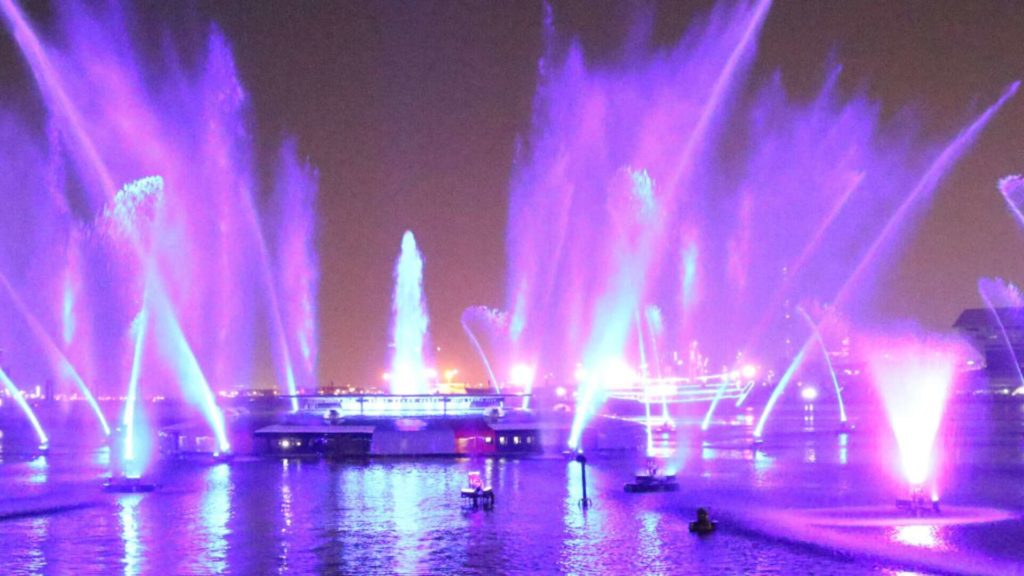 The IMAGINE Laser Light Show is a record-breaking performance at Dubai Festival City Mall, combining light, water, fire, sound, and lasers.
The multimedia experience uses the power of light, water, and fire and features state-of-the-art entertainment technology, including video mapping, 360-degree fountains, powerful lasers, and surround sound.
It holds two Guinness World Records, one for the World's Largest Permanent Projection Screen and another for the Record-Breaking Water screen. With 30 fountains and a surround sound system, it's a performance you'll want to attend!
The Dubai Festival City Mall hosts six weekly IMAGINE shows, which increase to eight during weekends. Each show lasts approximately 10 minutes and has a unique design and theme.
Best Time to Go
The best time to visit the IMAGINE Laser & Lights Show is every evening after sunset. This consistent timing ensures you can witness the spectacle of light, water, and sound in their full glory against the backdrop of the night sky.
Best Days to Visit: We advise visiting during the weekdays to avoid potential weekend crowds. Weekdays might offer a more relaxed viewing experience, allowing you to properly immerse yourself in the show.
Peak Days/Hours: Peak times include weekends, especially Friday and Saturday, and public holidays when residents and tourists flock to popular attractions.
Things to Know
Website: https://www.dubaifestivalcitymall.com/home/whats-inside/Entertainment/imagine
Location: Dubai Festival City – Dubai – United Arab Emirates
Age restriction: No age restrictions
Fees: Free admission
Operating hours: Every half hour from 7 PM to 11 PM, Monday through Sunday
Parking situation: Free parking at the Dubai Festival Mall garage
How to watch: The show can be viewed from anywhere around Festival Bay. But for the best experience, try to find a spot near the waterfront.
How to Get Around
Getting to Dubai Festival City is easy, with several transportation options available. You can choose from the following methods:
By car
From Downtown Dubai: Take the Ras Al Khor Road/D68 and follow the signs for Dubai Festival City. This route usually takes around 15-20 minutes, depending on traffic.
From Dubai Marina: You can take Sheikh Zayed Road/E11 to Ras Al Khor Road/D68, following signs to Dubai Festival City. The journey typically takes around 30 minutes.
From Dubai Airport: The venue is quite close to Dubai International Airport. You can take Airport Road/D89 and follow the signs, reaching the destination in approximately 10-15 minutes.
By Taxi: Taxis are readily available throughout Dubai and can drop you off at Dubai Festival City.
By Metro: Al Jadaf is the closest metro station on the Green Line. You can take a taxi or bus to Dubai Festival City from there.
By Bus:
From Downtown Dubai: You can take Bus 28 from the Al Jafiliya Bus Station, which will drop you off at the Dubai Festival City bus stop.
From Dubai Marina: Bus F55A from Ibn Battuta Metro Station can take you to the Al Jafiliya Bus Station, where you can transfer to Bus 28.
From Dubai Airport: Bus 64A from the airport can take you directly to the Dubai Festival City bus stop.
What to Expect and See at the IMAGINE Laser & Light Show
Captivating Stories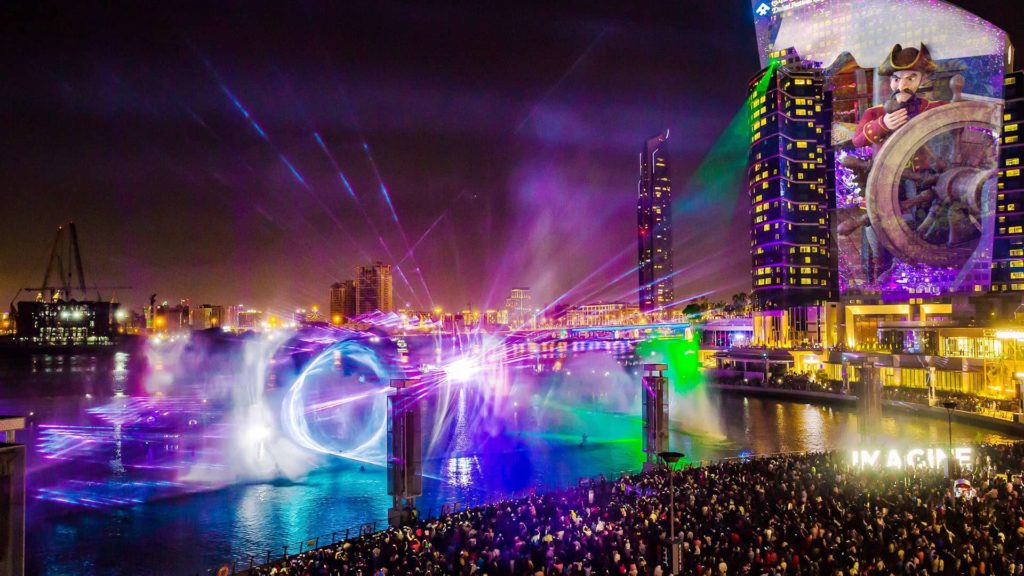 When attending the IMAGINE Laser Light Show in Dubai, expect visual spectacle and captivating stories.
You might be entranced by multimedia narratives like "The Pirates Tale," "Hathi's Garden," "Stardancer," or "A Child's Dream."
Each story is unique, combining visual elements with a compelling narrative to keep you on the edge.
Special Exclusive Shows and Events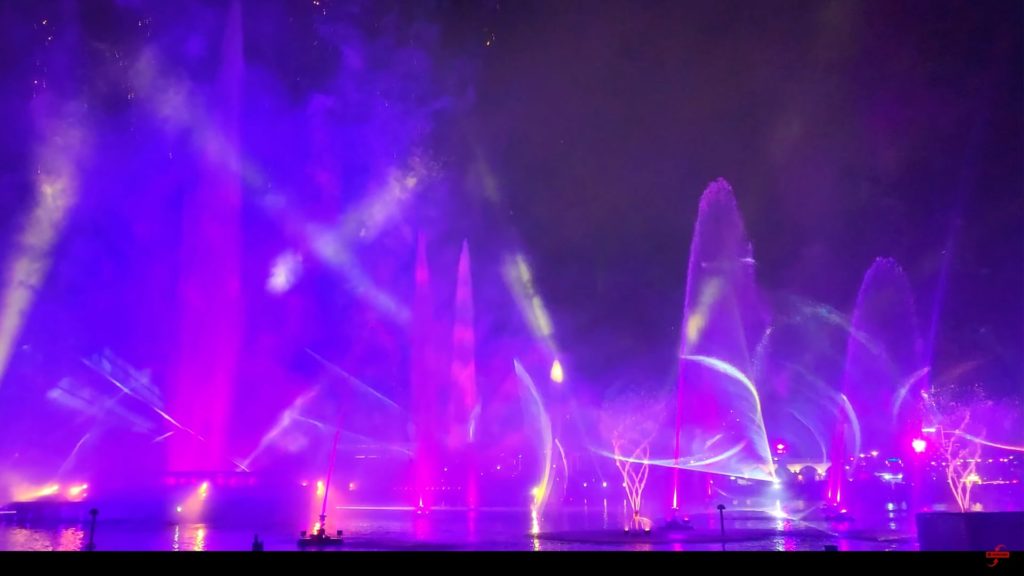 IMAGINE goes beyond its regular programming to celebrate special occasions. The show incorporates unique performances and even multimedia fireworks, whether for a holiday or a significant event.
The annual Eid Al Adha Fireworks Laser & Light Show is one of its examples. It uniquely celebrates the spirit of Eid Al Adha, incorporating Islamic art and cultural elements, making it a one-of-a-kind celebration of the holiday.
Musical Enchantment
The IMAGINE Laser & Lights Show isn't just about lasers and lights; it's a musical journey. The fountains, lasers, and lights are choreographed to an ever-changing selection of classical, Arabic, and popular tunes.
The synchronization between the visual elements and the music adds another layer of immersion to the experience.
Personalized Experiences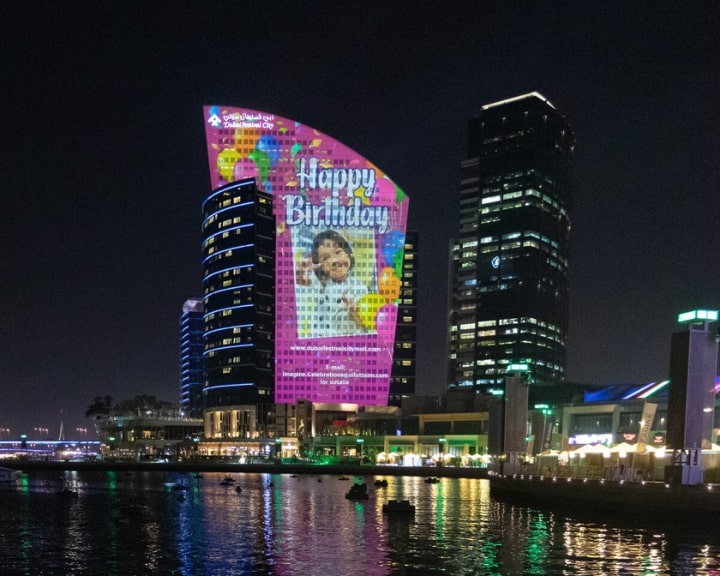 Believe it or not, you can display your special message during Dubai's IMAGINE Laser Light Show.
Whether it's a birthday, anniversary, or proposal, the show allows for personalization, making your celebration even more memorable.
Where to Eat Nearby IMAGINE Laser & Lights Show Dubai
The Cheesecake Factory
Address: Festival Blvd Festival City
Phone: +971 4 419 0223
Pricing: $$
Book now
The Cheesecake Factory is a true American dining legend. With a vast and diverse menu that spans from hearty burgers to world-renowned cheesecakes, it's a place that guarantees satisfaction for every tastebud.
When you enter, the grand interiors, with their high ceilings and intricate decor, immediately transport you to an opulent dining experience.
While the main courses are undeniably delicious, indulging in one of their iconic cheesecakes is almost a no-brainer.
Clap Restaurant Dubai
Address: The Exchange, Gate Village 11, Dubai International Financial Center
Phone: +971 4 569 3820
Pricing: $$$
Book now
Clap Restaurant is a culinary gem that seamlessly blends Asian and Japanese flavors. Its modern vibe and extensive sushi menu make it a popular spot for special occasions and professional meetings.
The restaurant exudes chic and modern design, setting the stage for a great dining experience. The attentive staff offers an extensive menu, ensuring you have a memorable meal.
Regarding the food, their sushi rolls are a standout—beautifully crafted and bursting with flavor. And for those seeking a unique twist on traditional tastes, their fusion dishes are a delightful surprise.
Sugar Factory
Address: First Floor, Unit MW018, Dubai Festival City Mall
Phone: +971 56 549 1166
Pricing: $$-$$$
Book now
The Sugar Factory at Dubai Festival City Mall is a candy wonderland that delights anyone with a sweet tooth – it's like stepping into a whimsical dream!
Their menu is a candy lover's dream come true, featuring an array of delicious treats that will transport you back to your childhood. The adults shouldn't miss their candy-infused cocktails too – they're Instagram-worthy and delicious.
Of course, when it comes to desserts, Sugar Factory doesn't disappoint. Each creation looks like a work of art, from towering milkshakes to decadent sundaes.
Where to Stay Nearby IMAGINE Laser & Lights Show Dubai
Crowne Plaza Festival City, IHG Hotel
Address: Dubai Festival City – Dubai – United Arab Emirates
Phone: +971 4 701 2222
Pricing: $$
Book now
The Crowne Plaza Festival City is a luxurious retreat in the middle of the city, nestled next to the shimmering waters of Dubai Creek.
The hotel boasts panoramic views, especially at sunset, that can be enjoyed from its elegantly designed rooms. Its proximity to the Dubai Festival City Mall also makes it a shopper's paradise.
After a day of exploring, you can unwind at the hotel's spa or indulge in gourmet dining at Zaytoun, one of its world-class restaurants. The free local shuttle is a lifesaver, making city navigation effortless.
InterContinental Dubai Festival City, IHG Hotel
Address: Dubai Festival City – Dubai – United Arab Emirates
Phone: +971 4 701 1111
Pricing: $$$
Book now
The InterContinental at Dubai Festival City is the pinnacle of five-star accommodation. The rooms look out over Dubai Creek and provide stunning panoramas of the cityscape, including the soaring Burj Khalifa.
The hotel's architecture blends modern design with touches of traditional Arabesque elements. You can enjoy a leisurely swim in its infinity pool, which merges with the creek's waters.
Its location is ideal for those exploring the Festival City Mall and the surrounding entertainment hubs.
Courtyard by Marriott Culture Village, Dubai
Address: Al Jaddaf – Jaddaf Waterfront – Dubai – United Arab Emirates
Phone: +971 4 204 0000
Pricing: $$
Book now
The Courtyard by Marriott Dubai Culture Village is a modern hotel with a nod to the region's rich cultural heritage.
The hotel's design is sleek and contemporary, yet it seamlessly integrates with the cultural essence of its surroundings.
You can enjoy the serene views of Dubai Creek from your room or take a short stroll to explore the art galleries and theaters nearby. The on-site restaurant also serves a delightful mix of local and international cuisine.
Other Things to Do Nearby Imagine Laser & Light Show Dubai
Enjoy a Dinner Cruise on the Dubai Water Canal
The Dubai Luxury Canal Dinner Cruise is an unforgettable adventure through the city's historic district. You can see the city's most famous landmarks, like the Burj Khalifa and the Dubai Frame, from the comfort of a boat as you cruise along.
The cruise includes a buffet-style dinner with international and local flavors. Grilled kebabs, Arabic mezze, fresh seafood, biryani, Arabic sweets, and salads are some dishes you can expect to enjoy.
Traditional entertainment, such as the Tanoura dance, adds to the ambiance. Overall, it's an experience that combines sightseeing, dining, and entertainment in a unique setting.
Dive into the Spectacular La Perle Dubai's Show
Like New York's Broadway, Dubai has its own spectacular show, La Perle. This extraordinary production combines art, performance, and technology in a specially constructed theater in Al Habtoor City.
The legendary Franco Dragone is responsible for the creation and direction of this show, which features breathtaking aerial stunts, aquatic performances, and state-of-the-art special effects.
All the talented actors and actresses in the show are from all over the world, and they got their ideas for the plot from Dubai's history, present, and future. It's an optical and sensory feast that can't be matched anywhere in town.
Embark on an Unforgettable Journey at Desert Safari
Dubai Desert Safari is an excursion into the city's surrounding golden sands. On this exciting journey, you can try out new activities like sandboarding and camel riding.
As night falls, the desert camp comes to life with traditional performances like belly dancing and fire shows. You can indulge in a BBQ dinner under the stars, making it the perfect blend of adventure and cultural immersion.
Visit 3D World Selfie Museum Dubai
The 3D World Selfie Museum is an optical illusion wonderland. Many works of art play with the viewer's sense of depth and perspective in this interactive museum.
You can become part of the art, creating memorable and quirky photos. It's a place where art, technology, and fun intersect, making it a hit among kids and adults.
Step into the Future of Fun at Faby Land
Faby Land in Dubai Festival City is a wonderland for kids and families. This indoor amusement park boasts a range of rides, from thrilling roller coasters to interactive games.
Modern technology complements the vibrant and colorful environment, ensuring safety and enjoyment. Whether you're looking for adrenaline-pumping rides or leisurely games, Faby Land has something for everyone.
Other Laser Light Shows in Dubai
If you want to see more laser light shows in Dubai, there are a few more options to discover:
Laser Saga Productions UAE
Laser Saga Productions is a UAE-based company specializing in laser and multimedia show production.
They offer various services, including laser shows, special effects, and drone displays, using top-of-the-line equipment from industry leaders like KVANT Laser, Pangolin Laser Systems, and TechArt Laser.
Dubai Dancing Fountain
The Dubai Fountain, also known as the Dubai Dancing Fountain, is the world's tallest performing fountain in Downtown Dubai.
It features a unique design with five circles and two arcs and uses over 6,600 WET Superlights and 25 color projectors to create a visual spectacle.
The fountain can shoot water up to impressive heights and has over 22,000 gallons of water in the air at any given moment during its performance.