The Best Spots for Kayaking in Dubai
Visualize yourself in a sleek kayak, gliding on the waves with Dubai's skyline, a vibrant sunset, and the sea breeze in your hair – that's kayaking in Dubai!
More than a sport, kayaking in Dubai is an unforgettable experience for many that combines fitness, fun, and breathtaking views.
Excited to learn more? Continue reading to discover the best kayaking spots in Dubai, and we'll give you tips to make your adventure one for the books!
Hatta Dam
Website
Address: Hatta Dam, Dubai
Contact details: +971 56 616 2111
Operating hours: Monday through Sunday, 7 AM to 9 PM
Pricing: A single kayak costs AED 60
For nature lovers and adventurers looking for something new, Hatta Dam in Dubai is the perfect spot to explore via kayaking.
Hatta Dam, located about 130 kilometers from Dubai amidst the majestic Hajar Mountains, offers a peaceful escape from the city. It's an ideal destination for both nature lovers and kayak enthusiasts.
Upon arrival, you'll discover a well-organized rental facility with single and tandem kayaks and safety equipment. The tranquil water makes it appropriate for novice and advanced kayakers.
While kayaking, you'll encounter stunning views of turquoise water set against rugged mountain terrain, making it a photographer's paradise. There are also hiking trails and a Cafe Gazebo on the summit, ideal for a post-kayak refreshment.
Pro tip:

When paddling through the serene waters of Hatta Dam, watch out for the hidden coves along the northern shoreline.

These tucked-away gems offer a tranquil escape from the main waterway and a chance to spot some of the area's elusive wildlife, like the Arabian oryx.
Palm Jumeirah
Website
Address: Sofitel Hotel on the Palm Jumeirah
Contact details: +971-4-420-6100
Operating hours: Monday through Sunday, 9 AM to 6 PM
Pricing:
Single Kayak: AED 230
Double Kayak: AED 345
Palm Jumeirah, an artificial archipelago off the coast of Dubai, is renowned for its luxurious hotels and residences. It's the perfect backdrop for an aquatic adventure that combines urban luxury with thrilling water-based exploration.
Paddling around the greenery of the palm-shaped island affords unparalleled views of the Dubai skyline and notable landmarks such as the Atlantis Hotel.
Rental facilities are everywhere and are usually part of more significant water sports centers, providing equipment and safety briefings. The waters are generally calm, but we're advised to avoid boat traffic by staying within designated zones.
This location is trendy for sunset kayaking, as the golden tints of the setting sun reflect off the skyscrapers to create an otherworldly experience.
Kayaking in Palm Jumeirah is an excellent method to view Dubai's architectural marvels from a unique perspective while engaging in moderate physical activity.
Pro tip:

Explore the hidden coves and tranquil areas tucked away from the main waterways when paddling around the leafy branches.

These secluded areas typically offer a more peaceful and intimate kayaking experience, away from the commotion of other boats. 
Dubai Marina
Website
Address: Dubai Marina
Contact details: +971-58-822-4410
Operating hours: Monday through Sunday, 9 AM to 10 PM
Pricing:
Single Kayak: AED 100
Double Kayak: AED 150
If you want to enjoy urban kayaking in the presence of grand boats and tall skyscrapers, Dubai Marina is a great place to go.
Dubai Marina is an artificial canal city packed with dining, shopping, and entertainment options in the heart of Dubai.
At various locations along the marina, kayak rentals are readily available and frequently include guided tour options. The water is generally calm, but being wary of other yachts is essential because the marina can be crowded.
The highlight of kayaking in this area is sailing through Dubai's pristine waters and appreciating unrivaled coastline views.
You can see some of Dubai's most recognizable structures from the water, such as the Cayan Tower and the Dubai Marina Mall.
Night kayaking is also popular, as it provides the opportunity to experience the marina's dazzling lights and lively ambiance.
Pro tip: 

Enjoy the numerous waterfront culinary options when kayaking in Dubai Marina, like Massimo's Italian Restaurant. They've got kayak docking places to pull up and enjoy a unique waterfront meal.
Jumeirah Beach Residence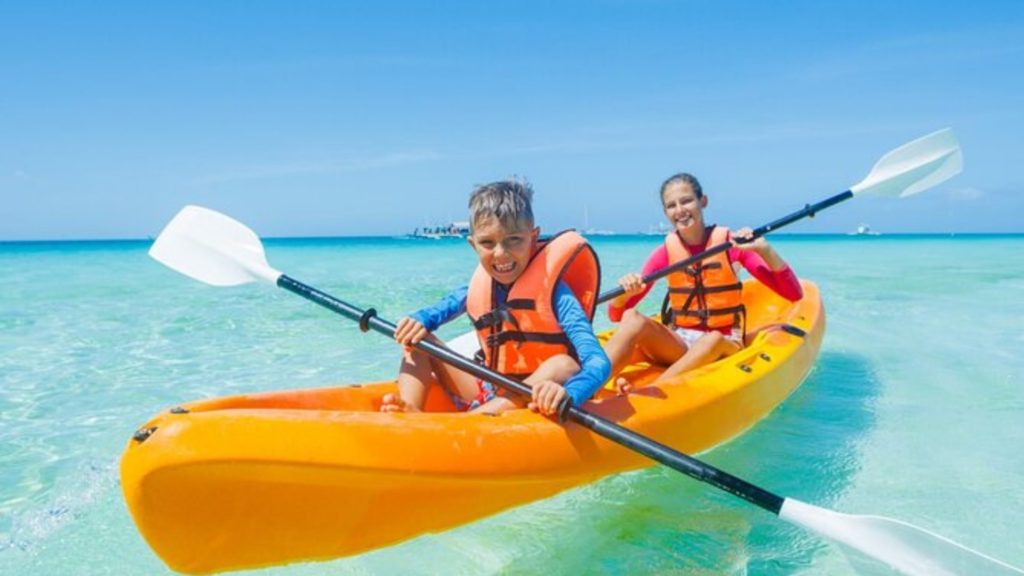 Website
Address: Jumeirah Beach, Dubai
Contact details: +971 54 411 5599
Operating hours: Monday through Sunday, 9 AM to 7 PM
Pricing:
Single Kayak: AED 160
Double Kayak: AED 210
If you want to enjoy the sea and the stunning scenery of Dubai's coast, kayaking at Jumeirah Beach Residence is the way to go.
Jumeirah Beach Residence (JBR) kayaking offers a unique blend of urban sophistication and natural grandeur. The beach, set against towering skyscrapers, offers calm waters ideal for kayaking, particularly for beginners.
The area is well-equipped with rental facilities, so you don't need to carry your gear. Be prepared for moderate crowds, especially on weekends, and take advantage of the various nearby amenities, including upscale restaurants and boutiques.
While paddling, you'll have distant vistas of the Ain Dubai Ferris wheel and Palm Jumeirah. The location is trendy in the late afternoon and early evening, when the setting sun casts a golden light over the water.
The experience offers relaxation and excitement, allowing you to escape the hustle and bustle of the city while remaining in its center. There are lifeguards and marked areas to ensure a safe environment. 
Pro tip: 

Choose to go kayaking during the winter when offshore, solid winds add an extra element of fun. It'll give you a rush of energy and a unique view of Jumeirah Beach Residence.

For the exciting "downwind run," experienced kayakers can launch from JBR and ride the waves toward the famous Palm Jumeirah. 
Kite Beach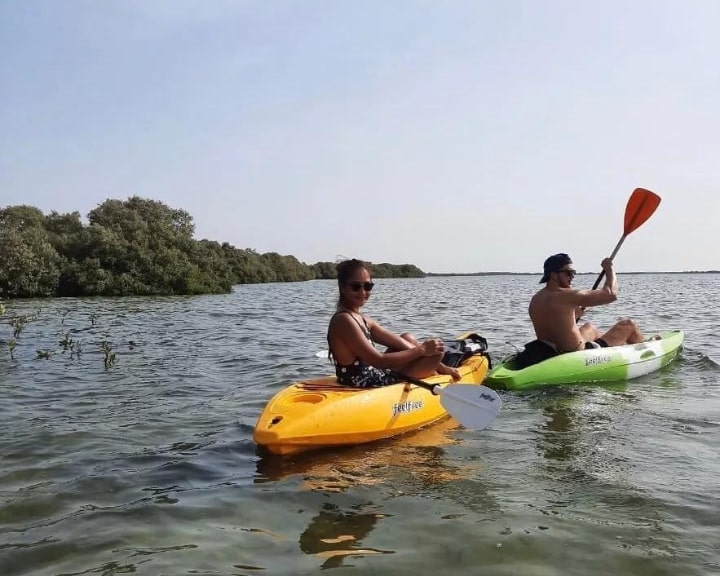 Website
Address: The Kite Beach, Umm Suqeim 1 – Dubai
Contact details: +971 58 945 0031
Operating hours: Monday through Sunday, 6 AM to 6:30 PM
Pricing: AED 750 for five lessons (equipment included)
For those seeking an exhilarating kayaking adventure against the backdrop of Dubai's dynamic waterscape, Kite Beach emerges as a thrilling destination that stands apart from the rest.
The beach is famous among water sports enthusiasts for its rough waters and high winds. Rental facilities and experienced kayakers and instructors are frequently available to offer advice.
This beach is also less crowded compared to JBR, which creates a more focused kayaking experience. In general, the water conditions are moderate, with occasional waves that provide a touch of excitement without being overwhelming.
You'll have views of the iconic Burj Al Arab while kayaking, providing a unique combination of natural scenery and architectural beauty.
Additionally, the beach has showers, changing rooms, and food trucks for post-activity refreshments.
Pro tip:

It's best to head out during low tide. You'll find incredible rock formations and even a natural archway along the coastline, usually hidden underwater.

It's like having your own secret kayak adventure; the photo opportunities are unbeatable. Before you go, be sure to check the tide charts and paddle safely!
Burj Khalifa Lake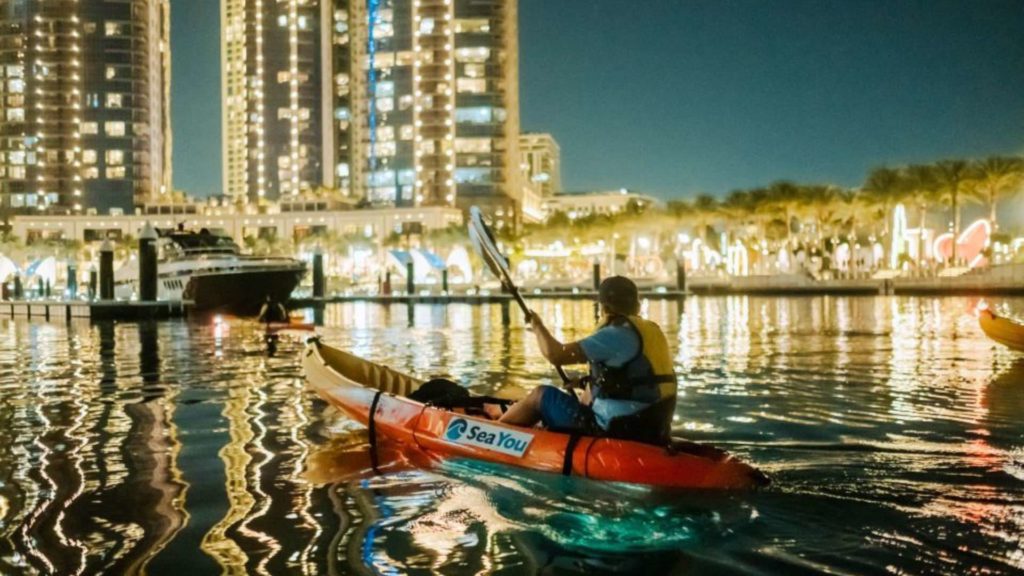 Website
Address: Downtown Dubai
Contact details: +971 4 366 1688
Operating hours: Timings may differ
Pricing: AED 145 per hour
Kayaking at Burj Khalifa Lake, located in Downtown Dubai, is a must-do if you want to get up close to the world's tallest building, the Burj Khalifa.
Paddling a kayak around the Burj Khalifa offers a unique perspective of Dubai's famed skyline. This artificial lagoon is a 12-hectare (or 30-acre) area that provides ample kayaking space.
There are on-site rentals available, and the area is less congested than beaches, making for a more intimate experience.
The Burj Khalifa and the Dubai Fountain, the two tallest performing fountains in the world, will be visible to you as you paddle them in your kayak.
Despite its relatively small size, the lake's exceptional location makes it a must-visit for kayakers seeking a serene and breathtaking experience.
Pro tip:

For a unique kayaking experience at Burj Lake, consider going during the Dubai Fountain shows. As you paddle along the lake, these captivating water displays, synchronized to music and lights, create a magnificent backdrop!
Al Quadra Lake
Address: Middle of the Saih Al Salam Desert, Dubai
Contact details: +971 4 221 5555
Operating hours: Timings may differ
Pricing: Prices may vary
Al Qudra Lake, located in the middle of the Saih Al Salam Desert in Dubai, is a man-made wonder that offers an escape from the city's fast-paced life. One of the most captivating activities you can indulge in here is kayaking.
The serene desert scenery will envelop you as you paddle through the calm waters, making it the perfect kayaking location. The lake is also a haven for various bird species, including herons, ducks, and flamingos.
While kayaking, you may have the opportunity to share the water with these feathered inhabitants, adding a touch of nature to your adventure. The lake is stunning at sunset, providing perfect lighting conditions for photography.
Some watchtowers offer excellent vantage points for capturing the beauty of the lake and its surroundings. Safety is of utmost importance, especially with inexperienced swimmers, so take necessary precautions, as the lake can get deep in certain areas.
It's also a good idea to arrive early or consider pre-booking your kayak, as there aren't any nearby places to rent one.
Pro tip:

Try to schedule your activity right after sunrise. This allows you to avoid the hottest part of the day in the desert, and the lake will be most picturesque when the sun sets behind the dunes.

In addition, the local birdlife is at its most active first thing in the morning, so be sure to include a waterproof camera. 
Recommended Kayaking Services in Dubai
Kitesurf School Dubai (KSD)
Kitesurf School Dubai (KSD) is the premier kite school in Dubai, located on Kite Beach. It offers numerous watersports, including kitesurfing, wing foiling, windsurfing, paddle boarding, and kayaking.
In addition, they offer electric eFoils and jetboards to those seeking an adrenaline rush. The school strives to make your day at Kite Beach memorable with various amenities and activities.
SeaYou Dubai is a prominent distributor of watersport equipment and operator of watersport centers in Dubai, United Arab Emirates.
They specialize in equipment for non-motorized watersports, such as kayaking, stand-up paddleboarding (SUP), windsurfing, dinghies, and catamarans.
SeaYou Dubai is the sole importer and distributor of well-known brands such as RTM kayaks, Starboard SUP, Starboard Windsurfing, RS Sailing, Severne Sails, and Sideon.
They also handle the watersports center at the Sofitel The Palm, which offers kayak and SUP tours of Palm Jumeirah, SUP Yoga, and Dragon Boat.
Hatta Kayak is a facilities services company based in Dubai, United Arab Emirates. The company specializes in tourist destinations that offer kayaking and water biking.
You can kayak around a vast lake formed by the Hatta Water Dam, surrounded by mountains.
Beach Riders Dubai specializes in water sports and yacht rentals in Dubai. They offer a variety of thrilling activities and luxury yacht charters.
Some water sports activities they provide include jet skiing, parasailing, eFoiling, speed boat rentals, banana boat rides, and kayaking. The company aims to deliver an unforgettable adventure experience to its customers.
Viator is a travel booking website that offers tours, activities, and experiences worldwide. It provides a wide range of activities and experiences that tourists can book.
These can range from desert safaris, city tours, and visits to landmarks like the Burj Khalifa to more specialized experiences like luxury yacht cruises and cultural tours.
The platform allows you to read reviews, compare prices, and book activities in advance, making it convenient for travelers to plan their trips.
Tips for Kayaking in Dubai
Kayaking in Dubai offers a unique experience, allowing you to explore the city's stunning coastline, mangroves, and even the iconic Palm Jumeirah.
However, it's essential to be prepared and take certain precautions to ensure a safe and enjoyable kayaking adventure. Here are some tips for kayaking in Dubai:
General Tips

Check the Weather Condition: Before heading outside, ensure the weather is suitable by checking the forecast. Extreme heat is frequently observed in Dubai, and unexpected weather changes can affect the sea conditions.

Know the Laws: Familiarize yourself with local laws and regulations related to water sports and kayaking.

Some of which include the installation of monitoring and remote-control systems on vessels to enhance aquatic sports safety and regulation compliance.

Choose the Right Time: Early morning or late afternoon is the best time to kayak to avoid the intense heat.

Stay Hydrated: The heat can be overwhelming, so drink and carry enough water to stay hydrated.

Wear Sun Protection: Use sunscreen, wear a hat, and consider long sleeves to protect yourself from the sun.

Equipment and Safety

Life Jacket: Always wear a life jacket, regardless of your swimming abilities.

Communication Device: Carry a waterproof phone or radio for emergencies.

Navigation Tools: Have a map or GPS to help you navigate, especially when kayaking in open water.

First Aid Kit: When kayaking in places such as Dubai, having a first aid kit is imperative.

This can include essentials like bandages and gauze for minor wounds to avoid infections, and antiseptic wipes or solutions are crucial for wound cleaning.

Due to the intense sun in Dubai, sunscreen and SPF lip balm are also indispensable for protecting the skin. And in such hot, dry climates, it's crucial to have rehydration salts to prevent dehydration.

Footwear: Wear water shoes or sandals with good grip to prevent slipping and injuries.

Technique and Skills

Paddling Technique: Make sure you know the basic paddling techniques. Consider taking a quick lesson before heading out if you're a beginner.

Know Your Limits: Don't venture too far off the coast, especially if you're not an experienced kayaker. It may also be helpful to have a buddy watch out for you as an added safety measure.

Be Aware of Currents and Tides: Understanding water conditions can help you navigate better and keep you safe.

Local Etiquette

Respect Wildlife: If you're kayaking in natural habitats, make sure not to disturb the local wildlife. You may encounter Arabian tahr, Arabian gazelle, and some Arabian onyx around the area.

Clean Up: Always clean up after yourself and aim to leave no trace.

Respect Other Water Users: Maintain a safe distance from boats, swimmers, and fishermen to ensure everyone's well-being.
By following these tips, you can ensure that your Dubai kayaking experience is safe and enjoyable.