Jumeirah Beach Walk: Your Ultimate Travel Guide
Want to stroll along a picturesque promenade, feel the soft sand between your toes, and enjoy a vibrant atmosphere?
Whether you're a beach lover or simply in search of a leisurely day out, the sun, sea, and a touch of luxury await you at Jumeirah Beach Walk in Dubai!
Learn more about this coastal gem with our handy travel guide below.
What is Jumeirah Beach Walk?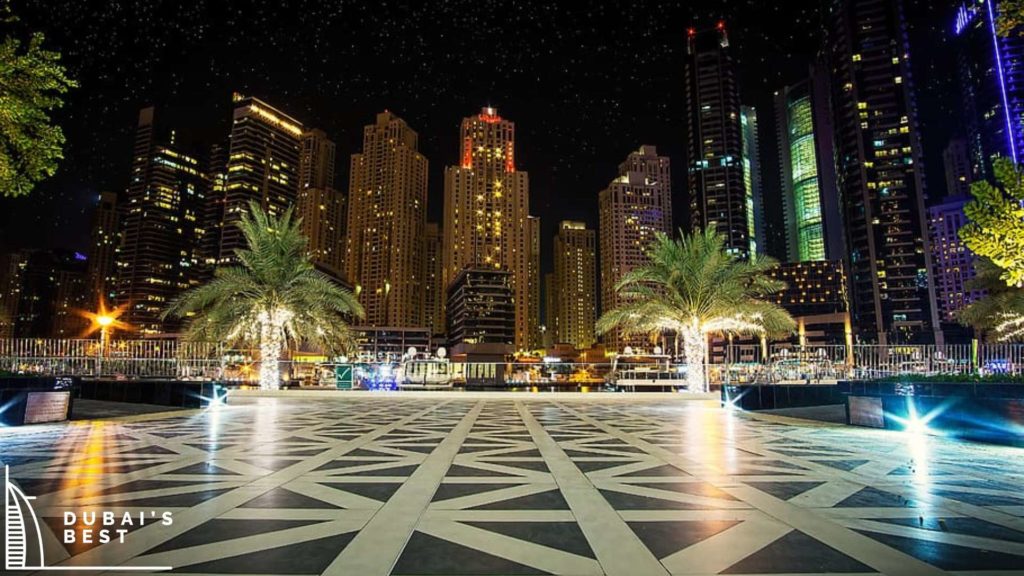 Jumeirah Beach Walk is a promenade in the Jumeirah Beach Residence area of Dubai, UAE. It features a range of retail shops, restaurants, and entertainment venues set against the backdrop of the Arabian Gulf.
This area spans 1.7 kilometers and blends residential towers, hotels, and a vibrant retail strip called "The Walk." Whether you're a tourist or a resident, JBR offers many activities, eateries, and shops that cater to all tastes and preferences.
During the evenings, it comes alive with bustling activity. The palm-lined promenade is teeming with people enjoying leisurely strolls, dining at chic restaurants, and shopping in boutiques.
The air is filled with excitement as street performers entertain visitors, and the sparkling waters of the Arabian Gulf add to the lively ambiance.
Yet during the day, JBR offers a more relaxed vibe. Sunbathers can be seen on the sandy beach; families enjoy picnics; and early diners enjoy meals with a view.
The atmosphere remains inviting, with a backdrop of modern skyscrapers and a continuous sea breeze, making it an ideal destination for both leisurely afternoons and energetic evenings.
Best Time to Go
The best time to visit JBR is during the cooler months, from November to March. The weather is pleasant, allowing you to stroll comfortably along The Walk.
While JBR is open throughout the year, it's essential to check the timing of individual outlets. Most shops and restaurants remain open during public holidays, but confirming beforehand is always good.
Things to Know
Location: Jumeirah Beach Residence area of Dubai, United Arab Emirates
Operating Hours: The Walk JBR is open all day.
Age Restrictions: The Walk JBR doesn't have age restrictions as it's an open promenade.
Entry Fee: There's no entry fee to access The Walk JBR.
Parking Options:
Underground Parking: The Beach at JBR offers underground parking at AED 20 per hour. However, if you spend AED 100 or more at any participating outlet, you can avail of three hours of complimentary parking.
Marina Mall Parking: We suggest parking at the Marina Mall and walking to The Walk. It's a bit of a stroll, but it can be more convenient than finding a spot directly at The Walk, especially during busy times.
Street Parking: Limited street parking options are available around Jumeirah Beach Residence. However, these can fill up quickly, especially on weekends.
Private Garages: There are several private garages around Jumeirah Beach Residence where you can park for a fee. It's a good idea to check the rates and availability before heading out.
Time Needed: To fully experience The Walk and its surrounding attractions, we recommend allocating at least 3–4 hours. This gives you ample time to shop, dine, and soak in the views.
How to Get Around
By car: You can drive to Dubai Marina or Jumeirah Beach Residence by taking Sheikh Zayed Road (E11) south until you reach the interchange for those areas. Use the exit marked "JBR" and continue following the signs.
By Taxi: You can catch a cab from Jumeirah Lake Towers or Dubai Marina to the Amwaj Rotana or the Ritz Carlton, with fares typically ranging between AED 10 and AED 12 each way.
By Metro: At one end of Jumeirah Beach Walk is the Jumeirah Lake Towers Metro Station, and at the other is the Dubai Marina Metro Station. The two subway stops are on the same road, Sheikh Zayed.
By Bus: You can access JBR via the 8, 84, and F55 bus lines. Simply drop off at the Jumeirah Beach Residence stop, and you'll find the beach, restaurants, and shops of JBR all within a ten-minute walk.
What to Do at Jumeirah Beach Walk
Visit AquaFun
Aqua Fun at Jumeirah Beach Walk is the largest inflatable water park in the world, with over 110 exciting activities and challenges for you to conquer while out on the water.
It's open all year. In addition to providing a breathtaking panorama of the beach and the city, it's an enjoyable and invigorating workout that will challenge your fitness, balance, and coordination.

The price of an all-day pass at Aqua Fun, which allows you access from 9 AM to sunset, is AED 155.
If you want to enjoy the park, you'll need to know how to swim – at least the basics – so that you can swim from the coast to the inflatables.
You may also try the "Human Launcher," an exhilarating ride that catapults you into the air, sending you splashing into the water below. It's a thrilling experience that will make you feel like a superhero afterward!
Visit Sama L Ain Gallery
The Sama L Ain Gallery is a must-visit attraction in Jumeirah Beach Walk that showcases modern artwork in the Dubai Marina district.
The works of globally acclaimed painters are displayed at the Sama L Ain Gallery, which also offers bespoke commissions.
Unconventional, abstract, and visual art are all on display at the exhibition. Suvigya, Naho, Brigitte Nataf, Lirone, FANO, and Emmanuelle Rybojad are just a few artists displayed here.
Some of the notable works are Naho's mesmerizing abstract compositions and Lirone's art, which capture the essence of Dubai's unique culture.
Certificates of authenticity, company appraisals, on-site visits, and international shipments are also available through the Sama L Ain Gallery.
Experience new entertainment at Roxy Cinema
Tourists and Dubai locals alike frequent The Beach in Jumeirah Beach Residence, where you'll find the theater complex Roxy Cinemas.
Roxy Cinemas at The Beach JBR boasts 10 screens, with a combined seating capacity of approximately 1,000 people.
In a stylish and comfortable setting, the theater is the place to catch the latest Hollywood releases. At Roxy Cinemas The Beach JBR, you have a couple of options:
The Roxy Silver Plus is an upgraded movie-watching experience with stadium-style seats, large screens, and immersive audio and visuals.

You can enjoy the excellent pictures and sound as you recline in the roomy seats and enjoy the soothing atmosphere.

The Roxy Platinum Plus offers a luxurious movie experience with reclining leather seats, fine food, a VIP lounge, and state-of-the-art sound and video. 

While watching a film at Roxy Platinum Plus, you can order food from the lounge or bring it to your seat.
The estimated price at Roxy Cinemas The Beach JBR is AED 45 per person for Roxy Silver Plus and AED 126.5 per person for Roxy Platinum Plus.
Relax at Naturelife Spa Premium
The Rixos Premium Dubai Hotel is home to the luxurious Naturelife Spa Premium, a favorite of both visitors and locals to Dubai. The services and treatments available at Naturelife Spa Premium are designed to refresh the body and spirit.
You can experience the silky, revitalized skin resulting from their distinctive "Traditional Turkish Hammam" procedure, which entails washing and exfoliation.
Various massage techniques, face treatments, and body washes are available.
After your treatment at Naturelife Spa Premium, you can relax with herbal teas and light snacks in the spa's comfortable lounge, which offers a breathtaking view of the ocean.
Enjoy a night out at Lock, Stock & Barrel JBR
Lock, Stock & Barrel JBR is the perfect spot for you and your loved ones to enjoy a night out filled with music, delicious food, and a great atmosphere.
A wide variety of alcoholic and nonalcoholic beverages, including cocktails, mocktails, beers, wines, and more, are available at the well-stocked bar.
Epic resident bands 13 Daze and Gorgeous George perform live music nightly, spanning rock, pop, classic, and modern songs. Football, cricket, rugby, tennis, and more can all be viewed live and in action on the big screen.
The pool table is also great for hanging out with friends and meeting new people. You can eat foods like burgers, pizza, tacos, nachos, and more because street food is a global influence on cuisine.
Don't miss the happy hour from 4 to 8 PM daily, where you can enjoy select drinks for only AED 3. Lock, Stock & Barrel JBR is open until 3 AM every night, making it a great choice if you like to stay out late and have a good time.
Where to Eat Nearby Jumeirah Beach Walk
Miracolo Restaurant And Bar
Address: Burj Daman Building – P5 – 02 Al Mustaqbal St – Za'abeel – Za'abeel 2 – Dubai – United Arab Emirates
Phone: +971 4 577 1471
Pricing: $$
Book now
For its authentic Italian flavors, Miracolo Restaurant And Bar serves Neapolitan and Southern Italian dishes, including its own Bruschetta.
The ambiance seamlessly blends modern luxury with traditional Italian warmth, ensuring a cozy dining experience. Beyond its culinary delights, Miracolo is recognized for its impeccable service.
Additionally, the restaurant caters to various needs, offering services like delivery, takeout, and outdoor seating. They also boast a full bar, free Wi-Fi, and a dog-friendly environment.
DREAM Restaurant Dubai
Address: Ground Floor – Address Beach Resort – The Walk – Jumeirah Beach Residence – Dubai – United Arab Emirates
Phone: +971 4 220 0224
Pricing: $$$
Book now
DREAM Restaurant Dubai is known for its fusion of Mediterranean, Bar, and International cuisines. Beyond its culinary offerings, DREAM is celebrated for its immersive entertainment, featuring a variety of live shows that captivate diners.
The ambiance blends elegance and luxury, making it a sought-after spot for special occasions and memorable evenings.
Gourmet dishes like Beef Carpaccio, Snails in Parsley Butter, and Grilled Frogs Legs can be found at DREAM Restaurant in Dubai, which is also home to a lively atmosphere and world-class performances.
Trader Vic's JBR
Address: The Walk – Dubai Marina – Dubai – United Arab Emirates
Phone: +971 4 318 2319
Pricing: $$-$$$
Book now
Trader Vic's JBR is a Polynesian-themed restaurant and bar in Jumeirah Beach Residence, Dubai.
Known for its exotic ambiance, the establishment offers a unique blend of tropical decor, world-famous Tiki cocktails, and a diverse menu inspired by Polynesian and international flavors.
Live music, vibrant dance performances, and the iconic Mai Tai cocktail are among the highlights that make Trader Vic's JBR a popular choice for both residents and tourists.
Where to Shop Nearby Jumeirah Beach Walk
Sephora JBR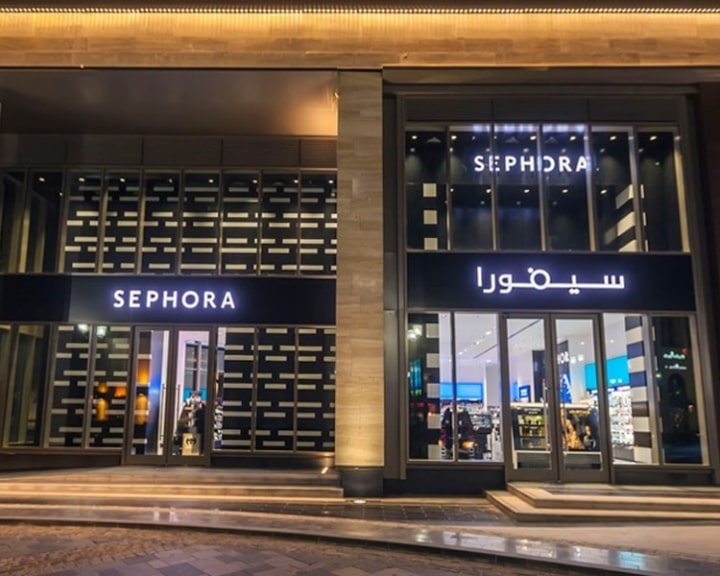 Address: Jumeirah Beach Residence, JBR The Beach – Dubai – United Arab Emirates
Phone: +971 4 430 2757
Website
Sephora JBR, located at The Beach Mall opposite Jumeirah Beach Residence in Dubai, is a branch of the globally renowned beauty and cosmetics store. This outlet offers a vast selection of beauty products, from makeup to skincare.
Unique to this location, Sephora JBR provides exclusive services such as the Benefit Brow Bar, where customers can avail themselves of brow waxing, tinting, and coloring.
The store offers free 15-minute mini makeovers for those seeking quick makeup tips focusing on specific features.
Additionally, you can benefit from a 10-minute skincare consultation, where Sephora's experts provide personalized beauty routines and product recommendations.
The store also features a Gift Hub, allowing patrons to choose from premium wrapping options and personalize their gifts with playful stickers.
Al Bonyan Gift Shop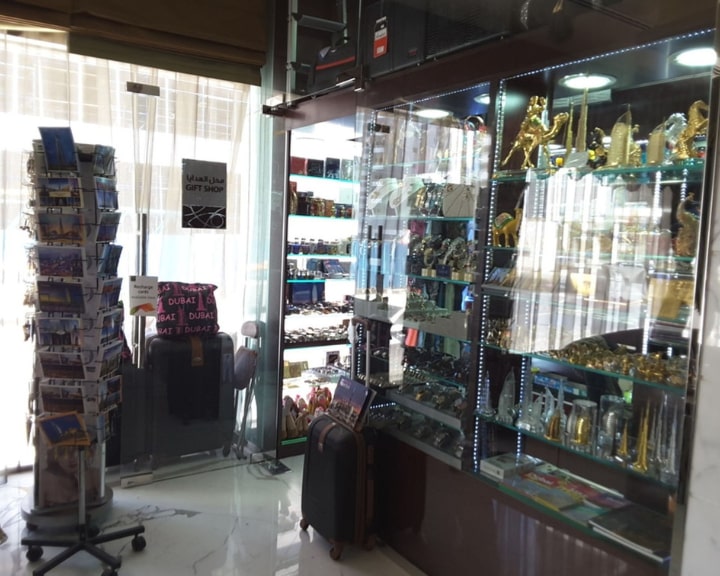 Address: P06, Murjan 1 Plaza Level – The Walk – Dubai – United Arab Emirates
Phone: +971 55 728 5917
Al Bonyan Gift Shop is a premier destination for souvenirs and gifts in Dubai.
Nestled in the vibrant surroundings of JBR, this shop offers a curated selection of items that capture the essence of Dubai, making it an ideal spot for tourists and residents alike to find unique souvenirs.
From traditional handicrafts to contemporary keepsakes, Al Bonyan provides a diverse range of products that cater to various tastes.
The shop's proximity to the beach and other attractions in JBR makes it a convenient stop for those exploring the area.
Muji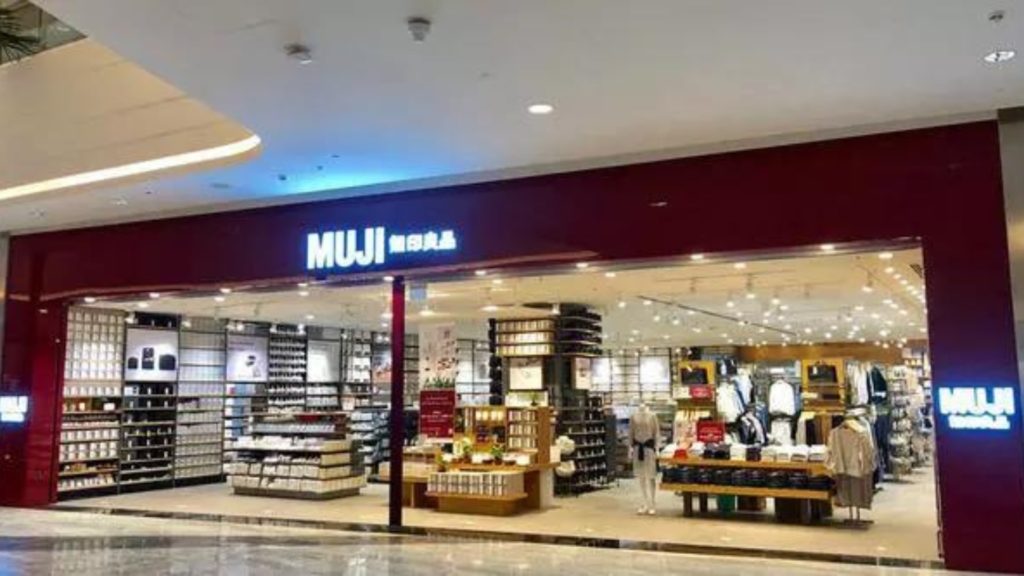 Address: The Beach – Jumeirah Beach Residence – Dubai – United Arab Emirates
Phone: +971 4 419 0868
Website
Muji at JBR, located at The Beach Mall, is a branch of the globally recognized Japanese brand known for its minimalist design philosophy.
Founded in 1980, Muji is celebrated for its simple yet high-quality products that seamlessly integrate into everyday urban living.
More specifically, the store at JBR offers a diverse range of items, from apparel to homeware.
The brand's ethos revolves around providing functional, eco-friendly products without unnecessary complexities, making it a top pick for those who appreciate simplicity and functionality in design.
​​River Island
Address: The Beach – Jumeirah Beach Residence – Dubai – United Arab Emirates
Phone: +971 4 419 0872
Website
River Island at JBR, located in The Beach Mall, is a branch of the iconic British high-street fashion brand.
With over six decades of fashion retail experience, River Island stands out for its stylish, affordable fashion and the unique flair it brings to its collections.
The store is celebrated for its trendy going-out looks, exceptional denim range, and various shoes and bags. It's the go-to place if you're seeking a complete head-to-toe ensemble.
The brand strongly emphasizes originality, with almost all items designed in-house. This commitment to design ensures that River Island consistently offers fresh fashion, with new arrivals gracing the store every week.
Where to Stay Nearby Jumeirah Beach Walk
Beach Walk Hotel Jumeirah
Address: Beach Road – Jumeirah – Dubai – United Arab Emirates
Phone: +971 4 304 2000
Pricing: $$
Book now
​​The Beach Walk Hotel Jumeirah is a 4-star establishment with a fitness center, free private parking, a terrace, and an in-house restaurant.
The hotel's strategic location ensures you're just a short walk away from the sandy shores, with the establishment even providing beach essentials like towels, deck chairs, and umbrellas.
Rooms are well-appointed with modern amenities, including air conditioning, flat-screen TVs, and free WiFi. Some rooms even offer the luxury of a balcony with city views.
You can kick-start your day with a continental breakfast and later indulge in activities like cycling. The hotel also offers bike rentals for those keen to explore the surroundings.
Roda Beach Resort
Address: 28 Al Nessnass St., Jumeirah, Jumeirah 3, Dubai, United Arab Emirates
Phone: +971 4 304 7000
Pricing: $$
Book now
Roda Beach Resort is a luxurious haven in Dubai. Just moments away from sandy beaches, this resort offers a serene escape in the city's heart.
The resort is close to the beach and surrounded by bustling cafes and restaurants offering various dining options outside their doors.
The accommodations at Roda Beach Resort are designed to cater to various preferences, ranging from city views to premium ground-floor rooms offering direct beach access.
The resort provides health and fitness amenities for those looking to relax and rejuvenate, ensuring you can unwind in style.
Bulgari Resort, Dubai
Address: Jumeirah Bay Island, Dubai, United Arab Emirates
Phone: +971 4 777 5555
Pricing: $$$
Book now
Bulgari Resort Dubai is a shimmering gem on a horseshoe-shaped island in Jumeira Bay. This luxurious resort brings a touch of Mediterranean elegance to the Middle East.
It's home to the first-ever Bulgari Yacht Club & Marina, giving the resort a distinct nautical atmosphere and offering panoramic ocean views.
The resort's design is a testament to Bulgari's commitment to luxury, blending traditional Italian aesthetics with Dubai's modernity.
You can indulge in various amenities, from exquisite dining experiences at Il Ristorante – Niko Romito, which celebrates Italy's rich culinary heritage, to the exclusive Yacht Club that overlooks a 46-boat harbor.
The Beach Club offers a serene escape with its private cabanas and pools, while the Little Gems Kids Club ensures younger guests are equally pampered.