Your Ultimate Guide to Planning a Honeymoon in Dubai
Are you looking for a romantic getaway with your partner? Do you want to experience the best luxury, culture, and adventure in one destination?
If you responded "yes," then a honeymoon in Dubai should be high on your list of potential vacation destinations. But what makes Dubai perfect for honeymooners is the variety of romantic activities and experiences you can share with your loved one.
Ready to explore the most romantic journey of your life? Let's make that dream honeymoon in Dubai a reality!
Is Dubai good for a honeymoon?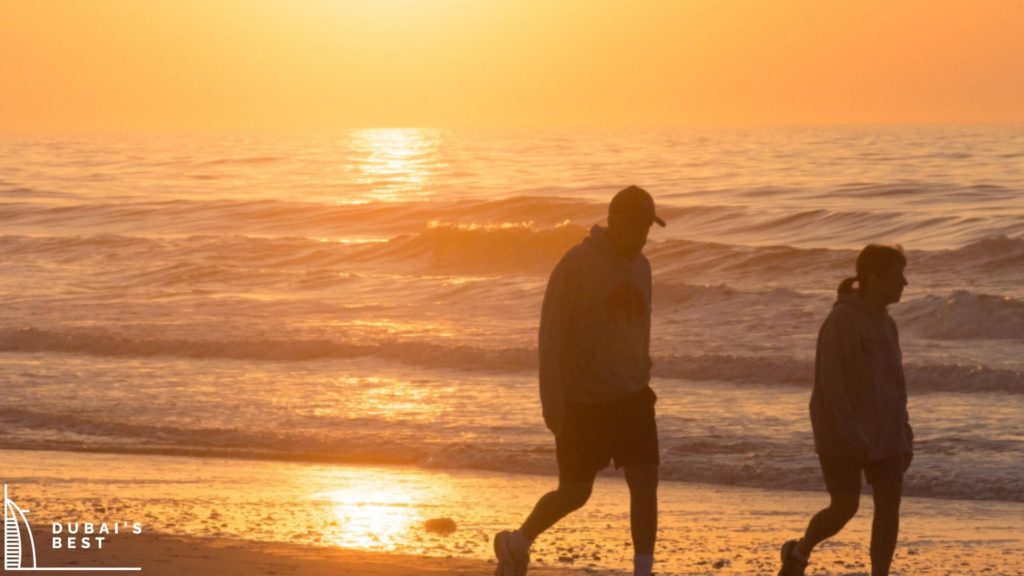 Dubai is an ideal honeymoon destination, blending modern luxury with traditional charm. It offers luxurious hotels, upscale shopping, and beautiful beaches, all set in an elegant desert paradise.
Dubai has transformed into a bustling modern metropolis in just 30 years. It offers everything from designer boutiques to dining in the desert. Plus, it's easily accessible with numerous airlines flying into Dubai International Airport.
Here, you and your partner can discover the city's attractions, participate in exciting activities, go on a desert safari, and shop at malls and local markets.
We recommend booking a honeymoon in Dubai between November and March when the weather is more relaxed, and events such as the Dubai Shopping Festival make the experience even more special.
So, are you still struggling to decide whether to spend your honeymoon in Dubai? No worries. We're happy to help you out by presenting some pros and cons to consider before making your final decision. Check them out below.
PROS:

World-Class Luxury: Dubai boasts some of the world's most luxurious hotels and attractions, from the iconic Burj Khalifa to the lavish Palm Jumeirah.

Diverse Experiences: Whether you're an adventurer or a culture enthusiast, Dubai offers a range of activities to suit every couple's taste.

Culinary Delights: Dubai's culinary scene is a melting pot of cultures, providing everything from traditional Emirati dishes to international gourmet cuisines.

Safety: Known for its strict laws and regulations, Dubai has a Crime Index of 16.35 and a Safety Index of 83.65, making it one of the five safest cities in the world.

CONS:

Expensive: Dubai offers many luxury experiences but can be heavy on the pocket. However, with proper planning, you can find budget-friendly options.

Cultural Differences: The country follows Islamic religious laws, so you must respect public displays of affection and attire.
Things to Do in Dubai for a Honeymoon
Enjoy a night of romance and adventure in Desert Safari
At Desert Safari, you can experience a romantic dinner in the desert, where you and your partner can explore the beauty and mystery of the vast landscape.
As the sky changes colors with the setting sun, you'll enjoy a thrilling ride on a 4×4 vehicle, feeling the excitement as you soar over the sand. Then, you'll arrive at a peaceful oasis where traditional Bedouin tents will welcome you.
You'll savor a delicious meal with exquisite tastes and soothing sounds there. As the night falls, the light of lanterns and the bonfire create a cozy atmosphere for the two. It's more than just a dinner; it's a moment carved in the sands of time.
There are several ways to book a desert safari tour in Dubai. One way is to book through a travel website like Viator or Thrillophilia.
These companies offer various desert safari tours, including dinner and other activities such as dune bashing, camel rides, and belly dancing shows.
However, the price of a dessert safari tour that includes a BBQ dinner is 200 AED for 6 to 7 hours
Experience sky romance at Burj Khalifa's observation decks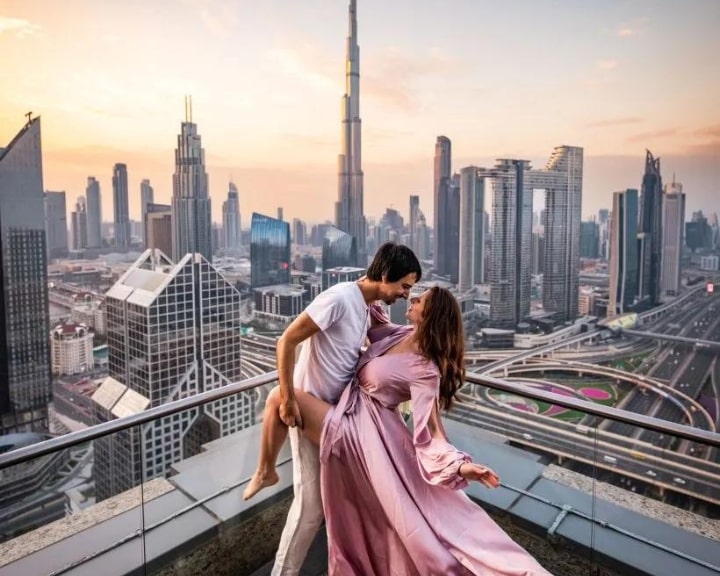 At the Burj Khalifa's observation decks, commonly referred to as "At the Top," you're treated to an unparalleled experience.
The decks offer breathtaking panoramic views of Dubai's impressive skyline, the vast desert landscapes, and the shimmering ocean. As you gaze out, you can spot renowned landmarks, intricate road patterns, and the city's expansive desert.
For those keen on a closer look, high-powered telescopes are typically available, allowing you to zoom in on specific areas and landmarks.
Photography enthusiasts will find ample opportunities to capture memorable moments against the stunning backdrop of Dubai.
You might also find souvenir shops to pick up mementos of their visit. Depending on the season or occasion, the observation decks might host special events or themed experiences, adding to the allure of the holiday.
For the most detailed and up-to-date information, contacting Burj Khalifa's customer service is always a good idea, as is checking their official website.
Take a yacht cruise for a romantic honeymoon at Dubai Marina
As you sail along Dubai's coastline on the clear waters of the Arabian Sea, you'll experience a stunning sunset.
This sunset provides picturesque views of Dubai's famous landmarks. It positions you perfectly to watch the sun go down, giving you numerous photo opportunities and a memorable evening to cherish.
You can also enjoy a romantic dinner by candlelight, swim in the cool water, admire the sunset's splendor, or simply sail along the beautiful coast of Dubai.
Being on the deck with your sweetheart, feeling the wind, recalling happy memories, and creating unforgettable moments can be a nourishing experience for your soul.
Or you can spend an evening under the moonlight on a dhow cruise in Dubai Marina. Here, you can relax and watch live shows while tasting a delicious buffet dinner.
As you smoothly sail through the artificial canals, you'll see the city's unique architecture from a new angle while experiencing the magic of the night. Whatever you choose, it will be an unforgettable experience!
Soar above the clouds on a hot air balloon ride
If you're looking for a honeymoon that combines love and thrilling adventure, a hot air balloon ride in Dubai is a great choice.
You and your partner will soar over the desert sands as the sun rises, enjoying stunning views of the dunes and the horizon. The quiet and calm of the morning flight creates a cozy and romantic mood, ideal for making memories together.
The desert scenery is mesmerizing, with its dynamic shapes and colors. Your experienced pilot will share fascinating facts about the desert's environment and history.
Several companies offer hot air balloon rides, including Hot Air Balloon Dubai.
They provide a variety of flight packages to suit all preferences, including deluxe sunrise flights and private flights for a romantic getaway or a unique proposal idea.
They'll pick you up from your hotel and take you to the desert's hot air balloon take-off point.
From there, you can enjoy a breathtaking flight over the desert, witnessing the sunrise over the Hajar Mountains and taking in the stunning views of the landscape below.
The cost of a hot air balloon ride in Dubai varies depending on your selected package, ranging from approximately AED 250 to AED 400.
Where to Dine in Dubai for a Romantic Honeymoon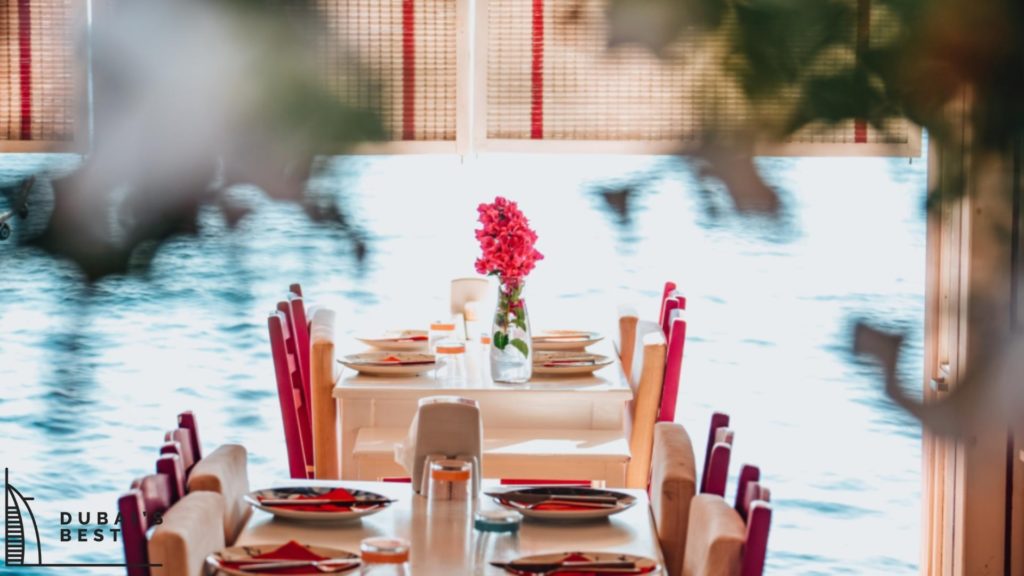 Pierchic, At.mosphere, and Nobu are notable restaurants in Dubai known for providing a romantic dining experience.
Interested in discovering more? Let's delve into those romantic dining choices right below!
Pierchic
Address: Madinat Jumeirah, Dubai
Phone: +971 800 323232
Pricing: $$$$
Website
Pierchic is a multi-award-winning Italian restaurant located in Dubai. Set on a private pier of the Jumeirah Al Qasr Hotel, it offers breathtaking views of the azure waters of the Arabian Gulf.
Known for its romantic ambiance, Pierchic provides an over-the-top dining experience, arguably one of Dubai's most romantic restaurants.
The restaurant's design allows diners to gaze straight into the iconic sail-shaped Burj Al Arab, enhancing the overall dining experience.
With a menu inspired by various regions of Italy and curated by the celebrated chef Beatrice Segoni, Pierchic promises a culinary journey that's as memorable as its setting.
Their Fish Tartare Selection, which highlights the freshness of the seafood, is one of our suggested dishes. Moreover, their mussels with baby squid are a traditional seafood meal that highlights the flavor of the sea.
Alternatively, the Rib Eye entrée is a must-order for meat enthusiasts. They also provide lovely mocktails to go with your meal.
At.mosphere
Address: Burj Khalifa – 122nd Floor – Downtown Dubai
Phone: +971 4 888 3828
Pricing: $$$$
Website
Perched on the 122nd floor of the iconic Burj Khalifa, At.mosphere boasts the world's highest restaurant title.
An elegant setting combining French and European cuisines offers diners an unparalleled view of Dubai's skyline.
The restaurant is accessible via the Armani Hotel and has garnered rave reviews for its impeccable service and sumptuous dishes.
We highly recommend experiencing "Coffee in the Clouds," where you may unwind with refreshments while taking in the breathtaking views from 123 stories up.
The price range varies, but expect to pay a premium for the location and the quality of food and service.
For your information, At.mosphere has been awarded by the MICHELIN Guide, a testament to its culinary excellence.
Nobu
Address: Atlantis – 22nd floor – The Palm Jumeirah – Dubai 
Phone: +971 4 426 0760
Pricing: $$$$
Website
Nobu Dubai is a renowned restaurant located in the vibrant city of Dubai. It's part of the global Nobu chain, known for its fusion of traditional Japanese dishes with Peruvian ingredients.
The Dubai branch has recently found a new home in The Bridge Suite.
While the website doesn't describe the ambiance or dishes, Nobu restaurants are generally known for their chic interiors, impeccable service, and signature dishes like the Black Cod Miso.
This dish features the delicate and flavorful Alaskan Black Cod marinated in a luxurious miso sauce. The fish is tender, and the miso provides a rich coating that enhances the flavor of the cod
Where to Stay in Dubai for a Romantic Honeymoon?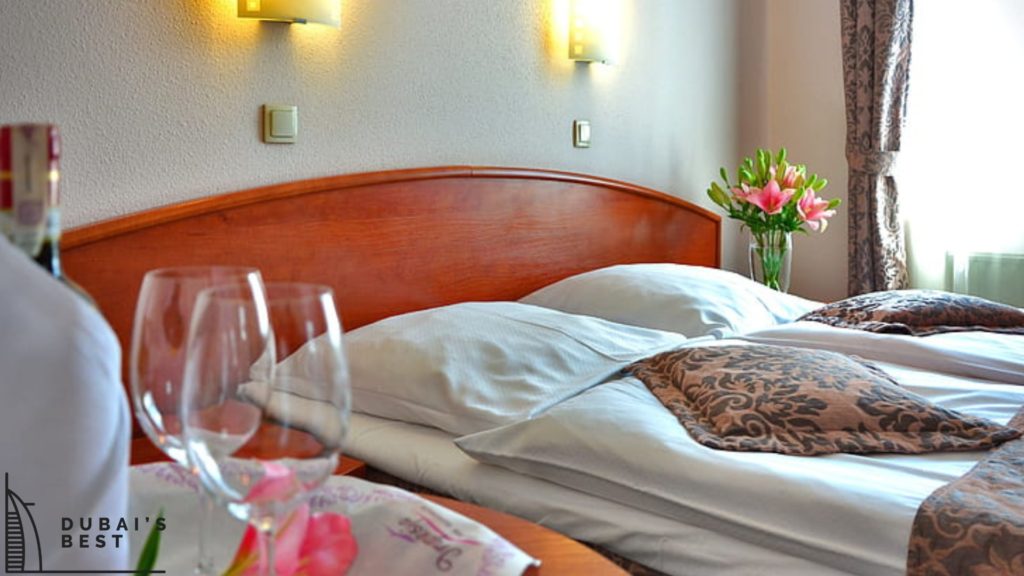 Burj Al Arab, Atlantis, The Palm, and Armani Hotel are renowned establishments where you can opt for a distinguished honeymoon experience.
Curious to explore further? Let us guide you through these enchanting hotel options below.
Burj Al Arab
Address: Umm Suqeim 3 – Dubai – United Arab Emirates
Phone: +971 4 301 7777
Pricing: $$$$
Book now
Nestled on its island off the coast of Dubai, the Burj Al Arab is the epitome of luxury. You're often called the world's only "7-star hotel"; its sail-shaped silhouette is iconic to Dubai's skyline.
Inside, you're greeted with opulent interiors, gold leaf galore, and an underwater restaurant that offers a dining experience like no other. From personal butlers to a helipad for VIP guests, the Burj Al Arab redefines extravagance.
Atlantis, The Palm
Address: Crescent Rd – The Palm Jumeirah – Dubai
Phone: +971 4 426 2000
Pricing: $$$$
Book now
Atlantis, The Palm, nestled on the iconic Palm Jumeirah in Dubai, is a luxury resort in a world of its own. With its awe-inspiring architecture, it's like stepping into a dreamy aquatic wonderland.
The underwater suites give you a mesmerizing view of marine life, making you feel like you live in an oceanic kingdom. The resort boasts a vast water park, Aquaventure, where you can slide through shark-filled lagoons or relax on the private beaches.
Dining? From gourmet to casual, the choices are endless. And let's remember the spellbinding Lost Chambers Aquarium.
Armani Hotel
Address: Burj Khalifa – Downtown Dubai
Phone: +971 4 888 3888
Pricing: $$$$
Book now
The Armani Hotel is the epitome of luxury at the iconic Burj Khalifa in Dubai. Opened on April 27, 2010, this hotel occupies the first 39 floors of the towering skyscraper.
With 160 guest rooms and suites and 144 residences, the Armani Hotel is a testament to Giorgio Armani's vision of elegance and sophistication.
Every detail, from the interior design to the flower arrangements, is personally overseen by Giorgio Armani.
The hotel also features the Armani Residences, adorned with products from the Armani/Casa home furnishings collection and the Armani/Fiori flower arrangements.
For us, this luxurious establishment is not just a place to stay; it's an experience that immerses guests in the world of Armani.
Tips for a Honeymoon in Dubai
Here are some tips for a memorable honeymoon in Dubai, tailored for couples looking for a blend of luxury, adventure, and romance.
Luxurious Stay at Beachfront Resorts

Some of the world's finest hotels and resorts may be found in Dubai. Consider booking a stay at a beachfront resort where you can wake up to the sound of waves and enjoy a private dinner on the beach.

Many resorts offer honeymoon packages with added perks like spa treatments and romantic dinners.

Desert Safari Adventure

Experience the vastness of the Dubai desert with a safari adventure. Opt for a private dune bashing session, followed by a romantic desert camp setup with traditional music, dance, and a BBQ dinner under the stars.

Dine at the Top

Dubai boasts an impressive skyline, and what better way to enjoy it than dining at one of the city's skyscraper restaurants? Book a table at a rooftop restaurant or the iconic Burj Khalifa for a meal with a view.

Cultural Exploration:

Immerse yourselves in the rich culture and heritage of Dubai. Visit the Dubai Opera to watch world-class performances like Swan Lake.

Additionally, explore the city's arts and culture scene, which offers a blend of traditional and contemporary art forms.

Gourmet Experiences:

Dubai's dining scene is diverse and ever-evolving. Find limited-edition feasts or enjoy a movie while dining. From conventional Emirati cuisine to international gourmet dishes, there's something for every palate.

Relax and Rejuvenate:

After all the adventures, take a day to relax and pamper yourselves. Book a couples spa treatment or spend a day at one of Dubai's serene beaches.

Celebrate Love in Style:

Considering Dubai's reputation for hosting grand celebrations, why not renew your vows or have a post-wedding photoshoot at one of its iconic locations?

Shopping Extravaganza

Dubai is a shopper's paradise, from the Dubai Mall's grandeur to the Gold Souk's traditional charm. Shop for souvenirs and gifts that remind you of your time in the city.
Remember, every couple's idea of a perfect honeymoon is different. Tailor your experiences based on your interests and preferences, and you're sure to create memories that will last a lifetime in this magnificent city.