Kite Beach: Where Dubai's Vibrancy Meets Coastal Serenity
Ready for a beach experience that's a cut above the rest? Well, get set to be swept off your feet by the charm of Kite Beach in Dubai. This isn't just your ordinary sandy shoreline – it's a playground where relaxation and excitement fuse seamlessly.
If you're into sun-kissed adventures, soothing sea breezes, and a dash of adrenaline, keep reading because we're about to dive into what makes Kite Beach a must-visit gem.
What Is Kite Beach?
Kite Beach, situated along Dubai's Jumeirah coastline, is a popular leisure destination known for its vibrant atmosphere and water sports.
Kite Beach is one of the most popular beaches in Dubai, attracting sunbathers, food enthusiasts, and sports lovers alike. It's worth visiting this beach, as it offers a wide range of activities for kite surfers, sun-seekers, and families, providing excitement and relaxation.
If you're serious about your watersports and want to test your skills on one of the best accessible beaches in Dubai, Kite Beach has plenty of challenges.
It's located just off the Jumeirah neighborhood, and you'll find high-quality equipment for rent along the sand. You can try kitesurfing, wakeboarding, or stand-up paddleboarding.
If staying on dry land is more your thing, you're bound to find a game of beach volleyball to join, along with a welcoming vibe and plenty of new friends to make.
Meanwhile, the Kite Beach Walk presents an enticing 6.2-mile (14,000-step) route tracing the Dubai coastline.
You can venture along this path, whether strolling or jogging and be treated to breathtaking vistas of the iconic Burj Al Arab Jumeirah gracing the horizon.
With an elevation gain of around 39.4 feet, this walk is considered an easygoing trek, ensuring you can relish the sights without breaking a sweat.
Time Zone
United Arab Emirates (GMT+4)
Best Time to Go
The best time to visit Dubai's Kite Beach is between 10 AM and 1 PM, especially from November to February. Dubai enjoys milder temperatures within this timeframe, averaging about 25 degrees Celsius.
Moreover, this period coincides with prime kite surfing conditions, characterized by robust winds and favorable wave conditions.
Things to Know
Location: Kite Beach, Umm Suqeim 3, Dubai, United Arab Emirates.
Operating hours:
Sunday – Wednesday, 10 AM to 12 AM
Thursday – Saturday, 10 AM to 1 AM
Age restriction: There are no age restrictions for visiting Kite Beach.
Entry fee: Kite Beach has no entry fee.
Parking: GreenParking's Kite Beach lot is conveniently located near the beach. The parking fee is AED 20 per car for the first 2 hours and AED 10 per hour afterward.
How to Get Around
By car: If you drive to Kite Beach, you can take Sheikh Zayed Road or Al Khail Road.
By bus: You can hop on buses like 12, 8, 88, C10, and X28, as they all pass by or near Kite Beach.
By metro: The nearest metro station to Kite Beach is the Noor Bank metro station. From there, you can take a bus or taxi to the beach.
By taxi: Taxis are a convenient way to get to Kite Beach. The taxi fare from the city center to Kite Beach is around AED 50.
What to Do in Kite Beach
Experience Kitesurfing
Kite surfing is an exhilarating water sport that combines surfing, windsurfing, and paragliding elements. You can use a specially designed kite to harness the power of the wind, propelling themselves across the water on a board.
If you're up for learning kitesurfing or need to rent equipment at Kite Beach, Kite N Surf Dubai should be your top choice.
They're a prominent player in Dubai's water sports community, renowned for their highly skilled instructors who provide top-notch lessons with a strong focus on safety. The daily rental fee is AED 300.
Master the waves with Stand Up Paddleboarding
Paddleboarding at Kite Beach is like a peaceful adventure where you stand on a sturdy board and glide through Dubai's beautiful waters with a paddle.
Whether you're just starting or a pro, it's perfect because the waves are chill, and the beach is relaxing. You can enjoy city views while giving your whole body an excellent workout.
Explore Dubai's Coastline through Kayaking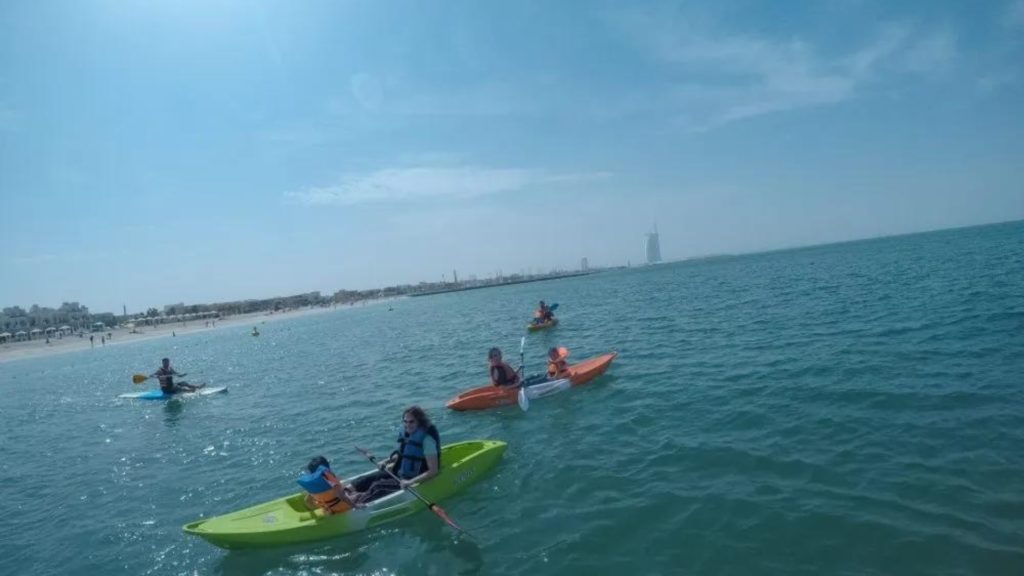 Kayaking at Kite Beach is like embarking on a peaceful journey along Dubai's shoreline. You grab a paddle, hop into a kayak, and navigate the gentle waves, soaking in the captivating views of the city and the serene waters.
You can paddle along the shore and explore the many coves and inlets, or go for a longer paddle and explore the open water.
It's a perfect blend of relaxation and exploration, whether you're a beginner or an experienced paddler. The beach's laid-back atmosphere and clear waters create an ideal backdrop for a calming escape.
Go Jet Skiing
Jet skiing at Kite Beach is an adrenaline-packed aquatic adventure that lets you ride the waves and feel the rush of Dubai's coastline. You hop onto a powerful jet ski, zooming through the sparkling waters while taking in the iconic cityscape.
One of the best places to rent a jetski or take lessons at Kite Beach is Nemo WaterSports. This company offers jet ski rental, flyboard, parasailing, and yacht rental services.
You can discover Dubai with their Jet Ski Tour around the main attractions of Dubai: the Burj Al Arab, Dubai Marina, the Palm Jumeirah, Atlantis, and the Burj Khalifa.
Ride the waves with Banana Boat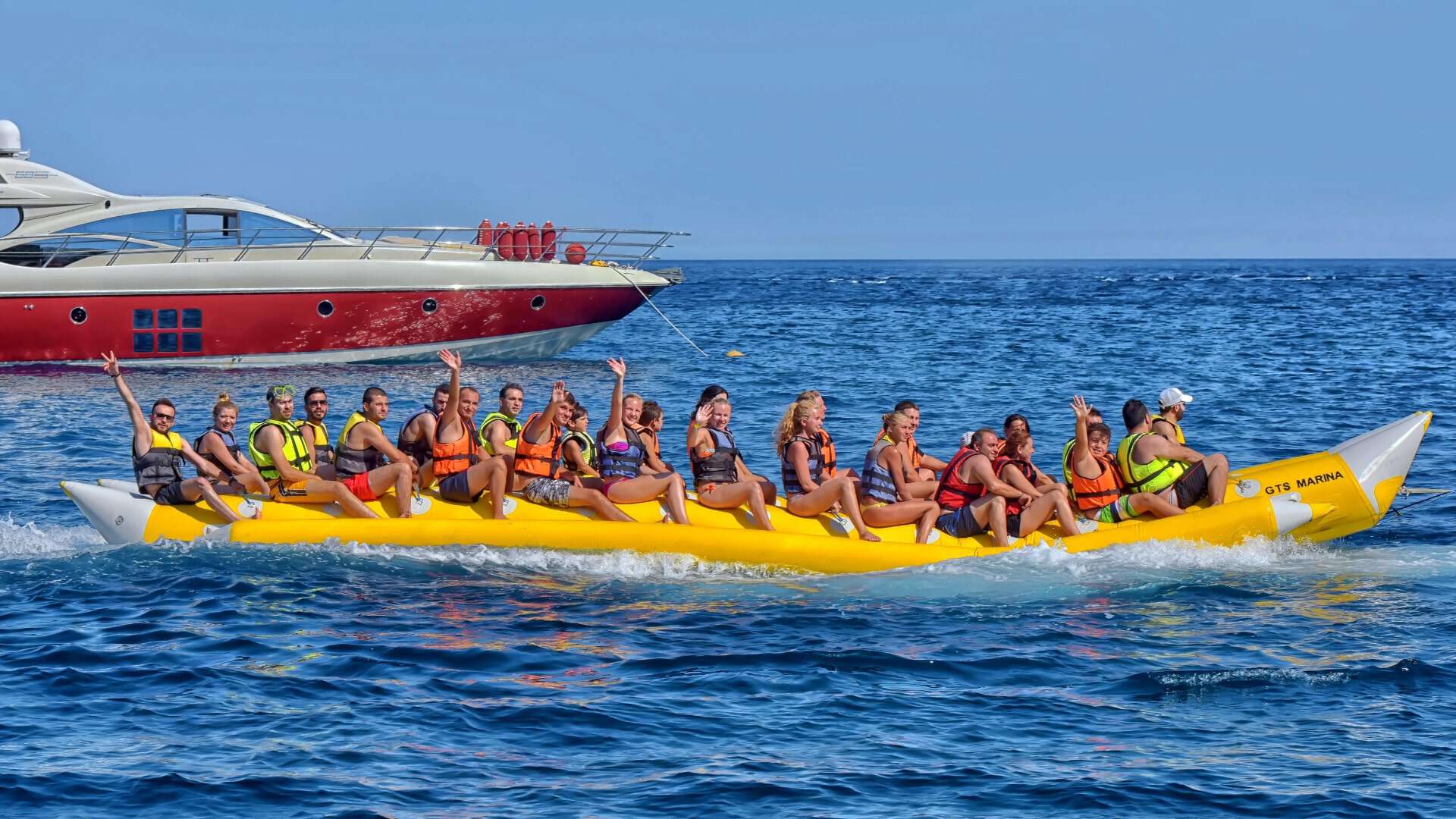 Banana boat riding in Kite Beach is a thrilling water activity perfect for groups of friends or families.
You'll be towed behind a speedboat on a giant inflatable banana boat, which will make you experience the rush of adrenaline as you're tossed around the waves. It's a great way to cool off on a hot day and enjoy the sun.
Spike the fun with Beach Volleyball
At Kite Beach in Dubai, beach volleyball is a well-loved activity, with multiple courts accessible to the public. Situated close to the Kite Beach Cafe and Bar, these courts welcome players of all skill levels.
If you're seeking some friendly competition, Kite Beach hosts various beach volleyball leagues, offering the chance to join a team and embrace the thrill of the game.
However, The Beach has hosted back-to-back beach volleyball events in partnership with Dubai Sports Council, where some of the biggest names in the business have competed. 
During these events, professionals and athletes also hosted insightful clinics, giving their professional advice on the sport and how it can foster an active and healthy lifestyle.
Have a Picnic
Kite Beach features open stretches of soft white sand, vibrant sights and sounds, fitness areas, and a beach library. You can sit back and relax while enjoying the beautiful view of the Burj Al Arab.
You can even prepare your lunch at home and bring it to the beach for a picnic-style meal. You can also rent a portable beach shade to protect yourself from the sun while enjoying your picnic.
Where to Shop Nearby Kite Beach
Kite Beach market
Address: Kite Beach – Umm Suqeim – Jumeirah 3 – Dubai – United Arab Emirates
Phone: +971 52 258 1060
Website
Kite Beach Market is a seasonal market located on Kite Beach in Dubai, United Arab Emirates.
It's open from October to June annually, and it features over 20 kiosks selling various unique and unusual products, including resort wear, swimwear, beach cover-ups, bags, hats, towels, children's wear, toys, and gifts.
The market is also great for souvenirs and gifts to take home from your trip to Kite Beach.
Palm Strip Shopping Mall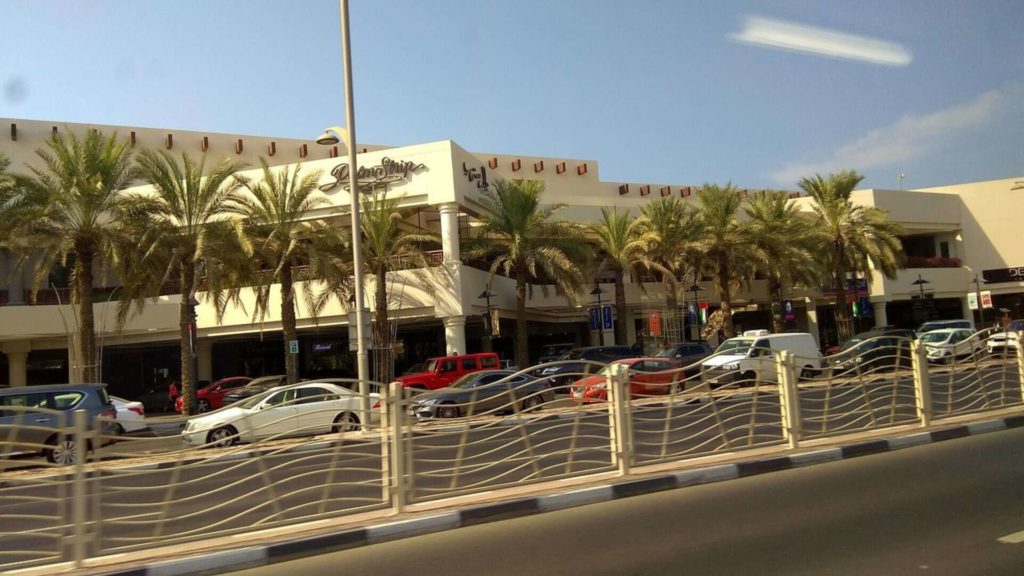 Palm Strip Shopping Mall was developed by Dubai Investment Properties LLC, one of Dubai's most trusted developers of residential, commercial, and retail spaces, for over 25 years.
The mall is a great place to shop for unique and unusual products. There are many things to do near Palm Strip Shopping Mall, including visiting the Pro Art Gallery, Onlyroses Uae, Jumeirah Mosque, La Mer, A Club, Beauty Within Spa, Street Art Gallery, SEVA Experience, Etihad Museum, La Beuate Dan's Spa.
Mercato Shopping Mall
Address: Jumeirah Beach Road, PO Box 755, Dubai, United Arab Emirates
Phone: +971 4 344 4161
Website
Mercato Shopping Mall is a shopping center in the Jumeirah area of Dubai, United Arab Emirates. The mall is designed to look like a Mediterranean town during the European Renaissance in Italy.
It opened in 2002, and its name Mercato comes from the Italian word meaning "market."
The mall has a gross leasable area of 22,900 m2 (247,000 sq ft) and 59,900 m2 (645,000 sq ft). It has over 90 stores and services, including Axiom Telecom, PAUL, Spinneys, Beauty By Edge, Borders, The Little Things, and Sand Dollar Dubai
Where to Stay Nearby Kite Beach
Hilton Garden Inn Dubai Mall Of The Emirates
Address: 22nd St – Al Barsha – Al Barsha 1 – Dubai – United Arab Emirates
Phone: +971 4 307 0707
Pricing: $
Book now
The Hilton Garden Inn Dubai Mall Of The Emirates offers a variety of amenities to ensure a comfortable and enjoyable stay. You can dip in the outdoor swimming pool, work in the fitness center, or relax in the shared lounge.
The hotel also provides free private parking and air-conditioned rooms with complimentary WiFi. In addition, there is an on-site bar and the Garden Grille restaurant, which serves delicious meals for breakfast, lunch, and dinner.
V Hotel Dubai, Curio Collection by Hilton
Address: Al Habtoor City – Sheikh Zayed Rd – Dubai – United Arab Emirates
Phone: +971 4 436 6666
Pricing: $$
Book now
The V Hotel Dubai, Curio Collection by Hilton is a luxurious hotel in Al Habtoor City, Sheikh Zayed Road, Dubai. The hotel overlooks the Dubai Water Canal and is designed to reflect the city's spirit.
It's home to Dubai's premier stage show, La Perle by Franco Dragone, just eight kilometers from Downtown. The Burj Khalifa and Dubai Mall are only 10 minutes away, and local beaches, including Kite Beach, are within 10 km.
The rooms at the V Hotel Dubai are spacious and comfortable, with satellite flat-screen TVs and bathrooms featuring open-plan bathtubs. The hotel also offers plenty of dining options, including the Level Seven restaurant, which serves international cuisine in a market setting.
Beach Walk Hotel Jumeriah
Address: Beach Road – Jumeirah – Dubai – United Arab Emirates
Phone: +971 4 304 2000
Pricing: $$$
Book now
The Beach Walk Hotel Jumeirah is a 4-star hotel in Dubai, just a 14-minute walk from Kite Beach. The hotel offers a range of amenities, including a fitness center, free private parking, a terrace, and a restaurant.
This hotel also provides a business center and concierge service. The property has a 24-hour front desk, airport transportation, room service, and free WiFi.
A continental breakfast is available every morning at Beach Walk Hotel Jumeirah. The accommodation offers 4-star accommodations with a sauna. The area is famous for cycling; bike rental is available at this 4-star hotel.
Where to Eat Nearby Kite Beach
Gordon Ramsay Hell's Kitchen Dubai
Address: Caesars Palace – Bluewaters Island – Dubai – United Arab Emirates
Phone: +971 4 556 6466
Pricing: $$$
Website
Gordon Ramsay Hell's Kitchen Dubai is a Caesars Palace, Bluewaters Island restaurant. The restaurant serves up the same combination of show-stopping theatre and world-class cooking as its original Las Vegas location.
Drawing inspiration from the celebrity chef's reality TV show, the Red and Blue kitchens serve Ramsay's signature dishes, including the Pan Seared Scallops, Beef Wellington, and the sweet, heavenly, Sticky Toffee Pudding in this upscale restaurant.
Mado Restaurant Jumeirah
Address: Jumeirah St – Umm Suqeim – Umm Suqeim 1 – Dubai – United Arab Emirates
Phone: +971 4 222 2338
Pricing: $$-$$$
Website
Mado Jumeirah is a restaurant on Jumeirah Beach Road in Umm Suqaim, Jumeirah, Dubai. The restaurant specializes in Turkish food, desserts, and ice cream.
The extensive menu includes traditional breakfast dishes, freshly baked Simit, desserts, delicious Turkish dishes, 100% natural goat's milk ice cream, and imported goods from Turkey.
SALT Kite Beach
Address: Kite Beach – 2C St – Umm Suqeim – Jumeirah 3 – Dubai – United Arab Emirates
Phone: +971 55 996 5802
Pricing: $$
SALT is a popular food truck turned burger restaurant on Kite Beach in Dubai. The restaurant is known for serving great food and fostering a sense of community among its customers, affectionately known as "SALTERS."
It's committed to using quality ingredients, sourcing locally, using sustainable products where possible, supporting small businesses, enjoying nature, and crafting social experiences around food, art, and music.