The Ultimate Guide to Children's City Dubai
Ever visited a place where fact and fiction collide? Welcome to Children's City Dubai, a family-friendly venue combining exciting attractions and educational opportunities!
Whether it's exploring the mysteries of the human body or journeying through the stars in the planetarium, there's a world of discovery awaiting children of all ages.
Read our guide below to see the magical experiences and enlightening adventures of Children's City Dubai.
What is Children's City in Dubai?
Children's City Dubai is an educational center for children aged 2 to 15. It offers interactive learning experiences across science, nature, space, and the human body to enrich young minds through knowledge and entertainment.
This facility was designed to enable children to actively explore, investigate, play, and acquire knowledge about the diverse world around them.
It primarily focuses on organizing and facilitating collective interaction and discovery for children, whether they're with their families or school groups.
In addition, it features a variety of exhibits and programs, including a nature center, space exploration, human body exploration, a planetarium, lifestyle exhibits, international culture displays, and a dedicated area for toddlers.
Children's City conducts daily educational workshops too, as well as entertainment programs at various galleries, specialized halls, and the Children's City Theater throughout the year, catering to school students, children, and families.
Best Time to Go
The best time to explore Children's City Dubai is from mid-November to mid-December, and during March. This is when the climate is pleasantly warm, tourist traffic is lesser, and prices tend to be more reasonable.
Children's City is closed on public holidays, including Eid Al Fitr, Eid Al Adha, and National Day. For information on upcoming holidays and events, it's best to refer to the events calendar on their official website.
Peak times at Children's City are during weekends, school vacation periods, and special occasions. To evade the crowds, consider visiting early in the morning.
Pre-booking your visit online is also recommended to ensure entry and avoid extensive wait times.
Things to Know
Website: https://childrencity.dm.gov.ae/en/Pages/default.aspx
Location: Umm Hurair 2 – Gate 1 – Creekside Park – Dubai
Contact details: +971 4 334 0808; 04 334 0808
Operating hours:
Monday through Friday, 9 AM to 8 PM
Saturday and Sunday, 2 PM to 8 PM
Fees:
Children (2-15) – AED 10
Adults (16 and up) – AED 15
Families (two adults and two children) – AED 40
How to Get Around
Planning to visit Children's City in Dubai? Here are some straightforward transportation options to help you reach your destination with ease:
Car: Navigate to "Children's City, Creek Park, Dubai" using apps like Google Maps or Waze.
Bus: Use bus line C7, which stops nearby.
Metro: Choose the M2 metro line, which has stops conveniently located nearby.
Taxi: Taxis are readily available throughout Dubai. You can hail one on the street or book one using a taxi-booking app and ask the driver to take you to Children's City in Creek Park, Dubai.
What to Do at Children's City Dubai
Explore the Planetarium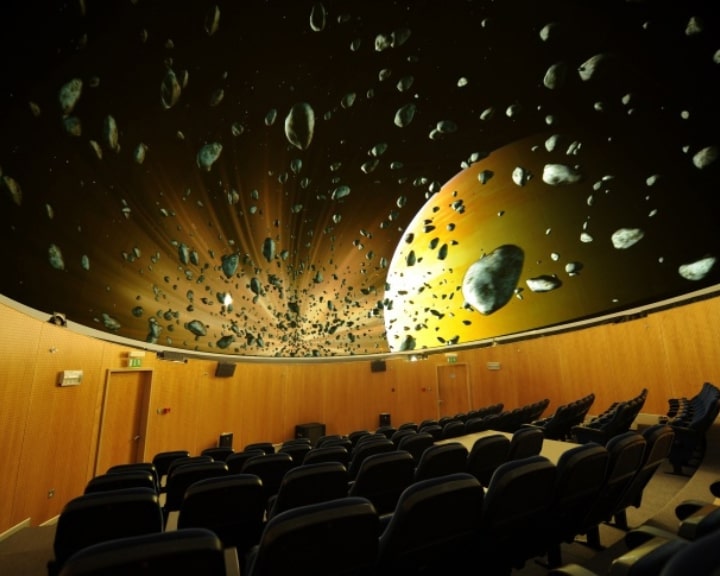 The Planetarium at Children's City in Dubai is a celestial wonder, offering a gateway to the universe. Here, you can immerse yourself in the mysteries of space by exploring stars, planets, and galaxies.
The state-of-the-art facility provides educational shows, making complex astronomical concepts accessible to children.
Visiting the planetarium feels like embarking on a space journey, where one can witness the beauty of a meteor shower or the rings of Saturn. This makes it a magical experience for kids and adults.
Visit the Global Exhibition
The Global Exhibition at Children's City Dubai is a cultural mosaic showcasing the rich diversity of various countries and civilizations. It offers interactive displays, allowing kids to experience different cultures, traditions, and lifestyles worldwide.
Young minds may also gain a global perspective through experiencing the music and culture of other parts of the world, such as Africa, Europe, and Asia.
Discover the Earth-Science Gallery
The Earth-Science Gallery at Children's City Dubai is a treasure trove of knowledge about our planet. It offers hands-on activities and exhibits related to geology, environmental science, and meteorology.
Children can experience the thrill of an earthquake simulator, understand the formation of rocks and minerals, and learn about weather patterns and climate change.
Anyone exploring the Earth-Science Gallery can feel like a geologist discovering the secrets buried within the Earth's crust or a meteorologist predicting the next big storm.
Explore the Nature Center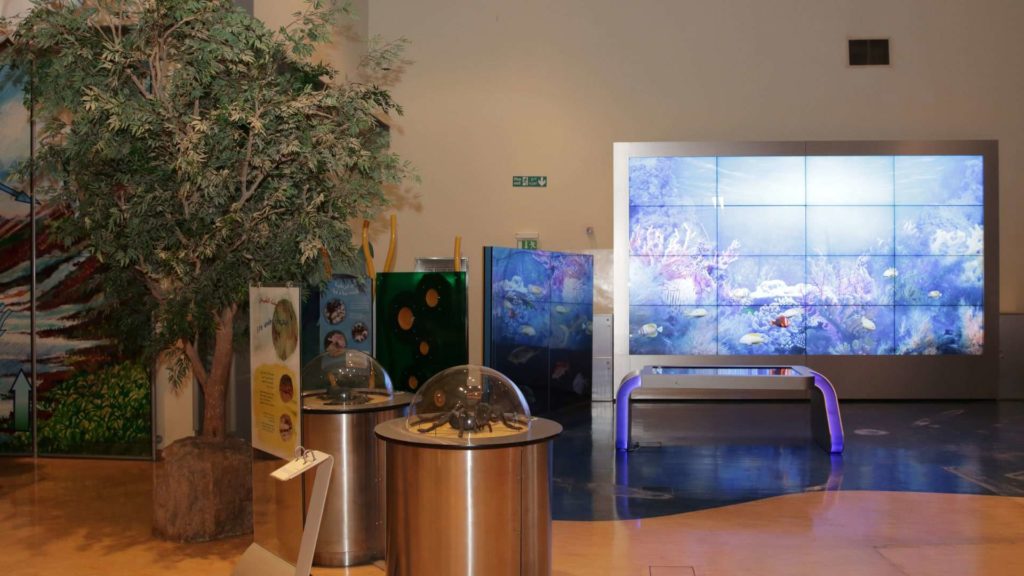 The Nature Centre at Children's City Dubai is a sanctuary of flora and fauna, allowing children to explore the wonders of the natural world. It provides insights into diverse ecosystems, animal behaviors, and plant life.
Whether observing the spider's intricate web or learning about the photosynthesis process of plants, the centre offers a close encounter with nature.
The experience here is like stepping into a rainforest, experiencing the symphony of nature sounds, and discovering the delicate balance of life.
Engage with the Technology Gallery
The Technology Gallery at Children's City Dubai is a bustling hub of innovation and discovery. It introduces children to the latest technological, engineering, and computer science advancements through interactive exhibits.
Here, kids can experiment with robotics, delve into coding, or explore engineering principles. This fosters their curiosity and passion for STEM subjects in an engaging and hands-on way.
Learn about the Human Body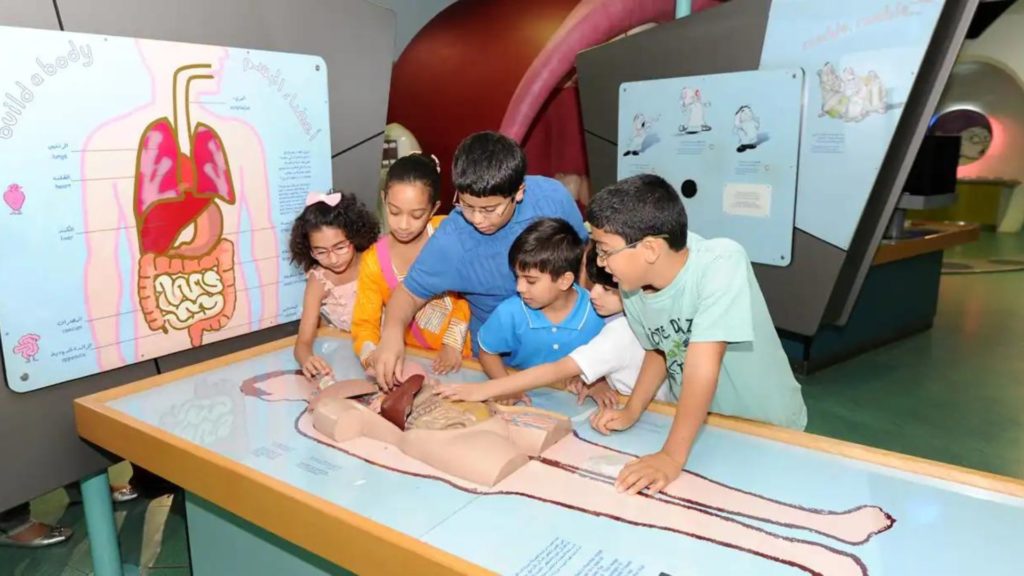 The Human Body Exhibit in Children's City Dubai is a journey through the intricate systems and organs of the human body. It offers interactive displays and models, helping children understand anatomy, physiology, and health.
Whether you're exploring the complexities of the human brain or the dynamics of the muscular system, the exhibit provides a comprehensive insight into the human body.
Here, you can immerse yourself in the role of a doctor, perhaps listening intently to the rhythmic heartbeat of a patient through a stethoscope or meticulously studying X-ray images – all while unraveling the intricate wonders of human anatomy.
Play in the Toddler's Area
The Toddler's Area at Children's City Dubai is a colorful and vibrant space designed for young learners under 6. It offers a variety of age-appropriate games, activities, and entertainment options.
Little ones can engage in creative play, develop motor skills, and interact with other children in a safe and nurturing environment.
The area is also a miniature playground where toddlers can slide, swing, and explore, fostering early learning and development.
Participate in Hands-on Workshops
The hands-on workshops at Children's City in Dubai are interactive learning sessions where children can acquire new skills and knowledge.
Here, children delve into a world of learning and exploration, engaging in activities like painting masterpieces in art workshops, constructing simple machines in science workshops, or programming their first lines of code in technology workshops. 
Where to Eat Nearby Children's City Dubai
Fujiya
Address: Casablanca Street, Millennium Airport Hotel
Phone: +971 4 702 8846
Pricing: $$
Website
The Fujiya is a distinguished restaurant located in the Millennium Airport Hotel near Children's City Dubai, known for serving authentic Japanese cuisine in a serene ambiance reflective of Japanese elegance.
The ambiance is tranquil and reflects the refined elegance of Japanese culture, and the culinary offerings are meticulously crafted, providing patrons with a genuine taste of Japan.
Every dish, be it sushi or barbecue, represents a culinary masterpiece that highlights the remarkable talents of the chefs. This restaurant is famous for its unmatched quality and is a must-visit for those who appreciate genuine Japanese cuisine.
Eve Penthouse & Lounge
Address: 20th Street, 34th Floor of Hyatt Regency Dubai Creek Heights
Phone: +971 4 553 1212
Pricing: $$-$$$
Website
The Eve Penthouse & Lounge, located near Children's City Dubai and part of the Hyatt Regency Dubai Creek Heights, is an opulent restaurant known for its extensive menu and exquisite lounge setting.
It offers a rich culinary array, featuring dishes from Italian to Asian cuisine and a variety of sushi, all served in an exquisite lounge setting renowned for its outstanding service.
The panoramic vistas of Dubai complement the refined dining experience, making it an ideal locale for those seeking a luxurious evening in an elegant setting.
Sufra Restaurant
Address: 20B St, Hyatt Regency Dubai Creek Heights
Phone: +971 4 553 1212
Pricing: $$-$$$
Website
The Sufra Restaurant, which is 0.3 km away from Children's City Dubai, is a prestigious culinary venue offering a harmonious blend of Mediterranean and Middle Eastern cuisines in a warm and inviting setting.
The culinary creations here are flavorful, like Buttermilk Pancakes, a light and fluffy classic breakfast, customizable with various toppings, and Wild Berry Waffles, a crispy delight balancing sweet and tart berry flavors.
It's a venue where every dining experience is celebrated, and exceptional hospitality ensures a desire for subsequent visits.
Market24
Address: 20th Street, Lobby Level at Hyatt Regency Dubai Creek Heights
Phone: +971 4 553 1262
Pricing: $$$
Website
The Market24, located approximately 0.2 miles away from Children's City Dubai, is a culinary haven known for its various cafes and international and Asian cuisines, served in a cozy and friendly environment.
You can choose from various culinary options for lunch and supper, including salads, sandwiches, pasta, light main meals, pizzas, and desserts.
Vegetarian and vegan options created using quality ingredients are also available for the food-conscious.
La Tablita Dubai
Address: 20th Street, Lobby Level, Hyatt Regency Dubai Creek Heights
Phone: +971 4 553 1212
Pricing: $$
Website
The La Tablita, about 4.3 kilometers from the Children's City Dubai is a vibrant restaurant specializing in Mexican and Latin cuisine, known for its spirited atmosphere and tasty dishes.
The spicy flavors here, like in dishes Vuelve a la Vida Ceviche and Guacamole, can also transport you to the fiery culture of Mexico.
Just make sure you know your limits and know how much spice you can handle to avoid any problems later.
Where to Stay Nearby Children's City Dubai
Grand Hyatt Dubai
Address: Grand Hyatt Dubai Oud Metha Road, Dubai Healthcare City Riyadh Street
Phone:  +971 4 317 1234
Pricing: $$
Book now
If you find yourself hungry and longing for spectacular Dubai views after a visit to Children's City Dubai, the Grand Hyatt Dubai is the ideal destination to consider.
You can enjoy various culinary experiences in its 13 diverse restaurants and bars, each representing different global cuisines, from Italian to Indian and Lebanese.
Its award-winning spa and four distinctive pools, including a lagoon-style one, offer relaxation too!
Plus, nearby attractions like the extensive Wafi Mall and the iconic Dubai Frame provide magnificent panoramic city views and enrich your stay with local flavor and culture.
Sofitel Dubai The Obelisk
Address: Wafi – Sheikh Rashid Rd – Umm Hurair 2 – Dubai
Phone: +971 4 324 9999
Pricing: $$$
Book now
If you're planning a visit to the enchanting Children's City Dubai and are looking for luxurious accommodation nearby, consider the Sofitel Dubai The Obelisk.
This hotel is a unique fusion of Asian and Egyptian aesthetics, featuring 498 elegantly furnished rooms and suites, each adorned with ancient Egyptian-inspired art.
It also features five dining establishments offering a range of cuisines, including French, Asian, and Mediterranean.
When you're feeling bored or restless, you can rejuvenate at the Sofitel Spa with L'Occitane and enjoy the outdoor pool with a swim-up bar.
Rove Healthcare City – Bur Dubai
Address: 19th Street – Oud Metha Rd – Dubai
Phone: +971 4 561 9200
Pricing: $
Book now
Rove Healthcare City – Bur Dubai is a hotel known for its affordable, comfortable, and convenient accommodations near Children's City Dubai.
Its strategic location facilitates effortless exploration of the abundant cultural and historical landmarks found in Bur Dubai.
The rooms are also filled with amenities like complimentary WiFi, a mini-fridge, a sofa bed, and a smart TV to ensure guests have a pleasant stay. In addition, there's a swimming pool, a gym, a self-service laundromat, and a convenience store.
Additionally, you can indulge in a wide array of international dishes here, including East Asian, Arabic, and Western cuisine, at The Daily Restaurant located within the hotel.