Dressing to Impress: What Female Tourists Should Know
Many are aware that Dubai is pretty strict overall, but did you know that its dress code for women has become a bit more relaxed over time?
Now, female tourists can wear less conservative clothing—as long as it still respects local culture. You just need to understand what to wear and when.
If you wish to know more about the nuances of Dubai's dress code, read further!
What do the women in Dubai typically wear?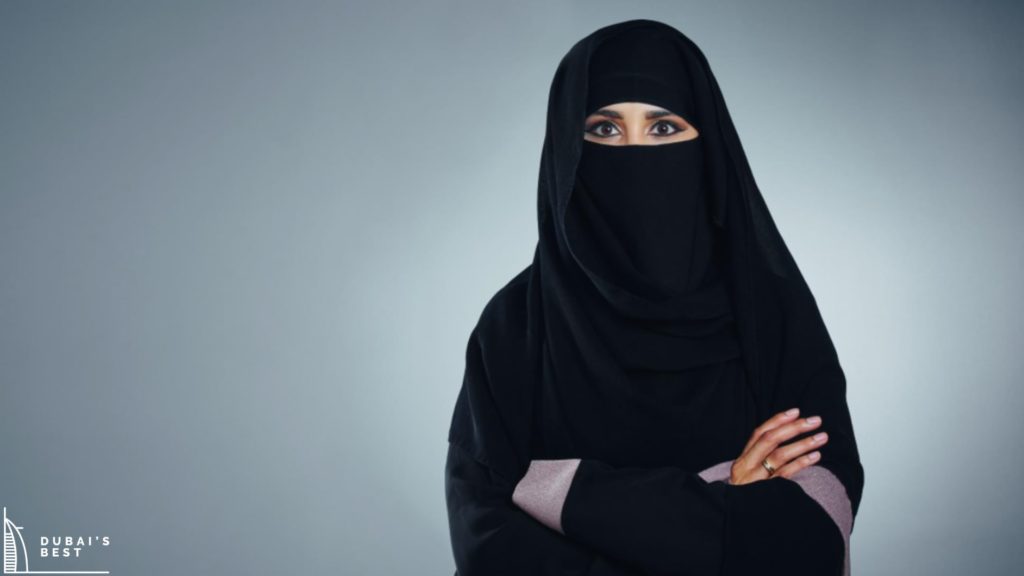 In Dubai, you'll often see Emirati women wearing an abaya, which is a loose-fitting black cloak covering everything except their face and hands.
While you're not obligated to wear an abaya as a female tourist, it's still a great idea to dress modestly out of respect for their customs.
If you're planning to visit Dubai, it's crucial to know this bit about the local culture to appreciate and respect their dress code.
How should female tourists dress in Dubai?
As a female tourist in Dubai, you can wear dresses, jumpsuits, shorts, and knee-length or longer skirts, as well as tops that cover your shoulders and chest.
Female tourists in Dubai have some freedom in choosing their outfits, but they must follow some basic rules and respect local culture.
Here's the deal: avoid clothes that are too revealing or tight, like crop tops, low-cut tops, mini skirts, or leggings. Make sure to cover your shoulders, midriff, and cleavage when you're in public places.
At the beach or pool, it's okay to wear swimsuits and bikinis. Just note that you have something to cover up with afterward.
Later, when you're exploring historical places or cultural sites, remember to dress modestly as well. It's a good idea to wear abayas, or head coverings, especially when you're visiting mosques.
When it comes to colors in Dubai, it's a good idea to go for modest and neutral choices like whites, pastels, and earthy tones.
These colors not only show cultural respect but also help you stay comfy in the city's warm weather. Feel free to add some subtle personal style choices while keeping these guidelines in mind.
Can I wear shorts in Dubai?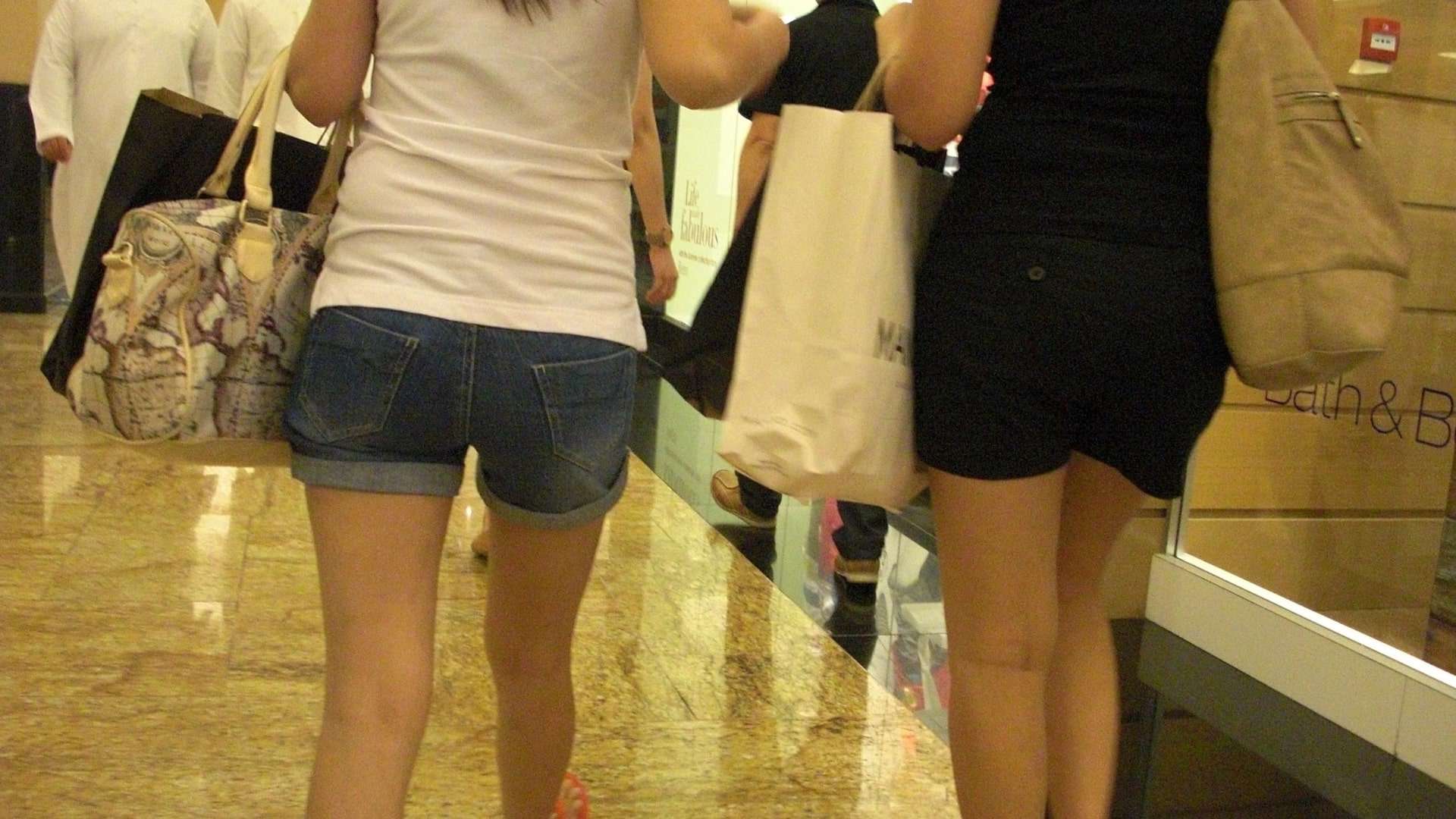 You can wear shorts in Dubai, but there's a catch: make sure they're knee-length or longer.
Anything above the knee for women in the city is a no-go as it's considered too revealing and inappropriate.
Instead, go for knee-length shorts that cover your knees when you're standing in public places and long pants when you visit mosques. And avoid wearing shorts in business or formal settings either, as it's seen as unprofessional.
Can I wear crop tops in Dubai?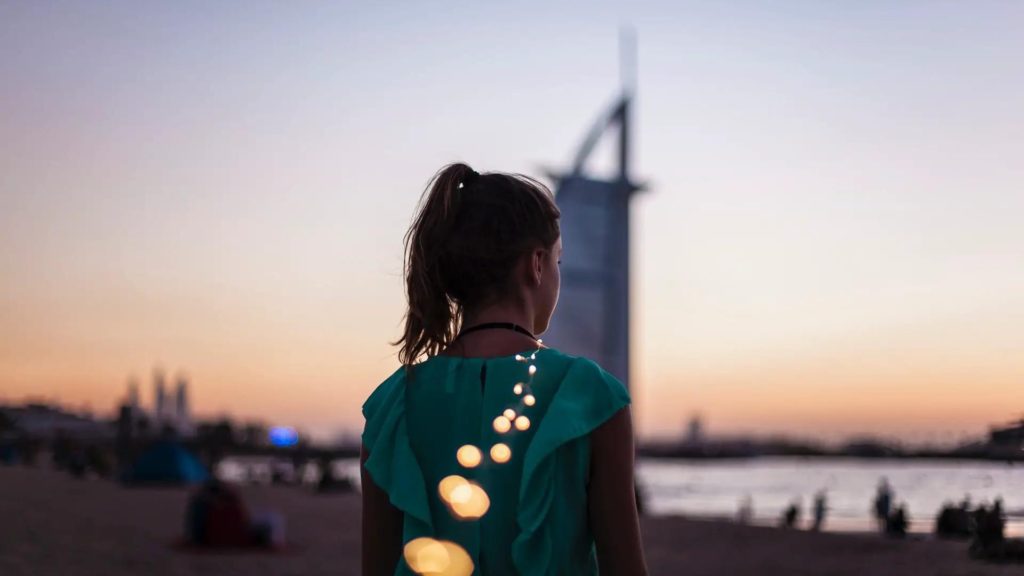 You can't wear crop tops in Dubai because they show your midriff and might offend some locals.
Whether they're tourists or not, women can't wear them in public places like shopping malls because then you might be asked to cover up or leave.
To keep it modest, it's best to go for tops that cover your stomach, and you can pair them with high-waisted bottoms. Adding a jacket, cardigan, or shawl to cover your midriff and shoulders is also a wise decision.
Can I wear leggings in Dubai?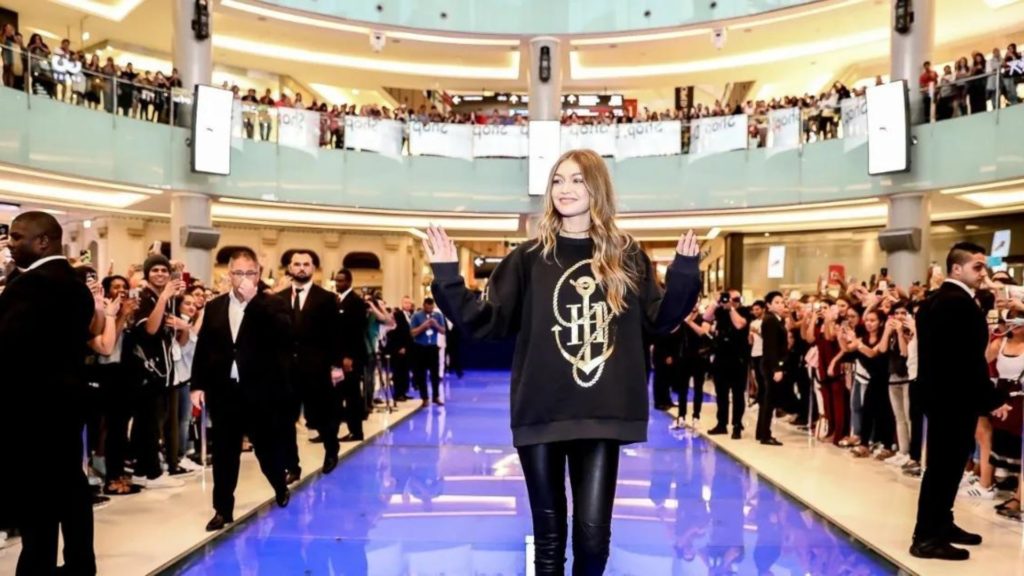 Leggings are okay to wear in Dubai if you wear them under a dress, but it's necessary to avoid tight and revealing bottoms.
Pairing leggings with a longer top seems like a practical choice, allowing you to stay comfortable and respectful of local sensibilities. This way, you'll have a more modest look that respects the local culture.
Can I show my shoulders in Dubai?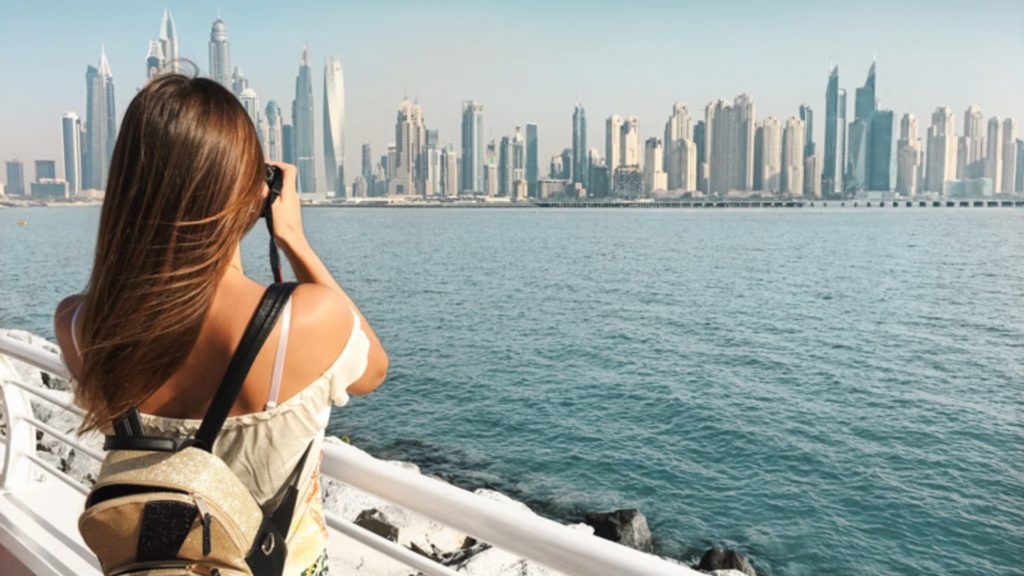 Showing your shoulders in Dubai is acceptable in some situations. You can do so in casual settings like beaches, water parks, public pools, and spa areas.
But when you're in more formal or conservative places like business districts, shopping malls, government buildings, museums, and historical areas, it's best to cover your shoulders with tops that extend down to your chest.
And remember, when visiting mosques, it's recommended to go for loose-fitting, conservative clothing that covers your shoulders, head, and ankles.
How can I dress appropriately for different Dubai occasions?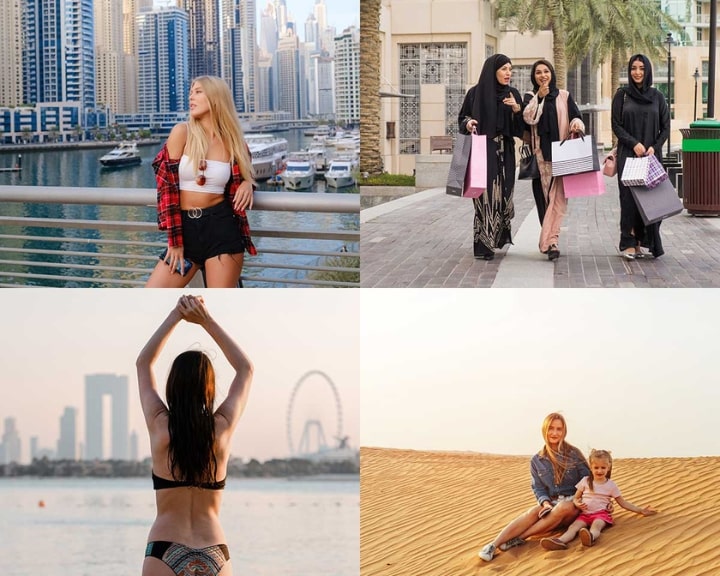 Dubai is a city with a lot of diversity, and your outfit choices can vary depending on where you're headed. Let's dive into some tips for dressing right in various situations:
Visiting Religious Sites
If you're planning to visit mosques or religious sites in Dubai, there are some dress code guidelines to keep in mind. This includes covering your hair and wearing loose-fitting clothing that covers your entire body.
It's also a good idea to carry a scarf or shawl to further cover your head and shoulders.
Going to the Beach
Dubai's beaches are perfect for soaking up the sun and enjoying the water, but it's highly advised to choose a one-piece swimsuit or a bikini that provides good coverage.
Modesty is still the key here. Avoid overly revealing swimwear that might not go down well with the locals.
Dining Out or Attending Events
Dubai's dining and nightlife scene is vibrant, and dressing up is the norm. However, it's smart to keep it classy and avoid wearing anything too revealing.
More specifically, pick sophisticated outfits that cover your shoulders and knees.
How can I stay comfortable while following the dress code?
When following Dubai's rules for dressing up, it's vital to stay comfy, especially in the hot desert climate. Keep your cool with these tips:
Go for light, breathable fabrics like cotton, linen, and silk.
These natural materials keep you cool in the desert heat. Also, avoid synthetic materials that can make you sweat and feel uncomfortable.
Layer your clothing so you can adjust to changing temperatures and locations.
For example, wear a light jacket, cardigan, or shawl over your outfit and remove it when you're at the beach, pool, or indoors with air conditioning.
Don't forget to apply sunscreen, wear sunglasses, and put on a hat when you're out in the sun.
Dubai's sun is intense and can lead to sunburn, dehydration, or heatstroke. Reapply sunscreen throughout the day and stay well-hydrated by drinking plenty of water.
Dress in stylish outfits and shoes that suit the occasion and location: Dubai is all about glamour and sophistication, and many places have a dress code that calls for smart casual or formal attire.
For instance, if you're heading to a fancy restaurant, bar, club, or lounge, go for a dress, suit, or cocktail attire and avoid jeans, sneakers, or flip-flops.
If you're unsure, it might do you good to check the place's website or give them a call to confirm the dress code.
Always be respectful of local customs and traditions.
As a visitor, it's essential to be polite and considerate of the locals and avoid wearing anything that might be seen as rude, offensive, or inappropriate.
If you're in public and someone asks you to cover up or change your outfit, it could be very frustrating. But more often than not, it's best to cover up to avoid further conflict.
In addition, refrain from public displays of affection like kissing, hugging, or holding hands, as they may not be well-received and could even be against the law.
What are the do's and don'ts for being stylish in Dubai?
To ensure a hassle-free experience in Dubai, here are some handy reminders when it comes to being respectful about dress codes:
Do's:
Follow the dress code in public places like malls, markets, cinemas, on the street, in your car, in supermarkets, and in public areas of hotels.
Feel free to wear what you want in the comfort of your home.
Wear bikinis or swimsuits by the pool or at the beach. Yet, you must avoid going topless or wearing thong-style bottoms.
Change into appropriate clothing right after being at the pool or the beach. It's best to have a towel or something to cover up when you're done swimming.
After your workout at the gym, make sure to get fully clothed again.
Don'ts:
Don't wear swimwear while going to shops or malls after being at the beach or pool. Carrying a cover-up, like a sarong or a sundress, to wear over your swimsuit when you're not at the beach or pool is a good practice.
Don't wear see-through clothing over a wet swimsuit, as well as see-through sarongs over a swimsuit or bikini.
Don't go to the petrol station shop in crop tops and shorts after the gym, as this can be considered offensive.
Don't show any hints of your underwear. This means no briefs, g-strings, bras, or other similar items should be visible through your clothing.