Shopaholic's Paradise: A Guide to Dubai Festival Plaza
Love to shop? Then you might be interested to know that in Japan, they have "crying rooms" where shoppers can let out their stress and frustrations – it's retail therapy at its finest!
Lucky for you, it's not like that in Dubai Festival Plaza. This is a mall with a vibrant atmosphere and a sense of community, which makes it unique!
If you're ready for this retail adventure, keep reading and start your shopping spree with us!
What is the Dubai Festival Plaza?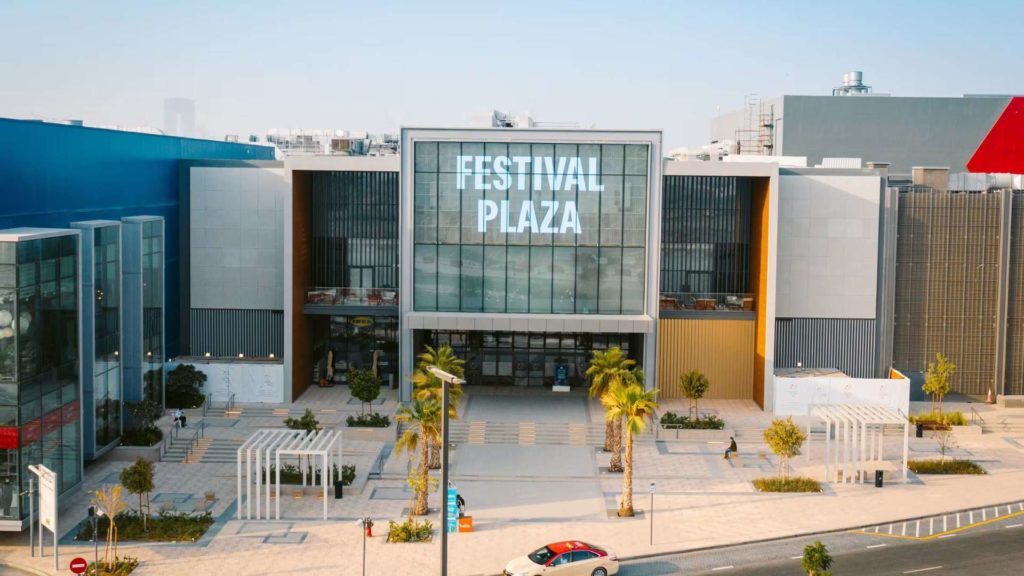 Dubai Festival Plaza is a popular shopping and entertainment spot. It's a shopping mecca, with loads of big-name brands, cool little boutique stores, and shops for all kinds of tastes.
Now, here's the scoop: The Al-Futtaim Group is the brain behind this place, and they're all about making it family-friendly. You've got a whole bunch of stores, places to munch, and fun things to do.
In this mall, you can shop for famous international and local brands, get the latest fashion, and buy some nifty electronics. The mall is big, modern, and comfy for all your shopping needs.
But it's not just about the retail extravaganza. There's a cinema for the latest movies, an indoor trampoline park for some bouncy fun, and an arcade for exciting games. Plus, you can enjoy food from all around the world!
Best Time to Go
The best time to go to Dubai Festival Plaza is from November to March, when the weather is cool enough for outdoor fun.
Now, if you're into the buzz and energy, the weekends are your jam, especially Thursday and Friday evenings for more people, deals, and excitement.
And during the holiday season, the mall may have special events and festive decorations, making it a delightful place to soak up the holiday spirit.
But if you prefer a quieter experience, no worries! Weekdays at the plaza are better with fewer visitors around.
To plan your visit like a pro, you may swing by the Dubai Festival Plaza website or give their customer service a call to see what special events and deals are happening during your visit.
Things to Know
Website: https://www.dubaifestivalplaza.com/home/
Address: Jebel Ali Village, Dubai, United Arab Emirates
Contact details: +971 800 332
Operating hours:
Monday to Thursday, 10 AM to 10 PM
Friday to Sunday, 10 AM to 12 AM
Entry Fee: Free for everyone
Parking: Keep in mind that parking here can get a bit tight when it's busy. And if needed, note that they've got special spots for people with disabilities.
​​How to Get Around
Getting to and around Dubai Festival Plaza is a piece of cake! Here are your options:
By car: Getting around via car here is relatively easy. Simply enter "Dubai Festival Plaza" into your map app or GPS, and you'll be directed to the right spot.
But if you're on Sheikh Zayed Road (E11), take the Dubai Investments Park (DIP) exit. Go south on D59. You'll spot Dubai Festival Plaza on your right.
If you're coming from Dubai Bypass Road (E311), use the DIP exit, keep going straight, and you'll find the plaza on your left.
Taxi: Just flag one taxi down and make sure that its meter's running. Then, tell the driver to take you to Dubai Festival Plaza.
Metro: The Jebel Ali Metro Station and Energy Metro Station on the Dubai Metro Red Line are the nearest metro stations. From there, you can catch a taxi or hop on a bus to get to the plaza.
Bus: Taking a bus? Cool. You've got some options:
From Dubai Mall: Go to the Dubai Mall Bus Stop near the Grand Parking Entrance and catch bus number F28. It'll whisk you to Studio City, which is the closest stop to Dubai Festival Plaza. The ride lasts about 40 minutes.
From Mall of the Emirates: Head to Mall of the Emirates Metro Station 2, and take bus number F29 to Studio City. It should take around 35 minutes.
From Al Barsha South, Lulu Village: Get on bus number F34 at Al Barsha South, Lulu Village Bus Stop, and head to Studio City. The journey takes about 25 minutes.
Once you're in Studio City, Dubai Festival Plaza is just a quick walk away. You can use navigation apps or follow signs to the plaza.
What to Do at Dubai Festival Plaza
Shop at IKEA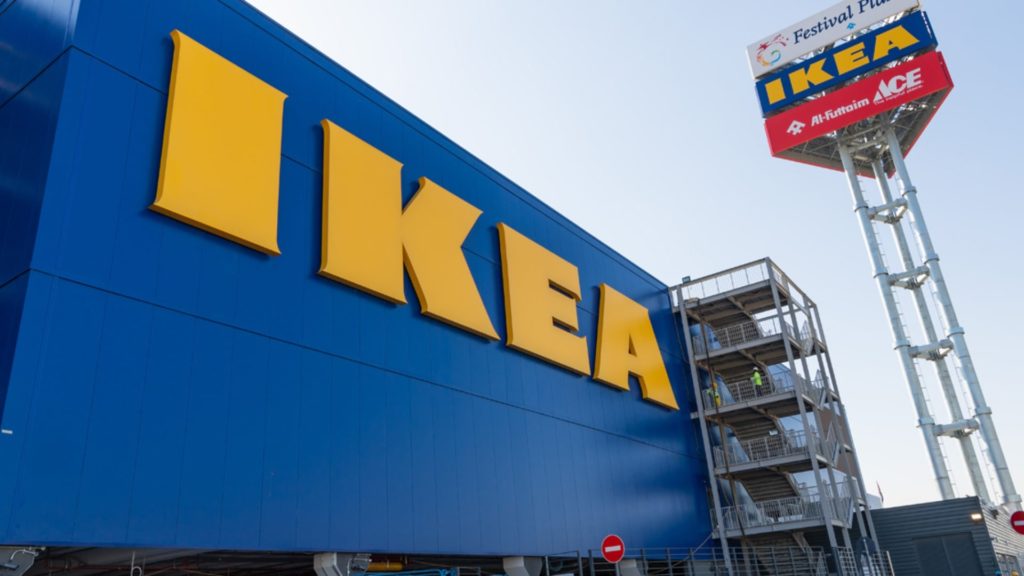 IKEA at Dubai Festival Plaza is your go-to place for stylish furniture and home inspiration.
You've probably heard of this Swedish furniture giant – they're kind of a big deal worldwide! They've got a wide array of furniture, decor, and home goods to suit all tastes and budgets.
At this gigantic place, you can happily explore their showroom. They've set up different living spaces to show how their stuff looks in real homes.
You can also visit the market hall, where they've got smaller things like kitchen goodies, textiles, and lights.
But to make sure you don't get lost in this vast store, remember to grab a store map or use the store's app – this can be a lifesaver for navigating through all the sections!
Participate in the Festival Plaza Design Hub
Dubai's Festival Plaza Design Hub is a creative gem within Festival Plaza. It's a haven for those who appreciate chic interiors.
In collaboration with RA Studio, the Design Hub offers complimentary interior design services with a single goal: to help you craft a home that resonates with your unique style.
What's more, it's a vibrant hub for events, exhibitions, workshops, and talks spanning various design realms, from fashion to interior and graphic design.
A visit to the Dubai Festival Plaza Design Hub also promises a feast for the eyes with its distinctive creations.
It's a platform for discovering fresh talents, with opportunities to enhance your design skills through workshops and engaging discussions on design and creativity.
It doesn't matter if you're a design fan, a pro designer, or just curious about design – the Design Hub is a place where you can dive into your artistic self and hang out with like-minded individuals.
Visit the Community Garden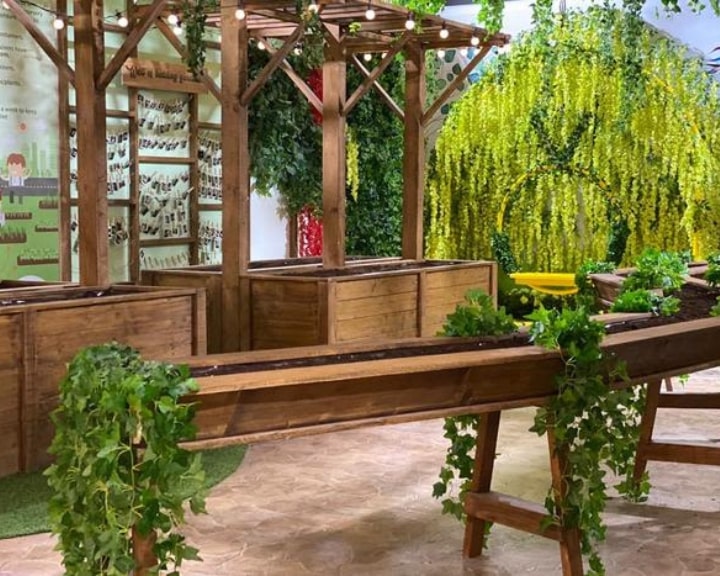 The community garden at Dubai Festival Plaza is all about fostering sustainability, community engagement, and green spaces. It's a place that brings people together by providing a spot to grow fruits, veggies, and herbs.
Individuals and families can rent a plot in the garden to grow their plants and harvest what they produce. It's a fantastic option for those who don't have an outdoor garden space at home.
Plus, their workshops and events are like a gardening school, teaching you not only how to grow but also how to compost and keep it all eco-friendly.
Overall, the experience here won't just revolve around gardening. You'll also probably have a bloomin' good time that connects you with fellow green thumbs!
Work Out at the Champs Sports Club
If you're into sports or just want to have a good time, Champs Sports Club at Dubai Festival Plaza is the place to be! They've got a ton of options for sports, fitness, and fun.
The club boasts top-notch sports facilities, both indoors and outdoors. This is where you can play football, basketball, tennis, and volleyball. Plus, you'll find fitness centers, swimming pools, and areas here for group workouts.
And this sports club doesn't stop there! The staff hosts different sports events, leagues, and tournaments all year round, bringing in athletes and fans from all walks of life.
But if sports aren't your thing, the club has other fun stuff too! There are gaming zones, bowling alleys, and a sports bar, making it a great place for you to hang out with friends.
Where to Eat near Dubai Festival Plaza
La Brioche Bay Avenue
Address: Ground Level, City Centre Mirdif, Dubai
Phone: 04 251 5515
Pricing: $$
Website
La Brioche, a famous bakery and cafe near Dubai Festival Plaza, is the place to satisfy your cravings. They've got a delightful range of freshly baked goodies, like pastries, bread, cakes, and sandwiches.
On their pastry menu, you'll find classic French treats such as croissants, pain au chocolat, and éclairs, along with tasty quiches and stuffed pastries. They also have signature cakes for special occasions or just for a little self-indulgence.
And if you're looking for your new favorite drink, they've covered you with coffee, tea, smoothies, and juices.
Bombay Chowpatty Ibn Batutta Mall
Address: Ibn Batutta Mall, Sheikh Zayed Road, Dubai, United Arab Emirates
Phone: +97142026589
Pricing: $-$$
Website
Bombay Chowpatty is an Indian street food restaurant near Dubai Festival Plaza. It's got a lively atmosphere and a menu that's all about the flavors of Mumbai, inspired by the bustling Chowpatty beach.
Here, you'll find a bunch of genuine Indian snacks like bhel puri, pani puri, sev puri, and pav bhaji, plus chaats, dosas, and kebabs. They also serve tasty drinks like lassi and falooda to accompany your meal.
Chili's
Address: Festival Centre, Dubai, United Arab Emirates
Phone: +971 4 705 9676
Pricing: $$
Chili's at Dubai Festival City is a well-liked restaurant and a branch of the famous American restaurant chain Chili's Grill & Bar.
The place serves a diverse menu with a Tex-Mex focus, featuring mouthwatering burgers, ribs, fajitas, salads, and sizzling skillet dishes.
You can also enjoy appetizers, including their famous chili con queso and never-ending chips. To quench your thirst, they offer a variety of refreshing drinks and cocktails.
Where to Stay near Dubai Festival Plaza
Premier Inn Dubai Ibn Battuta Hotel
Address: Garden Cross Road, Jebel Ali Village, Dubai
Phone: +971 600 500503
Pricing: $
Book now
The Premier Inn Dubai Ibn Battuta Hotel is a fantastic accommodation close to Dubai Festival Plaza. It's located near the iconic Ibn Battuta Mall, giving guests easy access to major attractions like Palm Jumeirah, Dubai Marina, and Jumeirah Beach.
The rooms come with a flat-screen TV offering satellite channels, and some even have views of Dubai Marina. You're guaranteed a good night's sleep on their signature Hypnos beds too!
When it comes to dining, the hotel has excellent options as well. Nuevo Restaurante serves delicious international cuisine, like Moroccan Tagine, a slow-cooked stew with tender meat and aromatic spices.
Crowne Plaza Festival City, IHG Hotel
Address: Dubai Festival City – Dubai – United Arab Emirates
Phone: +971 4 701 2222
Pricing: $$
Book now
The Crowne Plaza Festival City is a luxurious escape near Dubai Festival Plaza, with a beautiful location next to Dubai Creek. The hotel offers stunning views from its stylishly designed rooms, especially at sunset.
After a day of exploring, you can relax at the hotel's spa or treat yourself to gourmet dining at Zaytoun, one of its top-notch restaurants.
The free local shuttle service is a big help as well, making it easy for you to get around the city.
InterContinental Dubai Festival City, IHG Hotel
Address: Dubai Festival City – Dubai – United Arab Emirates
Phone: +971 4 701 1111
Pricing: $$$
Book now
The InterContinental at Dubai Festival City offers top-notch five-star accommodation near Dubai Festival Plaza. The rooms have fantastic views overlooking Dubai Creek, and you can even see the impressive Burj Khalifa on the city skyline.
The hotel's design also combines modern style with traditional Arabesque elements. Another thing to be excited about is their infinity pool, which seamlessly blends with the waters of Dubai Creek.