Dubai Crocodile Park: A Guide to its Mesmerizing Exhibits
Hold onto your hats because we're about to dive headfirst into the wild world of Dubai Crocodile Park!
Did you know that crocodiles are one of the oldest living species, having survived for over 200 million years? That's even older than Mount Everest, the highest peak in the world!
If you're eager to learn more, continue reading and journey into the heart of crocodile territory with us!
What is the Dubai Crocodile Park?
Dubai Crocodile Park in Mushrif Dubai is home to 250 Nile Crocodiles, offering educational exhibits, including a Natural History Museum, an African-themed aquarium, and a Savanna landscape.
You can stroll around and see these Nile Crocs – some of them are as long as 5 meters! They've got fancy enclosures that mimic their natural homes, so you can really get a feel for where they come from.
It's like a crocodile extravaganza with different types of crocs, each more intriguing than the next. From the big and mighty Nile crocs to the agile Siamese ones, they've got a whole gang of these ancient reptiles.
Also, roaming around the park's well-designed enclosures and watching these magnificent creatures in their natural habitats could make you in awe of their size and strength.
Moreover, you'll find informative exhibits in the park. These would give you a deeper insight into crocodile behavior, biology, and conservation efforts.
Throughout your adventure, feel free to engage with the knowledgeable staff, who are more than happy to educate visitors on the importance of preserving these incredible creatures and their habitats.
Best Time to Go
The best time to visit Dubai Crocodile Park is between October and April. The favorable weather during these months would allow you to comfortably view the outdoor exhibits in the partially shaded outdoor area.
But it's worth noting that the park gets more crowded on weekends, holidays, and peak hours. If you prefer a quieter experience and shorter wait times, it's smart to visit on weekdays or during non-peak hours.
Moreover, don't forget to check the park's schedule, closures, or special events before planning to avoid disappointment. This way, you can maximize your time at the park.
Things to Know
Website: https://dubaicrocodilepark.com/
Location: Mushrif Park, Dubai
Contact details: +971 4 266 3700
Operating hours: Monday through Sunday, 10 AM to 8 PM
Entry Fee:
Kids (aged 3 to 12): AED 75
Adults: AED 95
Parking situation: Good news! They've got a bunch of free parking spots. But if you want a nice spot, it's a good idea to show up early, especially when it's super busy.
How to Get Around
So, you're all set to go to the Dubai Crocodile Park – here's how to zip there quickly:
Car: Accessing the park by car is easy via the straightforward route from Sheikh Mohammad Bin Zayed Road.
Bus: You can hop on the F10 bus to the School of Research Science. From there, it's a 10-minute walk.
Metro: The metro doesn't take you right to the park, so you'll have to cover about 10 kilometers from the Etisalat Metro Station, which is the closest one.
Taxi: Taxis are readily available throughout Dubai. Hail a taxi from anywhere in the city and ask the driver to take you to the Dubai Crocodile Park or Mushrif Park. Given the park's popularity, most taxi drivers would know the location.
What to Do at Dubai Crocodile Park
Dive into the the World of Crocodiles
The World of Crocodiles in Dubai is a haven for 250 Nile Crocodiles. When you stroll through, you'll feel like you're right by the Nile River, watching these magnificent creatures soak up the sun or smoothly slide through the water.
And get this, you'll see crocs of all sizes, from tiny hatchlings to giant adults! It's a rare chance to get up close and personal with these ancient creatures.
What would be cool to see is how the crocodiles move in harmony, like they're dancing to nature's own tune.
Visit the Natural History Museum
Visiting the Natural History Museum at Crocodile Park would feel like going to a time machine. The place tells the story of how crocodiles evolved, displaying fossils and ancient artifacts dating back millions of years.
The museum also uses interactive displays and lifelike dioramas to recreate the time when dinosaurs and crocodiles shared the Earth.
One part that could be a real eye-catcher is the bit about why dinos disappeared but crocs kept on thriving – it's a real testament to how tough these creatures are!
Discover the African Lake Themed Aquarium
The African Lake Themed Aquarium at Crocodile Park is a mesmerizing underwater world that mirrors the vibrant ecosystems of African lakes.
As you gaze into the clear waters, you'll spot colorful fish darting around and, more impressively, female crocodiles gracefully swimming amid them.
It's a bit of a yin and yang thing – the calm aquatic life and the stealthy predators sharing the same space.
Experience the Savanna-Inspired Landscape
The savanna-inspired landscape of Crocodile Park is like a slice of Africa in Dubai. As you wander through it, the tall grasses, acacia trees, and distant sound of African drums make you feel like you're on a safari.
It's a serene spot to observe crocodiles in a setting that mimics where they come from – their natural home.
Watch the Crocodile Feeding Sessions
One of the Crocodile Park's most thrilling attractions is the crocodile feeding sessions, usually held on weekends. These sessions give visitors a firsthand look at crocodiles' incredible power and precision when they hunt.
You'll probably be on the edge of your seat as the keepers get ready with the food, and these massive reptiles lunge for their meal.
During this session, it's likely that many will watch with increasing amazement as some crocodiles will jump nearly halfway out of the water to catch their prey.
Hold a Baby Crocodile
Ever wanted to hold a baby croc at Crocodile Park? These little guys are nothing like their big, scary parents – they've got soft undersides and scales that are still growing.
As you cradle one of these tiny crocs in your hands, you will feel its heart beating, reminding you of the life within. With their innocent eyes and tiny snouts, the baby crocodiles would probably look at you with childlike curiosity.
Don't worry; the park's experienced staff will show you how to hold the baby crocs safely. It's a cool experience that you won't forget!
Visit the Curio Shop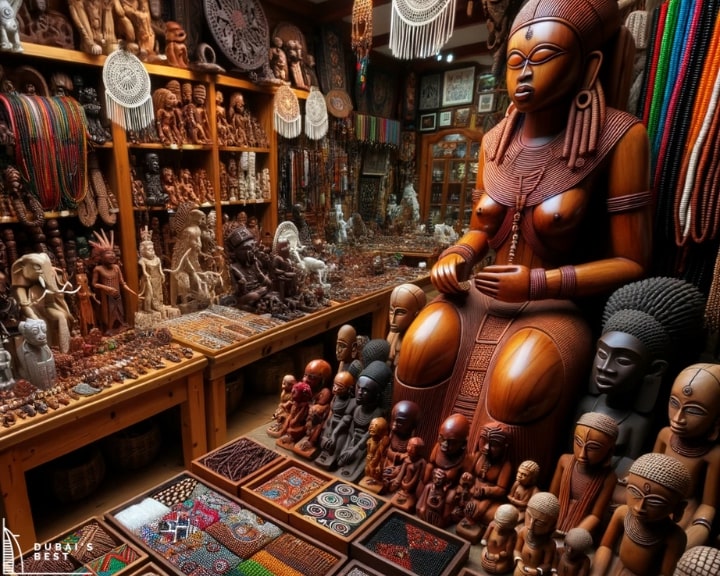 Want to see some unique finds? The Curio Shop at Dubai Crocodile Park is a treasure trove of handcrafted African artifacts.
Each item tells a story of African heritage and craftsmanship, from intricately carved wooden statues to vibrant beadwork – it's the best spot to find a one-of-a-kind memory or souvenir!
Where to Stay Nearby Dubai Crocodile Park
Millennium Place Mirdif
Address: Mirdif Hills Avenue – Dubai
Phone: +971 4 605 7777
Pricing: $$
Book now
Millennium Place Mirdif Hotel, located near Crocodile Park, offers something for everyone when it comes to dining and leisure.
They've got a bunch of restaurants and cafes serving different types of food, like international dishes, Lebanese cuisine, sandwiches, hot buffets, and delicious desserts.
If you want to unwind, this accommodation also has a rooftop pool, a fitness center, and spa treatments to help you relax. Plus, their modern rooms have killer city views and all the modern amenities you could wish for.
Holiday Inn Dubai Festival City
Address: Gateway Ave – Dubai Festival City
Phone: +971 4 603 5000
Pricing: $$
Book now
Situated in the bustling Gateway Avenue Festival City, the Holiday Inn Dubai Festival City stands out for its spacious rooms and impeccable cleanliness. It's about 16.9 kilometers away from Crocodile Park.
You'll be spoiled for choice with a breakfast buffet that offers many delectable options. This goes from the hot breakfast buffet to local and regional cuisines like hummus, falafel, and other Middle Eastern specialties.
The hotel is also right next to the Festival City Mall, making it a shopper's paradise. The serene views of Dubai Creek from the hotel rooms add to the overall experience too!
Crowne Plaza Festival City, IHG Hotel
Address: Dubai Festival City – Dubai – United Arab Emirates
Phone: +971 4 701 2222
Pricing: $$
Book now
Crowne Plaza Festival City, situated near Crocodile Park, is a lavish getaway nestled in the heart of the city. Plus, it's got a fantastic location by the sparkling Dubai Creek.
You're also a hop, skip, and jump away from Dubai Festival City Mall – perfect for shopaholics!
After a day of sightseeing, you may unwind at the hotel's spa or dine at one of its world-class restaurants, such as Zaytoun. And as a bonus? They've got a local shuttle to help you navigate the city hassle-free.
Where to Eat Near Dubai Crocodile Park
Bossman's Burgr Factory
Address: Jumeirah Beach Road, 594
Phone: +971 50 341 0188
Pricing: $$$
Website
Bossman's Burgr Factory is the place to satisfy your burger cravings nearby Crocodile Park if you're searching for a trendy yet casual eatery.
The restaurant's vibe is urban and chic, drawing in locals and tourists alike. And their menu is a burger lover's dream! The restaurant boasts a variety of gourmet burgers, which are like works of art.
Don't leave without trying their signature burger too; we heard that some people who've tried it can't stop raving about it!
SIKKA Cafe – Al Khawaneej
Address: The Yard, Al Khawaneej
Phone: +971 4 284 9521
Pricing: $$
About 3.4 km from Dubai Crocodile Park, SIKKA Cafe offers a delightful fusion of cafe and Middle Eastern and Arabic cuisines.
The cafe's decor blends traditional and modern, creating a cozy atmosphere for family gatherings or intimate dinners. Their dishes are like a journey through the rich culinary heritage of the region, with each plate telling a tasty story.
The cafe is primarily known for its authentic Arabic coffee and desserts as well. Overall, a visit here is like a flavor-packed adventure through the Middle East!
Layali Mirdif Restaurant & Cafe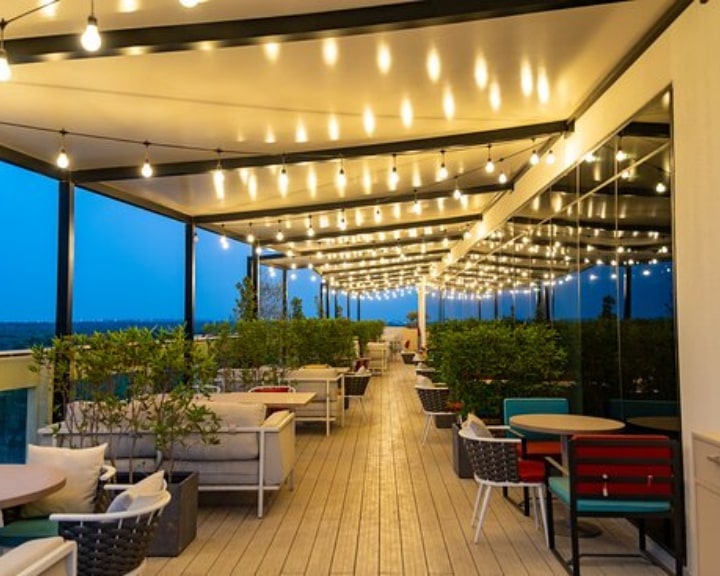 Address: 78th Street, Mirdif Hills Avenue, 5th Floor, Millennium Place Mirdif Hotel 
Phone: +971 4 605 7777
Pricing: $$
Website
Layali Mirdif Restaurant & Cafe, just about a kilometer from the Dubai Crocodile Center, is a wonderful spot for Lebanese and Mediterranean cuisine fans.
The place oozes coziness with its traditional decorations that transport you to the Mediterranean coast. They serve classics, from tasty tabbouleh salad to juicy kebabs.
If you want a great city view, check out their rooftop seating as well, as it's perfect for a romantic dinner.
Sumo Sushi & Bento Mirdif Hills
Address: Hills Avenue – Mirdif Hills Avenue Shops 20 & 22
Phone: +971 800 7866
Pricing: $$
Website
Hidden away on Mirdif Hills Avenue, near Crocodile Park, Sumo Sushi & Bento is a sushi lover's paradise. The restaurant has a sleek and modern interior infused with elements of traditional Japanese design.
Their menu includes various sushi rolls, sashimi, and other Japanese treats. Whether you're a sushi pro or a newbie, the friendly staff is there to provide recommendations, making it a go-to spot for everyone who loves sushi!