Sun, Sea, and Style: A Guide to Cove Beach Dubai
Craving a day of sipping rosé wine at an exclusive beachfront event? Look no further than Cove Beach in Dubai!
Our guide will take you through this stunning seafront locale's exciting live entertainment, delectable Mediterranean cuisine, and more.
So keep reading to make the most of your visit to this upscale paradise!
What is Cove Beach in Dubai?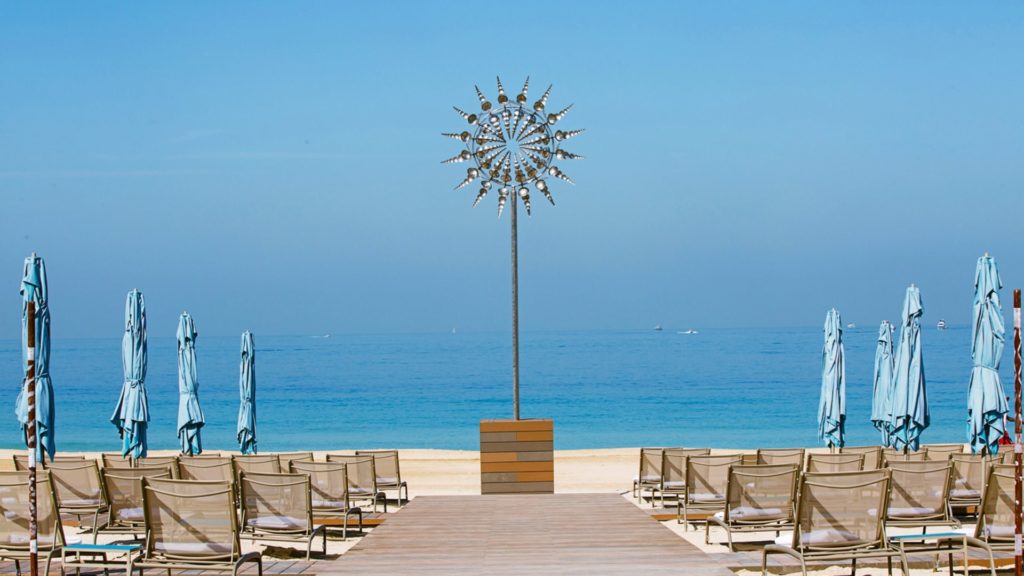 Cove Beach is a famous beach spot in Dubai, right by the Jumeirah Beach Hotel. It's a fancy beach club with luxurious features, such as pristine white sands, crystal blue waters, and stunning views of the Arabian Gulf.
People love this place because it's trendy for both locals and tourists. You've got these cool cabanas, super comfy loungers, and awesome beachside dining spots. You can just chill out in the sun, sip on drinks, and munch on some tasty food.
The best part? They throw epic parties with famous DJs and live music, making it a perfect spot to chill, hang out, and soak in those beach vibes.
Cove Beach also has different sections too! There's a family-friendly area for those who want to relax, and a livelier one for the party animals. Whether you're after some R&R or a bit of excitement, Cove Beach has got your back.
Best Time to Go
The best time to hit up Cove Beach in Dubai is from November to April, when the weather is cooler and the sun is just right.
But here's the scoop: Cove Beach gets crowded on weekends, especially Fridays and Saturdays. That's when many locals and tourists come to enjoy the lively beach club atmosphere. The busiest times are usually in the afternoon and early evening.
Things to Know
Website: https://covebeach.com/
Address: Bluewaters Island, Dubai
Contact details: +971 50 454 6920
Operating hours: Monday through Sunday, 10 AM to 1 AM
Entry fee:
Weekdays: AED 200 per person (but you can score AED 100 back for food and drinks)
Weekends: AED 300 per person (with AED 150 redeemable for food and drinks)
Note: If you're under 21, you can't roll in solo. You've got to have your family or someone older with you.
Parking: Available valet parking right on the beach
​​How to Get Around
So how do you get to Cove Beach in Dubai? Here's the lowdown on the transport options:
Car: You can drive in via a dedicated bridge from Sheikh Zayed Road or take a stroll across a pedestrian bridge from The Beach, opposite JBR.
Taxi: Hop in a taxi from anywhere in the city! The fare depends on the distance and traffic, but it's usually around AED 50-100 for a one-way ride from most parts of Dubai.
Bus: Take the RTA bus route 8 from Gold Souq Bus Station to Ibn Battuta Metro Station via Bluewaters Island. It's AED 3 per ride with a Nol card, and the bus stop is near the island's entrance. 
Metro: The red line metro will get you started. Head to DAMAC Properties Metro Station or Jumeirah Lakes Towers Metro Station.
From there, you can walk or take a tram to JBR The Beach. Once you're there, use the pedestrian bridge to reach Bluewaters Island. Easy peasy!
What to Do at Cove Beach, Dubai
Chill on the Beach
Cove Beach in Dubai is a peaceful spot to relax with soft, white sands that feel nice to walk on. When you lay back on a beach chair, the soothing sound of waves gently caressing the shore can help you unwind.
This beach is fringed with palm trees, making it an ideal place for reading or simply soaking up the sun. Time seems to slow down here, allowing you to fully bask in the tranquility of the seaside vibes.
But sometimes, you might hear laughter and chatter from people nearby, adding to the joyful atmosphere.
Enjoy Beachside Dining
Dining at Cove Beach in Dubai is an experience that can awaken all your senses. The restaurants and clubs right by the beach have a wide variety of tasty food, from fresh seafood to exciting local dishes.
Picture yourself on a terrace, with the salty sea breeze adding to your meal and the beautiful blue sea right in front of you. The sound of the waves makes it feel even more special!
Whether it's a romantic dinner under the stars or a fun beach party with friends, the mix of delicious food, amazing views, and a lively atmosphere makes every meal unforgettable.
Party at the Beach Club
Cove Beach in Dubai is the ultimate party beach club, full of energy and excitement. As you walk on the soft sand as the sun sets, the sea glows an orange color. There's live music playing, and the atmosphere can make you want to dance.
Many people would be all around laughing, talking, and grooving to the tunes, making the place come alive. Skilled bartenders would also whip up colorful cocktails that could match the vibrant scene.
Why not sip on a cold, fruity drink so you can feel your stress fading away? At Cove Beach, you can have a refreshing escape from the hustle and bustle of every day.
Swim at the Infinity Pool
If you'd rather skip the sand, take a dip at the pool at Cove Beach, Dubai. It's an infinity pool that overlooks the sea, creating a stunning view. Plus, it's heated and has a shallow section for the kids.
You can kick back on comfy sunbeds that are swim-friendly and grab drinks and snacks from the poolside bar. Conveniently, there's also a jacuzzi, a shower, and a changing room in the pool area.
Check Out the Famous Artworks of Orlinski
Cove Beach in Dubai proudly displays several of Richard Orlinski's remarkable sculptures. This well-known contemporary French artist allows guests to dive into the world of modern art.
You'll come across these eye-catching works of art as you stroll through the beach. These can range from powerful animals like panthers and gorillas to iconic symbols such as the "Born Wild" bear.
These sculptures serve as focal points along the beach, blending natural beauty with artistic expression.
Where to Stay near Cove Beach, Dubai
Caesars Palace Dubai
Address: Caesars Palace, Bluewaters Island, Dubai
Phone: +971 4 556 6666
Pricing: $$$
Book now
Caesars Palace Dubai is a luxurious 5-star hotel right next to Cove Beach Dubai, just a short walk away (0.1 km). It's designed to resemble ancient Rome, giving you a regal experience during your stay.
They've got a spa called Qua Spa, with a snow room, a crystal steam room, and a sauna if you want to relax. And if you're up for some fun, you can check out the Rotunda for live shows and concerts.
And, of course, there are many restaurants and bars to choose from, like Gordon Ramsay Hell's Kitchen, Zhen Wei, and Havana Social Club, to satisfy your cravings.
Sofitel Dubai Jumeirah Beach
Address: The Walk, Jumeirah Beach Residence, Dubai
Phone: +971 4 448 4848
Pricing: $$
Book now
Sofitel Dubai Jumeirah Beach is another great 5-star hotel, just 0.8 km from Cove Beach. It's in the middle of Jumeirah Beach Residence, a lively area with many shops, cafes, and restaurants.
You can stroll along the beach and explore The Beach Mall, Dubai Marina Mall, or Skydive Dubai nearby. The hotel itself looks modern and stylish, with a touch of French charm. They've also got So Spa, where you can get a massage!
And when it's time to eat, no worries! You've got many options like Plantation Brasserie, Bar & Terrace, A.O.C. International Buffet, or Infini Pool Lounge.
Rixos Premium Dubai JBR
Address: Jbr, The Walk – Al Mamsha Street, Jumeirah Beach Residence, Dubai
Phone: +971 4 520 0000
Pricing: $$
Book now
Rixos Premium Dubai JBR is a luxury hotel just 1.5 km from Cove Beach Dubai. It's a modern and stylish place for vacationers and business travelers.
Your room would be comfy and luxurious, with a balcony, a smart TV, and a minibar. And if you're in the mood for relaxation, they've got the Natureland Spa with a Turkish hammam, jacuzzi, and steam room.
For some family fun, check out the Rixy Kids Club. It's got a cinema, a playground, and a pool. And if you're into nightlife, there are excellent spots like Inner City Zoo, Lock Stock & Barrel, or Azure Beach Club to enjoy.
Where to Eat near Cove Beach, Dubai
Two.0
Address: Caesars Palace, Bluewaters Island
Phone: + 971 50 454 6920; [email protected]
Pricing: $$-$$$
Website
If you're looking for a place with great food and a fantastic view, check out Two.0 at Cove Beach Caesars Palace in Dubai. They've got a diverse menu with sushi, pizza, pasta, salads, burgers, and desserts.
You can get drinks like Karak Chai, a strong black tea mixed with milk and spices. Plus, there's Jellab, a refreshing beverage made from grape molasses, rose water, and pine nuts; they usually serve it with crushed ice and add raisins!
The restaurant also has a sleek vibe and a spacious outdoor terrace where you can take in views of the Arabian Gulf and the Dubai skyline. For extra fun, they host live DJ performances and shows too!
Senor Pico
Address: Palm West Beach, Dubai
Phone: +971 4 666 1434
Pricing: $$
Website
Senor Pico is the go-to place for those with a hankering for some authentic, spicy, and mouthwatering Mexican-Early Californian cuisine. It's just a 10-minute drive from Cove Beach, Dubai.
We suggest trying their signature tacos, burritos, enchiladas, fajitas, and quesadillas, and don't forget to dip them in their tasty sauces. You can also quench your thirst with their fresh cocktails, mocktails, and top-notch margaritas.
The restaurant has a vibrant and welcoming atmosphere, and they even spice up your evenings with live music and entertainment every night.
Brass Monkey Social
Address: Bluewaters Island, Dubai
Phone: +971 4 582 7277
Pricing: $$$
Website
Brass Monkey Social is the place for you if you want a mix of entertainment and food. This famous American bar and restaurant is around 3.6 km from Cove Beach, Dubai, and offers a range of games to keep you entertained.
At this retro restaurant, you can try your hand at bowling, arcade games, pool, or even belting out your favorite tunes with some karaoke – it's all about friendly competition with your friends or family!
Moreover, you can get some mouthwatering burgers, wings, nachos, tacos, and pizzas, all made with fresh ingredients. And don't miss out on their fantastic drinks, including beers, wines, spirits, or sodas, served in generous portions.
Things to Remember When Visiting Cove Beach, Dubai
Here are some key tips to ensure you have an awesome experience at this seafront locale:
Book in advance: Cove Beach can get busy, so make reservations ahead of time to secure a spot.
Arrive early: To snag the best seats, try to get to Cove Beach early. You'll also get to enjoy a quieter and less crowded vibe.
Prepare your ID: Make sure to bring your identification, as it may be needed for entry and age verification.
Have your swimwear ready: Cove Beach is famous for its beautiful pool and beach area, so come prepared with your swimwear for you to feel comfortable taking a dip.
Don't bring outside food and drinks: Cove Beach has its own restaurants and bars, so they typically don't allow outside food and drinks. Enjoy the variety of dining and beverage options available on-site.
Wear sunscreen: Shield your skin from the sun. Pack sunscreen with an SPF of 30 or higher and apply it regularly to avoid sunburn.
Respect the dress code: The beach usually has a smart-casual dress code, so avoid wearing overly casual or beachwear attire when entering the restaurants and lounges.
Be respectful of others: For a pleasant experience for all guests, be mindful of your fellow visitors and follow any guidelines provided by the staff.
By keeping these tips in mind, you'll have a fantastic time at Cove Beach in Dubai. Have a splashing fun time!