All You Need to Know about the Gold Souq in Sharjah
Do you wish to find a place to buy dazzling gold and exquisite jewelry at affordable prices? Do you want to experience the charm and culture of a classic Arabian market? If you agree, you should visit the Gold Souq in Sharjah!
The Gold Souq in Sharjah is more than just a shopping destination, it's also a cultural journey. You can admire the beautiful blue-tiled facade of the souq, which reflects the Islamic heritage of Sharjah.
So, are you ready to start an adventure full of charm? Well, don't hesitate. Come with us as we explore the golden wonders of the Gold Souq in Sharjah, where the magic of the market will enchant you!
What Is Gold Souq in Sharjah?
The Gold Souq in Sharjah is a renowned traditional bazaar in the UAE's emirate. It facilitates the trade of diverse gold jewelry, ornaments, and precious stones, embodying the cultural and commercial heritage of the region.
Established in 1978, the Sharjah Gold Souk spans 80,000 square meters and boasts over 600 shops. It's so well known that you can even find it gracing the AED 5 note.
Crafted by renowned British architects Michael Lyle and Partners, under the guidance of H.H. Sheikh Dr. Sultan Bin Muhammad Al Qasimi, the souk is quite the architectural masterpiece.
It consists of two interconnected market structures linked by footbridges, blending traditional Arabic aesthetics with contemporary design. One side faces the renowned King Faisal Mosque, while the other offers views of the enchanting Khalid Lagoon.
Quranic verses adorn the blue tiles that embellish the outer walls. The construction of this marvel was an impressive undertaking, necessitating a substantial AED 85 million investment.
Beyond its commercial significance, the souk holds cultural and social value, encapsulating time-honored trading traditions. It captivates residents and tourists, offering them a glimpse into the ambiance of traditional markets.
Time Zone
United Arab Emirates (GMT+4)
Best Time to Go
The best time to explore Gold Souq in Sharjah is during the cooler months, from November to March. The milder weather allows you to enjoy your stroll through the souq's enchanting lanes without the scorching heat of summer.
Things to Know
Currency: UAE Dirham (AED) (Check the present currency conversion rate)
Language: Arabic
Calling code: +971
Parking fee: AED 5 per hour
How to Get Around
By car: If you're coming from Dubai, you can take Sheikh Zayed Road (E11) to Sharjah. Once you reach Sharjah, take King Faisal Road (D81) to Al Jubail Street.
By bus: Take the number 101, which departs from Al Jubail Bus Station and stops in front of the Gold Souq.
By taxi: Taxis are readily available in Sharjah. The fare from Dubai to Gold Souq in Sharjah is around AED 40-50.
By metro: The nearest metro station to the Gold Souq in Sharjah is Al Jubail Metro Station. The station is on the Green Line, about a 10-minute from the Gold Souq. The metro fare is AED 2 per person.
What to Do in Gold Souq in Sharjah
Shop and Admire Intricate Gold and Jewelry
If you're fascinated by intricate jewelry designs, the Gold Souq in Sharjah is the perfect destination for you. This bustling marketplace is a treasure trove of exquisite jewelry pieces that showcase the craftsmanship and artistry of the region.
As you wander through the vibrant stalls and shops, you'll be captivated by the dazzling display of intricately designed necklaces, earrings, bracelets, and rings.
The skilled artisans have poured their creativity into every piece, resulting in stunning creations that reflect the rich cultural heritage of the area.
Here are some of the most popular designs you can find in the souk:
Traditional Arabic jewelry: Traditional Arabic jewelry can be made from gold, silver, or even precious stones. It's characterized by its intricate patterns and motifs, often inspired by Islamic art.
Indian jewelry: Indian jewelry is known for its bright colors and bold designs. Gold jewelry from India is often heavily decorated with gemstones, such as rubies, emeralds, and diamonds.
European jewelry: Often more understated, it's still considered intricate and elegant. These often feature delicate filigree work and intricate patterns.
Modern jewelry: There are many different styles of modern jewelry available, from minimalist to maximalist. Gold jewelry can be made into modern pieces using geometric shapes, abstract patterns, or recycled materials.
Al Mahatta Museum is an aviation museum located in Sharjah that highlights the history of flight in the UAE and the region, housing various artifacts.
The airport its located in was used in the 1930s as a staging post for commercial flight routes from Britain to India. The original propeller planes, fully restored, stand guard in the hangar alongside the original refueling tanker.
You can watch a film about life at the airport and in Sharjah Town during the 1930s here as well. The entrance fee is AED 5 for adults and AED 2.5 for children.
Take a Walk along the Sharjah Corniche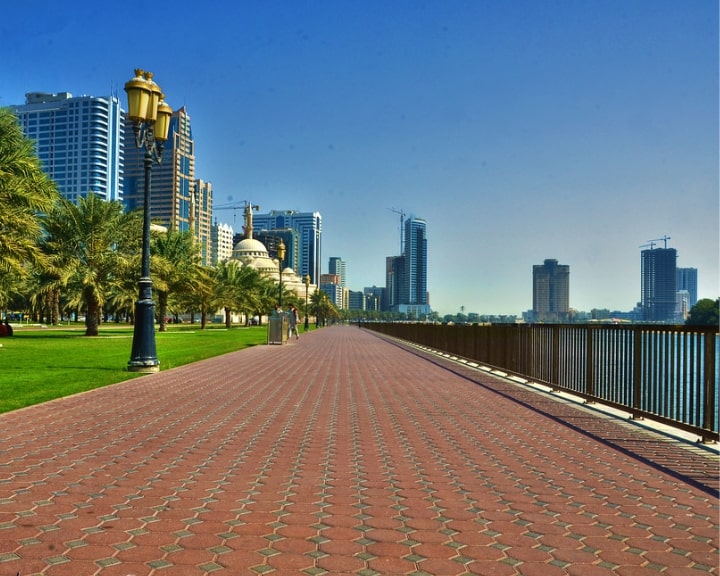 Sharjah Corniche, or Buhaira Corniche, is a beautiful waterfront in Sharjah, UAE. It's located along the Khalid Lagoon and is surrounded by residential and commercial skyscrapers.
The corniche is a popular destination for locals and tourists, offering stunning views of the lagoon and the city skyline. You can stroll along the waterfront, enjoy a picnic on the grassy areas, or dine at one of the many restaurants and cafes in the area.
Visit the Sharjah Museum of Islamic Civilization
The Sharjah Museum of Islamic Civilization showcases Islamic culture and has over 5,000 artifacts from different parts of the Islamic world. There are six galleries that cover the story of Islamic Civilization from the 7th century to the 20th century.
So, if you're into history, arts, or just curious about astonishing discoveries, this is the place to learn about all the awesome things that Muslim scholars achieved.
Where to Stay Near Gold Souq in Sharjah
Golden Sands Hotel & Residences
Address: 115 Al Nahda St – opposite Sahara Center – Al Nahda – Sharjah – United Arab Emirates
Phone:  +971 6 530 0003
Pricing: $$
Book now
Golden Sands Hotel & Residences is a four-star hotel in Sharjah located across from the area's largest shopping mall, the Sahara Center.
The hotel has 343 rooms and apartments and has a range of facilities, including a kids club called The Tree House. They also regularly host events such as food festivals and leisure activities.
Nejoum Al Emarate Hotel Sharjah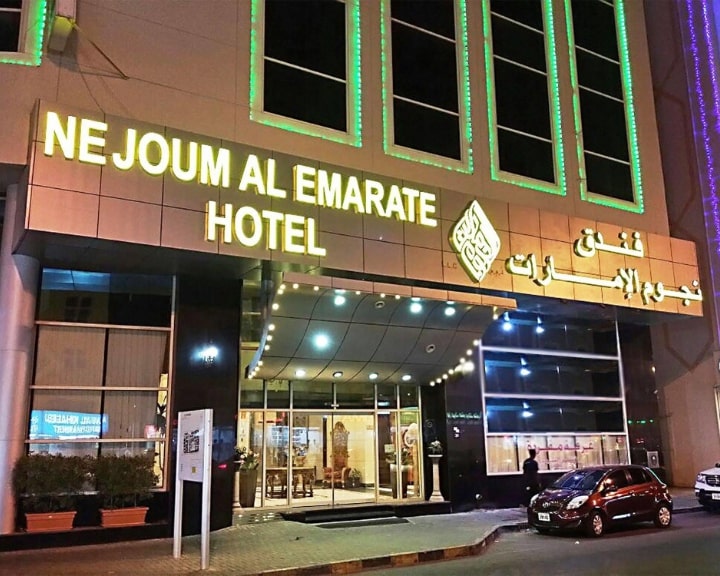 Address: Rolla Area – beside DAMAS 2000 – Al Gharb – Al Ghuwair – Sharjah – United Arab Emirates
Phone:  +971 6 563 5555
Pricing: $
Book now
Nestled at the heart of Sharjah, this 3-star hotel is located at Al Qasmiya Street near the post office in Al Ghuwair. Its tastefully adorned rooms offer a retreat, complete with private bathrooms, flat-screen TVs, and complimentary Wi-Fi.
A culinary journey awaits at the lobby-level restaurant, serving delectable breakfast, lunch, and dinner spreads. The round-the-clock front desk extends a helping hand, aiding with car rentals and sharing insights about local attractions and festivities.
Ibis Styles Sharjah
Address: Blue Souq – King Faisal St – Al Majaz – Al Majaz 1 – Sharjah – United Arab Emirates
Phone: +971 6 503 8800
Pricing: $
Book now
Located in the center of Sharjah, this hotel is close to plenty of major attractions such as the picturesque Khalid Lagoon Corniche, and the Sharjah Expo Centre. It's also only a 20-minute drive away from Dubai.
You can keep fit at the gym, dine in the beautiful restaurant or unwind in the delightful Costa Coffee shop. The hotel offers free Wi-Fi throughout the hotel, as well as a business center and a well-equipped meeting room.
Where to Eat Nearby Gold Souq in Sharjah
Al Fanar Restaurant & Cafe – Al Majaz
Address: Matajer Al Juraina Mall – Sharjah – United Arab Emirates
Phone: +971 6 552 0666
Pricing: $$-$$$
Book now
Al Fanar Restaurant & Cafe – Al Majaz is a restaurant located in Sharjah, UAE, that serves authentic Emirati cuisine. The restaurant is situated at the Al Majaz Waterfront and offers an ambiance reminiscent of the 1960s.
The outdoor seating area provides stunning views of the Khaled Lagoon and the Al Majaz waterfront. The restaurant is open from 9:00 am to 11:30 pm and offers a variety of dishes for breakfast, lunch, dinner, and brunch.
Yasmina Restaurant
Address: 703, Office Tower – C, CG Mall – Sharjah – United Arab Emirates
Phone: +971 6 513 1088
Pricing: $$-$$$
Book now
Yasmina Restaurant is located in King Faisal Street at the Four Points by Sheraton Sharjah. The restaurant serves a variety of international cuisine, including seafood, Mediterranean, and Arabic dishes.
Yasmina Restaurant also offers a range of healthy options, including vegan, halal, gluten-free, and vegetarian-friendly dishes. The atmosphere at Yasmina Restaurant is pleasant and the service is known for being excellent and friendly.
Sout Al Canary Maharashtrian Restaurant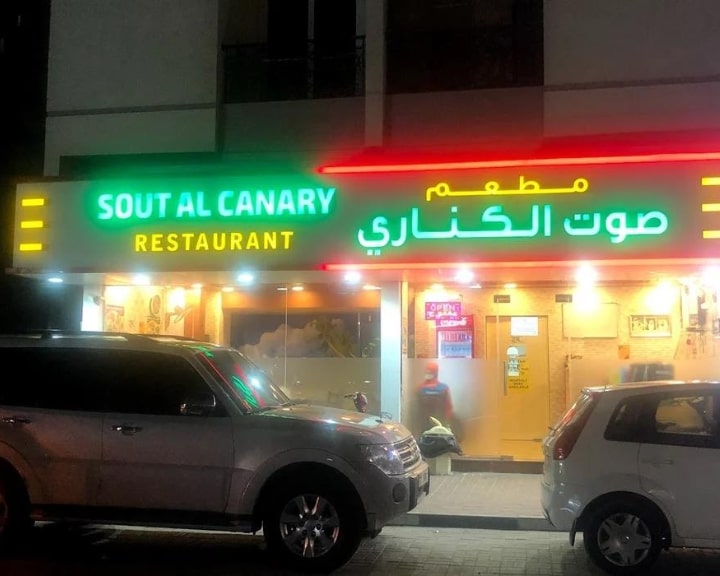 Address: Sultan Building, Opposite Sharjah cooperative society – Sharjah – United Arab Emirates
Phone: +971 55 260 4654
Pricing: $-$$
Book now
Sout Al Canary Maharashtrian Restaurant offers genuine Maharashtrian cuisine. The menu boasts an array of delicacies like vada pav, misal pav, bhel puri, and tandoori chicken.
Vegetarian options, including aloo paratha and dhokla, are also available. Additionally, the establishment features a comprehensive bar menu, encompassing both alcoholic and non-alcoholic beverages.
Tips When Shopping in Gold Souq Sharjah
Learn the Art of Haggling: Bargaining is a cherished tradition here. Polite negotiation can often lead to great deals, ensuring you get the most value for your investment.
Quality Assessment: Before finalizing a purchase, inspect the jewelry for authenticity and quality. Don't hesitate to ask for certifications to ensure you're getting genuine gold or silver.
Shop Around: With numerous stores offering an array of designs, take your time to explore multiple options before making your decision. This will help you find the piece that truly resonates with you.
Understanding Karats: Gold comes in various karats, each denoting its purity. Educate yourself about the different karat levels to make an informed choice.
Setting a Budget: Determine your budget before stepping into the souq to avoid overspending. Remember, there's something for every budget here.