A Guide on Hailing and Riding Taxis in Dubai
You've just arrived in Dubai, the city of dreams, and you need a taxi to get to your hotel. But how do you know which one to take? Dubai taxis have different rules and customs that can confuse foreigners.
Don't worry, we've got you covered. In this guide, we'll show you how to hail a taxi in Dubai like a pro, and how to avoid common mistakes and scams.
Whether you want to flag one down on the street, book one online, or use a ride-hailing app, we'll help you find the best way to travel around the city in comfort and style.
How do you call a taxi in Dubai?
| | |
| --- | --- |
| Difficulty | Very Easy ●○○○○ |
| Time required | Few minutes |
| Things you need | Cash or card, phone |
To call a taxi in Dubai, you have several options: signal for a taxi on the road, employ a ride-hailing application, contact the Dubai Taxi Corporation's Call Center, or engage a taxi from a designated taxi stand.
Eager to acquire further knowledge? Let's explore those steps in the following sections!
1. Hail a Taxi on the Street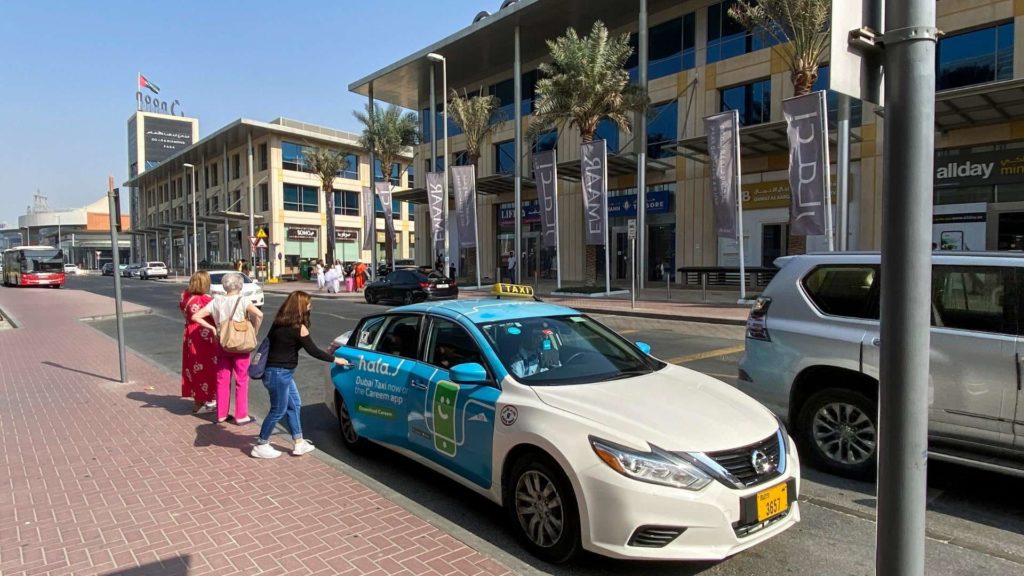 This is quite obvious – to signal for a street taxi in Dubai, you can raise your hand as a taxi with an illuminated roof light approaches. Once the taxi stops, you can communicate your desired destination to the driver and proceed to enter the vehicle.
2. Use a ride-hailing app
There are several ride-hailing apps available in Dubai, including international apps such as Uber and Careem, as well as local options like Hala Taxi 12.
You can download these apps on your smartphone and use them to book a taxi.
But, we recommend downloading  RTA Dubai App, an acclaimed interactive platform that boasts over 40 services, catering to the needs of both passengers and drivers.
With this app, you have the convenience of reserving a taxi in Dubai through online channels. If you're curious about the process of booking an RTA taxi online in Dubai, look no further than S'hail.
As a highly-rated public transport app in Dubai, S'hail serves as your comprehensive answer to any concerns regarding public transportation.
Here are the steps on how to book a taxi online using the RTA's S'hail app in Dubai:
Download the S'hail app from the App Store or Google Play.
Open the app and create an account or sign in if you already have an account.
Click on the "Book Taxi" button.
Enter your pickup location and destination.
Select the type of taxi you want to book. There are three types of taxis available: public taxis, Hala taxis, and women-only taxis.
Click on the "Book Taxi" button.
The app will show you the estimated arrival time of the taxi.
Wait for the taxi to arrive.
When utilizing Dubai's S'hail app by RTA to book a taxi, you'll have access to a detailed receipt. This receipt will present the ensuing particulars:
Taxi Fare: The taxi fare computation is contingent on both the distance covered and the duration of waiting.
Additional Charges: Additional charges may be included in your taxi fare, encompassing the night surcharge, airport surcharge, and luggage surcharge.
Deduction: Should you possess a valid discount card, such as a student or senior citizen card, the relevant deduction will be applied to your taxi fare.
Overall Fare: The aggregate fare reflects the amalgamation of the taxi fare, supplementary charges, and any applicable deductions.
3. Call the Dubai Taxi Corporation's Call Center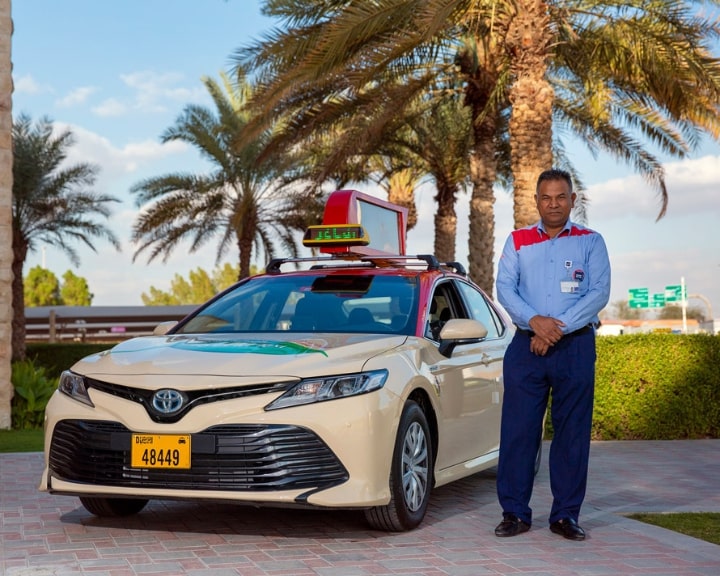 The Dubai Taxi Corporation's Call Center is a service provided by the Dubai Taxi Corporation to help customers book taxis in Dubai. You can call the Call Center at +97142080808 to book a taxi.
If you have a local number, they will call you back once the taxi is ready. If you plan to use their services frequently, it's recommended that you register yourself with the call center so that you can order a taxi through their automated service.
4. Hire a Taxi from a Taxi Rank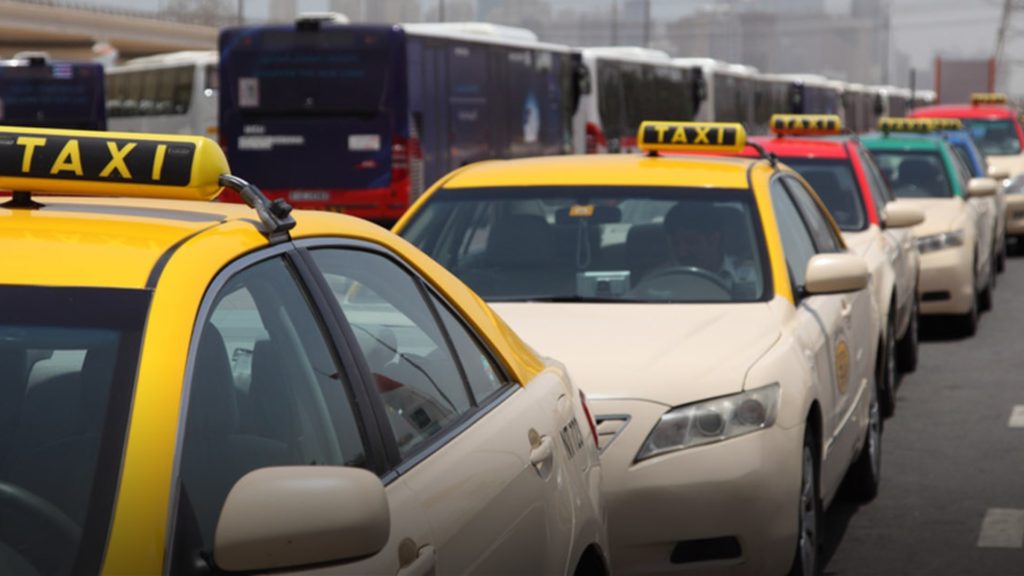 When you wish to ride a taxi from a designated spot in Dubai, you can visit any of the numerous taxi stands conveniently positioned across the city.
There's taxi stands at every terminal within Dubai International Airport, as well as prominent hotels and bustling shopping centers.
Upon reaching the taxi stand, you can approach the nearest available taxi and communicate your intended location to the driver.
The fare meter initiates at AED 5 between 6 am and 10 pm, and AED 5.5 from 10 pm to 6 am, with an additional AED 2.19 charged per kilometer traveled.
Do's and Don'ts When Hailing Taxis in Dubai
Dos:
Avoid Unofficial Taxis: Stick to authorized taxis with official logos. Unofficial taxis might not follow regulations, and you could have an inflated fare.
Look for the Color: Keep an eye out for the distinct cream color of Dubai taxis. They're easy to spot and widely available.
Be Polite: A friendly demeanor goes a long way. Greet the driver with a smile and communicate your destination.
Don't Share Rides: Unlike some places, sharing taxis with strangers isn't common in Dubai. Each ride is typically for one group or individual.
Skip the Front Seat: If you're alone, it's customary to sit in the back seat. The front seat is usually reserved for families or groups.
Avoid Rush Hours: Dubai's traffic can get heavy during rush hours (usually from 7 AM to 10 AM and 4 PM to 8 PM). Plan your taxi rides outside these times for a quicker journey.
Don't Forget Small Bills: While most taxis accept cards, it's a good idea to have some small bills handy for cash payments.
Don't Negotiate: Taxis in Dubai run on meters, so there's no need to haggle over fares. The meter ensures a fair price for your journey.
Ask for a Receipt: If you want a trip record, request a printed receipt. It's a smart move, especially for business travelers.
FAQS on Riding Taxis in Dubai