Can You Swim in Dubai Beaches?
Dubai is mostly full of desert landscapes and the rough terrain of the city's urbanized landscape. While it has different tourist spots available, travelers can also enjoy going for a swim to escape the harsh desert heat.
If you're looking for a short guide on where to swim while staying in the city, we've got you covered!
Can I swim while I'm in Dubai?
Dubai allows tourists to swim in specific areas during their stay. The city is home to different beaches that are available all year round. 
Dubai has both public and private beach clubs you can choose from!
Additionally, there is also the option for you to take a dip during the night. Just remember to practice safety and follow the rules!
Rules to Follow While Swimming in Dubai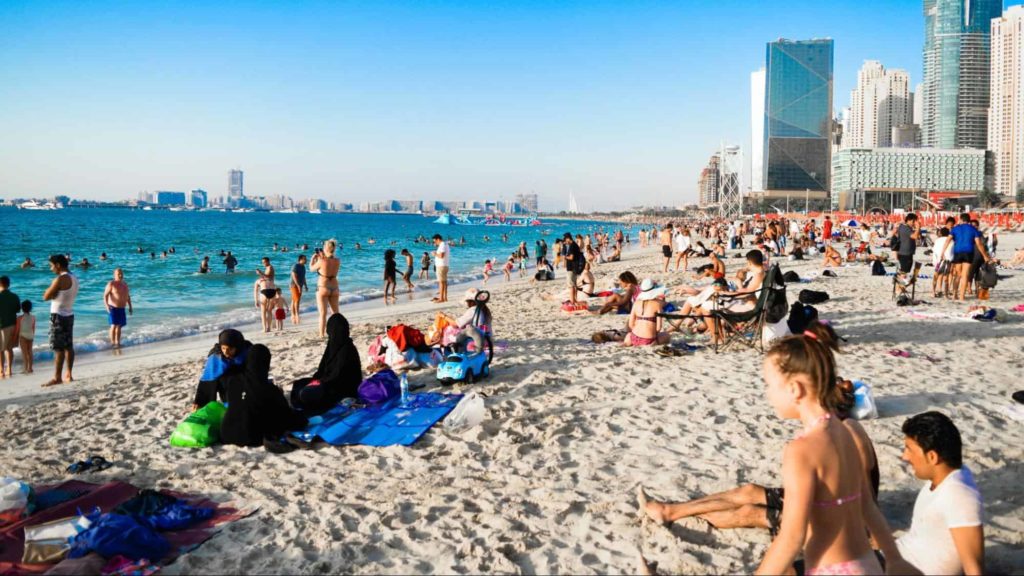 Image credit: SHAHBAZ AKHRAM/Pexels
Before you attempt to take a dip in any beaches in Dubai, it's best to remember some rules to avoid being reprimanded or stopped from swimming during your stay in the city.
When it comes to beach swimming, there aren't quite a lot of restrictions placed on tourists. You only need to remember a few things!
Take Note of What You Can Wear
Dubai is still a conservative country. People going around outside are required to cover up their arms and legs with proper clothing.
Swimwear, even though it is quite revealing, is allowed inside a beach's premises.
Women can wear one-piece or two-piece bikinis only on the beach. Men are allowed to wear swimming trunks or their "speedos" also, but just while on location.
If you are not yet planning to head into the water and would like to go around the area, we recommend covering up with a sundress or a towel for women and an extra shirt for men.
Additionally, showing too much skin is still not allowed. When picking swimwear, avoid extremely vulgar designs that show too much skin to avoid being reprimanded or fined.
Lastly, nudity is not allowed. Don't even think about it!
Tourists who would attempt to go on the beach without clothes will be arrested for public indecency. You might get jailed or deported if you decide to break the city's law on indecency.
On PDA
Public displays of affection (PDA) are not allowed in Dubai, let alone in public. The only thing couples can do is hold hands,and they have to be married to be able to do so.
According to the city's public indecency laws, couples cannot kiss, hug, or do any intimate displays in public. Ones who get caught doing so can be fined, jailed, or even deported.
Take care of your children
Look out for your child during your fun times at the beach, as they might be at risk of accidentally going into deep waters.
The government actually requires parents to accompany their children in pools. While this doesn't necessarily apply to beaches, we do recommend still looking out for your child while swimming.
Not all beaches are available during the night
Night swimming is generally prohibited in the major public beaches in Dubai. There are only specific locations, such as the Umm Suqeim 1 Beach.
Make sure to swim in those places at night, as swimming in other areas is prohibited. This is mostly because places such as the Umm Suqeim are properly equipped with enough lighting and lifeguards to ensure the public's safety during the night.
Now that you know the rules, here are some of the public and private beach clubs that you can visit in the day or night!
Private Beach Clubs
These are resorts and fancier swimming areas where clients can enjoy different amenities and facilities aside from the water itself. You will also have exclusive access to some fun water-based activities in these areas.
Take note that you will have to pay for admission to these clubs in exchange for the perks that you will be getting.
Read more below to check out some of the possible clubs you can visit!
Summersault Beach Club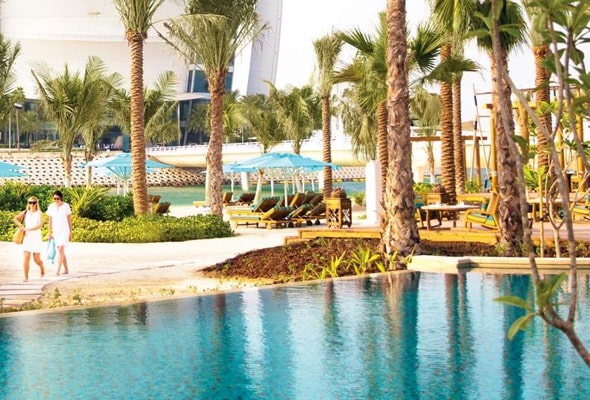 Image via What's On
Summersault Beach Club serves as a premium area for dining, lounging, and swimming at the beach. This is an amenity offered by the Burj Al Arab for its guests for free, but you can get passes to gain access to this area.
Day passes will cost you AED 595 per person. If you want to also avail the food the club serves, you need to pay an additional amount of AED 250.
What's interesting is that this club has an infinity pool and access to the nearby white sand and waters. Additionally, the luxury area has lounges and nooks where you can rest after a tanning session.
Madinat Jumeirah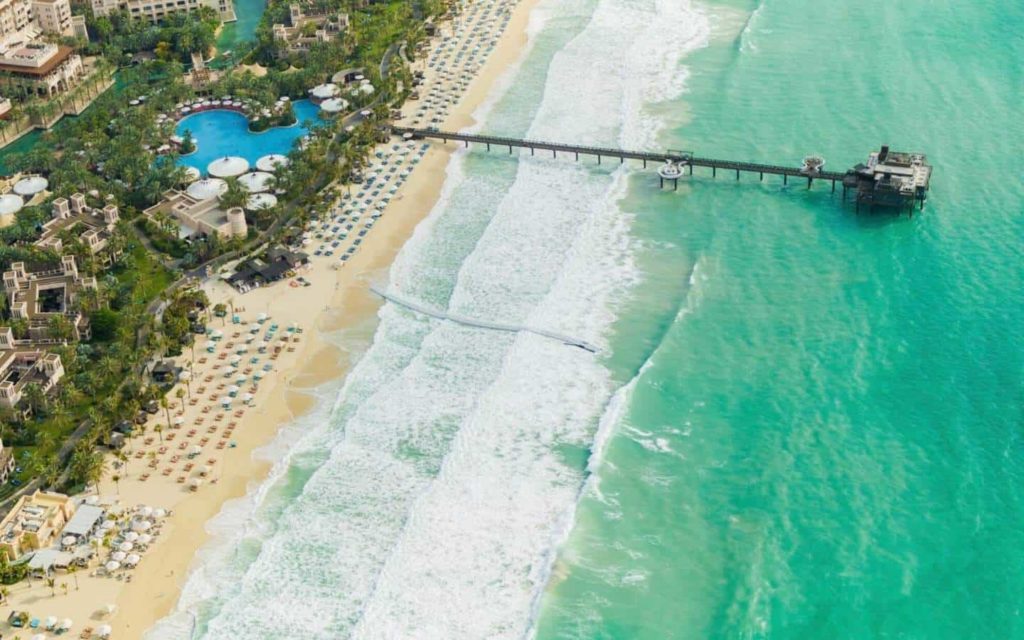 Image credit:Madinat Jumeirah 
Madinat Jumeirah is a private beach that serves as one of the perks offered to guests of two different hotels: the Jumeirah Al Qasr and Mina A'Salam.
You can still swim on this beach even if you're not a guest of any of those hotels, provided that you purchase a day pass. Tickets per person usually cost AED 95 to AED 195 during the weekdays and AED 195 to 295 on the weekends.
The private beach will also offer you a complimentary sunbed, towel, and umbrella. If you'd like a bigger space to lounge in while swimming, the establishment offers a cabana for an additional AED 295.
There's also a tent option, which is bigger than the cabana – but more expensive. You can rent it for AED 435 a day. Renting the two extra lounge options will also earn you some free drinks and food though.
Aside from swimming, Madinat Jumeirah also has some water sports activities available, such as paddleboarding, waterskiing, banana riding, kayaking, and waterboarding. Note that you will also have to pay extra for these.
Public Beaches
If you want to swim without paying a huge chunk of money towards luxurious and lavish resorts or private beaches, Dubai still has some public beaches for you.
These kinds of areas can be accessed free of charge, but don't expect a lot of perks and amenities during your stay. Hey, it's a perfect option if you just want to lounge in the sun or swim for a short period of time!
Scroll down to check out a few of the public beaches in the city.
The Beach @ JBR
Image credit: Guilhelm Velut/Flickr
| | |
| --- | --- |
| ADDRESS | 34JM+CF9 - Dubai Marina - Dubai - United Arab Emirates |
| WEBSITE | https://www.thebeach.ae/en/ |
| DETAILS | 97143173999 |
| OPERATING HOURS | Sun-Sat: 10:00-22:00 |
Also called as JBR Beach, The Beach at JBR is a public beach open almost the entire day. It offers a view of the Palm Jumeirah in the Arabian Gulf.
What attracts tourists here, aside from the lush views and accessibility is the fact that it is surrounded by malls, restaurants, and other establishments.
Access to the beach is free, and you can come anytime, provided that you arrive within its opening hours. You can also rent a bed to tan during your visit.
There are also changing rooms and showers available if needed. The place is great for families as you don't need to pay per person to have fun.
We do have to note that you will have to bring your own equipment (such as mats, blankets, beds, and food) if you're going to stay for quite a bit.
Umm Suqeim 1 Beach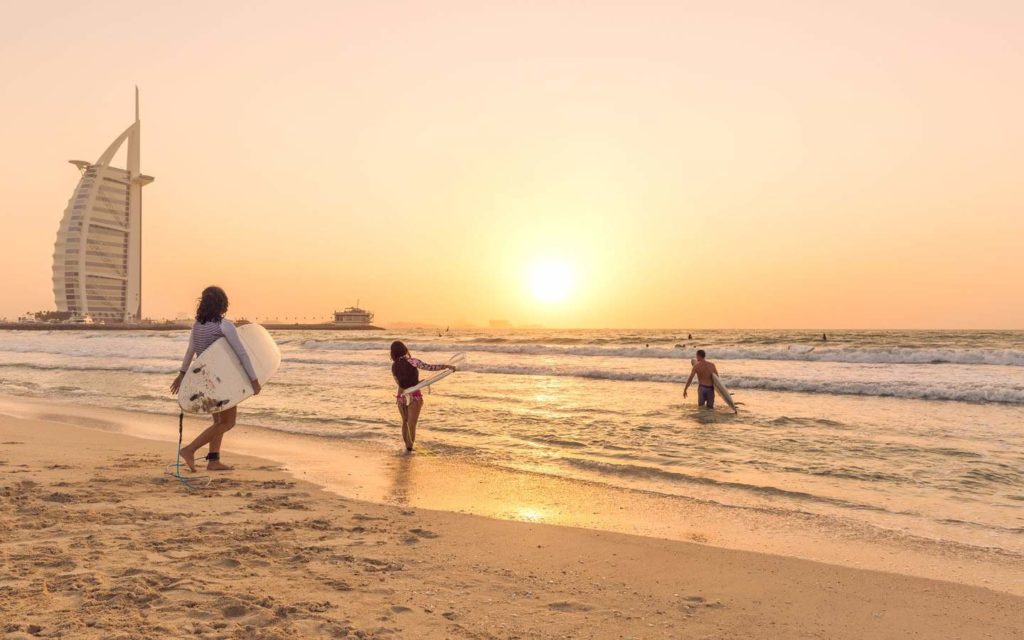 Image via My Bayut 
| | |
| --- | --- |
| ADDRESS | Near the Burj Al Arab hotel |
| OPERATING HOURS | 24 Hours. (Monday - Sunday) |
At the time of writing, The Umm Suqeim 1 Beach is the first and only location in the city allowed for night swimming. This is a public beach that is open 24/7.
Admission to the area is free and visitors can visit with their friends and family. As a night swimming location, the area was chosen as part of the city's Night Swimming Dubai project in 2017.
The government has appointed around 85 lifeguards and installed smart power palls, which are devices that provide light for swimmers during the night. This is to ensure that visitors can still have fun safely!
Things to Remember While Swimming in Dubai
Even though Dubai is quite relaxed compared to the other cities in the UAE, you have to remember that there are still rules and regulations implemented in each location. Yes, these laws also come to play even if you're at a beach.
Here are a few additional reminders so you can avoid being called out by authorities:
Taking photos of people on the beach without permission is forbidden, especially women. Do this only if you have their consent or if they are a close family member or friend instead.

Don't walk around any beach topless or naked. Swimwear is allowed, but we advise you to cover up if you're walking outside the beach area.
That said, we hope you enjoy Dubai's beautiful beaches and have a great time in the city!
Related Articles