The 7 Best Wedding Planners in Dubai
Save time and stress on your dream wedding!
With the help of a wedding planner you can get the best wedding ideas. You don't have to worry about the suppliers, venue, designs, or themes, because they've got you covered!

If you're searching for help to conceptualize your wedding, this is your lucky day! Here is a list of the best wedding planners in Dubai!
How Much Does a Wedding Planner Cost in Dubai
There are many wedding planners available in Dubai that offer a variety of packages. These usually include consultation fees, a list of suppliers, equipment rental, catering options and venues to mention a few.
Small packages are usually for an intimate wedding that includes a smaller guest list ranging from 50 below. However, a high-end package usually caters to more than 100 guests and has personalized touches in its designs and themes.
In addition, the most expensive weddings fall under an even higher category sometimes referred to as a "major" package. This is usually an extremely extravagant all-in-one package with more luxurious options fitting of royalty.
We've provided a table of prices based on the packages to give you an idea of how much a wedding planner costs.
| Wedding Planner | Estimated Cost |
| --- | --- |
| Small package | AED 1307 |
| High-end package | AED 4240 and higher |
| Major package | AED 15331 and higher |
The Best Wedding Planners in Dubai
1. Jannat Events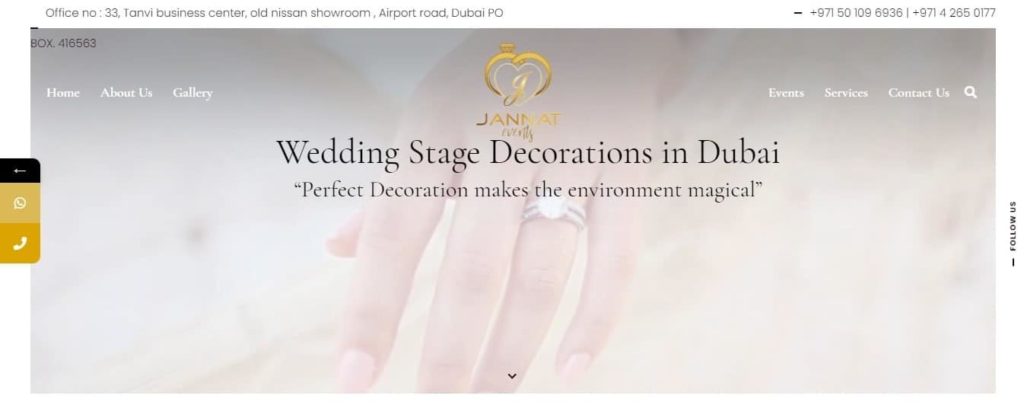 Test
Info
SERVICES
Wedding Planner, Theme Wedding, Dream Wedding, Wedding Organizer
WEBSITE
https://jannatevents.com/
ADDRESS
Office no: 33 , Tavni business center - Airport Rd - Dubai - United Arab Emirates
CONTACT DETAILS
Phone: +971501096936

E-mail: [email protected]

OPERATING HOURS
Open 24 hours
| | |
| --- | --- |
| Criteria | Ratings |
| Expertise | ★★★★★ (5/5) |
| Services | ★★★★★ (5/5) |
| Communication | ★★★★☆ (4/5) |
| Price | ★★★★★ (5/5) |

Jannat Events is an events organizing company established in 2001 with over 250 successful events completed.
They also specialize in international wedding planning. They help their clients to plan their dream wedding abroad by guiding in deciding on the theme, selecting the best location and venue, as well as choosing the best suppliers.
In addition, Jannat Events can plan weddings that have beach, royal, traditional, or cruise themes to mention a few. Regardless of the theme, they offer a numerous selection of venues to choose from, such as hotels and gardens.
We particularly like this company because of its luxurious high-end all-in-one wedding package. This even includes the transportation of the wedding guests to the venue.
One of the wedding themes we prefer from Jannat Events is their cruise wedding. This is an impressive idea because their clients can experience the view of the ocean in their surroundings during their wedding ceremony.
However, the cruise wedding is only good for those who want an intimate wedding because of the limited capacity of the guest.
We like this company because there are no hidden charges for their wedding packages, so you can expect the amount you've agreed with on the final bill. However, it's not applicable if the clients request for additional details and designs.
Moreover, the company has a package for clients who want to be married on a luxury private yacht. We like that a client can tailor their desired package to include snorkeling and scuba diving.
When it comes to communication, we spoke to one of their clients who said that Jannat's is very generous and gives a quick response to every detail they ask for.
To sum up, Jannat wedding planner offers high-end wedding packages that can perfectly achieve their client's dream wedding.
Open 24 hours
Wide range of service
Expect a high cost
High volume of clients
Client Reviews
Everything was beyond beautiful
"We hired them to do an engagement decoration and they had done an amazinggggg work mashallah!! Everything was beyond beautiful. Very happy with them and would definitely recommend them to all. Thanks to Mr Riyas for all the help !" – Yasser Moustafa
Easy to work with
"4 months agoThank you for the great job your team has done for our event! Easy to work with, understands the requirement, and executes seamlessly. Looking forward to working with you again, and will definitely recommend it." – Moda Line
2. Vivaah Weddings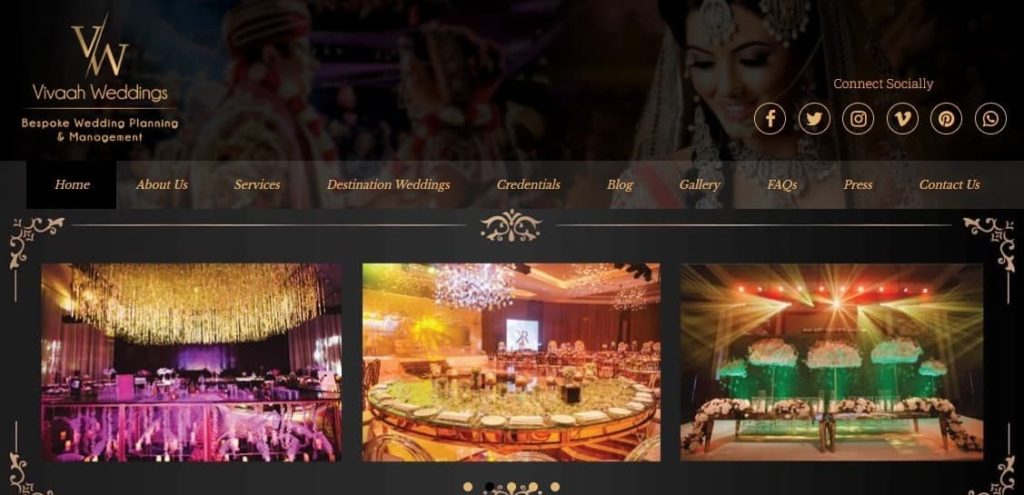 Test
Info
SERVICES
Services
WEBSITE
https://vivaahweddings.com/
ADDRESS
Suite 1603, Damac Smart Heights, Barsha Heights (TECOM), Dubai, UAE
CONTACT DETAILS
Phone:+971505858151

Landline: +97145141200

Fax: +9714338 7825

Email: [email protected]

OPERATING HOURS
Contact for more information
| | |
| --- | --- |
| Criteria | Ratings |
| Expertise | ★★★★★ (5/5) |
| Services | ★★★★★ (5/5) |
| Communication | ★★★★☆ (4/5) |
| Price | ★★★★★ (5/5) |
Vivaah Weddings is a multi-award-winning bespoke wedding planning & management company with its Head Office strategically located in Dubai, UAE. For over a decade, the Vivaah Weddings team of experienced professionals have conceptualized, managed and delivered in excess of 200 weddings & events globally.
Multi-award winning is not a throw-away line when referring to Vivaah Weddings, rated the Best Wedding Planning and Management Company in the Middle East by Bride Awards; 5 Gold WOW Awards Asia including the highly coveted "Wedding Celebration of the Decade"
Planning the First Ever Indian Wedding at a full buy-out of Disneyland Paris in 2019 and the UAE's first fully sustainable wedding, held at Caesars Palace, Dubai in 2021, are two achievements that the team are most proud of.
Known as innovators and trendsetters, they offer their couple's a way to blend the expected and much-loved traditions of a wedding with a unique twist and modern elements.
With attention to every last detail, Vivaah Weddings takes care of all the aspects of planning for that most special of occasions. It aims to make the journey as stress free and as enjoyable as the celebration itself. To the team this is the true meaning of the company's legend "The Ultimate Wedding Experience".
Whether the request is for a small intimate wedding or needs to encompass a cast of 1000's; Whether there is a 3 or 18 month lead time, the Vivaah Weddings team will calmly do whatever needs to be done to make it happen. No matter the size of the wedding, their events are stylish, personalized and always unforgettable.
With the vast network of contacts globally, together with a 5* reputation for good business practice they have easy access to the best hotels, venues, décor stylists, Make-Up-Artists, caterers, and in demand entertainers. Vivaah Weddings uses all the avenues open to them to save time, effort and costs throughout the wedding planning process.
Offers tailored packages
Open 24 hours daily
At least 3 months advance notice before wedding date needed
Expect high costs on international wedding destination
Client Reviews
Amazing work done by Vivaah wedding
"Vivaah weddings…..I am bridal henna artist. I have Seen a lots of weddings…but this is amazing work done by Vivaah wedding.very very cooperative, humble,down-to-earth staff,ready to help everyone..and this fujaira wedding is amazingly decorated by Vivaah wedding. If you are looking for dream wedding pls do contact without a doubt. attaching some photos for reference." – Hetal Solanki
Completely stress free wedding
"We hired Vivaah Weddings for our wedding, while my family and extended family are very hands on, we still decided to bring aboard a planner and we are glad we got Vivaah Weddings! Not only did they execute our wedding flawlessly from beginning to end and gave us a wedding of our dreams they also handled our family and guests very well and catered to all their needs, for a completely stress free wedding." – Kanhana Khatwani
3. BAQAA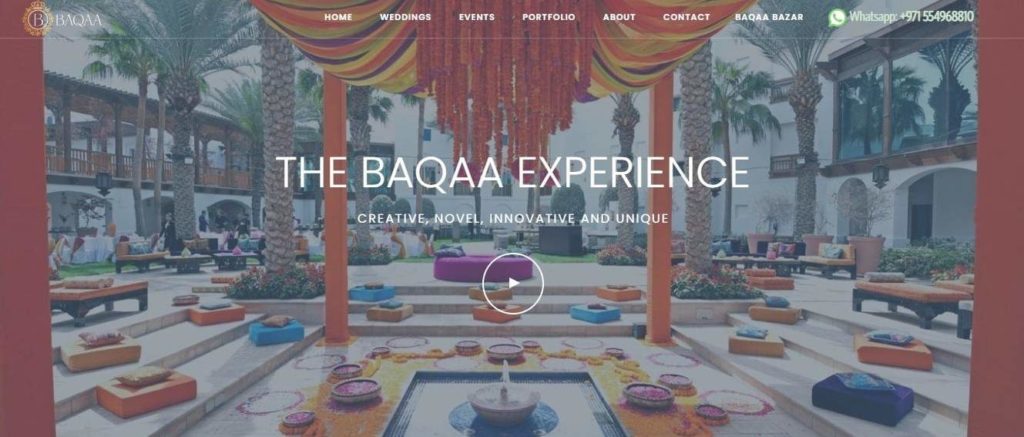 Test
Info
SERVICES
Local Weddings, Destination Weddings, Engagements, Special Occasions
WEBSITE
https://www.baqaawdc.com/
ADDRESS
Street # 6A Warehouse 5 - Dubai - United Arab Emirates
CONTACT DETAILS
Phone:+97143237858

Whatsapp: +971 554968810

OPERATING HOURS
Monday to Friday: 9AM to 6PM

Friday: Closed

Saturday to Sunday: 9AM to 6PM
| | |
| --- | --- |
| Criteria | Ratings |
| Expertise | ★★★★★ (5/5) |
| Services | ★★★★☆ (4/5) |
| Communication | ★★★★★ (5/5) |
| Price | ★★★★★ (5/5) |
BAQAA is a wedding and events planning company that was established in 2011. It is owned by Rachna Chadna who has three decades of experience in wedding and events planning.
The company offers wedding plans for both local and international destination weddings. Regardless of the country, wedding event venues can be held in one of their partnered luxury hotels, a beach resort, or any location that the clients choose.
In terms of the company's wedding decorations, they are focused on floral designs . They have florists and artisans that can perfectly match their creations with the venue of the wedding.
Moreover, one of the BAQAA's best features is the entertainment services they provide. They offer live art, dance, and music to amuse the guests.
One of the services that we particularly like from BAQAA is the Cruiser liner wedding. Take note that this has a lot of limitations and needs long preparation and limited designs which can't give the clients a perfect wedding experience.
They have reliable communication toward their client's needs and concerns. We've spoken to one of their clients and stated that they had an attentive, detail-oriented, and meticulous staff that listened to their requests and needs.
Overall, we like BAQAA because they make sure that the timelines and budget will meet their client's needs and requests. This makes them one of our top options for wedding planners in Dubai.
30 years of experience
Can plan for local and international wedding
Has partnerships with hotels to offer exclusive deals
Closed every Friday
Their cruiser wedding takes long preparation and is recommended for limited guests only.
Client Reviews
Result has always been nothing short of spectacular
"I couldn't have better things to say about working with Rachna and and the BAQAA team. Throughout the planning process, Rachna was attentive, organized and resourceful. She will always make you feel as though she has everything 100% under control. Needless to say that the end result has always been nothing short of spectacular!."– Marianne Zammaria
Highly professional
"Highly professional and creative team of Event Managers and Wedding planners lead by visionary and perfectionist Ms Rachna – this is what i can say about Baqaa. If Ms Rachna she takes up a project, i can bet you that she will go all out of the way to create the wow factor and complete customer satisfaction, which is difficult to achieve in the field that Baqaa is into. Her philanthropist side may not be known to many – she has been giving back to the industry by being a generous academician.. teaching students facets of wedding planning and event management without any inhibition or insecurity.. just from the intention of giving back. Kudos to the team Baqaa!" – Nirmal Shah
4. Jovial Events | Wedding Planners | Birthday Organizers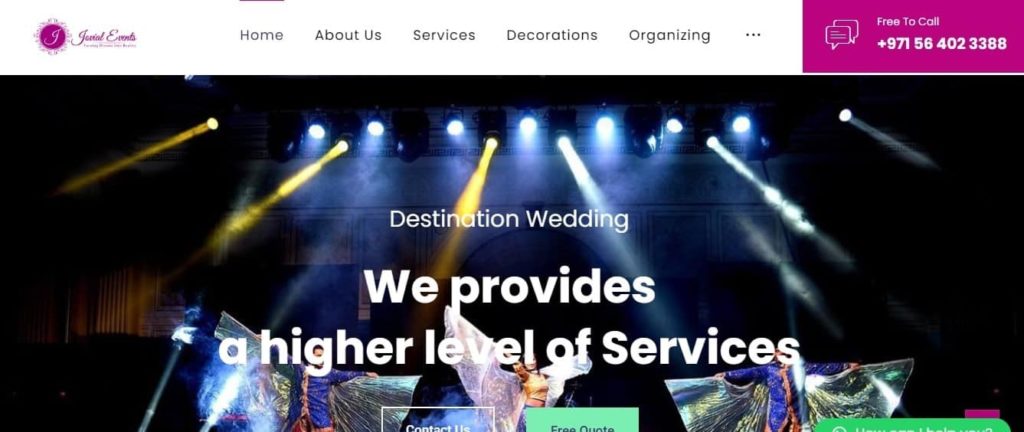 Test
Info
SERVICES
Destination Weddings, Bigfat Weddings, Kosha Design, International Weddings, Celebrity Weddings, Cruise Weddings, Beach Weddings, Indian Weddings, Theme Weddings, Traditional Weddings, Royal Weddings
WEBSITE
https://www.jovialevents.com/
ADDRESS
Salah Al Din St - Al Khabaisi - Dubai - United Arab Emirates
CONTACT DETAILS
Phone:+971564023388

Email:  [email protected]

OPERATING HOURS
Open 24 hours
| | |
| --- | --- |
| Criteria | Ratings |
| Expertise | ★★★★★ (5/5) |
| Services | ★★★★☆(4/5) |
| Communication | ★★★★☆ (4/5) |
| Price | ★★★★★ (5/5) |
Jovial Events is a wedding planning company that has been in the industry for almost a decade. The company has a specialized team that executes all the creative details of the wedding.
We like this company because they have a wide array of options in wedding venues which include Sofitel the Palm and Palazzo Versace to mention a few. In addition, the company is partnered with luxury hotels such as Shangri-la, Emirates Palace, and JW Marriot..
One of the wedding services we like from Jovial Events is the Indian wedding that has a series of ceremonies and takes a lot of preparations.This showcases what the company can accomplish because they can still execute the wedding perfectly from planning up to logistics.
We've noticed that Joviat is a complete all-in-one planner that offers make-up, transportation, decoration, catering, meetings, photography, videography, and food and beverage.
The company has a lot to offer in its decoration service including stage design, floral design, event design, table makeup, and furniture rental.
Jovial Events can customize various themes depending on their client requests. One of their clients that we spoke to mentioned they had a hassle-free wedding wherein the decorations were perfectly done according to their customs and traditions.

Open 24 hours
Decades of experience
Has a wide array of options on wedding venues
High cost
Late response on their website
Client Reviews
Highly recommending them for weddings
"Had an amazing experience with Jovial Events. They are quite talented and have mastered the art of executing the event so beautifully that it seems like a dream turning to reality! Highly recommending them for weddings, anniversaries or any sort of family affair as they will take care of everything from A to Z." – Rishika Rai
Wish came true just because of JOVIAL
"JOVIAL events have really filled my brother's wedding memories with amazing and mesmerizing moments. I wished to wed in a traditional Indian style miles away from India, and my wish came true just because of JOVIAL team. Thanks a lot team for your great effort." – Sumesh Pallissery
5. Muse Events and Wedding Planning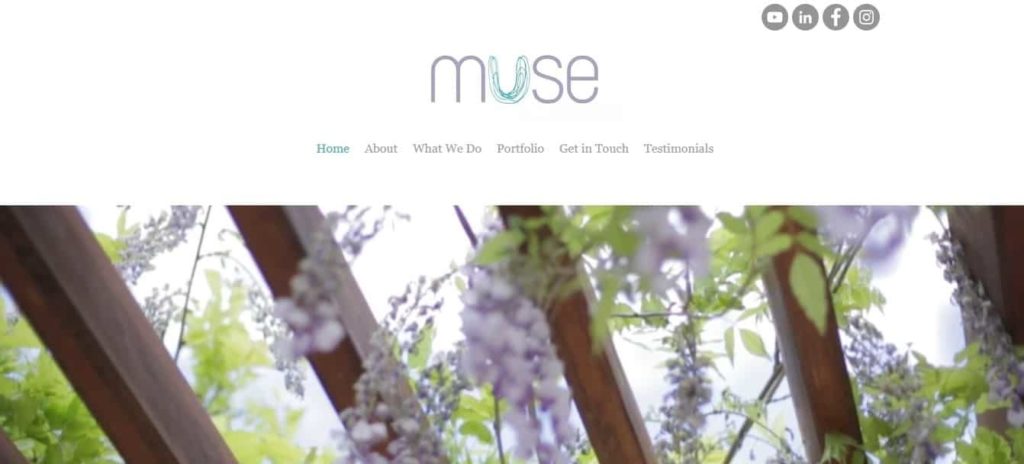 | | |
| --- | --- |
| Criteria | Ratings |
| Expertise | ★★★★★ (5/5) |
| Services | ★★★☆☆ (3/5) |
| Communication | ★★★★☆ (4/5) |
| Price | ★★★★★ (5/5) |
Muse Events is a boutique wedding and event planning company that was founded in 2014.
It is owned by Sandra Bisharat who has eight years of experience in event management across different countries. Other than traditional weddings, she's also skilled at doing experimental concepts on event planning.
In addition, the company provides different solutions to their clients to assure that they will have a smooth flow of events. This includes planning and consulting to achieve the desired theme of the clients.
We've spoken to one of their clients who said that Muse Events exceeded their expectations. They are very detail-oriented in decorations, assuring that everything is going according to plan.
However, the main services they offer only includes the overall design and setup of the venue. Meaning, clients still have to source their own suppliers to find things such as audio-visual equipment, flowers, just to name a few.
The company essentially focuses on catering small wedding events with very specialized services. In addition, Muse Events also offers tailor-made packages depending on the request of the clients.
In addition, Muse Events event is a budget-friendly wedding planner that you can put on your lists. You can also find the company very hands-on with decorations and preparations for the wedding.
Offers a friendly budget for wedding event
Provides different wedding plan solutions
Closed every weekend
Limited workforce
Client Reviews
Sandra goes above and beyond to perfect your event
"Sandra goes above and beyond to perfect your event – from creativity and uniqueness to excellent management and flow. She will bring all the ideas to life with beautiful results." – Nora Daher
Expectations are always exceeded with the creativity
"I've had the pleasure to see the work of Muse at personal events and friends' events where expectations are always exceeded with the creativity, elegance and details obsession. The team is very approachable and genuine so trust is easily built. Thank you for all that you do! The best by far." – Angela Halawi
6. Amaze Events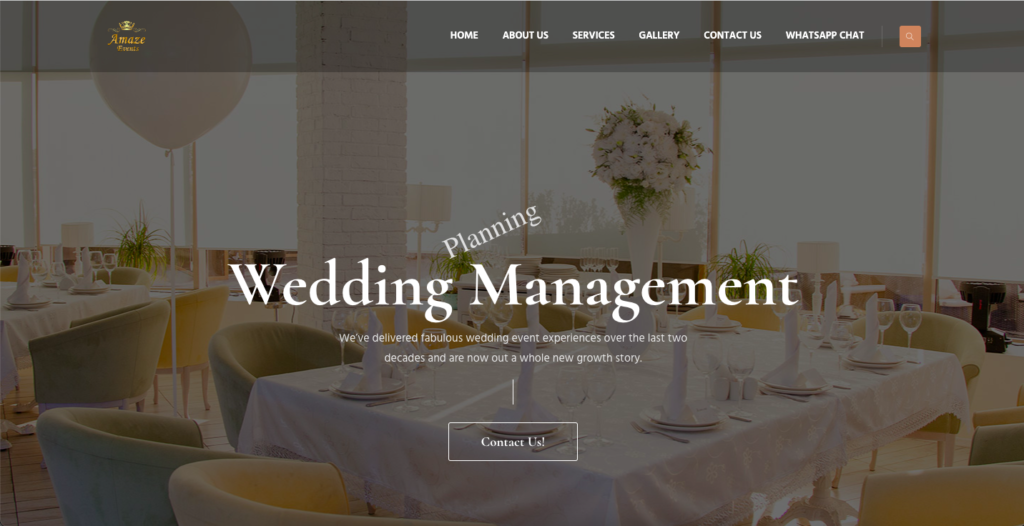 | | |
| --- | --- |
| Criteria | Ratings |
| Expertise | ★★★★★ (5/5) |
| Services | ★★★★★ (5/5) |
| Communication | ★★★★★ (5/5) |
| Price | ★★★★★ (5/5) |
Amaze Events is a multi-service event management company based in UAE.
They do weddings, but they can also handle birthday parties, school events, baby shower and surprise parties corporate events, National Day lighting, Seasonal events, and more.
We like their dedication to creating memorable and fabulous occasions for each and every one of their clients, and this shows in their overall service.
We find their packages for different events comprehensive. They cover all the basics each event would need and some extras as well.
They're all truly artists who curate the best memories for their clients, especially couples for their weddings!
They have an impressive background of more than 15 years of experience in event planning and managing experiences.
We've also talked to friends who've also had the chance to work with them, and we can all agree that our events they've handled were hassle and stress free for us.
We think they're excellent at what they do and we think you'll have a breeze working with them too!
Although one thing we hope they improve is their website. We find some aspects of it messy, but this is only a minor thing of course, and definitely doesn't affect their service.
Handles weddings and various occasions
More than 15 years of experience
Professional and excellent customer service
Client Reviews
"We have appointed Amaze events for a wedding function, and they have taken care of all the requirements for the event. It was hassle free for us. Would recommend them."
7. La Table Events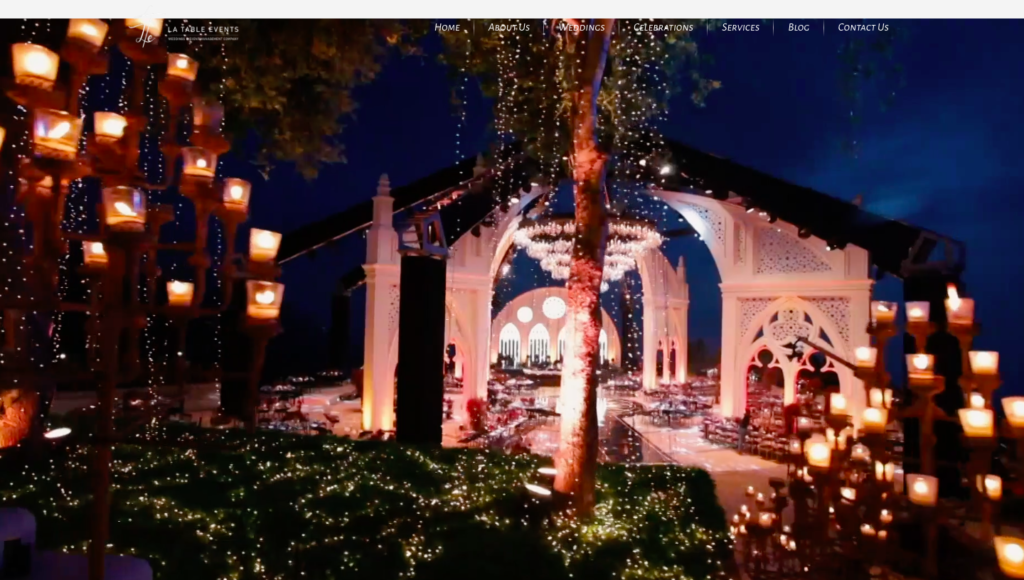 | | |
| --- | --- |
| Criteria | Ratings |
| Expertise | ★★★★★ (5/5) |
| Services | ★★★★★ (5/5) |
| Communication | ★★★★★ (5/5) |
| Price | ★★★★★ (5/5) |
If there's a team of wedding planners we'd like you to know of, it's La Table Events.
This is a premium wedding and events management company based in the UAE, and is composed of a team of architects, designers, and well-experienced wedding planners.
We're impressed by the range of events they can handle. They do weddings, music festivals, corporate events and others!
What we like about them is their attention to detail, creative ideas and ability to plan exceptional weddings no matter the budget.
They can do pretty much all of it for you—venue selection, coordination services, design & concept creation, menu planning & catering services, music & entertainment services, lighting & sound production, guest accommodation management and so much more!
We understand why they're one of the most sought after, reputable and highly recommended event planners in the country. Their professionalism, creativity and dynamic approach to event planning is unparalleled.
Composed of a team of architects, designers, and well-experienced wedding planners
Wide range of services
Professional and creative wedding planners
Operating hours unavailable
Client Reviews
"I had chosen La Table Events to execute my wedding reception, they were very receptive to the visions I had for my wedding. They managed to bring life to the venue and I couldn't have asked for a better team, everything was well coordinated, no last minute hassles. It was a flawless execution. Highly recommend Mark & Joanne for a stress free wedding!"
"It's just feel nice to hire one of the best service providers of event management in Dubai. The crew of latable is brilliant in their work. The main highlight is their decorations and theme based design setting. It was absolutely awesome. No words to say, you are one of the best wedding planners in Dubai, UAE that's for sure! I would highly recommend to my friends. Thanks latable events."
"Very glad to hire latable events for our wedding. Professionalism was on it's high standard. The decorations was really impeccable. Drapes and stage decor was just amazing. One of the best wedding planners in Dubai for perfect and quality wedding planning. One of the highly recommended event planning companies in Dubai."
FAQs about Wedding Planners in Dubai
---
We know the "big day" can be exciting but also stressful. So we hope our picks for the best wedding planner in Dubai will help in making your wedding a memorable event!
Now, that you've got your wedding planner sorted out, you might want to check out our picks for the best wedding venues in Dubai.