5 Best Web Hosting Companies in Dubai
Whether you want to expand your small home business or create a blog for your content, a web hosting service is critical in garnering and holding your audience's attention.
To help you out, we made a list of the top web hosting companies in Dubai for you to check. If this is your first time looking for one, don't fret because we've also included a guide below in choosing one.
How much does web hosting cost in Dubai?
Web hosting services in Dubai are set on a monthly basis and readily offer two types of packages: shared hosting and dedicated hosting.
However, many companies offer packages found in between to consider the many variables at play.
| TYPE OF WEB HOSTING | PRICE |
| --- | --- |
| Shared Hosting | AED9 to AED55 per month |
| Dedicated Hosting | AED73 to AED293 per month |
Best Web Hosting Companies in Dubai
In order to find the best web hosting companies in Dubai for small businesses to blogs, and everything in between, we considered these following factors as our criteria:
1. Al Wafaa Group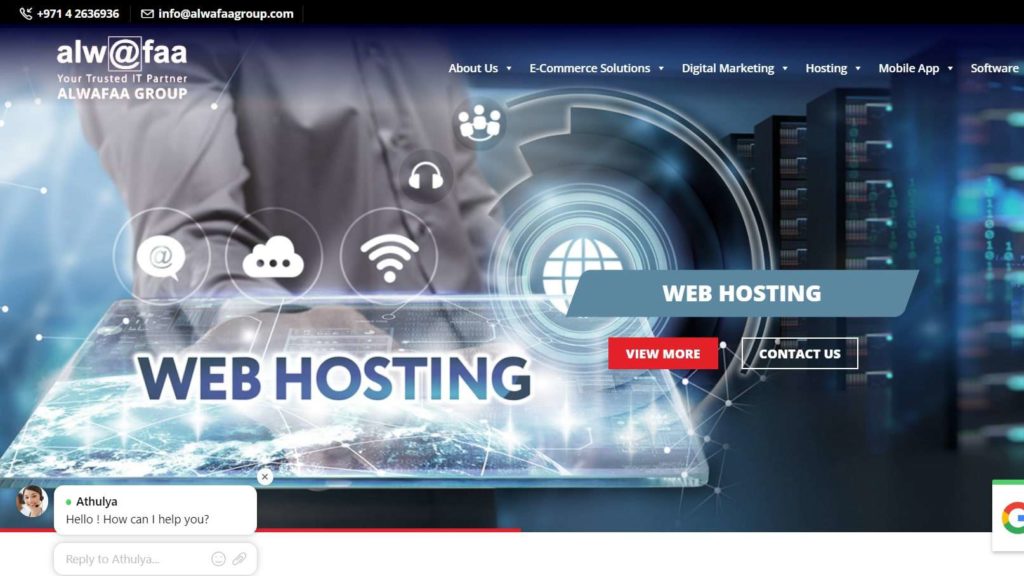 | Test | Info |
| --- | --- |
| WEBSITE | https://www.alwafaagroup.com/ |
| ADDRESS | Mezzanine Floor, Atrium BuildingLand Mark: NBQ Bank BuildingNear to Al Qiyadah MetroStationNext to Al Mamzar Shopping CentreAbu Hail, Dubai, UAE |
| CONTACT DETAILS | +971 4 2636936 |
| EMAIL ADDRESS | [email protected] |
| OPERATING HOURS | 8:30AM-6PM (Mondays to Saturdays) |
| | |
| --- | --- |
| Criteria | Ratings |
| Uptime | ★★★☆☆ (3/5) |
| Speed | ★★★★★ (5/5) |
| Security | ★★★★☆ (4/5) |
| Support | ★★★★★ (5/5) |
| Packages | ★★★★★ (5/5) |
Al Wafaa Group is one of Dubai's best complete digital solutions companies offering web hosting. It even helps you build your own website from the ground up.
First off, the company was more than happy to help us go through their processes on web hosting as we tried out their web hosting services.
However, they were vague on their uptime percentage and gave us a rough estimate of not lower than 98%. This is above average but still lower than several other web host providers.
But they proved to us they're great at what they do when we were having trouble accessing one of the websites we tested out. Getting connected to their in-house experts took no time at all, and the experts were helpful in navigating through the problem.
We are also big fans of their ability to customize our website's bandwidth capacity. The bandwidth capacity pertains to the amount of data it can use per second in order to load our website.

By having the exact amount of bandwidth, our users are able to load our website fast enough without taking up the bandwidth needed to load other websites in their browsers.
This unique approach that other entries on this list don't provide really balances speed and practicality very well.
Their offerings on SSL certificates and installation, malware removal, and web firewall integration services were enough for us to feel confident in securing our website's data.
However, these services for cybersecurity were charged separately, and we were disappointed especially when other entries on this list have SSL certificates integrated into their packages.
As for the company's customer support, they gave us training sessions on top of having easy access to their in-house experts.
These sessions equipped us with the fundamental knowledge to let us operate the website on our own without depending too much on their experts.
We think that this should be more of a common practice among web hosting providers, but alas, only Al Wafaa offers this service.
As for their packages, Al Wafaa shines in the fact that they are a local digital solutions and web hosting company and can efficiently roll out custom packages in a timely manner.
We liked that they took the time to know all our needs and how we want to grow our website and offered us a package that was entirely unique compared to international web hosting providers.
All in all, where Al Wafaa shines is their attention to the client's needs and their ability to create websites and offer services that perfectly match them.
In-house experts accessible at all times
Bandwidth capacity is customized for practicality
Available SSL certificates, malware removal, and website firewall
Has training sessions for clients
Packages are custom-made for client's needs
Uptime percentage is not as high as most web host providers
Cybersecurity services are charged separately
Customer Reviews
Running more efficiently than ever!
"Thank you to the team at Al Wafaa Digital marketing group for a great website! The team effort is amazing, and the end result is fabulous. I am so pleased with my modernized website and the social media campaign. My office productivity is soaring! Thank you for the great work. I highly recommend Al Wafaa Digital Marketing group for all your website and online marketing needs." —Dynamic Consultancy UAE, Google Reviews
Amazing support with trainings
"A dedicated team with extensive experience and skills. Their instant support help our website to update daily. Their training session was very informative and helpful. Sincere thanks to Bincy and Ebini." —Manju John, Google Reviews
2. Prism Events Digital Advertising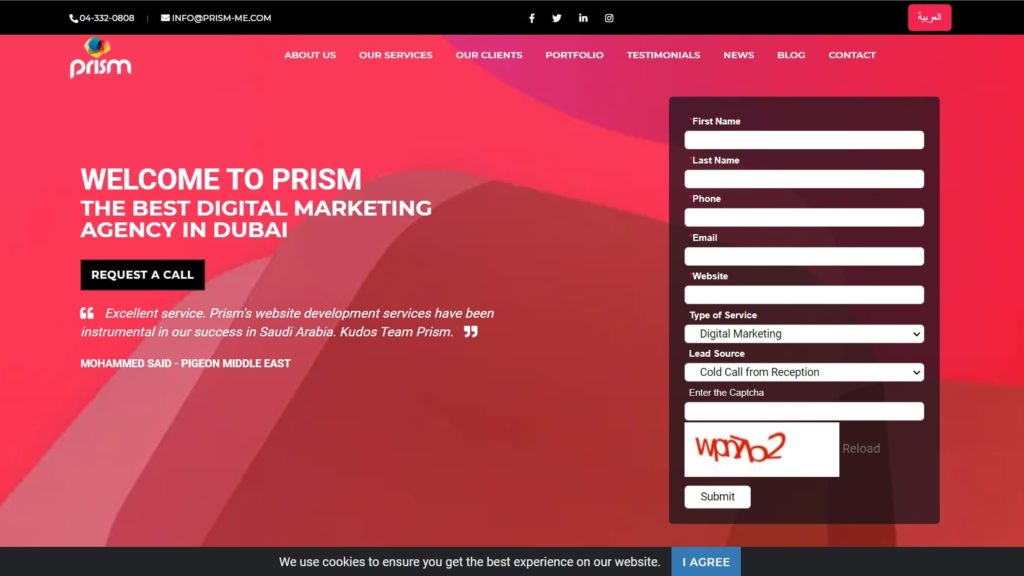 | Test | Info |
| --- | --- |
| WEBSITE | https://www.prism-me.com/ |
| ADDRESS | Latifa Tower, Office No. 604 - West WingWorld Trade Center 1Sheikh Zayed RoadDubai, UAE |
| CONTACT DETAILS | 04-332-0808 |
| EMAIL ADDRESS | [email protected] |
| OPERATING HOURS | 9AM-6PM (Mondays to Saturdays) |
| | |
| --- | --- |
| Criteria | Ratings |
| Uptime | ★★★★★ (5/5) |
| Speed | ★★★☆☆ (3/5) |
| Security | ★★★★☆ (4/5) |
| Support | ★★★☆☆ (3/5) |
| Packages | ★★★★★ (5/5) |
Prism Event Digital Advertising is your go-to choice if you need web hosting services and SEO strategies to produce leads and reach potential customers effectively.
We were pleasantly surprised to know that Prism Events has a 99.98% uptime percentage. This means we'll never have to worry about our website ever being unavailable for people to visit.
Moreover, their clients' websites are created and supported by a team of professionals in the field of server management and website domain services.
Because of their team being a strong foundation for their services, the company has been going strong for 16 years now.
The downside to them is the fact that they work with limited bandwidth, thus most of their clients are small businesses only.
This limitation means your website from them won't be able to handle heavy traffic and would slow down, if not crash on the spot.
We came to the conclusion that with a limited bandwidth capacity, they are better suited to small online shops, digital portfolios, and blogs.
They also offer SSL certificates and installations, which we deem critical for businesses because these safeguard financial transactions from hackers.
However, other than this service, they do not offer any more cybersecurity options. We realized that we were better off looking for third-party softwares to make sure our website is more secure.
Their live customer support is open for questions and guidance 24/7. Besides this, Prism does not have any other kind of support for us to look into.
This left us totally dependent on competing for time with other clients if we need some kind of help.
But just like Al Hafaa, where they shine is really in customizing their offers for you. Perfectly fitting our needs and presented in comprehensible tables, their packages included web hosting and more.
Prism Events Digital Advertising is perfect for small business owners, freelancers, and content creators who need a web host provider and an effective strategy to start expanding their services online.
99.8% uptime
Has SSL certification and installation
24/7 live customer support
Customized packages
Offers SEO and advertising strategies
Bandwidth capacity only enough for small businesses
Cybersecurity limited to SSL certificates
No database of knowledge
Customer Reviews
Very helpful support
"I had worked with PRISM in the past where they had developed the website for OFIS. They were extremely professional and helped us in transforming a very archaic website into a world class one.
I would strongly recommend them to anyone who wants to establish a strong digital presence, as they are not only good website developers but also equally strong in handling SEO strategies resulting in visible Google search ranking." —Ranjit Unni, Google Reviews
Creative, patient, and excellent results
"Prism is synonymous with excellence. Ever since my company started working with Prism at the beginning of the 2019 year, we have only seen outstanding results and designs for the products that we asked them for.
Even though our company is headquartered in Jeddah, Saudi Arabia, Prism was able to respond and fulfill our requests in a timely and professional manner. However, the designs are not the only exceptional part about Prism. The staff's kindness, patience, perseverance and creativity are what sets them apart from the competition. That is why it was an easy decision for my company to choose Prism out of countless other competitors.
Their designers' genuine ability to think outside the box and due to the fact that their staff was always heartwarming and eloquent with their dealings made my company stick with them for almost a full year." —Iqbal Ahmed, Google Reviews
3. HostGator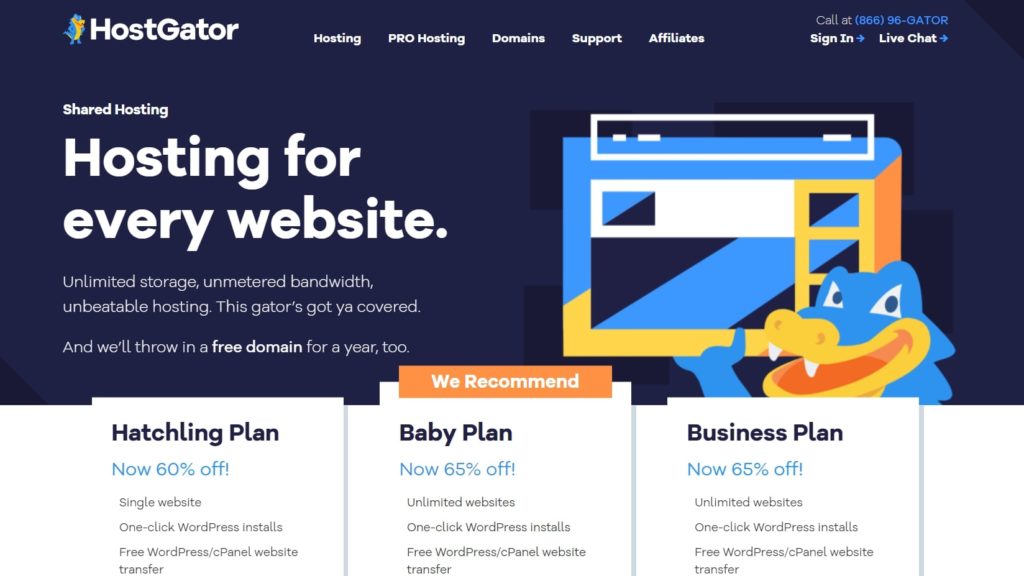 | | |
| --- | --- |
| Criteria | Ratings |
| Uptime | ★★★★★ (5/5) |
| Speed | ★★★★★ (5/5) |
| Security | ★★★★★ (5/5) |
| Support | ★★★★☆ (4/5) |
| Packages | ★★★☆☆ (3/5) |
HostGator is one of the world's leading web host service companies and is fully capable of servicing clients in Dubai.
With a 99.98% uptime, this company prides itself on guaranteeing its clients that their websites are always available and functional for everyone around the world.
This, along with some of our entries on this list, are some of the web host services with the highest uptime percentage — making them one of the most reliable web host companies.
HostGator also offers unmetered bandwidth on all packages they have available. This means that they do not monitor and limit the amount of bandwidth your website takes up.
With the bandwidth being unmetered, your website can load as fast as your customer's internet can. However, this may cause other open sites to slow down.
Furthermore, HostGator is one of the fastest web host companies out there with their server speed at 660mbps.
We are big fans of how fast it is to access websites with HostGator and appreciate our website's features even more with how smooth they loaded up.
Using HostGator, you can impress your clients and audiences with animations and visual features without compromising on your website's loading time.
This is perfect for freelance artists, designers, and content creators out there who need an engaging website to reel in potential clients with their creativity.
Their cybersecurity offerings security impressed us, too. With a free SSL certificate included in all of their packages, we were happy we didn't have to spend more cash just for that.
On top of that, they also partnered with SiteLock security. This lets HostGator scan your website for malware and harmful codes regularly.
This is such a relief for us because this means that potential problems on cybersecurity could be solved almost immediately if we are aware of it as early as possible.
HostGator also has integrated an automated backup system on all of the websites they host so that your data won't be lost if anything happens.
What we struggled with was their customer support. Yes, there is a knowledge database and blog available for everyone, but what let us down was their live customer support.
Advertised to be available 24/7 365 days a year, their customer support took a lot of time to reach.
Getting put on hold multiple times was not a fun experience — even more so when there was an emergency with our website.
This was probably because of HostGator's thousands of websites being handled, but even we think that that shouldn't be an excuse.
Another weak point, which we think comes naturally with large international web hosting companies, was their lack of flexibility when it comes to their packages.
With only 3 packages for us to choose from, it was a struggle picking the one that fully covered our needs without too many unneeded features that we might waste our money with.
At the end of the day, HostGator's strong uptime percentage, cybersecurity integrations, and 20 years of experience in the business makes it a great option for web hosting.
99.98% uptime
Free unmetered bandwidth
Free SSL certification with regular malware scans
Automated data backups
Available knowledge database and blog
24/7 live support is difficult to reach
Rigid pricing structure is too limited
Customer Reviews
My go-to web hosting service
"I myself have used HostGator for personal and business for some 7- 8 years, we also used them for several clients, from startups to corporate to e-commerce, most of these being WordPress, with little problems compared to many other host, the support teams have always been responsive a quick to help." —Bryan Phillips, Google Reviews
Supportive and efficient service
"I've been a HostGator customer for many years now with as many as 3-4 websites hosted and running at the same time. I've had less than a handful of very minor issues over the years and each time the issues were handled very efficiently and timely. I moved from other hosting services to HostGator and HostGator is by far my preferred host. I have been a very happy customer overall, having said that, with years of experience with websites and other hosting services, I would highly recommend HostGator as a preferred host partner." —Jimmy Rogers, Google Reviews
4. Gulf Hosting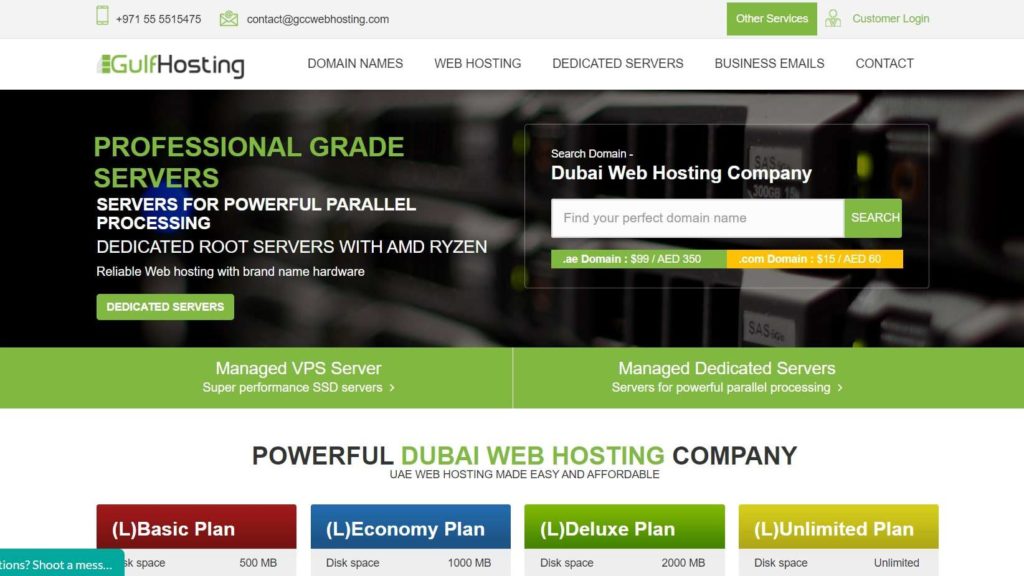 | | |
| --- | --- |
| Criteria | Ratings |
| Uptime | ★★★★★ (5/5) |
| Speed | ★★★★☆ (4/5) |
| Security | ★★★☆☆ (3/5) |
| Support | ★★★★★ (5/5) |
| Packages | ★★★☆☆ (3/5) |
Gulf Hosting is our top pick for the most reliable web host company in Dubai. With Gulf Hosting we never experienced any problems as we tried out their web hosting services.
With a 99.99% uptime percentage, this company is on the top because of its near-perfect website availability for all of the sites they host.
And while not available for all of their current plans, Gulf Hosting offers unlimited bandwidth to its clients. This means that loading up a website they host can be as fast as your internet service provider's maximum speed.
Of course, this also means that loading a website hosted by Gulf Hosting means that other websites you have opened will slow down.
You will get no complaints from us when it comes to their speed. They were not kidding with the unlimited bandwidth when we tried out their highest plan available.
Our website loaded in less than 5 seconds, complete with its animations and graphics. We were truly impressed by its speed.
However, we strongly think that they are lacking in cybersecurity offerings. This is where Gulf Hosting disappointed us.
Sadly, they only offer SSL certificates and installation for securing your websites. For some, this may be enough, especially for those that need some financial transaction safeguard.
However, websites are not only for that, and we still recommend you avail of third-party cybersecurity software to really make sure you are not vulnerable to hacking and data leaks.
The lack of automated data backups, regular malware scanning, and website firewall integration makes Gulf Hosting completely vulnerable to cyber attacks that can ruin businesses.
What they lack in security, they make up in their customer support. Their live support was very responsive and informative with their answers, even after work hours.
We were also big fans of their blog that contained informative articles of not just their services but think pieces on current news in the web hosting industry.
Their FAQs were also very informative and easy to navigate. We immediately found quick answers to our questions every time we checked on it.
But the biggest let down out of all these aspects as we tried out Gulf Hosting was their lack of flexibility in their plans.
For a local web hosting company, we expected customized packages that would strategically answer our website's needs, but this was not the case.
With only 4 packages — and 3 of them have limitations on all of their specifications — it was hard not to feel disappointed.
We recommend their Unlimited Plan, as this was the most flexible option in our book. But only choose it if your budget allows you to.
At the end of the day, Gulf Hosting prides itself on its uptime reliability and limitless speed. However, these are weighed down by its lack of cybersecurity offerings and packages that restrict clients too much.
99.9% uptime
Unlimited bandwidth for their most expensive plan
SSL certificate available
Live customer support is responsive and knowledgeable
FAQs and blog are great information sources
Unlimited bandwidth only available for their most expensive package
Lack of variety in cybersecurity offerings
Available formulated plans were too restricting
Customer Reviews
Improves more than just a website
"Excellent Support. My Web Ranking was down due to server errors. GCC Web Hosting not only solved my server errors and hosting problems but also increased my Web Ranking with SEO. Highly Recommended." —Middle East Company, Google Reviews
Support is always available
"It's very difficult to find remote technical support instantly and I found GCC Web Hosting technical support service is super fast. I had faced issues after working hours and they responded fast. I will always recommend this Dubai based web hosting company to all my clients." —Rauf Ahmad, Google Reviews
5. Temok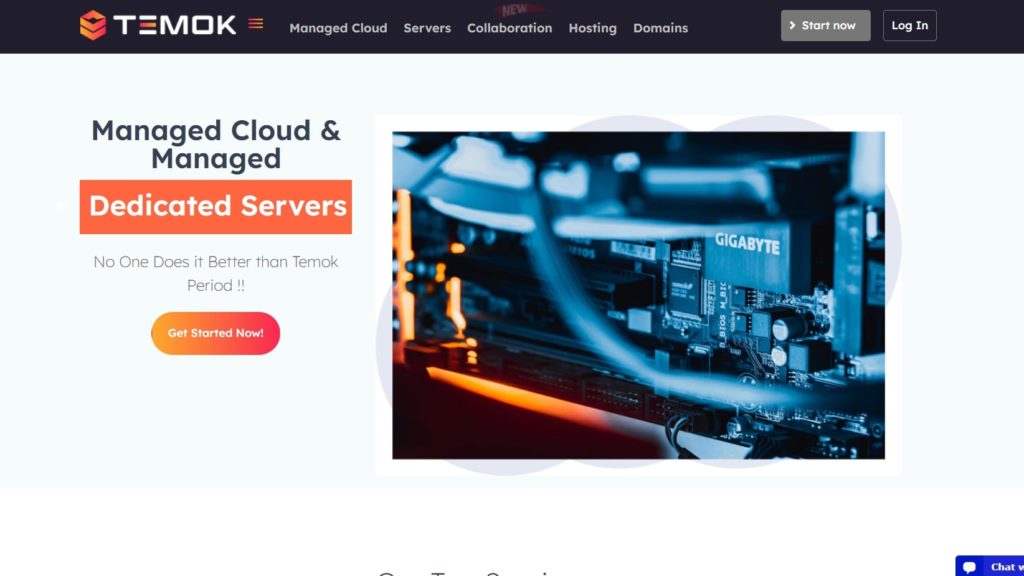 | Test | Info |
| --- | --- |
| WEBSITE | https://www.temok.com/ |
| ADDRESS | Office # 25 , Level 5 , One Business Center , OneJLT , Jumeriah Lake TowersDubai - U.A.E |
| CONTACT DETAILS | +1 (718) 414 6543 |
| OPERATING HOURS | 8:30AM-5:30PM (Sundays to Thursdays) |
| | |
| --- | --- |
| Criteria | Ratings |
| Uptime | ★★★★★ (5/5) |
| Speed | ★★★☆☆ (3/5) |
| Security | ★★★★☆ (4/5) |
| Support | ★★★★☆ (4/5) |
| Packages | ★★★★☆ (4/5) |
Founded in Dubai way back in 2014, Temok has rapidly grown, building headquarters all over the world, and is currently one of the fastest-growing web hosting companies available.
With a 99.6% uptime percentage, Temok is up there with the rest of the entries in terms of reliability when it comes to having your website available 24/7.
And their success here is owed to their specialty in offering dedicated servers from 10 locations all over the world.
Not only does this contribute to the stability of their servers and their excellent uptime, but it also adds another layer of security for us.
By having 10 different dedicated servers, any possibility of hacking, data breaches, and other cybersecurity attacks are localized within just that one server.
This allows the professionals of Temok to immediately spring into action and carefully strategize, without the pressure of the possibility of any malware spreading all over a global network.
However, this did leave us worried about our safety when we tried out their web hosting services on a shared network
We think that it would not fare well against cybersecurity attacks in a rapidly evolving digital world, compared to their dedicated servers.
Despite this, Temok sufficiently delivers on the speedy end of the business. Just like some entries on this list, the company also offers the double-edged sword of unlimited bandwidth.
But as we tried out Temok, we encountered another problem. As we started building our website, we quickly realized that the web-building interface was slow.
It didn't operate as fast as other web hosting platforms like HostGator and Gulf Hosting. So we looked into the problem, and we have discovered that Temok has yet to optimize itself with WordPress, Joomla, and Drupal.

Take this as a word of caution, and make sure you have ample time before your deadline when using Temok.
Despite the innovative interface it has for web-building, it's hindered by its outdated optimization.
But where its efficiency and speed lacks, Temok makes up for its up-to-date cybersecurity offerings.
Besides having 10 dedicated servers, this company also offers Secure Sockets Layer, which is a military-grade encryption used for safekeeping digital data.
Temok is also compatible with VPN for clients and audiences who prefer to keep their browsing on the internet private.
As for the customer support end, they have taken a unique approach to things. They have the usual 24/7 support, and their team was very responsive and got back to us in less than 10 minutes.
What sets Temok apart is that they assigned us our own account manager to help us with our website needs and was open to consultations.
We are big fans of our account manager who took the time to explain all their services and helped us find the right package amongst 4 options. Sessions with her were informative and engaging.
Besides this, they also have a blog complete with informational articles and news on the industry. However, they currently have no knowledge database available.
As for the packages, it's disappointing to know that they only offer prefabricated packages and not customized ones according to our needs.
We would have let this slide considering that they are an international web hosting company. However, we thought that with our designated account manager, they would be able to give a customized package for us.
All in all, we can definitely see why Temok is one of the rising stars of web hosting. The highlights are definitely the military-grade cybersecurity offerings.
We are big fans of the dedicated servers that offered another layer of safety for us, and we thoroughly enjoyed having our own account manager.
It definitely more than makes up for the unoptimized features of the web-building feature.
99.6% uptime
Unlimited bandwidth
10 dedicated global servers
Military-grade encryption
Responsive live support
Personal account manager
Unoptimized compatibility with WordPress, Joomla, and Drupal
Shared servers may not be as secure
No knowledge database
Customer Reviews
Very helpful support
"Emil, one of the Customer Service Reps, was very patient in tackling the issues I had with my server and I truly appreciate Temok's top-notch support system. Always there when you need them the most!
Keep up the great work. Your support is the main reason that I keep my account with you." —Melissa Asunta, Trustpilot
Best host on Earth
"At first I insisted on hosts "closer to home"… but after getting sick of being hacked and stolen from and lied to, I tried Temok and not only stopped having these problems, I discovered a level of free tech support that would help like no other, reminding me of the days before average handle times.
Occasionally something works a little differently here, and one out of 20 times there's a small wait to get someone who can help, but usually it's real-time and the 1 out of 20 times is well worth it because of how well they help when you get them, not even giving up when it's your user error. They will help you fix anything." —Jeff Burris, Trust Pilot
Things to Consider When Picking a Web Hosting Service Company
Having a reliable and safe web host provider is critical in having a website that can deliver what you want to do with it.
That is why it's important to consider these factors when choosing a web hosting company:
Always look for a web host service that has 98% uptime or more. This is more than the average uptime percentage of the majority of web hosts.
The rule of thumb here is the closer to 100%, the more reliable the web host company is in making your website available 24/7.
Unlimited or custom-fit Bandwidth capacity
The quickness of how your website loads up on your audience's computer can either keep them long enough to explore what you have or leave your website.
Always look for a web hosting company who can offer unlimited bandwidth or, even better, custom fit your bandwidth capacity to your website's needs.
Also, check if the company has shared their server speed, and always choose the ones that have 600mbps or higher.
SSL certificate and cybersecurity offerings
SSL certificates are critical in protecting your website from malware and hackers, so always look for web hosting companies that can offer this.
But don't just stop there. Check if you can find companies that offer high-end encryptions, automated malware scans, and website firewall integrations for maximum security.
Issues with running a website can happen anytime and anywhere. That is why it is important for a web host company to have 24/7 live customer support that is responsive.
Having a knowledge database and training sessions are also great, but always prioritize a company that has great live support.
Having all your needs met and customized for your website is the best thing when it comes to your budget.
However, not all companies can do this, especially if it's a large international company. But sometimes it is better to avail of prefabricated packages in exchange for a more stable and reliable service.
FAQs about Web Hosting in Dubai
---