Visiting the Best Vegetarian Fine Dining Spots in Dubai
Healthy eating can also be fancy when you're in the amazing cultural pot that is Dubai. There's plenty of varieties to choose from, including some amazing vegetarian fine dining spots in Dubai.
After all, vegetarian cuisine takes many different forms as well; some even replicating our favourite non-vegetarian and traditional dishes thanks to the improvements in food production here in Dubai.
So whether you just wanted something as simple and light as a salad to something like a kebab or pizza made only with vegan-friendly ingredients, here's some of our favourite places for vegetarian fine dining in Dubai:
Avatara Restaurant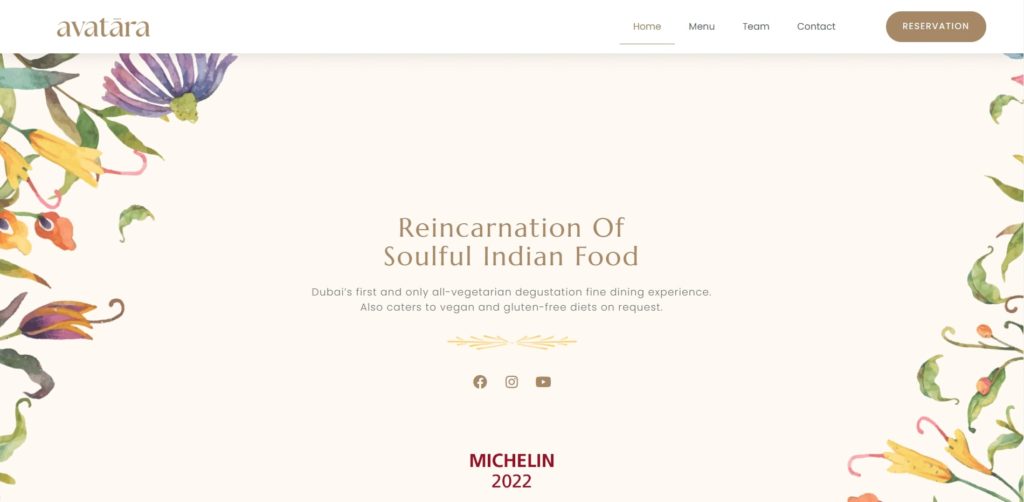 MENU:
Karuvelvilas, Sandhita, Naivedhya, Jadon, Ksheer
LOCATION:
Second Floor, Voco Hotel, Sheikh Zayed Rd., Dubai
SOCIAL MEDIA:
Instagram
OPERATING HOURS:
Tuesdays - Sundays: 6:00 PM to 11:30 PM

Closed on Mondays

PRICE RANGE:
AED 28 to AED 550
Avatara is an amazing vegetarian fine dining experience down the Sheikh Zayed Road. It takes heavy inspiration from Indian cuisine in order to deliver a great vegetarian fine dining experience while also catering to vegan and gluten-free diets upon request.
The overall feel inside the restaurant reminds us of a really nice hotel lobby of course, with the potted plants providing the occasional pops of colour in an earthy-looking exterior.
Upon browsing the menu, you can immediately see the restaurant's Indian influences. Plenty of them are said to take inspiration from rituals and traditional snacks from the country.
Admittedly, a lot of these dishes appeared new to us so we were quite blown away with how good they were.
The root chips called 'Jodon' were served with a nice pomegranate chutney making for a nice salty and sour mix in the mouth. You might also want to try savouring their 'Grinjanah'; a turnip steak with a hint of chili curry for a nice kick.
You also get an assortment of fresh, seasonal fruits to choose from such as guava, strawberry, and even jackfruit. It's almost like most dishes can be treated as a dessert at times.
Dessert is also something Avatara does well and we enjoyed the 'Ksheer'; a coconut-based pudding supposedly inspired from a reference in Indian epics.
Good news for vegan diners is that a lot of these options don't feature any animal or animal byproducts and for those that do, our waiter was immediately able to inform us which ones did.
Try out their tea as well. All of them are made with a wide range of different fruits and sweet purees for a refreshing way to wash down your meal.
As expected of a fine dining place, Avatara is quite pricey. You can expect to spend around AED 735 for a meal for two people, and that's without the alcohol factored in.
Still, the great food, amazing ambiance, and impeccable service definitely makes Avatara one of the vegetarian fine dining spots to check out in Dubai.
Where to find the Avatara Restaurant?
What's nearby?
Those looking to pamper themselves with some beauty treatments are only a few walks away from the Villa Saif Beauty Center and the Asmi Hair Salon for some hair styling.
You're also not too far from the Museum of the Future. With several futuristic and science-based exhibits on every floor, this is a great place to explore with your kids especially for finishing their healthy greens at the restaurant!
Folia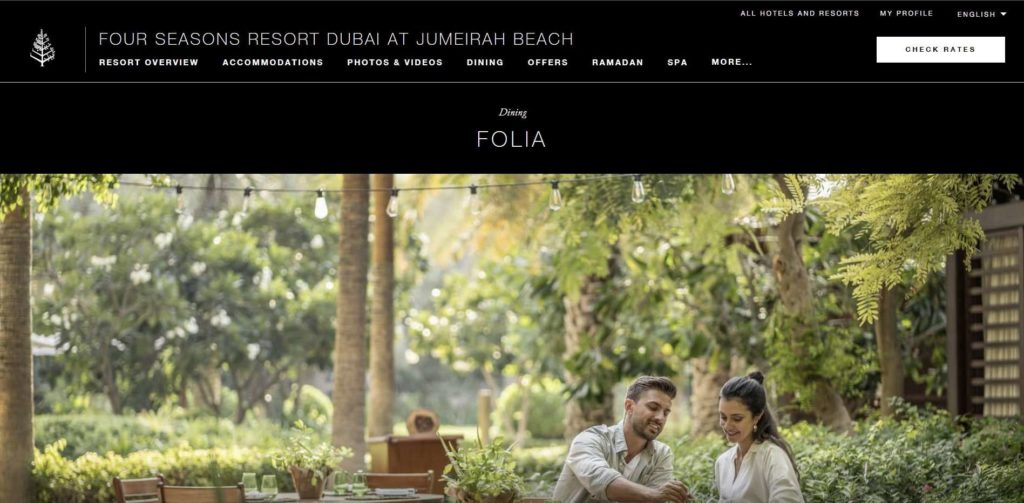 MENU:
Cold and Crisp, Main Course, Pizza & Flatbreads, Wellness Drinks, Sparkling Juice
LOCATION:
Four Seasons Resort, Jumeirah Beach Road 2, Jumeirah, Dubai
SOCIAL MEDIA:
Instagram
OPERATING HOURS:
Sundays - Fridays: 1:00 PM to 10:00 PM

Saturdays: 6:00 PM to 10:00 PM

PRICE RANGE:
AED 30 to AED 155
Set inside the picturesque Four Seasons Resort at the Jumeirah Beach is Folia. It's an al fresco dining destination offering some innovative and delicious plant-based cuisine.
The overall ambiance is in-line with their specialty, offering plenty of green adornments and wooden elements. Placed in contrast with the tropical-esque setting by the beach and it makes for a fun summer getaway in itself.
The menu is designed with a lot of organic elements and fresh ingredients in mind. Nonetheless, they were able to serve it up in a form and shape that should feel familiar even to most non-vegetarian eaters exploring their options.
For example, they have a wild mushroom pizza made with a nice truffle cream and some roasted mushrooms. Alternatively, you can also try out their heirloom tomato made with almond ricotta and green olives.
If you want something a little colder, you can always opt for their salads. They have a nice kale caesar and dukkah avocado made with fresh greens, lemon tahini and some homemade tomato jam.
After that, you can head on to some bigger dishes such as their vegetarian tacos and herb gnocchi. We recommend trying out the steamed king oyster mushroom steamed bun as well.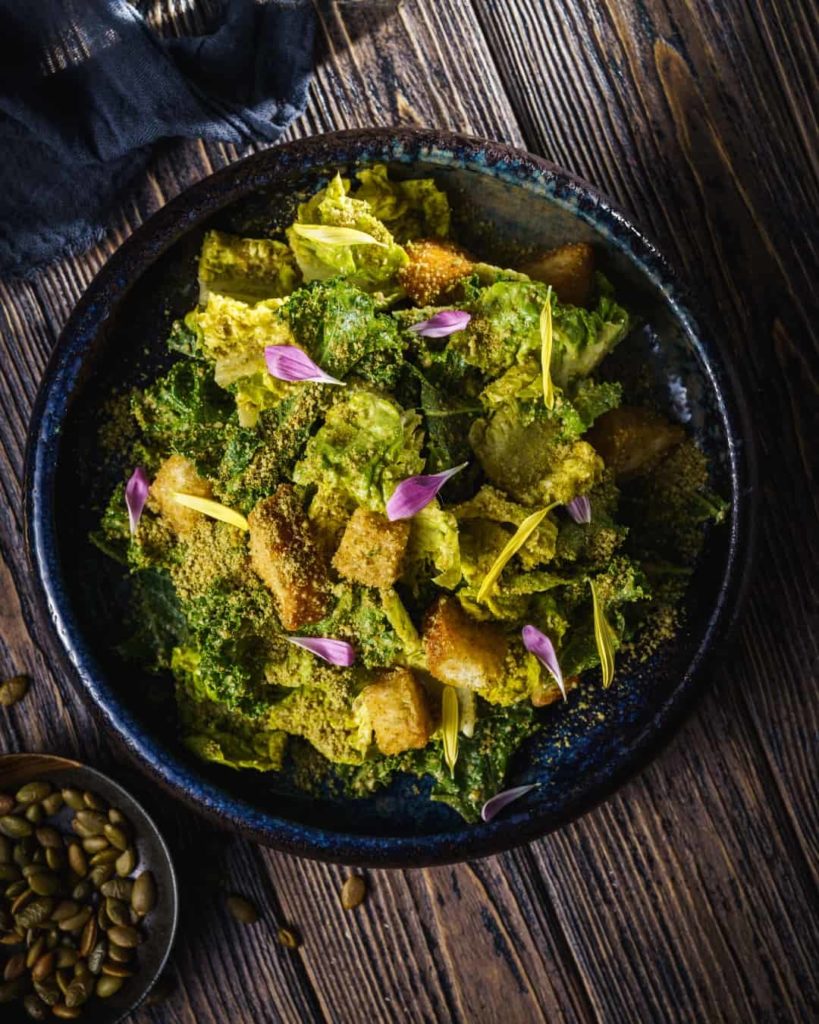 Dessert has some nice sweet fare ranging from chocolate orange tart and a banana split made with a creamy vanilla ice cream and fresh berries.
Prices start at around AED 300 for a filling meal meant for two people so it shouldn't be too high despite the luxurious presentation and nice location.
No need to book a trip to a tropical island here at the Four Seasons. We definitely recommend Folia for a nice vegetarian summer getaway here in Dubai.
Where to find Folia?
What's nearby?
Visitors at Folia will be happy to enjoy a lot of the nearby amenities at the Four Seasons. For one, the grand swimming pool and the beach is just nearby for those who'd like a quick swim before their meal.
There's also the Shai Salon and Terrace for those wanting to relax and unwind without going too far from the hotel.
Alternatively, thrill-seekers can just walk a little bit to reach the Seawake Watersports where you can rent a jetski and have fun zipping on the water.
Little Italy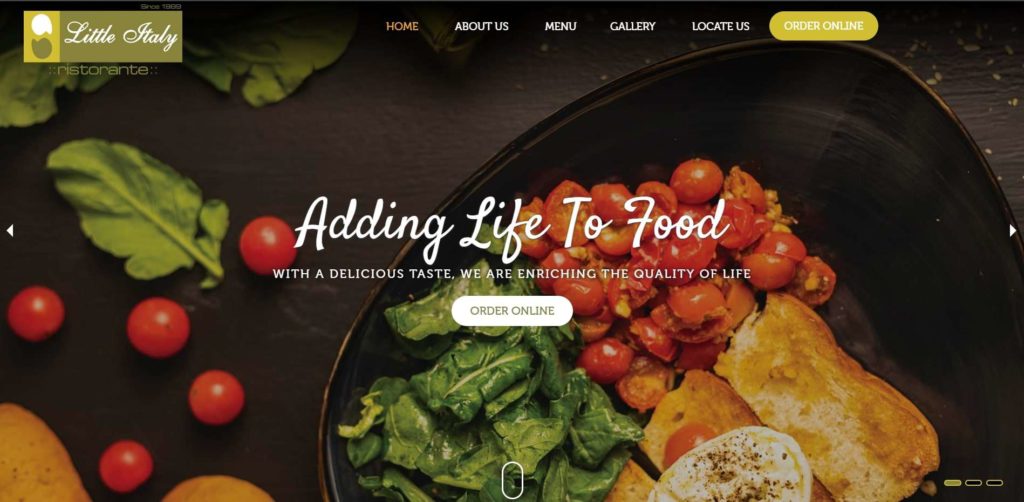 | | |
| --- | --- |
| MENU: | Starter, Mexican Specialties, Vegan Menu, Pizza, Pasta |
| LOCATION: | Shop No. 2, Al Habbai Building, Same lane as Babyshop Next to Rivoli Showroom, Dubai |
| SOCIAL MEDIA: | Instagram |
| OPERATING HOURS: | Mondays - Sundays: 12:00 PM to 11:59 PM |
| PRICE RANGE: | AED 15 to AED 245 |
Offering a mix of Italian and Mexican-inspired vegetarian dishes, a taste of Little Italy here in Dubai is guaranteed to provide you with some familiar favourites done in a much greener way.
You get a nice, rustic ambiance inside the restaurant though they do exhibit some modern, industrial trappings by way of their high overhead lamps and exposed ventilation shafts as a design choice.
The menu is quite big and extensive. They have a lot of varieties on starters alone ranging from creamy avocado and the classic garlic bread to more contemporary options like a vegetarian fried ravioli with spicy tomato dip.
Past that and you start to find your favourite Italian dishes on their first and main courses. You start with your choice of pasta like vegetarian lasagna or a creamy risotto served with four types of melted cheeses.
As for the Mexican options, there's quesadillas filled with just cheese or vegetables depending on your preference. You can also get a special rice bowl filled with Mexican brown rice, refried beans, vegetables, and some mushrooms for a complete meal.
And while a lot of their offerings do include plenty of cheese and dairy in them, they have taken care to craft a specialized vegan menu for diners who wish to avoid animal products entirely, which we do respect.
Here, they're allowed to choose from their own curated options which includes soup, pizza, pasta, salads, and desserts without worrying about contamination from the non-vegan options on the other menu.
You can expect to spend around AED 240 for a meal for two people here. The extensive menu Little Italy offers does present plenty of opportunities to explore though so we definitely expect most people to come back and try something new.
We definitely recommend vegetarians and vegans alike to visit Little Italy here in Dubai next time they want to try something familiar yet fancy.
Where to find Little Italy – Dubai?
What's nearby?
Shopaholics will enjoy Little Italy's close proximity to the Karama shopping complex and the Zommorodah shopping mall. You're pretty much spoiled for choice when it comes to your fashion, electronics, and furniture shopping needs.
Anyone who likes to play some pool can find the equipment they need at Knight Shot's specialized game table centre nearby. They offer products and know-how related to games like billiards and foosball.
Alternatively, there's also nothing wrong with just taking a walk down Karama Park. Clear your head with the pleasant breeze and shade provided by the lush greenery of the area.
Just Vegan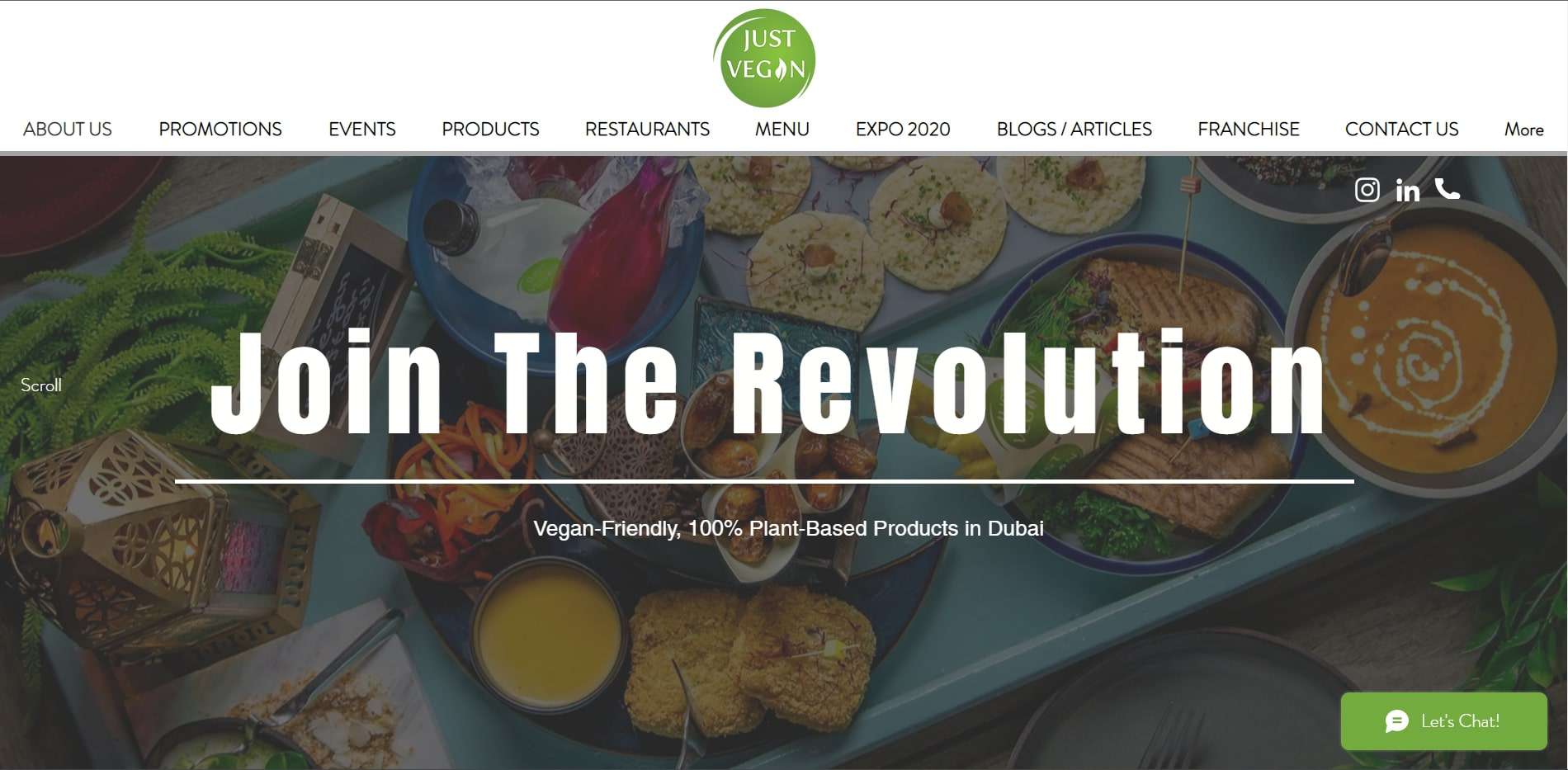 | | |
| --- | --- |
| MENU: | Summer Smoothie Bowls, Artisan Burgers, Jumeirah Signature Collection, Just Greens, That's a Wrap |
| LOCATION: | Shop No.2, Jumeirah St. next to Dubai Islamic Bank, Jumeirah, Umm Suqeim 1, Dubai |
| SOCIAL MEDIA: | Instagram |
| OPERATING HOURS: | Mondays - Sundays: 10:00 AM to 11:00 PM |
| PRICE RANGE: | AED 12 to AED 60 |
Just Vegan has expanded a lot since their humble beginnings back in 2017. The founders were able to establish a stronghold in key markets in the Middle East, South East Asia, the UK, and the US.
Their restaurant in Dubai is located along Jumeirah street, allowing visitors and diners to get a glimpse of the wonderful ocean just by the doorstep. A pleasant breeze blows around the place, giving us the air of a rustic cottage by a small garden and pond.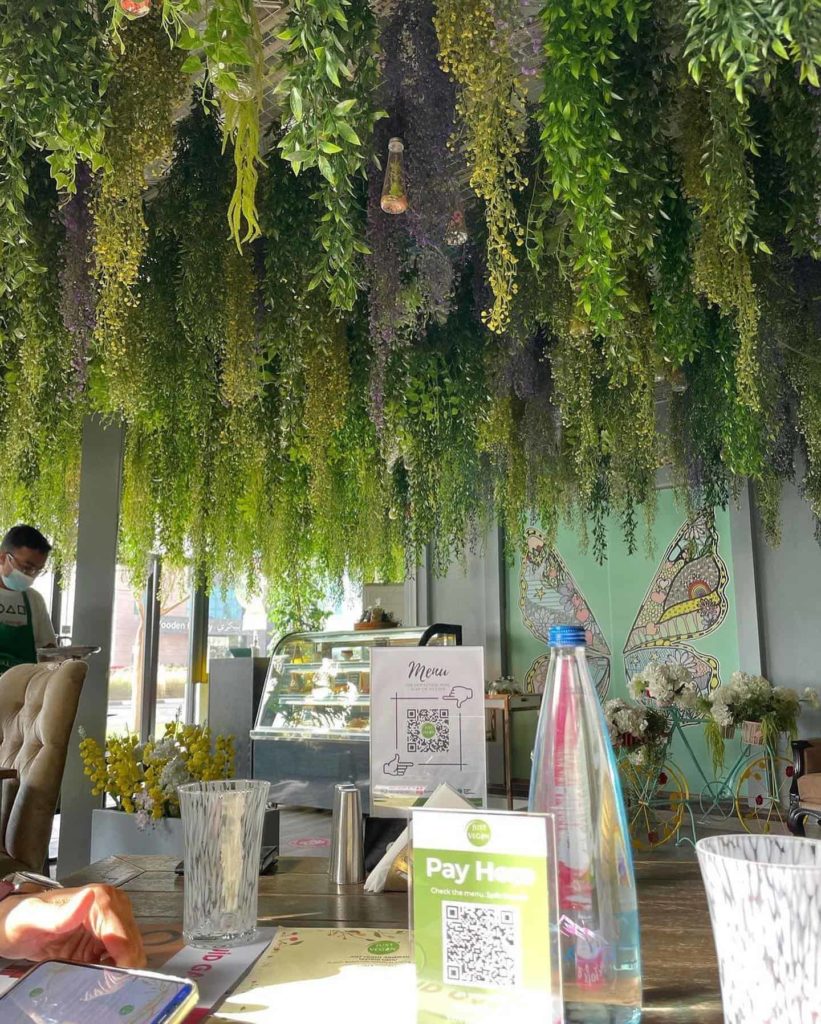 Not a bad first impression. And we were just getting started.
Just Vegan's menu is quite huge, offering a variety of creative dishes all made without the use of any animal-related product. They should have everything you might need for breakfast, lunch, and dinner.
Speaking of breakfast, they serve all-day breakfast which is quite nice for people starting the day a bit late. Here, you can get mostly recognizable dishes like pancakes and a full Arabic breakfast but do note that they do use plant-based alternatives here.
From there, things get a bit bigger. Plant-based vegan meat takes centre stage in their main courses, offering vegan kebabs, vegan meatball stroganoff and even a vegan sushi dragon roll which looks just as delicious as the real things.
In terms of taste, your mileage may vary. While we personally can't detect much difference between these plant-based items from their meat counterparts, a few did note the difference in textures.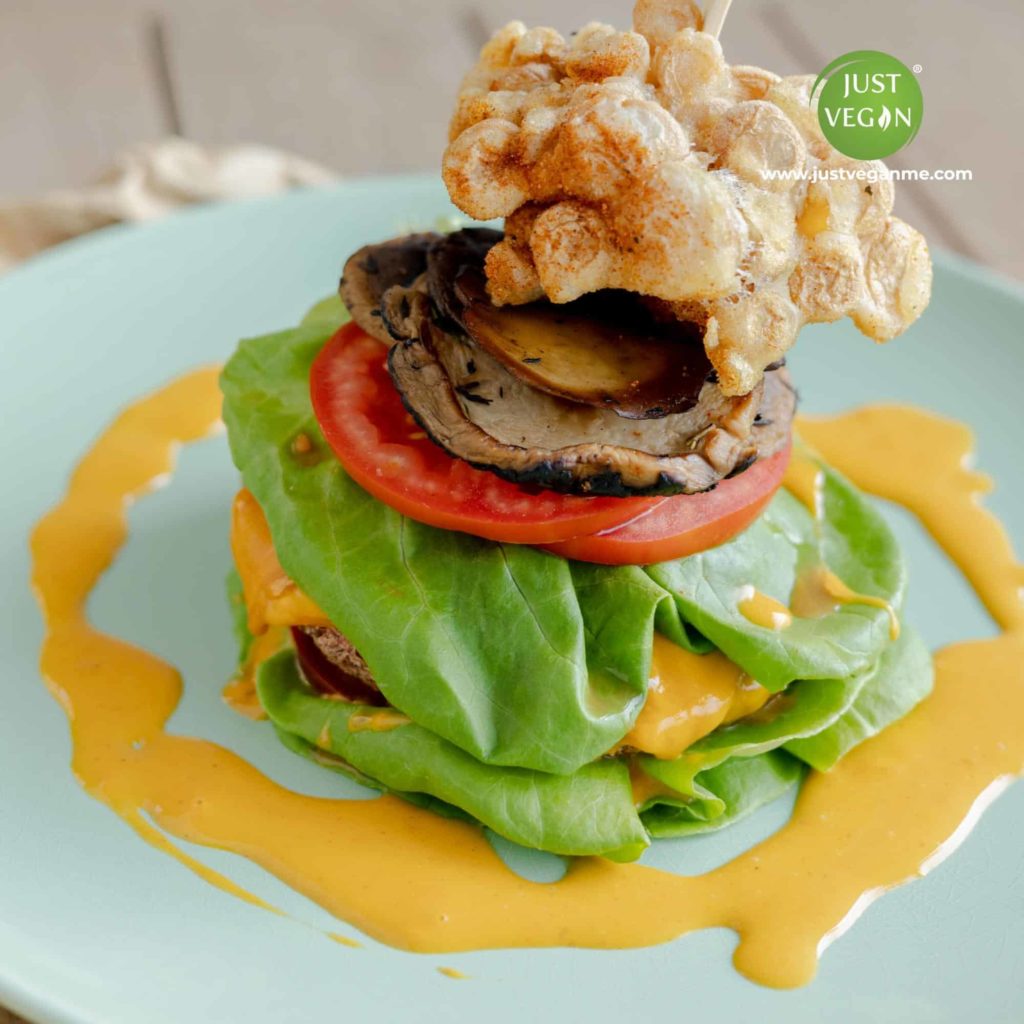 Those who're worried about gluten in particular will be happy to know that you can ask for some gluten-free options as well, which we think is amazing.
Drinks and desserts are kept simple, with only a handful of sodas being served. On the other hand, the dessert menu changes quite frequently, ensuring you get fresh, seasonal fruits in each order.
Prices are quite decent, costing us around AED 200 for a meal for two. Definitely a great place to have a vegan date without missing out on some old favourites.
Where to find Just Vegan?
What's nearby?
Just Vegan stands in close proximity to two hotels for travelers looking for a place to stay– with a choice between the Holiday Inn and the JW Marriott Marquis Hotel.
Feeling up for a show? La Perle Dance Hall might be up your alley, with its breathtaking artistic performances and vibrant special effects to accent the shows, both aquatic and aerial.
Not a fan of the cold? How about a safari adventure instead? Arabian Adventures offers desert safari experiences, ranging from sightseeing, to buggy rides to even overnight desert camping.
Quattro Ristorante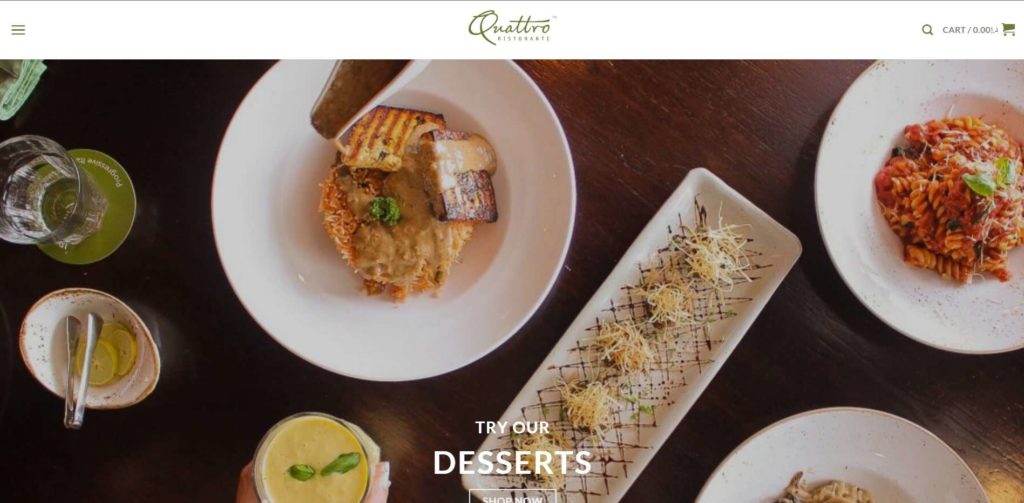 | | |
| --- | --- |
| MENU: | Soups, Appetizers, Salads, Rice, Pizza |
| LOCATION: | Shop 2A, Al Rafaa C Building opp. Aster Hospital, Kuwait St., Dubai |
| SOCIAL MEDIA: | Instagram |
| OPERATING HOURS: | Mondays - Sundays: 12:00 PM to 3:30 PM/6:30 PM to 11:30 PM |
| PRICE RANGE: | AED 30 to AED 65 |
Quattro Ristorante is a homegrown vegetarian café that sprung up in the heart of Bur Dubai. They deal in a mix of different international cuisines, integrating things like Indian spices and Italian recipes in their menu.
It's a rather cozy café once you step foot inside. The walls are adorned with earthy wooden slats, giving you the impression that you're in a quaint village cottage somewhere up north.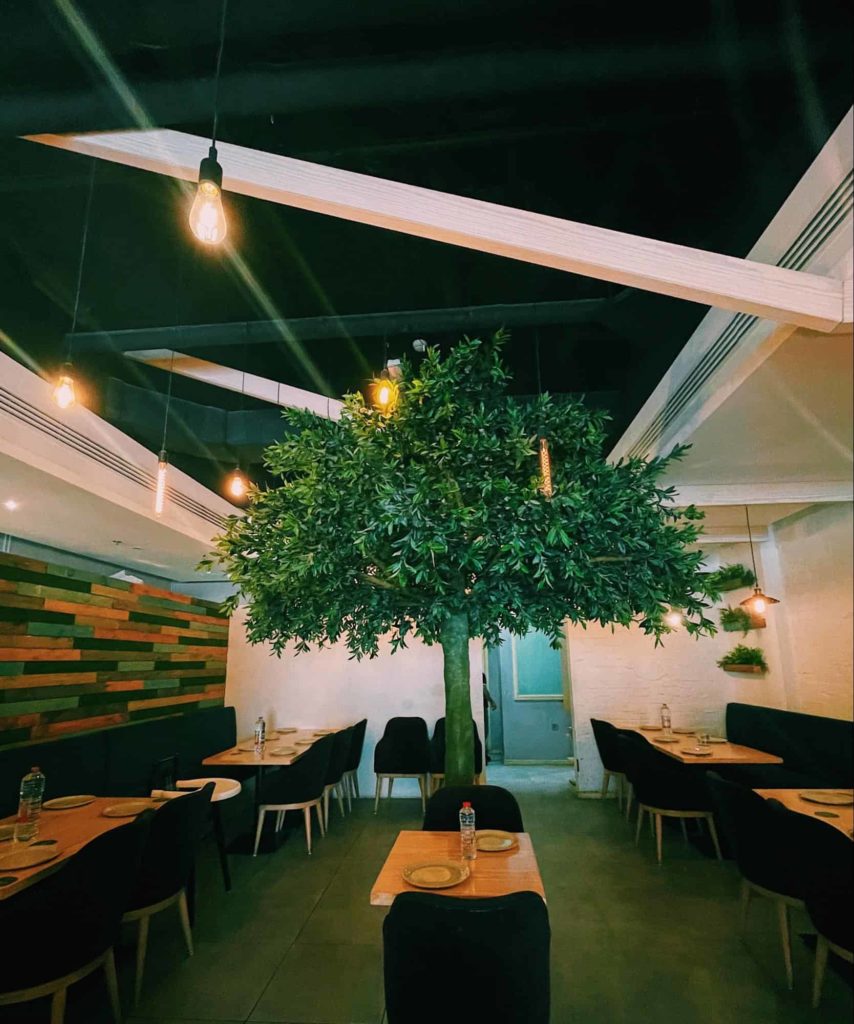 From there, you get your assortment of fun, crispy starters like nachos, garlic bread, and Jjalapeño queso; a surprisingly hot bite filled with melted cheesy goodness. All of them are vegetarian of course, so you should be able to keep everything light.
We also recommend ordering some of their soup as well, especially if you've eaten some of the deep fried starters. They make for a nice way to whet the appetite, whether you go for their tomato and corn soup or a nice broccoli and cheese.
From there, you get your choice of main courses. You can opt to go for Italian-inspired fare which includes pasta like aglio olio, arabiatta, and alfredo, or you can try their Mexican dishes like a burrito bowl or a grilled vegetable quesadilla.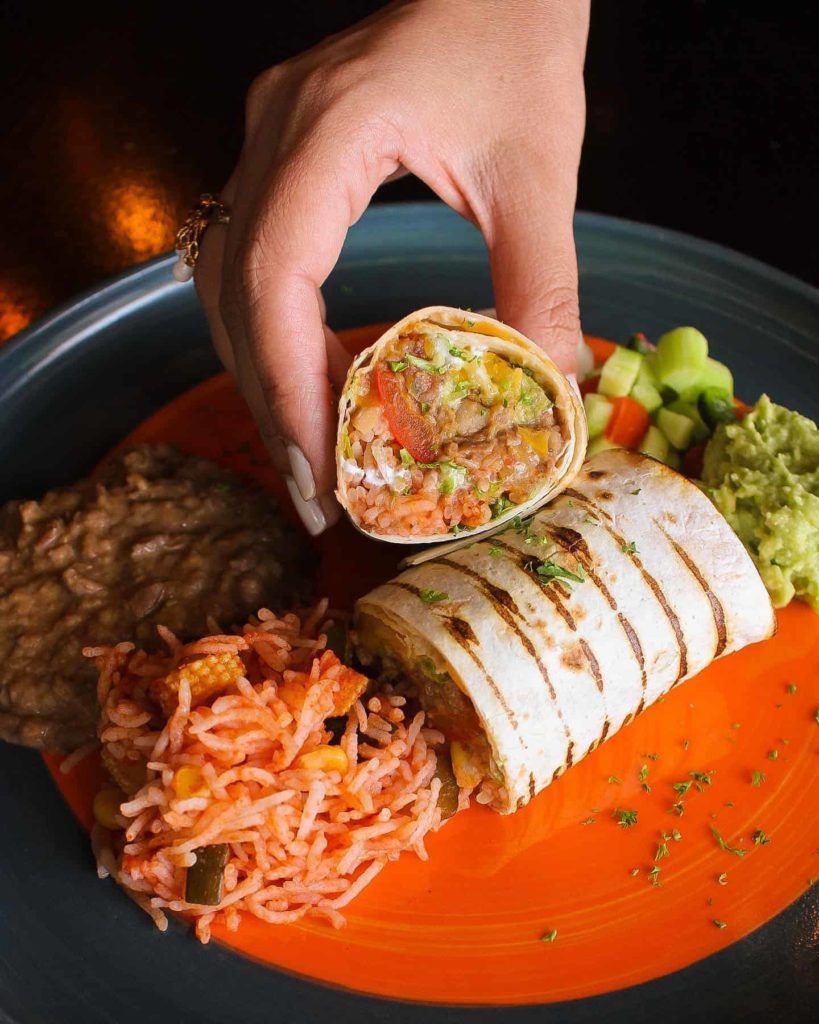 We were left quite satisfied after our meal without feeling so bloated that we couldn't take another bite. It's a good thing because dessert is one other thing that Quattro Ristorante does well.
No dainty portions here. We were immediately greeted by the deconstructed Tres Leches made with moist mini sponges with cream, milk, ice cream, and coconut shavings.
There's also the Chocolate Saturn looking quite intimidating as it arrived at our table. It definitely leans more on the decadent side however, with the orange and mango jello offering a nice break of flavours.
Prices are quite manageable, costing around AED 230 for a meal for two. Not bad for the amount of food varieties we were able to sample during our trip in historic Bur Dubai.
Where to find Quattro Ristorante?
What's nearby?
Need a place to get active after eating at the restaurant? Guests can head over to the ReStart Fitness Center & Gym, offering transformation programs and yoga classes to kickstart their health journey.
Alternatively, there are a wide range of beauty salons for some rest, relaxation and pampering after dining, including the Millennium Beauty Ladies Salon and the Rain Beauty Salon.
Shopping fanatics will also find plenty to like at Sharaf DG, especially if they're quite tech-y. It's among one of the best places to buy new electronics in Dubai after all so definitely give their stock a look if you have time.
Soulgreen Dubai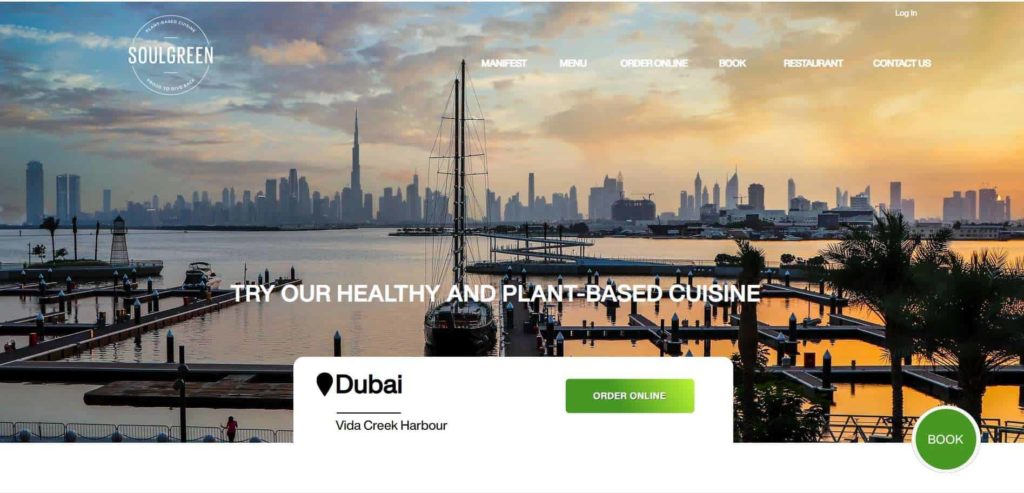 | | |
| --- | --- |
| MENU: | Pasta & Soups, Dessert, Salads, Appetizers, Bowls |
| LOCATION: | Vida Creek Harbour Hotel Dubai |
| SOCIAL MEDIA: | Instagram |
| OPERATING HOURS: | Mondays - Sundays: 12:00 PM to 12:00 AM |
| PRICE RANGE: | AED 30 to AED 110 |
Aside from just marketing themselves as a vegetarian restaurant, Soulgreen at Creek Harbour wants to go a step further by positioning themselves as a great spot for healthy dining.
Inspired by Milan's hottest plant-based eatery, Soulgreen's looking to put their vegetarian dishes on the map; a trait you can immediately see in the hanging plant decor around their restaurant.
Indeed, the addition of plants along their earthy, stony-looking interior makes for a great balance, further accentuating the excellent view of the sunset on their large veranda. Not a bad place to visit for a date just for the view alone, we might say.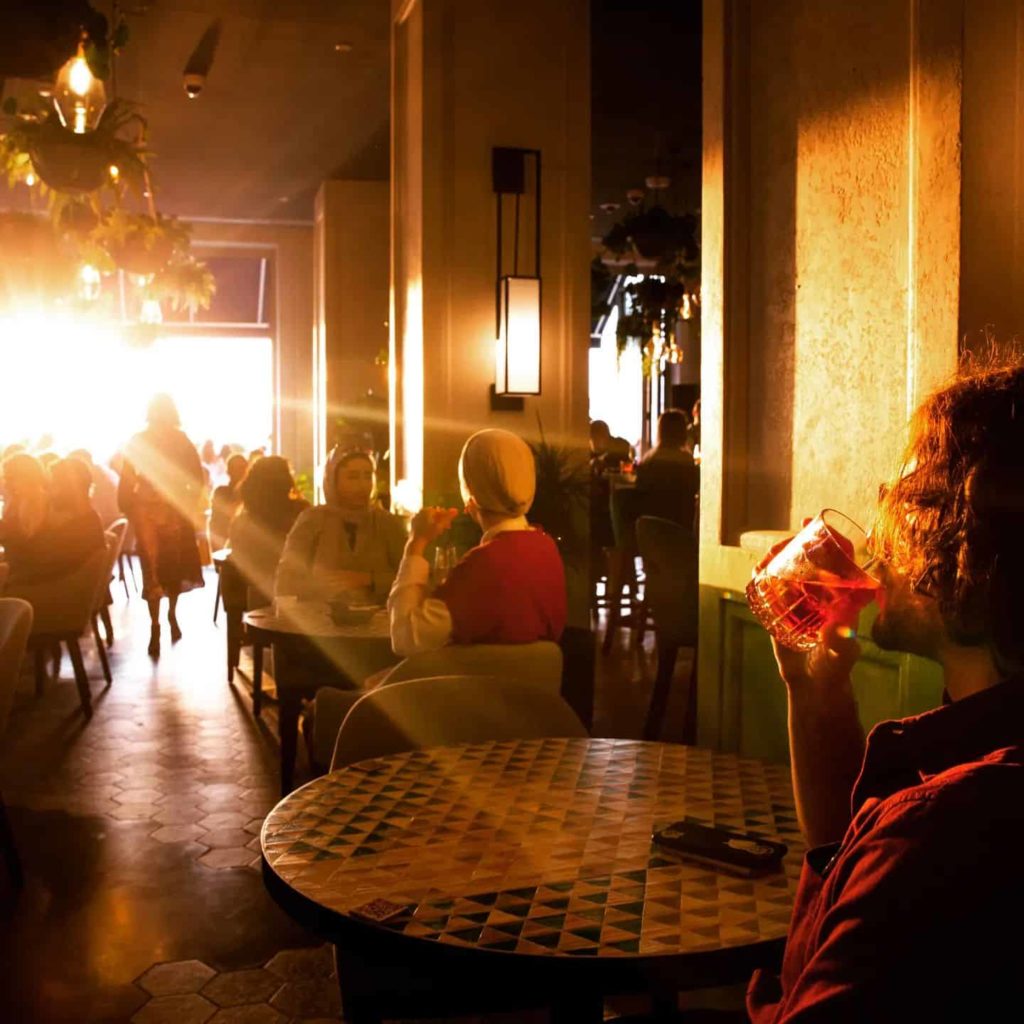 Fortunately, the food is just as good as well, even if vegetarian food is still a bit new for us at times.
The meal starts quite simple. Fresh avocado slides with mixed seeds and pomegranates make for a nice, creamy start while a crisp bruschetta with salmon is available for those who can't lose the meat just yet.
After that, it's up to you and how hungry you might be feeling. Their vegetable bowls are very good at filling up a hungry customer's stomach, having been stuffed with all sorts of chopped vegetables, rice, and even some mushrooms.
Or perhaps, you want a plate of risotto? In that case, pick a vegetable you want whether it's beet or spinach and have fun checking out the colourful risotto served in front of you.
On the other hand, you can try a wrap or a sandwich. Their spinach and mushroom burger is quite light, nutritious, and delicious even if the bun can look like something out of Spongebob in certain angles.
If you have avid meat-eaters with you while you dine, then you don't have to worry! The menu is still more vegetarian than vegan and you can get some healthy seafood dishes ranging from salmon to octopus from the restaurant.
Fans of fresh, tropical desserts can enjoy a seasonal fruit salad while those who want to be more indulgent can choose from a range of chocolate slices and even a large sphere.
Prices are quite decent, costing us around AED 250 for two people. We think Soulgreen is definitely one place to keep in mind when going out on a vegetarian date here in Dubai.
Where to find Soulgreen Dubai?
What's nearby?
Soulgreen Dubai's location near the Dubai Creek Harbor lends it a good place to hang out and relax after the meal– containing kids play areas, an outdoor gallery for art installations, and a mesmerizing view of the Dubai skyline.
Want to look your best for pictures along the harbor? There's also a good number of salons for both ladies and gents, like the Eden Blossom Ladies Salon and the Black Mustache Gents Salon & Spa. 
Finally, for those wanting to experience the water for themselves, the Black Pearl Pirate Boat Sightseeing Cruise by Tour Dubai is always available, encouraging its riders to feel like a pirate for a day, complete with onboard music and complimentary popcorn.
SpiceKlub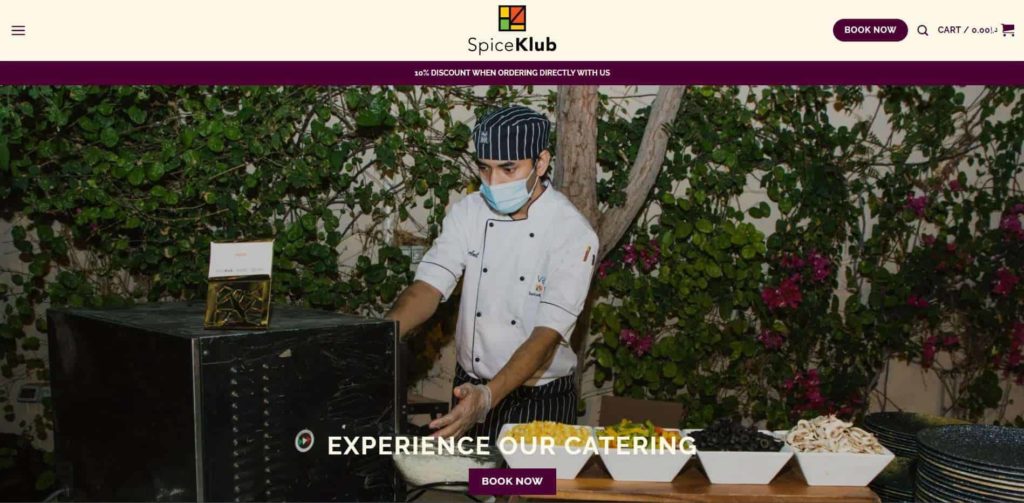 | | |
| --- | --- |
| MENU: | Soup, Salad, Rice, Mains, SpiceKlub Favorites |
| LOCATION: | Shop 2B, Al Rafaa C Building, Opp Aster Hospital, Kuwait St, Al Mankhool, Dubai |
| SOCIAL MEDIA: | Instagram |
| OPERATING HOURS: | Mondays - Sundays: 12:00 PM to 3:30 PM/6:30 PM to 11:30 PM |
| PRICE RANGE: | AED 10 to AED 60 |
For a fun, modern take on traditional Indian ingredients, check out the SpiceKlub over at Al Mankhool. Here, traditional meets contemporary as chefs come up with creative and novel ways of presenting their creations.
Upon entering, we initially felt a bit puzzled. The restaurant has opted to go with a more drab colourway when it comes to the walls and seats at their tables.
Still, this did allow their other adornments to really shine once service really started going. The mural's quite delightful and it's hard not to be swayed by the staff's energy once the food starts making their way to the tables.
For example, where can you find frozen solid 'kulfi' (traditional Indian ice cream) almost looking like rocks amidst their many toppings? Well, they're all set up for some liquid nitrogen shenanigans, delighting many a table.
Of course, the food isn't all just flash either. The vegetarian kebabs they served were very tasty and had a nice texture thanks to the soft cheese used.
They even have a dedicated tasting menu where you're treated to a curated list of their best dishes. Pav Bhaji fondue anyone? You also get salads, vegetarian masala, and a steamy vegetable biryani rice to go along with the meal.
Alternatively, there's also the business lunch menu in case you need your meal fast, filling, and delicious. Choose between a two or three-course set which already includes an appetizer, a main course, and your choice of rice and bread.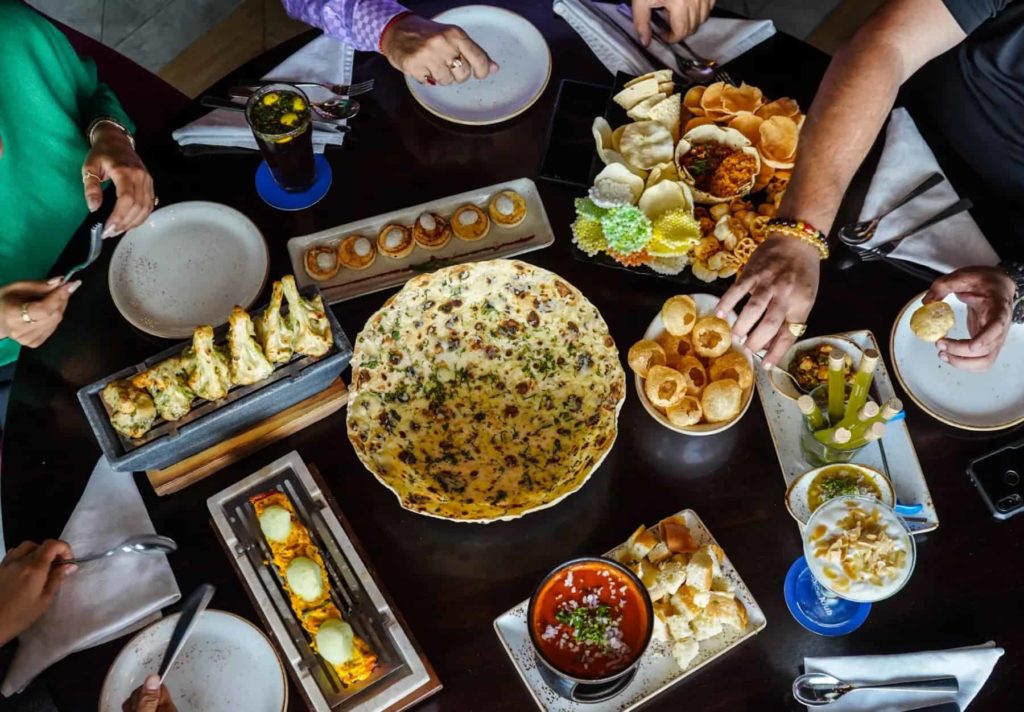 By the way, they also have a cozy private dining spot capable of seating up to 30 people. You'll need to call ahead in advance in order to reserve this spot but it's a great choice if you're planning a company lunch or dinner.
Prices are quite good, costing around AED 180 for a simple meal for two people. However, we do think you can easily spend more than that by adding more desserts and bread varieties.
Definitely check out SpiceKlub for all of your vegetarian cravings. It's both a dinner and a show after all!
Where to find SpiceKlub?
What's nearby?
SpiceKlub stands close to a whole belt of luxury and business hotels, including the Citymax Hotel, Four Points by Sheraton, the Majestic City Retreat and the Grand Excelsior Hotel— leaving visitors spoiled for choice with their accommodations.
For some pampering much closer to the restaurant, the Ashwina Hair & Beauty Salon and the OMG Gents Salon are always open to ensure ladies and gents alike look their best at all times.
Alternatively, fitness bugs may travel just a little bit more in order to reach the Al Mankhool Park. The shade provided by the greenery makes it good for some light jogging or ball sports on the soft grass.
FAQs about Vegetarian Dining
---
Hopefully this list was able to show some insight about the fancy vegetarian scene going on here in Dubai. There's plenty of options to choose from no matter which part of Dubai you want to visit.
Interested in your other dining options here in Dubai? Check out our list of romantic restaurants for your next date night here or some of our most unique dining spots here!