Checking out the Best Ice Cream Cakes in Dubai!
Looking for something sweet, cold, and decadent for a special occasion? Well, the best ice cream cakes in Dubai should be a good way to deal with the hot weather and experience a fun treat at once!
Whenever you're craving something sweet and cold with multiple layers, Dubai should have a number of amazing ice cream spots, cake shops, and ice cream cake shops for you to try out.
To help you get started on this amazing treat, here are some of our favourite places to buy and eat the best ice cream cakes in Dubai!
Cold Stone Creamery – Dubai Mall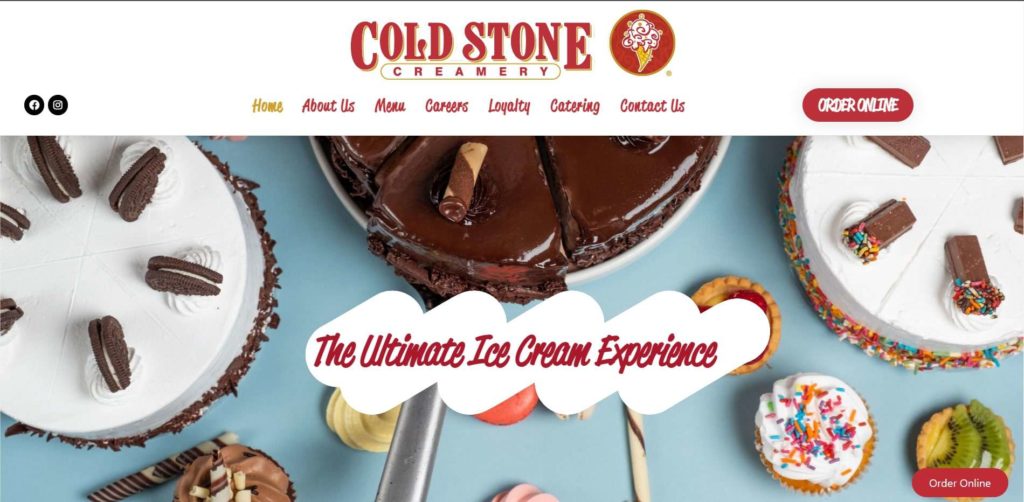 MENU:
Signature Creation, Create Your Own, Signature Cakes, Premium Shakes, Ice Cream Cakes
LOCATION:
Unit SF - 143, Financial Center Rd, Downtown Dubai, Dubai
SOCIAL MEDIA:
Instagram
OPERATING HOURS:
Mondays - Saturdays: 9:00 AM to 12:00 AM

Sundays: 9:00 AM to 1:00 AM

PRICE RANGE:
AED 20 to AED 450
With a consistent menu, multiple locations, and some great-tasting ice cream on offer, Cold Stone Creamery comes as among the top places we recommend for ice cream cakes.
They're a very popular chain of ice cream stores so you can be sure to find one in most malls while you're doing your shopping. Their stores are also clean and well-maintained, if not of course, the same in nearly all branches.
Cold Stone Creamery is very popular for its signature flavours. You might want to grab a cup or cone for yourself as well while you're still trying to figure out which flavour to go with for your cake.
You can go ultra decadent with something like 'Chocolate Devotion' to something playful like 'Cheesecake Fantasy'. A lot of these even have some really good toppings as well.
Their ice cream cakes are simply amazing. We like the durable layer of frosting applied over the cream as well as the assorted toppings and decoration they sprinkle on top and on the sides.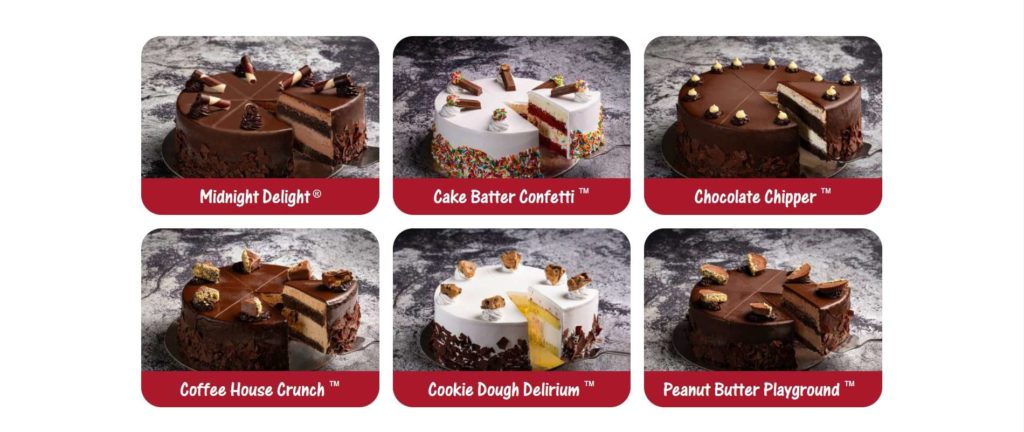 It really goes a long way in convincing us that it's an actual cake made of flour.
In fact, fans of traditional and fusion may want to try out the 'Kunafa' ice cream cake they've concocted. We think it makes for a great piece to cap off the celebrations for the holidays.
Prices at Cold Stone Creamery range from AED 20 for a few scoops to AED 450 for something really creative.
With their wide array of flavors and impeccable presentation, we really recommend Cold Stone Creamery for some of the best ice cream cakes in Dubai.
Where to find Cold Stone Creamery – Dubai Mall?
What's nearby?
Cold Stone Creamery stands on the second floor of the Dubai Mall, smack dab in the middle of a great variety of stores tailored for kids– such as Elli Junior to Skechers Kids and Via Bambino for everything kid-fashion.
Prefer something more natural? Take a trip down to the Dubai Aquarium & Underwater Zoo for a whole host of animal encounters– from otters to penguins to even the zoo's favorite croc, King Crocodile!
Lastly, there's also KidZania— a sprawling city playplace for kids to play pretend in a variety of roles: the possibilities are endless, from transportation to billiards to even retail.
Lima Gelato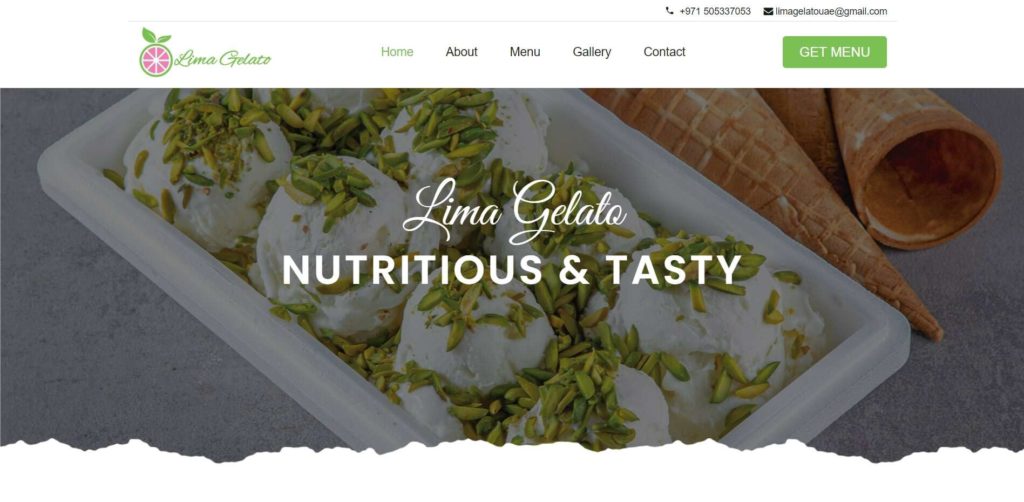 | | |
| --- | --- |
| MENU: | Artisan Ice Cream Sticks, Ice Cream Boxes, Ice Cream Pops Boxes, Freshly Baked Waffles, Ice Cream Cakes |
| LOCATION: | Opposite Al Tameer Building, Al Barsha 1, Al Barsha, Dubai |
| SOCIAL MEDIA: | Instagram |
| OPERATING HOURS: | Mondays - Sundays: 10:00 AM to 11:00 PM |
| PRICE RANGE: | AED 135 to AED 185 |
Thinking of splurging on your treat with some classic Italian fare? Check out the premium, silky smooth gelato offered here at Lima Gelato in Dubai.
Their ice cream offerings are marketed as really special scoops you can do to treat yourself after a long and hard day engaging with the busy city life. Their artisans make sure to keep their nice texture consistent in order to bring a smile to their client's face.
Lima Gelato is quite proud of their use of fresh ingredients in their creations. As such, we definitely recommend checking out their fruit-based flavours and sorbets which are both flavourful and low in fat and sugar content.
Simply choose whether you want to eat yours in a popular scoop-in-a-cone version or as an ice pop with a satisfying crunch as you bite down. It's all up to your preferences.
As for the main event, they also have a variety of interesting flavours for their ice cream cakes.
Try out their Ashta ice cream cake for starters. The mix of pistachio nuts and silky smooth Arabic ice cream will definitely give guests plenty of reasons to go back for more next time they're in the area.
If you're not a fan of pistachio then don't sweat. They also have different flavours such as a mixed berries ice cream and one coated with a satisfying layer of dark chocolate and shavings.
Prices at Lima Gelato start at around AED 130, reaching all the way to AED 190 for some of the larger orders and more complex flavours.
Ice cream has never tasted much smoother than this though. If you're interested in a different kind of ice cream and ice cream cake then we definitely recommend giving Lima Gelato a try!
Where to find Lima Gelato?
What's nearby?
Feeling up to more cold fun after eating some gelato? How about taking a trip down to Ski Dubai— Dubai's greatest indoor ski resort, where guests can hit the slopes and even meet some penguins while they're at it.
Prefer the sun instead? Al Barsha 2 Park 1 isn't too far off– housing a good amount of facilities for anyone who enjoys sports, from tennis courts to football fields and cycling tracks. It even allows dogs in honor of our furry, four-legged friends.
Lima Gelato also stands in close proximity with quite a few hotels to get some good night's sleep in, from the Citymax Hotel Al Barsha to the Sheraton Hotel to Millennium Al Barsha, all featuring their own facilities and amenities.
Mister Baker – Etihad Mall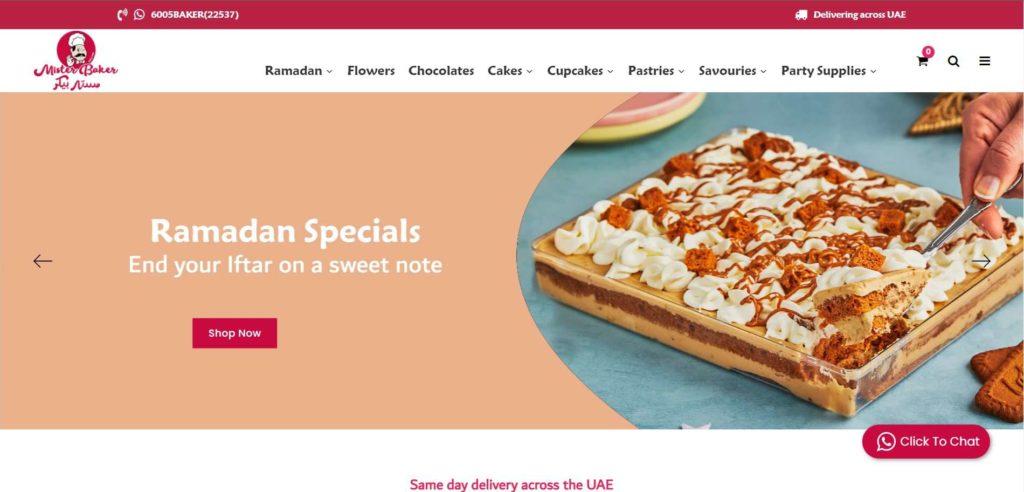 | | |
| --- | --- |
| MENU: | Chocolates, Cakes, Cupcakes, Pastries, Savouries |
| LOCATION: | Al Muhaisnah First, 309 Al Khawaneej St., Dubai |
| SOCIAL MEDIA: | Instagram |
| OPERATING HOURS: | Monday - Sundays: 4:00 PM to 11:00 PM |
| PRICE RANGE: | AED 100 to AED 200 |
Built to be "part of your celebrations since 1990", Mister Baker provides a wide variety of sweet, festive treats meant to act as a centerpiece for any occasion you might throw.
Mister Baker specialises in coming up with fun and tasty looking cakes to be served at special occasions like weddings, birthdays, a graduation party, or even just a simple date or day out with the family.
They have a wide variety of flavours to choose from in their 'Signature' line, ranging from silky Red Velvet to sweet Honey Cake, and even fresh fruit and vegan-friendly cakes for those who wish to reduce their animal consumption.
Keep an eye out for their special holiday cakes as well. For example, they have special Eid'l Fitr-themed creations meant to cap off the end of the season.
Of course, they also have their seasonal ice cream cakes adopting a layered approach. Creamy ice cream is placed in-between their soft and moist cake, helping it vary its textures as you go in for a slice.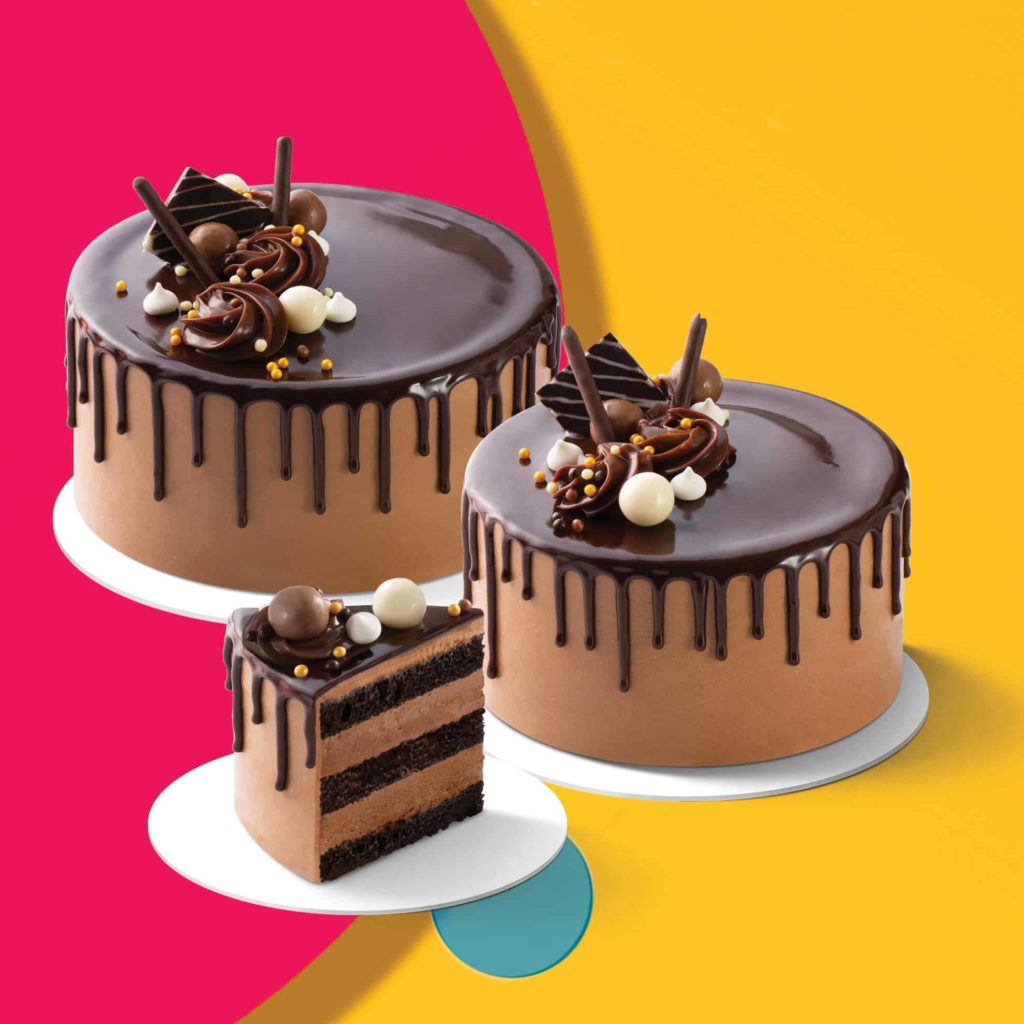 Choose from classic flavours like chocolate and red velvet or something fresh, like their mango ice cream cake. They even have the Lotus ice cream cake made with a special biscoff sponge and glaze.
You don't even need to stop there with your celebrations. Feel free to complete the set as the bakery also offers decorations like flowers, candles, balloons, and cake toppers for when you want to really go fancy.
Prices start at AED 100 all the way up to AED 200 depending on the size of the cake. Of course, you should expect to spend a bit more if you want a full package with all the optional party accessories included.
So are you planning a celebration? Why not make a quick stop at Mister Baker today?
Where to find Mister Baker – Dubai?
What's nearby?
Mister Baker's location in Etihad Mall places it in close proximity to a whole host of shops– from fashion to other dining to electronics and even furniture.
Fancy a new scent? A variety of perfume stores are present in the mall– from Imdad to Awtar Aloud and Dalila Perfume, keeping guests smelling fresh and ready for anything the day can throw at them. 
How about an outfit to match? Etihad Mall's got its own variety of clothing stores, from LWD Fashion to Senso to Al Mandoos and Fluffy Cotton Garments!
Bake Al Arab – Al Barsha Mall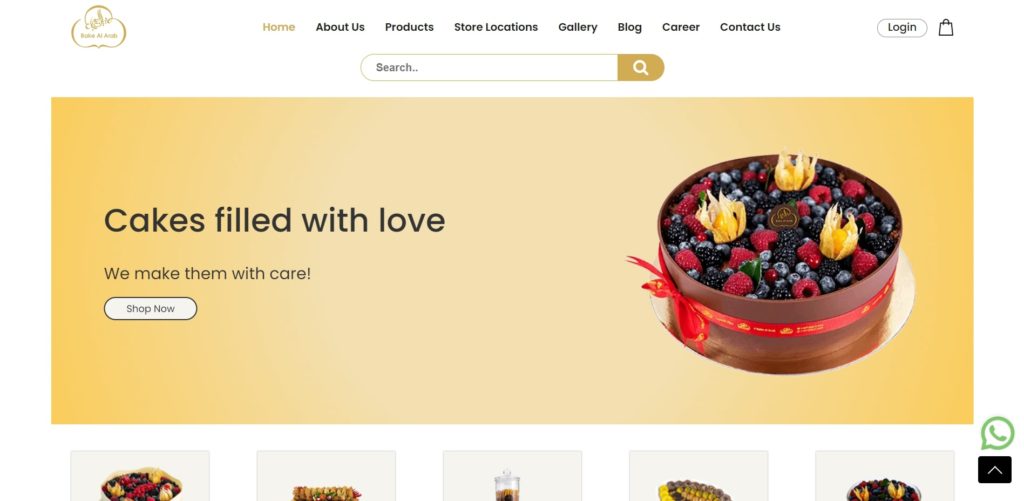 | | |
| --- | --- |
| MENU: | Cakes, Sandwiches, Coffee Sweets, Desserts, Ice Cream Cakes |
| LOCATION: | Shop No: F26 Al Barsha Mall , First Floor, Dubai |
| SOCIAL MEDIA: | Instagram |
| OPERATING HOURS: | Mondays - Sundays: 10:00 AM to 10:30 PM |
| PRICE RANGE: | AED 190 to AED 210 |
Serving all sorts of pastries like cakes, arabic sweets, and other desserts since 2015, Bake Al Arab is another amazing choice when it comes to getting a custom order done for a special occasion in Dubai.
Their extensive menu of cakes cover a wide range of seasonal occasions such as Christmas and New Year's Eve. They're also decorated accordingly, with nice themes that match the celebration at hand really well.
Additionally, you can even get customised cakes for things like a special engagement, Valentine's Day, graduation parties, and other non-seasonal events if you plan on making everything really special.
They even offer online cake delivery to places like Sharjah, Ajman, Al Ain, and Abu Dhabi, giving them quite a bit of a range when it comes to getting their products out.
Of course, they have plenty of ice cream cakes to choose from as well.
What we particularly like about Bake Al Arab's ice cream cake is the surprisingly weird shapes some of their flavours come in. For example, their 'Wild Forest' ice cream cake reminds us of an eerie mountain straight out of a Neil Gaiman novel.

Otherwise, you should find plenty of familiar flavours and sweets such as pecan caramel, Oreo pistachio, chocolate and raspberry, and an assortment of different fruits and sweet flavours.
No need to worry about not being able to sample all the delicious-looking flavours though. You can always throw in a few assorted ice cream cups witht the order to eat during or after coming home from transit.

Prices do seem a bit on the higher side, with most cakes hovering at around the AED 200 range. We think it's still a pretty sweet deal overall though, especially if you're looking for something heavily customised.
Definitely check out the interesting flavours and designs here at Bake Al Arab. They might just prove themselves to be your next favourite ice cream cake shop here in Dubai.
Where to find Bake Al Arab?
What's nearby?
Located in Al Barsha Mall, it only comes to follow that Bake Al Arab is surrounded by a good amount of shops and attractions– catering to shopaholics and thrill seekers alike.
Take a walk down Fashion Avenue, where shops such as Women's World & Textile Trading, Stitch In Perfect Tailoring and Sultana Boutique ensure their customers look their best.
For both ladies and gents, there's the Gold's Health Club, helping achieve everyone's dream physique through extensive training and fitness programs!
Baskin Robbins – Dubai Mall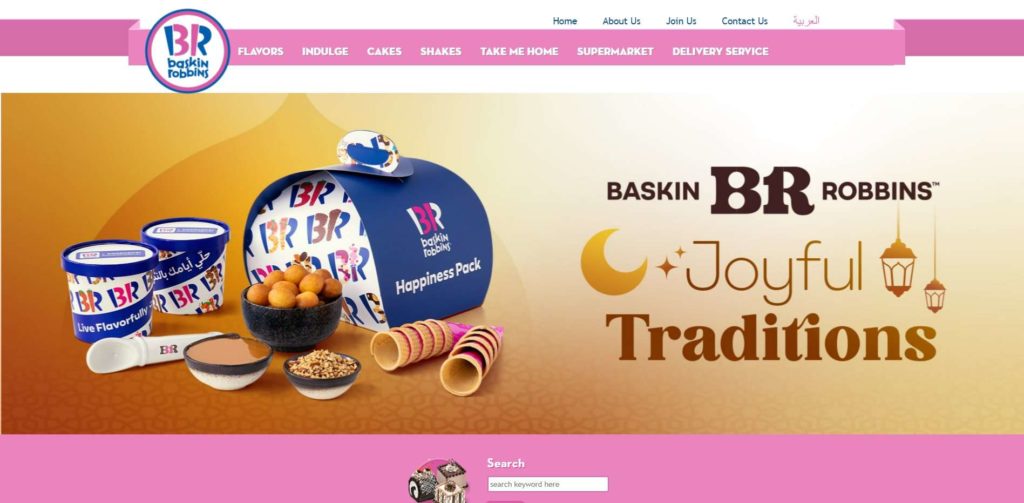 MENU:
Scoops of Joy, Signature Sundaes, Cakes, Shakes, Hand-Packs
LOCATION:
Unit SF - 130 - 24, Financial Center Rd, Downtown Dubai, Dubai
SOCIAL MEDIA:
Instagram
OPERATING HOURS:
Sundays - Wednesdays: 10:00 AM to 12:00 AM

Thursdays - Saturdays: 10:00 AM to 12:30 AM

Fridays: 10:00 AM to 1:00 AM

PRICE RANGE:
AED 10 to AED 250
When it comes to popular ice cream chains, Baskin Robbins is definitely one of the names that come to mind. And it's no surprise since there's already more than 850 stores in the region, making it easier for more people to get the awesome treat!
The store has an amazing library of over a thousand different flavours across the world. As such, you should easily find one that suits your preferences and cravings.
You get popular fruit flavours such as strawberry, mango, citrus, and even a rainbow sherbet combining different flavour types. Likewise, you can also find picks such as all sorts of chocolates, caramels, and even plain vanilla.
Likewise, this variety translates to their ice cream cakes as well. If you're not sure where to start, you can just pick a cake that the store's chefs have already come up with.
Popular chef's flavours include their 'caramel indulgence' which is adorned with all sorts of sweet chocolates and frosting for a satisfyingly sweet crunch. 
Or you can get the black forest-esque praline berry splendor which is made with a very creamy base and finished with a lot of chocolate and berry adornments.
Alternatively, you can try and make your own cake by coordinating with their kitchen. You can choose your preferred size, ice cream flavour, and whether to go with a chocolate or vanilla sponge base.

Prices for their items start at around AED 10 for a small ice cream order, reaching up to AED 250 when it comes to their bigger, more complicated ice cream cakes.
When it comes to getting an ice cream cake for any special occasion, Baskin Robbins should be a popular pick not just for convenience but also for taste here in Dubai!
Where to find Baskin Robbins?
What's nearby?
Sneakerheads coming out of Baskin Robbins will find themselves in luck– it stands close to a whole hall of footwear– from the sports shoes of Basketbolista and New Balance to the runnning shoes of Absolute Run and even Crocs and Converse.
Not your thing? How about a movie? Check out newly released films with the added bonus of restaurant-prepared meals at the Reel Cinemas, blending restaurant and theater into one. Catch all the new blockbusters with the accompanying comfort of a meal and a diner-style seat.
Or maybe you want something more active? Then try your luck navigating the dizzying halls of the Mirror Maze, all breathtaking halls and glass– don't get lost!
Ice Cream Lab AE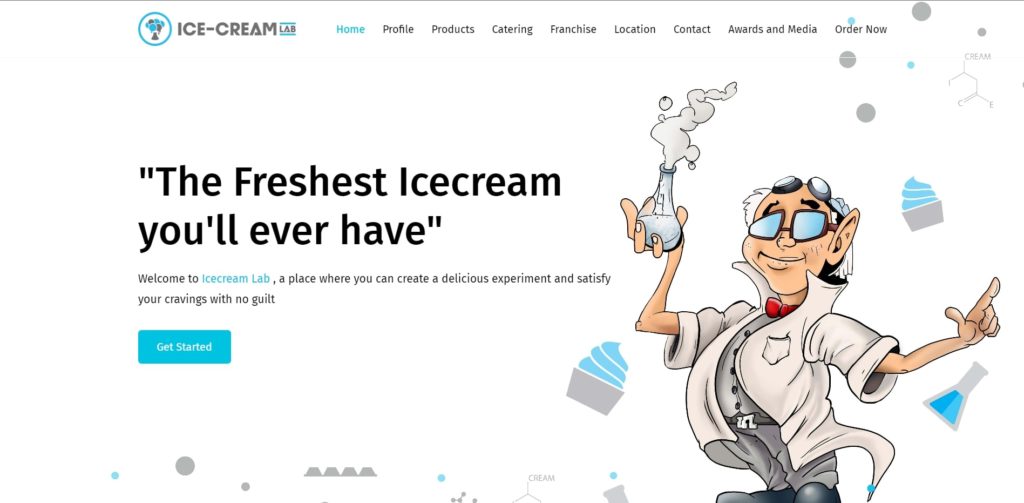 | | |
| --- | --- |
| MENU: | Ice Creams, Shakes, Yogurt Ice Cream, Waffle Bowl, Ice Cream Cake |
| LOCATION: | Unit SF - 130 - 09, Financial Center Rd, Downtown Dubai, Dubai |
| SOCIAL MEDIA: | Instagram |
| OPERATING HOURS: | Mondays - Sundays: 10:00 AM to 1:00 AM |
| PRICE RANGE: | AED 20 to AED 300 |
Utilizing techniques that give one the impression of being in some futuristic science experiment, the Ice Cream Lab is one of the best places to buy an ice cream that's made fresh right in front of your eyes.
Ice Cream Lab AE uses liquid nitrogen in order to freeze their fresh ingredients in a snap, allowing the customer to savor their order right as it rolls off from the production line.
It makes for quite a cool show too, generating a nice buzz around the store.
Choose from classic flavors like vanilla, strawberry and chocolate, to something more premium such as mixed fruits, lava mud, blue velvet and pistachio nuts.
There's even some novel new flavours that are a lot more experimental in nature. Frozen caramel popcorn anyone? Not exactly something you expect to eat frozen but some customers seem to like it a lot.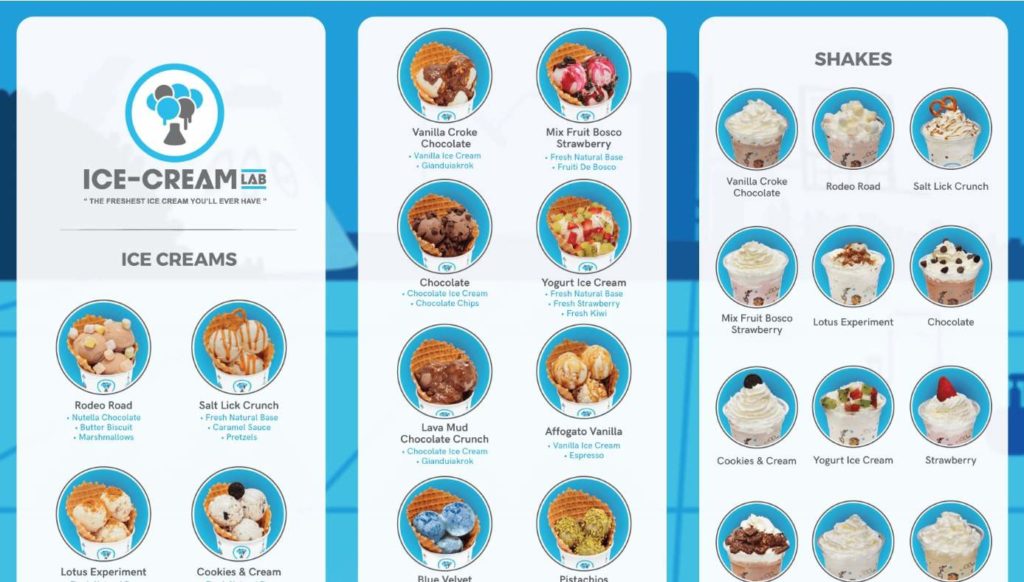 As for their ice cream cakes, they're definitely more flavourful than they are extravagant. A lot of them lean more on simplistic patterns, flavours and presentation, allowing the pure freshness of their ingredients to do the heavy lifting.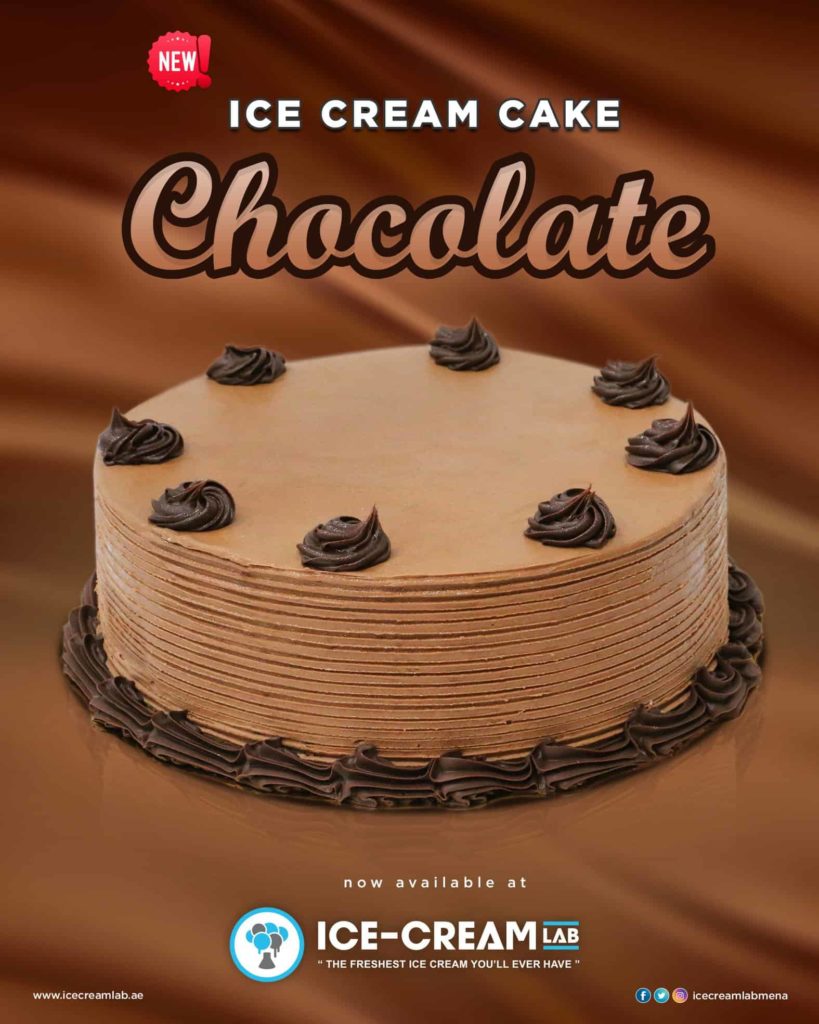 They do provide catering services though, which could be cool to look at should you be thinking of going to them for something special for a party.
They can bring their ice cream making skills as well as their shakes, smoothies, and of course, their ice cream cakes in order to bring some much needed chill and a show under the hot Dubai sun.
Prices start at AED 20, reaching all the way to AED 300 for the more expensive offers.
So anytime you're craving something cold and fresh, give the Ice Cream Lab a visit! Let them whip up some of the freshest frozen treats you'll ever taste as an antidote for a hot day here in Dubai.
Where to find Ice Cream Lab AE?
What's nearby?
Want to feel something more chilly than ice cream? How about a chill down the spine at Hysteria? Avoid the despairing spirits of the haunted mansion as well as you can and prepare to scream!
Or maybe fear isn't the thrill you're looking for? That's alright– Play DXB is just around the corner, after all, bearing a whole host of virtual reality attractions. Want to ride a roller coaster without the wait? Play DXB has you covered!
And for those wanting to experience games at the comfort of their own homes, Z-Games is just right around the block, selling all your favorite video games and consoles to play them on– along with some fun collectibles, like Funko Pops.
The Brooklyn Creamery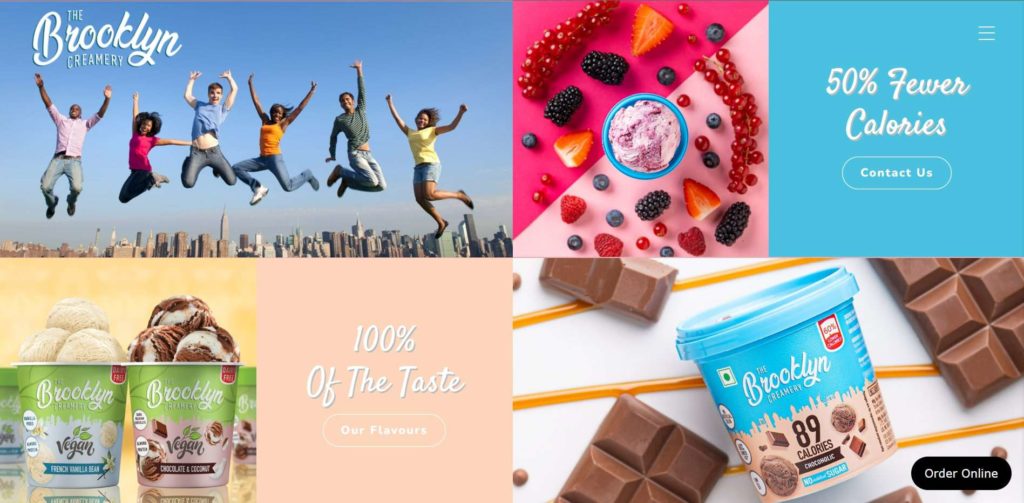 MENU:
Build Your Own Box, Ice Cream Tubs, Vegan Ice Cream, Ice Cream Bars, Fruit Pops
LOCATION:
The Metropolis Tower, Business Bay, Dubai
SOCIAL MEDIA:
Instagram
OPERATING HOURS:
Mondays - Fridays: 9:00 AM to 6:00 PM

Closed on Saturdays and Sundays

PRICE RANGE:
AED 30 to AED 105
Having started as a small ice cream parlour in New York, the Brooklyn Creamery has since started filling the shelves of freezers all over the UAE with their healthy blend of ice cream.
They advertise their products to have at least 50% less calories than most popular ice cream brands here in Dubai. The Brooklyn Creamery is said to accomplish this by removing any artificial sweeteners, flavours, and some fat from their items.
Not a bad place to indulge in a sweet, frozen treat without the guilt of going against the diet right? Don't worry, it gets even better from here on out.
Despite the stricter standards, the creamery doesn't compromise on the flavour range either. You can find all of your classic flavourites and more such as chocolate, sea salt caramel, cookies and cream, and of course, classic sweet cream vanilla.
Vegans will also find plenty to like here, thanks to their "I can't believe it's not dairy" line. These treats are made without the use of artificial ingredients and animal byproducts such as coconut milk or almond milk to use as base.
It's a nice option for anybody who's feeling a little lactose-intolerant.
They even come up with some nice dairy-free ice cream cakes which are just perfect for the holiday seasons. Check out the 'Lotta Chocolate' which as the name implies, is made with a thick layer of vegan chocolate cream and sprinkles.
There's also the 'Salted Peanut Butter Cake' which is built on top of a vegan chocolate cake base and salted caramel ice cream. It's then finished with a lot of peanut pralines for a nice crunch.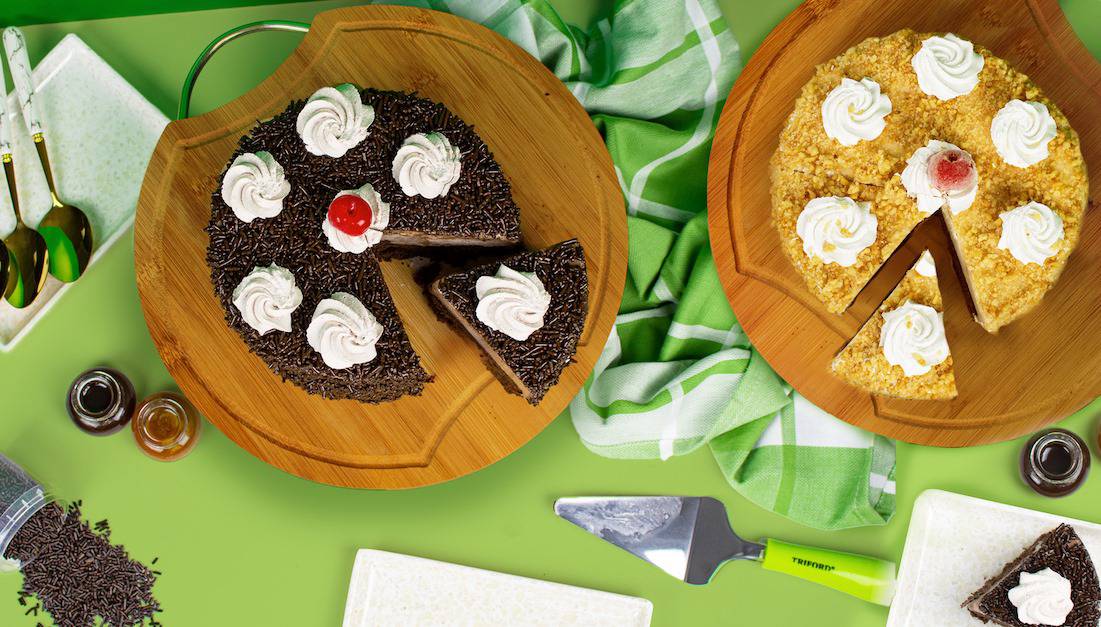 It's a bit of a seasonal item but it's always a treat whenever they're back on the menu.
Pricesrange between AED 30 to AED 105 depending on the size of the order. Not bad for an ice cream indulgence without the added calorie guilt right?
Where to find the Brooklyn Creamery?
What's nearby?
Want some place to work off all the ice cream? The Brooklyn Creamery stands fairly close to a good amount of places to keep guests fit and active.
Want to get as fit as an MMA fighter? UFC Gym is just nearby, offering the ultimate martial arts-inspired training programs– with exercises from boxing conditioning to cycling.
For something less intense, there's two parks to pick from.
Take a walk down the lush plains and trees of the South Ridge Park, overlooking the skyscrapers in a blend of modern and natural scenery: or venture down the 6.4km long waterfront of the Dubai Water Canal for something more aquatic in nature.
FAQs about ice cream cakes and their creation: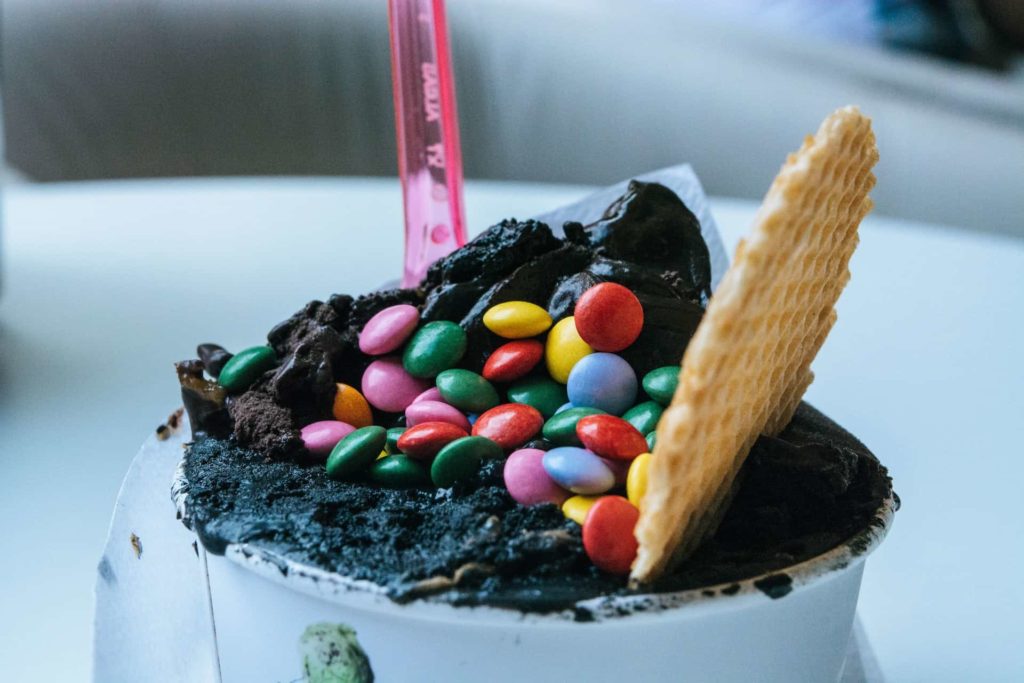 ---
Cooling off with a nice ice cream cake should be an amazing way of enjoying a nice summer out in Dubai. With so many varieties to choose from, you can be sure to find something no matter where your adventure takes you!
Thinking of throwing up a nice celebration? Make sure to check out our other lists such as the best places for getting party supplies or perhaps some amazing venues for you to book for a novel experience.