Checking out the Best Lobster Restaurants in Dubai
Once considered as just a meat alternative, lobster has since grown into a delicacy often associated with luxury dining. As such, you can pretty much find the meal being served in plenty of restaurants in Dubai, even if they aren't seafood-oriented.
So whether you're looking to eat lobster whole, indulging in that buttery goodness or as part of an interesting meal like pasta, check out some of our favourite lobster restaurants in Dubai here to satisfy your cravings.
Flamingo Room by Tashas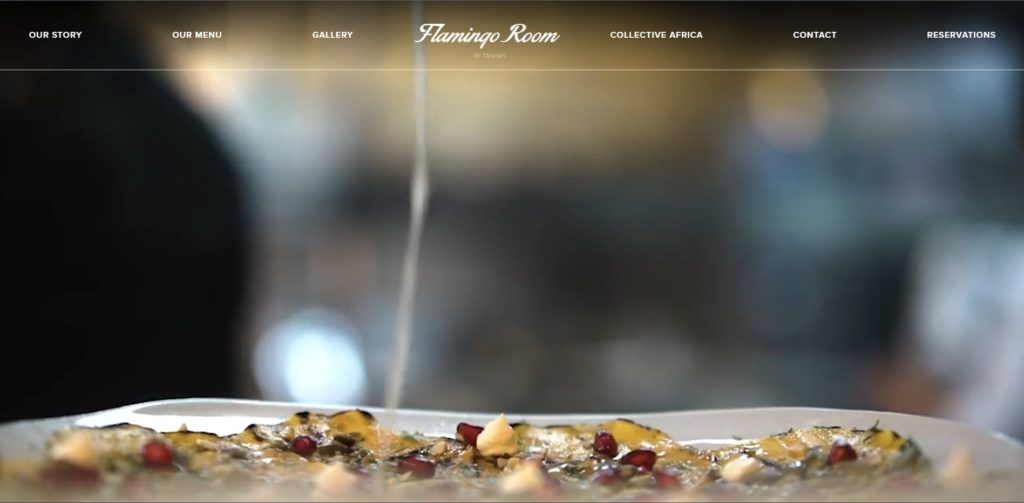 | | |
| --- | --- |
| MENU: | Lobster and Prawn Vol-Au-Vent, Tiger Prawn Platter, Salmon Wellington, Dover Sole, Sunday Roast |
| LOCATION: | Jumeirah Al Naseem, Madinat Jumeirah, Jumeirah Road 75157, Dubai |
| SOCIAL MEDIA: | Instagram |
| OPERATING HOURS: | Mondays - Sundays: 12:00 PM to 4:00 PM / 6:30 PM to 12:00 AM |
| PRICE RANGE: | AED 56 to AED 800 |
Talk about aesthetics! There's probably few restaurants that really highlight the luxury of lobster dishes quite like the Flamingo Room by Tashas over at Jumeirah.
Stepping inside the restaurant immediately treats us to some posh-looking furniture and arrangements, with gold-looking adornments carrying your usual set of condiments and spices.
Even the lights appear to be made of near translucent clamshells, proviiding just the right amount of lighting for a more intimate night out in Dubai.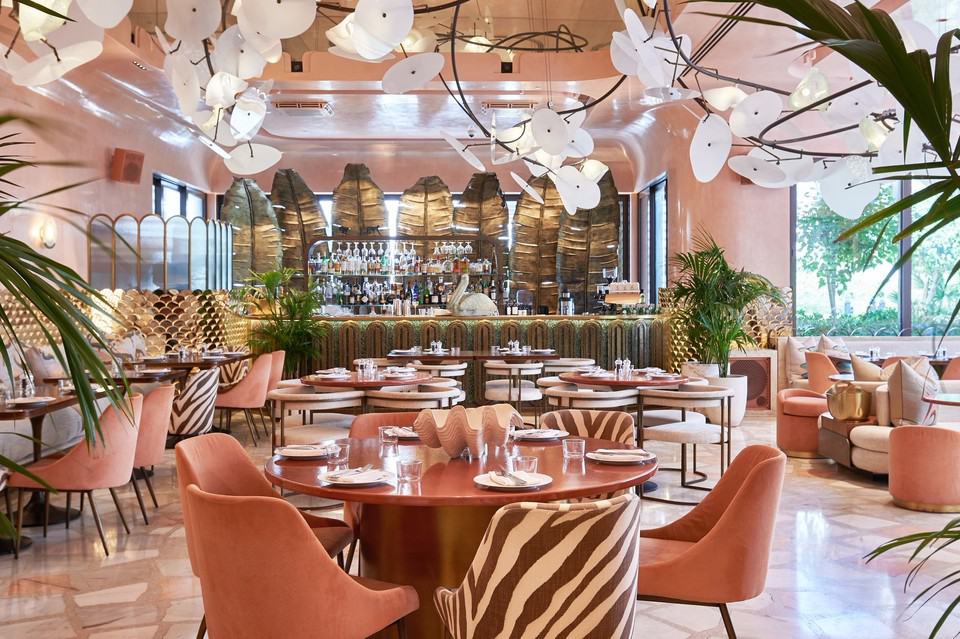 Surprisingly, the menu chooses to go old-school, serving up traditional dishes with some really nice flair. At a glance, the menu does lean on African styles along with some Italian-style dishes on the menu.
Those looking to start on the delicious crustacean right away can order their "lobster pasta", with a tomato-based sauce and some chili flakes for a nice kick. All of these are tossed in with freshly-made taglietelle for a satisfying meal.
Otherwise, there's also options such as scallop pasta, mushroom pasta for vegetarian diners, and a rustic bolognese made with fresh ground beef and a solid tomato base tossed with fresh rigatoni.
Alternatively, you can get the big seafood platter if you need a bigger plate for sharing with friends. This set already includes lobster (of course), squid heads, calamari slices, sea bass, and some tasty prawns.
There's also salmon wellington, baked fish fillets, and wagyu striploin, rib eyes, and a big 'Sunday roast' with a luscious sauce in case you need non-seafood options.
As this does lean more on a fine-dining style of establishment, prices are quite high. Expect to spend around AED 800 in this place when going for the larger food options like their lobster.
Still, if you really want a luxurious experience around the Jumeirah area, then we definitely recommend you check out the Flamingo Room by Tashas in Dubai.
Where to find the Flamingo Room?
What's nearby?
The Flamingo Room is located near Ocean Beach which immediately gives you a great hangout spot to just relax, take in the ocean breeze, and maybe even take a few seaside photos!
Alternatively, the Summersault Beach Club is also nearby, featuring live entertainment and a few parties, making it perfect for fans who want to socialize and have fun with new people.
Not a fan of the sun? No need to worry!
There's the Theatre of Digital Art providing all sorts of artistic exhibits and performances from live music to meditation; from new art made by contemporary artists, to more traditional works from ancient masters.
Roberto's Ristorante
| | |
| --- | --- |
| MENU: | Caviar, Astice alla Griglia, Catch of the Day, Risotto, Pasta |
| LOCATION: | DIFC, Gate Village 1 Dubai |
| SOCIAL MEDIA: | Instagram |
| OPERATING HOURS: | Mondays - Sundays: 12:00 PM to 3:00 AM |
| PRICE RANGE: | AED 45 to AED 535 |
Opening to massive critical acclaim back in 2012, Roberto's Ristorante establishes itself as one of the top Italian-style dining spots here in Dubai. The place takes inspiration from European fine dining joints, reflecting it in their food and their decorations.
It's a rather lively place, punctuated by the warm and earthy dining room, giving us a rustic feel with a few modern sensibilities. Not a bad place for a date night as well, with some comfortable corners that's just perfect for two.
The menu provides both traditional and contemporary Italian fare. Roberto's Ristorante sources some really fresh ingredients for their dishes, both from local sources and from abroad.
Want to keep things simple and delightfully rustic? Try ordering a char-grilled lobster served with grilled vegetables, allowing the natural flavour of the meat to carry the whole meal.
Alternative dishes include slow-cooked octopus made with artichokes and pepper sauce, some pizza made with fresh black truffles, oysters, and large tiger prawns and wagyu beef slices.
Business diners can also order from a tailor-made business lunch menu with dishes all designed to fly out from the kitchen within a reasonable timeframe.
These include things like tomato salad and beans, minestrone soup for a starter, pasta with braised rabbit meat for those feeling a bit adventurous, and even simpler dishes like a grilled lamb chop and roasted chicken.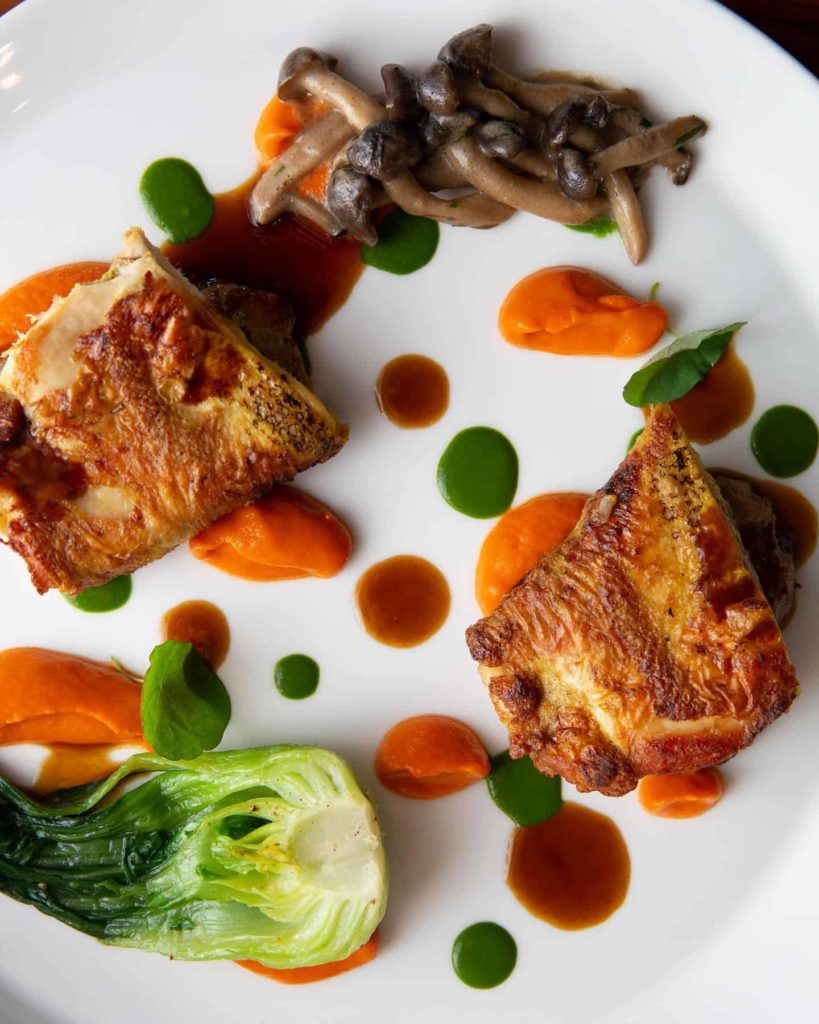 Vegans can also ask for their vegan menu in order to get meals that best suit their preferred diet.
Prices can reach up to AED 500 for the really high-end items and wines. Still, we definitely were impressed by the nice service and ambiance in the restaurant and thus, earned a recommendation as one of the best lobster restaurants in Dubai.
Where to find Roberto's Ristorante?
What's nearby?
Located in the heart of Dubai International Financial Centre, Roberto's close to some cool places to visit like DIFC's Gate Avenue; a walkway shopping district consisting of over 300 other dining, retail, and fashion establishments.
Just a bit further from there, to take the exercise up a notch, is the Warehouse Gym— the bext boxing gym at DIFC, home to a variety of facilities from a cycling studio, to cryotherapy, to even a juice bar to help guests stay hydrated and healthy.
After all that, for some much-needed rest and relaxation, guests can visit the Museum of the Future for a science-fiction experience all in present day: from space station hopping to experiencing the Amazon rainforest all in the safety of mixed reality.
BOCA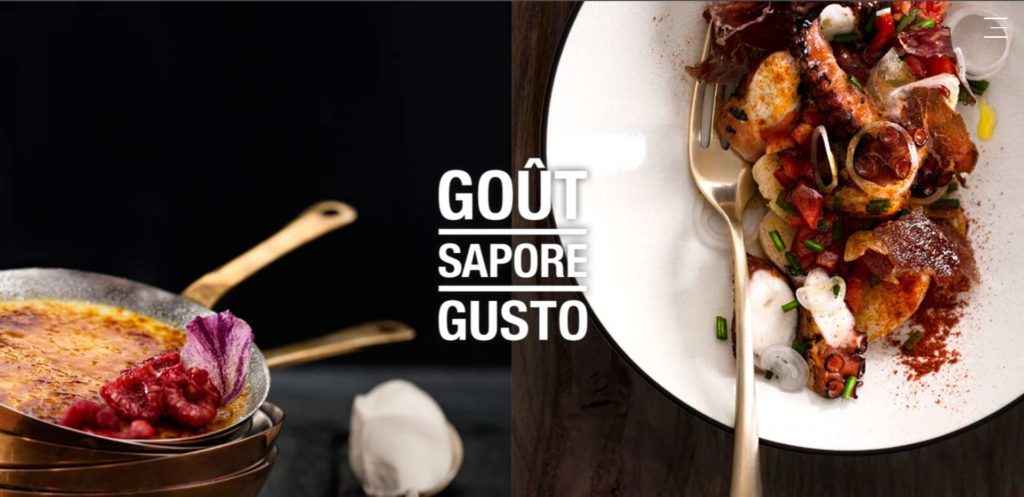 | | |
| --- | --- |
| MENU: | Lobster Rolls, Worth the Dough, Mains, Arroces, Vegan |
| LOCATION: | Gate Village 6, DIFC Near towards DIFC Parking, Dubai |
| SOCIAL MEDIA: | Instagram |
| OPERATING HOURS: | Mondays - Sundays: 12:00 PM to 3:00 AM |
| PRICE RANGE: | AED 35 to AED 300 |
Taking another bite out of European influences, BOCA in Dubai's financial district opts to take things in a different direction, utilising Spanish influences into their creative cuisines for Dubai visitors and residents.
The place is a bit more toned-down in terms of the luxury decorations and offering though it does still look chic and modern. It reminds us of a nice, comfortable joint to hang out in, after a particularly long day at the office.
There's even terrace dining, where patrons can eat and drink under the light of the stars which is just perfect in the evening or during Dubai's colder seasons.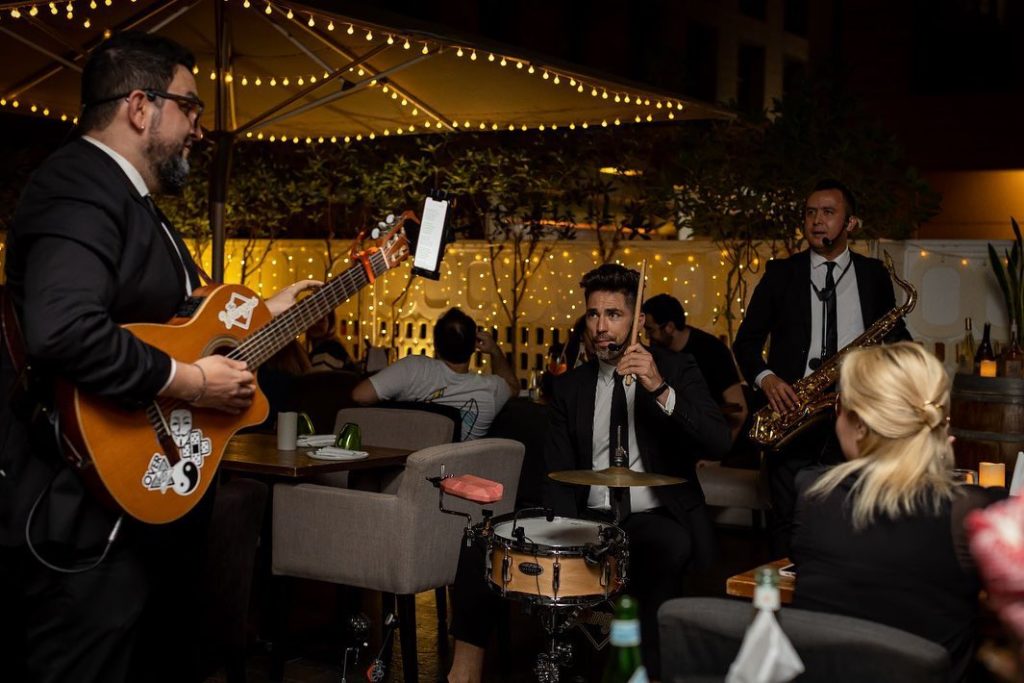 The Spanish influences immediately come through in their hot and cold tapas; Spanish-style small plates typically served alongside a glass of beer or wine; further complimenting the post-office party vibe.
In terms of the crustacean, BOCA is well known for their Lobster Roll, made with crispy quinoa, seaweed, coleslaw, and emon allioli. It's very good and convenient; no need for you to get into the nitty gritty of removing the meat from the shell.
It's a good companion to dine in before sinking your teeth on their main menu options. Choose from grilled octopus, braised lamb, beef short-rib, and smoked duck carrying all the Spanish influences they took inspiration from.
The place also has their own dedicated vegan menu in order to cater to those looking to eliminate their meat consumption. Their vegan paella is quite popular even among non-vegan diners here at the restaurant.
Once you're all done, you can even enjoy a nice drink at the bar, ordering from their wide range of available cocktails.
Prices are surprisingly modest, ranging around AED 300 for an average order for one here. So if you're craving for Spanish tapas and a good time after a gruelling day in the office, then check out BOCA today!
Where to find BOCA?
What's nearby?
Sporting fans will find themselves in luck after dining at BOCA– Dubai Sports World, the safest indoor sports venue of Za'abeel where you can take part in a variety of sports: with academic coaches available from basketball to badminton and cricket.
Dubai Garden Glow is also just around the corner– the biggest theme park to feature a glow in the dark garden made from recyclable materials, alongside other attractions like Dino Park made entirely for housing dinosaur animatronics.
Finally, for some specialized fun– BOCA shares a close proximity with a good amount of equine-related fun, from the Za'abeel Stables for racehorse boarding to the nearby Dubai Equine Hospital.
Nobu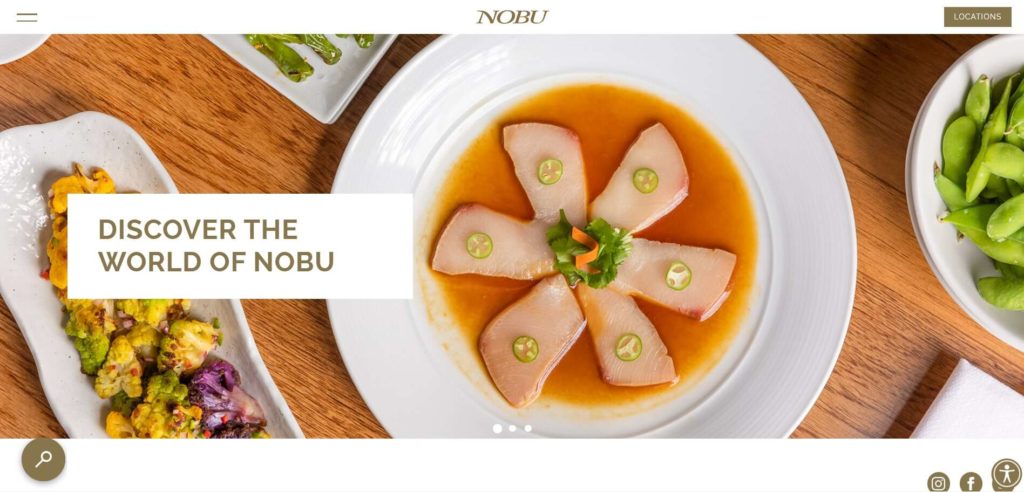 MENU:
Lobster Inaniwa Pasta, Nigiri & Sashimi, Omakase, Kushiyaki, Tempura
LOCATION:
Atlantis, 22nd floor, The Palm Jumeirah, Dubai
SOCIAL MEDIA:
Instagram
OPERATING HOURS:
Mondays - Thursdays: 5:00 PM to 1:00 AM

Fridays - Sundays: 12:30 PM to 3:00 PM / 5:00 PM to 1:00 AM

PRICE RANGE:
AED 25 to AED 550
Set in the enigmatic The Palm, Nobu sits among the top of the Japanese fine dining scene here in Dubai.
The restaurant is designed in a way that evokes an ocean-themed environment. It's almost like you've been submerged in the nearby sea, with decorations reminding us of coral reefs and sea rocks outside.
Starting out with something cold, there's lobster salad with spicy lemon dressing as well as lobster Inaniwa pasta among the starters up on offer. Inaniwa pasta is quite an interesting choice for those who want something more traditional Japanese to start.
After that you then move on to their more sleek and stylish dishes, at least if you opt out of the omakase experience, which is offered alongside a specialised wine pairing from their sommelier.
Once again, lobster shines bright in the other courses, served as part of their baby spinach salad as an alternative to shrimp or as a lobster ceviche with butter lettuce.
But speak to most of their regulars though, and you will definitely receive a recommendation to try out their lobster tempura served with honey truffle soy.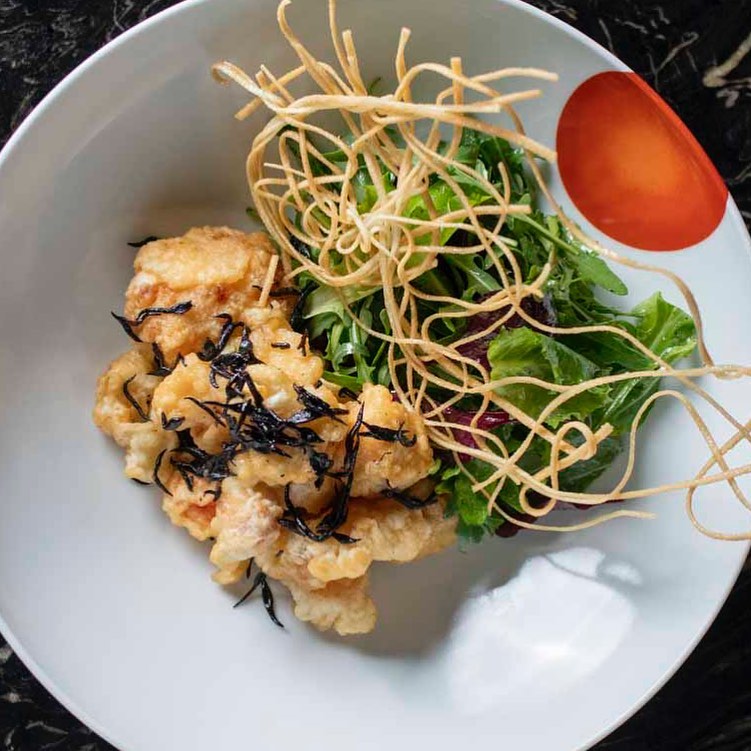 Alternatively, there's also their lobster taco served with wasabi sour cream. In fact, we recommend getting most of their tacos since they're all so good and should provide some good variety.
Of course, there's other lobster-based dishes here due to their large menu but these two usually come up as among the best of their dishes here in Dubai.
There's a good array of desserts waiting for you once you're done, all made with some interesting fusions. Things like their chocolate matcha ice cream cake or their miso cappuccino should provide a novel experience here in Dubai.
Prices can reach up to AED 500, especially when going for their expensive imports and wine. Still, we think the food is good value for money especially if you're a fan of Japanese fine dining in Dubai.
Where to find Nobu Dubai?
What's nearby?
Nobu Restaurant's location at Atlantis, the Palm opens it, and its guests, up to a whole host of experiences to be had within the resort: anything from live entertainment to some indoor attractions.
For example, you can beat the heat at the Lost Chambers Aquarium as well, catching a natural show of different fish, rays, and even sharks swimming in the tank. You can even catch some yoga classes here.
On the flipside, there's also the largest waterpark known to Atlantis and the world– the Aquaventure Waterpark, home to over 105 water slides, a wave riding challenge, and even a private beach!
Aprons & Hammers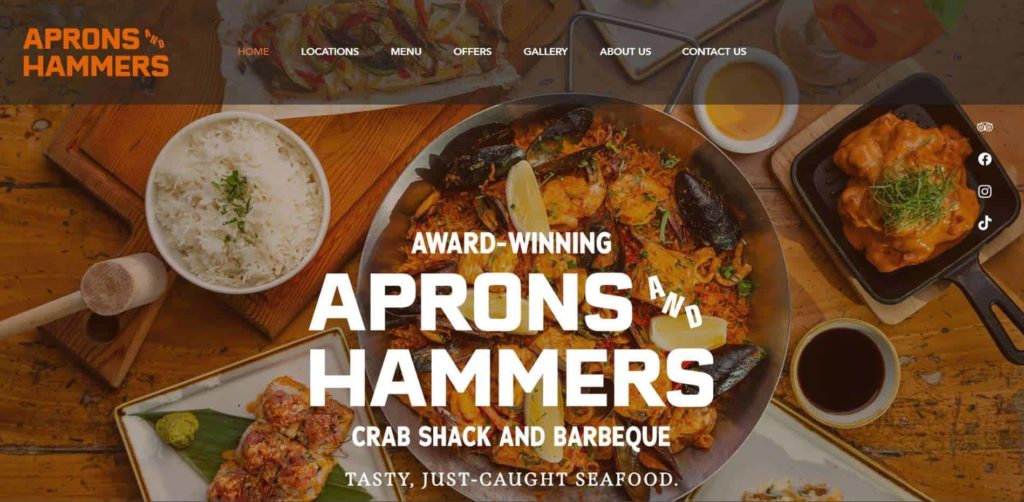 MENU:
Spiny Lobster, Canadian Lobster Platter, Main Meals, Sandwiches, Desserts
LOCATION:
Jumeirah Beach Residence, Dubai
SOCIAL MEDIA:
Instagram
OPERATING HOURS:
Sundays - Thursdays: 12:00 PM to 12:00 AM

Fridays - Saturdays: 12:00 PM to 1:00 AM

PRICE RANGE:
AED 38 to AED 800
A lot of the lobster joints have felt like luxurious offerings set in really fancy places. Aprons and Hammers are a bit of a shakeup from that, providing a more family-friendly environment to enjoy seafood and good food in Dubai.
The place is a great option for a wholesome family day out or even a casual dinner date where you don't want to be too mindful of the air too much. Some branches even start by giving you their 'it's Hammer Time!' apron upon your arrival.
They have a rather big menu that's filled with pretty much anything that swims in the ocean. If you can imagine it, there's a good chance that the restaurant can cook it up and serve it to you on a plate.
Start by the raw bar, checking out dishes like chilled prawns, Fine de Claire oysters, Dibba Bay oysters, sea bass ceviche, and even tuna tartare.
As for lobster, you can immediately get a delicious serving of spiny lobster roll served in a tasty brioche bread, Old bay mayo and some fresh fries. It's pretty much a full meal in itself if you only want something light.
Once you've gotten past their initial light snacks, then it's time for the main course: big seafood buckets cooked in their signature mix of marinades and spices, giving each seafood a delicious flavour.
You can choose between a spiny lobster bucket or a Canadian lobster platter which is a lot more expensive. However, we recommend going for the mixed bucket instead since it gives you the lobster along with shrimps and blue crab.
Dessert's just as simple, starting with an assortment of seasonal fruits, a hot apple pie, and some indulgent chocolate-based dishes like a chocolate fondant and of course, ice cream.
Prices can reach up to AED 800, especially if you're going for something like the Canadian lobster platter.
Well, better get that hammer and start cracking on those spiny crustaceans!
Where to find Aprons & Hammers?
What's nearby?
Standing in close proximity to the JBR Beach does more than just give Aprons & Hammers a freshness guarantee– it also gives the guests a good place for rest and relaxation, taking a walk along the shores and enjoying the ocean breeze.
Thrill-seekers can also choose to visit Skydive Dubai where you can experience tandem skydiving or even indoor skydiving! First-timers don't need to worry as well, since they have a school to teach all of the basics.
Want to experience the fresh air in a safer area? Hot Air Balloon Dubai has guests covered– letting tourists float above the landscape of Dubai while taking in the sights and landmarks of the beautiful city all the while.
Sardina Seafood Restaurant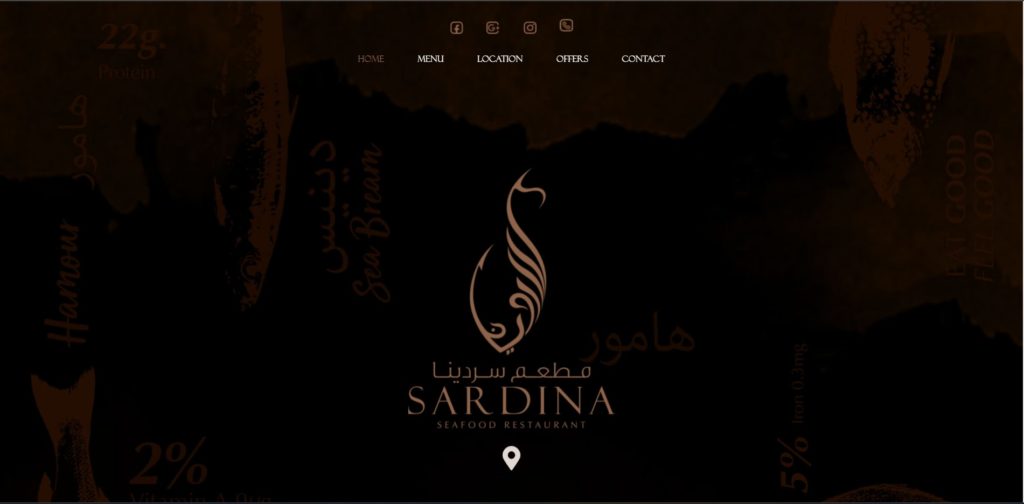 | | |
| --- | --- |
| MENU: | Grilled Lobster, Oven-Baked Shrimp, Boneless Crab, Lemon & Oil, Tagine |
| LOCATION: | Opposite Jumeirah Beach Resort, The Mall, 1st Floor, Jumeirah St., Umm Suqeim 3, Dubai |
| SOCIAL MEDIA: | Instagram |
| OPERATING HOURS: | Mondays - Sundays: 12:00 PM to 11:00 PM |
| PRICE RANGE: | AED 45 to AED 230 |
Sardina is a sleek restaurant serving up delicious and healthy Mediterranean seafood along the Jumeirah Road.
Compared to the other places, Sardina is also another place looking to feel a lot more "home-y", providing a relaxed environment to enjoy the food on offer. The place is a lot more earthier, featuring more subdued tones and colors.
Still, this doesn't mean their food is just middle-of-the-road though. Sardina takes excellent pride in their ability to serve up freshly-cooked food made with the finest ingredients they can get their hands on.
Menu is a bit smaller but they do make up for it with consistent quality and amazing flavour. They only have two lobster variants: a grilled lobster and a grilled lobster served with cheese and both of them taste amazing.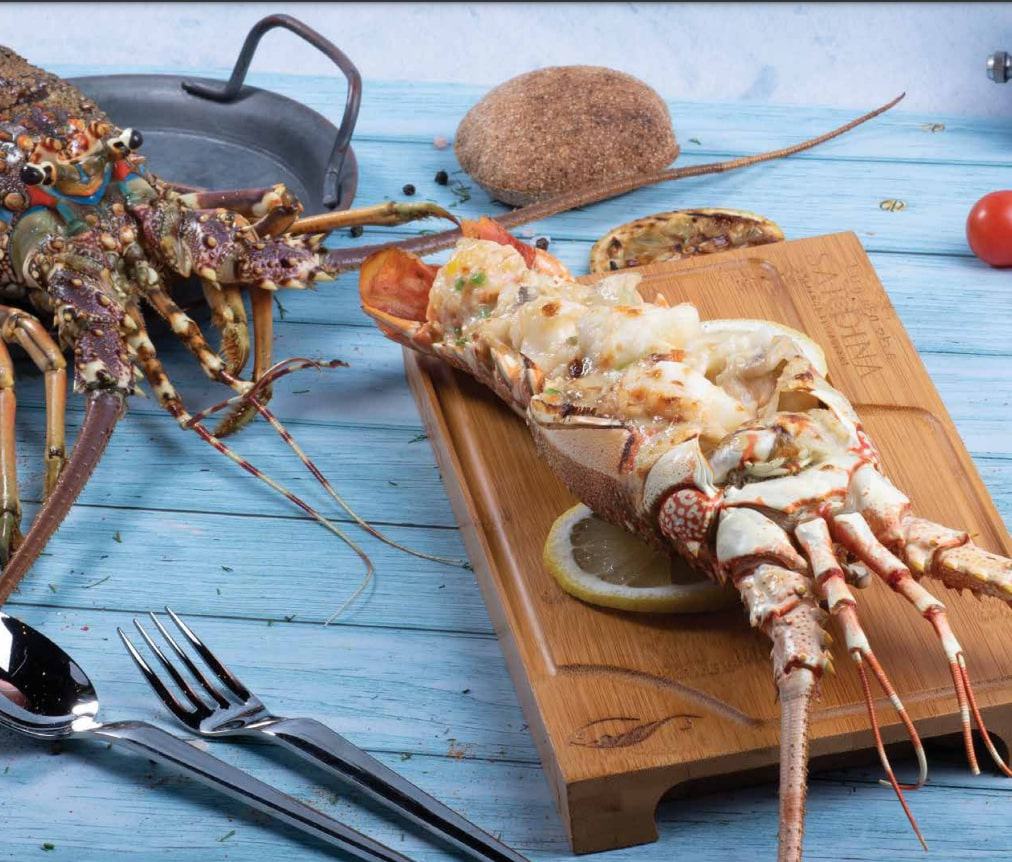 Personally, we definitely prefer the option with cheese. We think it just gives the meat a lot more flavour and even some texture once the cheese cooks up a bit more.
Other than their lobsters, you can also get a wide array of seafood ranging from those in the same general family like cuttlefish, crabs, and shrimps, all served up in different styles and seasonings.
Their salt-crusted fish are amazing options to go from as well. We find the whole process quite fascinating since it starts from the pan down to our table.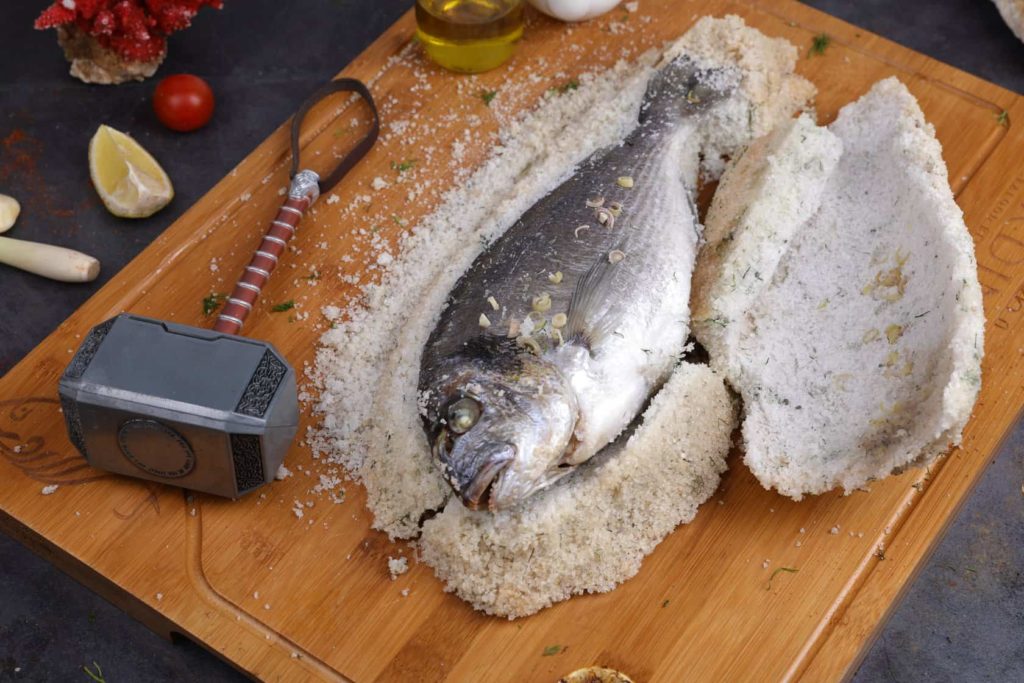 Prices are quite affordable, and you can usually get a good, satisfying meal for two for AED 400.
Fresh seafood cooked simply but packs a lot of flavour. If this sounds like your thing then we definitely recommend you visit Sardina Seafood Restaurant in Dubai.
Where to find Sardina Seafood Restaurant?
What's nearby?
Looking to shop after filling up at the Sardina? The aptly-named 'The Mall' is home to a good amount of shops carrying all sorts of amenities such as salons, toy stores, and even kid's entertainment spots and playrooms.
Those interested in architecture can try out the 'Inside Burj Al Arab' tour that is just nearby, giving you an opportunity to learn more about its architecture, its engineering, and its history complete with photo-taking opportunities of course.
And finally, for those wanting to pick up a sport (or are already good at it!)The Flying Daf Squash Academy is just around the corner, taking in willing learners of all ages, levels and backgrounds to shape them into squash champions!
Scalini – Italian Restaurant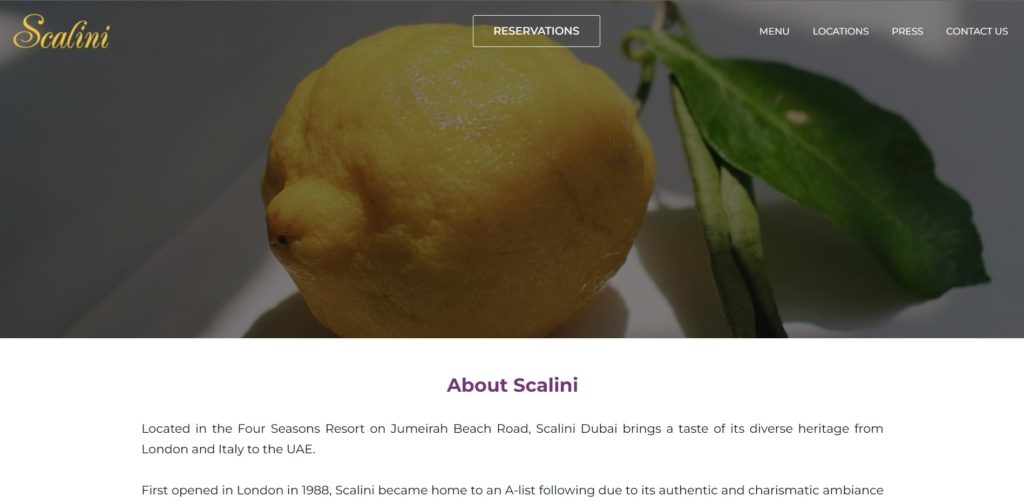 | | |
| --- | --- |
| MENU: | Canestrini Alla Nettuno, Pizza, Pasta, Carne & Pollame, Primi Piatti |
| LOCATION: | Restaurant Village, Near Four Seasons Hotel، Jumeirah St., Dubai |
| SOCIAL MEDIA: | Instagram |
| OPERATING HOURS: | Mondays - Sundays: 1:00 PM to 12:00 AM |
| PRICE RANGE: | AED 65 to AED 500 |
First opened in London back in 1988, Scalini eventually expanded into other territories, establishing their stronghold in Dubai at the luxurious Four Seasons Resport on Jumeirah Beach Road.
Located at the Restaurant Village, Scalini decides to go a bit more old-school with their decorations. Bright artwork adorn the walls and the tables all have pristing white tablecloths, and blue leather.
The same translates to their menu. They serve a lot of traditional dishes all done really well using fresh ingredients and served with generous portions.
If you're craving lobster upon entering, then why not go for their canestrini alla nettuno; a puff pastry filled with lobster, scampi, prawns, and a creamy white sauce? Or perhaps the avocado reale, which fuses avocado slices with fresh lobster.
Or you can immediately go for their Risotto Astice made with flavourful carnaroli rice, saffron, and lobster claw meat which makes for a really savoury bite in each spoonful.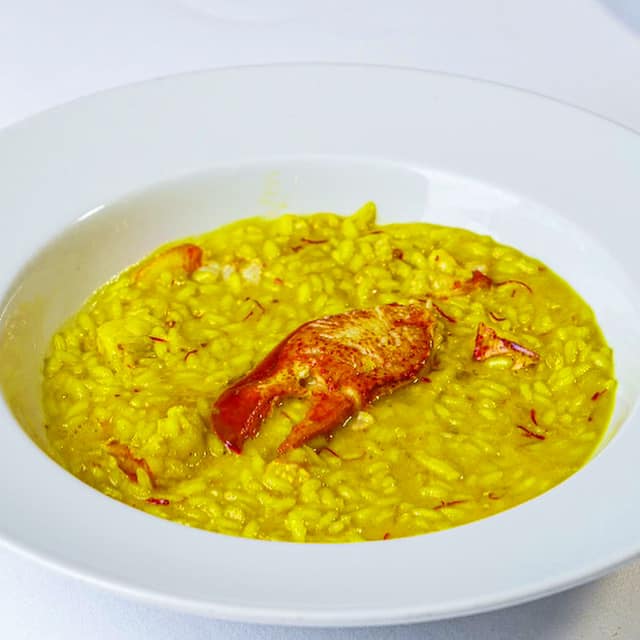 As for the main course, check out the spaghetti all'astice where they combine their signature fresh pasta with half a lobster or even a whole lobster if you're really hungry when you visit.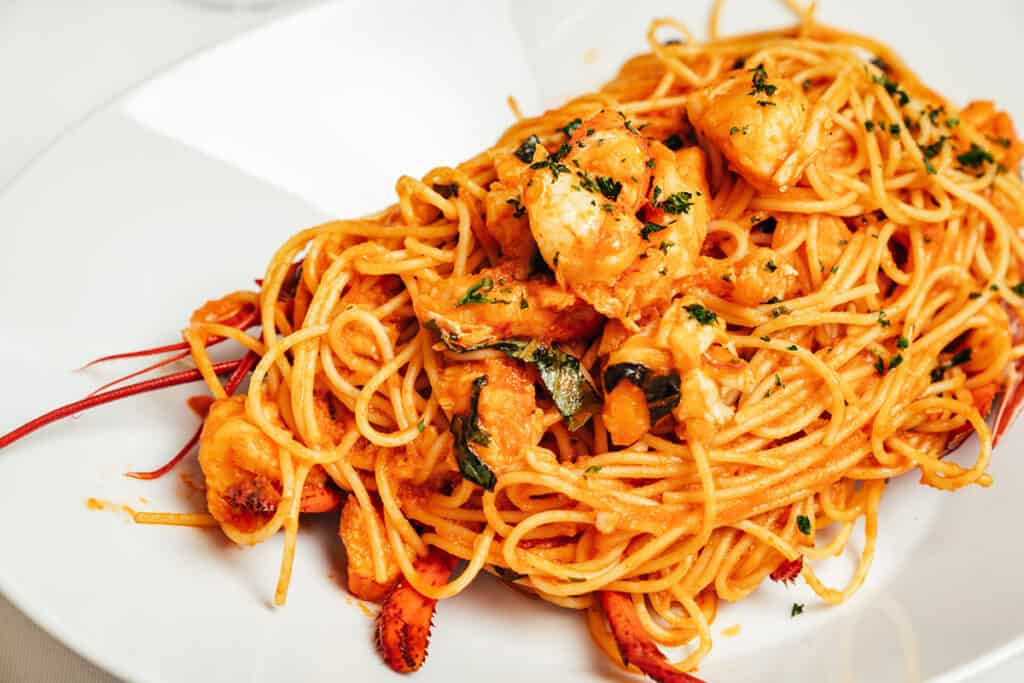 Other alternatives range from poultry like a whole roasted baby chicken, lamb chops, slide wagyu beef fillets and even veal for those who want to sink their teeth into something more game-y.
Dessert has some good sweet dishes such as their freshly-whipped gelato, tiramisu, and cheesecake. Our pick though, is their selezion di Formaggi Italiani which is just a selection of Italian cheeses, grapes, and some honey.
It makes for a great sampler, giving us an idea of which cheese appeals to us most.
Prices can reach up to AED 500 when going for some of the more expensive options on the menu. As such, we definitely recommend Scalini for those looking for traditional Italian fare in Dubai.
Where to find Scalini?
What's nearby?
First, there's SeaWake— Dubai's leading water sports center, ranging from parasailing, windsurfing and, everyone's favorite: jet ski rides! A whole host of exhilarating water sports to leave guests breathless can be found right here.
ScubaDive is also an amazing experience for those interested in the depths. You'll be accompanied by professional PADI instructors, seeing what it's like to be completely submerged and about all sorts of marine life: both the familiar, and the alien.
Those who wish to stay at the surface though should enjoy a relaxing day at the Jumeirah Open Beach. No harm in just sitting down, relaxing, and enjoying the beautiful city skyline while taking in the ocean breeze.
FAQs about Lobsters and Lobster Restaurants in Dubai
---
Happy with your options? Dubai is filled with amazing restaurants cooking up delicious dishes from all over the world, giving you plenty of options to choose from so you'll never get bored.
You can find restaurants serving really amazing steaks, or really amazing seafood (other than lobster) here in Dubai. Make sure to get the most out of your visit by checking out all the unique restaurants you can encounter here in the city!