Top 5 Things to Do in Dubai
There are a lot of words you can use to describe Dubai, and even more activities to do there.
Whether you're a tourist, a new resident, or a local looking for new things to do, it can be overwhelming to figure out which activities are a must-do. That's why we have listed our top five things to do in Dubai.
It's important you get nothing but the best experience in the city, that's why we'll also explain the factors that we took into consideration and answer some FAQs about what to do in Dubai.
How much do different activities in Dubai cost?
The cost of each activity will vary depending on the type of activity and the add-ons for the experience. Some places offer discounts on holidays and some days of the week.
As a starting point, we have made a table of the cost estimates for every type of activity you can check out.
| Activity | Rates |
| --- | --- |
| Tours | |
| Desert Safari Tours | AED100 to AED1,000 |
| City Tours | AED16 to AED70 |
| Museum and Gallery Tours | ED3 to AED65 |
| Outdoor Activities | |
| Extreme Sports | AED32 to 2,299 |
| Zoos and Nature Parks | AED2 to AED80 |
| Food | |
| Dining Experiences | AED55 to AED7,300 |
| Food Tours | AED40 to AED540 |
| Attractions | |
| Amusement Parks | AED15 to AED210 |
| Landmarks | AED146 to AED153 |
| Shows and Performances | NA |
The Best Things to Do in Dubai
Before we get right into our list of the best things to do in Dubai, check out the factors we considered while picking them:
1. Go on a Dubai safari tour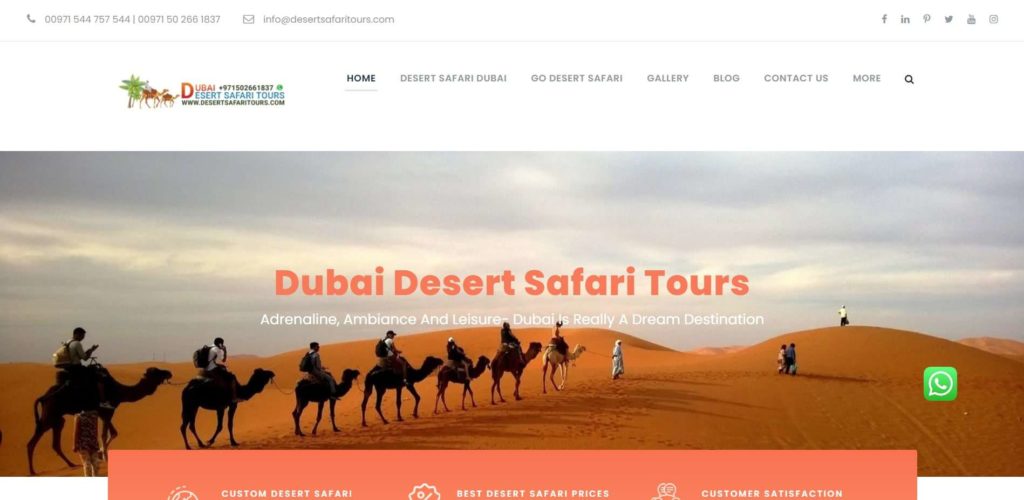 Test
Info
WEBSITE
https://www.desertsafaritours.com/
ADDRESS
Office Number 307, Dusseldorf Business Point,Al Barsha 1, Dubai - United Arab Emirates
CONTACT DETAILS
009 715 026 61837

009 715 44757544

009 714 392 5739

E-mail: [email protected]

OPERATING HOURS
Open 24/7
| | |
| --- | --- |
| Cost | ★★★★★(5/5) |
| Accessibility | ★★★★★ (5/5) |
| Culture | ★★★★☆ (3/5) |
| Convenience | ★★★★☆ (4/5) |
What's Dubai without its desert? The Arabian desert has been the backdrop of the city, offering its residents and visitors views and adventure.
Exploring this landscape has also been one of the most popular and special activities that everyone must do when they are in Dubai.
We booked our tour with Dubai Desert Safari Tours because we enjoyed the wide range of tour packages they offer. They provided both budget-friendly and premium options for our first time in exploring the desert.
We definitely enjoyed their morning tour with the camel ride and the little photoshoot that we had in the dunes of the Arabian Desert.
We also had one of the most beautiful sunrises that we have ever seen. Seeing the sun rise over the desert and the transition of dawn to morning is something we'll never forget.
Afterwards, we rode the dune buggy and dashed through the sand freely. The instructors taught us well, and the vehicle was easy to maneuver.
We wouldn't recommended it for anyone too old for exciting physical activities, though.
And we didn't have to worry about being physically ready for the whole adventure because they provided us with complimentary drinks and unlimited mineral water—perfect for quenching our thirst in the sweltering morning heat.
Besides that, they picked up and dropped us back off in a car, so the whole trip was very comfortable and safe.
But for a tour of the place that gave birth to Dubai's culture and shaped the beauty of the whole city, it lacked any cultural meaning to it. The whole thing almost felt a little touristy.
So we asked about any other options, and they shared with us that their other packages done in the evening provide some traditional dinners and entertainment.
We think that this was a good way to showcase Dubai's culture, although we can definitely see guest being too busy eating and talking to really appreciate the cultural aspect of it.
But despite that, going on a desert safari tour is definitely accessible for anyone working with a schedule. Our morning tour lasted for only half a day, and it wasn't tiring at all.
However, if you really want the full experience, you may avail of their whole-day tours that go well into the night.
We also liked that we didn't really need to prepare anything or worry about crazy long reservation lists. In fact, we booked the tour a night before we did it, so that was really great!
All in all, we really think that this is one of the best things to do in Dubai, especially since the Arabian Desert plays a vital role in Dubai's identity.
Great for almost any age
Budget-friendly packages are available
Various tour lengths for any time of the day
Easy and quick to set-up
A bit touristy
Doesn't offer educational value
Client Reviews:
We had the best tour guide!
"I would definitely recommend this tour. We did the overnight tour. I have never done reviews before but I had to. Sunil was the best tour guide you could ever asked for. He was so attentive. He made sure everything was okay before he went to bed." —Sandra McLean, Google Reviews
The customer service is excellent, the groomers are so understanding and gentle
"Had a very pleasant safari desert tours. Driver picked up punctually and drove us safely to destination. The driver was so friendly and thoughtful, briefed us clearly about the trip and introduced us the points of interest along the way. It was a thrilling experience in moving through the highs and lows of sand dunes. Besides enjoying the desert, the buffet served and performances were all fantastic." —Lim Geok Pei, Google Reviews
2. Join a food tour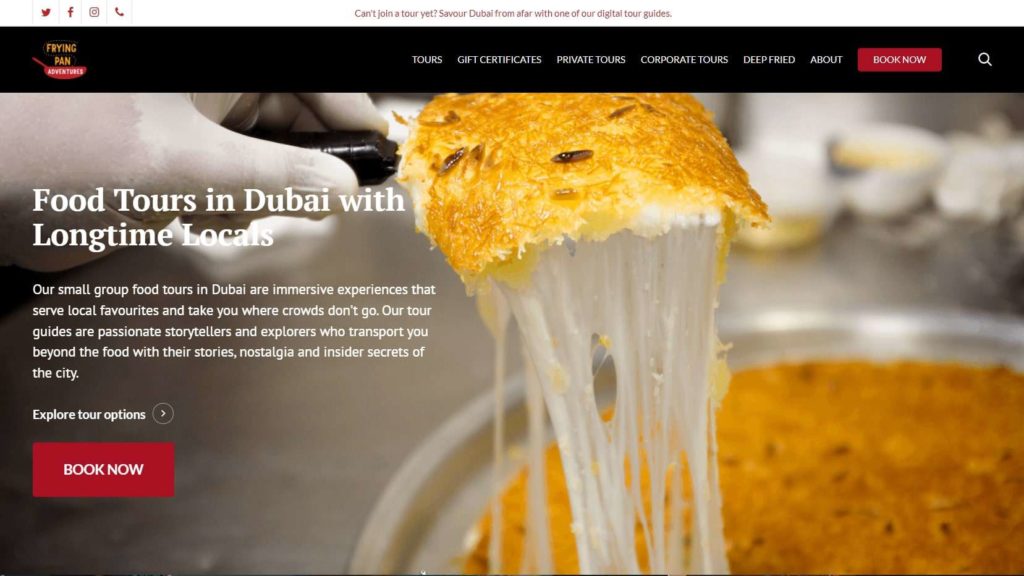 | Test | Info |
| --- | --- |
| WEBSITE | https://fryingpanadventures.com/ |
| ADDRESS | Auto Centre - Office A219 - Port Saeed - Dubai - United Arab Emirates |
| CONTACT DETAILS | +971 56 471 8244 |
| OPERATING HOURS | Monday to Saturday: 10AM to 5PM |
| | |
| --- | --- |
| Cost | ★★★★☆(4/5) |
| Accessibility | ★★★★☆(4/5) |
| Culture | ★★★★★ (5/5) |
| Convenience | ★★★★★ (5/5) |
When one thinks of Dubai, they think of Burj Khalifa, the desert, and the wealth of the city.
But one underrated aspect about a city like this is the melting pot of cultures that have brought their own dishes with them from different parts of the world.
When we were looking for food tours, we came across Frying Pan Adventures, and what really struck us was their willingness to serve us authenticity.
Run by a small group of locals, their food tours will take you to food spots far away from the crowds, unheard of by magazines, and only known to the residents of Dubai.
It's more on the expensive side of the price range for food tours, with three to five-hour tours reaching up to AED425.
However, it can be justified by the fact that these are locals letting you in on the precious secrets of Dubai. With every guest they bring along comes the exposure of these food spots that can ultimately bring in unwanted crowds.
However, despite its high price point, we totally love that they have your usual food tours and a couple of more interesting ones.
First off, they have digital tour guides for the independent and introverted guests. They offer PDF guides showcasing the stops along their routes on their signature food tours.
This allows you to savor each food stop and be the master of your own time. Plus, it's a great way to just have a handy copy of good places to eat when you can't decide.
They also have a tour called the Old Dubai Scavenger Hunt, which we tried out.
In teams, we used a mobile game app to solve a crime case that took us around the historic Dubai Creek that houses traditional markets and spice souks.
It was a great way to get to know the older part of the city and discover some hidden gastronomic gems.
However, we don't recommend this if you don't like walking or have a hard time doing so for long periods of time.
Along the way, we discovered a lot of beautiful spots in the city that you don't usually see on Instagram or magazines.
We had so much fun navigating through the souks and getting lost in the overwhelming scent of so many spices. And whenever we started feeling hungry or tired, the scavenger hunt was paced so well that each food stop feels like it's just around the corner.
The whole tour took about almost five hours. And if this is too long for you, their signature food tours only take up around three to four hours.
Going on a food tour is definitely something that everyone should do when they're in Dubai. It's not only a great way to eat your way through the city, but it also immerses you in Dubai's culture and traditions.
Authentic way to get to know Dubai
Tours are creative and engaging
Great for anyone interested in food
Well-paced and didn't take too long to finish
A bit more expensive
Involves a lot of walking
Client Reviews:
One of the best and most authentic experiences you can have in Dubai!
"I cannot say enough good things about Farida and the tour. I booked the Middle Eastern Food Pilgrimage for me, my BF and my parents. Farida was knowledgeable, funny, and just an overall kind and welcoming person. Every stop on the tour was delicious and I wish I had a bigger stomach so I could've eaten more of everything. We got to try so many dishes I wouldn't have known about otherwise. The kunafa was my favorite. Frying Pan is a MUST when visiting Dubai." —Godon123, Tripadvisor
A can't-miss experience for residents and tourists alike
"I am a Dubai resident and I bring all my visiting guests on a Frying Pan tour when they're in town. I simply can't recommend the experience highly enough, for residents and tourists alike. You discover a part of Dubai that is fully off the beaten tourist track, and one that – even if you did explore it on your own – you would likely lack context and understanding of were you to meander through without the helpful insight and commentary of Frying Pan's enthusiastic, knowledgeable guides. Well worth the price of the experience." —GessiG735, Tripadvisor
3. Enjoy the views at Burj Khalifa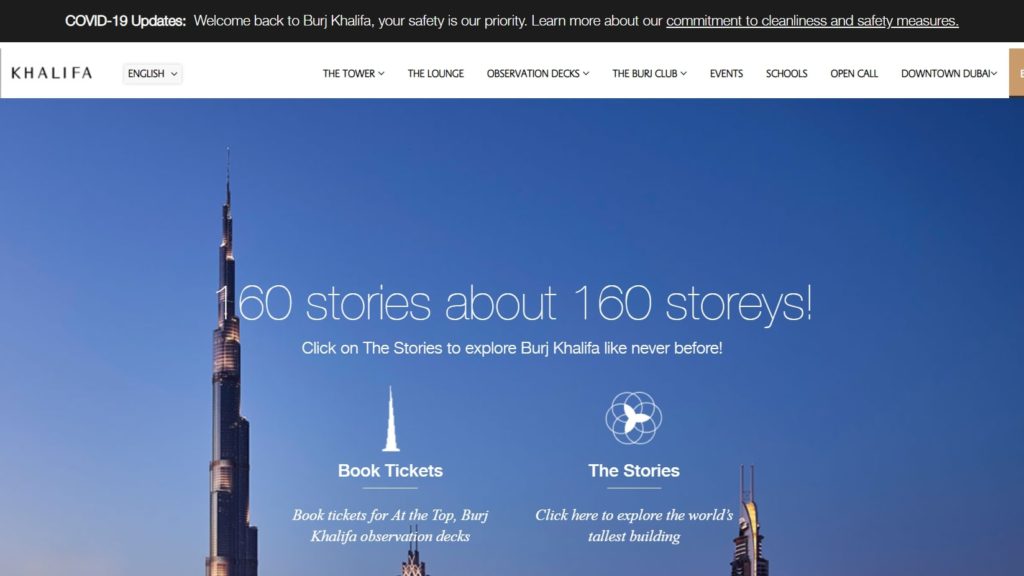 | Test | Info |
| --- | --- |
| WEBSITE | https://www.burjkhalifa.ae/en/ |
| ADDRESS | 1 Sheikh Mohammed bin Rashid Blvd - Downtown Dubai - Dubai - United Arab Emirates |
| CONTACT DETAILS | +971 4 888 8888 |
| OPERATING HOURS | Open 24/7 |
| | |
| --- | --- |
| Cost | ★★★☆☆(3/5) |
| Accessibility | ★★★★★ (5/5) |
| Culture | ★★★★☆(4/5) |
| Convenience | ★★★★☆ (4/5) |
This may be the obvious thing to do, but visiting Burj Khalifa is truly an experience that sets Dubai apart from other cities in the world.
With offerings more than just their world-renowned observation decks, Burj Khalifa is as much an architectural landmark as it is cultural.
In order to access the views and their other experiences, such as their galleries and lounges, we had to book tickets via their website.
The passes were costly, but if we were to splurge; it was going to be for Dubai's most iconic skyscraper.
We took the At The Top pass for AED389 per person, which let us access three out of the four observation decks.
We were accompanied by a guest ambassador that took our photos, gave us a tour of each observation deck, and guided us in using the telescopes.
Besides the views, we also enjoyed some beautiful refreshments at the SKY Lounge. This was probably our favorite part of the tour because it gave us time to enjoy the view without having to stand in line with the crowd.
We were also big fans of their virtual reality experience that took us to live out our Mission Impossible dreams of scaling the skyscraper as mission operatives.
The whole experience was also very effortless. Besides the guest ambassador attending to our requests, their high-end elevators and premium service at the SKY lounge also made it easy for us to enjoy everything Burj Khalifa had to offer.
But the best surprise that we got from exploring the world's tallest building was the amount of art it housed.
We truly recommend stopping by at the lobby to check out the "World Voices" sculpture and visiting the digital art venue, Infinity Des Lumieres. Both were really inspiring and something unexpected for a multi-use skyscraper.
The best part about all of this is it's so easy to purchase tickets for it. We booked two days in advance.
However, get your patience and schedule ready because lines for entering is often long.
Needless to say, exploring Burj Khalifa is worth the money because it gives you access to incredible views, inspiring experiences inside the building, and excellent service all around.
Iconic vantage point of the city
Excellent service
Offers various experiences
Little to no preparation needed
Passes can be expensive for groups
Experiences are charged separately
Client Reviews:
Best at night with so many options to choose from
"Burj Khalifa is an absolutely stunning place to be. Especially in the evening when the fountains are on. This place always has a great buzz. Plenty of restaurants to choose from and you can get absolutely anything to eat. The directions on Google maps are very accurate as well. Cinema parking is the nearest parking if you are visiting to see the fountains." —Altamash Pervez, Tripadvisor
Amazing man-made wonder!
"This is what you call the power of Engineering. Totally mesmerized by the views of the man-made wonder. The best time to visit is post afternoon. And don't miss the fountain show which happens after 6:30 pm. Dubai is Love!!" —Ragesh A., Google Reviews
4. Visit the Louvre Museum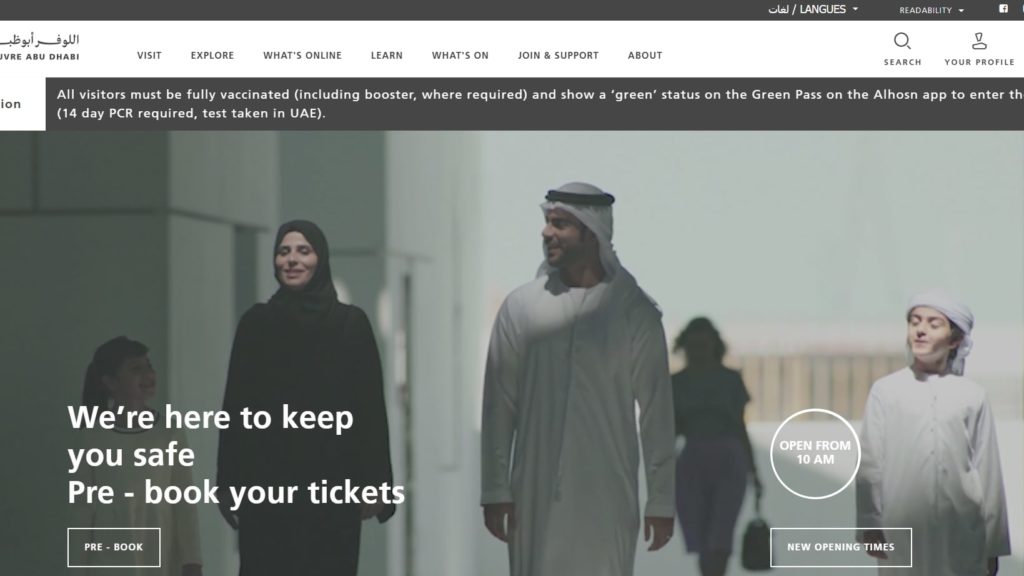 | Test | Info |
| --- | --- |
| WEBSITE | https://www.louvreabudhabi.ae/ |
| ADDRESS | Saadiyat - Abu Dhabi - United Arab Emirates |
| CONTACT DETAILS | +971 600 56 55 66 |
| OPERATING HOURS | Saturday to Friday: 10 AM to 6:30 PM |
| | |
| --- | --- |
| Cost | ★★★★★ (5/5) |
| Accessibility | ★★★★☆ (4/5) |
| Culture | ★★★★★ (5/5) |
| Convenience | ★★★☆☆ (3/5) |
While technically not within the city of Dubai, 700+ artworks from all over the world is worthy of a short trip down to Abu Dhabi.
There's no need to fly to Europe to see the magnificence of Monets and Pollocks because The Louvre Museum has some of their works on display among many other pieces from different time periods.
The general admission tickets are pretty decent, too. We paid AED63, but that can go down to AED31 if you're a UAE school teacher, college lecturer, or university faculty member; a member of the UAE Military; or an auditorium/workshop ticket holder.
It's also free for people under 18, UAE senior citizens, Art Club members, youth and teacher pass holders, journalists, and people of determination (or people living with disabilities) with their companion.
While getting there can take up some time, especially if you're taking the bus, the experience was worth it for a day trip.
The museum is huge and contained so many sections, so be prepared for lots of walking. Although, there was never a lack of seats; we even enjoyed just sitting there and taking in all the pieces in the room.
The collections were vast and diverse. We especially enjoyed the Towards a Modern World collection, which featured Japanese artworks from the 18th century.
They also had ancient sculptures on display, along with their boards that contain critical information about their history and relevance.
Besides the pieces of art, they also have workshops, talks, and cafes to try out on a daily basis, so be sure to check their website to see what they have scheduled during your visit.
If you have children with you, that's no problem either. The Louvre Museum also has a children's museum with regularly changing exhibits they can explore.
When you're done taking in everything the museum has to offer, we definitely recommend you try out the cafes on their premises.
Aptitude Cafe just reopened with a new look and gives you unbeatable views of the museum's award-winning architectural design.
There's also the convenient museum cafe that you can go to as a pit stop before continuing on with your own tour.
We tried out the Aptitude Cafe, and it was the perfect ending for our museum trip. We enjoyed the museum's beauty under the sunset sky while we enjoyed some refreshments.
While getting tickets is easy and can be done through their website a day before your planned visit, there's the extra effort of commuting or driving down to Abu Dhabi.
In addition to that, because of the new pandemic guidelines, visitors are only allowed to stay a maximum of three hours inside the museum, which is definitely not enough to appreciate all of the exhibits.
We definitely recommend that you include another activity in your trip in Abu Dhabi for this, or else you won't be able to make the most out of your day.
All in all, The Louvre Museum should definitely be in everyone's must-see sites in UAE. Not only does it give you access to see works from legendary painters, but it also hosts workshops where you can have fun while learning.
Museum passes are decently priced
Wide range of artworks to see
Accessible for all ages
Food choices are available
Located outside of Dubai
Access to the museum is limited to 3 hours
Client Reviews:
Time spent well at the Louvre
"An absolute must-to-do while visiting Abu Dhabi. The museum has a lot to offer and you can easily spend half of the day here. There is so much to see and explore and the architecture of the building is simply amazing! The really cool thing is, that you can use your phone as an audio guide, so don't forget the charger for it!" —Balázs Lovescher, Google Reviews
The trip was worth it
"Do not miss this Museum. It is really worth the 120 km drive from Dubai. This is really full of interesting documents and information. And the building design is simply wonderful. If interested you need at least 3 hours." —Giuditta Soldadino, Google Reviews
5. Dine at Burj Al Arab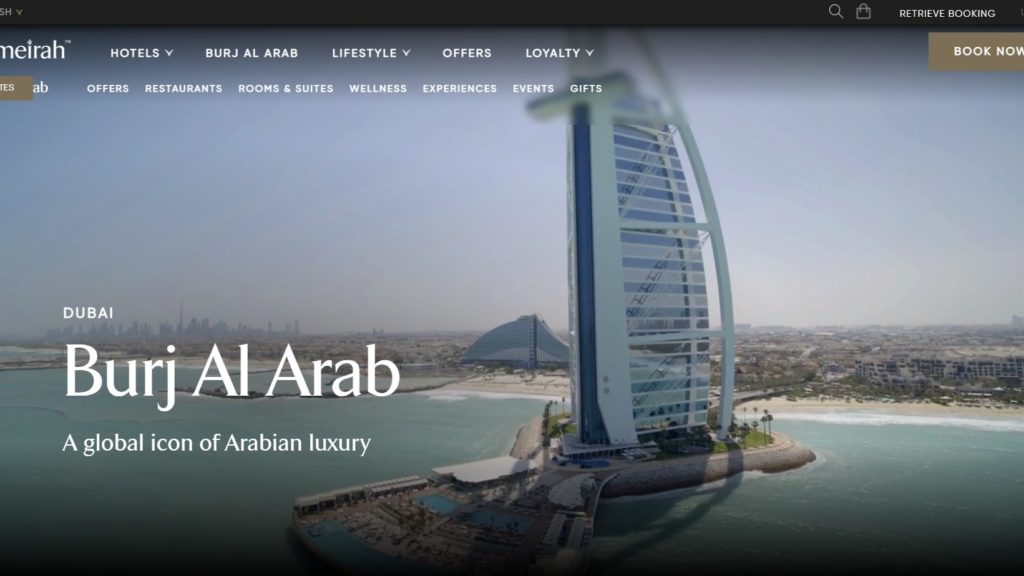 | | |
| --- | --- |
| Cost | ★★★☆☆ (3/5) |
| Accessibility | ★★★★★ (5/5) |
| Culture | ★★★★☆ (4/5) |
| Convenience | ★★★☆☆ (3/5) |
If there's another structure in Dubai that can compete with Burj Khalifa's prestige, it's definitely Burj Al Arab.
Set on an island and shaped like a sail catching the wind, this seven-star hotel boasts five restaurants and three bars open to their guests and anyone who has a reservation.
We definitely think that if you're a foodie looking to splurge for one of the best dining experiences of your life, then one of Burj Khalifa's restaurants can achieve that easily.
While we can't explore the hotel itself, as it is only open to its guests, you can get a glimpse of luxury by dining there.
We decided to go to Al Iwan, the hotel's traditional Arabian restaurant. It's less sophisticated than its other restaurant neighbors, but it's the best place to sample Arabian cuisine while having an intimate dinner.
The restaurant is decorated in golds and reds, crystal glasses, and fine cutlery. We tried the traditional meze for appetizers and had lamb for the main course.
The food was amazing and definitely one of the best meals we've ever had. The atmosphere was lavish, welcoming, and romantic.
We think they struck the perfect combinations and provide such a unique yet traditional dining experience.
As expected, it was expensive. It costs us a little over AED1,000 for a dinner for two, and it's definitely worth it if you're looking for a sophisticated take on Arabian cuisine.
However, we think that if you're looking for traditional and authentic Arabian food, then you're better off trying out local restaurants and food tours.
Besides Al Iwan, they also have Al Mahara, the hotel's underwater restaurant that's headed by a two-Michelin star chef.
If you're spending the day at the beach and you're looking for lunch, then Sal and Bab Al Yam are the restaurants for you.
If you want gourmet food, then Al Muntaha serves the finest Italian and French cuisine. Just be sure to get your pockets ready because prices are going to be steep.
We're big fans of the variety of restaurants to choose from because groups of different ages can find the perfect restaurant for them without a problem.
However, make sure to book your table at least a month before because the restaurants can get full during peak seasons.
Make sure to look up each restaurant's dress code, and bring out that dress you've been wanting to show because there are no other places better to wear it at.
The restaurants in Burj Al Arab are definitely capable of giving you once-in-a-lifetime dining experiences you won't be forgetting. If you have money to splurge, then this is definitely is a must while you're in Dubai.
Various restaurant offerings
Unbeatable service and food
Once-in-a-lifetime experience
Perfect for celebrations and intimate moments
Very expensive
Reservations can be difficult during peak season
Client Reviews:
Nothing but opulence.
"Luxury hotel, worth visiting. There are a few restaurants where you can try food from all over the world. Everything was absolutely perfect and professional. Staff couldn't do more to help us. The hotel is expensive but you must be prepared for this if you want to visit the only branded 7 stars hotel in the world. I highly recommend this place :)" —Zuzanna Zięba, Google Reviews
Something to come back for
"We had a coffee in their lounge yesterday and what an experience of their hospitality. The staff is damn amazing from their first security guard on the main entrance to the chef in the kitchen. They made you feel like you are visiting real royal life. Their presentation of coffee cutlery cake etc is beyond explanation. I will definitely visit them again whenever I will come back to Dubai again." —Sukhdeep Brar, Google Reviews
FAQs about Things to Do in Dubai
---
There's so much that Dubai can offer, and these are just the tip of the iceberg, so go ahead and explore this beautiful city whenever you can.
We hope we were able to answer your questions and helped you learn about the best things to do in Dubai.
Did we leave out any favorite activities and experiences from our list? Let us know so we can check it out and give our own review.
By the way, if you're preparing to visit Dubai, check out these articles about travelling to and from Dubai: