The best way to reward yourself after a long work week is by enjoying a luxurious experience at a spa. Not only do you get the best pampering, but it also leaves you feeling rejuvenated and ready to take on the week ahead of you.
This is why we've searched the city to give you the best spas in Dubai. We also included the criteria we considered in selecting our entries along with some FAQs about spas in Dubai.
How much does going to a spa cost in Dubai?
The cost of going to the spa can vary depending on the treatments you want, the products the staff uses, and some additional add-ons to the whole experience.
We've compiled the average prices of a massage depending on the duration of the service.
| Duration | Average Cost |
| --- | --- |
| 60 Minutes | AED30,000 |
| 90 Minutes | AED400 |
| 120 Minutes | AED400 |
The Best Spas in Dubai
Before we get right into our top choices for spas in Dubai, here are the factors we assessed in considering them:
1. Anantara The Palm Spa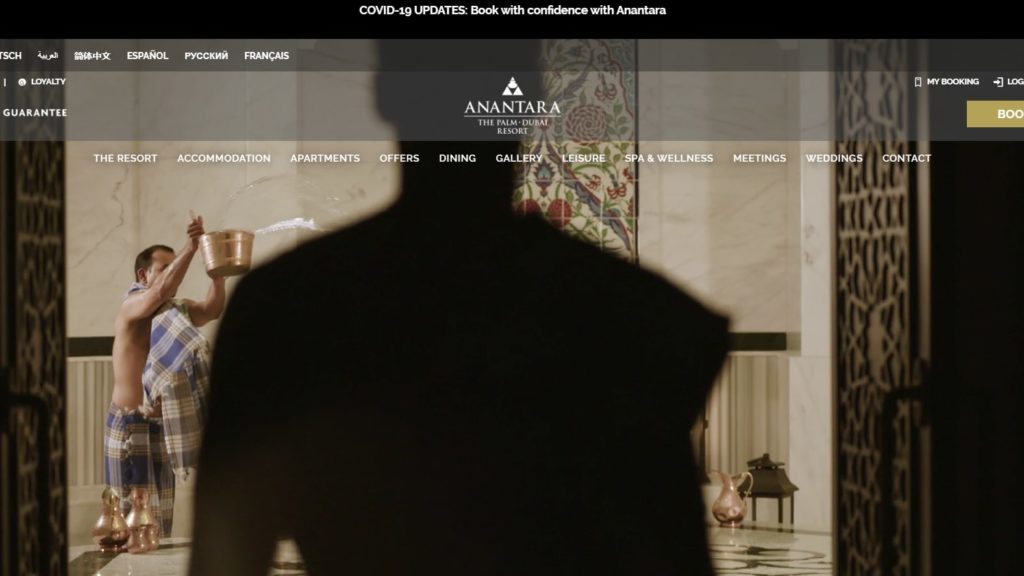 | | |
| --- | --- |
| Criteria | Ratings |
| Ambience | ★★★★★ (5/5) |
| Customer Service | ★★★★☆ (4/5) |
| Treatments and Facilities | ★★★★★ (5/5) |
| Products | ★★★★★ (5/5) |
The Turks have a culture and history that is rooted in looking after the wellness of its people, and that is something we didn't even know until we tried out their Turkish hammam facilities.
With an interior styled to combine the beauty of East Asia, Southeast Asia, Turkey, and Arabia, the spa gives off a sense of exotic royalty.
This is very notable in their hammams that felt like they were designed for Ottoman royalty. The bathhouse helps purify the body and skin with the subtle heat coming off from their marbled tiles.
We love their couples' suites that include an en suite sauna, solo pool, and a whirlpool. Getting one is definitely worth the price because it just really completes your time there with some extra private space for enjoyment.
Some of their shared facilities include an aroma steam room, which is just perfect for anyone who loves aromatherapy. But this sometimes gets too full for comfort.
That's okay though because we decided to wait it out and tried out their bamboo sauna and herbal bath services, which were just completely rejuvenating.
However, while most of their treatments were great, we were disappointed that their hammam treatments were not authentic and more like a combination of hammam rituals and a body scrub treatment.
This felt like such a loss and a waste of time because their hammam treatments do cost extra, and we expected something special.
But what was an unexpected highlight during our time here was their Thai massage that was just on another level. It was both tolerably painful and so satisfying as we got our limbs and joints stretched until we felt like jelly at the end of the session.
We also liked that the staff took the time to explain each massage oil in their repertoire, so we ended up enjoying testing and picking out our oils for our Thai massage.
We are also big fans of the magnesium products that they used in our body wrap called slimming Magnesium Booster.
We noticed that our cellulite somewhat decreased visually a week after our session at the Anantara The Palm Spa.
All in all the Anantara The Palm Spa combines traditional hammam and Asian treatments to give customers a unique experience.
And while this may not go well with some customers looking for a more traditional hammam experience, they may find some redeeming qualities in their other luxurious treatments while enjoying their pretty excellent facilities.
Luxurious interior makes for great ambiance
Great Thai massage treatment
Excellent couples' suites and wet facilities
Excellent quality products
Hammam treatments are not authentic
Customer Reviews
Money well-spent!
"An incredible experience in an incredible spot!
I booked a one hour massage and I have to say that it's the best hour I've spend in Dubai. It's no doubt a 5-star experience from the arrival until the end." —Terence Jong, Google Reviews
What a treat!
"Lovely experience in this Spa! Went with some friends as a day treat.. highly recommend. Staff very knowledgeable. Loved the product Natura Bliss they used for my facial – I was glowing with rehydration. Definitely an amazing experience – I was so happy I ended up buying a gift certificate for a friends birthday. Big Thank you to the Spa Team!" —Tanya Engvig, Google Reviews
2. Ahasees Spa & Club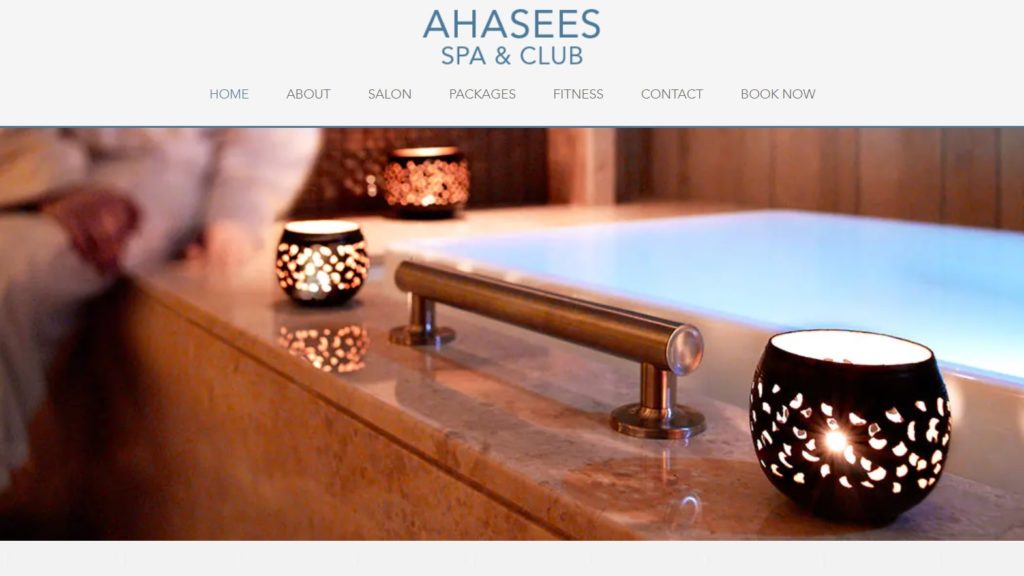 | | |
| --- | --- |
| Criteria | Ratings |
| Ambience | ★★★★★ (5/5) |
| Customer Service | ★★★☆☆ (3/5) |
| Treatments and Facilities | ★★★★★ (5/5) |
| Products | ★★★★★ (5/5) |
Treatments can be tricky to formulate and perfect, and facilities can end up being hard to maintain. But the Ahasees Spa & Club rises up to the challenge, and the result is probably one of the best spas we've ever tried in Dubai.
When we entered, the first thing that greeted us was the scent of herbs and patchouli, which perfectly complemented the wooden finishings of the reception area.
The lighting was warm and inviting and emphasized the contemporary architectural style of the spa. The combination of these two was very effective because it felt like we were transported to a beautiful Nordic spa.
It was even made more special knowing how serene and sophisticated it was while being in the middle of the busy city.
However, the receptionist was cold and offputting to the point that she almost ruined the whole ambiance.
Thankfully, the rest of the staff was friendly and more than accommodating, and it almost helped us to completely forget about the receptionist.
The facilities were world-class—from the big jacuzzi to the steam room and dry sauna. While these were limited choices, each option was of excellent quality.
The spa is also connected to a big indoor pool, which is definitely a must-try, an outdoor pool with a garden, and a pool bar.
Their award-winning treatments also live up to their acclaimed reputation. An aspect of their treatments that we really like is how they took Dubai as an inspiration for their wellness services.
In line with the spirit of the city, they divided their best treatments into three categories: Trade, Flourish, and Evolve.
Trade treatments were for relieving and restoring harmony between your mind and your body—perfect for us who just wanted something to rejuvenate us after a long and stressful work week.
Flourish treatments were for nourishing and fortifying the body and mind with custom-target therapies, our recommendation for those who want a more bespoke experience.
And Evolve treatments are for those looking for the most luxurious treatments the spa can provide.
And while these treatments focus on different benefits for our wellness, we found that any of their treatments are well-balanced and provided a holistic spa experience.
Their products also follow their philosophy of drawing inspiration from the city. Their ingredients and products are derived from ancient healing practices but processed with modern technology.
We love the antioxidant tea concoction they use for their massage because not only does it do the job excellently, but the scent and cooling effect just really helped calm down our nerves.
Their pomegranate facial was also such a satisfying treatment to get because the pulp from the fruit was so fragrant and felt so good as it rubbed the dead skin from our faces.
Ahasees Spa & Club approaches wellness as an art form and as a science, using the beautiful city of Dubai as an inspiration to take the past and combine it with the present.
The experience you get from them is rich with meaning and intent while also fully giving its customers the benefits of their treatments and facilities.
Serene and sophisticated ambiance
Facilities are in excellent condition
Has a great range of treatments
Excellent quality products
Receptionist needs improvement
Customer Reviews
My favorite spa in Dubai
"I love this spa and I always go there when I stay at the Grand Hyatt Dubai hotel. They have very nice big jacuzzi, steam room and dry sauna. The spa is connected with indoor pool what is quite big. The spa is also connected to the outdoor pool area with garden and a pool bar." —Dimitri, Google Reviews
The pools are a must-try
"Located in Grand Hyatt, I went for a Gym session and the place was very clean and tidy. There are sufficient treadmills and the equipment is of high-quality spread over 2 separate rooms. It is tied to an indoor pool that is quite big and has a jacuzzi, it is an adult pool which is open from 5 pm 'til 11 pm, while kids can come supervised from 11am till 5 pm. The place is very relaxing and easily connected for a gym pool back to room session." —Hussein Bahgat, Google Reviews
3. Talise Ottoman Spa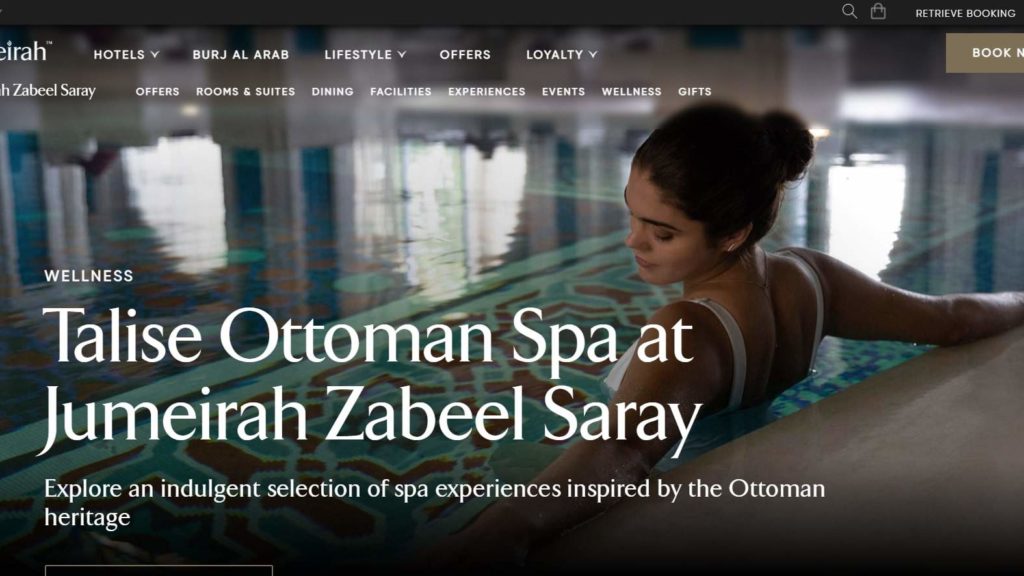 | | |
| --- | --- |
| Criteria | Ratings |
| Ambience | ★★★★★ (5/5) |
| Customer Service | ★★★☆☆ (3/5) |
| Treatments and Facilities | ★★★★★ (5/5) |
| Products | ★★★★★ (5/5) |
With 8,200 square meters of spa facilities, Talise Ottoman exudes grandeur and luxury in the style of the Ottoman empire.
With intricately-designed arches and doorways, mosaic tiles in the dipping pool, all lit up by the warm Dubai sun coming through their floor-to-ceiling windows, we were mesmerized the second we came in.
The wide area gave us so much space to breathe physically and mentally; we were immediately relaxed.
That being said, we have a tiny problem regarding the use of their wide space. It was hard to find some sort of privacy as we explored the facilities because almost everything was shared space.
It was even made worse every time we were snapped out of our reveries because we would hear the conversation between some customers echo around the room we were in.
Lots of customers also means that we had to book way in advance, especially with its limited capacity because of the pandemic.
However, once you get in, the wait is all worth it. The therapists we got went to extra lengths that helped us get into the right headspace and even invited us to experience their other facilities.
They are also very skilled with the different massages we got, and we can confidently say that they give the best massages because they easily found the right pressure during our session.
But before we had our treatments, we decided to try out their pool, which we strongly recommend you must try. Swimming above the beautifully designed tiles is one of the most relaxing things we did.
It was also perfect to get those muscles warmed up before the massage and the treatments.
Speaking of massage, our favorite was the Sultan's Massage—one of their signature therapies. It really helps stretch sore muscles and relieve pressure points that need some attention.
Their Turkish hammam gives an amazing experience with their marble goebektas giving off a soft and steady heat that helped us sweat without making us uncomfortable.
The marble kumas that made up the hammam's different sections were spacious, serene, and one of the rare places where you can get some sort of solitude.
Of course, we did this right before our Royal Ottoman treatment that was just pure luxury. It's their signature hammam therapy that involves a body polish and foam massage.
It's then followed by a hair and scalp massage and ends with a honey mask body wrap that left our whole body glowing and rejuvenated.
As for their products, Talise Ottoman Spa offered nothing but the best concoctions made out of Turkish products and ingredients.
The products we had for our treatments were all rich and fragrant without overwhelming our senses. The texture and consistency are proof that everything they used was fresh and handmade, too.
All in all, Talise Ottoman Spa is committed to providing authenticity and preserving tradition. All of this is done in one of Dubai's largest facilities.
Going there is truly a relaxing journey that left us rejuvenated and at peace with our minds and bodies.
8,2000 square meter spa facilities
Well-designed facilities
Accommodating staff
Excellent treatments
Freshly sourced products
Facilities lack privacy
Difficult to find availability
Customer Reviews
Already looking forward to our next visit
"The most amazing spa and Turkish bath experience in Dubai. One of a kind. Above the rest. The attention to detail and service is beyond this world. Always book in advance and limited availability, but it's worth the wait. We shall return for a daily treat and enjoy the facilities more, where you can spend all the time you need after your treatment. Looking forward to the next visit!" —Issa Eid, Google Reviews
Sultan's Massage is just the best!
"Talise Ottoman Spa
The design was beautifully done, and the service was great too. I had the Sultan massage with a lady called Shamila and I can say it was the best massage I had in a while. I do go for a lot of massages and try different spas.
There was a really nice outdoor garden which was very peaceful. The treatment rooms were perfect in terms of space lighting and atmosphere." —Mina. G, Google Reviews
4. One&Only Royal Mirage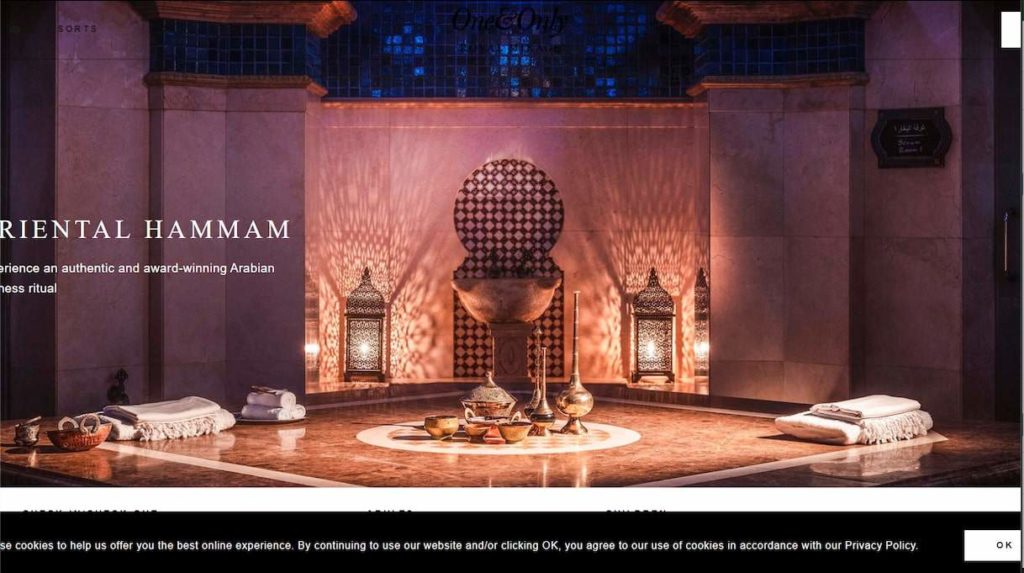 | | |
| --- | --- |
| Criteria | Ratings |
| Ambience | ★★★★★ (5/5) |
| Customer Service | ★★★☆☆ (3/5) |
| Treatments and Facilities | ★★★★★ (5/5) |
| Products | ★★★★★ (5/5) |
Probably one of the most unique entries of this list, One&Only Royal Mirage combines traditional therapies with the power of sound to integrate mentally cleansing energies as part of the experience.
The power of sound is combined with the restorative power of touch on your face and body, providing a very holistic experience that reaches past the tangible.
And what we love about this spa is that we can see that in the ambiance as well.
The Arabian architectural style found in the mosaic tiles, exotic Arabesque lamps that add to the intimate dim lighting, and the water from the plunge pools reflecting onto the ceiling all make an otherworldly and spiritual vibe.
Besides their 90-minute Sound, Face, & Body treatment, we also love their full-body ritual where we sat down with a therapist to consult with her for a more bespoke set of treatments for us.
Their hammam facilities are also beautifully designed with kaleidoscopic ceilings and marble tile flooring to complete their award-winning wellness ritual.
What drew us back to earth, however, was our little trouble with the receptionist. She was a bit inexperienced and lacked sufficient knowledge about their treatments and services.
She told us that the hammam has separate private suites, but it turns out the suites were shared with four people.
But she made up for it with her enthusiasm and willingness to accommodate our requests during our time in the spa.
The therapists we had during our massages had trouble controlling their pressure, and we felt some discomfort at times. But when we told them to lighten the force, they quickly adjusted and everything was well.
As for the products, those were a little bit of a letdown as well. The therapists really didn't share the details of their oils and masks, only that those were organic and chemical-free.
However, the products actually just felt generic and too light for us to believe that it was up to the standard that they have set with their treatments and facilities.
Despite that, One&Only Royal Mirage still separates itself from the rest of the high-end luxury spas of Dubai with great and unusual treatments while providing customers an ambiance that is incomparable to anywhere.
Great and unique ambiance
Sound treatments are a great experience
Award-winning Arabian hammam rituals
Inexperienced receptionist
Massages may be too hard for some customers
Products felt generic
Customer Reviews
Great hammam experience
"Lovely hotel experience. Very quiet, delicious breakfast and very clean & green area. We enjoyed our time At the beach as well.
Nice meets at one of the hotel's restaurants.
Great relaxing time at Spa. Had a maternity massage and last time had a hammam and was very satisfied too. The nicely designed spa provides a very relaxing atmosphere:)" —Daryna Gryn, Google Reviews
Magical experience with them
"Oh my god what can I say about this magical spa 😍
Big thank for the most wonderful manager seif.
The staff were so professional and warm welcoming I had Moroccan hammam with jamila she was very professional and so nice I loved her.
Also vici was so goood for massage.
And for pedicure definitely I recommend narjiss she was very good and professional also she can do Moroccan hammam.
Thanks again seif." —Nouhaila Karaoui, Google Reviews
5. ShuiQi Spa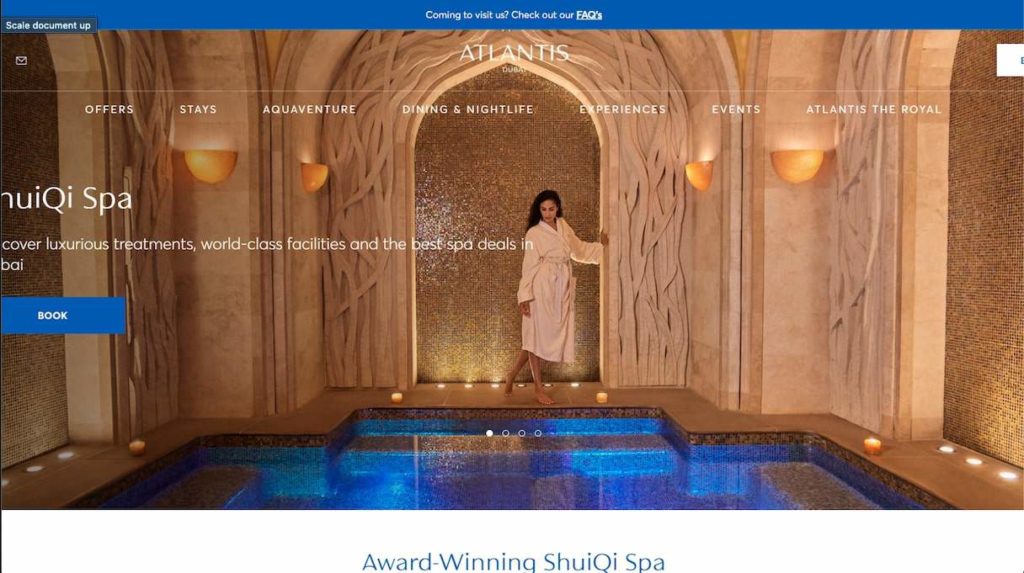 | | |
| --- | --- |
| Criteria | Ratings |
| Ambience | ★★★☆☆ (3/5) |
| Customer Service | ★★★☆☆ (3/5) |
| Treatments and Facilities | ★★★★★ (5/5) |
| Products | ★★★★☆ (4/5) |
The ShuiQi Spa makes a strong argument as to why they are one of the best spas in Dubai, and that argument comes in the form of the city's biggest aquarium.
Housing 65,000 creatures, the Atlantis Aquarium becomes the perfect setting for a 60-minute yoga session and an experience that we won't be forgetting anytime soon.
While it's not technically a part of your usual spa experience, their underwater yoga classes are the perfect pre-game for a day at their spa.
They have a great selection of massages with their Massages of the World set that includes expertly crafted therapies from the Philippines, Thailand, Indonesia, India, and Morroco.
We tried the Filipino Hilot massage, and it was an experience that left us invigorated and energized, so we really recommend this one for the athletes out there.
We also went into their cold room used for cryotherapy known for providing benefits to bodies such as improving blood circulation, increasing collagen production, and boosting metabolism.
It was an exhilarating experience but really something for those who are looking for excitement than relaxation.
The products were also noticeably expensive based on the richness of the oils' consistency they used for our massage.
However, their products are not organic, and we advise you to consult with the therapists beforehand and see if your body can handle the substances they use with their concoctions.
Where it all falls apart for us, though, is their customer service. The booking process was very troublesome to go through.
The booking of the appointment was separately charged from our chosen treatments for our time at the spa. And these were done over a series of calls, weblinks, and emails that felt too much for something that should relax us.
We also didn't like that we had to pay first before getting our treatments because it felt distrusting and unaccommodating—something we wouldn't expect from a spa of this quality.
The therapists were great, though. They were nothing but friendly and professional and took the initiative to always check up on us during our massages.
The ambiance didn't also help with the stress we dealt with during the booking process either. The contemporary architectural style of the spa felt stark and too bright for a spa.
Some spots in the spa were devoid of music or any kind of sound, which felt soulless and empty. The whole place, while undeniably luxurious, felt a little bit too clinical.
But at the end of the day, we cannot deny that the treatments and facilities that we got after that rough booking process are unlike any other in terms of quality and effectiveness.
They have managed to bring in the authenticity of different Asian massage techniques and elevated it to match the grandeur of Dubai.
Underwater yoga is a great experience
Massages of the World offers various massage techniques
High-quality products
Friendly and professional therapists
Ambience feels empty and too quiet
Troublesome booking process
Pay-first policy
Products are not organic
Customer Reviews
Wonder spa experience
"Wonderful experience in the spa. Had a pre-treatment in a steam room, Shuna, jacuzzi, and hot chairs. A neck and shoulder massage were just what I needed to take the stress away. Excellent service. Some Ginger tea to de toxic." —Anthony Kuzelj, Google Reviews
The masseuse was great!
"Had the Balinese massage here, as expected the welcoming was great and the service delivery was on point from the reception to the massage itself. The masseuse knew what she was doing and was quite strong. The ambiance is calm and nice, proper for relaxation." —Issa, Google Reviews
FAQs about Spas in Dubai
---
We hope this helped you in picking out a spa for your next day off. Also, if you're looking for other services that can help improve your wellness, then check out these articles: