The "Dubai Can" Initiative: All You Need to Know
The problem of plastic waste has affected many countries around the world, and the United Arab Emirates is no exception. With the average resident using 450 plastic bottles annually, the country continues to deal with the growing amount of plastic waste.
On 15 February 2022, His Highness Sheikh Hamdan bin Mohammed bin Rashid Al Maktoum, Crown Prince of Dubai launched "Dubai Can." This sustainability drive aims to reduce the city's use of single-use plastic bottles by encouraging residents to bring their own bottles and refilling them for free for life.
Here's everything you need to know about this innovative effort by the Dubai government for the future of the city.
Dubai Can Encourages Residents to Eliminate Plastic Bottle Use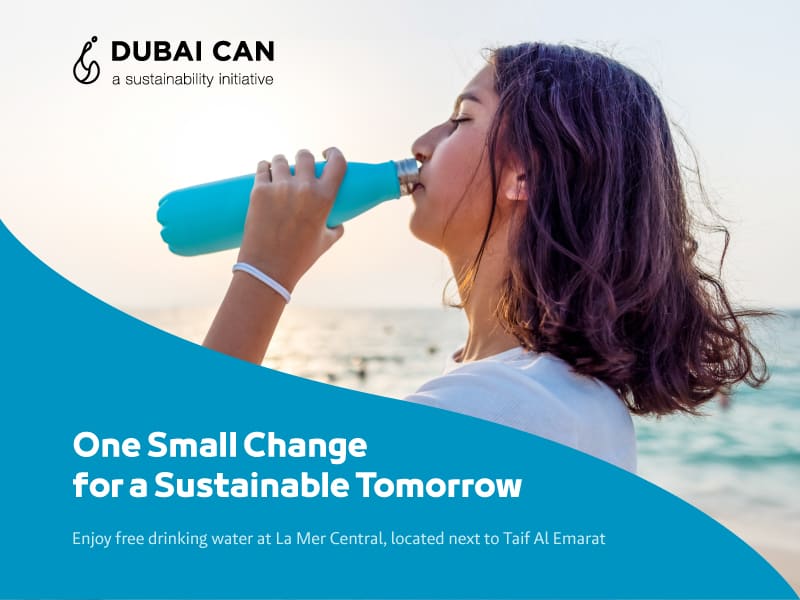 The Dubai Can initiative aims to reduce the city's reliance on single-use plastic bottles as part of the Dubai 2040 Urban Master Plan.
This is also part of the city's efforts in helping the country meet the United Nations Sustainable Development Goals and the UAE NetZero 2050 initiative.
"The 'Dubai Can' initiative is one of the innovative ideas that we are implementing to create a vibrant new green economy that will offer the world a unique model for sustainable development.

The initiative is aligned with the vision of His Highness Sheikh Mohammed bin Rashid Al Makthoum, Vice President and Prime Minister of the UAE and Ruler of Dubai, and the directives of His Highness Sheikh Hamdan bin Mohammed bin Rashid Al Maktoum, Crown Prince of Dubai, to transform the emirate into a leading sustainable destination and the best city in the world to live, work and visit.

Our objective is to inspire current and future generations to play their part in protecting the environment and conserving our natural resources."

The initiative seeks to encourage citizens, residents and visitors to be active players in building a more sustainable future, and to continue in saving wildlife and the marine environment.

We hope Dubai Can will set in motion a new environmental movement across our city and the wider UAE, transforming the mindsets of people so that we can achieve positive change for a more sustainable future."

His Excellency Helal Saeed Al Marri
Director General, Dubai Department of Economy and Tourism
The Dubai government believes that motivating its residents to make a simple change can have a huge impact on the city's future.
Ditching the use of plastic water bottles for refillable ones may not seem like a big move for some people, but when done collectively can really help reduce plastic waste in Dubai.
If you're a visitor or resident of Dubai, here are some of the things that you can do now to be part of this smart initiative:
Invest in refillable water bottles for everyone in the family to carry around wherever they go.
Encourage friends and colleagues to switch to refillable water bottles.
Spread the word about the Dubai Can initiative and share about the locations of free drinking water stations around the city.
Invest in your own water filters at home
Embrace sustainable living and be more active in community efforts towards sustainability
Dubai Can Aims to Install Drinking Water Stations Around Dubai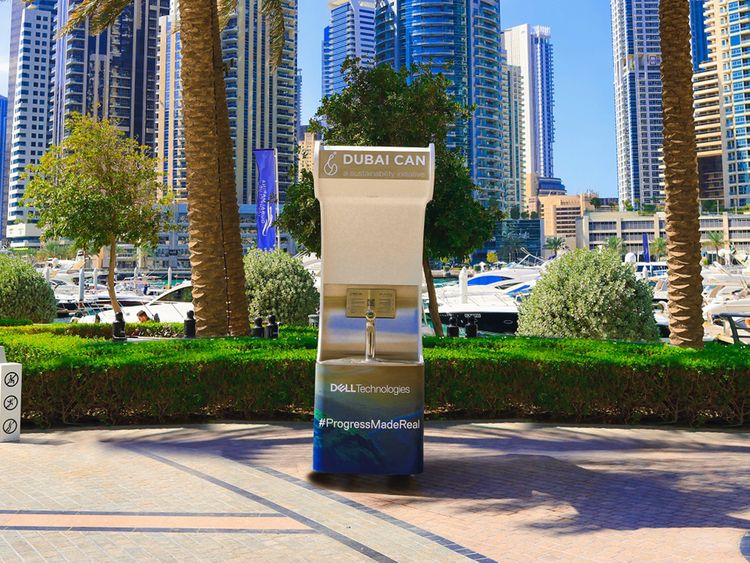 The Dubai Can project aims to install more than 50 drinking water stations in strategic locations around Dubai for the public to use.
With the tagline "one small change, one big impact," the project will offer free water refill for life to residents and tourists to encourage them to bring their own reusable bottles.
Today, these drinking water stations are located in these areas:
| | | |
| --- | --- | --- |
| A4 Space | Dubai Marina Al Gharbi Street | Mall of the Emirates Metro Station |
| Al Fahidi Historical Neighborhood | Dubai Marina Mall | Quranic Park |
| Al Seef | Dubai Marina Promenade | Skydive Dubai |
| Al Shindaga Historical District | Dubai Marina Walk | The Beach |
| Al Ittihad Park | Dubai World Trade Center | The Greens and Views |
| Burj Park | Executive Towers | Palm West Beach |
| City Walk | Gold Souk - Deira | Zabeel Park |
| City Center Deira | Expo 2020 Dubai | Al Ghubaiba Metro Station |
| DMCC Metro Station | JLT Park | Al Barsha Pond Park |
| Dragon Mart | Kite Beach | |
| Dubai Festival City | La Mer | |
| Dubai Harbour | Madinat Jumeirah | |
These drinking water stations are available daily all year round, so residents and tourists can get access to clean and safe drinking water kept at 10 degrees Celsius.
Aside from benefiting the initiative, these drinking water stations also help the public to stay hydrated, especially during the hot summer months in Dubai.
According to the government, the water that you get from these drinking stations are similar to what's being offered by water companies using single-use plastic bottles.
The Dubai Electricity and Water Authority (DEWA) regularly tests these drinking water stations to make sure that they meet the standards of the World Health Organization (WHO).
Aside from these public water fountains, residents are also encouraged to invest in their own water filters at home and these are some of the government's recommended suppliers:
| | | |
| --- | --- | --- |
| Culligan | No More Bottles | Ever Pure General Trading |
| ECOSENSE | SkyRiver Systems | Hunza Global Ventures |
| Eshara Water | SOURCE Global | GROHE |
| Infinity Water Systems | Trust Your Water | Sprudel |
| Liquid of Life | Waterclub | Wisewell |
Dubai Can Brings the Community Together Towards Sustainability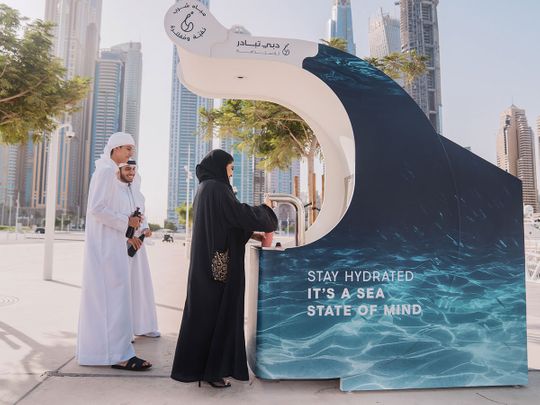 One year after the Dubai Can initiative was launched, the Dubai government reported that the city has seen a reduction of more than 3.5 million single-use plastic water bottles.
With drinking fountains placed in public parks, tourist attractions, beaches and even neighborhoods around the city, people have easy access to unlimited water refills anytime.
But more than accessibility, the massive success of this initiative is credited to the support of the public, sponsors and shareholders across the city.
"The strength of the city's public-private partnership is essential to realizing the Dubai Sustainability Strategy.

As we look forward to the campaign's continued success, this excellent collaboration model will propel Dubai Can to greater heights as we strive to achieve every single sustainability goal of Dubai."

Yousuf Lootah
Executive Director – Tourism Development and Investments
Dubai Department of Economy and Tourism
Since the initiative was launched, it has created a new mindset for the people of Dubai.
More residents have purchased their own refillable bottles to use at home and wherever they go.
Tourists who learned about the initiative were also motivated to do the same even when they return to their home countries.
A lot of companies have also encouraged their employees to switch to refillable bottles with some even investing in water fountains for their offices and establishments.
Today, the Dubai Can Initiative has more than 750 partners, sponsors and stakeholders from both the private and public sectors.
These organizations include:
| | | |
| --- | --- | --- |
| Accor | Dubai Electricity and Water Authority | Dubai Holding |
| Adventure HQ | Dubai International Financial Center | Dubai Festival City |
| Al Serkal | Dollar Car Rental | Dubai Municipality |
| Dell Technologies | Dubai Islamic Bank | Dubai World Trade Center |
| Atlantis | DMCC | Electrolux |
| Emirates NBD | Etisalat | Gulf Marketing Group |
| Emaar | Goumbook | Grundfos |
| Huawei | Merex Investment | Pepsico |
| Majid Al Futtaim | Nakheel | PWC |
| Radisson | Roads and Transportation Authority | Shamal |
| Talabat | Arabian Radio Network | |
Sustainability Efforts from Private Companies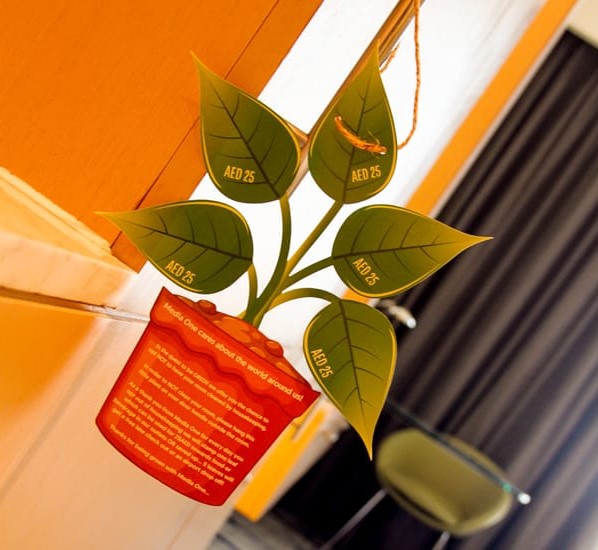 Aside from supporting the Dubai Can initiative, a lot of companies around Dubai have also made huge changes to become more sustainable:
Four Points by Sheraton SZR
To support the Dubai Can initiative Four Points by Sheraton SZR banned the use of plastic bottles in all of its dining venues. 
This effort has cut down the hotel's use of up to 28,638 single-use plastic water bottles.
The hotel also installed a water fountain outside its building, so guests and passersby can refill their water bottles in the area.
Media One Hotel committed to going plastic-free in 2022 and has since installed GROHE Blu water filters in its rooms, dining and meeting spaces.
The hotel also launched the The Green Leaf Room initiative where guests can choose whether or not they want their rooms to be serviced daily.
This is in the effort to cut down electricity and water consumption to make the hotel more sustainable.
Media One Hotel said that these changes has enabled them to cut more than 270 kilograms of plastic waste and save at least AED 10,000 in monthly operational costs.
One of the biggest food delivery and q-commerce platforms in the country, Talabat has committed to reducing plastic bottle use throughout its operations.
In 2020, the company invested in its own contactless water dispensers in its Dubai office in partnership with No More Bottles.
With more than 700 employees, this effort has enabled the company to cut the use of more than 50,000 single-use plastic bottles in a year.
"As local industry leaders, we feel a strong sense of responsibility to drive change with sustainability being an important pillar of our vision. 

Our 20 water stations across key locations in Dubai provide people with an alternative to single-use plastic bottles, encouraging them to adopt new behavior and enabling them to hydrate sustainably."

Tatiana Rahal
Managing Director, Talabat UAE
Holiday Inn and Suites Dubai Science Park
In the effort to support the Dubai Can initiative, Holiday Inn and Suites Dubai Science Park has invested in its own in-house glass water bottling facility.
This plant has an 80-liter distilled water per hour capacity and has allowed the hotel to cut down the use of at least 1,500 plastic water bottles daily.
With seven properties in Dubai, JA Resorts and Hotels made a big change towards sustainability by installing 40 digital dispensers across its hotels.
It has also successfully replaced more than 1.7 million plastic water bottles with glass containers.
One of the many five-star hotels in Dubai, Anantara The Palm has been pushing its sustainability goals since 2018.
The resort has switched to keyless access to eliminate the use of plastic key cards and a 60% reduction in the use of plastic straws.
Uptown International School
Uptown International School, one of the biggest schools in Dubai, has launched the Reduced Plastic School Initiative. 
The school installed 14 water dispensers across the campus and gave all of its students and staff their own refillable metal water bottles.
With this effort, the school was awarded the Green School Award in 2020.
Sofitel The Obelisk invested in the ECOSENSE water purification system that allowed it to switch to bottle-free dispensers throughout the property.
Glass bottles are also provided in the hotel to encourage guests and staff to refill their water through its patented tap water system.
If you visit the Layan Community Spinney's store, you don't only get to enjoy free water refill on its water filter stations, but you also have the option to go for sparkling, botanicals-infused or chilled water for a fee.
This is only part of the store's many efforts towards making its supermarkets more sustainable including a more innovative twist on "reduce, re-use, recycle."
Shell Markets Middle East has completely gone plastic bottle free in all of its offices. 
From 5,000 plastic water bottles every year, the petroleum company cut down costs by 90% by encouraging employees to ditch the use of plastic water bottles.
Shell installed water filter stations throughout its offices to make sure that its employees have access to safe drinking water whenever they are at work.
Today, more companies in Dubai and around the UAE are embracing the same mindset when it comes to sustainability.
Because of the Dubai Can initiative, both individuals and organizations are already making conscious efforts in adapting more eco-conscious habits that contribute to the city's goal.
Dubai Can may be a small step for some, but it has made huge positive environmental benefits to Dubai while encouraging its residents and visitors to stay hydrated in a more sustainable way.