Top 8 Options for the Best Self-Storage in Dubai
Featured Image Source: Joshua Coleman via Unsplash
If you've just reorganized the items in your home, you may have found yourself with boxes of things you don't need at the moment but don't want to let go of just yet. For this, rent one of the options for the best self-storage in Dubai.
This article provides a guide on how to get a self-storage facility that gives you the best value for your money. It also contains a list of the best self-storage options to provide you with a solution for your needs as soon as possible.
We've also researched the costs of self-storage solutions in Dubai so you can prepare a budget according to your storage needs. You will see these in the portion below.
How Much Does Self-Storage Cost in Dubai
The table below contains the costs of self-storage facilities in Dubai depending on the size. Note that the actual prices may vary from provider to provider.
| | |
| --- | --- |
| Size | Price per month |
| 1sqm | AED300 |
| 3sqm | AED650 |
| 5sqm | AED850 |
| 7.5sqm | AED1,200 |
| 9sqm | AED1,400 |
| 11sqm | AED1,600 |
| 13sqm | AED1,800 |
| 16sqm | AED2,000 |
| 21sqm | AED2,600 |
| 37sqm | AED4,800 |
How to Pick the Best Self-Storage in Dubai
For a convenient self-storage facility that gives you the best value for your money, make sure to choose the best self-storage provider in Dubai.
To guide you in making the choice, refer to this quick guide below.
Choose an accessible facility
Most storage facilities allow 24/7 access, but there are still those who are only open during business hours from Sunday to Thursday. This is one thing you should double-check when you think you may need access to your storage unit on weekends.
You would also want to select a unit that is on the ground floor if you're storing furniture or fragile decor to make moving these items in and out of the unit a lot easier.
Know whether you need climate-controlled storage
Your items can deteriorate inside your storage unit even if they remain untouched, especially if you live in a warm region. So, when selecting a storage facility, consider selecting one that offers climate-controlled storage units.
Some examples of items that need to be kept in a climate-controlled unit are paintings and other artwork, antique and leather furniture, and collectables like vinyl records.
Just to be sure, you can do some research about your items to be sure about the storage conditions they require.
Check for safety, security and insurance
Go for a provider that guarantees the security of the items you wish to put on storage. For this, you'd want a fenced storage facility that has 24-hour security and CCTV.
You should also check with the provider if they have insurance options for your items. If they do, be sure to know if the insurance covers burglary, fire, water damage, and other natural disasters.
This assures you that your valuables will be safe inside their storage facility.
The Options for the Best Self-Storage in Dubai
You should now know what to look for in an ideal storage facility for your items.
To make your search for a self-storage facility in Dubai faster, here's a list of some of the providers for the best self-storage in Dubai.
1. Perfect Movers UAE
SERVICES
International Moving, Moving Storage, Domestic Moving
WEBSITE
http://perfectmoversuae.com
ADDRESS
PO Box No. 243104, Bur Dubai, Dubai,UAE
CONTACT DETAILS
[email protected]
+971 52 947 0038
OPERATING HOURS
Monday – Sunday, 24 hours
If you're looking for one of the best movers in Dubai, then look no further away from Perfect Movers. They have a grand goal of providing superior and amazing services to their clients, as well as to utilize modern available approaches to maintain the highest quality service.
With their goal established, they can provide seamless relocation and retain their valued customers' trust and loyalty.
Concerned about its clients' satisfaction and the safety of their belongings. They are well-equipped with highly qualified and expert personnel to complete the services.
Additionally, they constantly do their best to give expert services for container loading and unloading, furniture fixing, movers and packers, or whether they are working as Export Packers and Movers on their customer's project.
Aside from the benefits stated above, you can also enjoy last minute relocations since it is their specialty. They also use modern packing materials including crating and specialist packing to meet international standards.
Available 24 hours a day, 7 days in a week.
Offers moving consultation
Provides domestic and business insurance
Cost effective and convenient storage providers
2. Storage Solution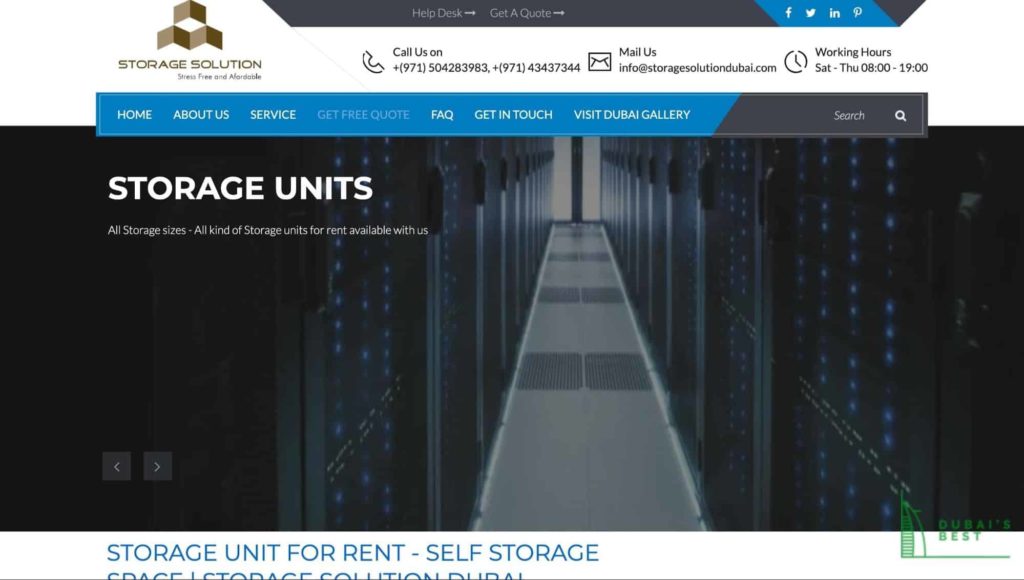 | | |
| --- | --- |
| BEST FOR | Packing and moving services |
| WEBSITE | https://storagesolutiondubai.com/ |
| ADDRESS | Warehouse #12, Street 18, Al Quoz Industrial Area 1, Dubai, United Arab Emirates |
| CONTACT DETAILS | +971 4 343 7344 [email protected] |
| OPERATING HOURS | Saturday – Thursday: 8:00 AM – 6:00 PM |
Storage Solution provides short, long and flexible-term storage solutions in Dubai. They can even provide storage facilities suited for offices and corporations.
To ensure the safety of your items, they have security on site 24 hours a day. For added protection, their facility is also equipped with CCTV surveillance.
Each of Storage Solution's units has its own password so no one else can access your valuables. In case you rent several storage units, they can also program these rooms to have the same key.
Furthermore, Storage Solution's units climate-controlled storage units to best protect your items.
For a hassle-free move to their unit, they also offer packing and moving services in Dubai. This brilliant offering removes the need to call a different company.
Has business storage solutions
One password for all of your units
Prices are given on a quotation basis
No lockers
No insurance
Customer Reviews
Abubakar Saddiq, a previous client, reviewed:
"Storage Solution is one of the best storage solution companies in Dubai that offers a very cheap price. Very neat and clean with 24 hours CCTV services. Thanks to the company owner, Umar Adam."
Muhammad Sahib also shared their experience with Storage Solution:
"Whether you're moving or renovating your home, travelling for a few months, or need to clear the spare bedroom for a new arrival, I think Storage Solution is the best solution."
3. The Box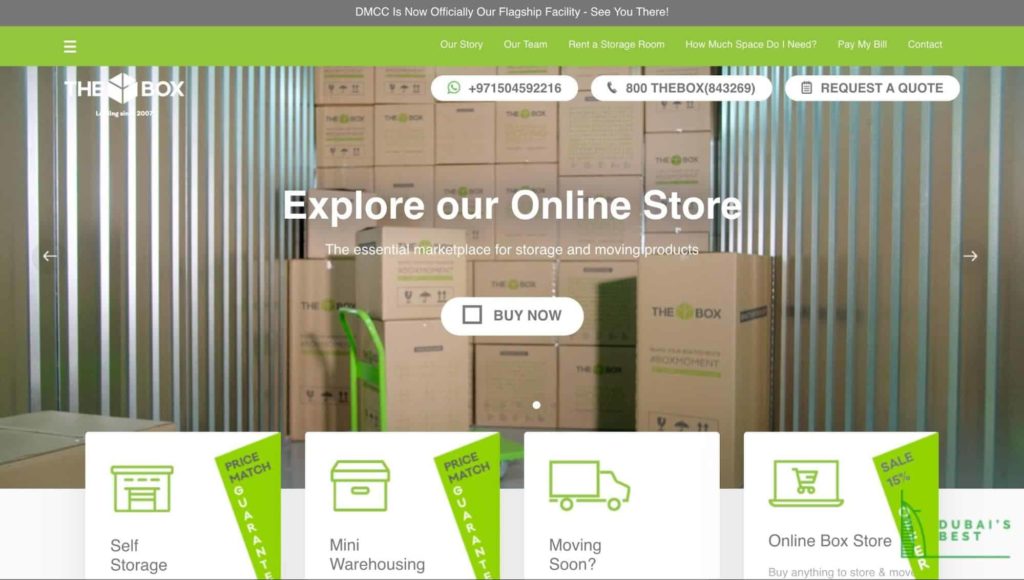 | | |
| --- | --- |
| BEST FOR | Wide range of storage solutions |
| WEBSITE | https://theboxme.com/ |
| ADDRESS | Jumeirah Lakes Towers, DMCC Jewellery & Gemplex, Dubai, United Arab Emirates |
| CONTACT DETAILS | 800 THEBOX +971 50 459 2216 [email protected] |
| OPERATING HOURS | Saturday – Thursday: 9:00 AM – 6:00 PM Friday: 11:00 AM – 4:00 PM |
The Box's storage solutions range from lockers to 64.5sqm rooms. For businesses, they also offer 93sqm spaces which could be used as 'mini warehouses'.
Their storage units are temperature-controlled to keep your items away from any damage.
Their facility is manned by guards 24/7, backed up by a CCTV system. Clients also get a dedicated access card, which ensures that no one else can get into their unit.
If you're not fussy with the way your items are stored, there's also the 'Store a Box' solution which you can get for just AED75 per box. With this, you can simply pack your things and they'll collect the boxes from your home.
To best cater to clients' different storage needs, The Box also now offers weekly contracts.
What makes them one of the firms for the best self-storage in Dubai, however, is not just the range of solutions they provide their clients. They can also insure your items up to AED10,000.
Offers insurance
3 locations in Dubai
Offers moving services
Access to your items isn't easy for their 'Store a Box' option
Requires a minimum of 4 boxes for the 'Store a Box' option
Customer Reviews
Monellaccio Monello left The Box a positive review. They said:
"It has been about 2 years, since August 2018, that I am renting a unit at The Box and everything has been simply perfect for all this time. The booking process was fast and all the staff of The Box always kind, helpful and professional.
I am often overseas. However, I was always promptly supported whenever I contacted The Box during this period. The accessibility of the unit is always guaranteed 24/7 with a state-of-the-art security system. Two thumbs up!"
Meanwhile, Angel Blando shared:
"The Box team in DIP especially Neil, Temple and Mahesh are friendly and helpful to all the clients. This is the best place to do commercial and self-storage, they truly care and value the customer experience! They have the ultimate Hassle-free service. Thank you, The Box!
4. SelfStore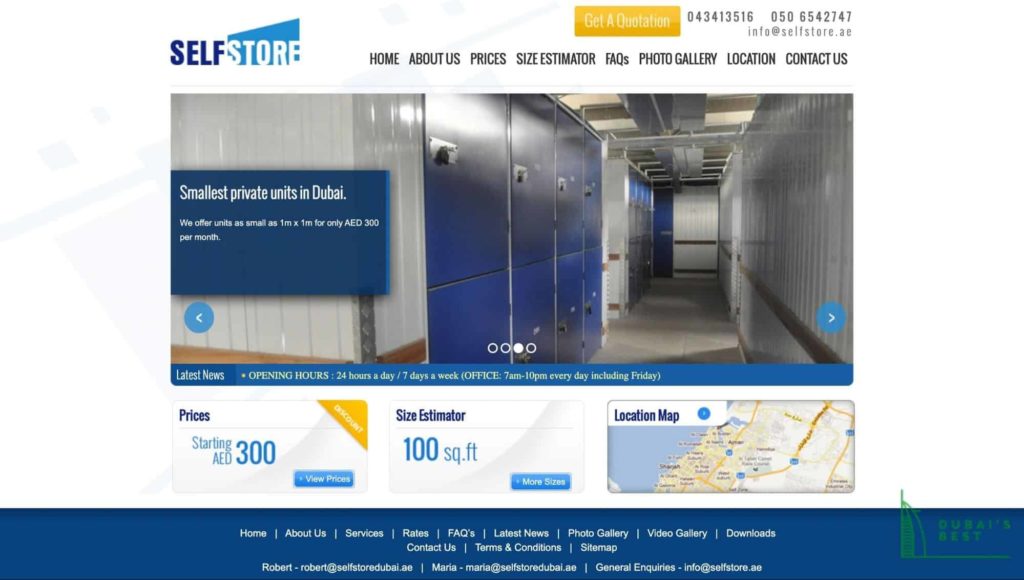 | | |
| --- | --- |
| BEST FOR | Wide variety of storage sizes |
| WEBSITE | https://www.selfstoredubai.com/ |
| ADDRESS | Street 20b, Al Quoz Industrial Area 3, Dubai, United Arab Emirates |
| CONTACT DETAILS | +971 4 341 3516 +971 50 594 1044 [email protected] |
| OPERATING HOURS | Saturday – Sunday: 7:00 AM – 10:00 PM |
SelfStore offers a wide selection of storage unit sizes from 1sqm to 27sqm. To cater to clients' storage requirements, they offer weekly, monthly, quarterly and annual contracts.
To secure your items, their storage units are made of the highest quality steel. The site is also manned 24 hours a day and is complete with CCTV and alarm systems.
In addition, SelfStore's storage units are air-conditioned to guarantee the safety of your items from any damage.
To make the storage process convenient, SelfStore can pack your items and bring them to their facility for a fee. They can also redeliver and unpack once your contract ends.
Transparent rates
Offers insurance
Long operating hours
Customer Reviews
One of SelfStore's previous clients, Gabriele Whelan, reviewed:
"The company offered a reliable, safe, organized, clean, and hygienic storage space for our personal items. We like the fact we could choose our individual storage space size option and that we were given our personal key to access our stored items 24/7 which is so convenient for us.
The company is owned and run by European owners so the communication was clear. It was easy to ask any questions, explain and understand. We would not hesitate to recommend them to anyone who may need any long- or short-term storage options."
Heather DaSilva was also pleased with the firm's service:
"Very professional and lovely people, from management to staff. It was easy to get things when I needed, day or night, and they were very helpful in recommending help for my move back to New York. Highly recommended! Thank you."
5. Lockable Store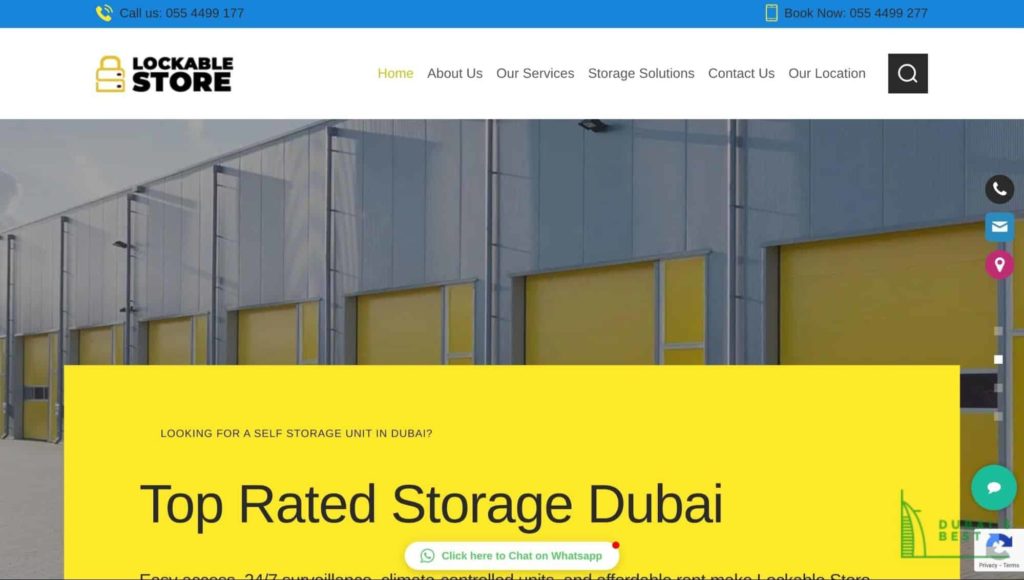 Lockable Store provides short and long-term storage solutions in Dubai. They also a variety of indoor and outdoor storage options for customers.
For indoor storage, you also get the option to rent an air-conditioned unit to keep your items in optimal condition.
However, Lockable Store is best known for having one of the cleanest storage facilities in the city, as many clients can attest to. What's more, their storage units are easily accessible yet secure with 24/7 CCTV surveillance.
Besides storage solutions, Lockable Store also offers packing and moving services.
If you have your items packed and you are too busy to come to their facility, they can simply pick up your items at the time most convenient to you. They can also drop off your belongings once your contract is done.
Packing and moving services
Pickup and drop-off services
Heat from outdoor storage may damage items
Available sizes of storage units are unspecified
Customer Reviews
Satisfied client Luca Cagnazzi reviewed:
"I stored my items for 2 months. They organized pickup from my place and then drop-off 2 months later to Cargo Village. On both occasions, they were on time, reliable and professional.
I was very happy with their service and the price was good too!"
Another previous client, Fang Irene, shared:
"The staff are always on time and they don't negotiate with the price that we've already agreed on. Very helpful and reliable service. Will definitely recommend it!"
6. Right Space Self Storage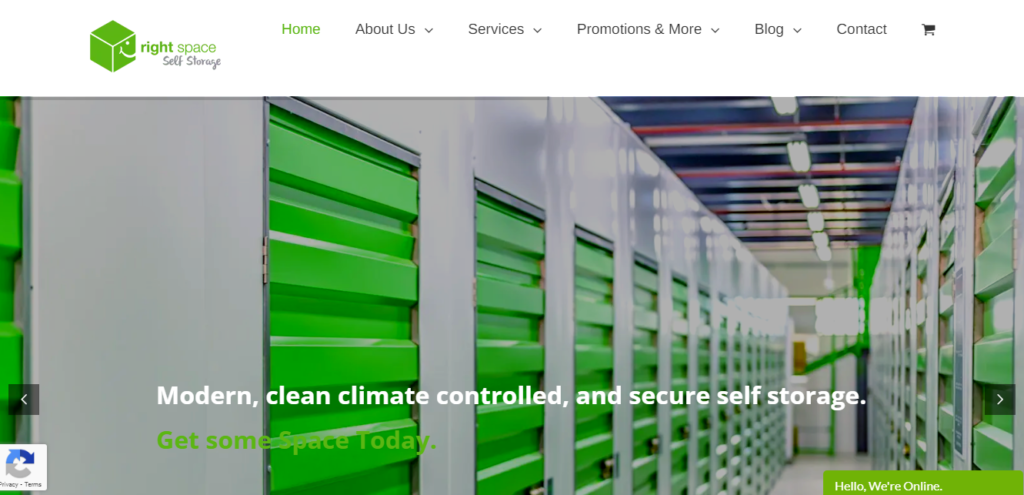 BEST FOR
Storage Services
WEBSITE
https://rightspaceme.com/
ADDRESS
Warehouse 1, Street 18 Al Quoz Industrial 1 Dubai, UAE
CONTACT DETAILS
P: +971 4 380 5655
M: +971 50 1415 101
E: [email protected]
OPERATING HOURS
Monday: 9:00 AM – 7:00 PM
Tuesday: 9:00 AM – 7:00 PM
Wednesday: 9:00 AM – 7:00 PM
Thursday: 9:00 AM – 7:00 PM
Friday: 11:00 AM – 4:00 PM
Saturday: 9:00 AM – 7:00 PM
Sunday: 9:00 AM – 7:00 PM
Right Space Self Storage is a self-storage provider based in Dubai. They cater to other interrelated services as well such as packing and moving services as well and take it to a higher tier of all-around quality of service.
The company prides itself on consistently offering exceptional and outstanding customer service and practical storage solutions both for personal use and business use as well. Furthermore, their storage facility is also climate-controlled, highly secured, and neat to ensure that the client's items should be in the best condition during and after storage in their facility.
Their facility also boasts of its modern contemporary design which allows their clients to have access to a wide range of services that will add great value for money. They also have competent prices for their storage services which are free of hidden fees and price changes.
We recommend this storage provider for clients looking for an affordable and flexible storage facility that is hands-on in handling and maintain concerns accompanied by a dedicated and highly experienced staff. In addition, the facility itself is convenient as it has ample parking, appropriate lighting, is dust-free, and finally pest-free which ensures that the items are in the best condition during storage.
Modern facility design
24/7 CCTV monitored
Employs on-site managers
May not be convenient for clients who live far away from their facility
Customer Reviews
Here are some reviews from their clients:
"I found this place online and after a deep research I chose them. They were very approachable and flexible in terms of rates, service and mode of payments. Staff are professional and friendly. keith is very personal and detailed when it comes to customer service , he is the best. I recommend this place to all. they are organized and super clean."
"I highly recommend Right space! I had such an amazing experience right from the get go! I was moving from a 1 bedroom appartment to a 2 bedroom and had no idea where to start, I was recommended right space movers and packers/storage via better homes and from the first day they completely took the weight off my shoulders and did everything for me. They emailed me clearly of what would take place on the day of moving my furniture from one appartment to another. Mark and his team are just awesome and wouldn't let me lift a finger.
Very knowledgeable and detailed oriented! Thanks again for all of your help and even helping me get the extra cudboard over to my friends house as no cost. You guys rock!"
7. Self Care Storage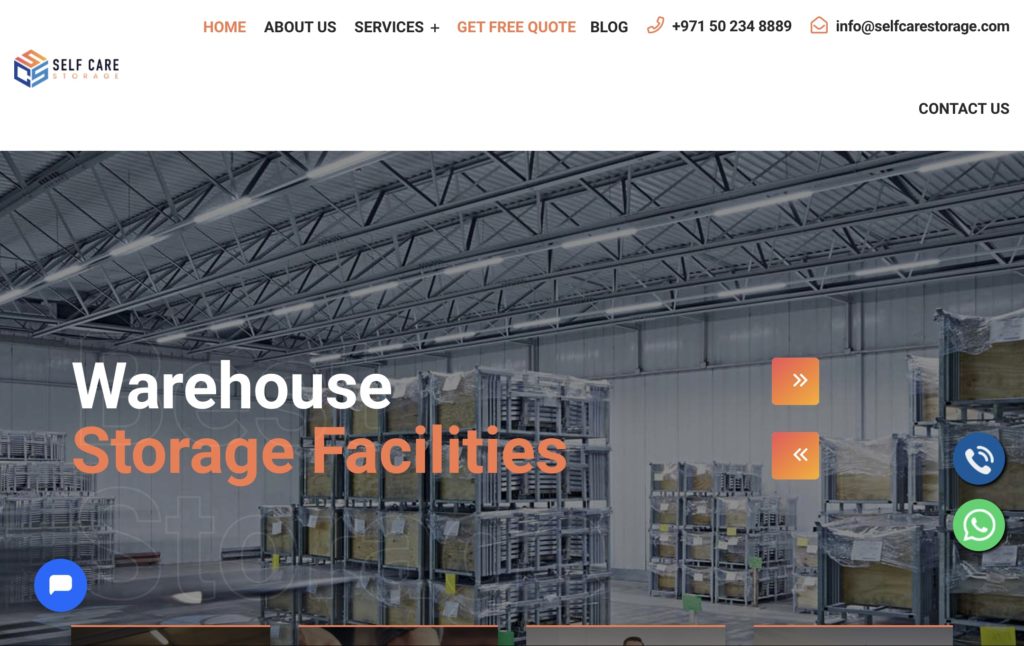 | | |
| --- | --- |
| SERVICES | Moving Solutions, Self Storage, Packing, Unpacking, Transportation, Storage Units, Extra Space Storage, Lockable Storage, Storage Rental, Warehouse Storage Facilities, Private Storage, Short Term Storage, Commercial Storage, and Moving |
| WEBSITE | https://www.selfcarestorage.com/ |
| ADDRESS | Self Care Storage, Street 18 Warehouse #22, Next To Berger Paints – Al Quoz Industrial Area 1 – Dubai. |
| CONTACT DETAILS | +971 50 234 8889 |
| OPERATING HOURS | Monday-Saturday: 8 AM to 10 PM |
Self Care Storage provides storage units for long term and short term uses in Dubai. The facility is equipped to provide storage services to business and individuals. Self Care Storage offers different sizes of storage units ranging from 20 Sqft up to 500 Sqft.
Self care storage has lockable units where the clients have their own keys to the storage units. The facility is climate-controlled to maintain best temperatures to store your belongings without hesitations.
Facility is maintained Pest-Free and the units are kept neat and tidy for best conditions to store your valuables.
Self care storage has 24/7 security guard on the premises and the facility is equipped with CCTV which are SIRA (Security Industry Regulatory Authority) Certified. With state-of-art security systems belongings of precious clients are stored.
To ensure safety of the belongings, Self Care Storage also provides packaging service to clients and moving services with their best prices.
Self Care Storage has the most convenient location for their clients. And the staff are ever-willing, most helpful and cost-effective. Self Care Storage maintains competitive edge without compromising on quality. Self Care Storage thrives for customer satisfaction. 
However, they can get busy during peak days. We advise booking them ahead of time.
Exceptional security
Strategic locations
Impeccable reputation
Cost-effective solutions
Customer Reviews
Satisfied client Abdul Rauf said:
One of the best Air-conditioned storage facility. It is very secure and tidy facility. The staff is very helpful and steady. One of the best storage companies in Dubai. Storage Dubai 👌🏼.
Another client Mohammad Bannout said:
Mohammad Faisal is one of the best to work with, supportive and always available. One of the best storage in Dubai.
A past client Adrien Cremer said:
Very convenient service with several sizes of stage available, very convenient as you can choose to rent weekly / monthly / yearly. Fairly prices. Responsive team
8. International Moving & Relocation Services Company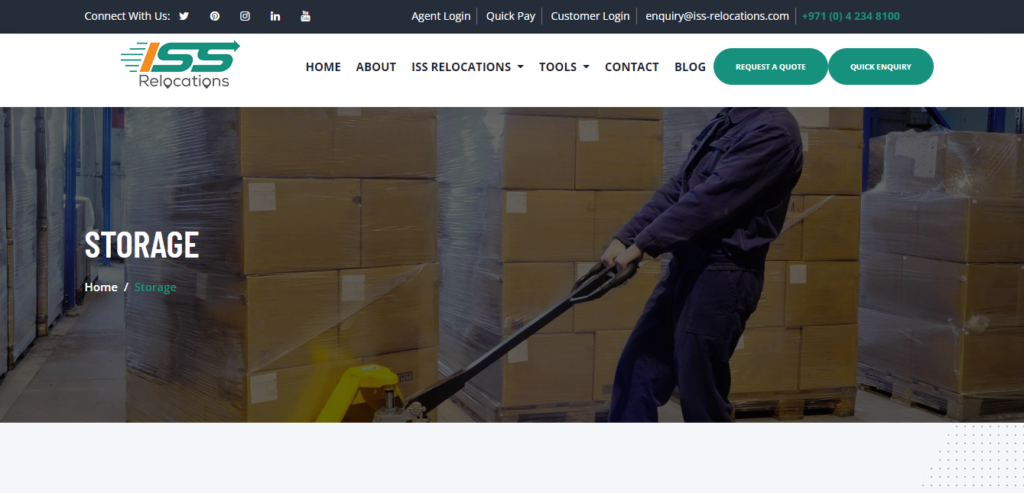 International Moving & Relocation Services Company is a company founded to meet the needs of the customers toward a more comprehensive and inclusive relocation service. They have since then been trying to improve their service throughout the years to provide you with only the best moving and relocation services.
They offer all of their services at reasonable rates so you can be assured that all the work will be worth the money you pay. The company also capitalizes on accountability and makes the value integral to all the work that they do for you no matter the size.
Each of their staff is a vanguard of their business so you can be sure that they will offer you only the best prompt and accommodating customer service you can ask for. Furthermore, they approach you as if they were a partnership and make sure to listen to all of your concerns so that you can get the services that best serve your needs.
We recommend this company for your moving and relocations needs due to their excellent work ethics and valuable partnerships with other interrelated companies that ensure that they will be one of your preferred logistics partners.
Caters to international clients
Innovative logistics solutions
Accommodating customer service
Operating hours are not available
FAQs about the Best Self-Storage in Dubai
---
That's it for our list of options for the best self-storage in Dubai. Surely, with one of your providers, your belongings and valuables will be in safe hands!
Do you know other self-storage companies we should add to this list? Let us know by sending us a message and we'll check them out promptly.
If you also happen to need a moving company, here's a list of the best movers in Dubai. We picked out the ones with the best service and bang-for-the-buck deals.