The 7 Best Recruitment Agencies in Dubai
Featured Image Source: Marten Bjork via Unsplash
If you own a small company, finding fully-qualified employees may be difficult. Similarly, finding a job may be tough if you're a non-resident of Dubai. To help with either of these problems, reach out to one of the best recruitment agencies in Dubai.
This article provides a guide on how to find the best company to help you with recruitment. We've even compiled a list of the best recruitment agencies in Dubai to help make your search easier.
To prepare you for the cost of the services recruitment agencies provide, we've also compiled the prices of these services in the table below.
How Much Do Recruitment Services Cost in Dubai
Recruitment agencies usually charge the employer 10% to 20% of the employee's annual salary for their first year. Meanwhile, it is illegal in Dubai for recruitment agencies to charge the employee for job placement.
How to Pick the Best Recruitment Agency in Dubai
To ensure that you get the top job candidates for your firm, employ the services of the best recruitment agency in Dubai. Select the right recruitment agency for your needs with these tips below.
Choose a specialist in your field
Recruitment agencies usually have different speciality industries, such as medicine, technology, and sales.
Since they usually focus on getting top-quality applicants in a certain field, it's best to align yourself with an agency that specialises in the industry your company belongs to.
You're also guaranteed to get better job applicants this way as the agency will know what to look for in a professional in your field.
Know their process
To get the best applicants, it is good to know the agency's recruitment process. You may ask this during your interview with the recruitment firm.
Besides pre-screening exams, an agency should also take steps to verify that the candidates have the knowledge and skills they need to perform their duties in your company.
Check their track record
Hire a recruitment agency with a proven track record.
You will be able to determine this through the number of their loyal clients. An agency's repeat clients tell you that the candidates they provide have been the best fit for the company.
To know the quality of an agency's services in-depth, you may also read client reviews online.
The Best Recruitment Agencies in Dubai
With these tips, you should now be able to select the best recruitment agency in Dubai for your company.
To make your search for a recruitment partner more convenient, check out our list we've compiled of the best recruitment agencies in Dubai below.
1. Guildhall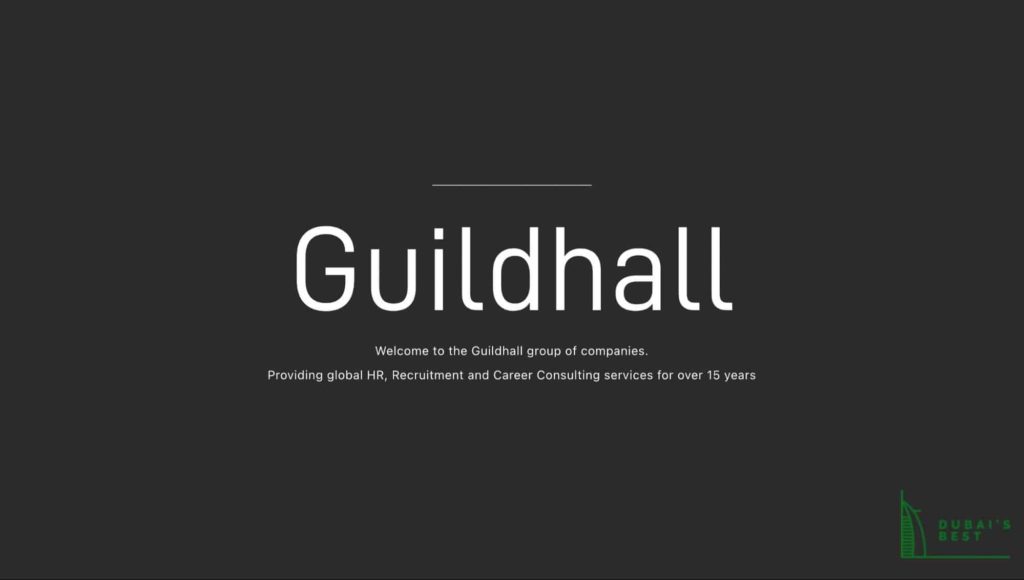 BEST FOR
Executive Search
WEBSITE
https://guildhall.agency/
ADDRESS
8th Floor, Empire Heights, Downtown Dubai, United Arab Emirates
CONTACT DETAILS
+971 04 579 5315


[email protected]

OPERATING HOURS
Saturday: 10:00 AM – 4:00 PM
Sunday – Thursday: 9:00 AM – 5:00 PM
We've had the privilege of collaborating with Guildhall, and we can confidently assert that they exemplify excellence in the recruitment industry. Their services are a resounding testament to professionalism and dedication.
Guildhall's commitment to convenience is unparalleled. Their streamlined processes and user-friendly interface make hiring a breeze.
Their timely communication ensures a seamless experience, sparing clients from the usual recruitment woes.
In the world of recruitment, reputation is everything, and Guildhall's reputation is stellar. Their ability to match top-tier talent with coveted positions is commendable.
Their network and industry knowledge place them firmly at the forefront of their field.
Cost-effectiveness is often a concern in recruitment, but Guildhall shatters this misconception.
Their pricing structure is not only competitive but also reflective of their commitment to delivering value. We found the quality of candidates they provide far exceeds the cost incurred.
Guildhall's services stand as a paragon of excellence in the recruitment industry. The convenience they offer is a breath of fresh air, saving precious time and effort.
Their sterling reputation precedes them, and rightfully so. And when it comes to cost, they offer an unbeatable proposition.
In our experience, Guildhall isn't just a recruitment agency; they're a strategic partner in talent acquisition.
Their services are the epitome of efficiency and professionalism. Their reputation is the envy of their peers, and their cost-effectiveness is a welcome surprise.
Unfortunately, they don't offer promos yet. We suggest checking their website for other affordable package deals.
Award-winning recruitment firm, recognized as the 'Best Recruitment Company in Dubai' in 2021 and 2022.
Over three decades of international expertise in career counselling and recruitment.
Provides extensive CV writing assistance through collaboration with esteemed partners.
Offers comprehensive recruitment solutions for businesses, including visa application assistance.
Wide array of HR and recruitment consultation services, with experience across diverse industries.
Main focus on managerial roles, with limited offerings for entry-level and junior executive positions.
Limited weekend operating hours, which might pose a challenge for some clients.
Customer Reviews
Sarita Perez de Tagle left Guildhall a positive review:
"I had a session on Effective Job Hunting with Tom. I have to say that it was really insightful and motivating. I learned a lot of key points that I will start adapting to my strategy.
I definitely recommend going for a session with him. I really appreciate the time and effort that was put into it."
Isabella Martins also shared:
"I have tried multiple agencies in Dubai and these guys are truly amazing to work with and deal with. I am an MD in my company and we work with agencies all the time for external help.
I can wholeheartedly say that Guildhall put in the time and effort and take care of your needs and necessities. I am so thankful to have crossed paths with this agency and the team."
2. BAC Executive Recruitment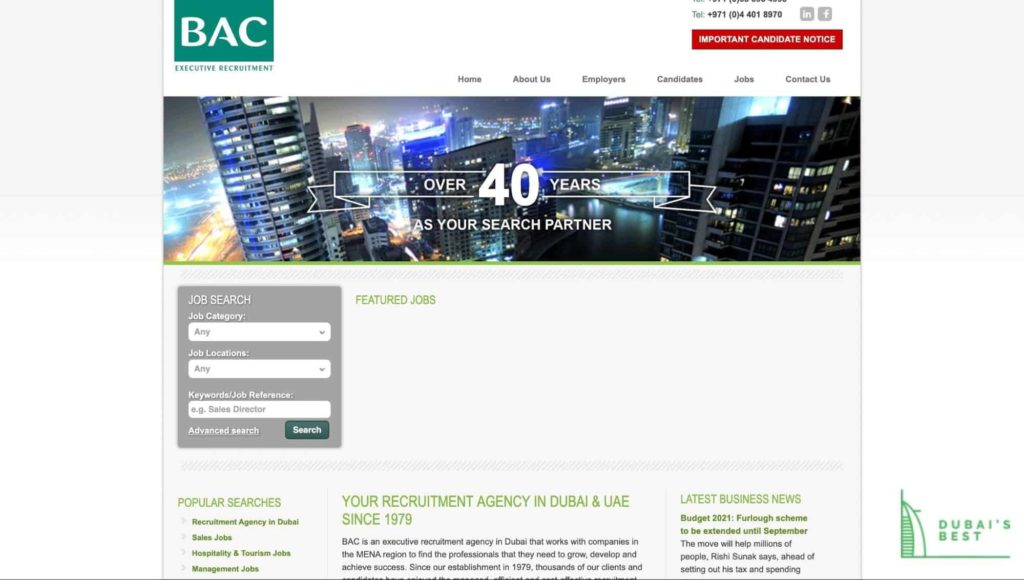 BEST FOR
Assistant to executive positions
WEBSITE
https://www.bacme.com/
ADDRESS
Suite 1702, Level 17, Boulevard Plaza Tower 1, Sheikh Mohammed Bin Rashid Boulevard, Downtown Dubai, Dubai, UAE
CONTACT DETAILS
+971 058 593 4993
+971 04 401 8970
OPERATING HOURS
Sunday – Thursday: 9:00 AM – 6:00 PM
BAC Executive Recruitment has 42 years of experience in providing recruitment services in Dubai and the rest of the Middle East.
With their tried-and-tested system, they help companies get the best job candidates for assistant to executives positions.
Their experienced recruitment consultants guarantee that their process is quick and seamless.
Jobseekers can also make an account at their website where they can search for openings relevant to their expertise.
BAC Executive Recruitment provides them with CV and interview tips to increase applicants' chances of getting a job.
Large database of candidates
Offers a 3-month guarantee
Customer Reviews
Rie Melt was highly-satisfied with BAC Executive Recruitment's service. They said:
"I had an excellent experience working with BAC Middle East. Great recruiting company, excellent communication, and knowledgeable consultants.
The entire process of my application was handled very smoothly. I got a fantastic position and couldn't be any happier. I am pleased to recommend this agency."
Viola Miranda also shared:
"Very professional recruitment agency. The role they play between the employer and the candidate is excellent. Highly recommend BACME to anyone."
3. Michael Page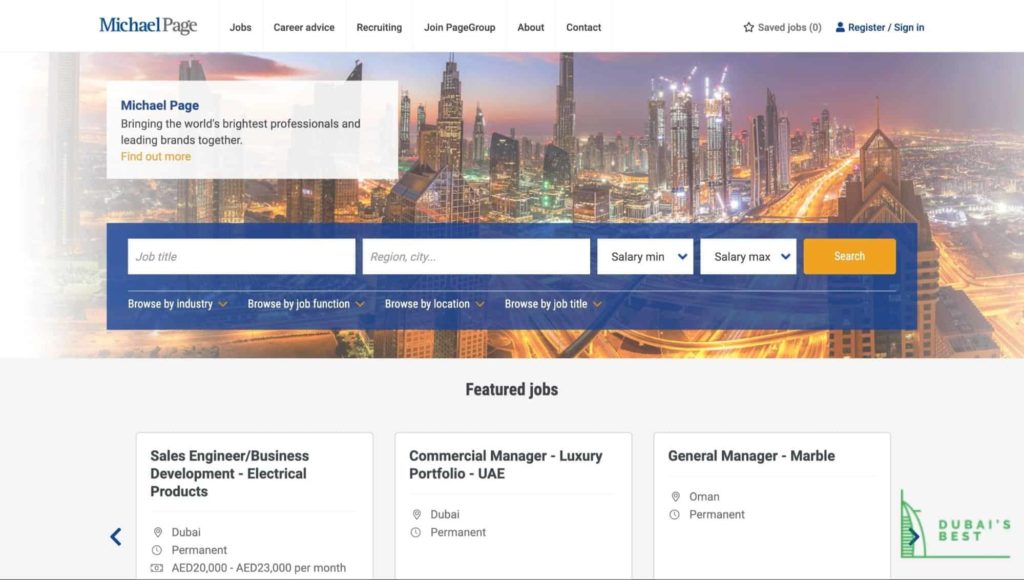 BEST FOR
Speciality in a wide range of industries
WEBSITE
https://www.michaelpage.ae/
ADDRESS
Office No.202, Al Fattan Currency House Tower 1, Dubai International Financial Centre, Dubai, United Arab Emirates
CONTACT DETAILS
+971 4 709 0300


[email protected]




[email protected]

OPERATING HOURS
Sunday – Thursday: 8:30 AM – 6:30 PM
Michael Page recruits applicants for temporary, contract, and permanent positions in Dubai.
They provide their services to businesses of different sizes, from startups and SMEs to multinational corporations. They specialise in a wide range of industries including technology, engineering, manufacturing, and healthcare.
With a large team of recruitment consultants, they can find companies in Dubai fully-qualified applicants within the Gulf region and internationally.
To ensure that they're providing their client with the best-fitting candidate, they take into consideration a company's culture, mission, and goals.
Local and global reach
Wide knowledge of the regional market
No mention of a guarantee
Does not have many opportunities for first-level job hunters
Customer Reviews
Qais Althawadi, a previous client, shared:
"I have worked with Michael Page over many years as both a job seeker and an employer. They have been the most reliable and supportive partner every step of the way, regardless of how small or large the opportunity is.
Their team is highly professional, responsive, and extremely knowledgeable, always on the ball providing solid market insights, quality opportunities, and resumes. It has been a pleasure working with Michael Page and I do not doubt that it will continue to be so.
I would recommend Michael Page to colleagues, friends, family, and organisations with full confidence."
Meanwhile, Ana Horner reviewed:
"I cannot recommend Michael Page enough, I was contacted by Ruwise who was very insightful and responsive in all communications.
Ruwise was able to provide an extensive amount of professional advice and helped me attain an incredible role that I would not have been able to get without his assistance.
I am very grateful to the team at Michael Page and highly recommend their services for job seekers and employers alike."
4. Minefield Resources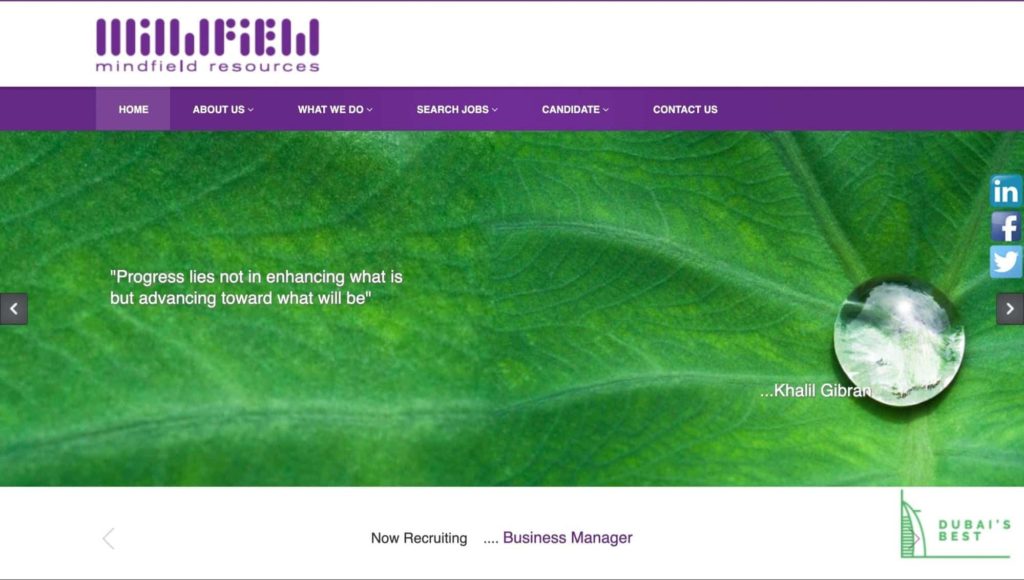 | | |
| --- | --- |
| BEST FOR | Mass hiring |
| WEBSITE | https://mindfieldresources.com/ |
| ADDRESS | Block 13, G4, Dubai Knowledge Park. Dubai, United Arab Emirates |
| CONTACT DETAILS | +971 4 367 1797 |
| OPERATING HOURS | Sunday – Thursday: 9:00 AM – 5:30 PM |
Minefield Resources has a database of potential employees from different countries for mid- to senior-level positions. Specifically, they can help you fill vacancies in your management, finance, sales, and marketing departments.
Their speciality lies in information technology, telecommunications, engineering, and retail.
Minefield Resources can also conduct mass hiring for your business expansion. They can do this fast while maintaining high-quality applicants.
They are guaranteed to provide successful services, maintaining a candidate retention rate of 99% for over a decade.
Highly responsive on LinkedIn
Provides executive coaching for organizations and candidates
No entry-level positions
No mention of a guarantee
Customer Reviews
Ruchika Kalra reviewed Minefield Resources:
"Mindfield resources are committed and sincere to both their clients and candidates.
They believe in seeing a person for what they are beyond the CV and I think that's what makes them stand apart. They are highly engaged and up to date with the latest. Keep doing the fantastic work guys!"
Maricor Tiglao also shared their experience with Minefield Resources:
"I must say, Mindfield staff did a great job! I recently got employed because of their assistance, very informative and they will treat you with the highest professionalism.
Job well done! Thank you so much for your help."
5. Nathan & Nathan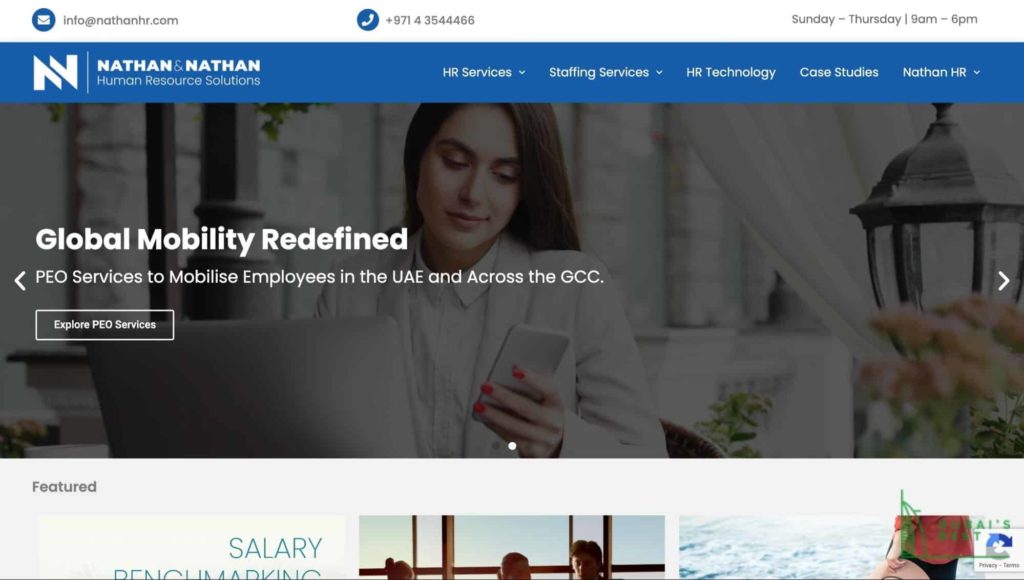 BEST FOR
Temporary staffing
WEBSITE
https://www.nathanhr.com/
ADDRESS
Office No. 1004-1006, 10th Floor, Marina Plaza, Dubai, United Arab Emirates;
Office No. B712, Tower B, Jafza One, Jebel Ali Free Zone, Dubai, United Arab Emirates
CONTACT DETAILS
+971 4 354 4466


[email protected]

OPERATING HOURS
Sunday – Thursday: 9:00 AM – 6:00 PM
Human resource company Nathan & Nathan offers an array of staffing and human resource services in Dubai.
Besides permanent recruitment, they also find candidates for contractual positions in Dubai. Specifically, they specialise in filling executive positions and getting highly-capable contractors.
However, Nathan & Nathan is best known for their temporary staffing services which help businesses through peak seasons. They provide companies with temporary employees that have work permits, active residence visas, and insurance.
In line with the recent circumstances, they now also help companies build a reliable remote workforce.
Finds permanent, temporary, contractual, and remote employee
Provides temporary staff with work permits, visas, and insurance 
Two branches in Dubai
Customer Reviews
Satisfied jobseeker Fizza Batool shared:
"I have been working with them for almost a year now for temporary jobs. I love how they treat their employees and listen to their concerns. They are very supportive and professional. Would definitely continue working with them in future."
Akshaf Mulla also reviewed Nathan & Nathan. They said:
"It was great interacting with the recruitment team. They were very friendly and professional. Helped me get my first job in the UAE. Highly recommend it!"
6. Salt Recruitment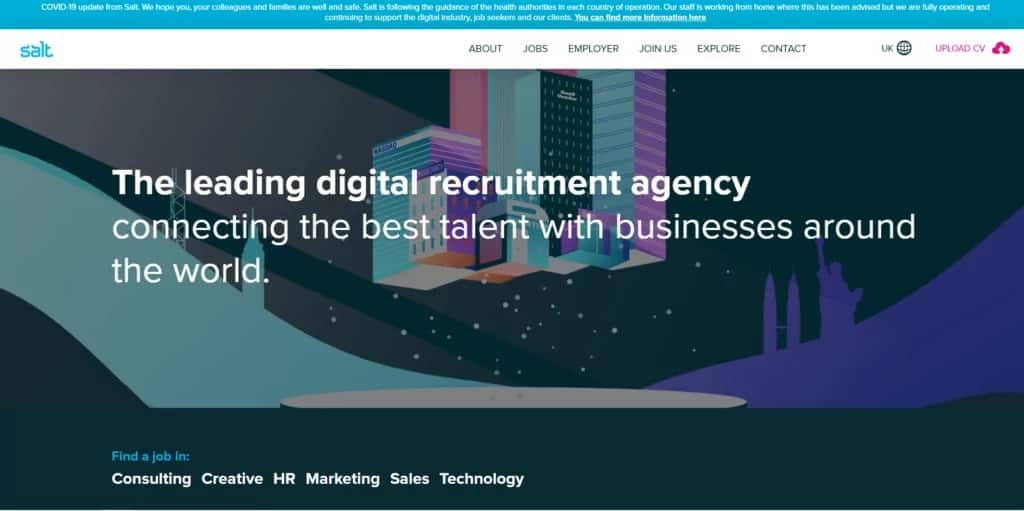 BEST FOR
Connecting people and businesses globally within Consulting, Creative, HR, Marketing, Sales, and Technology
WEBSITE
https://www.welovesalt.com/mena/
ADDRESS
Office 2705, Marina Plaza, Dubai Marina, Dubai, United Arab Emirates
CONTACT DETAILS
04 559 5765
OPERATING HOURS
Monday: 8:30am–6pm
Tuesday: 8:30am–6pm
Wednesday: 8:30am–6pm
Thursday: 8:30am–6pm
Friday: Closed
Saturday: Closed
Sunday: 8:30am–6pm
Salt Recruitment constantly expands their team of contract and interim consultants, networking globally to find the best talent. They source professionals with specialist skills and experience who can contribute to your teams and deliver complex digital projects within your specific scope.
Operating across the globe, they work closely with you to ensure successful delivery. They help you find C-suite and senior-level talent and understand the nuances associated with managing the stakeholders of an executive search and selection process.
They also collaborate with you on the development of your company's executive employee value proposition (EVP), gaining a deep understanding of who you are, as well as encapsulating your company's vision and strategy into the hiring process.
Additionally, their teams are specialists in every aspect of digital recruitment. They partner with their clients to place not just the best individual talent but also to create some of the most exciting digital teams globally.
Their contract consultants are true temp experts
They work collaboratively with you as our client to ensure that you can achieve your vision
Diversity is at the forefront of their business and paramount in everything they do
Rates are unavailable online
Customer Reviews
Satisfied jobseeker Stefan Sabev shared:
"Working with Salt recruiters has allowed me to reduce the time searching and actually focus on interviewing and running the tech side of the company."
7. Accel HR Consultants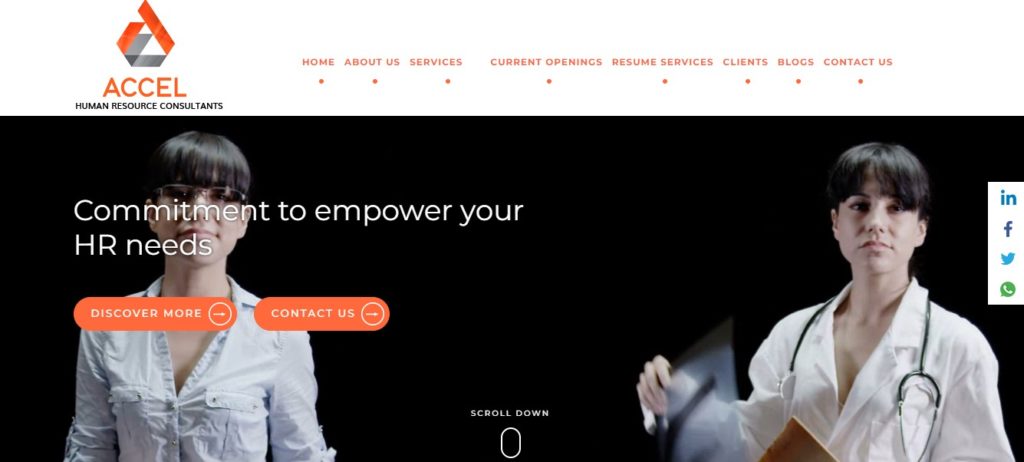 Whether you are looking for a job or a company looking for employees, Accel HR Consultants can help you get one in a short amount of time.
Similar to other companies, they provide HR solutions to more than 500 global clients. Whether it may be in the travel and tourism sector, construction, pharmacy, retail, consulting, or others.
What's great about this company is the fact that all of their services are done as smoothly as possible. In comparison to others, their job seekers refine the resume and interview skills of the applicants and find the most appropriate job for them.
Now if you own an organization and are in need of employees, they can help you fill out the vacant positions. As well as, provide end-to-end HR solutions that will, potentially, make your company even more successful.
One call way to clear queries
Flexible staff members
Operating hours are not mentioned
Customer Reviews
Here are a few reviews from their clients:
"The experience I rcvd from Accel HR consultants was excellent. Especially Ms Reshmi was closely following up with my recruitment process till I on boarded the new company. I would definitely recommend Accel HR consultants for their dedicated services. Keep up the good work!"
"The current role I have is all thanks to ACCEL HR. Ms Evitta has been a big help and has been extremely professional. She has given mule timely updates and made sure to follow up before and after each step. They are extremely reliable and supportive."
FAQs about the Best Recruitment Agency in Dubai
---
With one of the best recruitment agencies in Dubai, you should be able fill positions in your company or get a job quickly.
Are there other recruitment agencies in Dubai you'd like us to add to our list? Send us a message and let us know.
If you're also looking for a company that could help you get the licenses to start a business in Dubai, check out our list of the best company formation firms in the city.