The 11 Best Property Management Companies in Dubai
Taking care of property can be difficult, especially when you've got a lot to fend for. From handling maintenance and repairs to taking care of monthly dues, property management isn't as easy as it seems.
If you're a landlord leasing out some commercial spaces or an owner of houses you've been planning to rent out, we've got the answer to making your life easier. Check out our list of the best property management companies in Dubai!
But before we make it to our list, let's talk about how much you'll have to spend on a property management company in Dubai.
The Cost of Property Management Companies in Dubai
Like many other customizable services, property management companies don't usually have fixed rates. Because there are several kinds of properties and a broad spectrum of services that fall under property management, most companies offer rates on a quotation basis.
Other than the kind and size of your property, prices mostly depend on what services you'll be getting and to what extent the property management company will be hands-on on your property. The duration of services and how valuable your property is also contribute.
Though rare, some property management companies still offer fixed rates but in the form of package deals.
The Best Property Management Companies in Dubai
Now that you know a little more about what goes into the cost of property management in Dubai, it's time to choose a company that can best attend to your needs! Read on to see our picks for the best property management companies in Dubai!
1. Manage My Property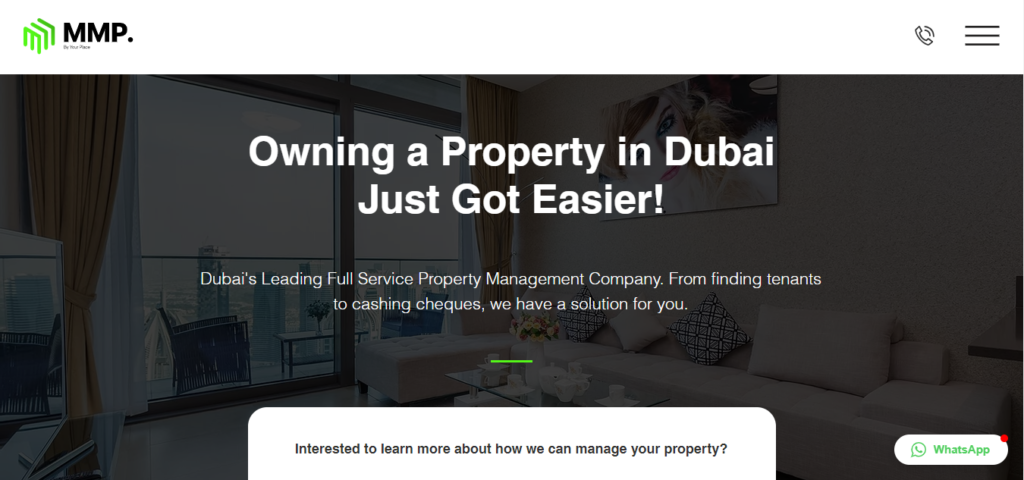 Manage My Property was established in 2007 and has over 10 years of experience in managing properties. They offer a wide range of turnkey services related to Dubai property.
People love them because they have a wealth of experience and in-depth knowledge of successful asset management, advanced technology, and effective management solutions that enable them to provide their clients with complete transparency and peace of mind.
Unlike other companies, they provide detailed inspection reports over the tenancy period to ensure that the client's tenant is accountable for any damages caused during their time on your property.
Another thing that is unique about them is their simple process of working with them. Step one is to contact them and send the required documents to receive their price structure. Step two is to agree with the terms & conditions and sign the documents. The last step is to download their app and monitor your property in real-time.
Free consultation
Has an app
Real-time updates
Detail-oriented
Doesn't manage short term
Client Reviews
Here are some reviews from their previous clients:
"MMP are the most fantastic letting agents – they cover issues that we would never have thought of! They also project managed a house refurbishment for us which ran extremely smoothly. Nothing was too much trouble for them. A big thank you to Andrew and Lerri for all their hard work."
"We rented from MMP for nearly 5 years. The service was amazing all the way through – their fees were very reasonable, Lerri & Andrew were both quick to reply to emails & any issues were resolved efficiently without issue. I would highly recommend MMP to anyone looking to rent!"
2. The Property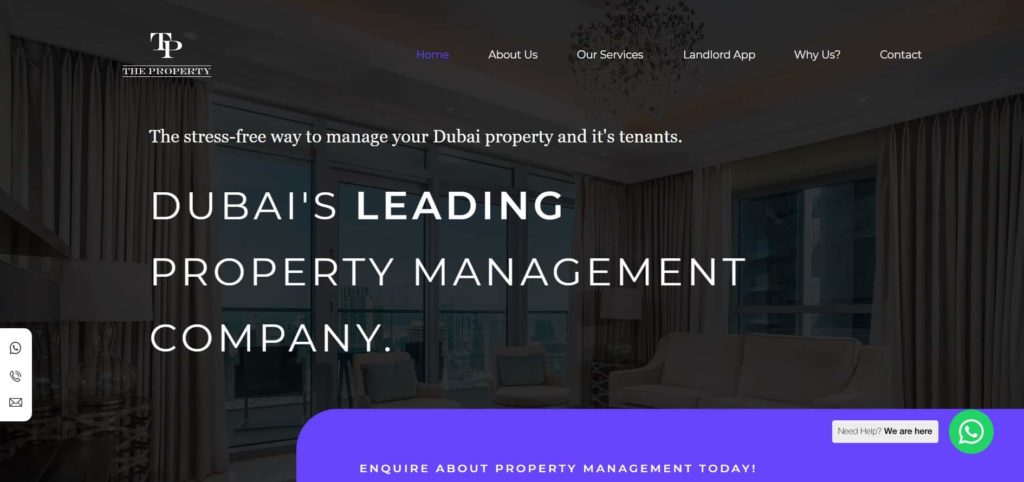 The Property is Dubai's foremost real estate consultancy, they are established by investors for investors. Their comprehensive array of professional services guarantees that their customers receive assistance at every stage of the Dubai Real Estate journey, from purchase and portfolio planning to property management.
The Property has simplified every stage of the real estate journey to create a smooth experience for both renters and landlords, based on their core business of property management.With their ideals clearly defined, they are devoted to always evolving in order to become a world-class real estate firm.
Countless landlord owners have chosen them because of their extreme reliability. With their turn-key Dubai property management services, you can enjoy a stress-free income. From turning over your new house in pristine condition to discovering and maintaining your renter relationships, they have you covered.
You can be certain that your property is in good hands with their expert crew, and you can live your life without the burden that comes with being a landlord. We highly recommend them for their exemplary management service.
Offer both short and long term property management solutions to our clients
Experienced staff
Prompt customer support
Provide real time updates
Great attention to detail
Over 10 years of experience
Only manages property in emirate of Dubai and not Abu Dhabi or Sharjah
Customer Reviews
Will recommend her to my friends and co workers.
"I had the pleasure of dealing with Tasha Patel. Tasha has been professional, caring and brilliant to deal with since the first viewing on the property. Her insight on the local area and building really helped me make a decision on the property moved on. As someone who works in real estate too I appreciate the fantastic experience I had and I have and will recommend her to my friends and co workers." – Jamie Clair
Very happy with their service and ease of communication.
"We've been working with The Property for some months now, very happy with their service and ease of communication. Jumar is extremely attentive and available when needed, he builds a relationship with the tenants and only reaches out to the landlord when needed. Romaa'l and Tom are also fantastic to work with, looking forward to giving them more contracts." – Jad Nachabe
3. Next Level Real Estate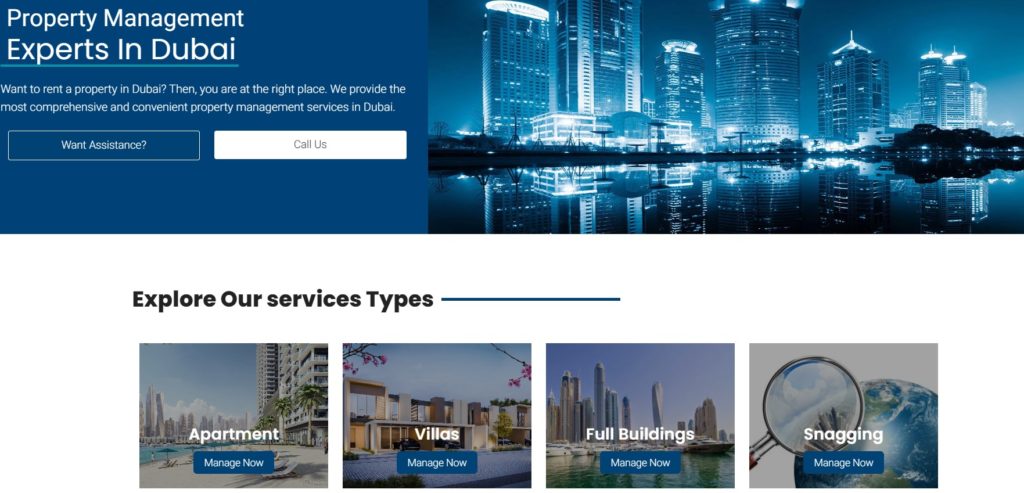 Next Level Real Estate Dubai is a highly professional property management company in Dubai with a proven track record of success.
The company offers a wide range of services, including rental management, property leasing, tenant screening, rent collection, property maintenance, repairs and renovations, emergency response, accounting and bookkeeping, marketing and advertising, and concierge services. Next Level Real Estate Dubai is committed to providing its clients with the highest level of service and attention to detail.
In the bustling metropolis of Dubai, where the city's skyline is dotted with architectural marvels, Next Level Real Estate stands out as one of the premier property management companies. With an intrinsic understanding of the city's dynamic property landscape, they offer unparalleled services that seamlessly merge the traditional values of property management with cutting-edge technological advances.
Adopting a forward-thinking approach, they utilize the latest in property management software and technologies. This ensures efficient and transparent operations, providing clients with real-time updates and insights into their investments.
At the core of their operations is a steadfast commitment to their clients. Their tailored services, combined with a deep understanding of the local culture and market dynamics, position them as not just service providers but as trusted advisors.
In a city that thrives on luxury and grandeur, Next Level Real Estate rises to the occasion, offering its clients an unmatched property management experience.
The company has been recognized by several industry organizations for its excellence in property management, and it is a member of the Real Estate Regulatory Agency (RERA) and the Dubai Land Department (DLD).
Has a proven track record of success in managing properties in Dubai.
Has a team of experienced and qualified property managers.
Are a member of the Dubai Property Managers Association.
Are committed to upholding the highest standards of professional conduct.
Uses innovative marketing techniques to ensure that properties are rented out quickly, minimizing vacancies.
Provides property owners with detailed financial reports, helping them understand the financial health of their investments.
Invests in continuous training for staff to ensure they are updated with the latest trends and best practices in property management.
Possible focus on luxury properties, potentially limiting options for clients with lower budgets
Customer Reviews
Attention to detail and willingness to answer my questions made all the difference
"I had a wonderful experience working with Next Level Real Estate. Their team of agents were professional, knowledgeable, and attentive throughout the entire process of finding my new home. They listened to my needs, provided me with a range of options that met my criteria, and patiently guided me through every step of the process. Their attention to detail and willingness to answer my questions made all the difference. I highly recommend Next Level Real Estate to anyone looking to buy or sell a home. Thanks to them for providing exceptional service and taking things to the next level!' — Dheeraj Kumar
Valuable guidance and excellent customer service
"Shaheer from Next Level Real Estate is an exceptional real estate agent who provided valuable guidance and excellent customer service. His attention to detail and expertise in the market made the home-buying process enjoyable and successful. I highly recommend him to anyone in need of a trustworthy and reliable agent." — Danishver Chohan
4. N S R Real Estate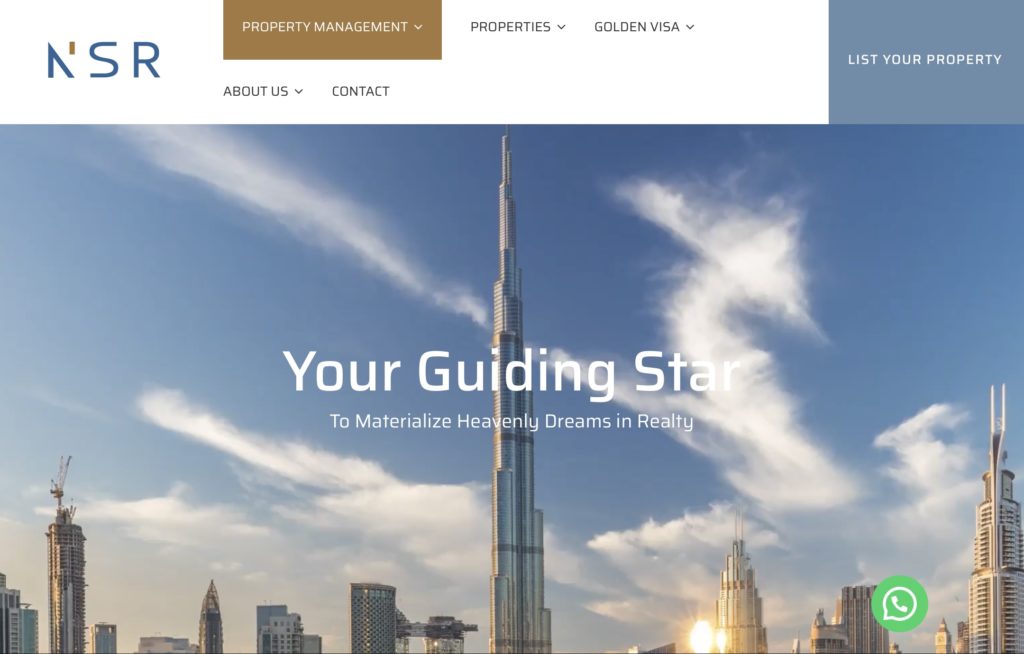 WEBSITE
https://nsr.ae/
ADDRESS
Office No. 07, Level 03, Boulevard Plaza Tower 1 Sheikh Mohammed Bin Rashid Boulevard Downtown Dubai, United Arab Emirates
CONTACT DETAILS
+97143680888
+971568787188
+97144558556
[email protected]
SERVICES
Leasing, selling, golden visa, and property management services
We were delighted to entrust N S R Real Estate with our property management needs, and their performance has been nothing short of exceptional. Their services are a testament to professionalism and efficiency.
From the outset, our experience with N S R Real Estate was remarkable. Their swift response to our inquiries left us confident in their commitment to client satisfaction. Every interaction with their team exuded a sense of purpose and dedication that was truly refreshing.
Efficiency is clearly at the core of N S R'S operations. They demonstrated an unparalleled ability to handle property-related matters promptly and effectively. It's as if they have an uncanny knack for anticipating needs before they arise. Truly, a seamless experience.
The quality of their services is unparalleled. N S R Real Estate's attention to detail and thoroughness in every aspect of property management sets them apart from the competition. We found ourselves constantly impressed by the meticulous care they took in overseeing our property.
While excellence is their trademark, N S R Real Estate does not come with an exorbitant price tag. Their cost structure is remarkably competitive, making their services an outstanding value proposition. It's a rare combination of affordability and quality in the property management industry.
However, they don't offer discounts for their services yet. We advise checking in with them for other affordable deals.
Global team of seasoned and iron-willed experts
Real estate service that encompasses leasing, selling, golden visa, and property management services
100+ listed properties and 15+ certified consultants
Transparent communication
Accurate understanding
No discounts for their services at the present
Client Reviews
"I didn't have to make multiple phone calls to schedule meetings and site visits to confirm that my properties are in the right hands. N S R really takes good care of everything." — John
"Highly impressed with the level of their integrity and professionalism. Thank You Team N S R." —- Mark Leon
5. Blue Diamond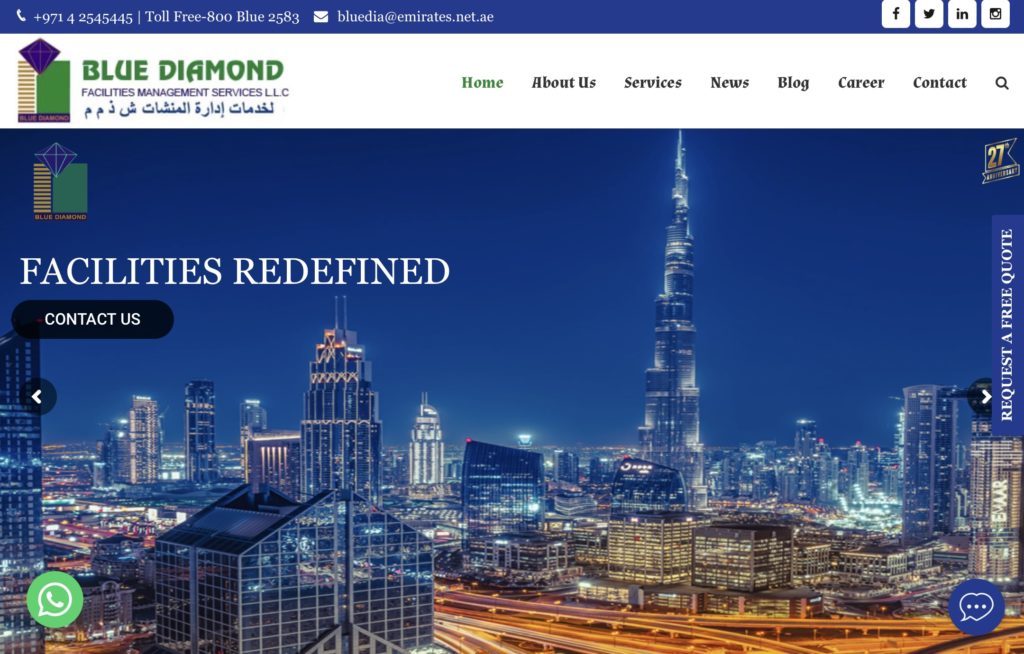 WEBSITE
https://www.bluediamondfm.com/
ADDRESS
Blue Diamond Facility Management Services LLC, Dubai UAE

Blue Diamond Building Cleaning Services L.L.C, RAK, UAE

New Blue Diamond Contracting & General Maintenance, Abu Dhabi, UAE
CONTACT DETAILS
+97142545445
[email protected]

07 2260840
[email protected]

02 5599492
[email protected]
SERVICES
General Maintenance
Integrated Facility Division
Uniform Tailoring
Embroidery Division
Chandelier Cleaning Services
Fire Fighting
Our experience with Blue Diamond, the property management company, left us impressed and reassured about the value they bring to the table.
Their services are nothing short of exceptional, providing a comprehensive range of solutions that cater to every aspect of property management. From tenant screening to rent collection and property maintenance, they have us covered.
Convenience is the name of the game when it comes to Blue Diamond.
With their streamlined processes and efficient communication channels, managing our properties has never been easier. We can access essential information and updates with just a few clicks, ensuring we stay in the loop at all times.
Moreover, with a track record of excellence and countless satisfied clients, their name has become synonymous with reliability and professionalism. They've proven time and again that they have the expertise to meet and exceed our expectations.
Trusting them with our properties was an easy decision.
Cost is always a crucial factor, and Blue Diamond knows the importance of providing value for money. Their pricing structure is transparent and fair, with no hidden fees or surprises along the way.
They offer competitive rates without compromising on the quality of service. We can confidently say our investment with Blue Diamond is well worth every penny.
IAA accredited
Comprehensive range of property management services
Convenient and streamlined processes
Excellent reputation in the industry
Cost-effective pricing structure
Client Reviews
"Blue Diamond transformed the management of my properties. Their services are exceptional, and their communication is top-notch. Highly recommend!"
"I couldn't be happier with Blue Diamond. They take care of everything, from finding reliable tenants to handling maintenance. It's a stress-free experience!"
5. KeyOne Properties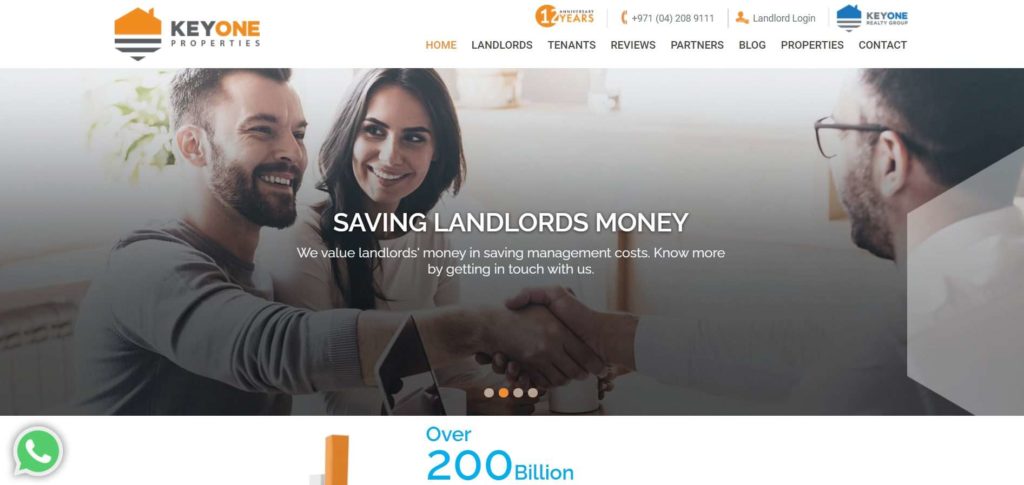 WEBSITE
https://www.keyoneproperties.com/
ADDRESS
Office 311, IBN Battuta Gate Sheikh Zayed Road Dubai, UAE
CONTACT DETAILS
+971 (055) 802 2087
+971 (04) 208 9111
SERVICES
Lettings, Property Management, Property Assessment, Online Listing, Maintenance, Housing Tools, Online Payment Facility, Landlord Portal
A subsidiary of KeyOne Real Estate, KeyOne Properties is best known for all-around property management that gives you good value for your money. Acknowledging that property management is more than just a string of business transactions, the company offers customized solutions for every kind of client.
For landlords, their main services are Listing, Management, and Full Management.
Listing—which includes professional photos, to let sign, key management, viewing arrangement, and tenancy agreement—is free of charge.
For Management and Full Management services, both packages include handling tenants, rent collection, monthly statements, online portal and 24/7 contact line, check-in and check-out inspections, service charges and bills payment, and arranging property insurance.
The main difference lies in the rates—the Management package imposes a fee of 5% of the rental income while the Full Management package imposes 7%.
The reason for the additional 2% for the latter is because of the added property inspections during tenancy, repairs management, contractor management, and rental tribunal assistance.
But what truly sets Key One apart from the other property management companies is that they continue helping you even after finishing their service contract. They offer casual letting free of charge and services like inspections, tribunal assistance, and property care for a minimal fee.
Offers online payment facility
Free online listing
Free quotation
Free in-home consultations
24/7 maintenance requests for tenants
24/7 contact line
Deals only with property management of rentals
Client Reviews
Many clients have commended Key One for their hard work and excellent customer service.
Former client, Ekaterina, said: "Having honest, reliable, and hardworking people helping us makes the whole experience of property investing more enjoyable and rewarding."
On the other hand, Vladimir said: "KeyOne provides me with great peace of mind. I know my property and tenants are well taken care of and all my issues are addressed immediately by the KeyOne team."
6. Betterhomes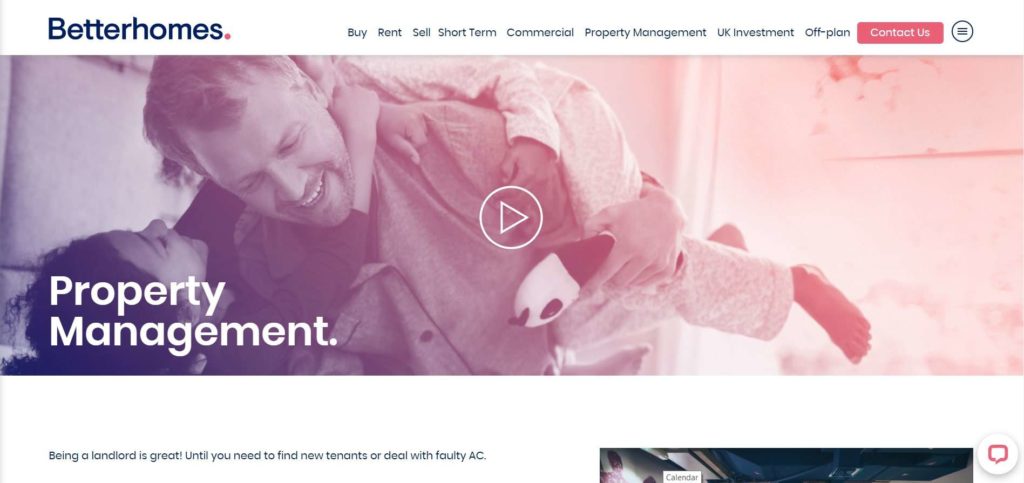 WEBSITE
https://www.bhomes.com/property-management
ADDRESS
42nd floor, Vision Tower Business Bay Dubai, UAE
CONTACT DETAILS
+971 4 408 1000


[email protected]

SERVICES
Management, Rental Collection, Handling Tenant Concerns, Maintenance and Repairs, Quarterly Account Statements, Marketing, Tenant Screening
Founded in 1986, around the same time as Asteco, Betterhomes has been in the business of buying, selling, and renting properties for over 35 years. Six years into the business, the company aimed to provide clients with a more comprehensive real estate experience through property management.
Having worked on properties with major developers all over the UAE for so long, Betterhomes is a company known to deliver quality service that clients trust. Beyond Dubai, they've also managed to establish offices in Abu Dhabi and Qatar.
Though property management is not the company's speciality, it's still considered one of the best in Dubai because of its comprehensive package with the rate of 8% or AED 5,000 yearly, depending on which is higher. This includes marketing your property, screening of potential tenants, collecting rent, and maintenance.
Betterhomes always makes the client's best interest the top priority and ensures your investment is worth the spend—which is proven by their track record.
At present, they have an occupancy rate of 95%, yield higher rentals compared to non-managed properties, and manage over 5,000 properties all over the UAE.
Multi-awarded
Multilingual staff
Offers marketing services
95% occupancy rate
Website offers live chat support
Property management not the focus of the company
Higher rate compared to some companies on the list
Client Reviews
Many of Betterhomes' clients have left great feedback over the years.
Former client, Sherif Elbehery, said:
"My experience has been great. The team was very professional and helpful. It started by a professional deal closure followed by a very smooth same process. I am located outside UAE, the team helped me with the POA and handled every single step professionally all the way."
Joseph Ryan and Mary Cahill were very pleased with their agent's service. They said:
"We have been dealing with this company for at least 10 years. Kunaal Kakiya, our present agent, has been extremely efficient and gives an honest review of the situation on the ground. He is always readily accessible via phone or WhatsApp."
7. Yallarent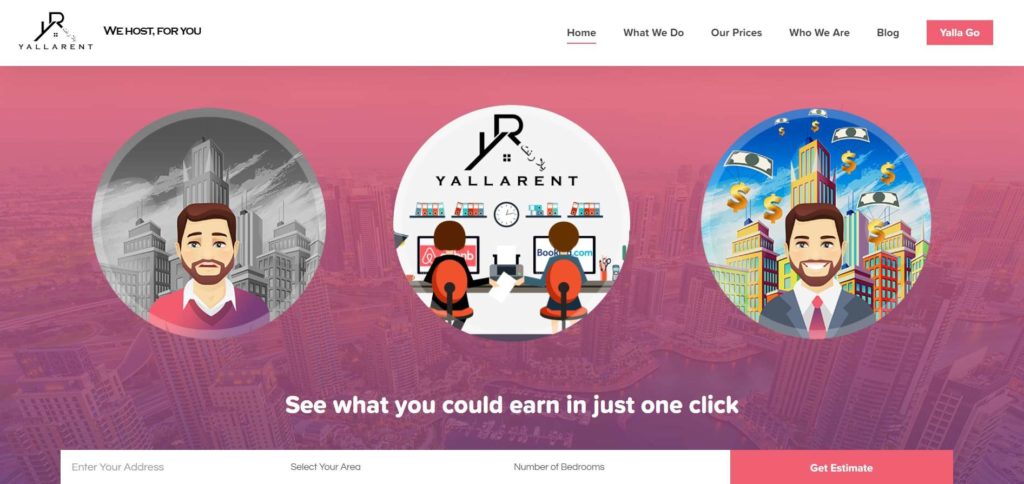 WEBSITE
https://yallarent.com/
ADDRESS
Office 3101, The Regal Tower Business Bay Dubai, UAE
CONTACT DETAILS
+971 55 265 7202


[email protected]

SERVICES
Short-term Rentals Management, Guest Screening, Check-in and Check-out, Cleaning Services, Emergency Contact, 24/7 Response Guest Communication,
A modern company aiming to change the industry playing field, Yallarent offers a kind of property management service different from all the others on our list.
Think of Yallarent as the company that runs your hotel or serviced apartment for you—like the concierge and housekeeping meshed as one. As such, Yallarent usually caters to short-term rental properties on Airbnb, Booking.com, and TripAdvisor.
In order to maximize your income, Yallarent promises local market expertise, custom build pricing tools, and up to 40% higher rental income.
They also guarantee your property's security through a thorough guest screening service, ID checks, and a 24/7 emergency hotline.
Their full management package includes services like handling all the legal paperwork before operating, profile listing and advertising, key drop off and collection, house cleaning, maintenance, and restocking essentials.
They also know how important it is to keep guests happy and coming back. Not only do they welcome guests with local treats on your behalf, but they also offer 24/7 guest communication, a customized guest house guide, and towel and linen laundry.
Specializes in short-term rentals
24/7 guest communication
Handles legal paperwork
Limited range of services
High management rate of 15% or 20% of rental income
Client Reviews
Yallarent has received superb feedback from many grateful clients.
Ali, an owner of 2 short-term rental properties, said: "I have been thoroughly satisfied with all the services they provide and I couldn't do it without them."
On the other hand, Elizabeth, who rents out her property whenever she travels, said: "When we come back home, it is like no one was ever here. It's like magic."
8. Provident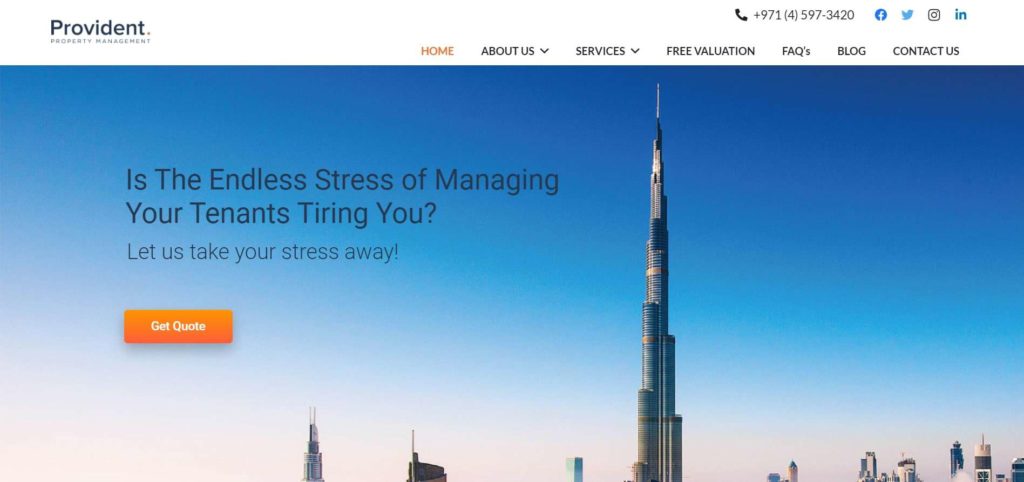 WEBSITE
https://www.propertymanagement.ae/
ADDRESS
Office No. 702, Al Zarooni Building Sheikh Zayed Road, Al Barsha 1 Dubai, UAE
CONTACT DETAILS
+971 (4) 597-3420


[email protected]

SERVICES
Full Property Management, Letting, Marketing, Advertising, Maintenance, Repairs, Tenant Screening, Professional Property Photography, Condition Reports, Fund Collection and Transfer Service, Dedicated Key Account Manager, Remarketing of Property, Debt Collection, Property Inspection, Financial Reporting
Established in 2008, Provident is a young company with the experience of one that's been around for decades. While it started out as a real estate company, its property management wing has become successful in its own right.
Showcasing their team's versatility, Provident provides property and facility management for just about every kind of property there is. The list includes commercial, residential, and industrial properties.
For the Full Property Management package, you will be charged 8% of the rental income. While a bit higher than some, you get a long list of services that not many companies will be willing to give at that rate.
Some of the list's best features are its advertising service, tenant screening, property photography done by a professional, condition reports, and a dedicated key account manager.
What's great about having your own key account manager is that you have a point person to keep you in the loop regularly. Not only do they fulfil your needs as a landlord, but they also work to make sure your tenant is satisfied throughout his or her stay.
If you find the 8% rate a bit too high, don't worry! They also offer a package at 5% with the same perks sans the inspections and maintenance services.
Experience in both international and UAE markets
Key Account Manager
Multilingual staff
Landlord mobile app
Higher rate compared to some companies on the list
Client Reviews
Through their feedback, clients surely attest to Provident's worthiness of a spot on our list.
A former client said:
"The Property Management department is an exceptionally well motivated, responsive and professional team. They have a keen eye for detail, sound judgement, and a very good network of contractors and industry professionals which enabled them to execute efficiently on all my mandates. Their relationship oriented style, both for me and my tenants, works perfectly. They manage all three of my properties and I would recommend them whole-heartedly."
Wael J, another client, said: "I would not use another property manager in Dubai."
9. Asteco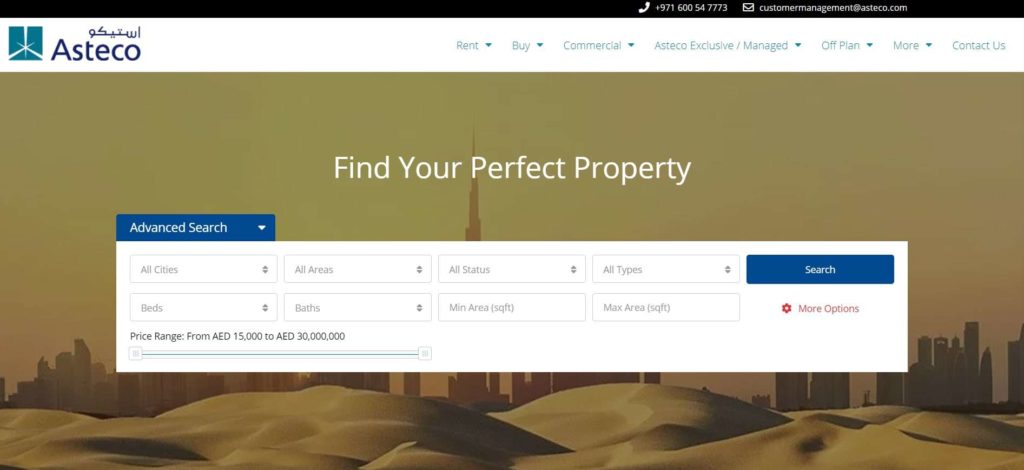 WEBSITE
https://www.astecoproperty.com/
ADDRESS
3rd Floor, Rolex Tower, Sheikh Zayed Road Dubai, UAE
CONTACT DETAILS

[email protected]


+971 600 54 7773
SERVICES
Asset Management for Retail, Commercial, and Residential Properties, Valuation and Advisory, Online Property Listings, Leasing, and Sales
Formed in 1985, Asteco is the largest full-service real estate services company in the Middle East. With more than 35 years in the industry, the company has become an easy go-to for generations of property owners.
As a company with a large team of industry experts, much of the landscape and physical infrastructure developments in the UAE have been Asteco's doing. For many years, it has consistently received awards for property consultancy from the likes of Forbes, International Property Awards, Arabian Property Awards, and Superbrand.
Catering to the whole Middle East, the company has a strong network in the region and has established offices in Dubai, Jordan, Abu Dhabi, Al Ain, and Sharjah. At present, the company manages 385 developments and 13,000 residential and commercial units.
Once you head to their website, you'll already know that online property listings are one of the services they offer. From apartments for rent to plots of land for sale, Asteco's website displays the properties they manage with every relevant detail, including the price, size, property type, and payment scheme.
With Asteco, there's also no need to worry about their speciality. As a full-service firm, they deal with all sorts of properties, including mixed-use developments or apartment blocks with ties to hotels.
It also doesn't matter whether you'll be availing of their services as an individual or as a business entity. All clients in need of help with property management are welcome to avail of Asteco's services.
Full-service company
Multi-awarded
Offers UAE Real Estate Report every quarter
Diverse and multilingual team
Only manages properties within the Middle East
No 24/7 customer support
Client Reviews
Although Asteco is known to be one of the industry's biggest companies, some think of this as a downside to the quality of their service.
Jo J, a tenant in 2019, said: "They are a big company and don't care about what their tenants face. They hardly allow for negotiation even when the rest of the market is reducing the rent."
10. Luke Capital Group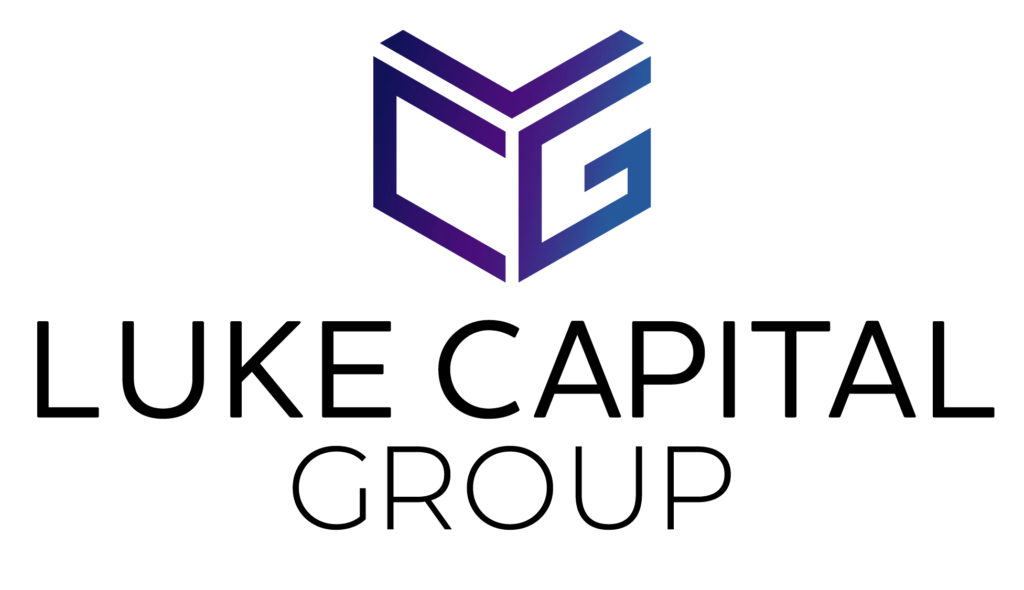 WEBSITE
https://lukecapitalgroup.com
ADDRESS
OneSpace, Thuraya Tower, Barsha Heights, Dubai, UAE
CONTACT DETAILS

[email protected]


+971 54 551 3813
SERVICES
Providing property management services for landlords as short term rentals operations, removing the hassle and worries from landlords by increasing their income and their properties' performance with advanced management systems. We also have a franchise property business for investors and entrepreneurs so they can be our franchisees anywhere in the world, and provide them with expert support to make their property business successful with guaranteed profits.
Luke Capital Group is a property management company specializing in Short Term Rentals and Serviced Accommodations. Ryan Luke founded Luke Capital Group in the UK, and now it is operating in Europe, UAE, USA, and Australia.
Moreover, Luke Stays is a subsidiary company of Luke Capital Group. It is a Property Franchise that operates worldwide and is certified by I-PRAC, protecting all hosts and guests that deal with Luke Stays.
Luke Stays offers the opportunity to anyone who wants to invest in properties and be a franchisee of Luke Stays. The services of Luke Capital Group are providing all its landlords with hassle-free property management and multiplying their property income through advanced technology and management.
With Luke Capital Group, you can multiply your property income, be a franchisee anywhere globally, or invest and start making profits right away. Contact Luke Capital Group at [email protected], and start to revolutionize and expand your property business for the future.
Increased property income
Full control of the property
Daily care for the property in cleaning and maintenance
Upgrading the landlords' property
Listing the property on Short Term Rental Platforms
Providing landlords with guaranteed rent.
Monthly utility bills are paid by landlords
Client Reviews
Kanchan on Google Reviews says "Best place to book apartment and hotels. I am glad that I choose Luke Capital Group for this service where I got all the amenities under one roof. Credit goes to industrious staff. In price, facility and services these people are best. Must recommended. Go for it without any second thought."
Also on Google Reviews, Pooja Jain shares their review: "I had a recent stay in Dubai and I stayed here. Location was good, staff were very nice and the price is very reasonable. Its deserve to be more than 5 star. Highly recommended!"
Tips on Choosing a Property Management Company in Dubai
Choose a company that can work with the budget that you set.
Even before you start hunting for a company, make sure you set a realistic budget. Think of how much your property's worth and the income you're expecting.
If a company's rates go beyond that budget, you're clearly not going to make any money. In that case, find another company that's more flexible.
Research on their track record.
A company can be around for decades and have the worst reviews, while a company can be young but have consistent stellar reviews.
Don't be blinded by the years of experience because this doesn't always amount to great quality service.
Find a reliable company that puts your interests first.
Properties don't come cheap and managing them isn't worth pennies either. That's why you need someone you can trust!
In hiring a company, be sure to meet with their team first, get to know them, and see if their goals align with yours. You can't have a property management company that neglects their duties.
FAQs on Property Management in Dubai
---
Get a team to handle your tenants, collect rent, and keep your property in an overall great shape with the help of the best property management companies in Dubai!
Is there a great property management company we missed? Shoot us a message and tell us all about it!
Does your rental need some landscaping? Check out our list of the best landscaping providers in Dubai!