The Top 12 PR Agencies in Dubai
Featured Image Source: AbsolutVision via Unsplash
Public relations is more than just saving a brand image — it can determine the success of your business. Unfortunately, most business owners don't know how to do their own PR, so they need to hire others for it.
In your case, we're here to save you hours of tedious research with our list of the top PR agencies in Dubai, along with a price table and a guide to help you pick the best one for you.
How Much Do PR Agency Services Cost in Dubai?
There are various ways that PR agencies charge for their services. See below for the average rates for the most common payment schemes:
| | |
| --- | --- |
| Retainer | AED6,500 – AED90,000/month |
| Hourly rate | AED350 – AED2,500/hour |
| PR campaign | AED10,000 – AED16,000/month |
| Project-based | AED25,000 – AED100,000 |
The Best PR Agencies in Dubai
Let us now proceed with our round-up of the top PR agencies in Dubai!
It can be difficult to decide which one to go with, so read on after the list for our guide to help you choose the best one for you.
1. Matrix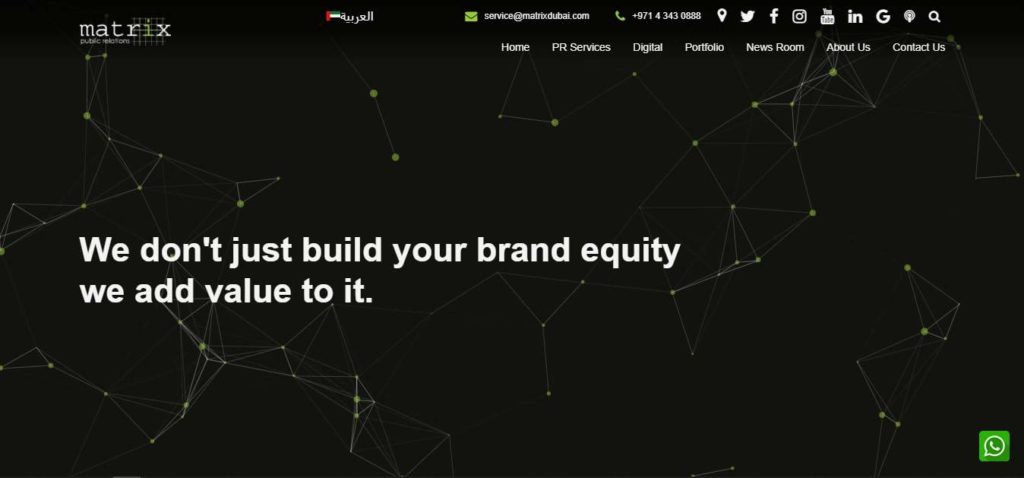 We consider Matrix one of the best PR agencies in Dubai for one crucial reason: experience.
This agency has been in operation since 1999, built upon the knowledge and standards of 3-decade PR veteran Jack Pearce. Such vast experience means that you're sure to get the best that Dubai has to offer in PR services.
Their team is made of PR experts across multiple countries who are proficient in public relations for various languages including French, Swahili, and Arabic. If you want to focus on boosting your brand image in particular regions, Matrix is highly capable of doing that.
Altogether, Matrix's overall expertise and background allows them to be flexible in their PR services for every client. No matter the niche of your branding or reputation, Matrix is always dependable as a PR agency.
As the oldest PR agency in Dubai, they've retained a large clientele over the decades. This can make it difficult for you to avail of their services, as they'll be busy dealing with a lot of clients.
However, if you're willing to wait, Matrix may be "The One" for you.
Two decades of PR experience
International expertise
Highly custom-tailored services
Hard to book appointments with them at times
Customer Reviews
Contrary to the simulation in the 1999 movie of the same name, Raj Ferds' experiences were real and pleasant:
"My experieces with Matrix have been harmonious and professional. I feel reassured that I am dealing with real people who offer down-to-earth solutions. Quite clearly Matrix understands today's PR landscape and engage well with their stakeholders — always going the extra mile to offer that one extra solution."
Hoshi Siganporia's business thrived under Matrix's services:
"We, at The Big Idea Advertising, know that we can always count on Matrix PR to deliver the goods. From time to time, we use Matrix services for our Clients' PR requirements and have found them to be extremely effective and on the ball. Working with Melwyn and team has been a great experience!"
2. Pop Communications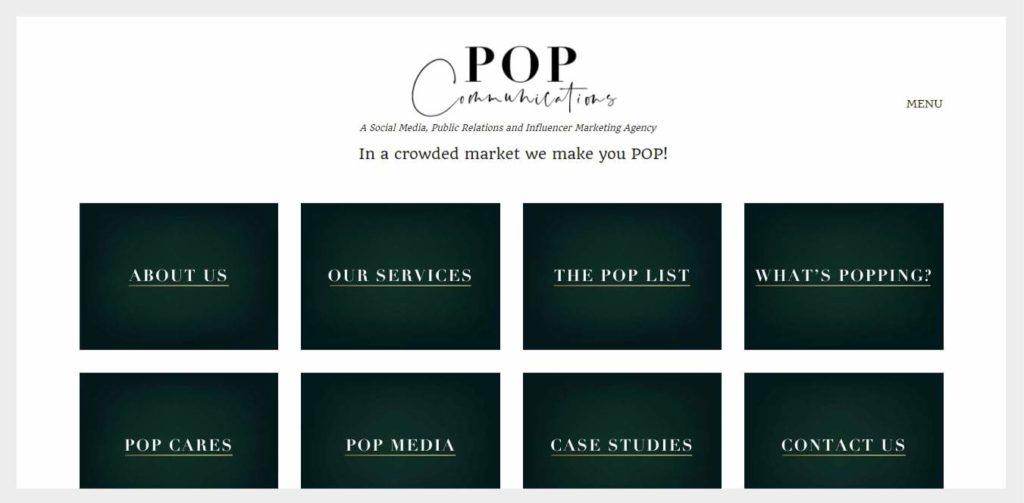 WEBSITE
https://www.popcomms.ae/
ADDRESS
Oryx World Business Center Empire Heights Tower B A-03-05, Podium 3, Business Bay, Dubai, UAE
CONTACT DETAILS
+971 50 887 5879


[email protected]

OPERATING HOURS
Sunday – Thursday: 9:00 AM – 6:00 PM
If you're an influencer, freelancer, or anyone who's looking to boost their personal brand, Pop Communications can help you greatly.
Their top offering is individual brand consultancy, specializing in influencer PR, social media, and reputation management.
We especially want to highlight their services for influencer marketing, which cover various areas including community outreach, social media campaigns, brand partnerships, and other strategies.
You need not look further than their "POP List," which shows an impressive number of past clients in Dubai — both individual and corporate — thriving from their social media strategies.
To those who are looking to manage corporate-level PR in other aspects, though, we advise you to look at our other entries. Pop Communications offers pretty limited PR services in that regard compared to the rest of the agencies in this list.
Otherwise, we highly recommend Pop Communications to you if you're looking to boost your individual brand through social media and influencer marketing. In that much, they're hard to beat.
Strong individual brand consultancy
Variety of influencer PR services
Consistently successful social media campaigns
Few corporate PR services
Customer Reviews
Were it not for Pop Communications, Bespoke Getaway Safaris wouldn't have found success:
"We had the absolute pleasure of having POP Communications take care of our marketing and PR when we were in our most delicate infant stage as a start up. Within just weeks we were featured in 2 news papers, 3 radio shows, and had a feature in one of the most prestigious magazines in the travel industry world wide.
This was just what we needed as a start up in the travel industry and it was all thanks to the lovely team at POP Communications. We could not recommend them enough and encourage everyone looking for the breakthrough they are looking for to give them a try and see the results for themselves."
Photobooth Dubai paints a positive picture of working with this agency:
"Great team to work with. Creative thinkers and lovely event organisers who make our job so much easier. A pleasure to work with"
3. Iris PR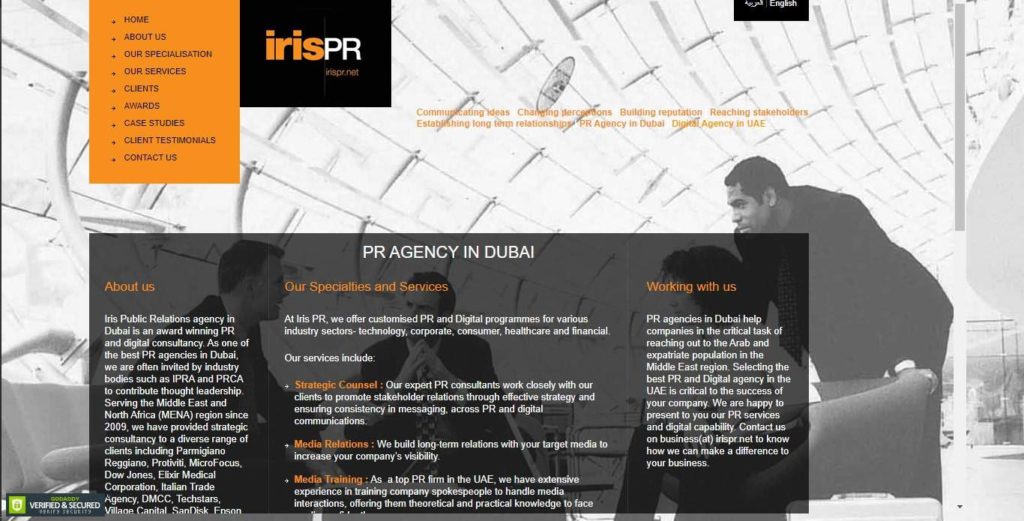 Iris PR is an agency that specializes in public relations solely for businesses.
Their services cover PR not just on a B2C-level but also on the B2B-level, which is highly beneficial for companies looking to expand their affiliations with other organizations.
In fact, much of their offerings are rooted in the roster of experts that they have for every field they cover, including healthcare, finance, real estate, and trade associations – to name a few.
This means that Iris PR is highly capable of providing their services to companies of any niche, and can definitely help you out on PR concerns for your company.
They also feature editorial PR services that can greatly expand your brand reach through newspapers, magazines, and other media outlets.
While all of that sounds outstanding, Iris PR's services may prove too much if you want to boost your individual brand. Since their offerings are industrial-grade, smaller companies may find their offerings or rates overwhelming.
But if you're looking for a PR agency that can provide top expertise for your company's needs, Iris PR is our pick for you.
Specialises in B2B PR
Industrial-grade expertise
Editorial services
Not suitable for small, individual brands
Customer Reviews
Mariam Rahman, a satisfied client, gave a glowing review:
"Iris PR is the most trusted one you will come across in the search for a Digital marketing agency in Dubai. They provide the best strategic counsel and deliver exceptional marketing solutions."
Tod Bauch commended Iris for their strong eye for PR excellence:
"Iris PR is without a doubt the best Technology PR Agency in Dubai. My company has seen
significant growth after partnering with Iris. The firm has strong expertise in IT, network security,
fintech, enterprise management and others."
4. Virtue PR and Marketing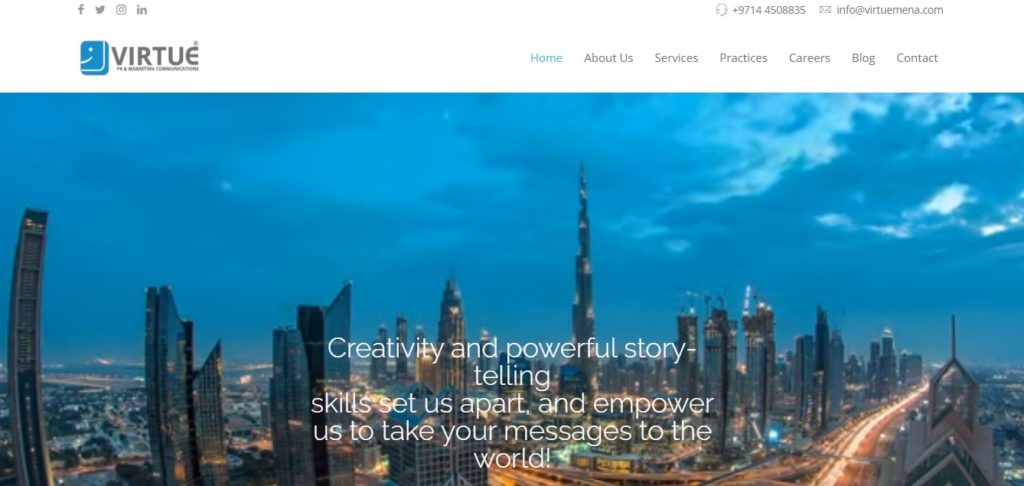 WEBSITE
http://www.virtuemena.com/
ADDRESS
The V Building, Al Barsha South 3rd, Arjan, Dubai, United Arab Emirates
CONTACT DETAILS
Tel.: +9714 4508835 | Email:

[email protected]

| Fax: +9714 4508836
OPERATING HOURS
Contact for more information
Virtue PR & Marketing Communications is an award-winning and one of the leading PR agencies in the Middle East and North Africa region, supported by a pool of experienced strategists and professional practitioners. What is great about them is their expertise and knowledge in positioning your brand through well-studied offerings, including integrated communications, PR strategies, thought leadership programs, media relations, branding, social media, and marketing and research.
Virtue PR has a track record in assisting organizations in attaining leadership positions through strategic and creative marketing communications campaigns designed to synergize with their client's business goals.
The PR industry endorses the fact that Virtue PR delves deeper into strategic thinking, triggering actionable plans that focus on communicating the desired messages of clients. Virtue's approach leverages earned media to influence key audience segments, and their media exposure strategies are meticulously planned so that they are directly aligned to the clients' business goals.
Given their extensive range of services, they can almost serve any type of company, no matter if you are already huge o a start-up and know nothing yet, they may be perfect for you.
Practices almost everything under corporate, banking, finance, public affairs, health, tourism, etc.
Operates across the Middle East and North Africa (MENA) region
Extremely strong media relations teams
The team adopts a very flexible account servicing approach which guarantees value for money
Customer Reviews:
La Martina says that Virtue PR does a good job in building its presence in UAE:
"Virtue PR has provided consistently high levels of service for La Martina over the years. We have an excellent relationship with the team, who clearly understand our business and our needs. They have produced fantastic results to promote our growing presence in the UAE as well as highlighting our commitment to the community, successfully communicating our brand values."
British Council gives a thumbs up on Virtue PR's work ethics:
"We have had the pleasure of working with Virtue PR for the past four years and have been absolutely delighted with their level of service. They are hard-working, committed, enthusiastic, and creative, and I don't know how we managed without them earlier. I have no hesitation in recommending them to any company looking to increase their PR coverage."
Private Jet Charter's experience with Virtue PR's media connection is nothing short of good:
"Virtue PR has played an important role in proactively contributing well-grounded ideas to convey Private Jet Charter's corporate messages across the GCC environment. They are vigilant about market developments and alert to opportunities for giving exposure to our business. They have good contacts with journalists and are conscientious in their approach when representing the interests of Private Jet Charter."
5. Atteline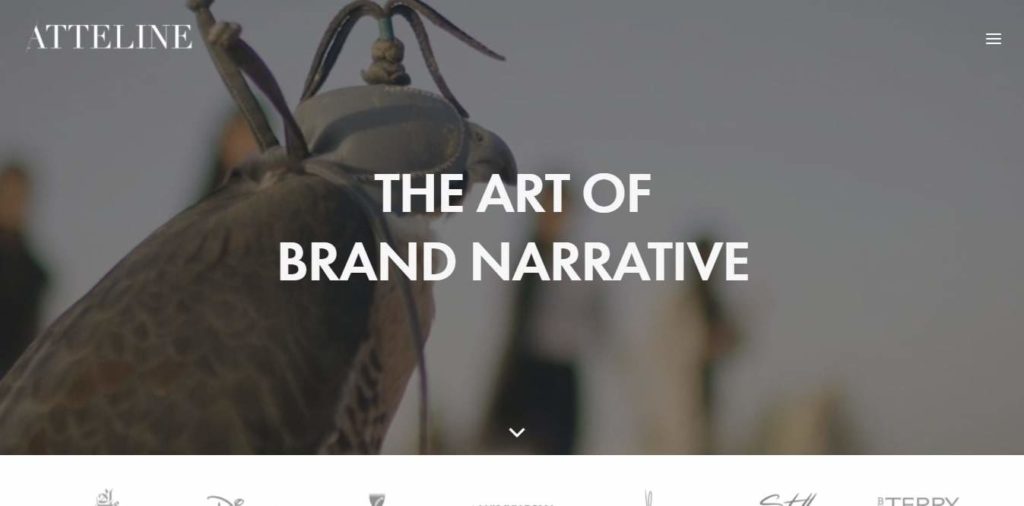 Brands that target millennials and members of "Gen Z" will benefit greatly from Atteline's PR services.
Atteline grounds its services in establishing a strong social network for PR success, which they get from knowing what millennials and Gen Z members want. You can see this from their main offerings, which include digital media coverage and strategic partnerships.
In other words, those looking to jumpstart a new brand image will find that Atteline is a fantastic choice for acquiring digital market reach.
The philosophy of their services extends to their staff as well. Many former clients report how at ease and comfortable they felt when they worked with Atteline, which may be a good break from other battle-hardened PR agencies.
They currently specialize in doing PR for fashion and beauty companies. However, other industries will enjoy similar-quality services from Atteline.
Unfortunately, they're not very handy with PR crisis management, since they're more concerned with creating rather than recreating, so to speak.
With the ever-evolving landscape of the market, however, we find it too difficult to pass up Atteline as one of the best PR agencies in Dubai.
Suitable for digital start-up brands
Dedicated, friendly staff
Highly specialized in fashion and beauty industry
Little experience in crisis management
Customer Reviews
Anika Berger commented that with Atteline, your PR will never be out of line:
"I have found that Atteline is not only professional but also has one of the most friendly PR teams you will find. They work hard, support you at every moment, and always look for opportunities to ensure you are getting the best coverage. If you are looking for a PR agency for your luxury brand, this should be your first choice."
Rusol Al Hano's experience with Atteline's staff was completely pleasant:
"One of the best PR agencies in the country. Love the work, love the people that work there, so nice and accommodating, definitely recommend this agency if you need help with your PR."
6. Golin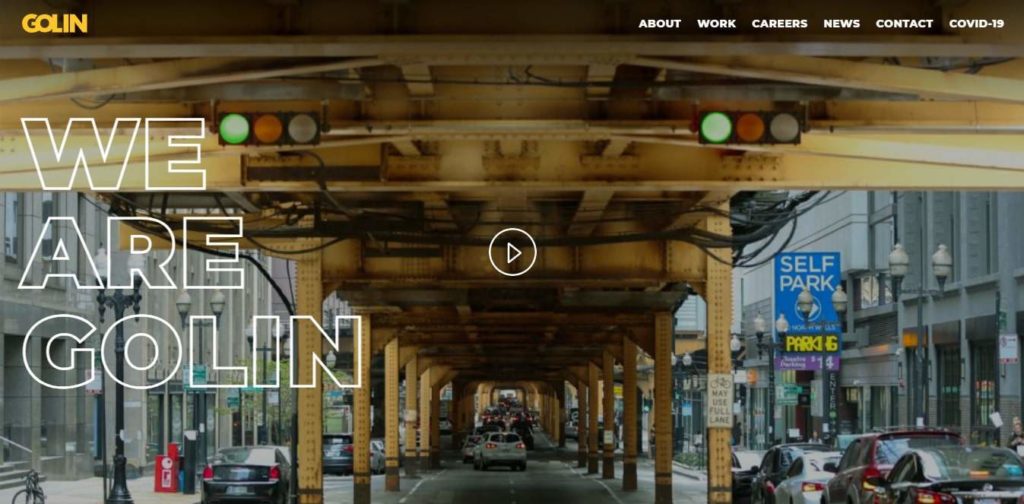 WEBSITE
https://golin.com/
ADDRESS
7th Floor, Capricorn Tower, Sheikh Zayed Road, Dubai, United Arab Emirates
CONTACT DETAILS
+971 4 332 3308


[email protected]

OPERATING HOURS
Sunday – Thursday: 9:00 AM – 6:00 PM
Headquartered in Illinois, USA, Golin only expanded its business to Dubai. Given how large their impact is in the PR industry, adding them to this list was a fairly obvious decision.
With nearly 6 decades of experience under their belt, Golin is highly capable of handling any kind of client and PR-related matter, offering services such as crisis management, corporate strategy, influencer marketing, and social media, to name a few.
Such services are sure to boost your brand practically anywhere you want, whether locally in Dubai or elsewhere in the world. Their international expertise allows them to be flexible to any company's PR needs.
Their portfolio speaks for itself — Cadbury, Evian, and Dove are just a few of the many top brands that Golin has worked with throughout their years of running.
With that being said, they're not too experienced in conducting PR services in Dubai compared to our other entries. Having only set up camp in the region in 2005, Golin may not be able to satisfy your domestic PR needs as well as the older local PR agencies.
But as a jack-of-all-trades, Golin never fails to disappoint as a PR agency in general.
Well-rounded PR services
Global reach
Impressive portfolio
Inexperienced in Dubai PR compared to other entries
Customer Reviews
Golin's vast expertise left a lasting impression on Joshua Mathias:
An excellent and one of the best PR Agencies in Dubai. They offer exceptional services across the entire GCC, Middle East and North Africa regions. Everyone that works there is extremely knowledgeable about various industries in the region and are up to date with the latest technologies to help clients capitalize on situations in real-time for some incredible opportunities and results. Would highly recommend working with them and you must ask them about The Bridge.
Rawan Lutfi's heartfelt review gives an all-around description of what it's like working with Golin.
"Golin MENA been my second home since graduation. I am proud to be part of a committed agency that for sure delivers more than what promised and develops great long lasting relations with clients, suppliers, employees and other stakeholders. My time at Golin MENA has allowed me to grow both creatively and professionally, largely due to the ethos of family and teamwork that the company encourages."
7. Sanguine Communications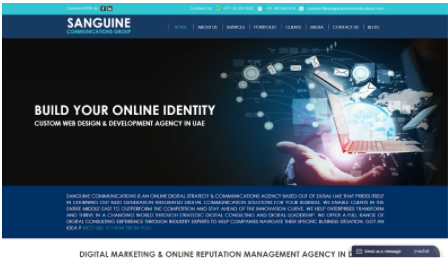 Sanguine Communications offers high-quality digital communication solutions that can help their clients and their business from the middle east. Their wide range of services has the capability of creating exceptional business outcomes.
They are a team of highly skilled workers and great communicators with great backgrounds in the digital world. They think out of the box gaining more than 500+ clients in the past.
Their experiences make them more reliable in, small or large scale businesses. Overall, Sanguine Communications are very efficient with their work and is worth the time, trust, and money.
Highly experienced
Knowledgeable with their field
Environment can be improved
Customer Reviews
Here's a review from one of Sanguine Communication's clients:
"A good experience working with the team at Sanguine. They surely do what they promise! 🙂" -Shailendra Kumar
Here's another one:
"The team is definitely hard working, innovative and has a positive attitude. All the best guys!" -DrYogi Ravi
8. Ananda Shakespeare Communications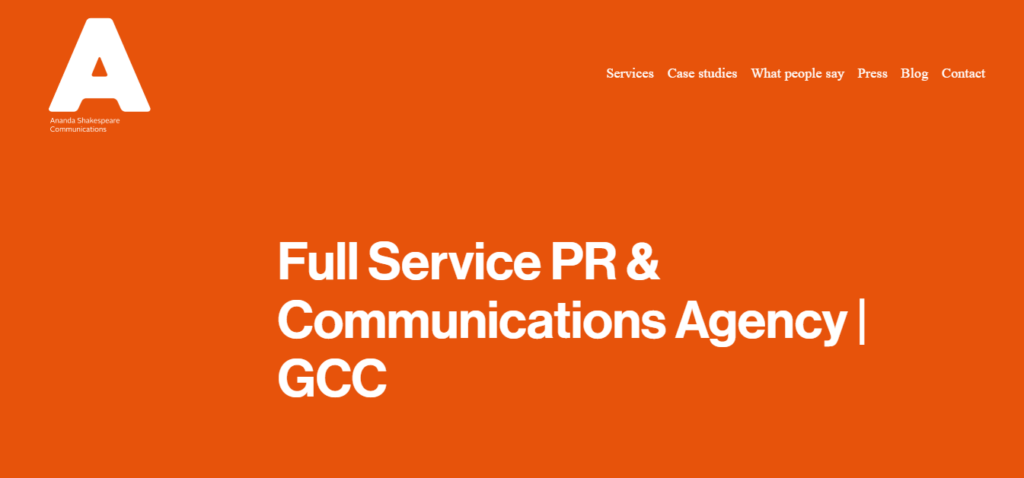 No company can be ever compared to Ananda Shakespeare Communications! Ananda is a combination of dedication, strategy, and creativity.
Public Relations, Media Management, and Brand Recognition are their passion. They take their time in working side by side with their clients to craft a bespoke suite of services designed to maximize ROI and develop genuine brand recognition across the GCC.
In comparison to other companies, they create tailor-made communication strategies, speeches, articles, and newsletters. You can trust them in building awareness and a favorable image for clients within these stories, articles, events, and initiatives in relevant media outlets.
Gives what they promise
Regular monthly meetings
Well organized
Operating hours are unavailable on their website
Customer Reviews
Here are some reviews from Ananda Shakespeare Communications' previoius clients:
"I knew Ananda meant business when she turned up at the first meeting with chunky case studies, pages and pages of results in leading media. After just 3 months of working with her agency, we too have a chunky folder of incredible results (valued at over USD600,000) and we're struggling to keep up with all the requests for interviews. Her guidance and advice hits the spot, she's well organised and exceptionally well connected and at the end of the day when all the talk is done, it's the results that do the talking. Incredible." — Lisa Knight, Cafe Isan
"Ananda has been a pleasure to work with! She has been part of our Smart Crowd family – a Dubai based start up – from the time of our inception two years ago. Her PR services have been extremely valuable for us as a company to gain coverage across the UAE. Ananda's efforts have helped us gain coverage across various media outlets including podcast interviews, TV interviews, technology awards and local print/digital media coverage. Notable PR mentions include – Arabian Business technology awards, AMEInfo, The Business Breakfast show (Dubai Eye). She is also very diligent and regular with our monthly meetings and is always happy to help the team out! — Siddiq Farid, co-founder, Smart Crowd
9. Coral Coast PR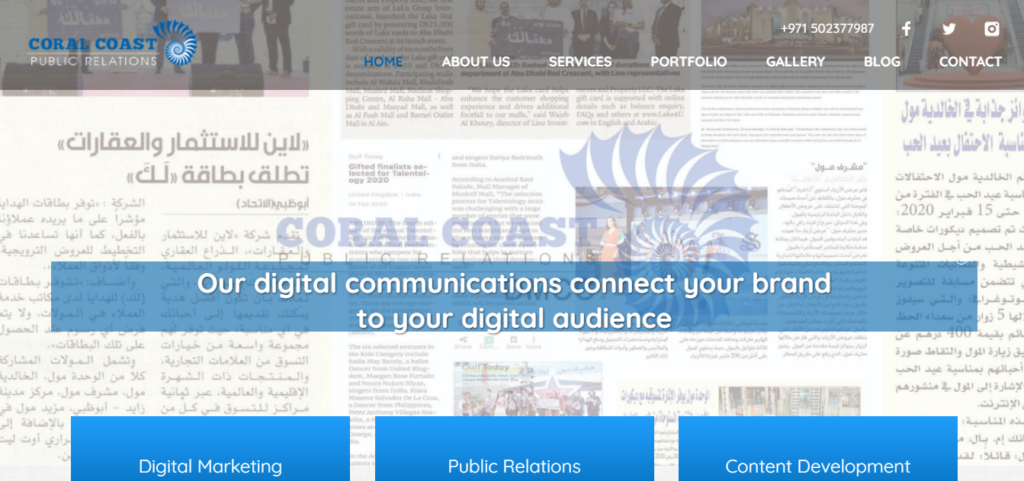 Coral Coast PR is not your ordinary PR Agency for they have expertise in a lot of fields. Whether you need help in public relations, crisis management, marketing, event management, editorial services, digital media, or photography, they can deliver it to you.
Their team specializes in PR event management services, meaning they can ensure that any event you plan goes off without a hitch.
We believe they are one of the best PR agencies in Dubai because they have a process they do before the event that can make it more successful. Their team starts by identifying the target audience of their client before preparing the concept of the event and eventually planning the logistics and overseeing the technical aspects of the tailor-made event.
Aside from PR events, they do press releases, new distribution, media relations, editorial services, content development, and so much more.
Offers a broad range of services
Has worked with more than a hundred companies
Flexible
Operating hours are not available
Customer Reviews
Here are some reviews from their previous clients:
"Coral Coast PR managed the PR for our high profile FIFA sports events in UAE at the initial stages as the team had worked previously with agencies handling Masters Football, Beach Soccer and Beach Volleyball with celebrity sports personalities. We started our journey with the best PR in the market." – Ali Haidaru (Sports Solutions)
"Coral Coast PR provides the most professional PR services and as they work with high profile journalists closely, they connect us with the regional Middle East media at a personal level." – Shaima Al Awadhi (Thoraya Al Awadhi Group)
"For editorials, features and profile stories, the Coral Coast PR team provide us with the best stories and insights into luxury brands, Royal families, A List designers and stars from this region. They get first choice for features in our magazine." – Ashraf Zaalok (Millennium Millionaire Group)
10. 3rd Floor Public Relations
3rd Floor Public Relations is a communications agency that was founded back in 2005 and founded in Shanghai by employees of former prominent public relations groups. The agency aims to connect media, digital ambassadors and selected global influencers through their international offices.
The company also possesses various headquarters in different areas and countries in Asia such as Shanghai, Hong Kong, Milan, and Dubai among others. Furthermore, it is also still looking to expand to other single countries worldwide in order to reach more clients and gain more network of partners.
The agency is comprised of a team of skilled professionals who have been adequately trained and possess long local expertise in the said field. This enables them to plan and strategize excellent PR activities and extensive media coverage services that will aid the client in maximizing their promotional effort to attract visitors.
We recommend this agency for clients looking for excellent PR services due to their highly flexible approaches that transcend and enable collaboration across different time zones and regions.
Skilled professionals
Has various headquarters in Asia
Highly trained staff
Operating hours are not available
Customer Reviews
Here are some reviews from their clients:
"3rd Floor, a refreshing company with refreshing ideas."
"Your creativity is impressive"
11. Aurora Advertising LLC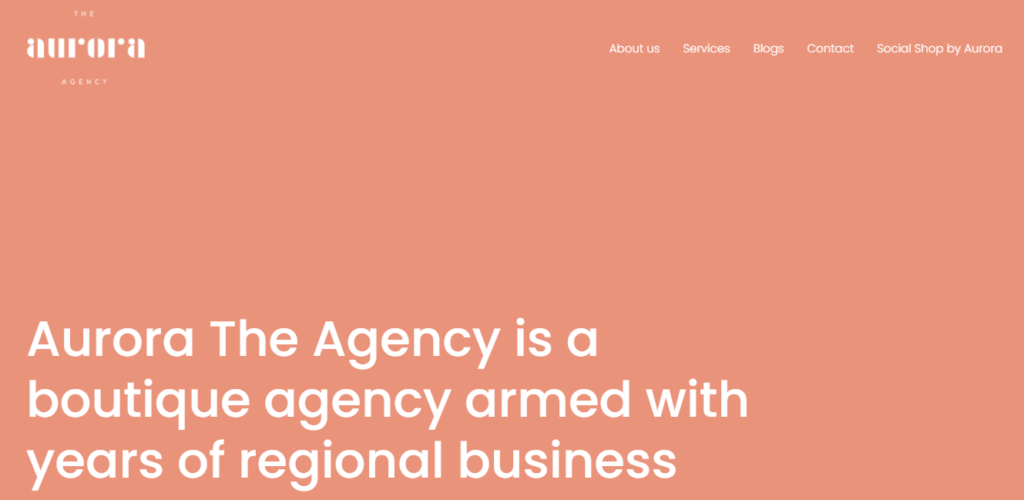 Aurora Advertising LLC is a boutique agency that was founded by Emirati partners and established back in 2013 and has since then been armed with years of regional business experience and expertise. They offer a wide range of advertising solutions sR Strategies and Campaigns, Social Media and Digital Support, Event Management, and Creative Design among others.
They consist of staff who possess creative minds, are current activation gurus, PR talents, and excellent digital experts who have a deep understanding of the concepts and culture surrounding Arad, Emirati and GCC areas and its people. They are committed to working closely with their clients in a proactive relationship from which they will both benefit in the long run.
They are driven to develop and help clients come up with comprehensive strategies in order for them to deliver results that will add value to the business but also take the said client's business to the next level. Their clients have highly acclaimed them to be very professional with a strong sense of responsibility and initiative to produce result-driven services.
We recommend this company for clients who are looking for a PR agency that is highly accommodating and professional when it comes to their services which consistently exceeds each client's expectations.
Proactive professionals
Comprehensive strategies
Creative and innovative approaches
Customer Reviews
Here are some reviews from their clients:
"Just want to say that it is always a pleasure to work with Sophia and team Aurora. They are extremely professional and easy to deal with. They always respond very quickly with all necessary requirement. They even go out of their way to help when required. Wish you guys best for everything."
"It has been a real pleasure working with Aurora. During my numerous interactions with them, they have been able to follow through in a timely manner. I worked with them when I was seeking information about EMAC so that I could better understand what the company does. Aurora information was indeed very helpful in giving such insightful information that allowed me to formulate an article that would be both informative and interesting."
Practices almost everything under corporate and finance, public affairs, and health and pharmaceuticals
Operates across the Middle East and North Africa (MENA) region
No information about their team members
12 . Sociate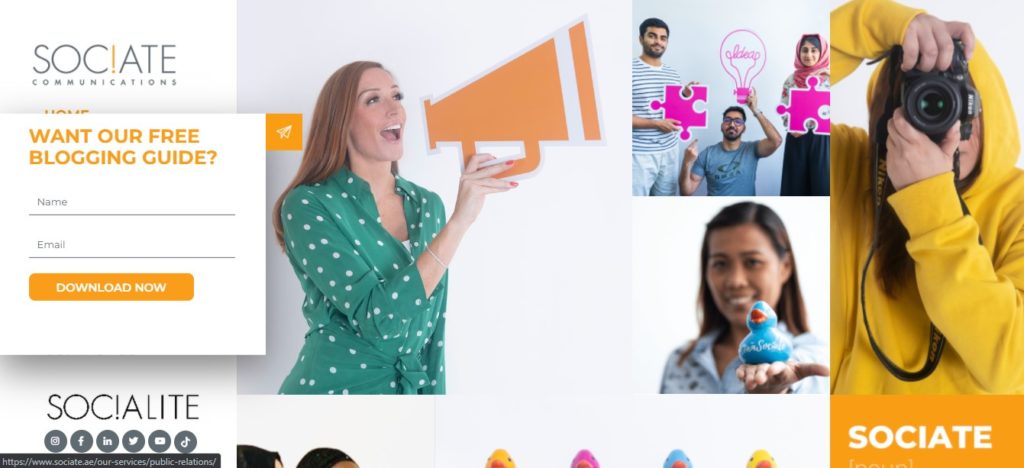 WEBSITE
https://www.sociate.ae/
ADDRESS
SOCIATE DMCC
Office No. 401, 4th floor, BB2,
Mazaya Business Avenue,
JLT, Dubai, U.A.E

CONTACT DETAILS
Email:

[email protected]


Phone: +971 4 321 3139
OPERATING HOURS
Contact for more information
Sociate has been providing PR services in the area since 2015. Even though they are a bit new, they can already cater to a host of local and international clients that span various industries.
In comparison to other companies, they can do 6 to 8 week projects with brand press office set up and PR account maintenance. Aside from only this, they can also boost your brand's digital presence with the help of their sister agency namely, SOCIALITE.
With their help, your public image will not be a problem of yours at all. They will maintain or even grow, what you already have.
Unfortunately, their rates are not available on their website. So make sure to contact them first and see if it is within your budget.
Offers other services aside from PR
UAE Sociate team members' background can be seen on the site
Rates and operating hours are unavailable
Customer Reviews
Here are some reviews from their clients:
"Have collaborated with Sociate several times now and they are always a pleasure to work with. Professional and efficient with great attention to detail and high standards of output."
"A fantastic team to work with. Very professional. Highly recommended. Keep up the good work Rosa and team!"
"Always a pleasure as a journalist to work with a group that is creative and exceptionally helpful. Sociate does the best for its clients and also doesn't push for coverage unless it's appropriate and suits both my magazine and their client."
How to Choose the Best R Agency in Dubai
The top PR agencies in Dubai always know how to drastically improve any brand image no matter what state it's in. However, the best ones are well-seasoned in boosting your particular brand.
Here are some tips to help you choose the PR agency that can best cater to the needs of your brand:
1. Ask for a quote
As you've seen from our price table, PR services are bound to leave a sizable hole in your pocket. It's wise to reconsider how much you're willing to spend to get a boost for your brand image.
Fortunately, it's possible to ask an agency for a quote after consulting them. We highly recommend calling up each PR agency you consider to get an informed estimate on their prices, then compare which one is the most affordable for you.
2. Look at portfolio
PR agencies love to strut their stuff — PR is their thing, after all. Their websites usually show a catalog of the major clients they've worked with.
If you're looking for a PR agency that's suited to upping your business's PR, simply look through their portfolios and see if the kind of services they offer match your needs.
Pretty much any agency can help you, but only proven experience in a particular field indicates whether or not they're the best at doing so.
3. Read reviews
Of course, if you want a more impartial source of information, third-party reviews outside of the website can better describe what it's like to work with a certain PR agency.
As we've said, look for feedback on PR services that are relevant to your needs.
FAQs about the Best PR Agencies in Dubai
---
You can rest easy knowing that your brand will only improve with any one of the best PR agencies in Dubai listed here.
If you're not under a PR crisis but rather looking to boost your company's market reach on the Internet, by the way, give our list of the best digital marketing agencies in Dubai a try.