The Top 6 PR Agencies in Dubai
Featured Image Source: AbsolutVision via Unsplash
Public relations is more than just saving a brand image — it can determine the success of your business. Unfortunately, most business owners don't know how to do their own PR, so they need to hire others for it.
In your case, we're here to save you hours of tedious research with our list of the top PR agencies in Dubai, along with a price table and a guide to help you pick the best one for you.
How Much Do PR Agency Services Cost in Dubai?
There are various ways that PR agencies charge for their services. See below for the average rates for the most common payment schemes:
| | |
| --- | --- |
| Retainer | AED6,500 – AED90,000/month |
| Hourly rate | AED350 – AED2,500/hour |
| PR campaign | AED10,000 – AED16,000/month |
| Project-based | AED25,000 – AED100,000 |
The Best PR Agencies in Dubai
Let us now proceed with our round-up of the top PR agencies in Dubai!
It can be difficult to decide which one to go with, so read on after the list for our guide to help you choose the best one for you.
1. Matrix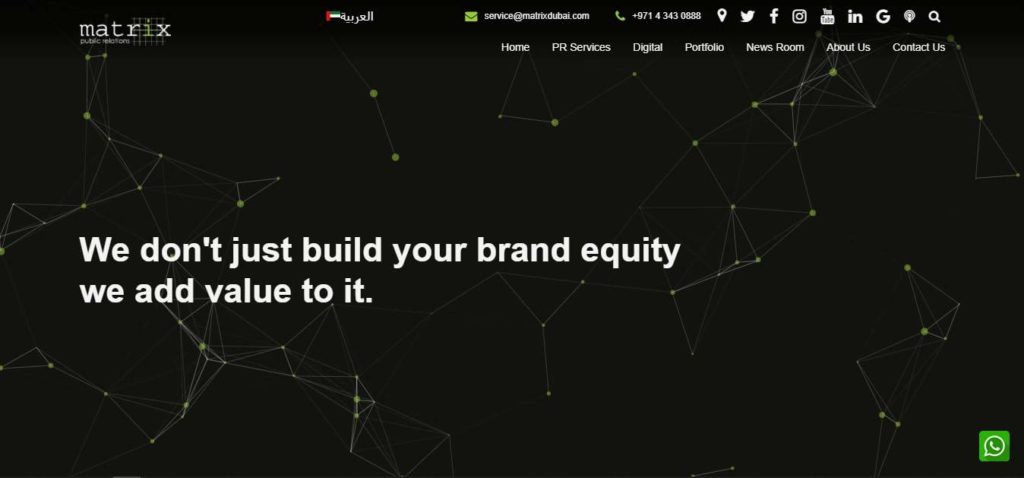 We consider Matrix one of the best PR agencies in Dubai for one crucial reason: experience.
This agency has been in operation since 1999, built upon the knowledge and standards of 3-decade PR veteran Jack Pearce. Such vast experience means that you're sure to get the best that Dubai has to offer in PR services.
Their team is made of PR experts across multiple countries who are proficient in public relations for various languages including French, Swahili, and Arabic. If you want to focus on boosting your brand image in particular regions, Matrix is highly capable of doing that.
Altogether, Matrix's overall expertise and background allows them to be flexible in their PR services for every client. No matter the niche of your branding or reputation, Matrix is always dependable as a PR agency.
As the oldest PR agency in Dubai, they've retained a large clientele over the decades. This can make it difficult for you to avail of their services, as they'll be busy dealing with a lot of clients.
However, if you're willing to wait, Matrix may be "The One" for you.
Two decades of PR experience
International expertise
Highly custom-tailored services
Hard to book appointments with them at times
Customer Reviews
Contrary to the simulation in the 1999 movie of the same name, Raj Ferds' experiences were real and pleasant:
"My experieces with Matrix have been harmonious and professional. I feel reassured that I am dealing with real people who offer down-to-earth solutions. Quite clearly Matrix understands today's PR landscape and engage well with their stakeholders — always going the extra mile to offer that one extra solution."
Hoshi Siganporia's business thrived under Matrix's services:
"We, at The Big Idea Advertising, know that we can always count on Matrix PR to deliver the goods. From time to time, we use Matrix services for our Clients' PR requirements and have found them to be extremely effective and on the ball. Working with Melwyn and team has been a great experience!"
2. Pop Communications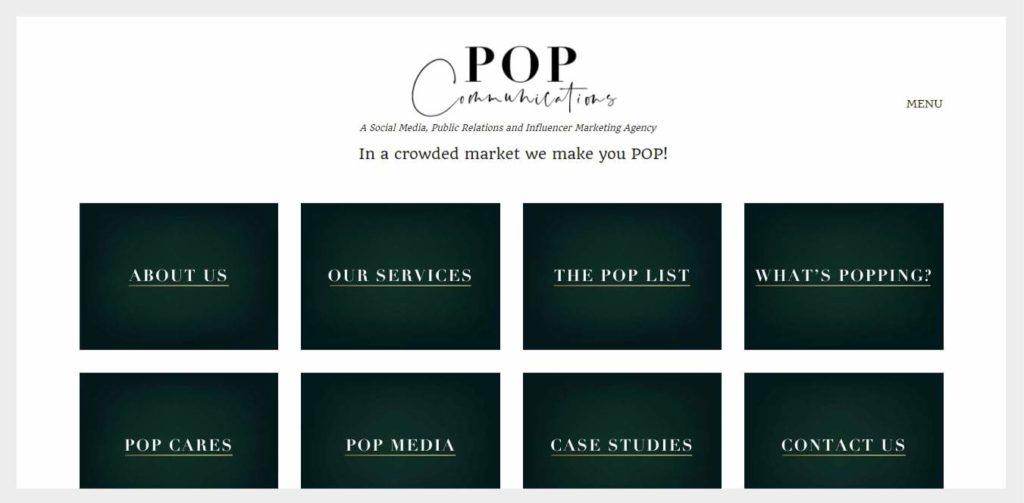 WEBSITE
https://www.popcomms.ae/
ADDRESS
Oryx World Business Center Empire Heights Tower B A-03-05, Podium 3, Business Bay, Dubai, UAE
CONTACT DETAILS
+971 50 887 5879


[email protected]

OPERATING HOURS
Sunday – Thursday: 9:00 AM – 6:00 PM
If you're an influencer, freelancer, or anyone who's looking to boost their personal brand, Pop Communications can help you greatly.
Their top offering is individual brand consultancy, specializing in influencer PR, social media, and reputation management.
We especially want to highlight their services for influencer marketing, which cover various areas including community outreach, social media campaigns, brand partnerships, and other strategies.
You need not look further than their "POP List," which shows an impressive number of past clients in Dubai — both individual and corporate — thriving from their social media strategies.
To those who are looking to manage corporate-level PR in other aspects, though, we advise you to look at our other entries. Pop Communications offers pretty limited PR services in that regard compared to the rest of the agencies in this list.
Otherwise, we highly recommend Pop Communications to you if you're looking to boost your individual brand through social media and influencer marketing. In that much, they're hard to beat.
Strong individual brand consultancy
Variety of influencer PR services
Consistently successful social media campaigns
Few corporate PR services
Customer Reviews
Were it not for Pop Communications, Bespoke Getaway Safaris wouldn't have found success:
"We had the absolute pleasure of having POP Communications take care of our marketing and PR when we were in our most delicate infant stage as a start up. Within just weeks we were featured in 2 news papers, 3 radio shows, and had a feature in one of the most prestigious magazines in the travel industry world wide.
This was just what we needed as a start up in the travel industry and it was all thanks to the lovely team at POP Communications. We could not recommend them enough and encourage everyone looking for the breakthrough they are looking for to give them a try and see the results for themselves."
Photobooth Dubai paints a positive picture of working with this agency:
"Great team to work with. Creative thinkers and lovely event organisers who make our job so much easier. A pleasure to work with"
3. Iris PR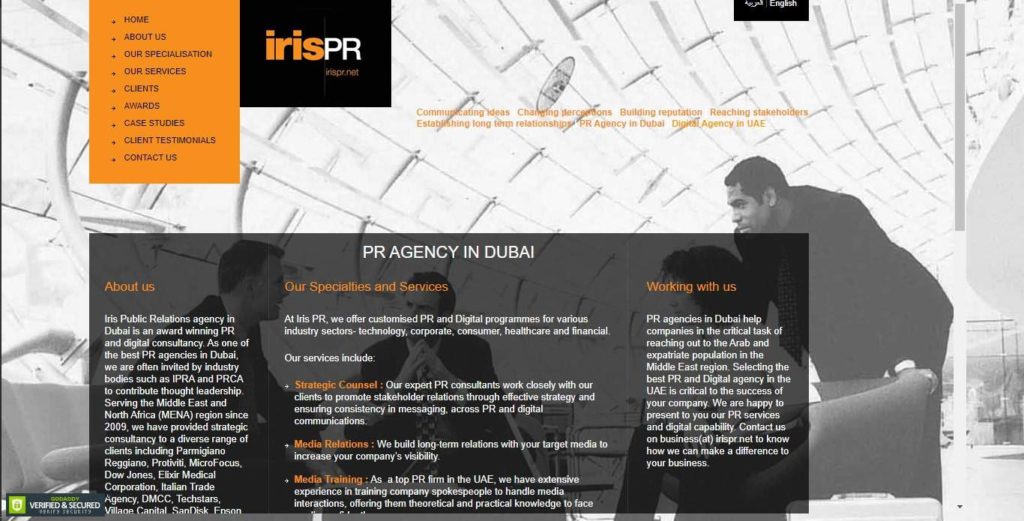 Iris PR is an agency that specializes in public relations solely for businesses.
Their services cover PR not just on a B2C-level but also on the B2B-level, which is highly beneficial for companies looking to expand their affiliations with other organizations.
In fact, much of their offerings are rooted in the roster of experts that they have for every field they cover, including healthcare, finance, real estate, and trade associations – to name a few.
This means that Iris PR is highly capable of providing their services to companies of any niche, and can definitely help you out on PR concerns for your company.
They also feature editorial PR services that can greatly expand your brand reach through newspapers, magazines, and other media outlets.
While all of that sounds outstanding, Iris PR's services may prove too much if you want to boost your individual brand. Since their offerings are industrial-grade, smaller companies may find their offerings or rates overwhelming.
But if you're looking for a PR agency that can provide top expertise for your company's needs, Iris PR is our pick for you.
Specialises in B2B PR
Industrial-grade expertise
Editorial services
Not suitable for small, individual brands
Customer Reviews
Mariam Rahman, a satisfied client, gave a glowing review:
"Iris PR is the most trusted one you will come across in the search for a Digital marketing agency in Dubai. They provide the best strategic counsel and deliver exceptional marketing solutions."
Tod Bauch commended Iris for their strong eye for PR excellence:
"Iris PR is without a doubt the best Technology PR Agency in Dubai. My company has seen
significant growth after partnering with Iris. The firm has strong expertise in IT, network security,
fintech, enterprise management and others."
4. Atteline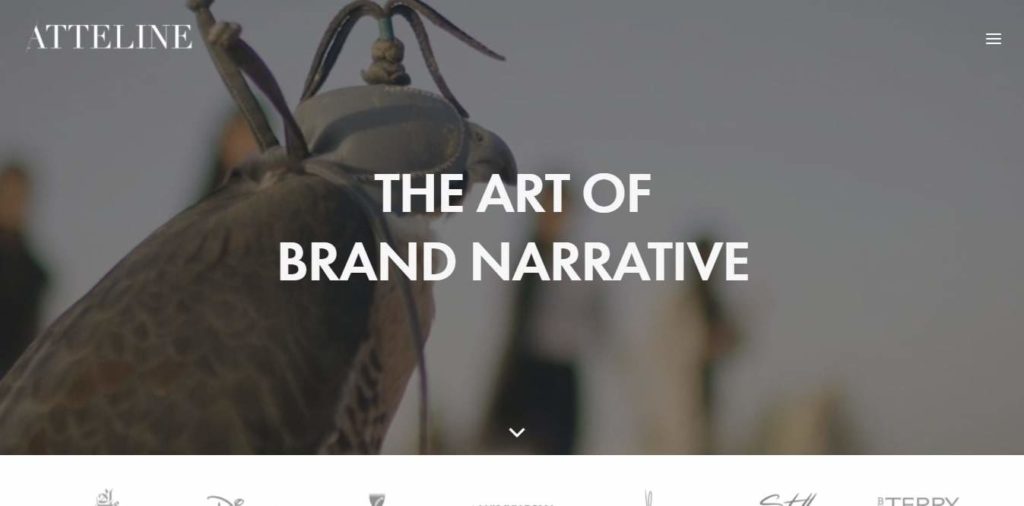 Brands that target millennials and members of "Gen Z" will benefit greatly from Atteline's PR services.
Atteline grounds its services in establishing a strong social network for PR success, which they get from knowing what millennials and Gen Z members want. You can see this from their main offerings, which include digital media coverage and strategic partnerships.
In other words, those looking to jumpstart a new brand image will find that Atteline is a fantastic choice for acquiring digital market reach.
The philosophy of their services extends to their staff as well. Many former clients report how at ease and comfortable they felt when they worked with Atteline, which may be a good break from other battle-hardened PR agencies.
They currently specialize in doing PR for fashion and beauty companies. However, other industries will enjoy similar-quality services from Atteline.
Unfortunately, they're not very handy with PR crisis management, since they're more concerned with creating rather than recreating, so to speak.
With the ever-evolving landscape of the market, however, we find it too difficult to pass up Atteline as one of the best PR agencies in Dubai.
Suitable for digital start-up brands
Dedicated, friendly staff
Highly specialized in fashion and beauty industry
Little experience in crisis management
Customer Reviews
Anika Berger commented that with Atteline, your PR will never be out of line:
"I have found that Atteline is not only professional but also has one of the most friendly PR teams you will find. They work hard, support you at every moment, and always look for opportunities to ensure you are getting the best coverage. If you are looking for a PR agency for your luxury brand, this should be your first choice."
Rusol Al Hano's experience with Atteline's staff was completely pleasant:
"One of the best PR agencies in the country. Love the work, love the people that work there, so nice and accommodating, definitely recommend this agency if you need help with your PR."
5. Golin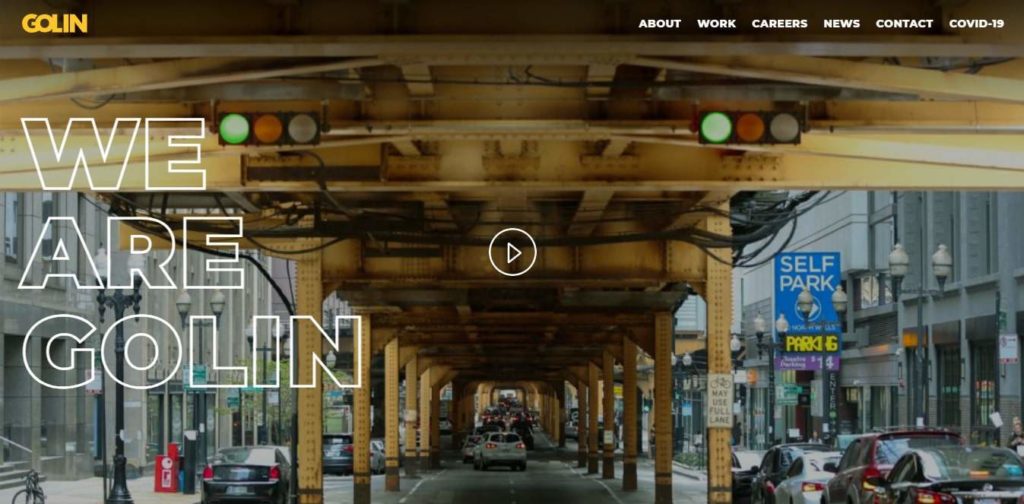 WEBSITE
https://golin.com/
ADDRESS
7th Floor, Capricorn Tower, Sheikh Zayed Road, Dubai, United Arab Emirates
CONTACT DETAILS
+971 4 332 3308


[email protected]

OPERATING HOURS
Sunday – Thursday: 9:00 AM – 6:00 PM
Headquartered in Illinois, USA, Golin only expanded its business to Dubai. Given how large their impact is in the PR industry, adding them to this list was a fairly obvious decision.
With nearly 6 decades of experience under their belt, Golin is highly capable of handling any kind of client and PR-related matter, offering services such as crisis management, corporate strategy, influencer marketing, and social media, to name a few.
Such services are sure to boost your brand practically anywhere you want, whether locally in Dubai or elsewhere in the world. Their international expertise allows them to be flexible to any company's PR needs.
Their portfolio speaks for itself — Cadbury, Evian, and Dove are just a few of the many top brands that Golin has worked with throughout their years of running.
With that being said, they're not too experienced in conducting PR services in Dubai compared to our other entries. Having only set up camp in the region in 2005, Golin may not be able to satisfy your domestic PR needs as well as the older local PR agencies.
But as a jack-of-all-trades, Golin never fails to disappoint as a PR agency in general.
Well-rounded PR services
Global reach
Impressive portfolio
Inexperienced in Dubai PR compared to other entries
Customer Reviews
Golin's vast expertise left a lasting impression on Joshua Mathias:
An excellent and one of the best PR Agencies in Dubai. They offer exceptional services across the entire GCC, Middle East and North Africa regions. Everyone that works there is extremely knowledgeable about various industries in the region and are up to date with the latest technologies to help clients capitalize on situations in real-time for some incredible opportunities and results. Would highly recommend working with them and you must ask them about The Bridge.
Rawan Lutfi's heartfelt review gives an all-around description of what it's like working with Golin.
"Golin MENA been my second home since graduation. I am proud to be part of a committed agency that for sure delivers more than what promised and develops great long lasting relations with clients, suppliers, employees and other stakeholders. My time at Golin MENA has allowed me to grow both creatively and professionally, largely due to the ethos of family and teamwork that the company encourages."
6.   Sanguine Communications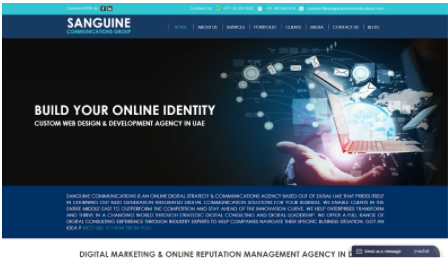 Sanguine Communications offers high-quality digital communication solutions that can help their clients and their business from the middle east. Their wide range of services has the capability of creating exceptional business outcomes.
They are a team of highly skilled workers and great communicators with great backgrounds in the digital world. They think out of the box gaining more than 500+ clients in the past.
Their experiences make them more reliable in, small or large scale businesses. Overall, Sanguine Communications are very efficient with their work and is worth the time, trust, and money.
Highly experienced
Knowledgeable with their field
Environment can be improved
Customer Reviews
Here's a review from one of Sanguine Communication's clients:
"A good experience working with the team at Sanguine. They surely do what they promise! 🙂" -Shailendra Kumar
Here's another one:
"The team is definitely hard working, innovative and has a positive attitude. All the best guys!" -DrYogi Ravi
How to Choose the Best PR Agency in Dubai
The top PR agencies in Dubai always know how to drastically improve any brand image no matter what state it's in. However, the best ones are well-seasoned in boosting your particular brand.
Here are some tips to help you choose the PR agency that can best cater to the needs of your brand:
1. Ask for a quote
As you've seen from our price table, PR services are bound to leave a sizable hole in your pocket. It's wise to reconsider how much you're willing to spend to get a boost for your brand image.
Fortunately, it's possible to ask an agency for a quote after consulting them. We highly recommend calling up each PR agency you consider to get an informed estimate on their prices, then compare which one is the most affordable for you.
2. Look at portfolio
PR agencies love to strut their stuff — PR is their thing, after all. Their websites usually show a catalog of the major clients they've worked with.
If you're looking for a PR agency that's suited to upping your business's PR, simply look through their portfolios and see if the kind of services they offer match your needs.
Pretty much any agency can help you, but only proven experience in a particular field indicates whether or not they're the best at doing so.
3. Read reviews
Of course, if you want a more impartial source of information, third-party reviews outside of the website can better describe what it's like to work with a certain PR agency.
As we've said, look for feedback on PR services that are relevant to your needs.
FAQs about the Best PR Agencies in Dubai
---
You can rest easy knowing that your brand will only improve with any one of the best PR agencies in Dubai listed here.
If you're not under a PR crisis but rather looking to boost your company's market reach on the Internet, by the way, give our list of the best digital marketing agencies in Dubai a try.