Top 5 Places for Office Cleaning Services in Dubai
There are a lot of office cleaning services that you can hire to help keep your offices clean and sanitized for your safety and convenience. However, how do you pick the best service provider for you?
To help with that, we've put together a full-fledged guide to the best office cleaning services in Dubai. Here, we covered common questions like the cost of these services, and our own list of the top places to go to for office cleaning that you can refer to so you can decide.
How is the pricing for office cleaning determined in Dubai?
The total price of office cleaning in Dubai will depend on which service provider you'll choose, how big the space is, and the time spent in cleaning.
The price will also depend on the intensity of cleaning you require. The standard cleaning service will mostly include tidying up, vacuuming, sweeping, mopping, cleaning of surfaces, and the like.
However, there is also an option for deep-cleaning services, which are more thorough. This includes the cleaning of the insides of your cabinets, drawers, and cupboards, cleaning of windows and hard to reach areas, steaming of rooms, and even grout cleaning upon request.
Deep-cleaning is perfect for when you have just moved into a new office and need it to be spick and span. Of course, this will cost more than the standard cleaning service.
To give you a ballpark price to help you gauge the cost, for an hour of standard cleaning, it will cost around 30-50 AED. This depends on the service provider and whether or not you will provide the cleaning materials or they will bring their own.
To get a better estimate for the cleaning of your office, you can ask for a free quotation from the service providers. From there, you can decide on which one can give you the best deal for the services you need.
The Best Office Cleaning Businesses in Dubai
We assessed the service providers based on the following criteria:
1. White Spot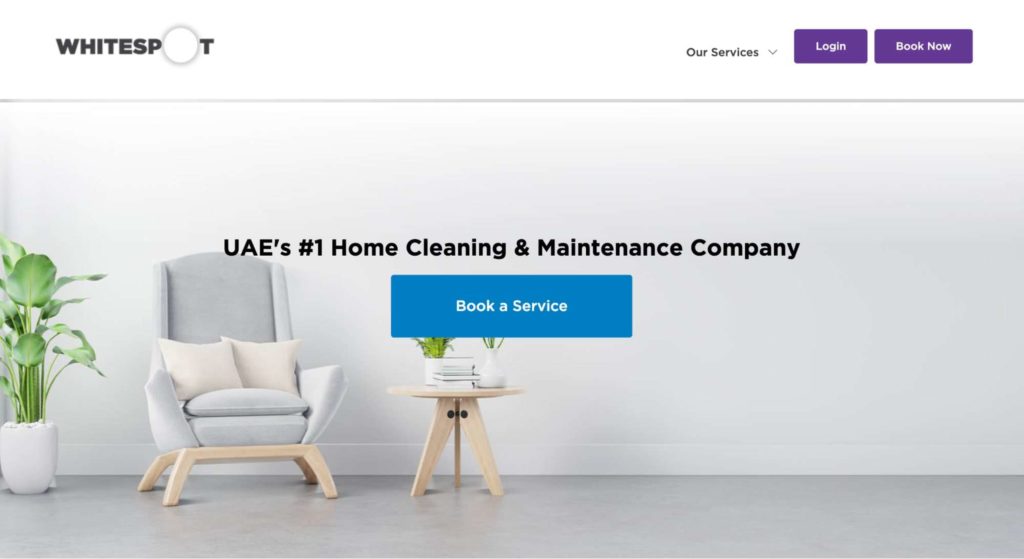 | | |
| --- | --- |
| ACCESSIBILITY | ★★★★★ |
| RANGE OF SERVICES | ★★★★★ |
| QUALITY OF SERVICES | ★★★★☆ |
| AFFORDABILITY | ★★★☆☆ |
Established in 2017, White Spot is a cleaning company that offers a wide range of services. Aside from cleaning services, they also offer deep cleaning, disinfection, pest control, and handyman services among others.
They are a one-stop shop for cleaning and maintenance of your spaces – both private and commercial. So, it's pretty convenient if you ever need any other services done aside from cleaning.
Their company may be relatively younger than competitors, but it's well worth the mention because of its great track record with clients.
White Spot claims that their employees are trained for hotel standards and are strictly vetted. This seems to hold up based on our poll of their previous customers.
Majority of their previous clients commented on the professionalism and conscientiousness of White Spot's employees. They also mention that the employees get to their appointment on time, which makes a good impression off the bat.
You can also avail of their services with ease. You can book an appointment through their website where you have two options: do online booking or request for a callback.
Both processes are intuitive and fast, making for a seamless booking based on our experience. We don't seem to be the only ones impressed by that, as a lot of customers also praised the efficiency of their booking system in their reviews.
Their website is also very intuitive to navigate. As a bonus, they have helpful and informative articles about their services that you can check.
Upon inquiry, the rate for their office cleaning services mostly depends on the size of your office (which is pretty standard).
For a 500 square feet office, for example, they charge 189 AED for standard cleaning for four hours. You will get one cleaner and they will bring their own cleaning materials.
So that boils down 47.25 AED an hour, which is a bit steeper compared to other competitors.
If you can provide the cleaning materials, it will cost 147 AED for standard office cleaning for four hours. That will amount to almost 36.75 AED an hour.
That's a bit over the 30-AED-per-hour rate their site usually refers to, so bear that in mind if you're trying to reckon costs based on that data.
This means it's best to reach out to them directly for a quotation for your specific requirements instead of just relying on the (estimated) figure they quote in their marketing materials. They reply quickly on Whatsapp based on our experience, so you can contact them there.
They are also very active on their social media, which is a good indicator that they'll respond quickly there too. They also post promotions and sales on their services on their pages, so make sure to follow them if you want discounts.
Another plus is that they are open all days of the week. So, you don't have to worry about any scheduling conflicts.
Extremely fast booking process
Wide range of services (deep cleaning, disinfection, AC service, handyman, and pest control services)
Well trained employees
Responds fast to queries
Open all days of the week
Fairly young (established in 2017)
Not that transparent about prices on their page (needs further inquiry)
Customer Reviews:
Extremely impressed with the smooth process
I am extremely impressed with the smooth process of booking a service with WhiteSpot! From the call, that was handled by a professional and efficient customer service associate, extremely polite and informative! To the timely process. Everything was explained in great details! And my booking was made easy! Team went on time and finished the job 5 stars! -Kimmy Co
Very punctual and they do a superior job
The Customer service is very friendly, helpful, and responsive. There are a lot of ways to contact their customer service, making them very flexible. This cleaning service does a very thorough job of cleaning. The agents and maids are friendly, very knowledgeable, and kind. I also ask assistance for their maintenance team and provide immediate action, our appointment arrived on time. They're very punctual and they do a superior job. Great job guys! -Greg Stephen Raboy
2. Spectrum Services Cleaning and Maintenance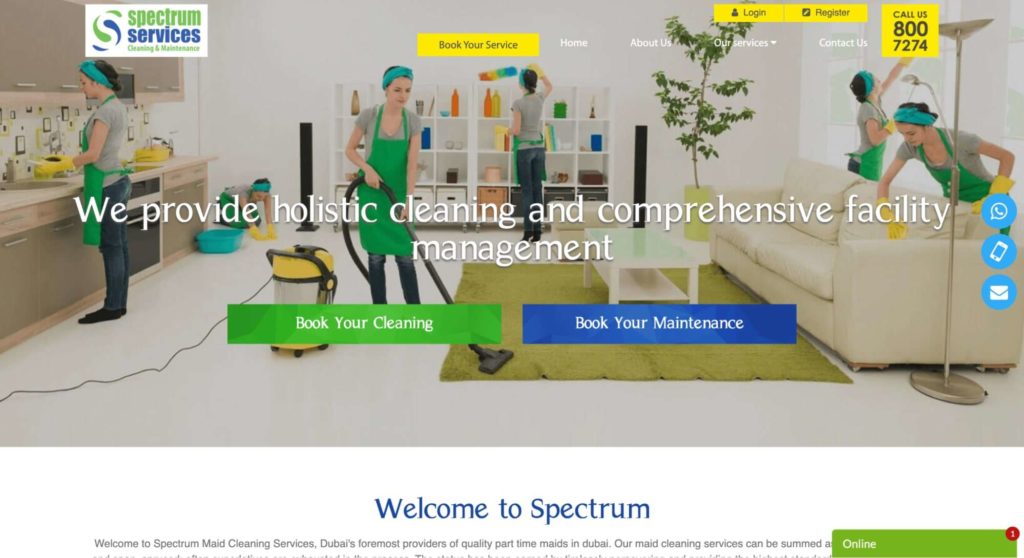 | | |
| --- | --- |
| ACCESSIBILITY | ★★★★★ |
| RANGE OF SERVICES | ★★★★☆ |
| QUALITY OF SERVICES | ★★★★☆ |
| AFFORDABILITY | ★★★★☆ |
Spectrum Services has over seven years of experience in the cleaning business. They claim to have over 100,000 satisfied customers to date.
We can see that they have extensive experience in the industry. Aside from that, they also offer maintenance services and even babysitting services for the busy parents out there.
Based on customer feedback, though, they seem to be more well known for their maintenance services than their cleaning services. So that's something to consider about this service provider.
That said, we wouldn't have put them on this list if their cleaning services weren't solid. They differentiate their cleaning services according to the following categories:
Regular house or commercial space cleaning
Before and after party cleaning
Deep cleaning
Sofa and carpet cleaning
floor cleaning
Cleaning for when you're moving in or out of a space
They seem to be very versatile and can handle a wide range of cleaning situations, not just standard cleaning. Talking to their past clients confirmed this.
For their office cleaning, there is no limit to the size of the space. You can even hire them to clean warehouses and connected buildings.
Upon inquiring on Whatsapp, they charge 35 AED per hour for cleaning an office, which is cheaper compared to the others. Note however that cleaning materials are not included in this price.
If you want them to bring their own cleaning materials, they charge 40 AED an hour, which seems to be within the industry standard.
What's noteworthy about this service provider is they have a 24/7 customer service hotline, so it will be easy to reach out to them regarding your feedback or even complaints.
They also have a mobile application where you can book their services, making the process more accessible and easier.
Has a mobile application for booking
Replies to inquiries promptly
Rates are within industry standard
24/7 customer service hotline
Open all days of the week
Seems to specialise more in maintenance services than cleaning services
Customer Reviews:
Everything was extremely professional
I started using Spectrum's services recently. They repaired my AC's, cleaned the ducts, and painted my entire villa. They also did a deep cleaning after that. Everything was extremely professional and perfect. I highly recommend them. -Marmar Kids
Their staff are great and well trained
I order Spectrum's services weekly, and all their staff are great and well trained as well as trusted. They are flexible when it comes to time and have reasonable prices. Ideal for a monthly package as well. -DM
3. Helpsters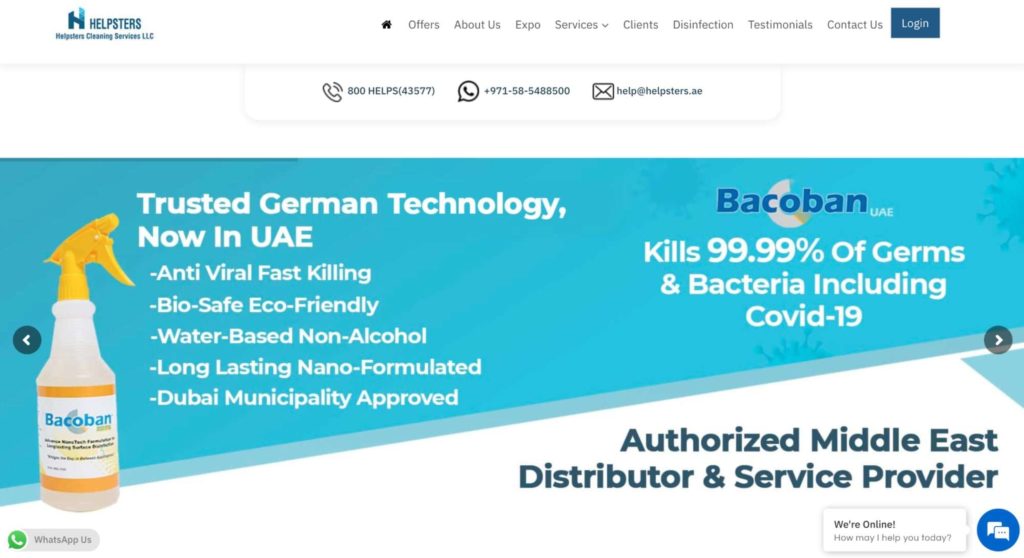 | Test | Info |
| --- | --- |
| WEBSITE | https://helpsters.ae/ |
| ADDRESS | Helpsters Cleaning Services LLC Office 513, Churchill Executive Tower, Business Bay, Dubai, United Arab Emirates. PO Box – 414460. |
| EMAIL ADDRESS | [email protected] |
| TELEPHONE NUMBER | 800 Helps(43577) |
| OPERATING HOURS | Monday-Saturday 8 AM-8 PM |
| | |
| --- | --- |
| ACCESSIBILITY | ★★★☆☆ |
| RANGE OF SERVICES | ★★★☆☆ |
| QUALITY OF SERVICES | ★★★★★ |
| AFFORDABILITY | ★★☆☆☆ |
Helpsters is a cleaning service that offers residential and commercial cleaning and disinfection.
They seem to have extensive experience cleaning commercial spaces because they clean offices, banks, nurseries, shopping malls, stores, hospitals, etc. This shows us that they are well-versed and versatile when it comes to cleaning different types of spaces.
They have successfully delivered some cleaning exhibition projects and were actually in the Expo 2020. They also held a disinfection drive in the RTA Metro.
Despite their company being younger than most (they were established in 2018), they have been trusted with big cleaning projects already in the past where their expertise and experience in cleaning were displayed.
When we inquired about the price, we learned that they charge by the hour. However the rates will depend on whether it's a one-time cleaning job or a regular one.
If it's a one-time cleaning job, they charge 50 AED (not including VAT) per hour per cleaner. If it's a regular cleaning job, they charge 45 AED per hour for every cleaner.
So you get a better deal if you make them your regular cleaners for your office. This works best if you need cleaning done frequently.
Their rates are a bit more expensive than other cleaning services, but by a small margin only. Still, that small amount can pile up if you have a lot of cleaning that needs to be done, so if you're looking for a cheaper option, it might be best to book an appointment elsewhere.
As for accessibility, they are easily reached through their Whatsapp. They reply quickly there based on our experience.
Their social media is not updated, however, making it inconvenient to reach them and look through their services online. So it might be best to reach them via phone call or through WhatsApp instead.
Commercial cleaning seems to be their specialty
Have extensive experience in big events
Offers disinfection services
Highly accessible
Fee is on the high side compared to competitors
Social media is not updated
Younger compared to competitors
Customer Reviews:
Highly recommended
Highly recommended…it's not the first time to deal with them. Since our company moved to Churchill tower, they are providing us office cleaning service, the prices are good. When we moved in, the first day the office was so dusty and dirty and they helped a lot to clean it, even the ceiling and everything.Thank you Katherine for your help. -Omar Fouad
Responsive to all our queries and requests
We went to Helpsters the first time for cleaning our offices and we've been using their services ever since. Great service! They even ask if we are already satisfied with their service before leaving. Kudos to Tijina and her team as well who had always been so responsive to all our queries and requests. Even at the last minute! They have also never failed to inform me of any changes in the schedule. Thank you. Will recommend it.-Jewel Gales
4. Busy Bees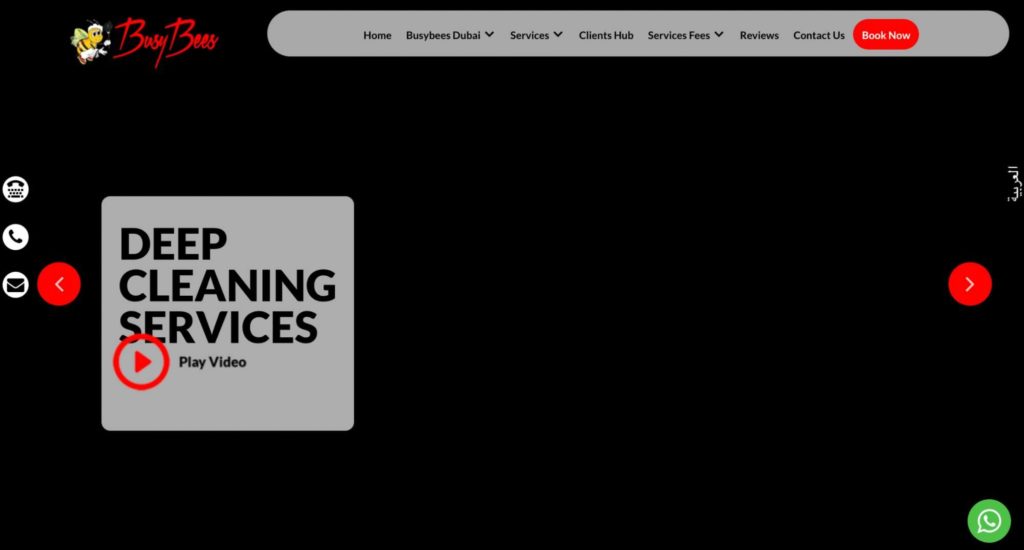 | Test | Info |
| --- | --- |
| WEBSITE | https://busybeesdubai.com/ |
| ADDRESS | Al Barsha Business Center Office 110 A and 110 B - Dubai - United Arab Emiratesi |
| EMAIL ADDRESS | [email protected] |
| TELEPHONE NUMBER | +971 50 709 0626 |
| OPERATING HOURS | Monday-Sunday (8:30 AM - 6 PM); Closed on Fridays |
| | |
| --- | --- |
| ACCESSIBILITY | ★★★☆☆ |
| RANGE OF SERVICES | ★★★★☆ |
| QUALITY OF SERVICES | ★★★★☆ |
| AFFORDABILITY | ★★★☆☆ |
With 13 years in operation, Busy Bees has extensive experience in residential and commercial cleaning. They are also experienced in building maintenance.
This is great if you need other services done aside from standard cleaning. However, their main business is commercial cleaning.
They have a vast range of clientele, from offices, clinics, hospitals, schools, and buildings. To date, they have satisfied over 300 corporate accounts, which is an impressive number.
A lot of their clients are also long-term clients that have been acquiring their services since 2009. This shows us that they are consistent and well-versed in cleaning and disinfecting all types of corporate and private spaces.
They have over 22 kinds of services, including deep cleaning, post-construction cleaning, furniture cleaning, COVID-19 disinfection, pest and rodent control, among many others. They are a one-stop shop for your office maintenance needs.
What's interesting about this service provider is that they have a client hub designed so you can issue requests for their services, check your invoices, view scheduled services, and even follow up on your quotations. They're impressively digitalized for a cleaning service, we think.
Through their system, they also keep track of their employees and also help the employees keep tabs of the customer's details and preferences that are saved in the system.
So it's clear, we're definitely in favor of this setup. This is a huge plus for the user's experience, making booking and keeping track of appointments easier.
They charge 45 AED an hour for office cleaning, inclusive of cleaning materials. Not a bad rate, but you have to hire them for a minimum of four hours, so if you don't need intensive cleaning, it might be best to book an appointment elsewhere.
Their rate is within the industry average, technically. However note that there's an extra fee if you schedule them from 6 PM to 10 PM. Regular cleaning during this time costs around 70 AED, which can get steep.
As for their accessibility, they respond quickly on Whatsapp. They don't post regularly on social media, but they're still worth a follow because they post their promos and sales on their social media platforms.
Specializes in commercial cleaning
Has a wide range of clientele
Has a lot of return corporate clients
Has a clients hub that improves UI
Experienced (Established in 2008)
Inactive on social media
Rates from 6 PM to 10 PM are steep
You need to hire them minimum of 4 hours at a time
Customer Reviews:
High quality disinfection and cleaning services
Busybees is very reliable. The quality of cleaning and disinfection service is excellent. Their cleaning products are environmentally friendly so you may not worry about any effects on your health and the environment itself. They are punctual as they arrive on or before the appointed date and time. Security will not be an issue while you leave your home with them during the cleaning service. I definitely recommend Busybees to anyone who seeks high quality disinfection and cleaning services. -Harlene Cruz
5 Star Service
I usually don't pay attention to the cleaning process, however your team impressed me with their attention to detail, they knew exactly the order of the tasks, came well equipped, they took their time to clean places that I wasn't even hoping they would see, for sure 5 star service! See you next time.-Daniel Trofin
5. Dubai Clean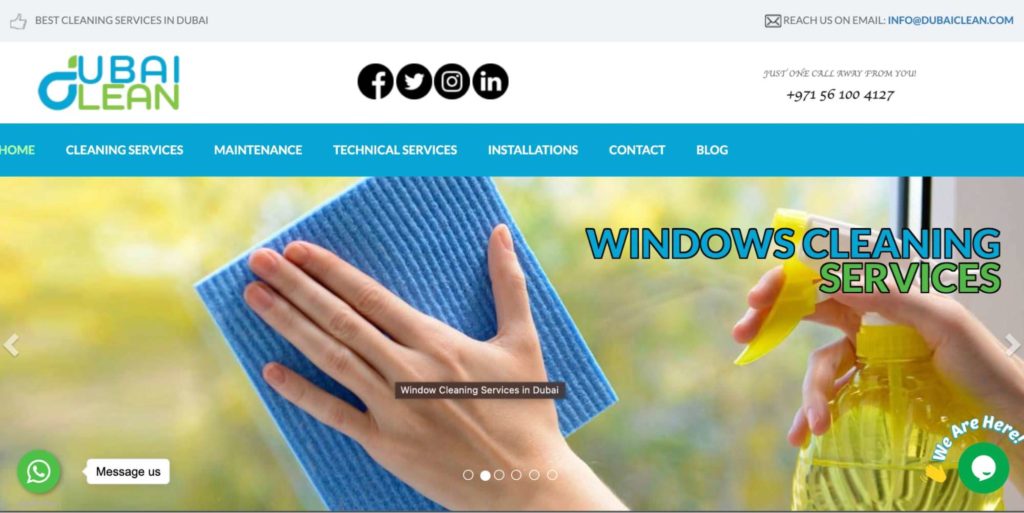 | | |
| --- | --- |
| ACCESSIBILITY | ★★★☆☆ |
| RANGE OF SERVICES | ★★★★★ |
| QUALITY OF SERVICES | ★★★★☆ |
| AFFORDABILITY | ★★★★★ |
Dubai Clean was established in 2013 and offers different kinds of services, including residential and commercial cleaning, maintenance, and technical services. This is great, especially for those offices with areas outside that need maintenance.
Included in their commercial cleaning services are the following:
Floor sweeping
Floor waxing
Carpet cleaning
Mopping
Trash removal
Pantry cleaning
Upholstery cleaning
Banner cleaning
And more. As you can see, they seem very thorough when it comes to cleaning offices.
This seems to hold up in our poll of their previous customers. A lot of them praise Dubai Clean for their responsiveness, quality of work, and professionalism.
Dubai Clean mentioned that their motto is "Cleaning and Maid Services to be done on time". This reflects in their customers' feedback, where a number commented that cleaners even arrive earlier than scheduled, which makes for a good first impression.
The rate for their cleaning services will depend on whether you're opting for a long-term contract with them or just a one-time cleaning job. If it's just a one-time service, they charge 35 AED an hour.
This makes them one of the cheaper cleaning services in our list. You might even get a better deal if you get a long-term contract.
Their website doesn't really go into length about their services, though, which makes it inconvenient to look through their services if you don't want to contact them just yet.
They aren't very active on social media either, which makes us think that it might not be a good idea to reach them there. It might be best to just contact them directly via a phone call or Whatsapp.
Wide range of services
Affordable rate compared to the others
Punctuality of employees
Outdated social media
Website doesn't offer a lot information
Customer Reviews:
Did a great job and were very professional
I took a risk and found these guys online – Rizwan was very quick to respond and was so friendly! His team did a great job and were very professional- also at a very reasonable price! I give them 5 stars and definitely recommend them! -Zeina Younes
Had all the necessary professional tools and deep cleaning requirements
Team arrived at 7:40 am which was earlier than promised which was at 8:00 AM, a very good beginning. So they started to arrange their tools and start their work in peace, the team were well trained, they had all the necessary professional tools and deep cleaning requirements. They finished on time and made sure that every room was well finished, mopped and sanitized. It was an amazing deep cleaning experience and will definitely recommend to all and will use their services in the future. -Mercy Pascual
How do I choose which office cleaning service provider to hire?
1. Affordability
Office cleaning needs to be done regularly to ensure the safety and comfort of the people working there. Since you'll avail of the service frequently, it is important to find the service provider where you'll get the best possible deal.
Once you have finalized your list of service providers, ask for a quotation from them. Most charge by the hour, while some charge depending on the size of the space.
Some even offer promos, so watch out for that to get the most bang for your buck.
2. Extent of services
Check out what's inclusive in the services they provide. You have to find the best one that fits your needs and budget.
Some offer pest control and maintenance services along with their cleaning services should you need them, for example. It's best if you find a place that is a one-stop shop for any concern you may have.
3. Insurance
Accidents happen and it's crucial that you're insured just in case. You can ask service providers up to how much their insurance can cover.
4. Reviews
Reviews are a great litmus test for the service provider's professionalism, attitude, and other factors that you will probably not find on their website.
Keep your eyes peeled for ratings and reviews on their social media to help you see if they're the right one for you.
FAQs about Office Cleaning in Dubai
---
Did we miss a great office cleaning service provider? Make sure to let us know by sending us a message.
By the way, here are more articles related to cleaning and maintenance: