The Best Museums in Dubai: A Unique Cultural Experience
Dubai is not only a city of skyscrapers and shopping malls but also a city of museums that showcase its diverse heritage and innovation.
Whether you're interested in art, science, religion, or history, you'll find a museum that suits your taste and curiosity!
So, if you're ready to open your eyes to the soul of Dubai, look no further. Join us as we unveil the hidden treasures, remarkable exhibits, and unique experiences that await you in museums.
Dubai Museum
Website: https://dubaiculture.gov.ae/
Address: Al Fahidi St, Bur Dubai – Opposite Grand Mosque – Dubai
Contact details: 800 33222;[email protected]
Operating hours:
Saturday – Thursday, 08:30 AM to 08:30 PM
Fridays – 02:30 PM to 08:30 PM
Fee:
Adult – AED 3
Child(Below six years old) – AED 1
Dubai Museum is the city's main museum located in the Al Fahidi Fort, built in 1787. It's actually the oldest building in Dubai!
The Ruler of Dubai, Sheikh Rashid bin Saeed Al Maktoum, opened the museum in 1971. It showcases Dubai's history and original heritage, and you can get a glimpse of everyday life before the discovery of oil in the UAE.
At the museum, you can see exhibits that show how people lived before the discovery of oil, such as their houses, mosques, markets, farms, and fishing activities.
You can also see artifacts from ancient civilizations that traded with Dubai, such as Africa and Asia. There are city models from different periods, from 1820 to the present.
Dubai Museum is a great place to visit if you want to understand the origins and development of Dubai and how it became one of the world's most modern and dynamic cities.
Furthermore, you can embrace the Emirati people's profound heritage, customs, and accomplishments across diverse domains.
Pro tip:

Take an abra (a traditional wooden boat) across Dubai Creek from Deira to Bur Dubai (or vice versa) and explore the various souqs before or after visiting the museum.
Saeed Al Maktoum House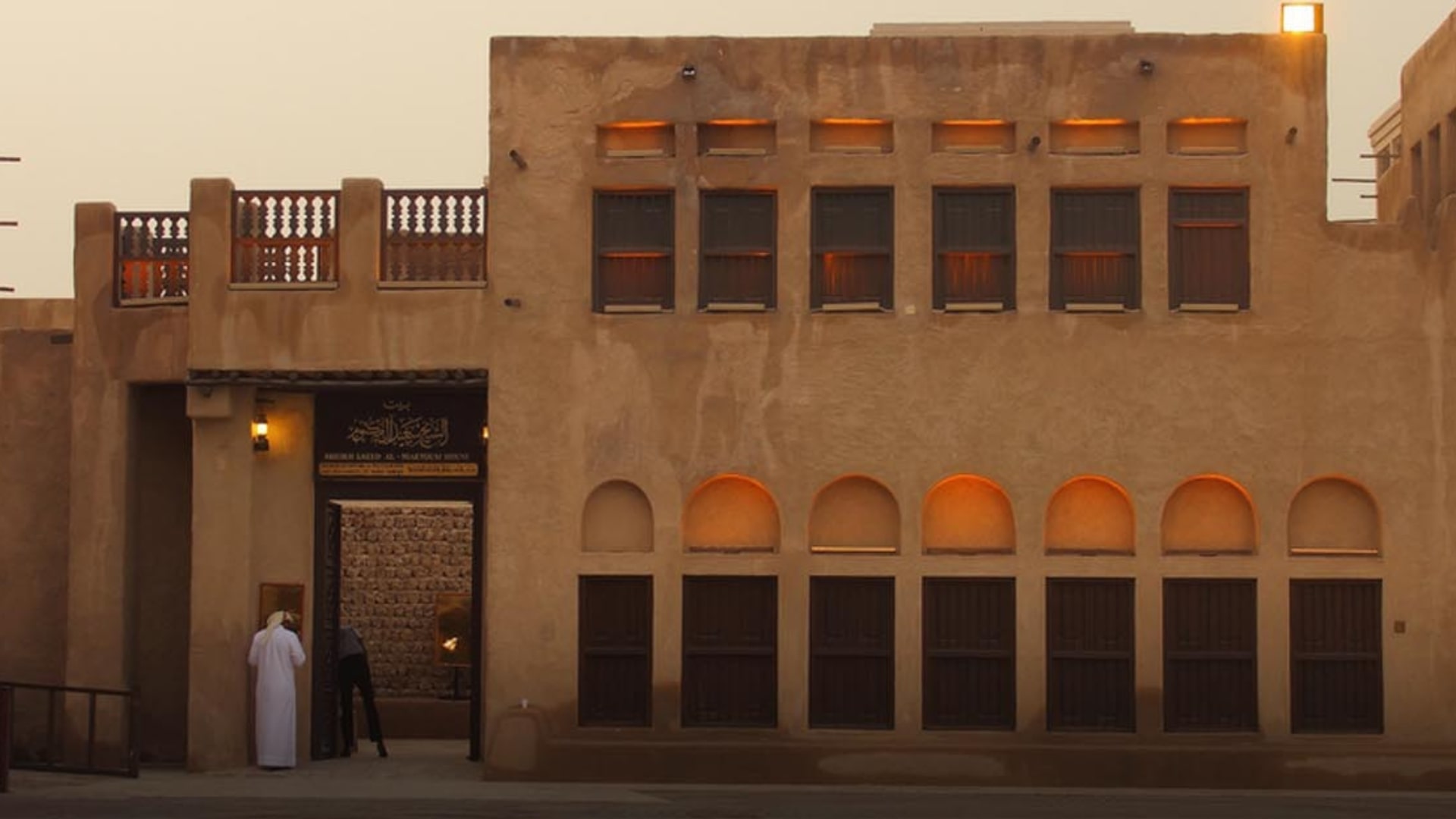 Website: https://dubaiculture.gov.ae/
Address: Bur Dubai, Near Al Mulla Mosque, Al Shindaga Area, Al Shindaga Road
Contact details: 800 33222;[email protected]
Operating hours: Monday – Sunday, 8 AM to 8:30 PM
Fee:
Adults – AED 15
Students – AED 5
Child(Below five years old) – Free
Sheikh Saeed Al Maktoum House is a historic building and former residential quarters of Saeed bin Maktoum Al Maktoum, the former ruler of Dubai in the United Arab Emirates.
The building is located along the Dubai Creek in the locality of Al Shindagha area. It was established around 1896 as the seat of the Al Maktoum family.
Today, the architectural marvel houses an incredible collection of old photographs taken around the city, including never-before-seen private images of the royal family.
The original building dates back to 1896 and was expanded and renovated several times to get it to its current magnificence.
Featuring three courtyards surrounded by 30 rooms and flanked by four wind towers, its architecture dates back to the 19th century. It has vaulted high-beam ceilings, sculpted window overhangs, and arched doorways.
You can peek behind ornamented teak doors, study coins, stamps, and documents dating as far back as 1971, and appreciate views across Dubai Creek from the upstairs majlis.
Pro tip: 

Combine your visit with a tour of the Shindagha Historic District, where the house is located.

The Shindagha Historic District has recently been restored and features several other exciting attractions, such as the Perfume House, Saruq Al Hadid Archaeology Museum, and the Crossroads of Civilizations Museum.
Etihad Museum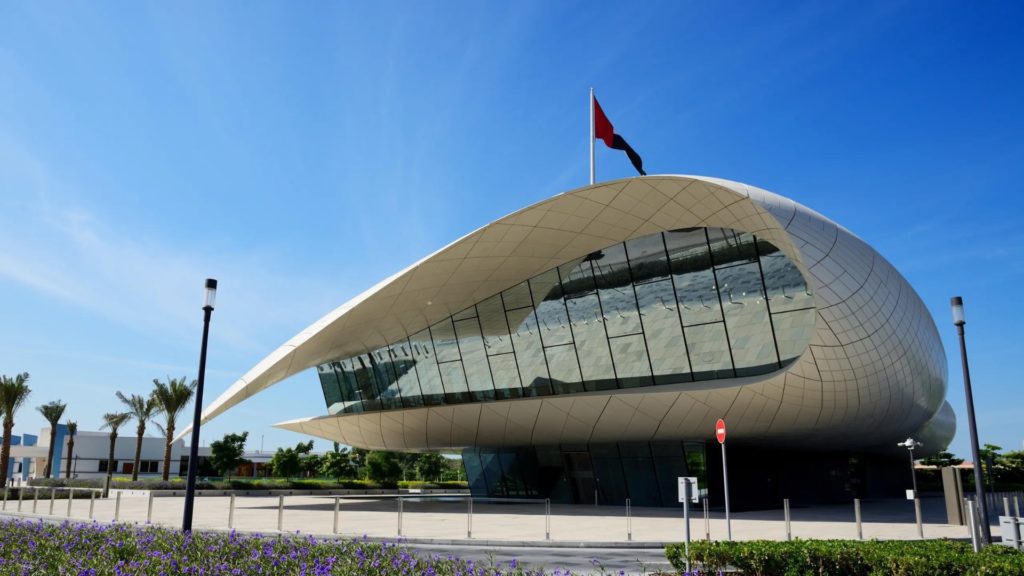 Website: https://etihadmuseum
Address: 1 Jumeirah St – Al Mina – Dubai – United Arab Emirates
Contact details: +971 4 515 5100
Operating hours: Monday – Sunday, 10 AM to 8 PM
Fee:
Adults – AED 25
Group more than 10 – AED 20 for a single ticket
Students(Between 5 – 24) – AED 10
Child – Free
The Etihad Museum showcases the heritage of the United Arab Emirates in various aspects of its history, such as social, political, cultural, scientific, and military.
It's on the same historic site as the Union House, where the UAE constitution was signed in 1971.
The museum has a distinctive curved white roof that resembles the shape of the constitution, designed by Canadian architects Moriyama and Teshima.
This museum invites you to explore the UAE's history through interactive pavilions that feature photos, films, and more. It also has a library, an education center, a temporary exhibition hall and a restaurant.
Pro tip:

We recommend dropping by the Seven Sands Cafe on the 3rd floor and try their delicious sweets.
Museum of Illusions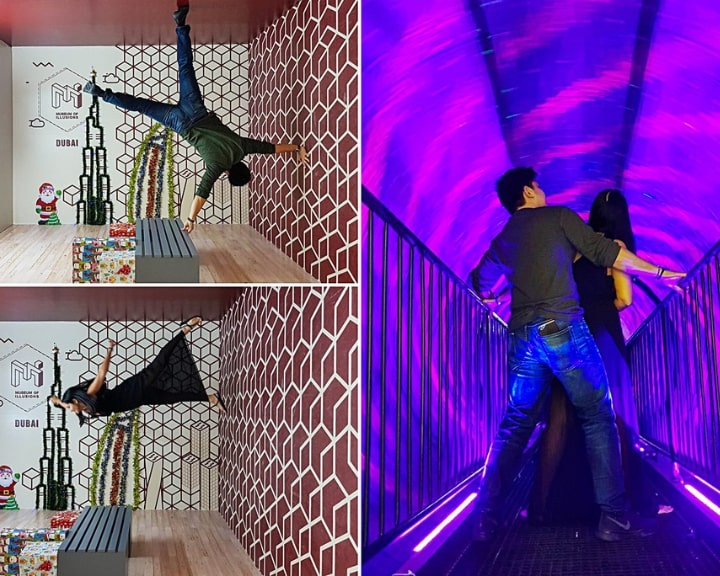 Website: https://museumofillusions.ae/
Address:  Al Seef – Dubai Creek – Dubai – Dubai – United Arab Emirates
Contact details: +971 4 357 3999
Operating hours:
Monday – Thursday, 10 AM to 10 PM
Friday – Sunday, 10 AM to 11 PM
Fee:
Adult: AED 80
Child (5-15 years) – AED 60
Child (below five years) – FREE
Student/Senior 60+ – AED 70
Family (2 adults + two children) – AED 225
Family & Friends (5 tickets – adults or kids) – AED 340
POD (People of Determination) – AED 40
The Museum of Illusions is a chain of optical illusion museums founded in Zagreb, Croatia, in 2015. The museum has since expanded to over 40 cities in 25 countries, making it the fastest-growing chain of museums in the world.
It features a variety of exhibits that explore the science of perception. You can see yourself getting taller or shorter in the Ames room, walking on walls in the Infinity Room, and getting lost in the Vortex Tunnel.
The museum also has several interactive exhibits that allow you to learn how their brains work.
You can explore the fascinating world of illusions that will trick their confidence in their senses and amaze them by doing so. They have amusing and nifty tricks that teach visitors about vision, perception, the human brain, and science.
Pro tip:

Bring a friend or two with you, as some illusions require more than one person to achieve the desired effect.

If you need pose suggestions, just look for a framed picture near the illusion, which will show you a recommended pose to help get your creativity flowing
Al Shindagha Museum
Website: https://alshindagha.dubaiculture.gov.ae
Address: 288 – Dubai – United Arab Emirates
Contact details: 800 33222; [email protected].
Operating hours: Monday to Sunday, 10 AM to 8 PM
Fee:
Adult – AED 15 ·
Group: AED 10
Student: AED 5
People of Determination – Free
Child – Free
Al Shindagha Museum is a world-class heritage museum housed in a traditional Arab house built in the 19th century.
The museum tells the story of the history and culture of Dubai, from its humble beginnings as a fishing village to its current status as a global metropolis.
It has a variety of exhibits, including traditional clothing, household items, and photographs. It also has many interactive exhibits that allow visitors to learn about Dubai's history in a fun and engaging way.
For example, there is an exhibit where you can try on traditional clothing and take a photo and a display where you can learn about the boats used in Dubai's past.
Al Shindagha Museum provides diverse and innovative cultural experiences for tourists and various cultural activities for all family members within high-quality facilities.
Pro tip:

Take advantage of local and multilingual cultural guides in the museum. They can provide you with a wealth of information about the exhibits and displays, as well as the history and culture of the UAE.
Museum of The Future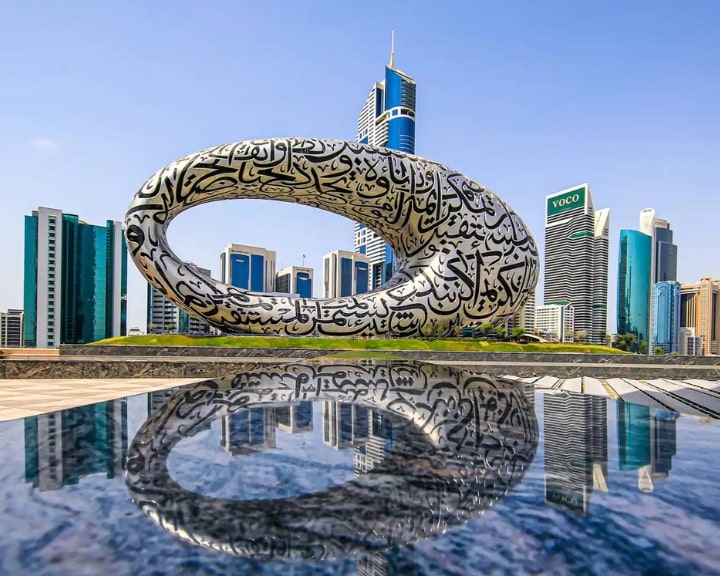 Website: https://museumofthefuture.ae/en
Address: Sheikh Zayed Rd – Trade Centre – Trade Centre 2 – Dubai – United Arab Emirates
Contact details: +971 800 2071
Operating hours: Monday – Sunday, 10 AM to 7:30 PM
Fee:
Adults – AED 149
Children – Free
People of Determination – Free
The Museum of the Future is devoted to innovative and futuristic ideologies. Located in the Financial District, the Museum of the Future has three main elements: green hill, building, and void.
Museum of the Future explores how society could evolve in the coming decades using science and technology. It's a place to learn about the latest innovations and imagine the future possibilities.
We recommend visiting the "Future Heroes" exhibition, which is designed to inspire innovation in children aged 4 to 11.
Through interactive experiences, it helps your children develop essential skills in communication, collaboration, and creativity, preparing them for the challenges and opportunities of the future.
Pro tip:

Make sure you have enough time to explore all the exhibits and zones, as there is much to see and learn.

The museum is not about honoring the past, but providing a peek into tomorrow — the year 2071 to be exact, coinciding with the centenary of the UAE's founding
Coffee Museum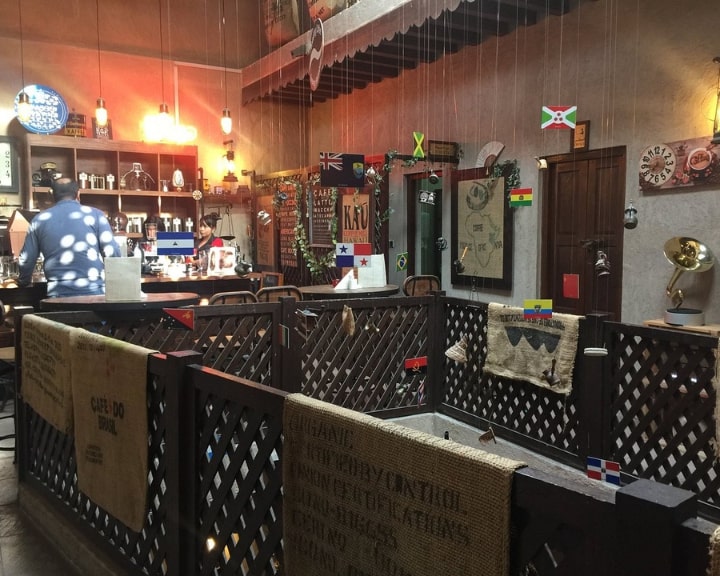 Website: http://www.coffeemuseum.ae/
Address: Historical Neighborhood, Bastakiya, Villa 44 – Al Hisn St – Al Fahidi – Dubai – United Arab Emirates
Contact details: +971 4 353 8777
Operating hours: Monday – Sunday, 9 AM to 5 PM
Fee: Free
The Dubai Coffee Museum is a unique museum that celebrates the history and culture of coffee. It's located in the Al Fahidi Historical Neighborhood in Bur Dubai.
The museum is spread over two floors and it has a variety of exhibits, including a timeline of the history of coffee, artifacts and even a tasting room where visitors can sample different types of coffee.
Pro tip:

Take advantage of the Arabic coffee and dates offered to all visitors when you arrive.