The Top 5 Mosques to Visit in Dubai
Visiting a mosque can be a great way to get to know the people and culture of Dubai. It's not just a house of worship for Muslims, but also a center of learning and cultural exchange for everyone who wants to visit.
But with over a thousand mosques all over the city, it can be quite overwhelming to choose which ones to visit so you can make the most out of your experiences. That's why we give you our top picks of mosques to visit in Dubai.
We also talk about the important factors we considered while choosing our entries and we answered some FAQs about mosques in Dubai to guide you further.
How much does visiting a mosque in Dubai cost?
Mosques, being institutions of religion and culture, are free for anyone interested in visiting.
However, the cost of requirements, such as what you wear and the tours you need to join, vary depending on the quality and availability of these.
So we've made a table of everything you need to prepare before going to a Mosque and included the price range of these.
| Item | Price Range |
| --- | --- |
| Kandora | AED300 - AED500 |
| Shayla | AED30 - AED80 |
| Abaya | AED70 - AED190 |
| Tour/Tour Guides | AED10 - AED 400 |
The Best Mosques in Dubai
Before we get right into our list of the best mosques to visit in Dubai, check out the factors we considered in picking them:
1. Jumeirah Mosque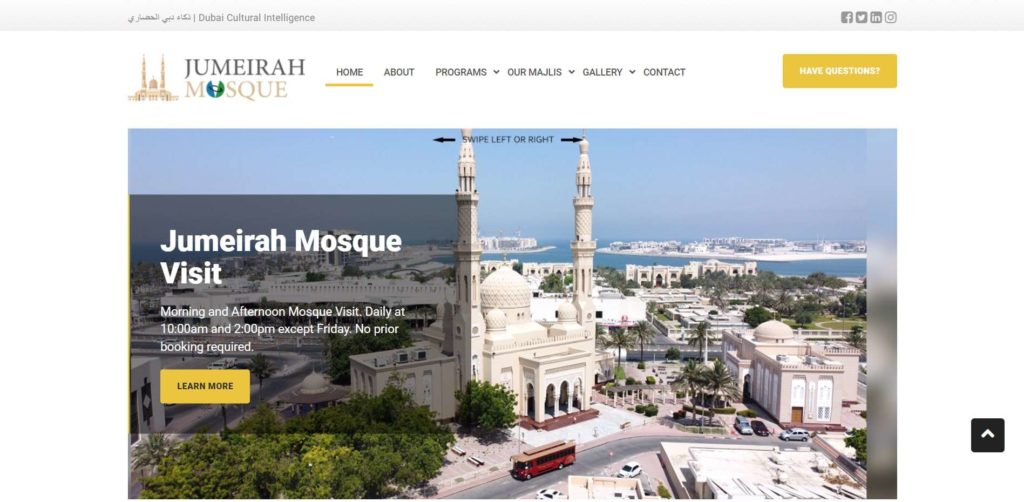 | Test | Info |
| --- | --- |
| WEBSITE | https://www.jumeirahmosque.ae/ |
| ADDRESS | Jumeirah - Jumeirah 1 - Dubai - United Arab Emirates |
| CONTACT DETAILS | +971 4 353 6666 |
| OPERATING HOURS | Saturday to Thursday: 10 AM and 2 PM |
| | |
| --- | --- |
| History | ★★★★☆ (4/5) |
| Cultural Significance | ★★★★☆ (4/5) |
| Accessibility | ★★★★★ (5/5) |
| Uniqueness | ★★★★☆ (4/5) |
Opened in 1979, the Jumeirah Mosque is not only one of the most famous mosques in Dubai, but it's' also one of the main attractions in the city that visitors make sure to visit.
It has been voted as the favorite cultural activity in the UAE for the last 20 years, and it's apparent in the number of visitors that we toured the mosque with.
The tour was really engaging and informational. The guides were very friendly and encouraged us to ask questions and clarifications every time they shared something with us.
We learned that the mosque was a gift from the late Sheikh Rashid bin Saeed Al Maktoum, the former ruler of Dubai and father of the current ruler of Dubai, HH Sheikh Mohammed bin Rashid Al Maktoum.
Besides that, it's also one of the key activities under the Open Doors Open Minds program of the Sheikh Mohammed bin Rashid Al Maktoum Center for Cultural Understanding (SMCCU).
SMCCU's mission is to create engaging programs to build awareness, understanding, and tolerance between nationalities from all over the world.
This means that the Jumeirah mosque has become a critical tool in letting people know of how beautiful Islamic culture is, and we're big fans of how they educated us throughout the tour.
Afterward, we were surprised with free traditional Arabian coffee and Fuala, a light traditional Arabian snack, as part of the cultural learning experience, and we think that added so much more engagement to the whole activity.
And despite the number of visitors they got that day, we were so happy how easy it was to get a tour of the mosque.
We arrived 30 minutes before the program started for the morning tour, and we filled up a form and only paid AED25 per person.
During that tour, our guides pointed out the special details that can be found in the mosque, and we really appreciated all these tidbits that are not easily known to people who haven't seen them.
The mosque was designed in the traditional Fatimid architectural style that originates from Egypt and Syria.
And while it's not the most unique design, it is unique compared to most of the mosques found in the city.
It's also one of the four mosques in Dubai that can be visited by non-Muslims—which we think makes the kind of access we had during the tour a little extra special.
The Jumeirah Mosque is a must-visit mosque and landmark. It doesn't matter if you're spiritual or not, you can visit to appreciate the beauty of the structure and the richness of the Islamic culture.
Cheap and easy guided tours
A cultural and religious landmark
Serves authentic coffee and snacks for free
One of few mosques where non-Muslims can enter
Can get crowded
The architectural style is common elsewhere, although unique in the city
Client Reviews:
We had the best tour guide!
"Very interesting experience! Learned a lot about Islam and relationships among the diverse religions within Dubai! The guide, Muhammad, was very nice and funny! If you ever visit here, definitely be there when Muhammad is the guide." —Paul Park, Google Reviews
Great way to experience the culture
"Spent a very interesting morning at the Mosque! SMCCU offers daily visits at 10 am and 2 pm (except Fridays). In 70 minutes you immerse yourself in the Islamic culture and you also have the opportunity to taste local food. The staff is very kind and helpful. I highly recommend this place! 🤗" —Cecilia Conforto Galli, Google Reviews
2. Sheikh Zayed Grand Mosque Center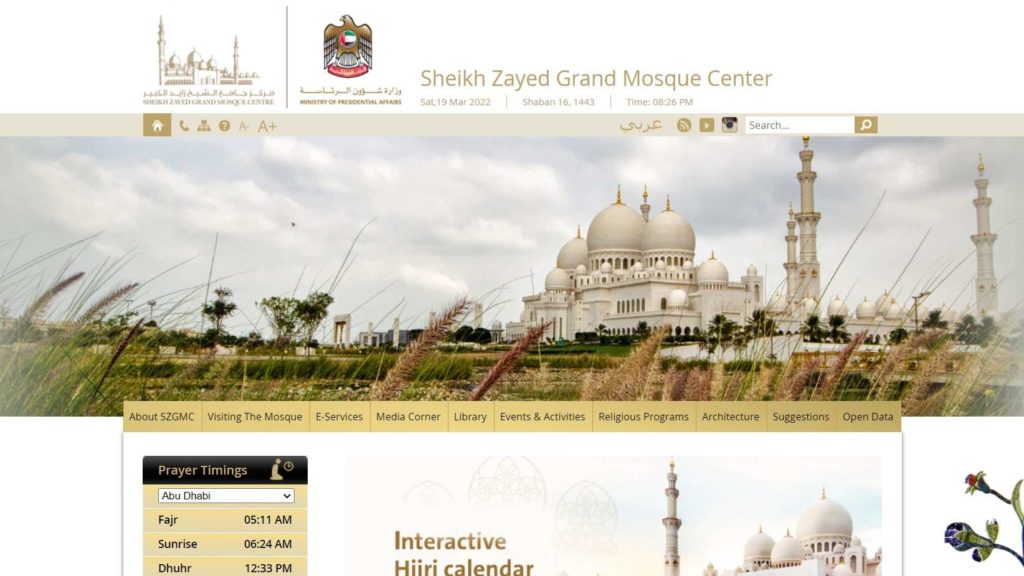 Test
Info
WEBSITE
https://www.szgmc.gov.ae/en
ADDRESS
Sheikh Rashid Bin Saeed Street - 5th St - Abu Dhabi - United Arab Emirates
CONTACT DETAILS
+971 2 419 1919
OPERATING HOURS
Sunday to Thursday: 9 AM to 10 PM

Friday: 9 AM to 12 PM and 3 PM to 10 PM
| | |
| --- | --- |
| History | ★★★★☆ (4/5) |
| Cultural Significance | ★★★★☆ (4/5) |
| Accessibility | ★★★★★ (5/5) |
| Uniqueness | ★★★★☆ (4/5) |
Opened to serve as a reminder that building a modern and sophisticated country can be done while preserving the cultural identity of the nation, the Sheikh Zayed Grand Mosque Center is one of our favorite mosques to visit in Dubai.
While technically located in Abu Dhabi, the mosque's post-modern and traditional Islamic architectural designs perfectly combined makes this a structure that should be seen by everyone.
Built as a tribute for the late Sheikh Zayed bin Sultan Al Nahyan's noble deeds and contributions to humanity, the construction used artisans, craftsmen, and materials from all over the world.
This was to emphasize the meaning of uniting the world through cultural exchange, taking a bit of the best parts of each culture and putting it into this mosque.
But our favorite part about this mosque, which goes unnoticed by a lot of visitors, is its huge support for printing and translating the Holy Quran and other Islamic literature to make it accessible for everyone.
They also have exhibitions in the mosque and in other parts of the world about Arabic and Islamic culture that we found to be very insightful and beautiful at the same time.
The best part about this is everything's completely free. The guided walk-in tours that include explanations of various elements of the architecture and culture come at no cost but your time.
You can also visit and explore the mosque on your own if you're more of a self-learner type of person.
And there are some interesting details about this mosque that you can see. While not having much cultural significance, the Grand Mosque houses the largest carpet in the world found in their main prayer hall.
This mosque is also the resting place of Sheikh Zayed bin Sultan Al Nahyan, the founding father of the UAE.
However, what we think makes the mosque unique on its own is its architecture because our guide explained to us that all of this was done to link the past and the present through postmodern architecture styles with traditional Islamic architecture.
The Sheikh Zayed Grand Mosque Center is definitely our favorite to recommend to architects, both professional and aspiring. Mainly because it truly is a shining example of how architecture can become such a powerful medium of communication to express its intentions of combining the past, present, and future.
Architectural design is a must-see
Notable and informational exhibits
Walk-in tours are free
The resting place of the founding father of the UAE
Other than the design, there isn't much anything to see
Located outside of the city.
Client Reviews:
Photos can't do the mosque justice
"It's a must-visit site when coming to the United Arab Emirates. One of the most beautiful religious buildings I've ever seen. The pictures I've captured didn't do her justice.
The mosque area is beautifully arranged and designed carefully. The chandeliers are perfectly picked. Years of perfectly creating this beauty.
A great piece of architecture, mashallah!" —Jamila Saleh, Google Reviews
The architecture is beautiful
"The Mosque is an interesting piece of art with a grand architecture that leaves one in awe. The pillars of the mosque have a palm tree design with gold detail. The mosque is one of the iconic landmarks in Abu Dhabi that is a must-see10 AM11 PM on vacation there. It is truly a magnificent structure" —Keith Bunda, Google Reviews
3. Al Farooq Omar bin Khattab Mosque
| Test | Info |
| --- | --- |
| WEBSITE | https://alfarooqcentre.com/en/ |
| ADDRESS | 119 6 D St - Al Safa - Al Safa 1 - Dubai - United Arab Emirates |
| CONTACT DETAILS | +971 4 394 4448 |
| OPERATING HOURS | Sunday to Thursday: 10 AM to 11 PM and 4:15 PM to 6 PM |
| | |
| --- | --- |
| History | ★★★★☆ (4/5) |
| Cultural Significance | ★★★★☆ (4/5) |
| Accessibility | ★★★★★ (5/5) |
| Uniqueness | ★★★★☆ (4/5) |
Mosques are not just for praying, they're also centers for learning, and Al Farooq Omar bin Khattab mosque does it best.
Modeled after the Blue Mosque in Istanbul, this Islamic site holds a variety of educational programs such as regular classes, seminars, summer camps, and mosque tours to further increase everyone's understanding of the Islamic religion.
It was also built to be a shining example of how beautiful Islam can be by being a mecca for tourists and foreigners.
And the beauty is obvious in the details scattered throughout the structure. We especially like the inscriptions found inside that are influenced by Ottoman-Andalusian art that dates back to 711.
It has also differentiated itself from other mosques in Dubai with some noticeable Turkish influences found in the blue-tiled floors, the 21 stained-glass windows, and the traditional Turkish fountain found in its grounds.
When we entered the mosque, we were invited to listen in on a Da'wah-related guiding speech that explains Islamic tolerance, moral rectitude, and etiquette.
And we thoroughly enjoyed listening to the guide as he highlighted the architectural and engineering creativity that was utilized to build this mosque.
But our favorite part of the tour was when our guide showed us the mosque's huge library.
We were simply amazed by looking at 3,000 books of various Islamic sciences in English and Arabic.
We took our time exploring the shelves of perfectly preserved textbooks and listened in on our guide as he told us the history of this library.
The downside to visiting Al Farooq is that it only accepts tours that are booked ahead of time, so this isn't a great option for when you're planning things last minute.
However, we think it is forgivable since the experience was so much better with a guide to give us insights into the creation and history of the mosque itself.
All in all, Al Farooq Omar bin Khattab Mosque is our top choice for those looking to learn more about Islamic and Arabian culture.
It's the perfect mosque to visit to sit down and absorb all the knowledge that their educational programs and library can give you.
Wide range of educational programs
Beautiful Turkish architectural style
Contains a huge library
Accepts tours booked ahead of time only
Client Reviews:
Powerful and beautiful
"Incredibly scenic and beautiful mosque. It's huge and very very well maintained. Gives you a powerful vibe inside and out. Inspired by Turkish-style 11 AM architecture, I've been told this is as good as being in an actual Turkish mosque. You can visit this mosque as a tourist also. Very friendly staff and security too." —Zeeshan Samad, Google Reviews
Beautiful inside and out
"One of Dubai's most beautiful and unique mosques. If you think the exteriors are beautiful, wait until you see the interiors!
On top of that, the amenities are well serviced and maintained." —Jaber M., Google Reviews
4. Grand Bur Dubai Masjid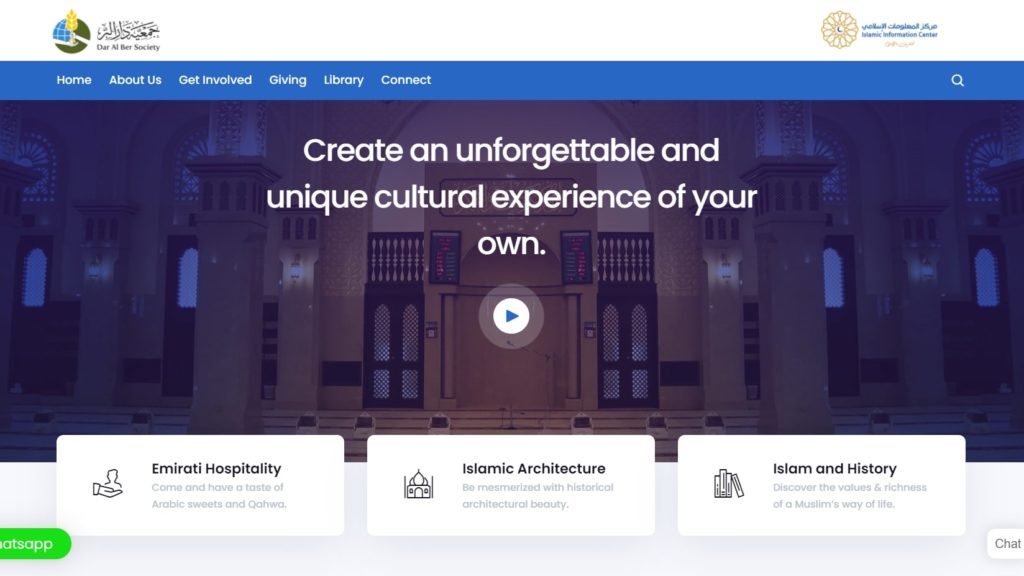 | Test | Info |
| --- | --- |
| WEBSITE | https://www.islamicic.com/mosque/ |
| ADDRESS | Opposite Dubai Museum, Near Rulers Court Office - Ali Bin Abi Taleb St - Al Fahidi - Dubai - United Arab Emirates |
| CONTACT DETAILS | +971 800 600 |
| OPERATING HOURS | Monday to Thursday: 10 AM to 11AM |
| | |
| --- | --- |
| History | ★★★★★ (5/5) |
| Cultural Significance | ★★★★★ (5/5) |
| Accessibility | ★★★☆☆ (3/5) |
| Uniqueness | ★★★★★ (5/5) |
While relatively new, the Grand Bur Dubai Masjid has already been a structure of great importance before it became a mosque.
It was once a school, or kuttab, devoted to the study of the Quran. The first students who attended in the year 1900 were known to have memorized the Quran by heart.
In 1960, a new mosque was built and was again rebuilt in 1998, designed to replicate the original architecture.
And the richness of its history doesn't end there. We really like that it's part of the Al Fahidi Historical Neighborhood and located between the textile souks and the Dubai Museum.
The mosque itself has always been part of the Dubai skyline, long before Burj Khalifa and other skyscrapers. We love the fact that it's surrounded by Dubai's history outside of Islam, too.
And what makes the building even more interesting is that its Iranian architecture makes it an uncommon style for a mosque in the UAE.
And a special detail that we simply fell in love with was the five large Quranic inscriptions at the entrance of the mosque.
When we joined the tour we were treated to demonstrations of ablutions and prayers, which made the whole experience immersive compared to being told and explained by guides.
They also had the best Arabic sweets, coffee, and tea that they shared after the 45-minute tour.
However, we found that the length of the tour felt too short, and we wish we had ample time to digest all the information and ask more questions afterward.
And all of these happened in the minaret, the tower of the mosque. And while it provided some beautiful views and photos—it is the tallest minaret in the world—we also wished we could have seen the inside of the mosque itself.
Unfortunately, while the tours are free, the Grand Bur Dubai Masjid is off-limits to non-Muslims and only accepts bookings ahead of time.
The Grand Bur Dubai Masjid makes up for its lack of accessibility to the public with the special views the minaret gives and the rich history that the guides and the surrounding area shared with us.
Located in the historical part of Dubai
Tours focus on demonstrations
Free snacks and drinks
Features the tallest minaret in the world
Tours are free
Accepts tours booked ahead of time only
The inside of the mosque is off-limits
Client Reviews:
A beautiful work of art
"The outside of the grand meshid in Bur Dubai is maybe modest, and the corridor of the meshid doesn't promise much more, either. But when you enter the main hall of the mosque you step into another world. Outside the meshid there is busy Bur Dubai with its endless traffic, uncountable many shops and people from everywhere from the world. But inside the meshid you meet a silent harmony of colors and lights. The colors and details of the praying hall are not many – for example in Jumeirah meshid – but decisive is rather the wholeness. The designer of the meshid's interior decoration has designed a great artwork, for the glory of Allah." —Hannu Toivanen, Google Reviews
A must-visit!
"A must visit, just the massiveness of the place and the way they have maintained the place for so many years is really commendable. It's all worth a visit." —Mayur Joshi., Google Reviews
5. Al Noor Mosque Sharjah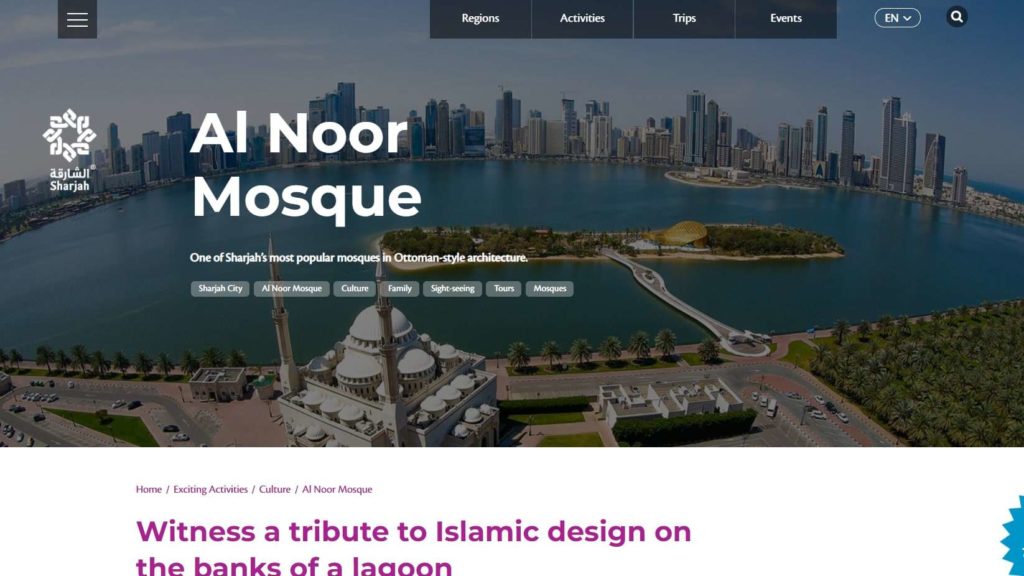 | Test | Info |
| --- | --- |
| WEBSITE | http://www.shjculture.com/ |
| ADDRESS | Corniche St - Al Majaz - Al Majaz 1 - Sharjah - United Arab Emirates |
| CONTACT DETAILS | +971 6 505 5888 |
| OPERATING HOURS | Monday to Thursday: 10 AM to 6 PM |
| | |
| --- | --- |
| History | ★★★★★ (5/5) |
| Cultural Significance | ★★★★★ (5/5) |
| Accessibility | ★★★☆☆ (3/5) |
| Uniqueness | ★★★★★ (5/5) |
If you're looking for a mosque that offers something unique to the experience of exploring Islamic culture, then the Al Noor Mosque in Sharjah is the one we recommend for you.
Built by the order of the ruler of Sharjah, Her Highness Sheikha Jawaher bint Mohammed al Qassimi, this Turkish-inspired mosque is known for its beautiful floral and geometric patterns found throughout the building.
Its 34 domes also make it one of the most unique-looking mosques in the region.
We also learned that this mosque is a trailblazer in the sense that it is the first mosque to open itself to non-Muslim visitors and paved the way for others to educate people about Islam.
When we joined a tour for this mosque, we expected more because it is the precedent of making Islamic education accessible to all. But what we got was almost the generic culmination of every other mosque that we visited.
We did appreciate that there was a dedicated Q&A session right after the tour because it was something that not all mosques do.
We also appreciate that the tour program was free, and they even provided the traditional dress, the abaya, for all the women who wanted to visit the mosque.
But what we think makes Al Noor special is the sheer beauty of it and the beauty you get to experience around it.
We definitely recommend you visit this before the sunset so you can have time to enjoy the view of the Khalid Lagoon.
Also, stop by at the Al Noor Island to visit the famous butterfly garden and some contemporary art installations there.
And while Al Noor Mosque Sharjah isn't the most unique mosque to visit in terms of education and culture, it makes up for it with the other attractions found nearby that make the visit very picturesque.
Beautiful Turkish architecture
Dedicated Q&A sessions after the tour
Free tour program
Other attractions are located nearby
Provides abaya for the women
Tour is generic
The architectural style isn't unique
Client Reviews:
Great visit for the family
"One of the largest mosques in Sharjah located near the Buhaira corniche. It is a Turkish-design mosque. One of the top landmarks in Sharjah and a good place for families and kids. Try to visit during sunset which will give you the best photos. During the Sharjah light festival you can experience colorful light projections on this mosque which will give you a vibrant view!!" —Midhunraj KV, Google Reviews
A must-visit!
"Located on Buheirah corniche next to Noor Island, a beautiful mosque, lots of parking available near to mosque, many families are visiting daily, nice place to spend with family and for jogging and exercise.. highly recommend……….." —Agnel Pius K, Google Reviews
FAQs about Mosques in Dubai
---
Dubai is the perfect gateway to learning more about Islam as a religion and as a culture, and the perfect way to start learning about it is by visiting the mosques there.
We hope we were able to answer your questions and helped you learn about the best mosques to visit in Dubai.
Did we leave out any notable mosques on our list? Send us a message so we can check it out and give our own review.
By the way, if you need architectural design inspired by Islam and Dubai, then make sure to check out our article about the 5 best architectural firms in Dubai.
---