Checking out the Best Infinity Pools in Dubai
Fancy a swim, especially on a hot day? Well, instead of visiting another ordinary pool, why not opt for something a little bit more luxurious and try swimming in an infinity pool?
Usually found in high-end resorts or hotels, these pools make for quite the awe-inspiring experience! After all, there's nothing like relaxing while having a breathtaking view.
Let's take a look at some of our favorite infinity pools in Dubai!
Cloud 22 – Dubai Atlantis, The Royal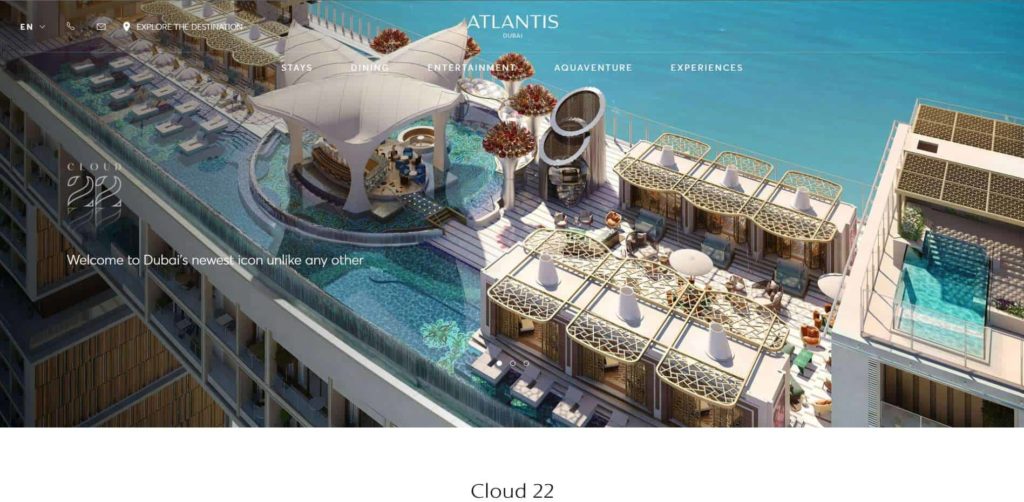 | | |
| --- | --- |
| FACILITIES | Sky Pool, Private Cabanas, VVIP Cabana |
| SOCIAL MEDIA | Instagram |
| OPERATING HOURS | Mondays - Sundays: 10:00 AM to 8:00 PM |
Let's start with something really fancy for this list. If you managed to shell out the cash to book a stay at The Royal, Dubai Atlantis, then Cloud 22 is definitely a swimming experience like no other.
It's a fancy infinity pool located on the 22nd floor, granting you an amazing view of the nearby Arabian Gulf and cityscape. You'll definitely want to take some pictures here as you splash about on the water.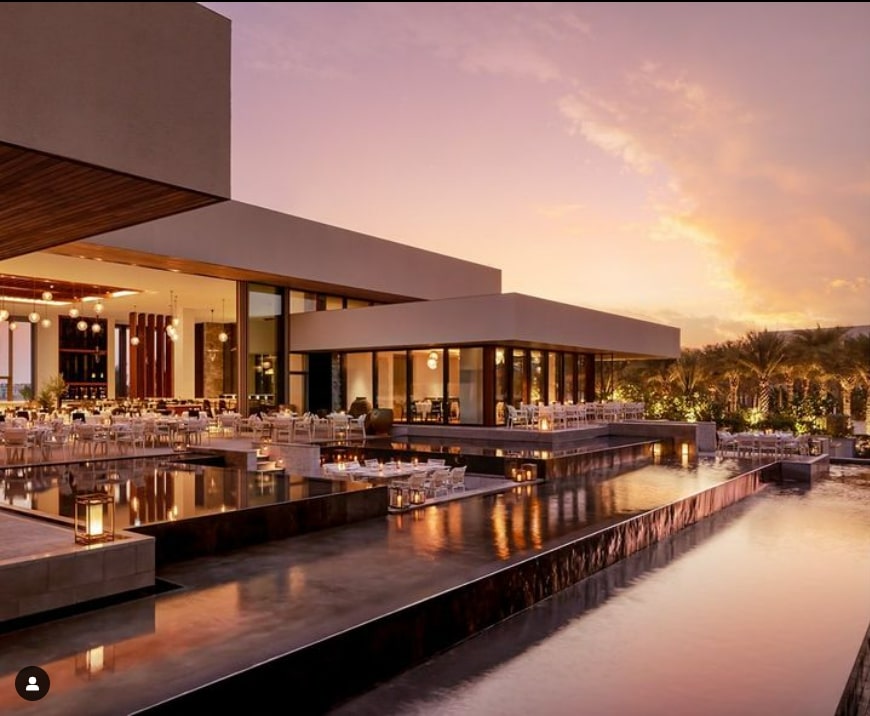 The Royal advertises the place as just a chill and casual place to sit back, enjoy the view, and perhaps even sip a couple of cocktails from their bar. Of course, nothing bad about stretching those swimming muscles in the pool either so just jump in!
There's private cabanas for those who want to get a place all for themselves but if you want to be really fancy, you can also try their VVIP cabanas.
Cloud 22's VVIP cabana comes with its own private pool to enjoy on your own and you can even listen in to live music performed by the DJ hyping up the place for that day. Not a bad way to experience the views in the hotel.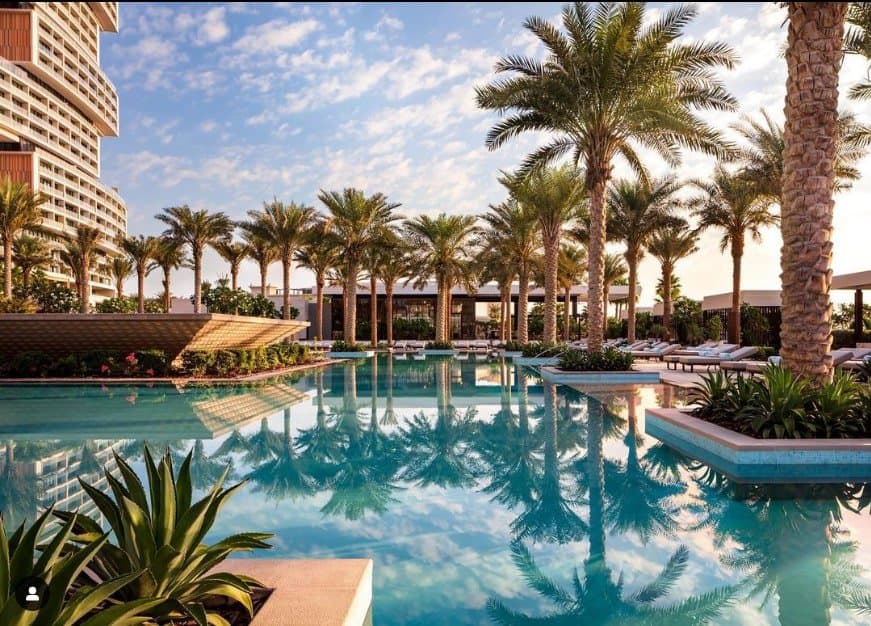 As the sun sets, listen in as the music kicks up and the bars start serving sparkling sophistication. Not a bad time to grab a bite from their French-Mediterranean-inspired snacks to regain some of that energy spent swimming.
It's definitely an expensive experience, costing you around AED 5,000 as you need to stay in the hotel. Still, we think Cloud 22 is definitely one of the best infinity pools in Dubai to check out.
Where to Find Cloud 22 – Dubai Atlantis, The Royal: 
What's nearby?
As you are located in a rather fancy hotel, you can make use of the place's amenities to make your stay a lot more comfortable. You can choose to chill at the lounge or even catch a show by the Skyblaze Fountain just outside the hotel.
There's a good number of different restaurants to check out for when you're feeling famished. Dinner by Heston Blumenthal offers British cuisine dating all the way back to 1300, giving you the chance to try some truly historic dishes.
Alternatively, there's Seafire Steakhouse and Bar for those who want their steaks fresh and hot. Watch the chefs cook your choice of meat to your liking before selecting your preferred condiments and sides for a complete meal.
Jumeirah Zabeel Saray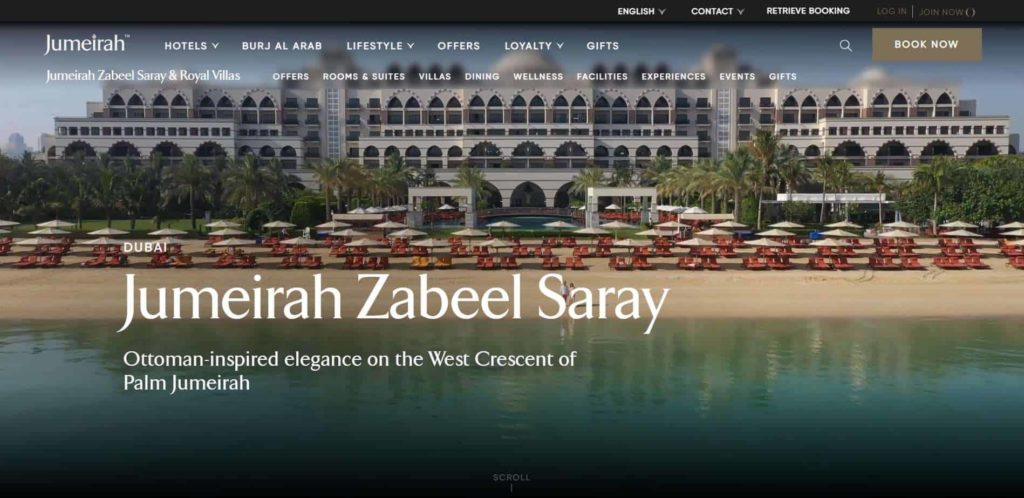 | | |
| --- | --- |
| FACILITIES | Kid's Club, Private Cinema, Infinity Pool, Spa |
| SOCIAL MEDIA | Instagram |
| OPERATING HOURS | Mondays - Sundays: 6:00 AM to 2:00 AM |
| ENTRY FEE | AED 260 |
Found on the crescent at The Palm, the Jumeirah Zabeel Saray is another luxurious villa with a great view for you to stay at.
Their rooms boast an elegant design complete with lounge access, Turkish-inspired interior design and landscaping, and number of fancy dining spots. Of course, they also have some really nice pools for swimming as well.
The villa's infinity pool is quite massive, stretching back around 31 metres while having a 59 metre edge. The view blends seamlessly with the nearby sea and the palm trees lining the view gives one the impression of a tropical lagoon.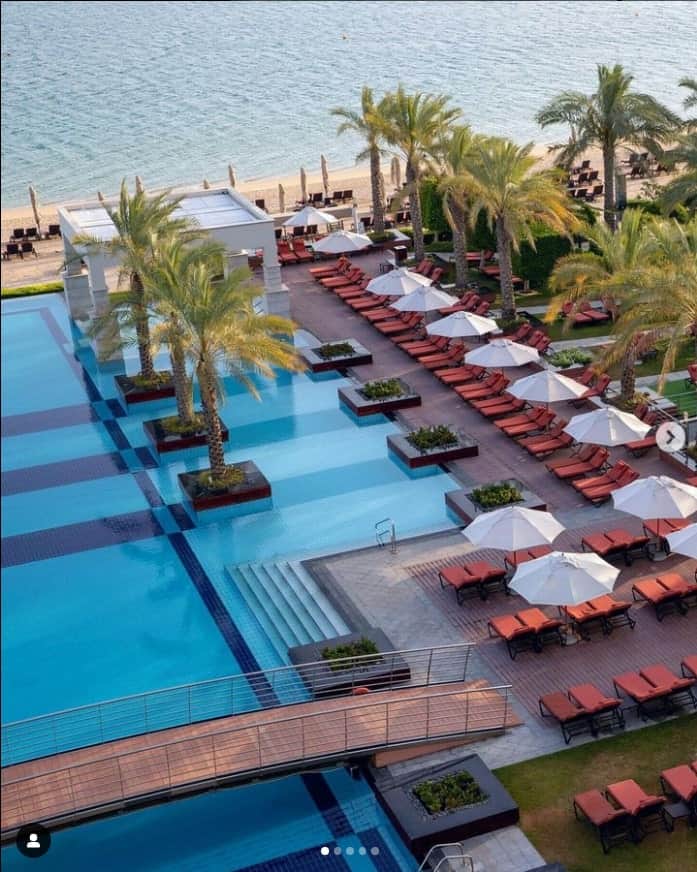 It's definitely a great place to exercise your swimming legs as you go from edge to edge.
Visitors with kids don't have to worry about the pool being too large and overwhelming. There's the Sinbad's KiDS club for them to try out while the adults swim and browse around the nearby beach and amenities.
Staff are also available to help out and bring you what you need as you swim, which really hammer home the luxury vacation vibes of the villa. There's even a nearby jacuzzi once you're done swimming the wide and long pool.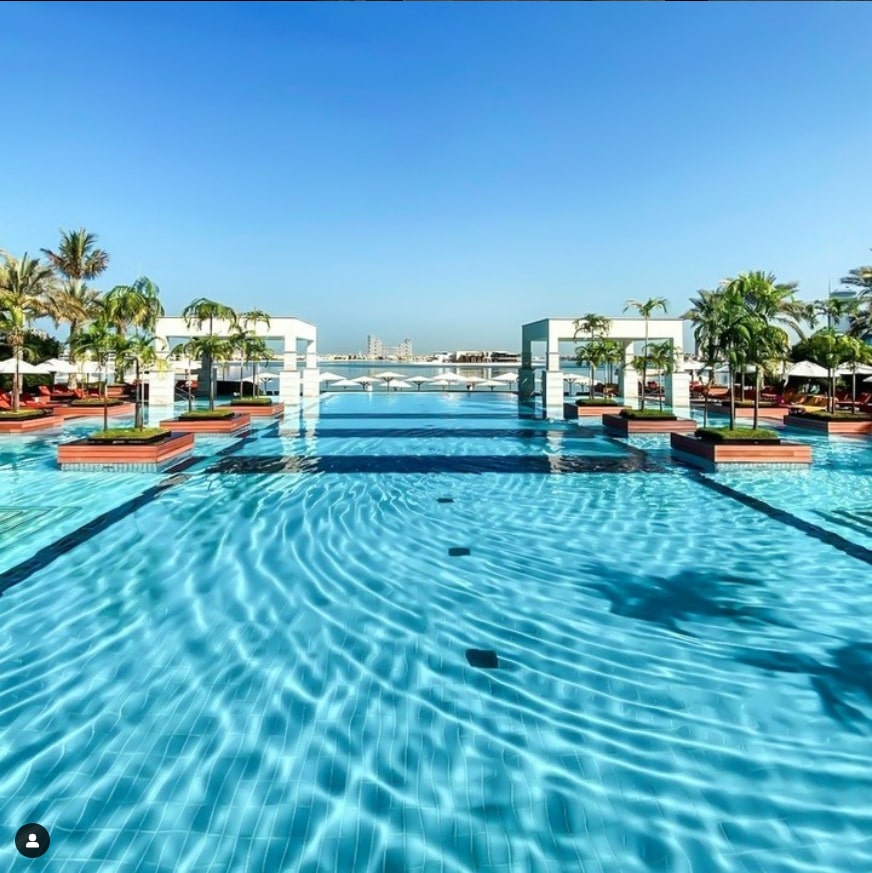 Visitors can access the beach and the pool for around AED 260 but it doesn't include kid's club access as well as food and drink so expect to spend a lot more for the whole experience.
We recommend booking early though, if you're interested. Availability depends on how busy the hotel is after all.
Where to Find Jumeirah Zabeel Saray
What's nearby?
There's plenty of luxurious amenities to be found in the villa. For example, the Talise Ottoman Spa is among the largest in the Middle East, reaching approximately 8,200 square metres and boasting around 42 treatment rooms.
Within this spa, you can also try out the 24-carat gold chainmail facial with Margy's Monte Carlo, which is followed by an Arabian gold Hammam and argan oil massage for a whopping AED 25,000.
Otherwise, you can just soothe your hunger pangs inside the many restaurants along the corridor. The Sultan's Lounge for example, features many light, international cuisines like kebabs, lamb, and salmon, perfect for an afternoon snack.
Mandarin Oriental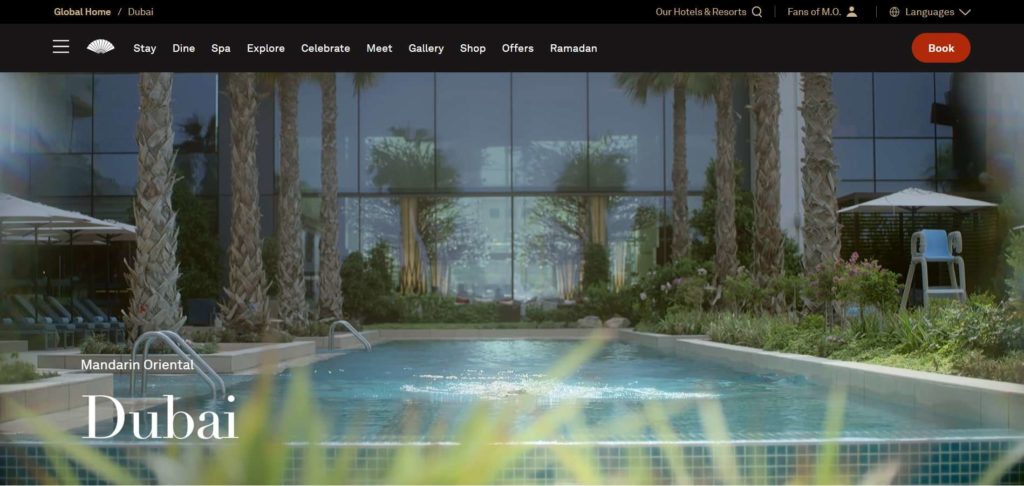 | | |
| --- | --- |
| FACILITIES | Sun Vibe (Infinity Pool), Museum of the Future, Motiongate, Padel Court, Perfumery Workshop |
| SOCIAL MEDIA | Instagram |
| OPERATING HOURS | Mondays - Sundays: 6:00 AM to 6:30 PM |
| ENTRY FEE | AED 6,000 (needs to stay in the hotel) |
Set in front of an amazing oceanfront view, the Mandarin Oriental at Jumeirah is a very stylish resort smack in-between the dazzling Dubai skyline and the clear blue waters of the Arabian Gulf.
This 251-room beachfront resort is home to plenty of modern amenities and relaxation facilities, utilizing stylish contemporary designs in order to deliver a luxury getaway in the city.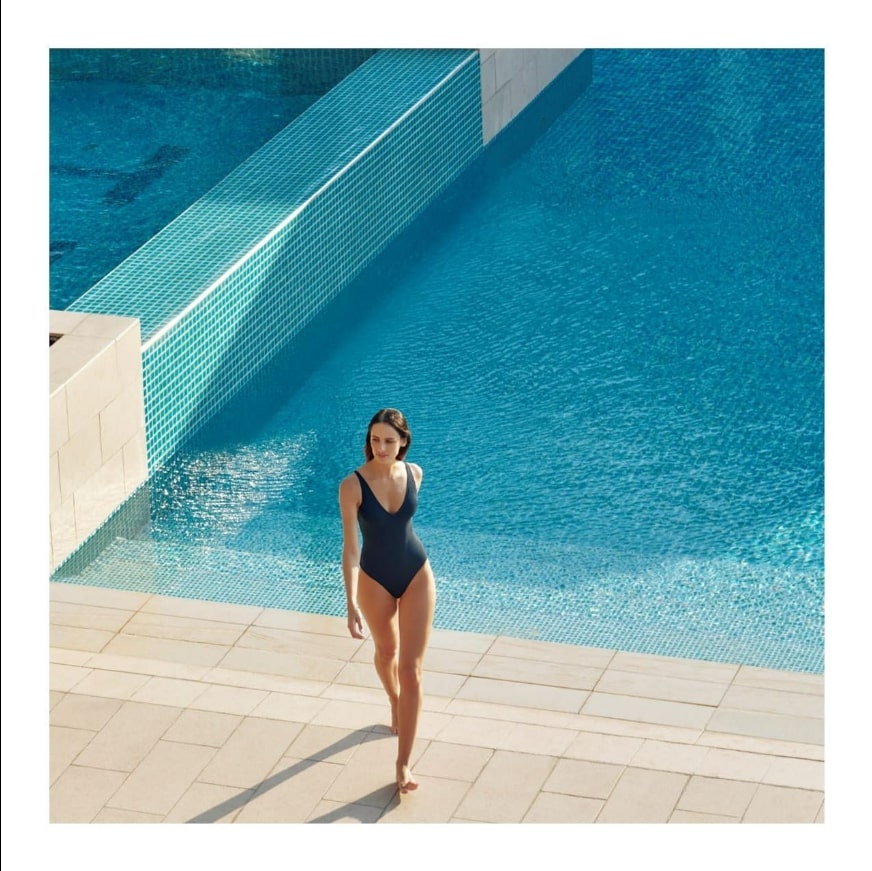 Surprisingly enough, the infinity pool at the Mandarin Oriental is actually set within Tasca by José Avillez, a Michelin star restaurant that dabbles in Portuguese cuisine.
It's an amazing experience, combining a pleasant swim at the rooftop hotspot overlooking the Arabian Gulf. It's also topped off by some really delicious cocktails and snacks while you savour the sunset view.
This adults-only rooftop also comes with luxurious double daybeds in case you just want to sit back and relax, downing an occasional cocktail or two.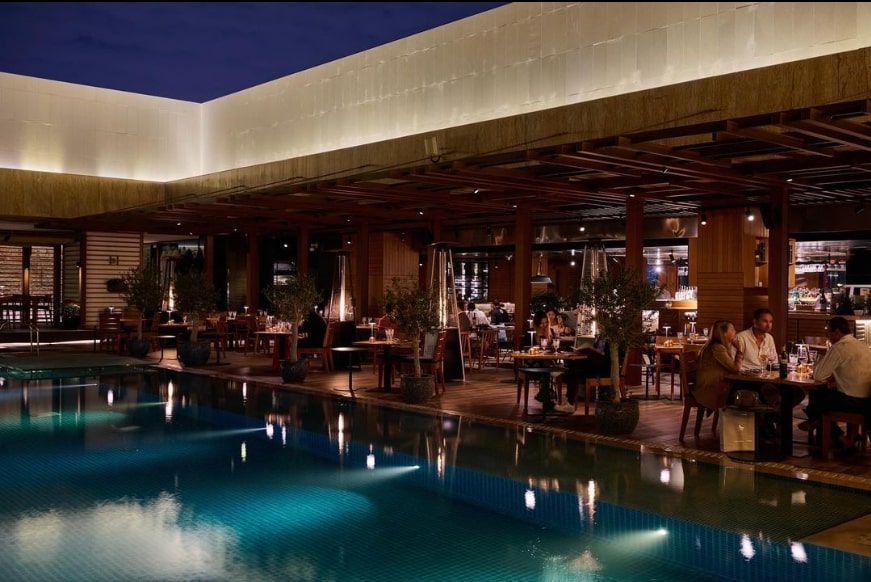 A stay at the luxurious villa should cost you around AED 6,000. On the other hand, cocktails range from AED 200 to AED 600 at the restaurant especially if you want to enjoy your drinks at the poolside.
It's a great place to knock off both fine dining and swimming off your travel bucket list so if you have the money to spare for both, we recommend just checking in at the Mandarin Oriental here at Jumeirah.
Where to Find Mandarin Oriental – Jumeirah
What's nearby?
There's plenty of great sights and fun, recreational activities to do, even when you go outside the Mandarin Oriental. For example, you're only a few blocks away from the Dubai International Art Centre where you can take classes in drawing and painting.
You're also close to the Mercato Shopping Mall in case you want to do your shopping. Here you can get new clothing, food, electronics and there's even some fun play areas for kids!
Alternatively, you can also check out the F1 and motorcycle-themed Bikers Café. Here, you can grab burgers, coffee, all-day breakfast and dessert like waffles while admiring all the vehicle memorabilia and displays.
Privilege – SLS Dubai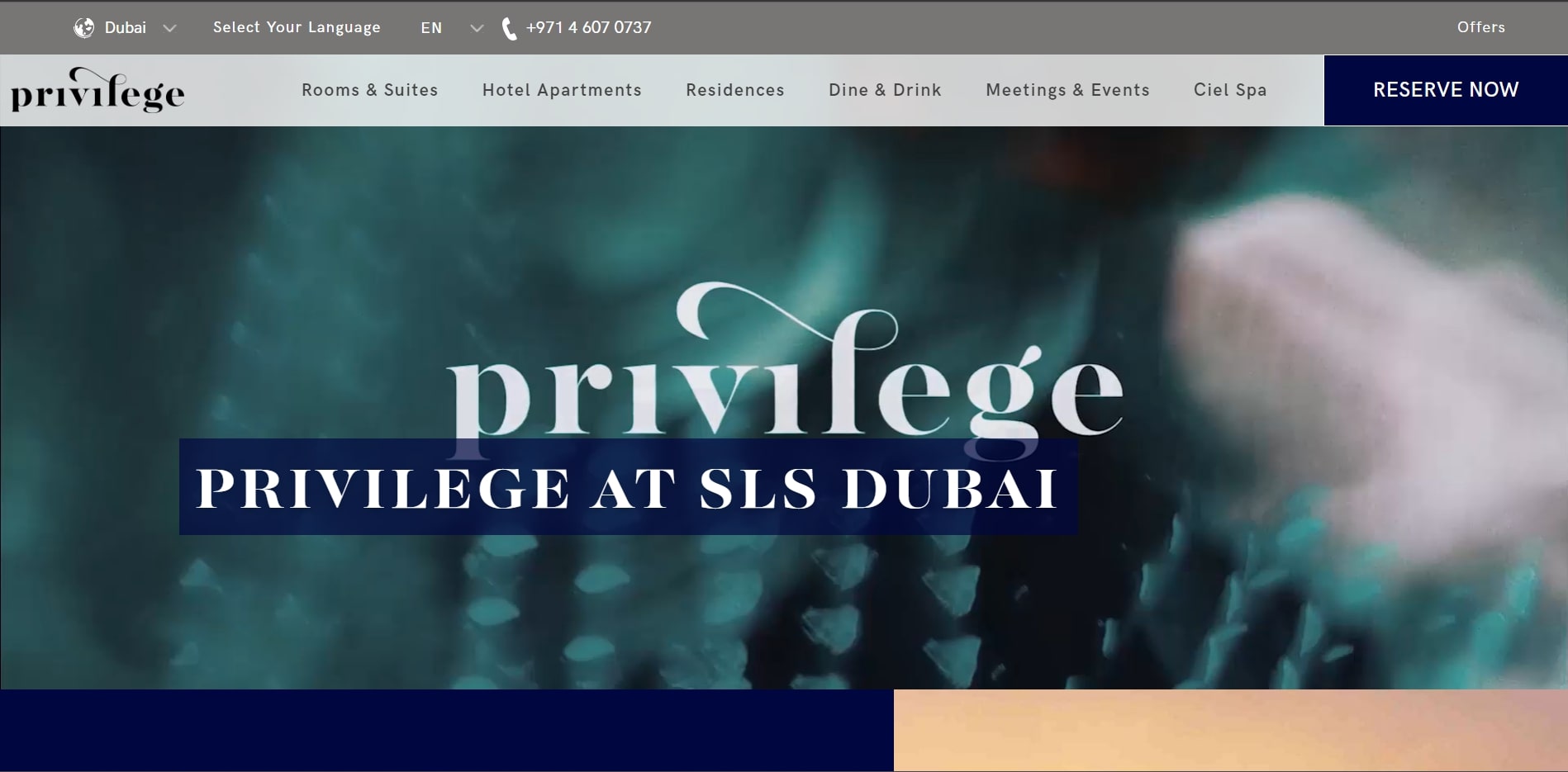 | | |
| --- | --- |
| FACILITIES | Pool, Privilege Terrace, Privilege Nightclub, Ciel Spa, Peach Club |
| SOCIAL MEDIA | Instagram |
| OPERATING HOURS | Mondays - Sundays: 9:00 AM to 6:00 PM |
| ENTRY FEE | AED 100 |
Located in a prime location in the downtown Dubai district, SLS Dubai offers a nice unobstructed view of the Burj Khalifa and the Dubai Creek. It also boasts not one but two amazing infinity pools at the 75th floor; the highest pools in the world.
This is no empty boast as well. Privilege at SLS Dubai is recognised by the Guinness World Records as the highest overflow pool in a building, at over 325 metres high.
This means swimmers who opt to take a dip in one of these amazing pools get a great view of the wide blue sky over on the horizon. The view is definitely heavenly from way up there.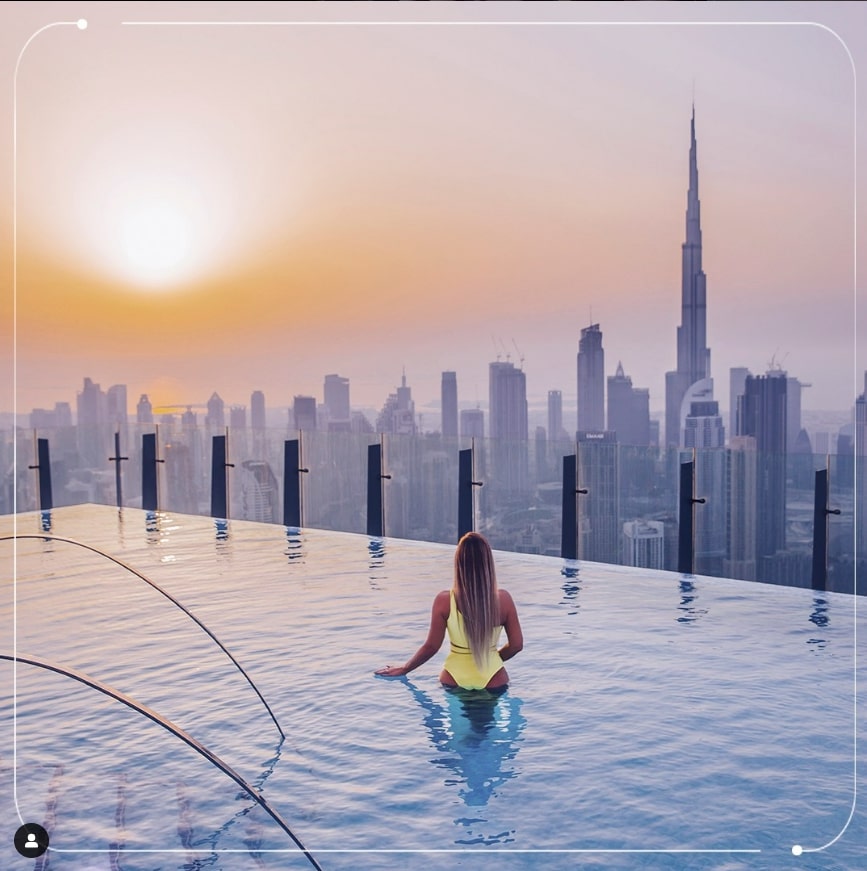 In addition to this spectacular pool, Privilege is also home to one of the highest nightclubs in Dubai. Listen to their DJs spin the best beats as you party all night with friends and colleagues after taking a dip in the pool!
You can eat and drink at the beds and tables around the pool of course but snacks are kept light and fresh. You can buy salads, tacos, grilled corn, and a wide assortment of different cocktails and beverages.
The club even offers shishas past 12:00 PM if you're interested in that. You can either choose to go with local flavours or the club's signature flavours.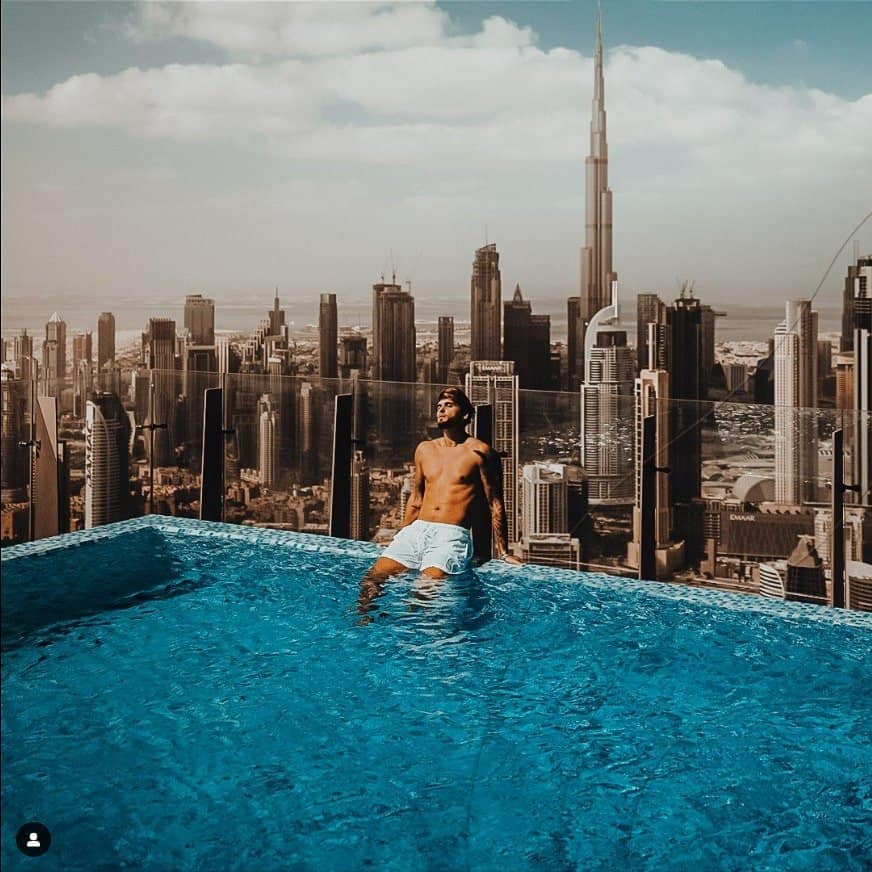 Entry starts at around AED 100, making it quite affordable compared to many other infinity pools in Dubai. Snacks and drinks also play at around that range, with the more expensive wines reaching all the way to AED 500.
It's definitely a fun stop to check out as you explore Downtown Dubai. Hope you're not afraid of heights!
Where to Find Privilege – SLS Dubai
What's nearby?
SLS Dubai is known for a wide variety of luxurious dining options around downtown. As such, you should be spoiled for choice starting with the Carna by Dario Cecchini; a contemporary steakhouse serving delicious proteins and sides.
Alternatively, you can go down a few steps to the 71st floor to the S Bar for some creative cocktail mixes. They even have a cool 'Ladies Night' where you can get three drinks for only AED 99 as well as discounts for their bar bites.
You can also relax and have fun at the Ciel Spa for some pampering, rubs, and relaxation. Enjoy their quality massages as well as an herbal steam room in order to de-stress for a while.
It's a nice alternative to shocking yourself from the view from the pool if astonishing thrills are not your thing!
Meydan Hotel Infinity Pool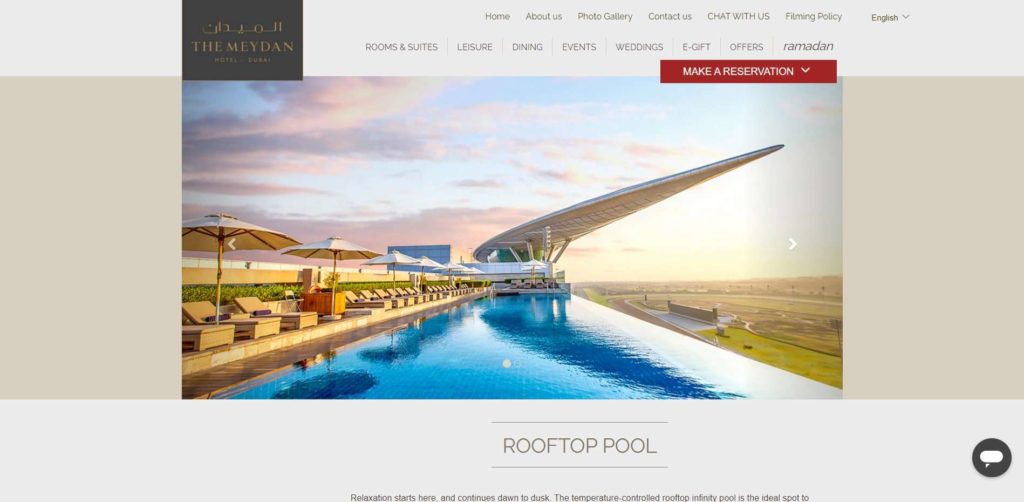 | | |
| --- | --- |
| FACILITIES | Rooftop Pool, Gym, Meydan Golf, Tennis Academy, Horse Racing |
| SOCIAL MEDIA | Instagram |
| OPERATING HOURS | Mondays - Sundays: 8:00 AM to 7:00 PM |
| ENTRY FEE | AED 150 |
Known for its iconic 'wave-shaped' building, the Meydan Hotel seeks to embody urban elegance, dazzling international travelers as they come in from the airport and the heart of the city.
The Meydan Hotel features luxury accommodations, dining options, a golfing range, and of course, a rooftop infinity pool.
It's not the highest infinity pool in the world of course but, the design is just as dazzling nonetheless. You get a great view of the water merging with the green horse track, making for an amazing combination when paired with the bright Dubai sun.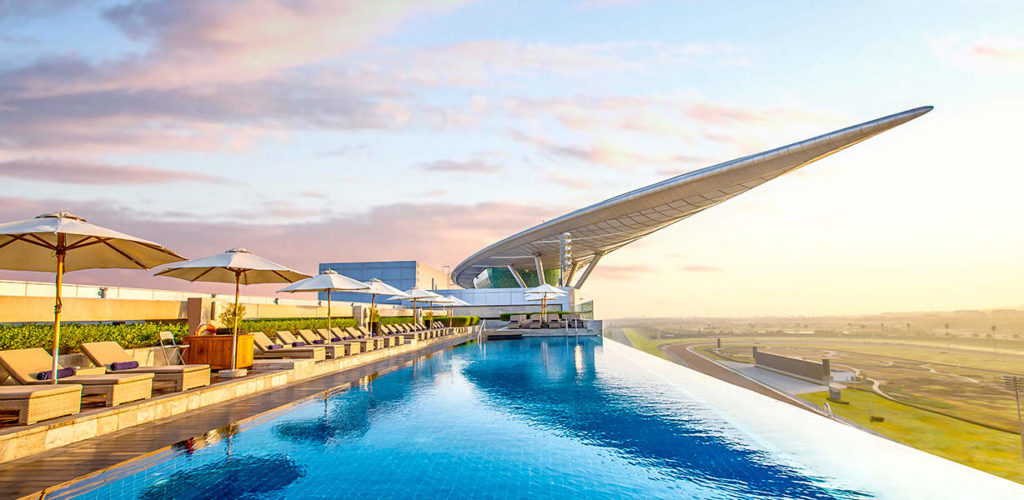 The infinity pool on the 11th floor of the hotel comes complete with a sundeck with loungers and umbrellas just for those who want to kick back and enjoy a pleasant afternoon.
When you get thirsty, you can also enjoy the cocktails and drinks from the Equus Pool Bar. Only available to hotel guests, you can enjoy a selection of Arabic snacks, sweets, sandwiches, pizzas, and even small cakes and sweets.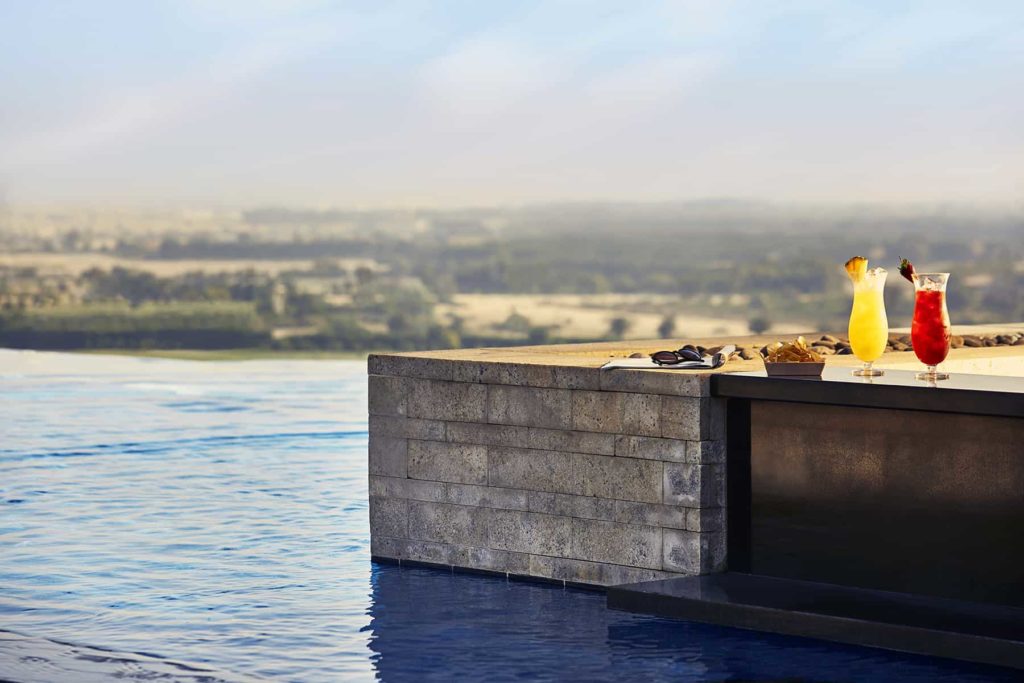 In terms of the energy around the poolside, it's not as hyper as something like Privilege and the place definitely leans more on the relaxation side of things. Of course, you may just catch an ongoing event at the horse track while you're there.
Interested visitors may check out their Infinity Pool Days deal for only AED 150 per person. This should give you access to the hotel's infinity pool, sun loungers, towels, all-day access to the gym and discounts on the spa facilities.
Not a bad deal for travelers looking to shake off the grogginess of their flight by checking in for a quick swim on the water right?
Where to Find Meydan Hotel
What's nearby?
The Meydan Hotel offers a lot of facilities for fun and entertainment in itself. There's the golf course for those who play and you can even watch racing on the Meydan Racecourse whenever you visit between November to March.
Guests with kids who may not like the wide and deep infinity pool can also check out the smaller Kid's Pool. It has a playground attached to entertain young guests, its own lounges and chairs, and even a lifeguard on duty to keep the little ones safe.
Sports lovers may also enjoy the Qube Sports Bar. Here you can watch the big games live while enjoying a selection of mouth-watering burgers and adventurous cocktails or playing a game on the pool table or the dart boards.
SAL – Burj Al Arab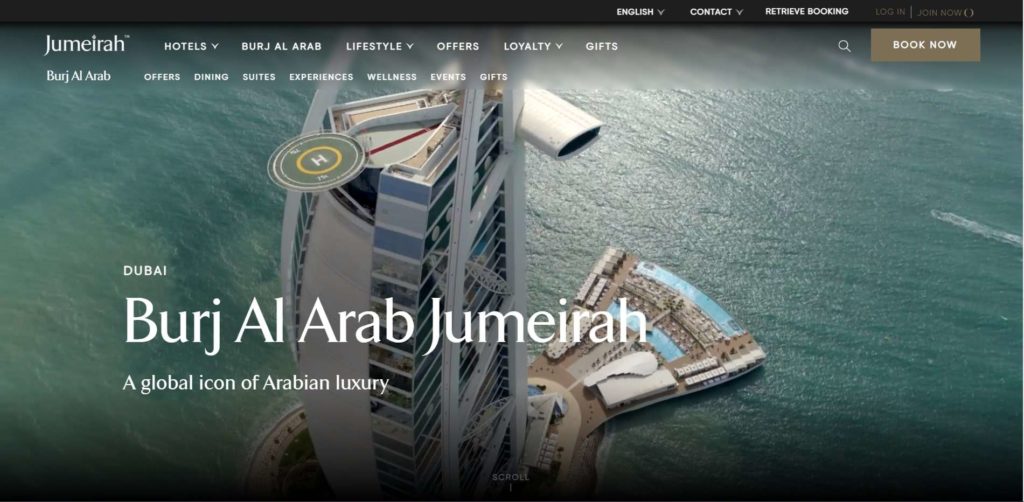 | | |
| --- | --- |
| FACILITIES | Burj Al Arab Terrace, Kids Club, Wild Wadi Waterpark, Yacht Charter, Pool Access |
| SOCIAL MEDIA | Instagram |
| OPERATING HOURS | Mondays - Sundays: 10:00 AM to 7:00 PM |
| ENTRY FEE | AED 800 |
Plenty of pools and destinations offer an amazing view of iconic landmarks like the Burj Khalifa. At the infinity pool at SAL, you get an even more close-up view as the pool is located at the footsteps of the Burj Al Arab itself.
This saltwater, adults-only, infinity pool is amazing for swimming and for taking pictures as you get a worm's eye view of the iconic building on one hand, and a breathtaking shot of the sea on the other side.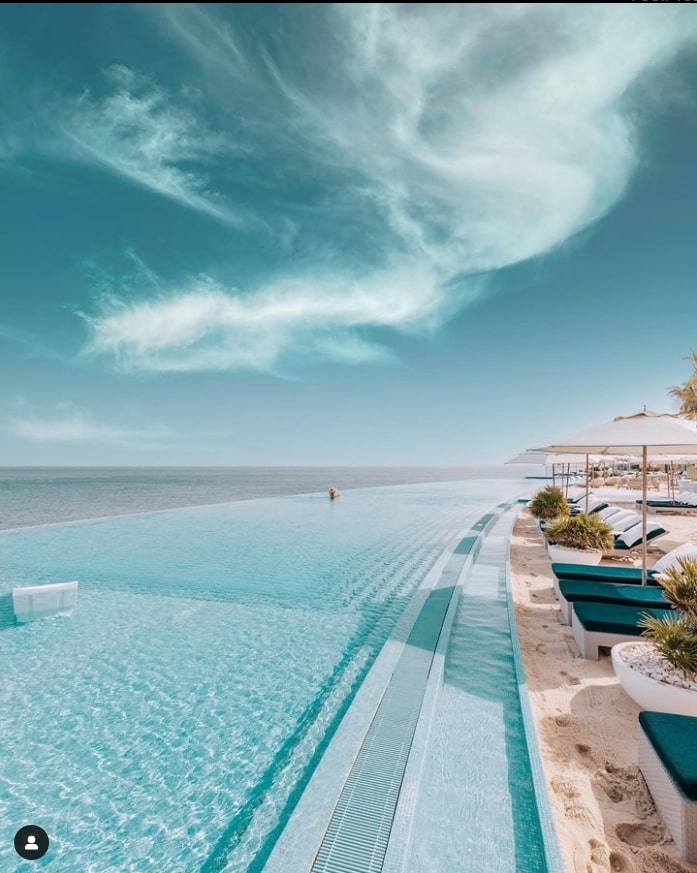 The pool is quite long, reaching up to 100-metres and is located just at the terrace of this sail-shaped hotel. Other amenities near the pool include some lounge beds, umbrellas, and a shaded bar in case you need to cool off from the sun for a while.
For more private fare, you get to choose from three different cabana options. The Panoramic Cabana is just a few steps away from the infinity pool, allowing you to relax in relative comfort and quiet.
There's also the Royal Cabana and the Luxury Cabana, which grants you even more access to different amenities, including a pop-up restaurant where you can grab some small bites, fresh fruits, and even bottles of bubbly.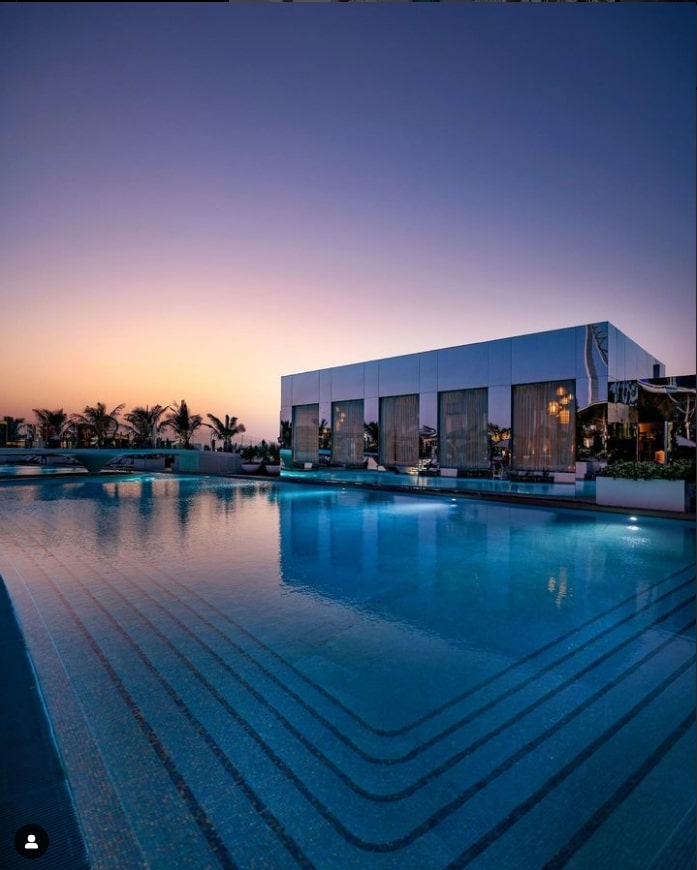 Visitors with kids aren't allowed in the infinity pool and the cabanas normally. They do get access to the freshwater kid's pool nearby, so they don't miss out on the summer fun!
Pool access starts at AED 800, while cabanas range from AED 7,000 to AED 10,000 for a group of six people. It's definitely a nice stop to check out for when you're already staying at or visiting this iconic destination.
Where to Find the Burj Al Arab
What's nearby?
While kids aren't allowed in the infinity pool itself, you can have them check out the Kid's Area at the Wild Wadi Waterpark. The park has plenty of slides and fun water attractions to keep them entertained for hours.
Exhausted guests can also check out the Talise Spa for some luxury rest and relaxation. Here, you can get a relaxing facial, body massage, and even some contouring done on your legs for that healthy look.
Finally, you can eat some immaculately-prepared food at the Al Muntaha; a Michelin-starred venue featuring French and Italian dishes. We find that it's very nice to eat fresh Sea Bass and Salmon here while you enjoy a view of the nearby sea.
Sky View – The Address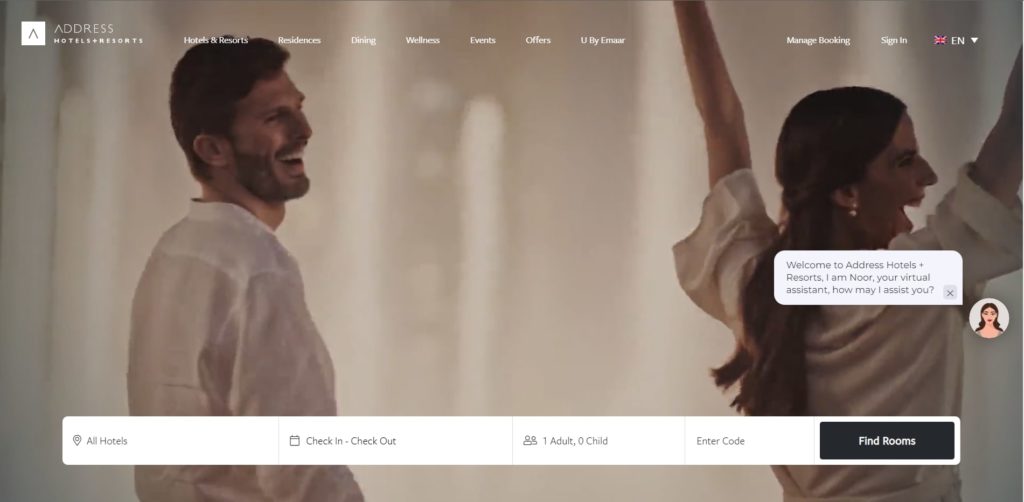 | | |
| --- | --- |
| FACILITIES | Gourmet Dining, The Spa, Superb Recreation, Opulent Amenities, Deck |
| SOCIAL MEDIA | Instagram |
| OPERATING HOURS | Mondays - Sundays: 9:00 AM to 7:00 PM |
| ENTRY FEE | AED 1,500 (needs to stay in the hotel) |
Offering a fantastic view of the Burj Khalifa at just about every vantage point in the building, The Address Sky View also hosts a cool infinity pool on top of their iconic Sky Deck.
Access is limited to hotel guests only and to guests that are 18-years old and above so keep that in mind when visiting the pool. Once you're there though, you get an impressive sun-lounging deck, private cabanas, and dry deck seating.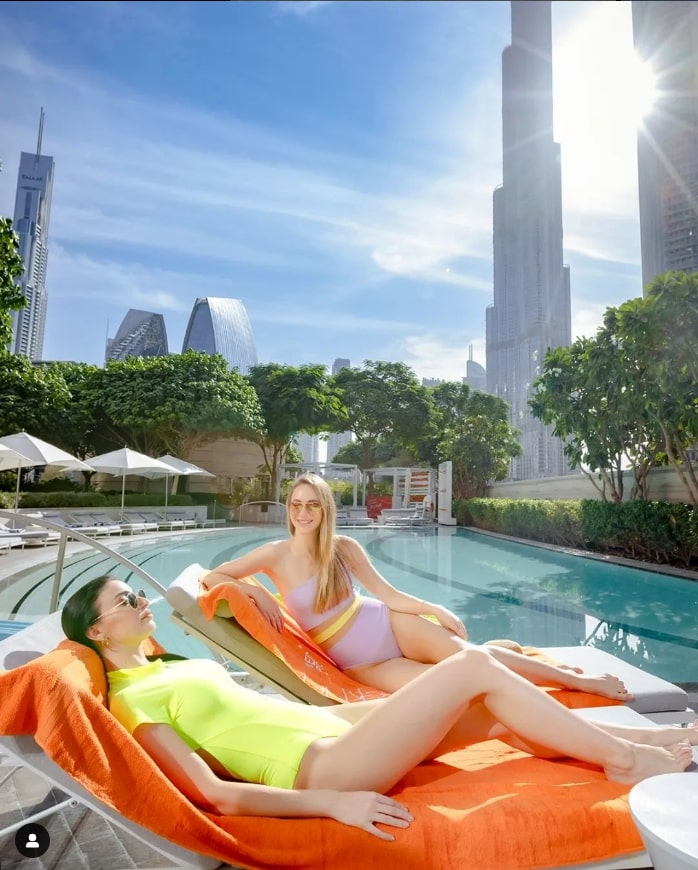 Space is quite generous at the pool area, with rows of plastic trees providing some added ambiance and shades for when the sun is too harsh.
Poolside service is superb as well. Staff are attentive and don't miss a beat when providing their pool guests with drinks, bar bites, and other requests.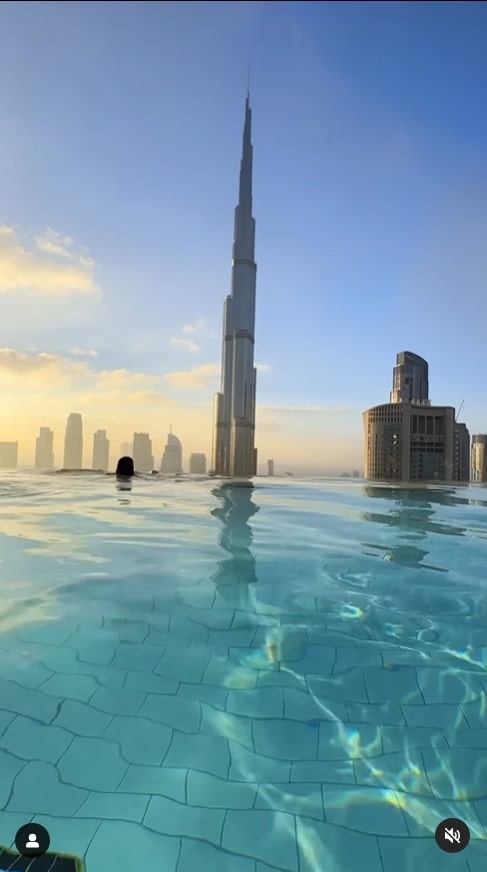 There's also a spa on around teh same level. This spa features a sauna, a smaller jet pool, a steam room, and en-suite bathrooms for washing off the pool traces once you're all done.
Those with kids can let the children play at the Qix Kid's Club instead. They even offer babysitting services there though you need to book them a day in advance.
Moving around the hotel is quite efficient as well, despite the size and height. Rooms on the lower level provide grab rails, lowered beds, roll-in showers, and hoists for helping those with special needs access the hotel's facilities.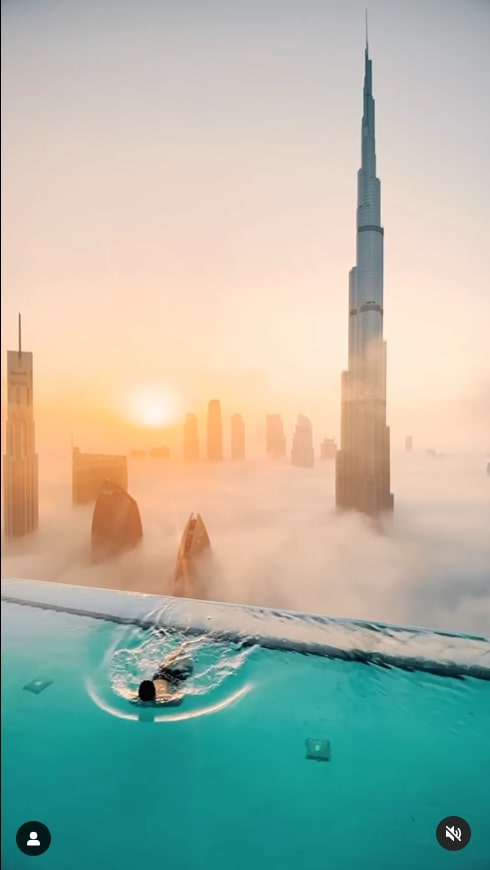 The pool is also easily accessible to international visitors coming in from the Dubai International Airport, the Burj Khalifa, or the Dubai Mall. Easily an amazing stop to shake off the jet lag with a brisk swim if you're staying in the hotel.
A stay at the hotel starts around AED 1,500, granting you access to most amenities already. If you're staying at this place, then the infinity pool should be an amazing facility to try before you check out of the building.
Where to Find The Address – Sky View
What's nearby?
Being near some amazing destinations and amenities means there's plenty to do inside and outside the Sky View. For example, the spa inside the hotel is quite huge at over 1,400 square metres, giving you plenty of organic and natural relaxation zones.
Outside, you're only a few minutes' walk away from the massive Dubai Mall. A small city in and of itself, you can get both the standard amenities here like dining spots and stores as well as entertainment like an ice rink and an aquarium and underwater zoo.
You're not far from the Dubai Creek as well. In our opinion, just walking and talking here at night while enjoying the view of the nearby water makes for an amazing and intimate evening with friends or even a partner during our stay.
FAQS about Infinity Pools
---
We hope you enjoyed checking out all of these amazing infinity pools in Dubai. These pools definitely make for an interesting addition to any place, especially if you have a nice view of the horizon nearby.
Swimming in an infinity pool within a resort or hotel isn't the only water activity to enjoy in Dubai as well. The city is host to a wide range of different water-related activities and attractions that are just waiting for you to pop in for a visit.
Make sure to check all of them when you're here! Let's make your summer visit more memorable with these amazing sights and entertainment facilities!