Entering the Best Escape Rooms in Dubai
Imagine waking up inside an old office or room with a locked door, a bunch of puzzles, your friends, and some instructions. Think you'll be up to working as a group and solving the mystery of the door?
If you are, then make sure to check out the best escape rooms in Dubai here! Whether you want to escape a crazed serial killer or piece together clues in a detective mystery, the city has it all for you!
Think you've got what it takes to figure out the mystery and win? If you do, make sure to give these games a try the next time you want quality entertainment during your stay!
The Best Escape Rooms in Dubai
Brain Game Dubai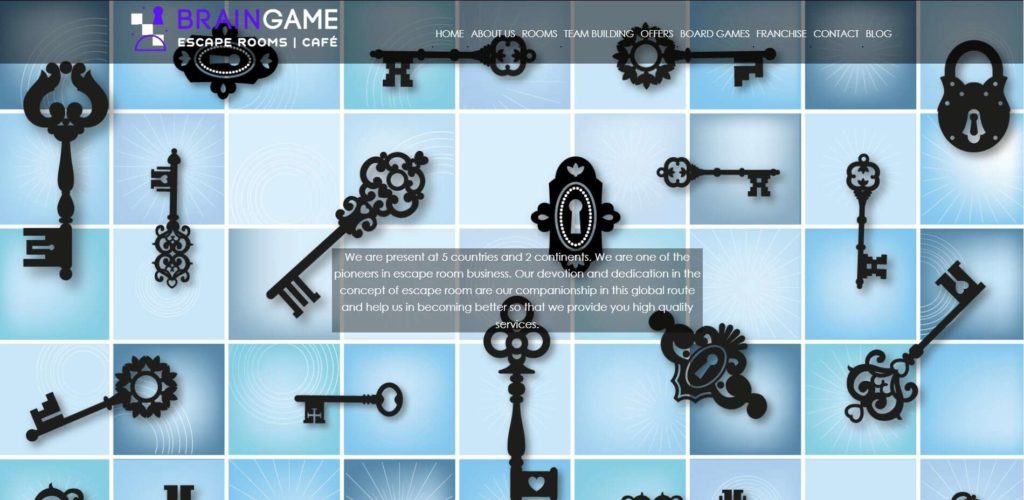 | | |
| --- | --- |
| GAMES: | Seven, Stalker, Chocolate Factory, The Others, Forever Alone |
| SOCIAL MEDIA: | Instagram |
| LOCATION: | Jumeirah Terrace Building, Jumeirah 1 (opposite Big Flag Rooftop level), Dubai |
| OPERATING HOURS: | Sundays - Thursdays: 12:00 PM to 10:00 PM, Fridays - Saturdays: 12:00 PM to 12:00 AM |
| TICKET PRICES: | AED 67 to AED 100 |
Brain Game presents a novel selection of themed rooms to try and break out of here in Dubai. They provide their own themed rooms, each with its own set of riddles and puzzles you and your friends have to solve.
The decoration in each room is on point as well, further adding to the tension and immersion during your visit. There's even some sound effects playing on the stereo, further adding to ambiance.
You can feel this quite well in "The Others", one of the scariest game rooms on offer. It feels quite tense trying to solve some of the puzzles and figure out the locks while ghostly whispers emanate from the environment.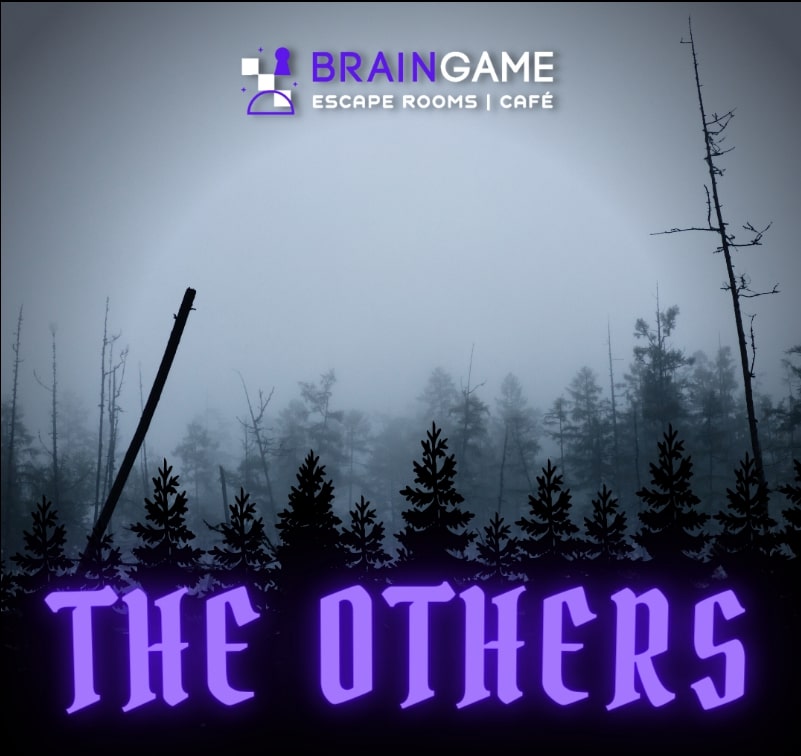 Of course, if horror isn't your thing then there's other options to check out. There's the Chocolate Factory which is inspired from the setting in Roald Dahl's children's novel where you try to uncover the secret recipe from the puzzles.
Or you can try out a tense yet not exactly horror game in Seven. Named after the 1995 film, this room will have you face off against puzzles themed around the seven deadly vices in order to solve the mystery within.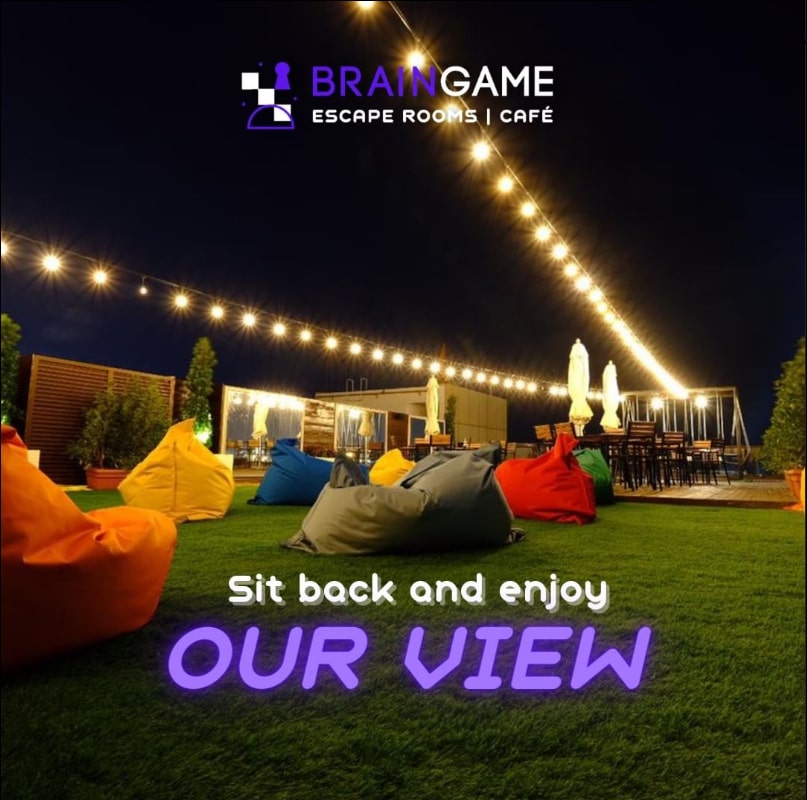 Each room is tailored for a set number of people so make sure to read the descriptions thoroughly before settling for a room. A gamemaster will also be assigned to your group in order to keep things moving at a good pace.
Once you're done, you can even play some board games on the terrace or even have a nice snack in their own café. Not a bad way to unwind after a tense session.
Prices start at AED 70 to AED 100, depending on the chosen room. Pick a theme that you want and have fun playing the Brain Game here in Dubai!
Where to Find Brain Game Dubai
What's nearby?
If you're interested in the history of the UAE, then you should take a look at the Etihad Museum. It's a great destination for those interested in seeing how the country came together as well as its important cultural milestones.
For relaxation, you can also bring your friends to the W11 Shisha Lounge and Restaurant where you can grab a bite and a range of exotic shisha flavours in their cafe.
But if the game really tested your energy and you need a bigger bite to eat, then check out the nearby LalQila Restaurant as well. It's pretty much an all-you-can-eat buffet featuring Chinese cuisine and other continental dishes.
NoWayOut Escape Rooms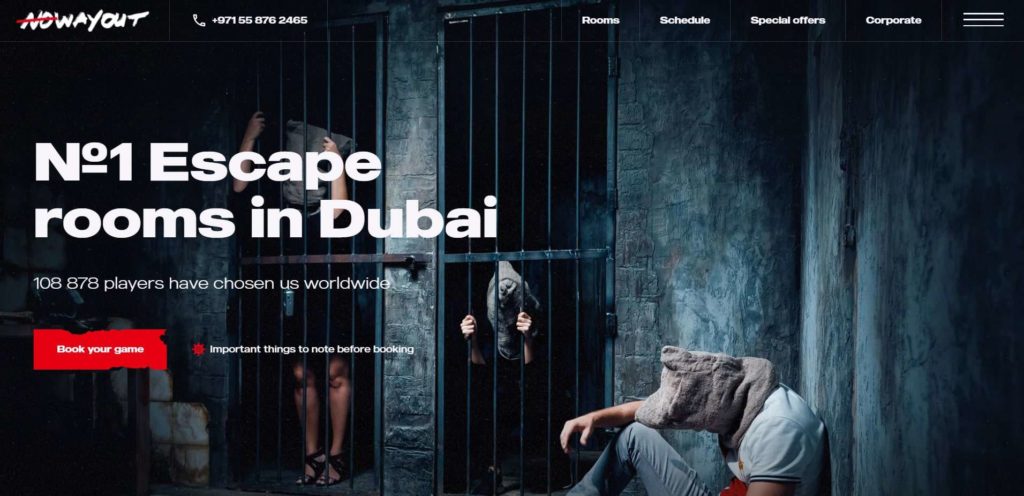 | | |
| --- | --- |
| GAMES: | Psycho, House of Bella, Houdini, The Castle, Da Vinci |
| SOCIAL MEDIA: | Instagram |
| LOCATION: | HDS Business Centre, Shop #5, JLT, Cluster M, Dubai |
| OPERATING HOURS: | Mondays - Wednesdays: 11:00 AM to 12:00 AM, Thursdays - Sundays: 10:00 AM to 1:00 AM |
| TICKET PRICES: | AED 105 to AED 130 |
Boasting a total of eight immersive and challenging escape rooms, NoWayOut Dubai is definitely one of the best options to visit if you want to engage with a variety of themes and genres.
Their rooms are split into genres like historical, fantasy, horror, and crime, making them perfect for crowds of different tastes and interests in our opinion. The decoration and set design is on point as well.
Some rooms (mostly the horror-themed ones) even feature live actors playing up a character to really get you and your group in the mood for some fun.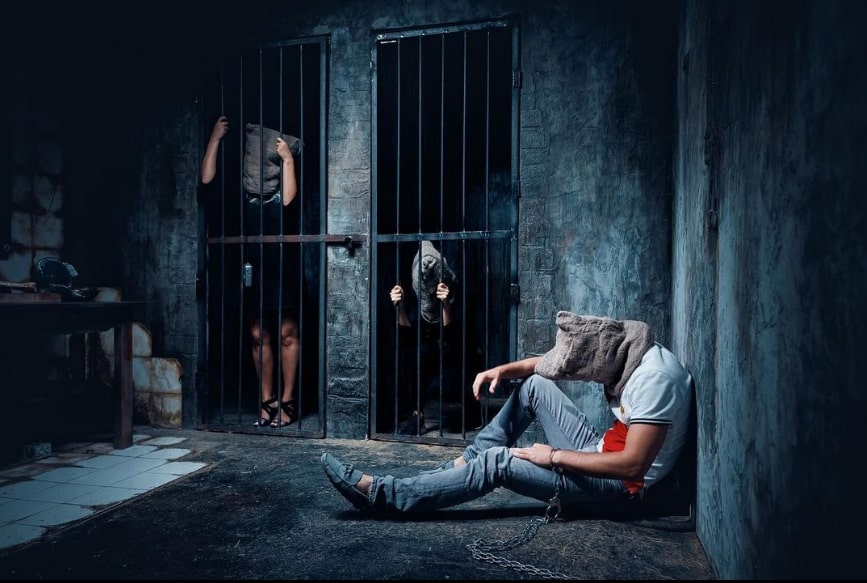 Inside NoWayOut, you can choose to confront the horrors of a haunted toy shop in House of Bella, or immerse yourself in the genius and artistry of Leonardo da Vinci's studio.
If you have a hard time choosing, then don't fret. They do offer bundle packages depending on your preferred genre, granting you access to two or more games at a slightly cheaper price than getting them separately.
They can even help out with corporate events, bringing in a portable escape set that you can use for your venue. Their skilled team will even handle all preparation and logistical needs.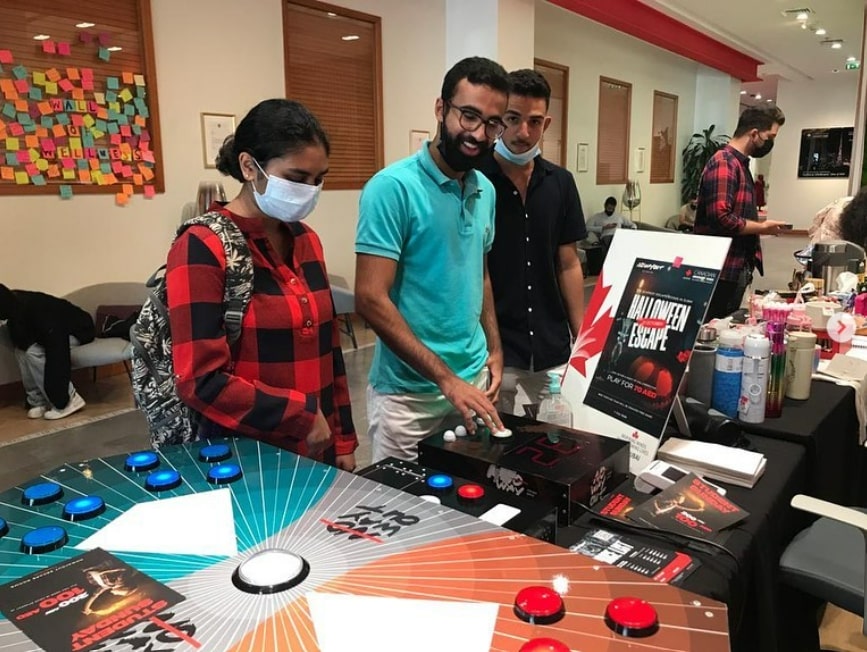 Prices start at AED 100 up to AED 1,600 for a bundle deal. Most games also last for a good hour as well, depending on how well you play of course.
For us, it's definitely a good experience and we really recommend visitors to try their skill at NoWayOut Dubai.
Where to Find NoWayOut Escape Rooms
What's nearby?
Haven't had enough physical exercise just yet? You can head on over to Sportsmania in JLT and see if they have any spaces in their multi-facility sports centre that you can use to play a few rounds of ball.
You can also travel a bit further to reach the Marina Beach. There you can enjoy a brisk swim or play some summer games on the soft sand and water.
Finally, when you feel hungry, you can grab a bite and a drink at the nearby McGettigan's, an Irish pub themed diner serving roast meat, BBQ, pudding, and even a few alcoholic beverages.
Phobia Dubai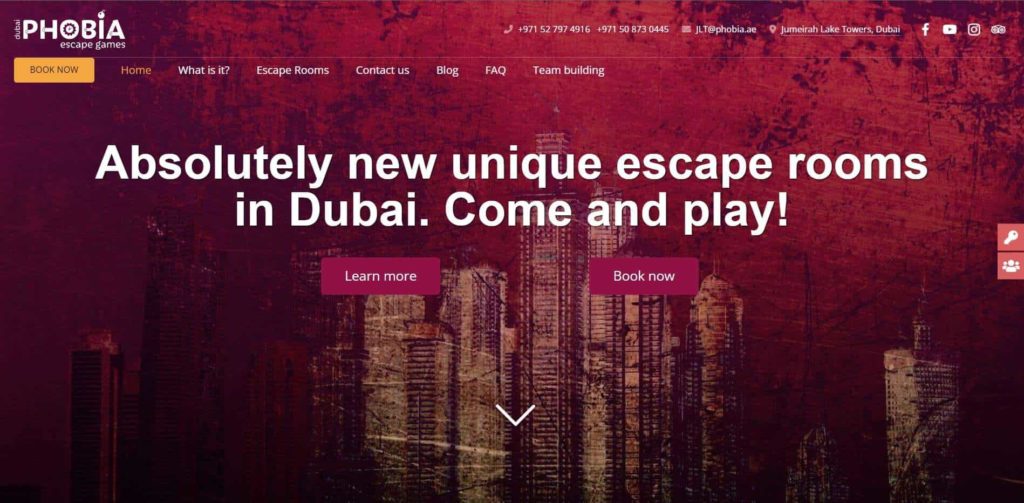 | | |
| --- | --- |
| GAMES: | Sherlock VS Jack the Ripper, Battle of Wizards, Live, Vault, Impossible Mission |
| SOCIAL MEDIA: | Instagram |
| LOCATION: | 35J2+4W9 Jumeirah Bay X1 Tower, shop 1, Jumeirah Lake Towers, Dubai |
| OPERATING HOURS: | Mondays - Sundays: 11:00 AM to 11:00 PM |
| TICKET PRICES: | AED 115 to AED 170 |
Interested in solving puzzles under a more 'adventure' like setting? Phobia Dubai may just be the best escape room for you to try out.
Despite their name, Phobia doesn't just deal with horrors and primal human fears. There's some fun themes such as 'The Battle of Wizards' which puts your spell abilities to the test in a setting right out of Harry Potter.
Alternatively, you can test your detective skills by scouring Sherlock Holmes' office for clues in order to find out and catch the elusive Jack the Ripper who's prowling around the premises. Better watch out for this one!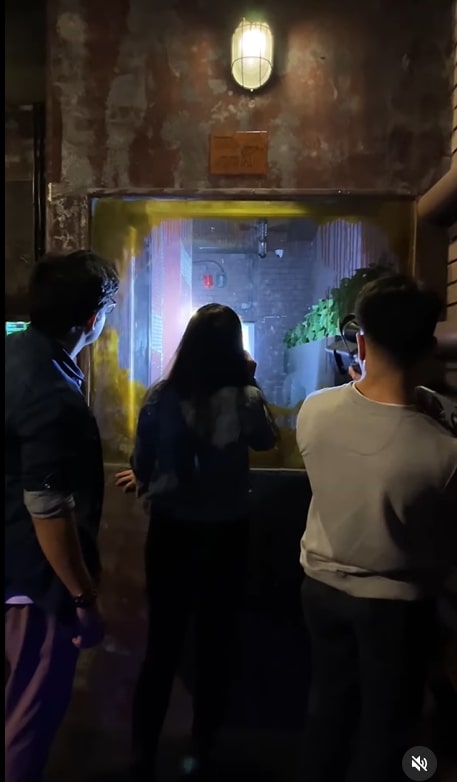 Surprisingly, the escape rooms here at Phobia are designed for a much smaller crowd. You can play the games even with just a team of two though children do need an adult companion.
That doesn't mean the rooms are small though, so no need to worry about claustrophobia kicking in. They're decently sized, giving you plenty of room to breathe and move around.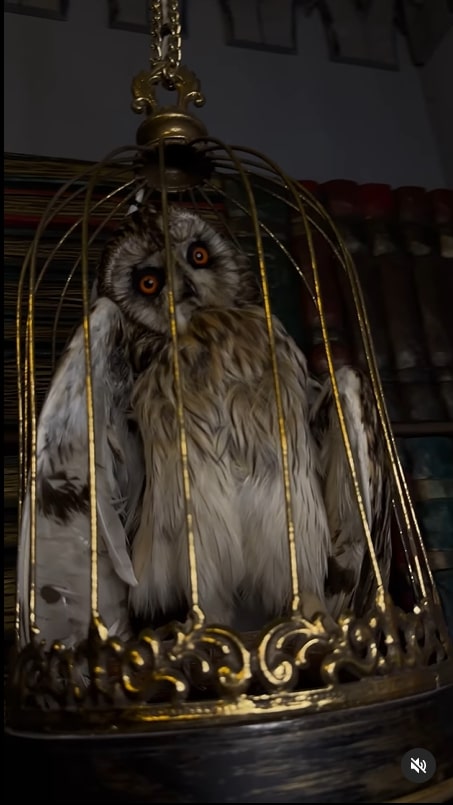 Phobia does recommend making a booking via the website or calling in advance though. While they can accommodate walk-ins, it does depend on the availability for the day.
You wouldn't want to waste the trip to the area right?
Prices start at AED 150 to AED 170 per person depending on the day you're booking but it can go down if you're booking with a bigger group. So come on, let's check out Phobia's escape rooms today!
Where to Find Phobia Dubai
What's nearby?
If you like to move it around then you can try checking out the On Stage Dance Studio just right next door to one of the escape rooms. You can check out their list of dance classes to see if anything interests you.
Alternatively, you can also work out at the gym at Bodytime JLT though it is quite a walk to get there. But hey, it does make for good exercise as well.
There's also a number of restaurants and cafes to eat at should you find yourself hungry after a game. Here, we recommend Buffalo Wings & Rings for the perfect group meal and combination of different flavours.
DeepDark Dubai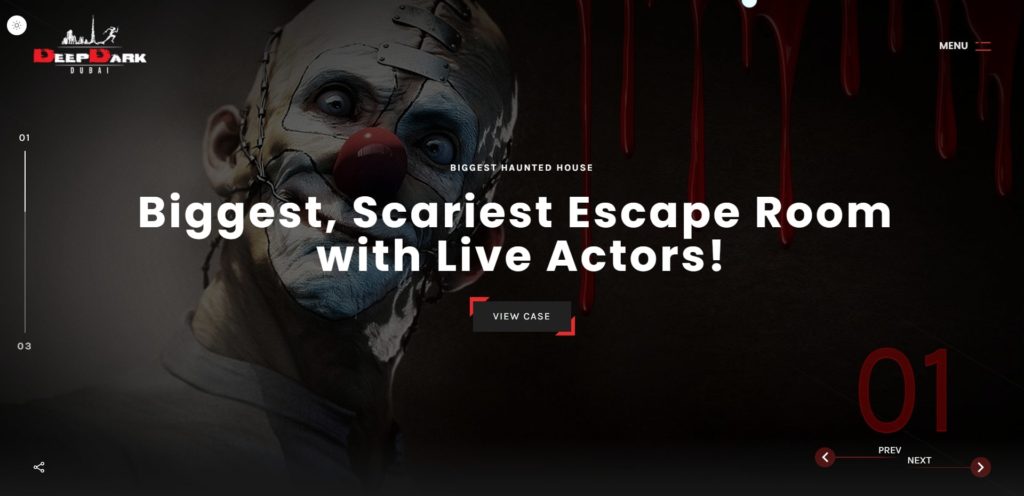 | | |
| --- | --- |
| GAMES: | Paranormal, The Sinner |
| SOCIAL MEDIA: | Instagram |
| LOCATION: | Al Quoz 1, Al Meydan Street, KML Business Center، Villa 7, Dubai |
| OPERATING HOURS: | Mondays - Sundays: 10:00 AM to 2:00 AM |
| TICKET PRICES: | AED 135 to AED 200 |
For the next two escape rooms, we're going to be a bit more specialised in horror. After all, we all love a good scare right?
To start, DeepDark Dubai is a horror/escape game they've developed to entertain groups of friends and corporate guests. It's an offering that's geared a bit more towards older clients, with 14 being the youngest age they allow.
Both of their games, Paranormal and The Sinner, feature live actors that will help sell the tense atmosphere and put pressure on the team as they try to solve the puzzles thrown their way.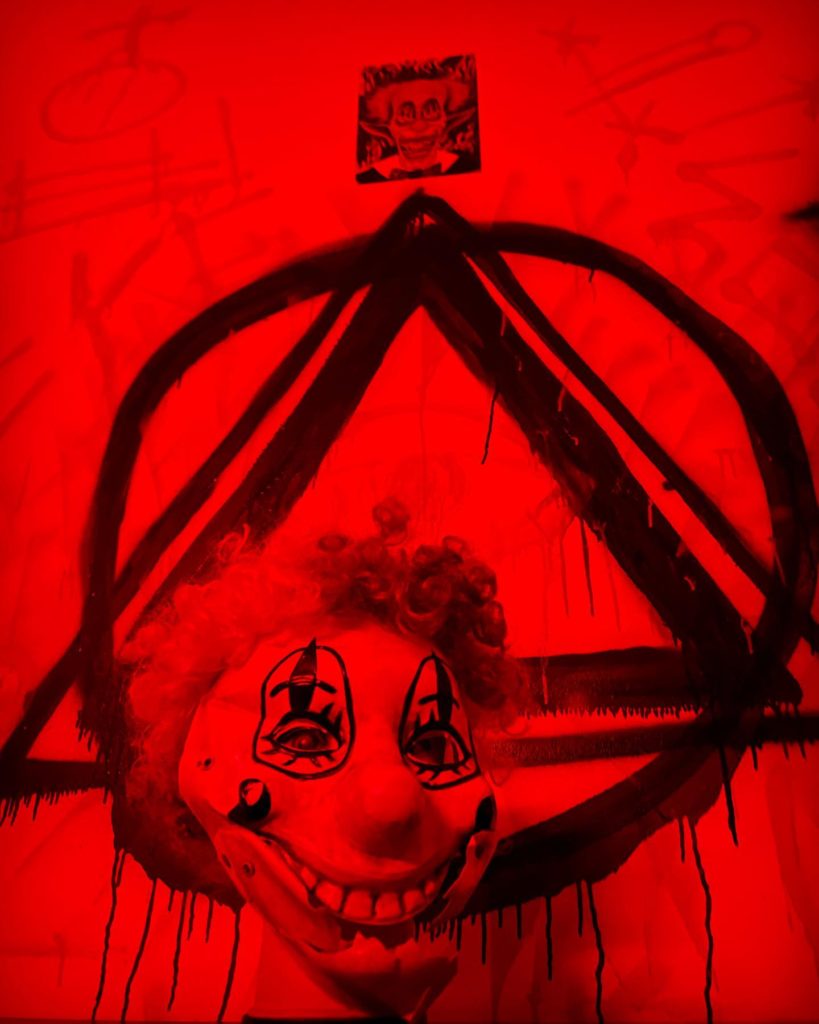 As a rule though, actors are not allowed to touch the players and players are discouraged from doing the same. Surprisingly, it doesn't make the rooms any less scary.
To add to the atmosphere, the game takes place in a rather big villa, which is what allows them to accommodate up to ten or nine players in the room. Try not to lose each other though lest one falls to the horrors in the house.
The dark atmosphere and multi-room setup also makes the space feel even bigger as players scramble to escape from multiple locked rooms while avoiding the dangers.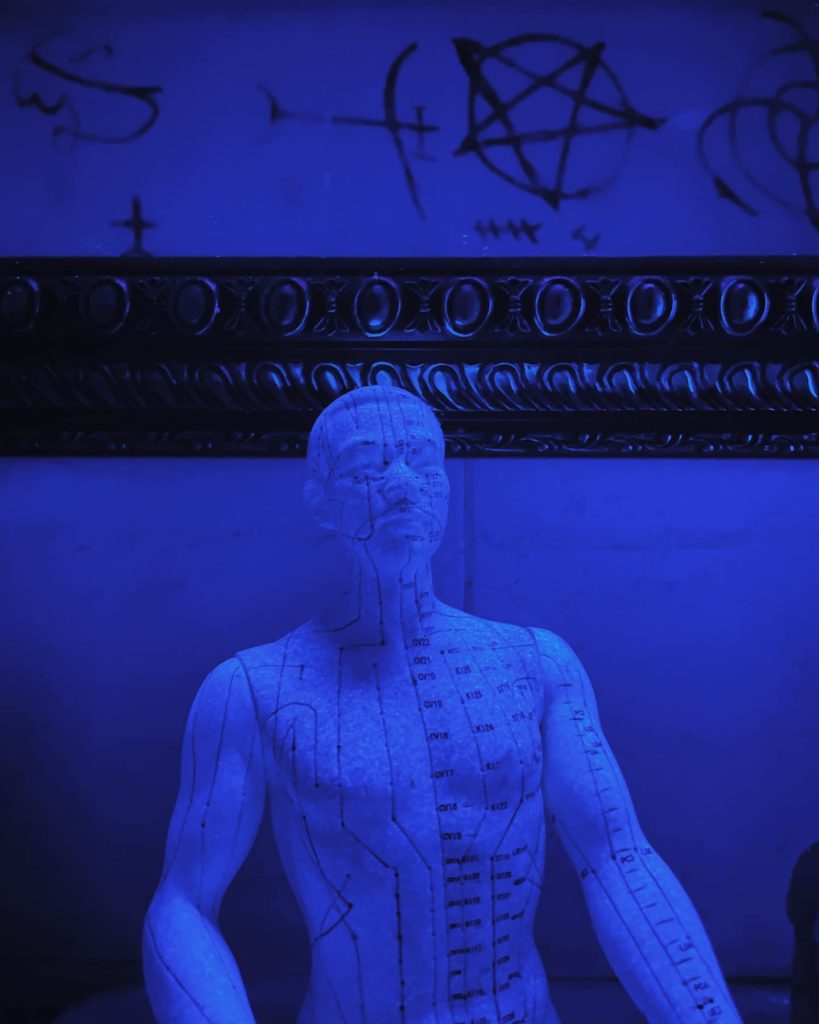 Whether you and your team split up to try and cover more ground or tackle the obstacles as a big group will depend on your own strategy.
Prices start at AED 200 per person for two people, gradually going down as the group gets bigger. After all, you'll need all the help you can get as you explore the villa at DeepDark Dubai.
Good luck!
Where to Find DeepDark Dubai
What's nearby?
DeepDark Dubai is just a few blocks away from the Dubai Bowling Centre, in case you're looking for another avenue to kill time with friends and colleagues.
You can also walk down the street until you reach Al Quoz Park. Here, you can just relax or even play a few ball games like tennis; perfect for unwinding after a particularly tense game.
If you're hungry, you can then head on to the Afghan Khorasan Kabab. Nothing like indulging in some smoky grilled meats, vegetables, and a side of pita bread after running around in a huge haunted house right?
Insidious Escape Room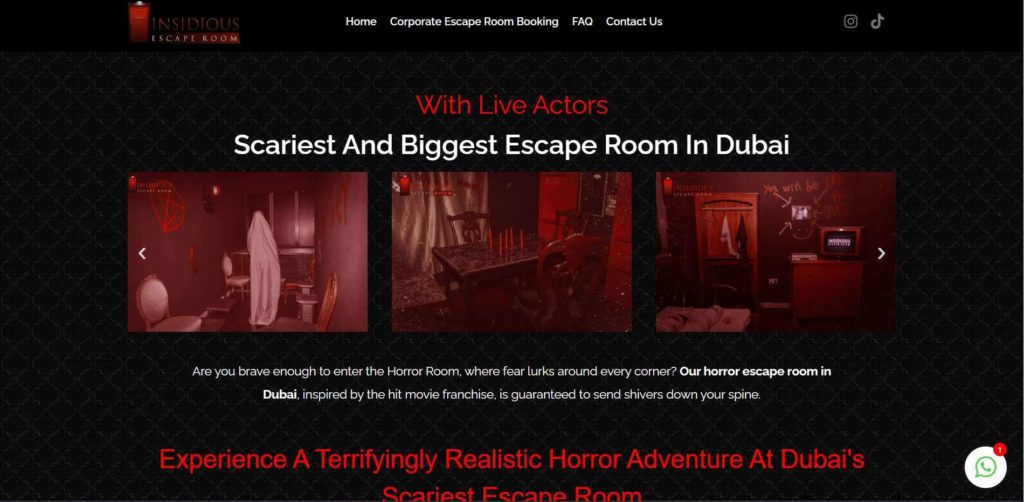 | | |
| --- | --- |
| GAMES: | Insidious |
| SOCIAL MEDIA: | Instagram |
| LOCATION: | Motor City, Detroit House Building, 3rd Floor, 301, Dubai |
| OPERATING HOURS: | Sundays - Thursdays: 4:00 PM to 1:00 AM, Fridays - Saturdays: 4:00 PM to 3:00 AM |
| TICKET PRICES: | AED 170 to AED 250 |
Another horror-themed escape room to check out is Insidious. Here, you'll experience projecting your spirit and descending into the Further in order to unlock the mysteries within.
The room takes heavy inspiration from James Wan's horror franchise of the same name, creating a proverbial house of horrors that you'll need to escape with your mates.
Its setting is an excellent piece of work. The set design is very good, featuring some well-detailed pieces and ambient lighting and sounds that really elevate the mood.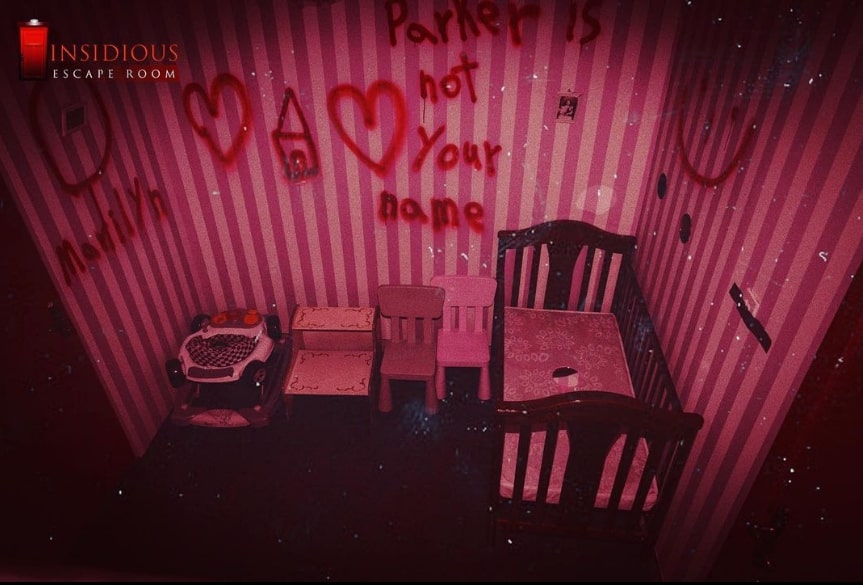 Live actors are also participating in order to enhance the tension as you fumble your way through scary cribs, odd mirrors, and furniture that seem to move on their own despite the lack of winds.
The house is quite big as well, capable of accommodating up to ten people at a time. And of course, you'll need all the help you can get since there's a good number of locks that you have to open up.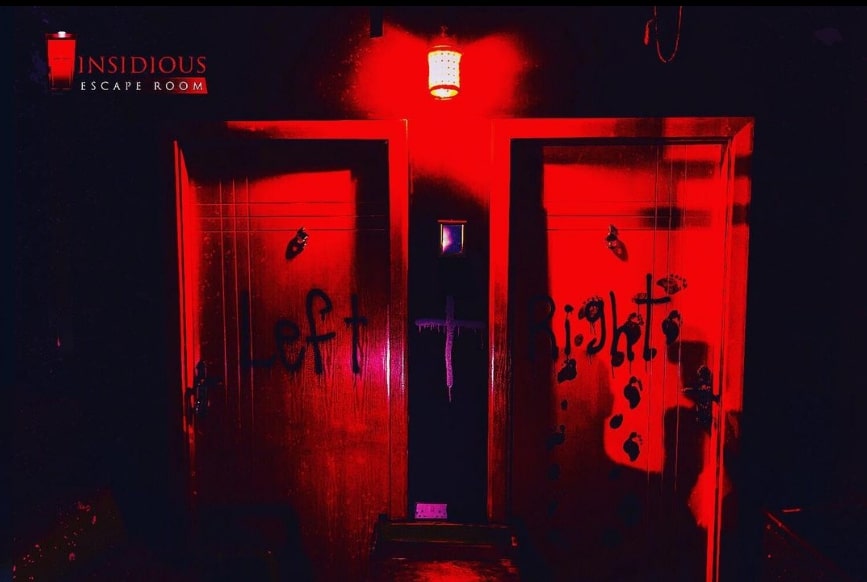 Slots fill up quickly though so you'll want to book in advance via their website or by giving them a call. This is the same for both casual clients or corporate clients looking to spice up their team-building activities.
Prices start at AED 250, going lower depending on how many people will be playing. Corporate clients can also get a customized quote depending on the company's needs.
Not bad for an hour of thrills, scares, and puzzle-solving. Just be careful of making any turns lest you find yourself coming face-to-face with the Bride in Black!
Where to Find Insidious Escape Room
What's nearby?
Fitness buffs should be just at home at the nearby Gymnation here at Motor City. They have good onsite and online activities that you can try out in order to burn those calories and prepare you for running away from the escape room's horrors.
Then if you find yourself hungry after escaping the Further and returning to reality, you can always feast on some nice, fatty tuna or salmon sushi at the nearby Sushi Nations.
You can also experience a different kind of thrill when you book a hot-air, flying adventure with Balloon Adventures Dubai. From up high, you can take great photos of the nearby dunes and oases outside the popular urban areas.
Game Over Escape Room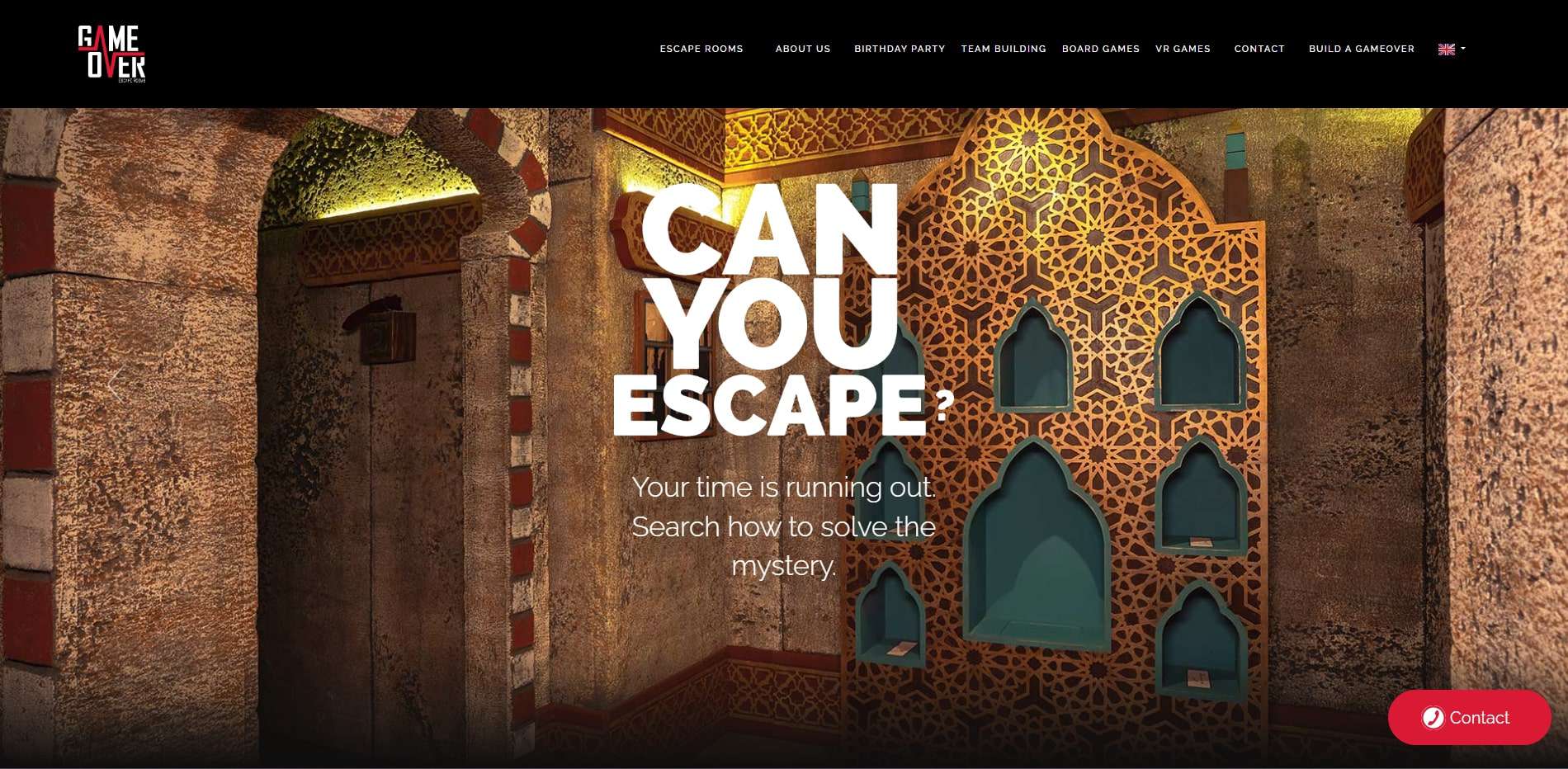 | | |
| --- | --- |
| GAMES: | Orient Express, One Thousand & One Nights, Alice in Wonderland, Horror Circus, Haunted Mansion |
| SOCIAL MEDIA: | Instagram |
| LOCATION: | Nakheel Mall, Palm Jumeirah Second Floor, Dubai |
| OPERATING HOURS: | Sundays - Thursdays: 10:00 AM to 10:00 PM, Fridays - Saturdays: 10:00 AM to 12:00 AM |
| TICKET PRICES: | AED 140 to AED 150 |
Boasting twelve different physical escape rooms and eleven VR-powered experiences in their 11,000 square feet location, Game Over is one of the biggest destinations for fun and entertainment at the Nakheel Mall.
This global brand has opened their 40th outpost here in Dubai, bringing a whole host of brilliantly-designed and intricate puzzles for residents and tourists to wrack their brains with.
They have a versatile selection of themed rooms, taking inspiration from all sorts of art and media developed around us, whether it's a scary movie, a detective novel, or even children's fairy tales.
You can follow the footsteps of famous detective Hercule Poirot as you solve a murder inside a moving sealed room in their Murder on the Orient Express-themed room.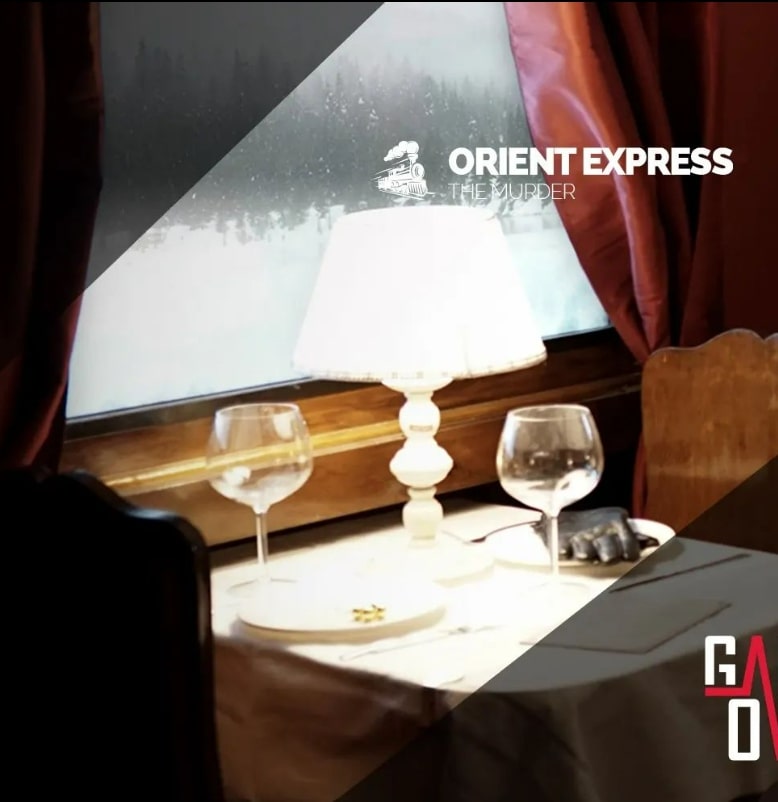 Alternatively, you can transport yourself into the dark halls of the castle in Transylvania as you try to free yourself and your friends from the dungeon before you end up as Count Dracula's supper.
Their games are quite versatile, with rooms designed to be cleared with two up to seven people at a time. Plenty of variety for everyone too!
Alternatively, you can try out the escape room experience in VR, featuring intricate puzzles set in the eldlitch world of H.P. Lovecraft or the whimsical world of Lewis Carroll's Wonderland.
When you're all tucked out, you can always chill at their own game board café. Grab your drinks and snacks here and you can play some good old board games for free as well!
Prices start at around AED 175 per person, and it does get cheaper when you bring in a bigger group. And with the wide array of experiences offered here, Game Over is definitely one memorable destination to add to your bucket list.
Where to Find Game Over Escape Room
What's nearby?
Being set inside the Nakheel Mall does mean Game Over visitors can walk and explore the different clothing stores, electronic stores, restaurants, and other facilities without leaving the building.
Go down a bit further and you'll find Blue Safari Water Spots at Fairmont, the Palm. It's a thrilling water sports venue offering fun rides like water skiing, wakeboarding, parasailing, and even fishing activities.
While you're at it, why not complete the water-themed attractions with a heart seafood lunch at Ibn AlBahr Seafood restaurant? Nothing like enjoying the fresh catch of the day as you stare out into the beautiful beach.
Escape the Room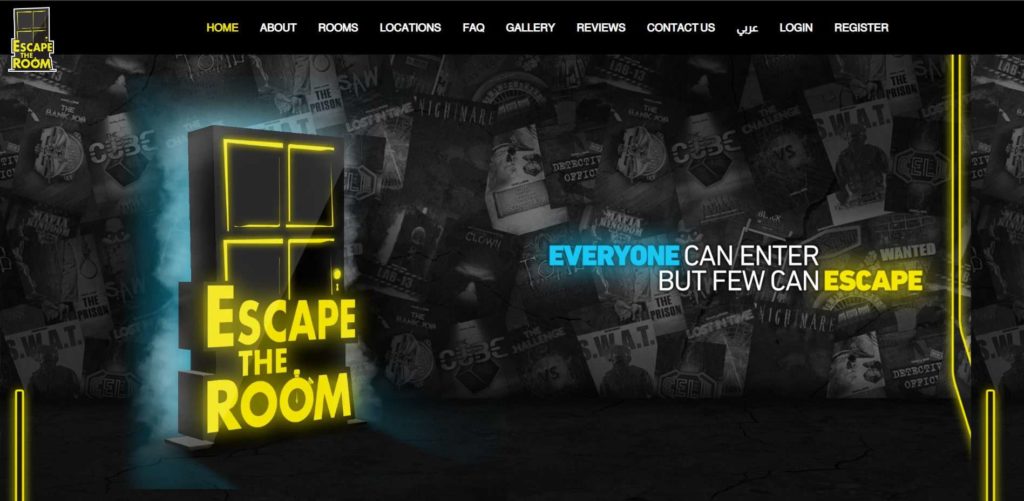 | | |
| --- | --- |
| GAMES: | Nightmare, The Prison, Mafia Kingdom, Lost in Time, Z-Virus |
| SOCIAL MEDIA: | Instagram |
| LOCATION: | 481 Al Wasl Rd., Dubai |
| OPERATING HOURS: | Mondays - Sundays: 10:15 AM to 10:45 PM |
| TICKET PRICES: | AED 150 to AED 200 |
Escape the Room at the Boxpark is an entertainment provider looking to deliver novel real-life experiences by way of their different escape rooms and puzzles.
They have a number of different rooms to choose from, each with their own themes and genres like action, adventure, horror, and even a bit of science fiction. As such, no room has a puzzle that's almost quite the same.
For example, their 'Mafia Kingdrom' escape room has you interacting with mundane objects in an old, Prohibition-era looking bar and game centre while you follow the directions of an intimidating Mafia gamemaster.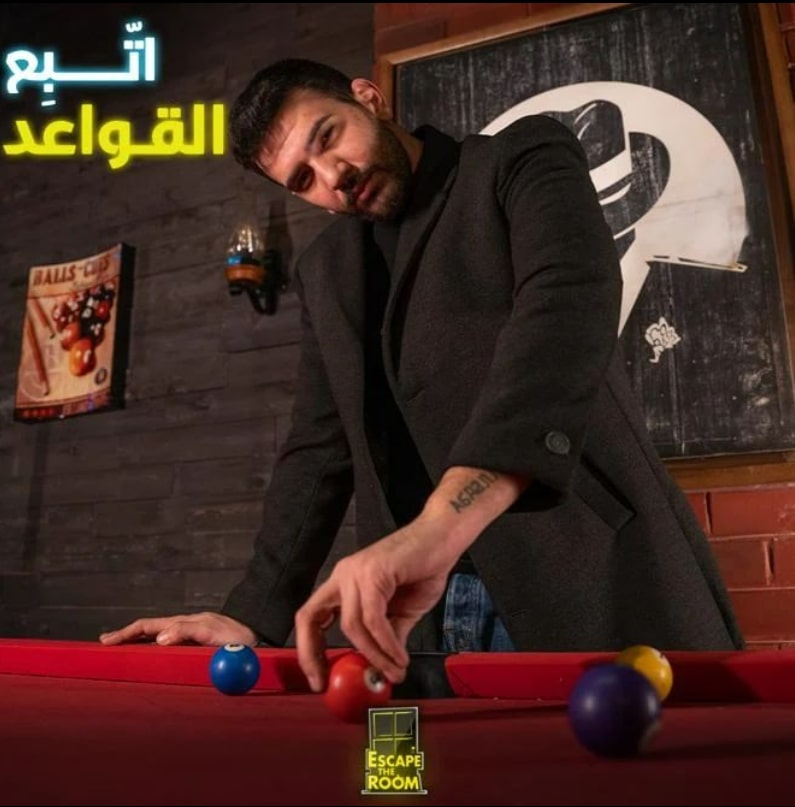 On the other hand, you experience a more mysterious air and strange technology as you scour your old professor's lab for his book of inventions in Lost in Time; the tension coming from subtle changes that occur in the environment.
Apart from their puzzles, we also enjoyed the surprisingly chill and casual atmosphere here at Escape the Room. It just feels like a more upscale arcade that you just chill in with friends after school.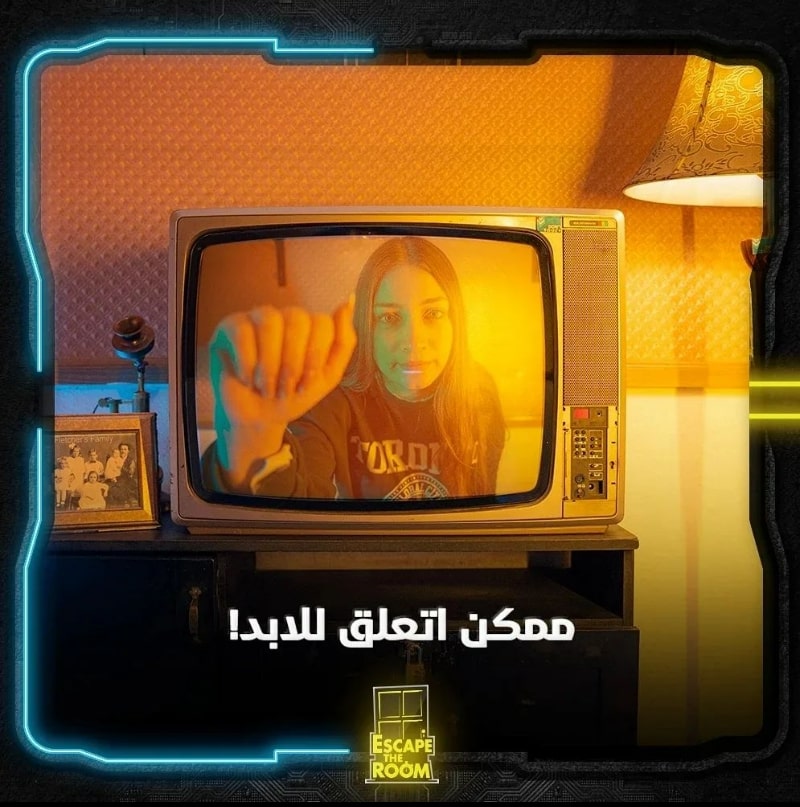 Prices start at around AED 200 per person when going in with just one partner. This goes down to around AED 150 if you decide to check in with a full group of seven.
Not bad for an hour of immersive fun and escapism right? So gather up your friends and put your heads together as you try and escape these rooms during your stay in Dubai!
Where to Find Escape the Room
What's nearby?
After a 3D thrill, you can move on to a 2D one by catching a movie at the Roxy Cinemas at the Boxpark. Stock up on some light snacks and drinks and catch the latest blockbusters in a contemporary and comfortable theatre.
Then there's also the nearby Sketch Art Café; where you can not only have your coffee and cookies but you can also try your hand at traditional arts like drawing, painting, and even sculpting!
But if art is your passion then make sure to swing by 'The Workshop'; a communal space looking to highlight emerging artists, musicians, and performers in the city. Here you can view all sorts of artwork as well as buy some artisanal gifts and products.
---
Hope you're able to escape and have fun with your friends and companions! It's nice being able to strategise and figure out puzzles in an interactive game from time to time.
So are there any other games you want to try out? Make sure to check out our other articles regarding other fun activities to try in Dubai, whether it's on land or over on the water!