Checking out the Best Dubai-Based Clothing Brands
Thanks to their international audience, Dubai is easily a great destination for most of the world's largest fashion brands. However, the presence of this stiff competition has not stifled the growth of the city's own local fashion brands, carving out their own niche.
As such, we highly recommend checking out some of the best that local brands have to offer, ranging from high-end, high-fashion, down to everyday wear and athleisure apparel.
Pieces from By M.A.R.Y, Michael Cinco, Zayan the Label, All Things Mochi, Dee by Dalia, Ohoy Swim, and Boom and Mellow are sure to impress even the top fashionistas out there, and we really recommend you give them a shot!
By M.A.R.Y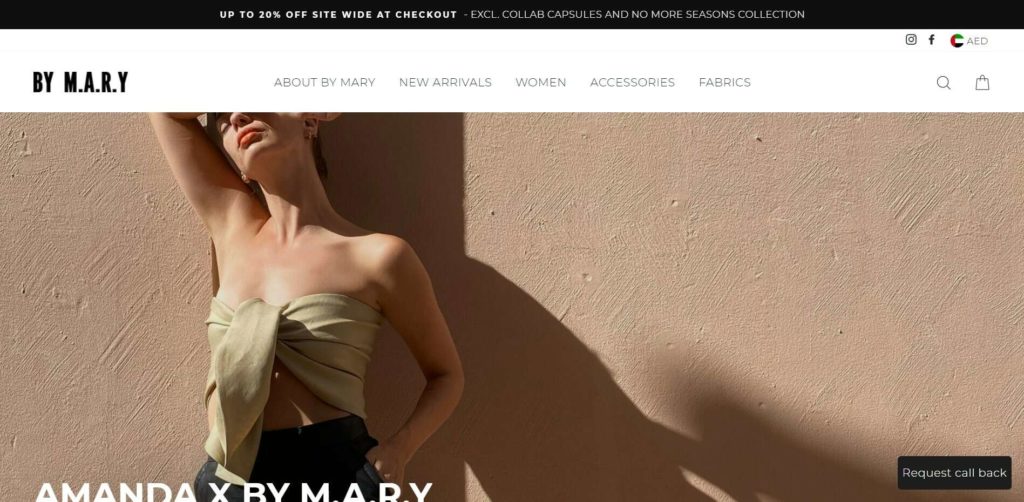 Test
Info
Where to Buy:

Maison Clad Pop-Up Stores




Maison Clad at La Serre Vida Downtown, Mohammed Bin Rashid Boulevard, Downtown Dubai

Website / Social Media:
https://by-mary.co/
Contact Details:
Phone: +971 56 115 0028

Email: [email protected]

Operating Hours:

La Serre: Mondays - Fridays: 8:00 AM to 10:00 PM

Saturdays - Sundays: 8:00 AM to 12:00 AM




The Courtyard: Mondays - Sundays: 7:00 AM to 4:00 AM
By M.A.R.Y bills itself as an eco-friendly fashion brand in Dubai that primarily uses organic materials in their clothing. They position themselves as a more affordable alternative for women's fashion in the area.
They primarily take inspiration from traditional designs from Central and West Africa. They then mix them with a more contemporary aesthetic resulting in some really interesting pieces.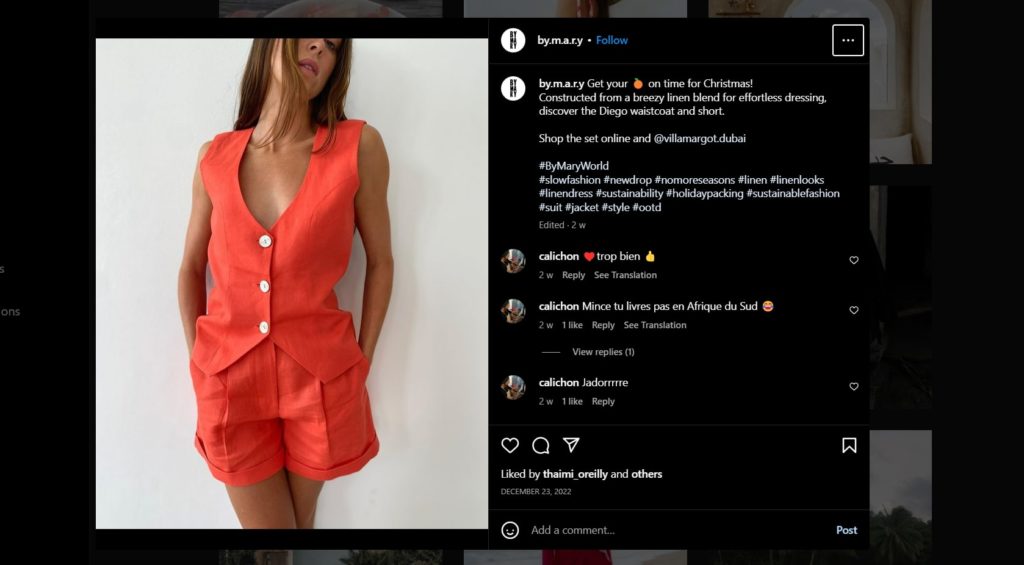 By M.A.R.Y offers a selection of shirts, long dresses, gowns, and kimonos for more 'elegant' styles for formal events like galas or even just dinner dates.
Otherwise, there's still the more 'practical' outfits like jackets, jumpsuits, and pants that you can use for travel and business alike. They even have shoes, bags, and other similar accessories to adorn your clothes.
Some of the collections do look quite pricey though, and you can expect to spend around AED 700 above for some of the pieces. Still, we do think the prints are unique enough to add to any collection.
Michael Cinco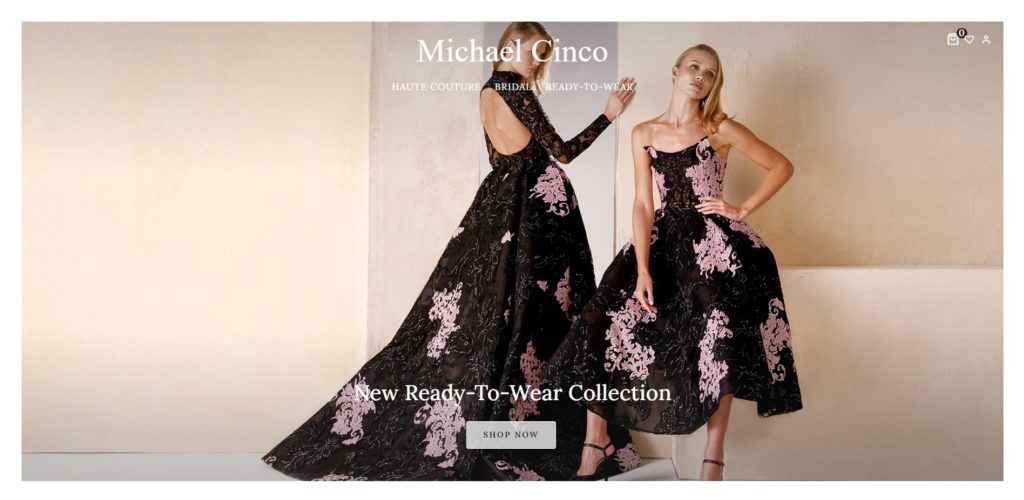 Test
Info
Where to Buy:

Michael Cinco Haute Couture




Dubai Design District Office A301, 3rd Floor, Building No.4 72791, Dubai

Website / Social Media:
https://michaelcinco.com/
Contact Details:
Phone: +971 4513 5959

Email: [email protected]

Operating Hours:
Saturdays - Thursdays: 10:00 AM to 8:00 PM

Closed on Fridays
Launched back in 2003 by Filipino designer Michael Cinco, the brand has steadily made big splashes across the fashion industry both locally and internationally.
And it's no surprise, given that well-known stars like Beyonce, Lady Gaga, and Jennifer Lopez have worn pieces from the brand, turning heads during major shows and events: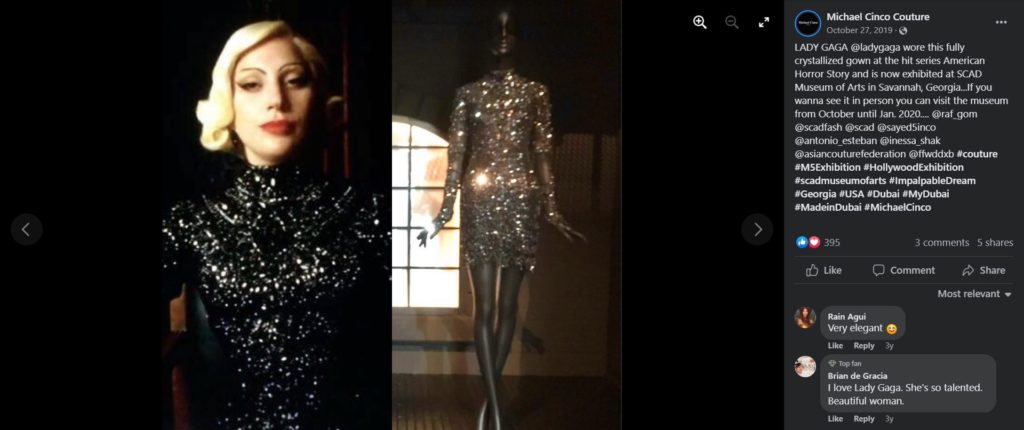 Upon stepping into their website or their stores, you are immediately treated to a dazzling array of haute couture or custom-fitted high-end fashion built-by hand, making for a unique handicraft for yourself.
Of course, they do have a number of ready to wear pieces you can check out, with some really nice seasonal designs for both men and women. Just note that these pieces can be quite expensive, ranging from AED 3,000 and up to AED 14,000 even.
It may not be the type of clothing you'll wear on a daily basis but they definitely stand out for those attending major fashion-related events.
Zayan the Label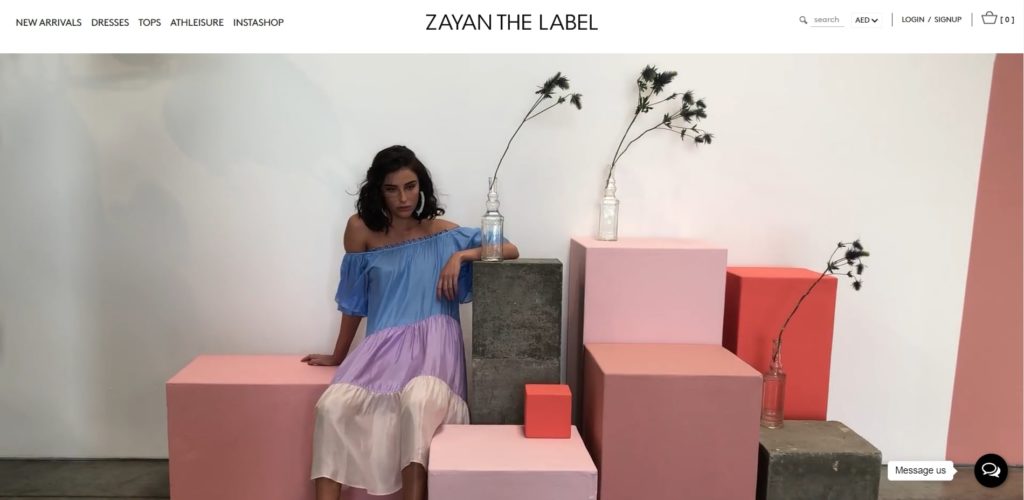 Test
Info
Where to Buy:
ZAYAN THE LABEL - Galleria Mall

Shop 10, Galleria Mall, Al Wasl Rd., Dubai

Website / Social Media:
https://zayanthelabel.com/
Contact Details:
Phone: +971 4344 0104

Email: [email protected]

Operating Hours:
Mondays - Sundays: 9:00 AM to 11:00 PM
Fill up your wardrobe with some stunning hand-embroidered pieces and colourful prints from Zayan the Label. Launched by designer Zayan Ghandour, you can get all sorts of colourful wardrobe pieces from both their ready-to-wear line and collections.
The brand has also branched out towards more practical, everyday pieces such as pants, skirts, athleisure pieces, tops, and even jumpsuits. In our opinion, this makes them one of the more accessible designs from the high fashion world.

We've also found them to be quite competitive when it comes to the prices on their tops and dresses. It's possible to get vibrant, coloured pieces from the collection somewhere between AED 600 and AED 2,000.
Despite that, the designs are no slouch either and we can easily see you turning heads during formal events and dinners without spending a lot on some of the top brand names in the fashion world with Zayan.
Ohoy Swim
Test
Info
Where to Buy:
Surf House Dubai, Villa 12a 3 A St., Umm Suqeim, Jumeirah 3, Dubai
Website / Social Media:
https://ohoyswim.com/
Contact Details:
Phone: +971 55 507 7862

Email: [email protected]

Operating Hours:
Mondays - Sundays: 7:00 AM to 7:00 PM
Founded back in 2016, Ohoy Swim is a Dubai-based swimwear brand with a special focus on providing sustainable bikinis made from ethically-sourced materials.
They primarily take inspiration from Scandinavian designs when it comes to designing girl's swimsuits for all shapes and sizes, resulting in some sweet, practical pieces you can wear to any beach and for any activity out on the water.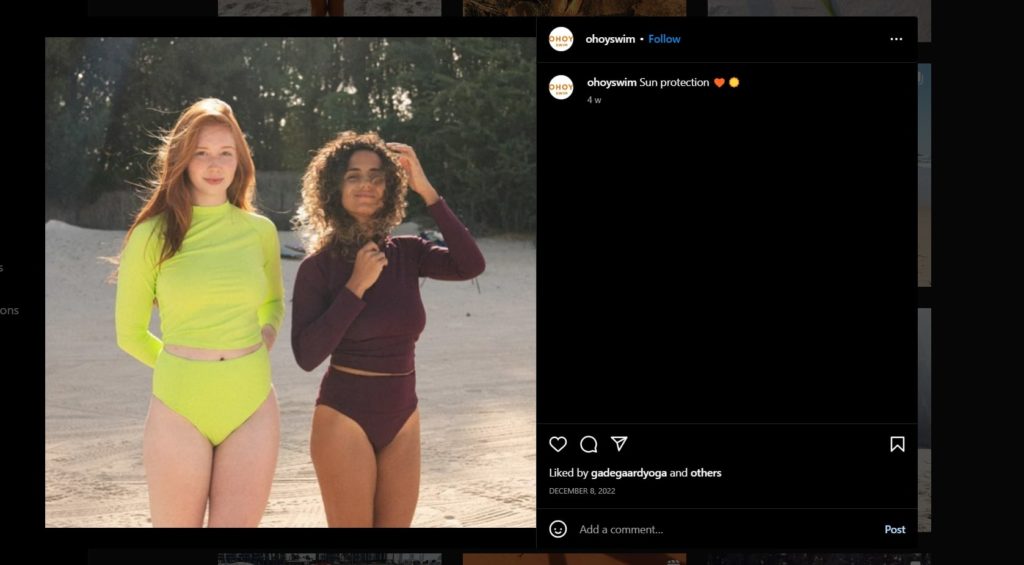 Personally, we find their emphasis on simplicity to be quite a distinct asset as it ensures their fashion never goes out of style. It definitely helps live up to their sustainable label, making it easy to wear their pieces all year out.
To top it all off, we did find their pieces to be quite affordable, with bottoms and tops ranging between AED 100 to AED 300. It's definitely a brand worth checking out.
All Things Mochi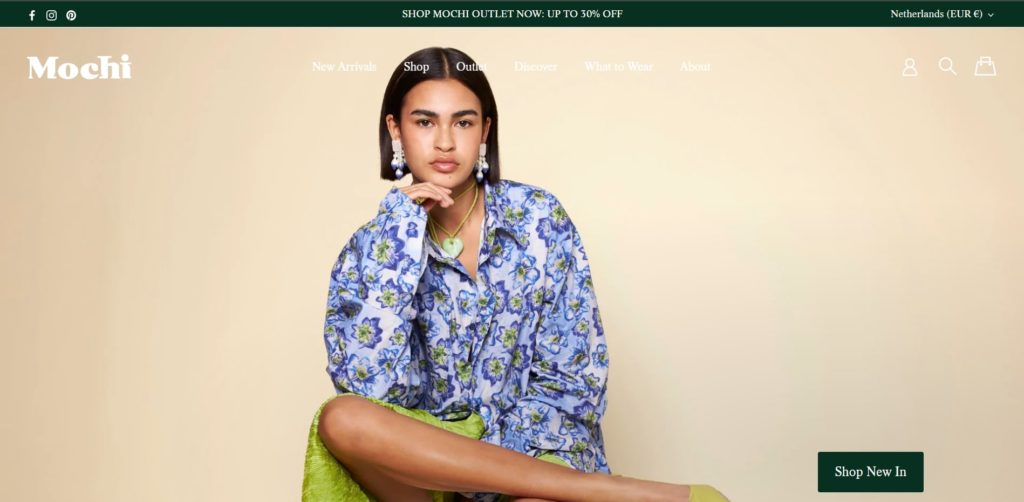 Test
Info
Where to Buy:
Design District Building 9, Office 103, Dubai
Website / Social Media:
https://allthingsmochi.com/
Contact Details:
Phone: +971 4443 3451

Email: [email protected]

Operating Hours:
Sundays - Thursdays: 9:00 AM to 6:00 PM

Closed on Fridays and Saturdays
All Things Mochi was established back in 2013 by designer Ayah Tabari. The brand aims to showcase a wide array of contemporary pieces made by local artists by hand.
As such, you can get a wide variety of clothing items from their store. For example, you can get things like a crochet sweater or cardigan, as well as traditional dresses made from lighter fabrics and traditional prints.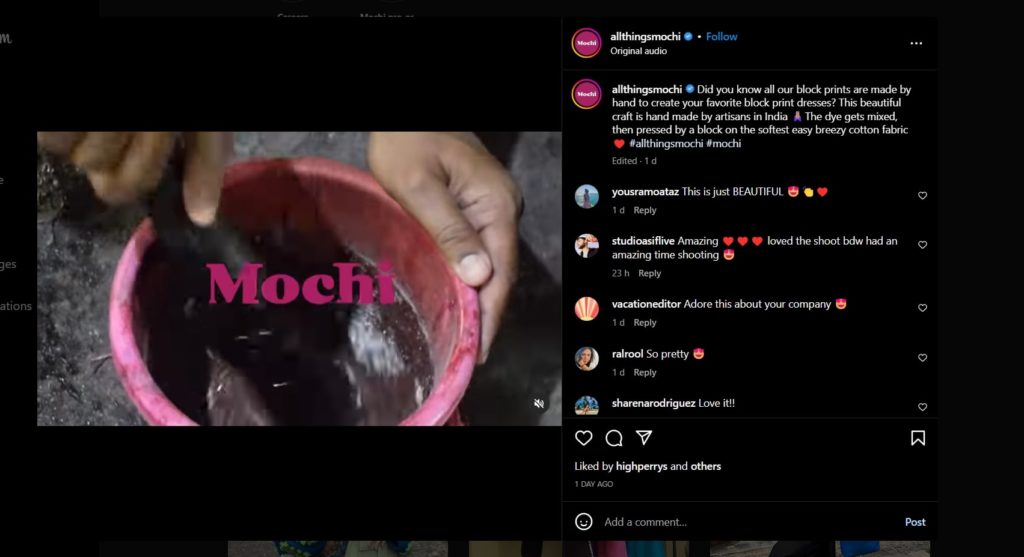 Designs from Mochi definitely lean more on a seasonless look, allowing you to wear them anytime and anywhere. We think this is a big advantage, given Dubai's consistent weather and climate for much of the year.
They can even help with sustainability by offering clothes made from repurposed fabrics and prints.
In terms of pricing, there's a wide range depending on the type you're ordering. Expect to spend between AED 300 to AED 1,500 on the different clothing types available here.
Boom & Mellow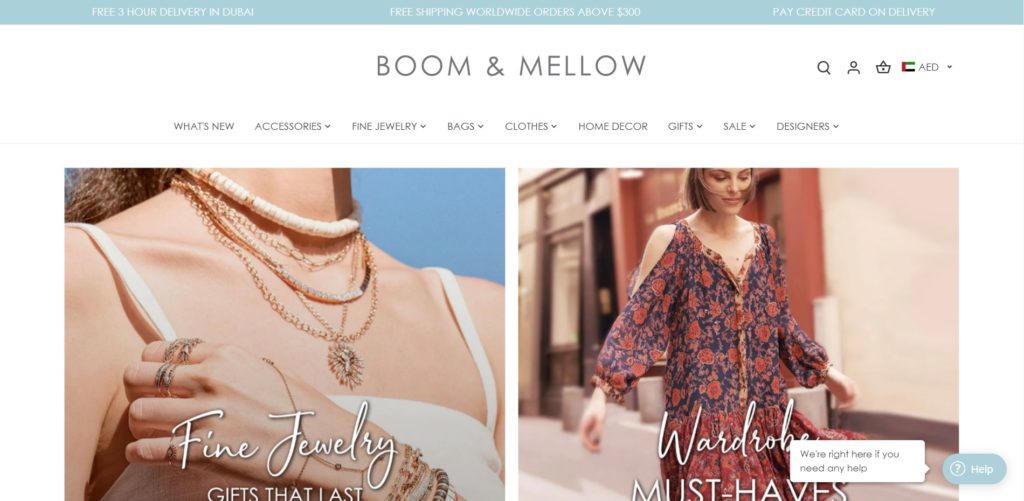 Test
Info
Where to Buy:

Jumeirah: Boom and Mellow Town Centre Jumeirah

Town Centre Jumeirah, Ground Floor 21, Jumeirah Beach Road, 75B St., Jumeirah 1, Dubai




The Springs Souk: The Spring Souq, Ground Floor, Shop #27, Springs 7, Dubai

Website / Social Media:
https://www.boomandmellow.com/
Contact Details:
Phone (Jumeirah): +971 4344 4512

Phone (Springs Souk): +971 4385 7827

Email: [email protected]

Operating Hours:
Mondays - Sundays: 10:00 AM to 10:00 PM
Boom & Yellow is one of Dubai's most diverse collections of different fashion pieces located in a boutique store on Jumeirah Beach Road.
The boutique's collection of clothes and accessories has been featured on some top lists such as Grazia Best Boutique, Vogue Arabia, Conde Nast, and the Ahlan Hot 100.
Shopping at the store is relatively stress free as well, with most shoppers left to just browse the more interesting, traditional prints and simple jewellery pieces at their own time.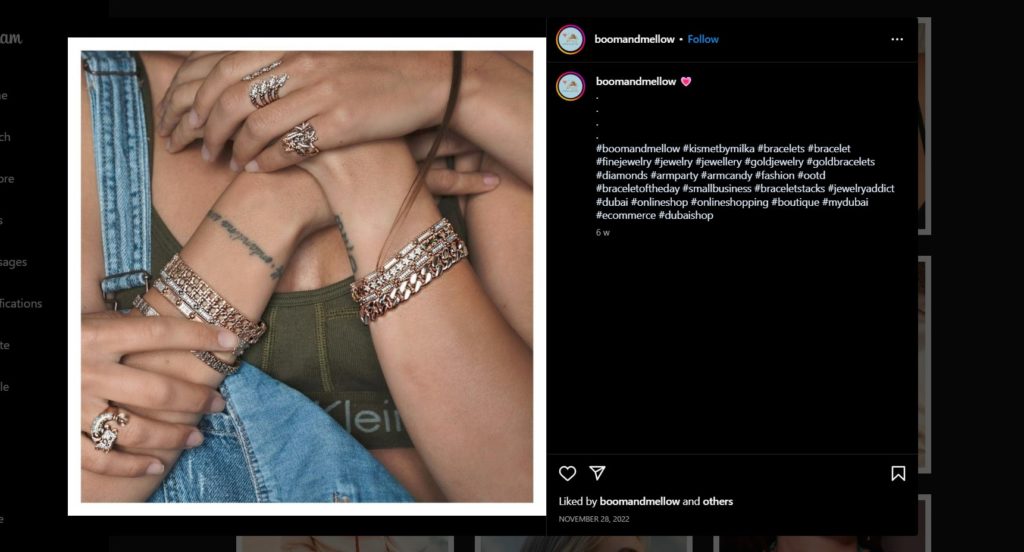 Additionally, you don't need to travel all the way to the JBR if you're interested in a purchase. The store offers free delivery services across any area in Dubai.
Clothing prices range between AED 200 and AED 700 while jewellery items cost around AED 1,000 to AED 2,000 for some high-end pieces. Not a bad price for some unique and elegant pieces to add to your collection.
Dee by Dalia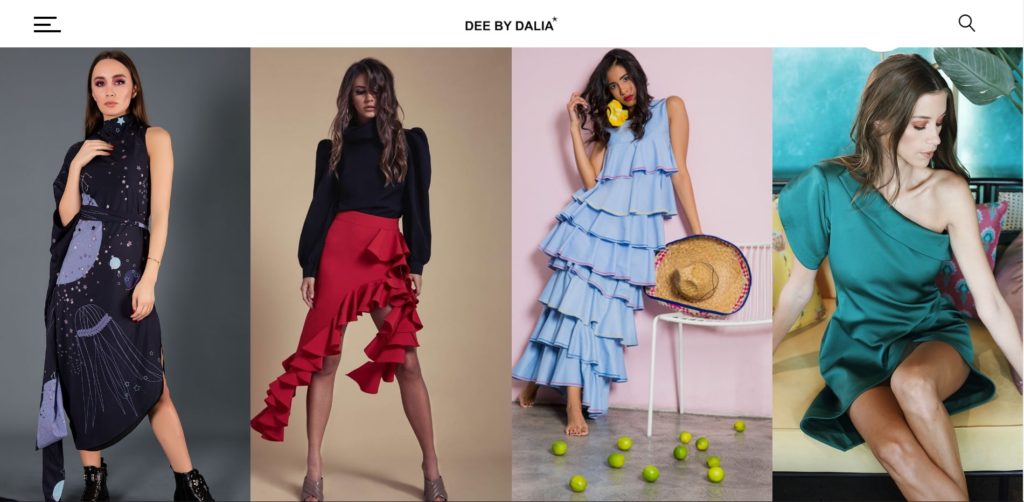 Test
Info
Where to Buy:
Dee by Dalia Headquarters, Office 306A Building 5, Dubai Design District, Dubai
Website / Social Media:
http://www.deebydalia.com/
Contact Details:
Phone: +971 50 511 0524Email:

[email protected]

Operating Hours:
Unspecified
Want to move away from modernity by focusing more on a vintage aesthetic? Simply check out the collection featured by Dee by Dalia; a fashion line of UAE-based designer, Dalia El Ali.
The brand is all about taking inspiration from 60's and 70's fashion and design, with all the typical cut-outs and ruffles associated with that time period.
Dalia's collection has been featured back in the 2018 London Fashion Week, generating great buzz regarding the amazing fashion scene you can find in the thriving cityscape.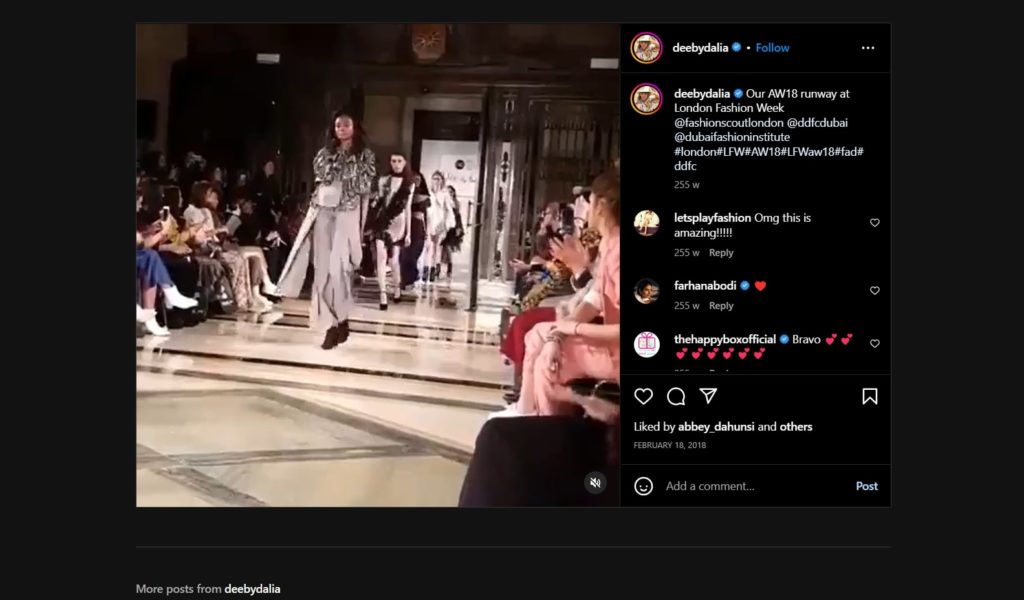 The brand features some amazing seasonal, ready-to-wear pieces you can get from the designer, as well as some matching mother-daughter dresses for some fashionable family time.
Prices vary a lot between pieces but most tops we've seen start at around the AED 1,000 mark. It's not quite a budget brand yes, but it does remain accessible enough without really breaking the wallet.
---
All these amazing designs are proof that Dubai is a bustling hub for creativity in many aspects of art and entertainment. Homegrown fashion brands are a great first step in highlighting the unique creativity of the city and its people.
Which of these designs did you like? For more fashion hot spots, check out our list of the best places to buy clothing and apparel in Dubai here.