The 5 Best Graphic Design Companies in Dubai
Need a good team of graphic designers by your side? It's a good thing there are so many good graphic design companies that can help give life to your brand.
In this article, we give you a list of the best graphic design companies in Dubai and answer common questions like the cost of their services, what they're good at (or not), and more.
How much does it cost to hire a graphic designer in Dubai?
There are a lot of factors that go into the price of hiring graphic designers.
The cost will depend on what you need to have done, the complexity of the project, the level of expertise the designers have, the type of graphic design needed for your project, and how much time it will take to finish the design or campaign.
The graphic design company will consider these things for their rates.
Some designers charge by the hour while some arrange a fixed price on their projects. When you hire a graphic design company, ask about their pricing structure from the get-go so you have a better idea if they fit your needs and your budget.
To give you a ballpark range, below is a table with standard rates per hour for graphic designers.
| Level of work | Rate per hour in AED | Rate per hour in USD |
| --- | --- | --- |
| Mid-level | ~91.82-128.6 AED | ~25-35 USD |
| Expert | ~128.6-275.47 AED | ~35-75+ USD |
However, take note that it will still greatly depend on what you agree upon with the company you are hiring, so use this simply as a reference to guide you.
The Graphic Design Companies in Dubai to Watch Out For
We assessed the companies based on the following criteria:
1. RedSpider
Test
Info
WEBSITE
https://www.redspider.ae/
ADDRESS
Office 1002, Burj Gate Tower,Sheikh Zayed Road, Dubai. United Arab Emirates
CONTACT DETAILS
+971 55 5515 475
CONTACT HOURS
Sunday- Thursday (9 AM-6 PM)

Closed Fridays and Saturdays
| | |
| --- | --- |
| ACCESSIBILITY | ★★★☆☆ |
| EXPERTISE AND TRACK RECORD | ★★★★★ |
| EASE OF SERVICE | ★★★★☆ |
Established in 2010, RedSpider has extensive experience in web and design solutions. One of their specializations is graphic design, and as you might expect of such companies, they have a graphic design portfolio that you can view on their website.
Looking at their online portfolio, we can see that they have a wide range of clients from real estate companies, restaurants, retail, and even marine companies.
Their graphic design style is very straightforward, combining skills in art and technology to create brochures, packaging, pamphlets, publicity materials, and many more.
They even offer different packages for their graphic design services on their website. Their packages vary in the number of designs and copyright photos they provide.
What is noteworthy about this company is that they offer unlimited revisions in their packages, so you can work with them for as long as necessary until you get the design you need and desire.
Aside from graphic design solutions, they also offer an array of services such as logo design, web design, brochure and profile design, e-commerce solutions, email marketing, and even web hosting. This is really convenient because they are a one-stop shop if you need something else done for your business aside from graphic design.
Based on client feedback, their specialty is web design, though, and not graphic design. So that is something to consider before choosing this company.
However, based on what we see with their track record, you can get the graphic design services you need at a good price point. This also holds up based on our poll of their clients.
Their previous clients mention that they offer excellent results and good advice to achieve the business's concepts. They also said that RedSpider works well within the budget and schedule.
This is great news, because budgeting and scheduling are two very important things in a project. Knowing that they can be depended on when it comes to these things is a green flag for clients.
As for their accessibility, they are inactive on social media. So it might be best to contact them through Whatsapp, their site, or through a phone call to inquire.
Experienced
Wide array of services aside from graphic design
Offers packages on their website
Works well within budget and schedule
Specializes on web design more than graphic design
Inactive on social media
Customer Reviews
Immediately knew what we were looking to achieve
Our experience at RedSpider was excellent. The team immediately knew and understood what we were looking to achieve and then proceeded to improve on our concept. Their ability to work to schedule and importantly within budget was impressive. We look forward to working with RedSpider again in the future, and would highly recommend any company to do the same. -Gulf AutoTraders
Professional entity providing excellent results
Red Spider is a professional entity providing excellent results . Mr.Ahmed is a thorough professional who respects his commitments and his clients' time. My association with them started in 2017 and have utilised their services on 4 of my personal projects. I can recommend Mr.Ahmed and the Red Spider team for all your Website related requirements.-Maneeshplc
2. Prezlab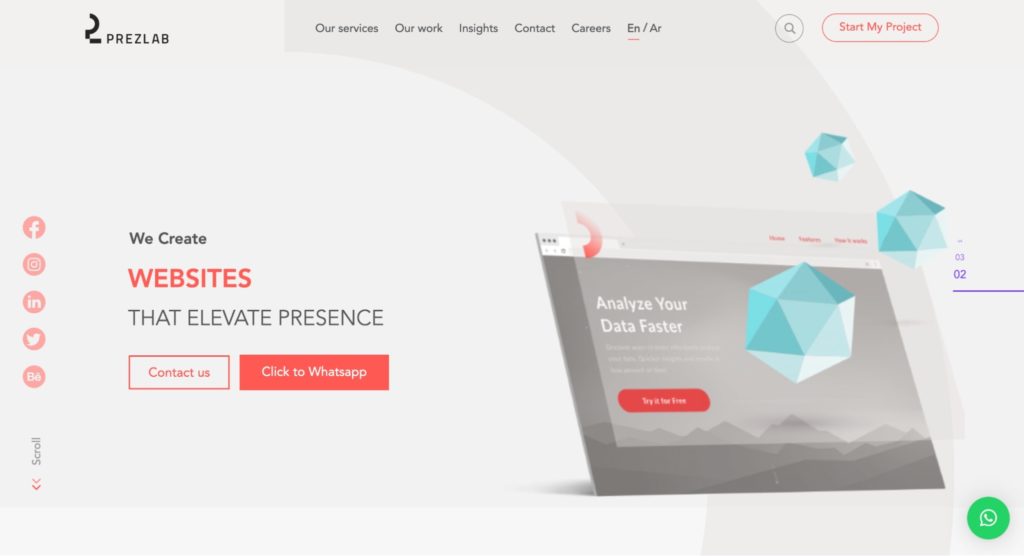 Test
Info
WEBSITE
https://prezlab.com/
ADDRESS
Dubai Design District (d3), Building 8 - Office 507 - Dubai - United Arab Emirates
CONTACT DETAILS
+97145813684
CONTACT HOURS
Sunday-Thursday (9AM-6PM)

Closed on Fridays and Saturdays
| | |
| --- | --- |
| ACCESSIBILITY | ★★★★☆ |
| EXPERTISE AND TRACK RECORD | ★★☆☆☆ |
| EASE OF SERVICE | ★★★★☆ |
Prezlab is a digital firm that specializes in infographics, animations, presentations, reports, and even videos. They offer a minimalist style in their designs, so if that's the look you're going for, this might be the company for you.
Based on their portfolio, they have a wide range of projects and customers. They have handled imagery, customized illustrations, infographics, social media campaigns, video campaigns, reports, and many more for the government, consultancies, corporations, and product lines.
They are established in 2019, so they are a younger firm compared to the others in this list. However they are well worth the mention because of their extensive portfolio and specialized services, as well as international customer base.
Aside from graphic design, they also offer social media management, book and report design, video production, digital marketing, brand development, and website design as part of their services. So, they are well-versed in communicating the brand's message through their designs and outputs.
This is a plus if you need a more focused marketing plan in your project, because their different strengths among these areas will shine through.
Clients told us that they understand the world of digital marketing well and show their prowess and knowledge in their designs. A lot of their previous customers also praised their efficiency.
There aren't a lot of weaknesses for this company, in our opinion, aside from their relative youth. This is also why they don't have a lot of public reviews on the Web, by the way: they haven't had as many clients as some of our other choices.
Still, they're active on social media, so you can browse their pages to get a better idea of their style in design. You can also reach them there or through their website.
Going from our experience, it's much better to give a call directly, however, so they can get back to you promptly on your inquiries.
Extensive graphic design portfolio
Consistent design
Intuitive website
Offers a wide range of services
Limited client reviews
Younger compared to competitors
Customer Reviews:
They specialize in design
They speak our language! They understand digital marketing very well, and they specialize in design. Personally, I appreciate companies that focus on certain areas of an industry and do them right, and this is what Prezlab is doing.-Abdullah Albasha
Quick and efficient
Great service. Quick and efficient and will certainly use again and recommend to others. Thank you. -Kareem Nabulsi
3. Studio3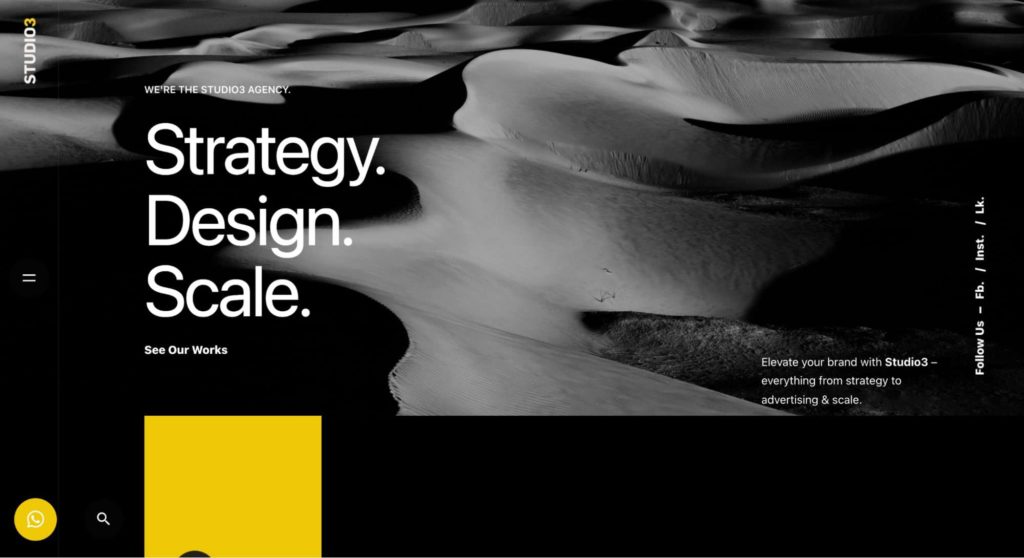 | Test | Info |
| --- | --- |
| WEBSITE | https://studio3.ae/ |
| ADDRESS | 29776, Burj Khalifa Street, Bayswater, 1408, Business Bay, Dubai, United Arab Emirates |
| CONTACT DETAILS | +971 4 3885908 |
| CONTACT HOURS | Monday-Friday (9 AM-6 PM) |
| | |
| --- | --- |
| ACCESSIBILITY | ★★★★☆ |
| EXPERTISE AND TRACK RECORD | ★★★★☆ |
| EASE OF SERVICE | ★★★★☆ |
Studio3/MPS is a full-service agency that provides creative solutions and offers assistance with advertising, marketing, and branding.
They offer a wide range of services, including both inbound and outbound marketing strategies. They can do logo design, advertising campaigns, website design, SEO services, social media management, animation, design and production.
They are also capable of printing, installation, and exhibition stand kiosk design. If you need a lot of marketing initiatives done, you'll probably appreciate their versatility and range.
Their design chops exhibit the same versatility, by the way. They can handle both maximalist and minimalist design, depending on what your business requires: we noted myriad styles in their past work.
They also have served a variety of clients, ranging from hospitals, automotive services, jewelry, resorts, real estate, malls, restaurants, and magazines. So as far as experience goes, they're not too shabby either.
As mentioned before, they can handle both online and offline marketing. They have done 360-degree social media campaigns, brochures, pamphlets, reports, and even window displays.
Their versatility and ability to do this is what sets them apart from many other agencies, really. Polling their clients revealed that most were hugely satisfied with both their online and offline work, which definitely earns them points in our books.
As for accessibility, they update regularly on their social media, but they are generic posts. You don't really get to see the breadth of their design prowess just by looking at their social accounts.
Can handle advertising, marketing, and branding aside from graphic design
Wide range of services
Well versed in both online and offline marketing
Varied art styles
Intuitive website
Generic posts on social media
Customer Review:
Creative inputs and close communication
The communication was clear and so the pace of work was extremely fast. The company also enjoyed a high brand lift, thanks to the successful awareness campaign that promoted the video. Studio3's workflow was also commended, and the client was impressed with the team's creative inputs and close communication. -Finance House
4. Sandpaper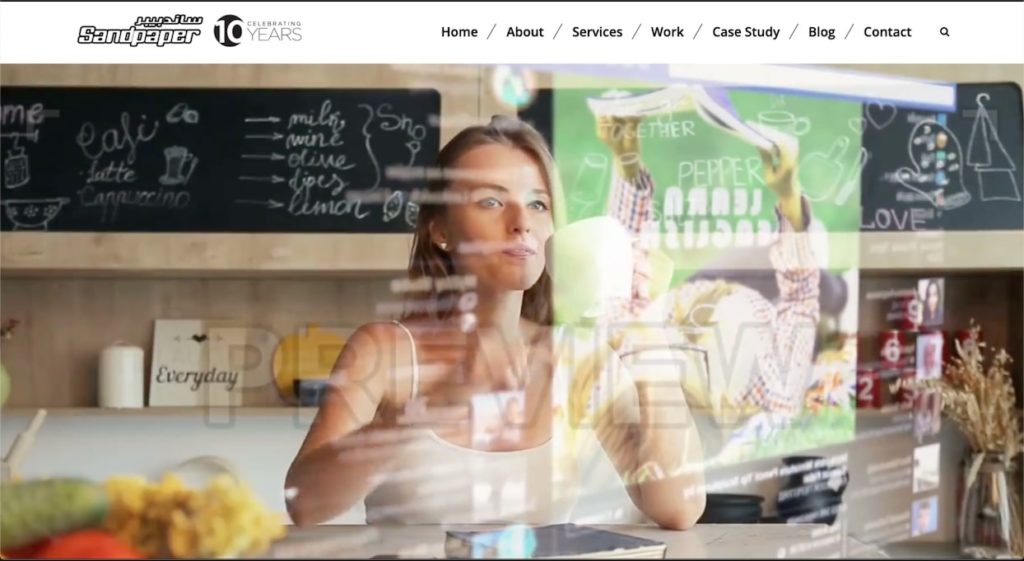 | Test | Info |
| --- | --- |
| WEBSITE | https://sandpaperme.com/ |
| ADDRESS | HDS Tower, Office 1003, Cluster 'F', Jumeirah Lake Towers, Sheikh Zayed Road - Dubai - United Arab Emirates |
| CONTACT DETAILS | +971 4 430 8801 |
| CONTACT HOURS | Monday-Friday (9 AM-6 PM) |
| | |
| --- | --- |
| ACCESSIBILITY | ★★★★☆ |
| EXPERTISE AND TRACK RECORD | ★★★★☆ |
| EASE OF SERVICE | ★★★★☆ |
Sandpaper is a digital marketing agency that does both branding and creative marketing. They were established in 2007, so they've been in the industry for a while.
The first thing worth noting is that they have two offices: one in Dubai and one in the UK. So, they have extensive experience navigating these two markets.
They're thus a strong choice for those who want to tackle these two markets. They're also good if you want digital design that is results-oriented.
Their approach is old-school in at least one way – they believe content is king. It shows in their work because their projects seem to consist of meticulously thought-out, meaningful campaigns.
Their design is very straightforward too, combining bold colors and photography to achieve the project's goal. If this is something you're after, Sandpaper may be the company for you.
Their portfolio consists of design for annual reports, product packaging, publicity materials, and branding for NGOs, corporations, brands, and foundations.
They also offer a wide range of services aside from graphic design. They can handle branding, digital services, advertising, and experience campaigns, for instance, and both offline and online marketing.
A downside we see is that compared to competitors, they don't post too many samples of their work, making their portfolio less comprehensive than the others. They claim to have over hundreds of satisfied customers but all their work is not seen on their site.
This makes it hard to see the variety in their art styles and products that we found when we actually did research.
They don't post a lot on social media either, which is a platform that we think they should develop more as a digital agency.
Other than that, though, we think they're a solid choice, especially if you need the services we described or want to focus on the two markets they're most familiar with.
Experienced in both Dubai and UK markets
Offer a wide range of services
Wide level of experience in offline and online marketing
Portfolio on website not comprehensive
Inactive on social media
Customer Reviews
Their level of strategic thinking and creativity makes them stand out
Peter and his team quickly understood our goals and translated them effectively. They had a fantastic understanding of who the customer was and how to reach them. Their level of strategic thinking and creativity makes them stand out here in the region. -Aileen Culligan
A truly creative company
Sandpaper don't just 'do design' for fun – they take the time to understand your business and align their design with your objectives. A truly creative company consisting of a great blend of professional talent. If you want your business to succeed and not just 'play at it' I would thoroughly recommend Sandpaper. -Neil Thompson
5. Prrowess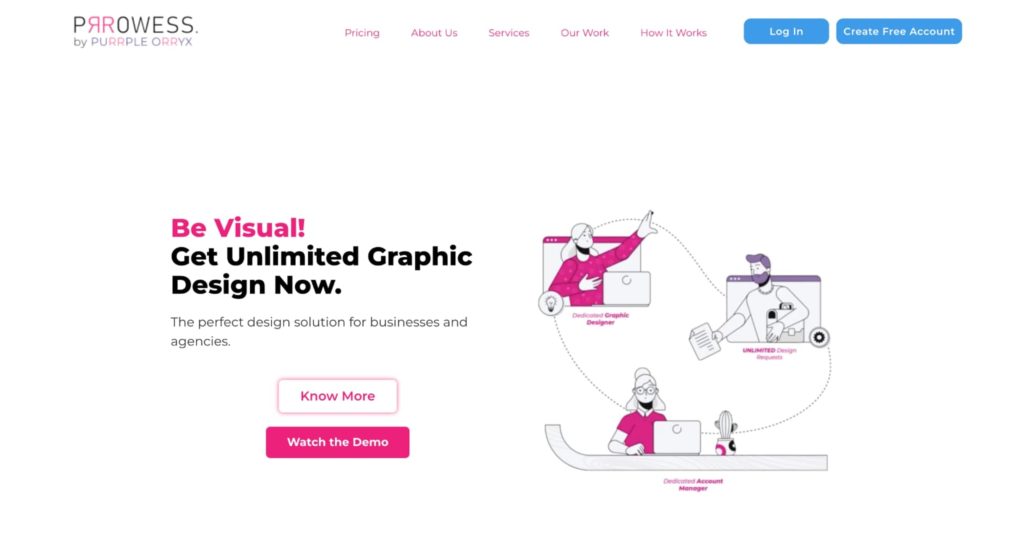 | Test | Info |
| --- | --- |
| WEBSITE | https://www.prrowess.com/ |
| ADDRESS | Office 371, Building A5 Business Park DWC, Dubai - 712545 |
| CONTACT DETAILS | +97148842588 |
| CONTACT HOURS | Sunday-Thursday (9:30 AM-6:30 PM) |
| | |
| --- | --- |
| ACCESSIBILITY | ★★★★★ |
| EXPERTISE AND TRACK RECORD | ★★★★★ |
| EASE OF SERVICE | ★★★★☆ |
Prrowess by Purrple Orryx is a full-service design and marketing department that was established in 2003.
That tells you they have experience, and they definitely do – but we have to admit that the first thing that got our attention here was actually their clear-cut pricing for creative solutions. You see, their services are offered at a fixed price, unlike most others.
They offer unlimited plans that you can check out on their website. There's the basic plan that costs 1499 AED a month, a reach plan that costs 2599 monthly, and a pro plan for 2999 AED a month.
The basic plan is advisable for SMEs and startups. You get 24-28 hours turnaround time for your designs, one designated designer, one active design task, unlimited requests and revisions, and basic support.
Go for their reach plan if you need the full service for your brand, as you get all the basic plan's features with up to 20 social media posts and the full social media management experience in general. You also get your own personal account manager and priority support.
Lastly the pro plan offers all the basic plan's features but includes two designated designers instead of one, one guest profile, up to three active design tasks, and same-day turnaround. You also get premium support that gets back to you in two hours.
Their pricing and inclusion system is very clear, so this works best if you know exactly what you're looking for and for long term partnerships. From there you can ascertain which plan works best for you.
It might be a bit pricey for some too, so that's something to consider. If you're looking for a cheaper option with a much simpler task, it might be best to look elsewhere.
Aside from the clear-cut pricing, they also offer quality designs from a team that can handle any graphic design task or 3D work. They have an extensive portfolio with both digital solutions and offline marketing.
They do product printing on merchandise, social media graphic design, presentation design, event publicity materials, brochure design, flyers, etc. They also have a wide range of clients from corporations, brands, and NGOs across different industries.
And of course, they have a comprehensive portfolio that you can check on their website. Their design style is varied, but leaning more on the minimalist side.
You can check your site to see if they have the branding you're going for in your company. Their social media is not active however, so it might be best to browse on their website instead to see the full breadth of their services.
As for their system, once you are subscribed, everything's pretty easy. You can make a task, meet your designated designer who you can communicate with within the system, review your designs once they're finished, and then download your files.
It's a simple but effective system. Clients we polled agreed with that, and also lauded their service for both efficiency and timeliness.
Clear-cut pricing
Extensive experience and services
Simple but effective system
Inactive on social media
Fee is on the high side
Customer Reviews
Consistently excellent service
The team's high-quality deliverables have fostered a positive partnership. They offer consistently excellent service spanning a variety of design tasks. They're exceptionally dedicated to providing attentive customer service. Future clients can expect a deadline-oriented group.-O'Pao Indian Sliders
Understood our needs from day one
Their team understood our needs from day one and was able to deliver things super quick. Engagement levels have gone up from potential customers due to PRROWESS' social media content. The team uses Proofhub to manage client requests, track feedback rounds, and organize their deliverables. This allows the internal staff to access any key assets from anywhere. -Global Wellness
Choosing the Best Graphic Design Companies in Dubai
To make sure that you are getting your money's worth in the graphic design company you are hiring, you should get the most effective one that will cater to your brand's needs.
In order to do that, below is a quick guide to help you choose the graphic design company to hire:
1. Look at their portfolio and experience
It's best to go for a company that has an extensive portfolio and has a lot of experience. In doing so, you'll have a better chance of having a smoother and worry-free workflow.
Study their portfolio on their website and ask for samples, so you can see if their style fits the brand you are going for. When you are both on the same page, it avoids unnecessary back-and-forth between them and your company.
An experienced graphic design company can also better guide you in navigating the Dubai market, helping you make more effective designs and campaigns for your target market.
2. Check the range of their services
Since needs vary, a graphic design company that can offer you a full range of services can help make the process simpler.
At the same time, look into what types of graphic design they have and specialize in. Whether it's layout, web design, print design, or branding, it's best to go for a company that is well-versed in any of these and can give you exactly what you need.
In any case, it pays to be very clear with your expectations from the start so you can pick the company that is up to par with your company's standards.
3. Check the pricing
Lastly, find a company that fits your needs and budget. Once you have finalized your personal list of graphic design companies, ask for a quotation for your project.
Make sure to ask about pricing structures, minimum project sizes, and payment options. From there, decide on one where you can get the most value with your company's budget.
FAQs on Graphic Companies in Dubai
---
There you have it, a guide on the top graphic design companies in Dubai. We hope we were able to help you in deciding which company is best for your needs and budget.
Did we miss any good graphic design companies in Dubai? Make sure to shoot us a message!
By the way, here are some related articles if you need more help with design services in Dubai: