9 Shops for the Best Flower Delivery in Dubai
Featured Image Source: Artsy Vibes via Unsplash
The most beautiful flower arrangements are no use if there's no reliable flower delivery service to bring them to the recipient. Luckily for you, we've listed here the shops that offer the best flower delivery in Dubai.
To help you select a flower shop from our list, read our buyer's guide first. It should help you find the best shop for your exact needs
How to Pick the Best Flower Delivery in Dubai
1. Learn if they allow customisation
Many flower shops in Dubai employ professional designers to do their arrangements. This is reflected in their exquisite catalogue of flower bouquets and arrangements.
However, if you're into giving your gifts a personal touch, you might want to double-check if your chosen flower shop allows customisation too.
Not many shops provide this service as it takes time and effort not only in the arrangement process, but also in communicating with a client.
2. Check their delivery area
Some flower shops in Dubai offer their delivery service only within the city, so it's important to know if they deliver to your recipient's area.
If you want to save some money, you should also check which areas are covered by their free delivery service. The same goes for their same-day delivery service to ensure that your gift is getting to the recipient on time.
3. Know how fast they can deliver
Flower shops often offer same-day delivery to certain areas. They usually have a list on their site of the areas they can promptly deliver to, so make sure to check that out.
For this, however, it is crucial to place your order before their daily cut-off time. Flower shops do this so they have ample time to provide the best flower arrangement while ensuring that your gift gets to the receiver promptly and safely.
In addition to their speedy delivery, you should also check if they have a tracking service or if they will notify you once the delivery is done.
The Shops That Do the Best Flower Delivery in Dubai
Now you should be ready to find the flower shop that best suits your flower arrangement and flower delivery requirements.
To get you started, here are some of the shops that we think offer the best flower delivery in Dubai.
1. Oleander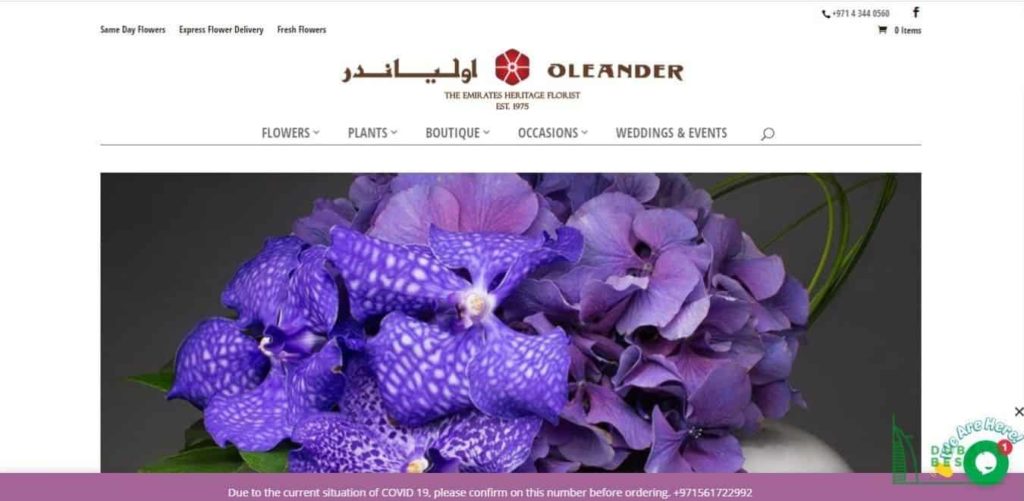 | | |
| --- | --- |
| BEST FOR | Prompt, safe delivery all over the city |
| WEBSITE | https://www.oleanderonline.com/ |
| ADDRESS | Jumeirah Beach Road, Villa 151, Jumeirah 1 – Dubai, United Arab Emirates |
| CONTACT DETAILS | +971561722992 |
| OPERATING HOURS | Saturday – Wednesday: 8:00 AM – 8:00 PM Thursday: 8:30 AM – 8:00 PM |
Oleander has been a trusted retailer for flowers and plants here since 1975. They offer a wide variety of flowers for different occasions and events as well as gifts such as candles, teddies, and chocolates.
What makes Oleander one of the providers of the best flower delivery in Dubai is their dedication to delivering their beautiful flower arrangements in the best condition possible.
They even offer same-day delivery to Dubai and inner Abu Dhabi for orders placed by 12 noon. For other areas in the U.A. E, they offer next-day delivery.
Oleander also delivers its flower arrangements internationally.
Note that partly due to their strict rule to ensure the quality of their flower arrangements, Oleander provides emergency deliveries for an added charge. The fee isn't unreasonable, in our opinion, since it drastically shortens the time they have to design and prep flowers.
Has a wide variety of flowers and gifts
Same-day delivery offered in Dubai and inner Abu Dhabi
International deliveries offered
Emergency deliveries offered
Slots for delivery are not guaranteed
No free delivery
2. Black Tulip Flowers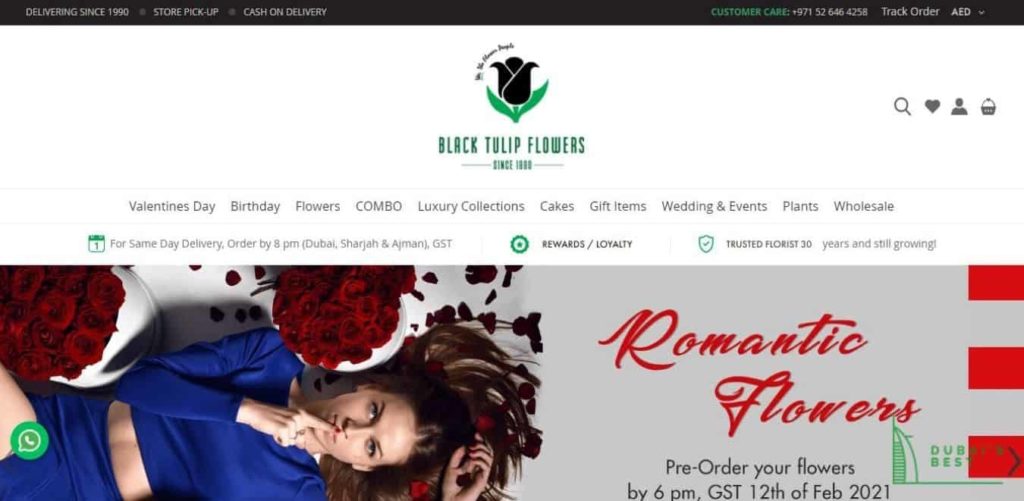 BEST FOR
Luxurious products and excellent service
WEBSITE
https://www.blacktulipflowers.com/
ADDRESS
Al Nahda, Industrial Area 7, Near Safeer Mall, Al Ittihad Road, P.O. Box 577, Sharjah, United Arab Emirates
CONTACT DETAILS
+971 52 646 4258 +971 4 344 0350

[email protected]

OPERATING HOURS
Sunday – Saturday: 9:00 AM – 9:00 PM
Black Tulip Flowers offers unique and luxurious flower arrangements and gift combinations in Dubai that are sure to impress loved ones. The flowers they use are sourced from their own farms around the world, especially from Malaysia, Kenya, and Ethiopia.
If you plan to order from them, note that this Dubai flower shop offers same-day delivery to Dubai, Sharjah, Ajman, and Abu Dhabi for orders made by 8 PM. You can also opt to pay for your flowers through cash-on-delivery.
To ensure the freshness of their products, Black Tulip Flowers delivers using their own temperature-controlled vans.
The best thing about this flower shop is that besides their high-quality flower arrangements and great service, they even offer rewards for their loyal customers.
Luxurious flower arrangements
Flowers delivered using temperature-controlled vans
Cash-on-delivery offered
Loyalty rewards
Customer Reviews
Jazy Boholst, a previous customer, reviewed:
"I have been previously ordering flowers from different sources, and indeed they look beautiful. However, Black Tulip Flowers stood out amongst all the other ones!! Guys, your creativity stole my heart away.
Thank you for the exceptional creation you guys do on a daily basis melting the hearts of every receiver. I am not even the receiving end, but really I love it."
3. A Better Florist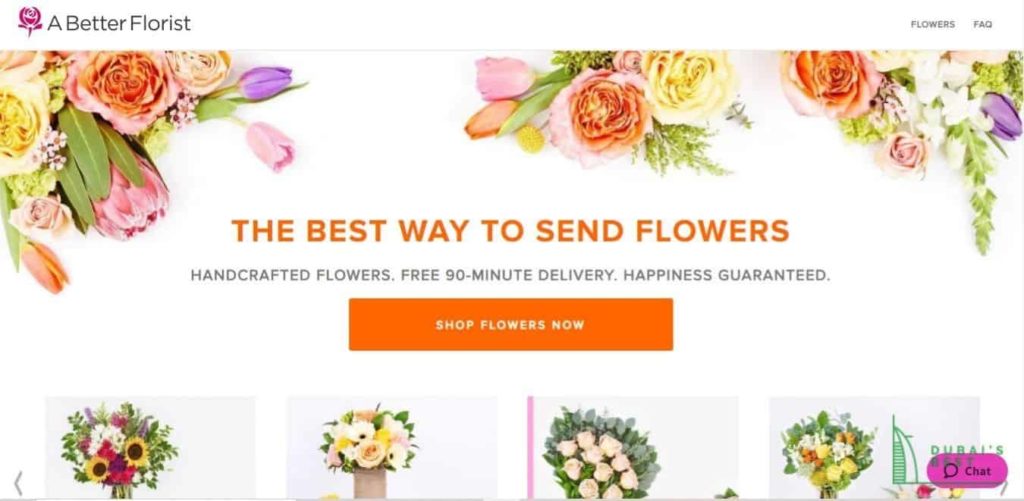 For beautiful flower arrangements and reliable service at an affordable price, you should probably get your flowers from A Better Florist.
Their flowers are shipped daily from the Cameron Highlands, Malaysia to guarantee freshness. Because they're dedicated to providing you only with the finest flowers, the arrangements vary every day, depending on the quality of blooms from their source.
As for their delivery service, A Better Florist offers 100% free delivery except to a few select areas outside their coverage. Delivery can be done on the same day as long as your order is placed before 3 PM.
If you order from them, you can try their best flower delivery in Dubai with the shop's 5% discount for new customers, by the way.
Affordable bouquets
Flowers delivered to their shop fresh daily
Free delivery for most areas
Same-day delivery available
5% discount for new customers
Available arrangements vary every day, so you may not be able to get the flowers you want sometimes
4. Bliss Flower Boutique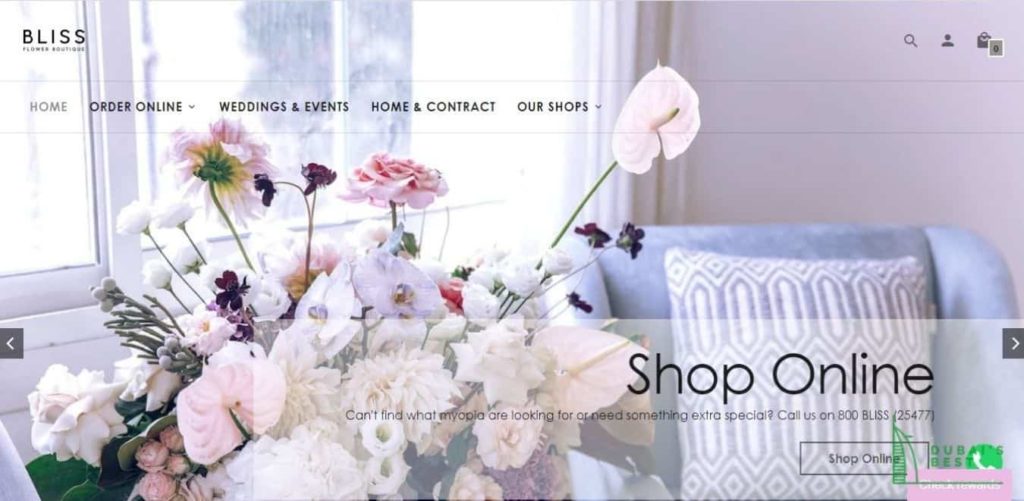 Bliss Flower Boutique offers elegant flower arrangements made by U.A.E.'s top flower designers. This shop's selections range from bold and luxurious to chic and sophisticated to suit different types of people and different events.
Their creations always follow the newest trends in design, fashion, and architecture. The natural form, lines, and rhythms of the blooms are also considered, making one-of-a-kind arrangements.
They offer same-day delivery for all of their products too, with several locations in Dubai and Abu Dhabi.
Elegant, fashionable flower arrangements
Same-day delivery
Several locations in Dubai and Abu Dhabi
Products are quite costly
5. Maison des Fleurs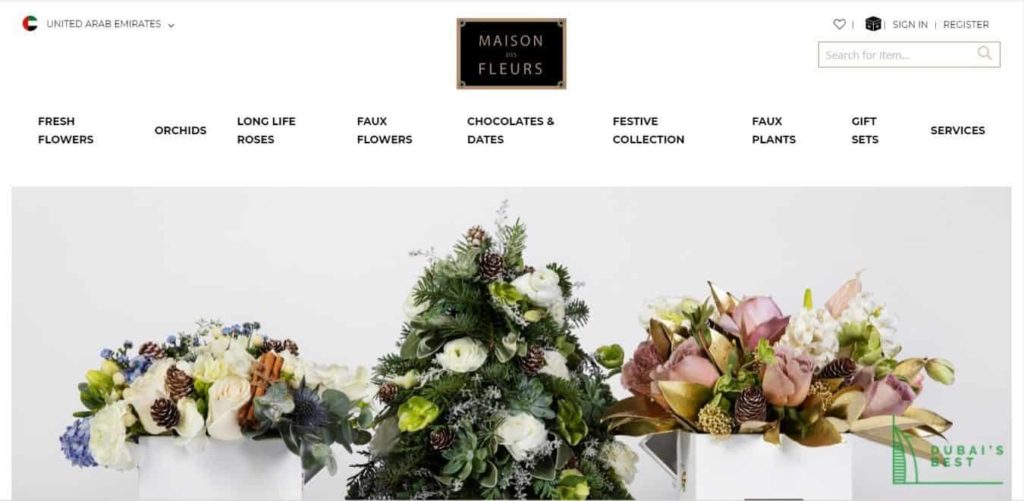 Maison des Fleurs is the flower shop in Dubai for gifts your loved ones can enjoy for longer. Their offerings include long-lasting fresh flowers, faux flowers, faux plants, and other sophisticated gifts.
Besides flowers for gift-giving, they also do bespoke flower arrangements for special events, offices, hotels, and retail businesses that can be delivered on a weekly or monthly basis.
With various locations, Maison des Fleurs can deliver their creations to different areas in the U.A.E. However, there is an extra delivery charge for deliveries to remote locations. Delivery can also take up to 10 days.
What makes them one of the shops with the best flower delivery in Dubai is their reliable tracking system. This ensures you that your thoughtful gift reaches the recipient, even if circumstances conspire against speedy delivery at times.
Offers long-lasting flower arrangements
Delivers across the U.A.E.
Reliable tracking system
Requires a minimum amount of purchase for delivery
Certain products may not be available for delivery to some areas
Delivery can take up to 10 business days
6. Flower Station Dubai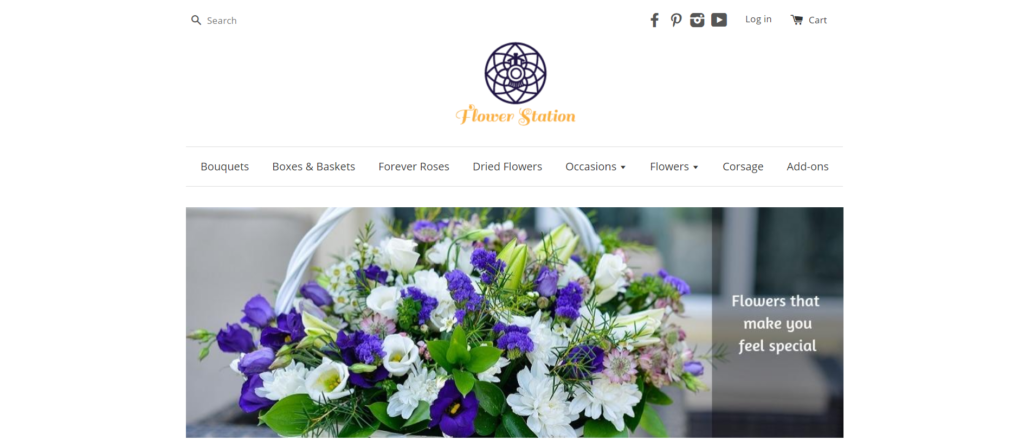 Flower Station is an online flower shop based in JLT (Jumeirah Lakes Towers), Dubai offering flower delivery service for all your flower gift needs for birthday, anniversary, get well, Christmas and all other occasions. They are focused on helping you communicate to your loved ones how special they are through the beauty of flowers and elegant gifts.
They know emotional values attached with every floral gift, and they always put their best efforts to make you feel special with their unique and creative work. They take all measures to deliver a delightful and memorable experience by ensuring best quality, beautifully hand-crafted floral gift and reliable delivery service.
They have flexible delivery schedule for delivery in Dubai
Offers huge collection of exquisite floral arrangements
Add-ons are also available
Requires a minimum amount of purchase for delivery
Limited payment options
No physical store
7. Online Flowershop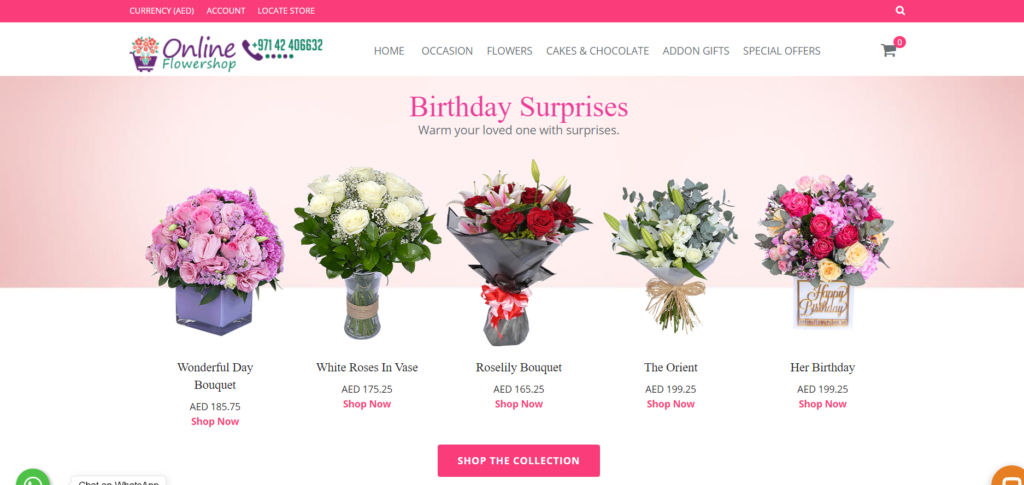 Online Flower Shop is a unique florist to provide flower delivery services to your loved ones. Order flowers online, and they will ensure that you are able to send flowers to Dubai, Abu Dhabi, Sharjah, Ajman and anywhere in UAE.
You can order flowers from their flower shop Dubai for same-day flower delivery Dubai & Abu Dhabi. When their premium flower gift coupled with their excellent delivery services is received by your loved ones, they get feelings of an almost unforgettable experience.
Offers other gifts, such as chocolates and cake
Prompt, same-day delivery services
7 % Transaction fee will be deducted from refunds
8. Beverly Hills Roses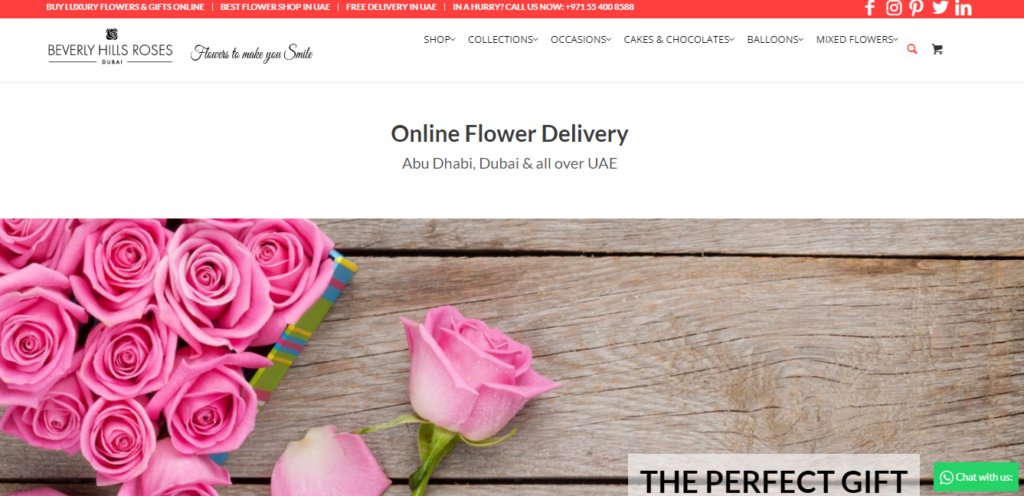 BEST FOR
Rose Deliveries for all Ocassions
WEBSITE
https://beverlyhillsroses.ae/
ADDRESS
Beverly Hills Flowers Trading LLC.
Dubai & Abu Dhabi
P. O. Box 124776, UAE
CONTACT DETAILS
+971 55 400 8588
+971 52 193 9360


[email protected]

OPERATING HOURS
Saturday to Thursday: 10 AM – 10 PM
Friday: 4 PM -10 PM
Beverly Hills Roses is a florist shop that specializes in a wide variety of roses for special occasions as you can shop from a good selection of roses from what type it is to the color theme that you prefer – they are sure to have what you like. They pride themselves for their consistently premier arrangements and should you not be satisfied with their flower delivery – they offer a reimbursement policy for this very reason.
Describing their boxes to be of luxury and fashion, they also offer other products such as balloons, cakes and chocolates that you can avail of to complete your dream gift for your loved ones no matter what the occasion. Furthermore, you can easily process and transact your orders all completely online as they accept all major cards such as Visa, American Express and MasterCard as their mode of payment.
Amazing both in service and bouquet quality – they are a recipient of various praises regarding the aesthetic appeal of their arrangements along with the superb professionalism that they exhibit for a wonderful experience and maximum client satisfaction.
If you are looking for a florist shop that strives to make the recipient of their flowers smile and grin as they gaze upon the said arrangement then, definitely give this shop a try!
Accommodates a wide range of online payment methods
Highly commendable delivery services
Has a reimbursement policy
Specializes mainly only in roses
9. Dubai Flowers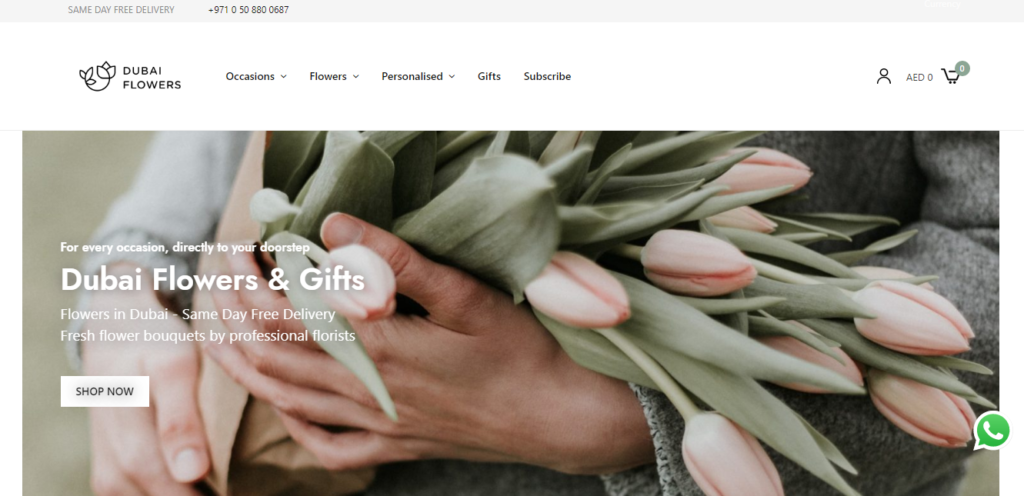 BEST FOR
Fresh and classic flower arrangements
WEBSITE
https://dubaiflowers.ae/
ADDRESS
United Arab Emirates
CONTACT DETAILS
+971 50 880 0687 /

[email protected]

OPERATING HOURS
Sunday – Saturday: 9:00 AM – 6:00 PM
Dubai Flowers is an online flower shop that is sure to satisfy all of your florist needs even at the comfort of your home. They are driven to deliver only the best quality of flowers that are most suited for your occasion and preference.
They strive to help you create and forge your very own unforgettable moments through every flower arrangement that they do for you. Though they have a physical store where you can have a first-hand look at their selection of flowers, you can easily order and customize your orders at their online shop hassle-free and at your own convenience.
The shop also has a variety of flowers that you can choose from that are ensured to be fresh and reliably sourced to provide you with stunning flower arrangements. Furthermore, they have a team of dedicated individuals who are more than willing to guide you in choosing the best flower choices for every occasion you may need them for.
We recommend this flower shop for you due to their outstanding and accommodating customer service as well as their prompt and reliable online shop and delivery as well.
Offers same-day delivery
Has a refund policy
Imported selection of flowers
FAQs about the Best Flower Delivery in Dubai
---
Besides the shops cited above, there are many more flower shops that offer great flower delivery in Dubai. If none of these shops we picked appeal to you, a simple scroll through Google can help.
If you have other flower shop suggestions for us, though, you can also send us a message and we'll gladly add them to our list!